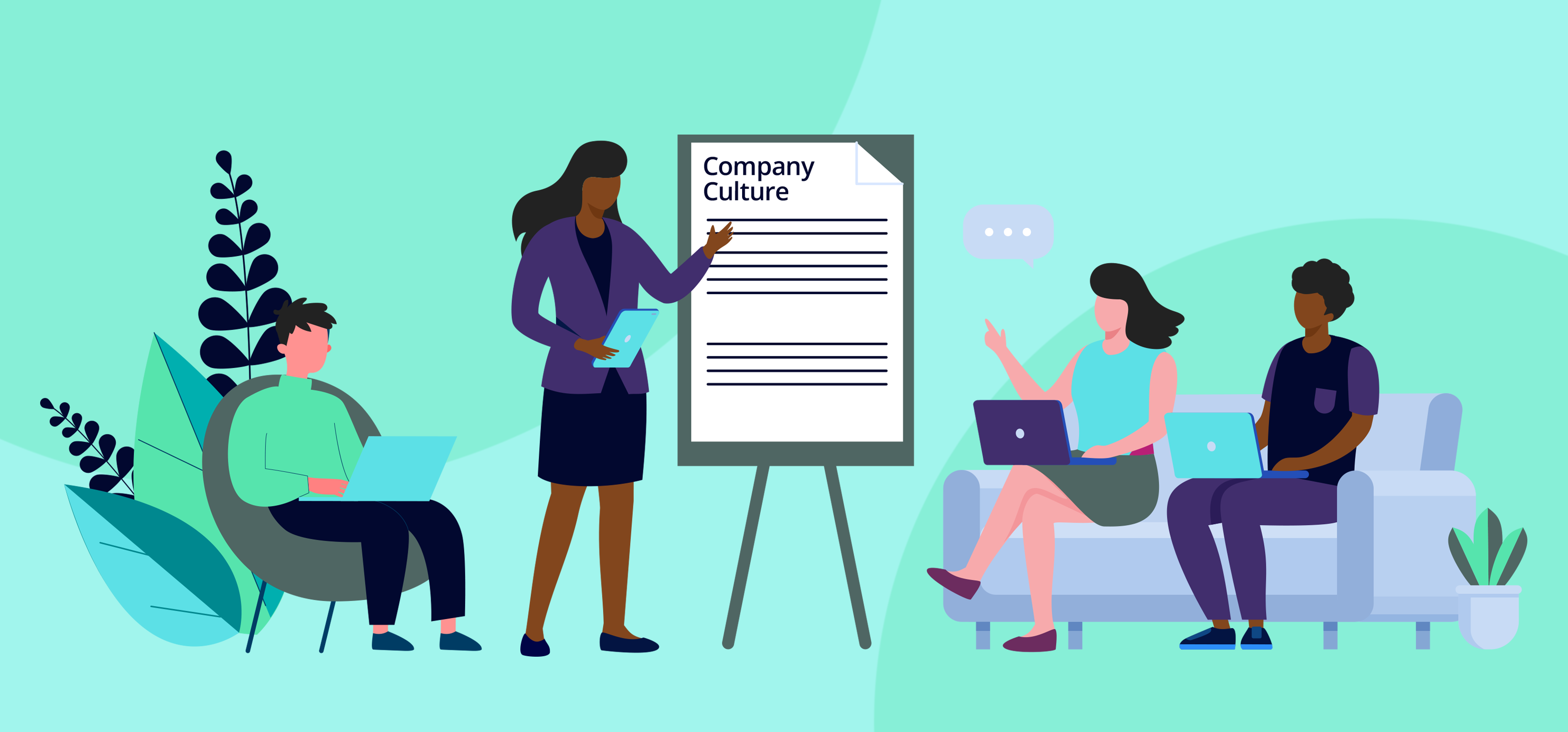 Company culture software is an online application that gives you the technology to get an accurate picture of your workplace environment and take necessary actions.
Organizations can leverage such tools to spot internal challenges that directly impact their employee's performance and create engagement programs to reduce their turnover rate.
In this article, I have reviewed the 12 best software products that can help you build a strong company culture. The list includes scalable apps to cover all business sizes and industries.
What is a Company Culture Software and What Features to Look for?
Company culture software refers to platforms that deliver engagement and analytics tools to measure participation levels and working relationships.
They specifically target employee well-being to help organizations resolve workplace issues and make their staff feel connected and happy with their jobs.
Top Features to Look for In a Company Culture App;
Survey tools to collect feedback from employees.
Gamification to encourage participation.
Some kind of recognition or reward program to motivate people.
Reporting and analytics charts to monitor key factors like performance and potential flight risks.
Let's explore the software products that offer culture-building tools. Check out their core features and packages to find the app that best fits your requirements.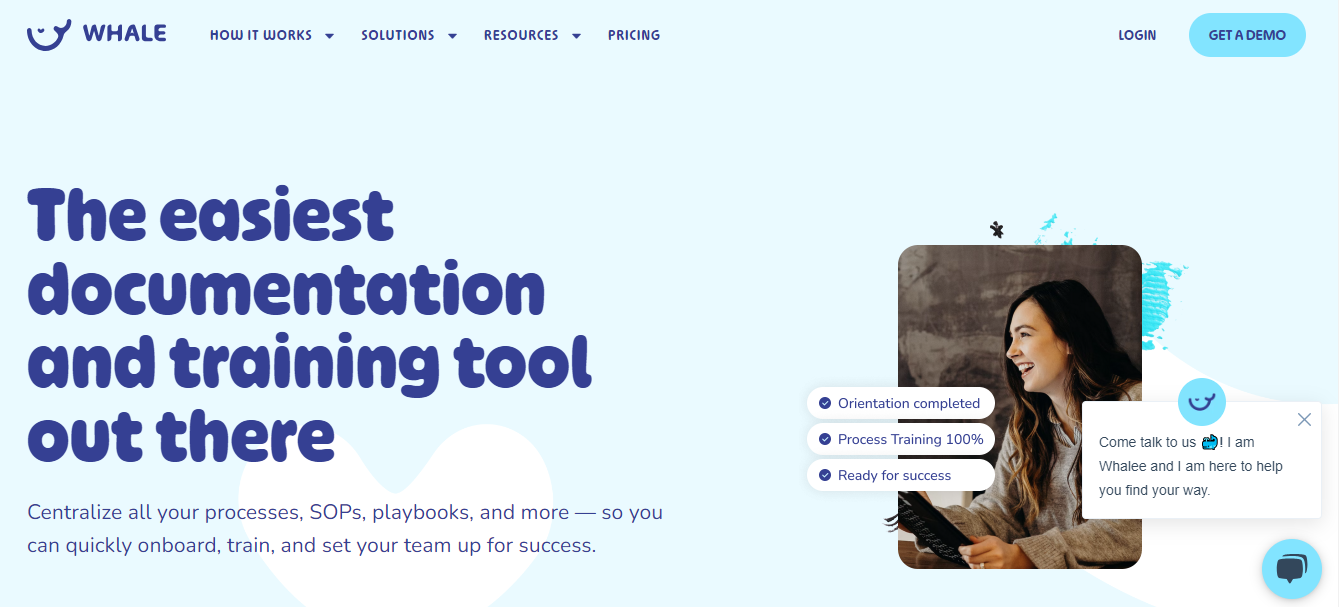 Whale is an SOP and training software. It allows you to create a central hub of your company's policies to make onboarding, training, and other team-building exercises easier to manage.
Using its policy templates and editor, you can design standard processes and upload them to the central database to be accessible by all departments.
This helps you implement proper systems and develop a consistent corporate personality.
With training workflows and tracking tools, you can teach your company's core culture to your employees and periodically test their knowledge.
Whale integrates with third-party applications and provides API access.
Core Features
Built-in screen recorder.
Knowledge base.
Playbook templates.
Training flows.
Quizzes and badges.
Admin control.
Custom branding.
Tracking and analytics.
Integrations and API.
Price
Whale charges $6 to $12 per user.
You can request a demo to take a product tour and ask for custom quotes for a large team.
Culture Amp's features are almost similar to WeThrive.
It offers survey tools to get employees' feedback, OKR tracking to implement the company's core values, and one-on-one conversations to improve working relationships.
With Slack and MS Teams' integration, you can connect your entire workflow and simplify the survey processes.
Culture Amp's most notable feature is turnover forecasting. With this tool, you can predict your employee's retention rate and identify areas that may cause them to leave your company.
This allows you to troubleshoot internal problems and improve your chances of retaining top talent.
One other thing you'll love about Culture Amp is its community. It has over 100k members who can offer you tips and tricks on optimizing your company's culture.
Core Features
Engagement surveys.
Shout-outs.
One-on-one sessions.
Goal tracking.
Retention forecasting.
Microlearning courses.
Analytics and reporting.
Third-party integrations.
Price
Culture Amp shares annual plans for engagement, performance, and development. You can get custom prices based on user volume and services.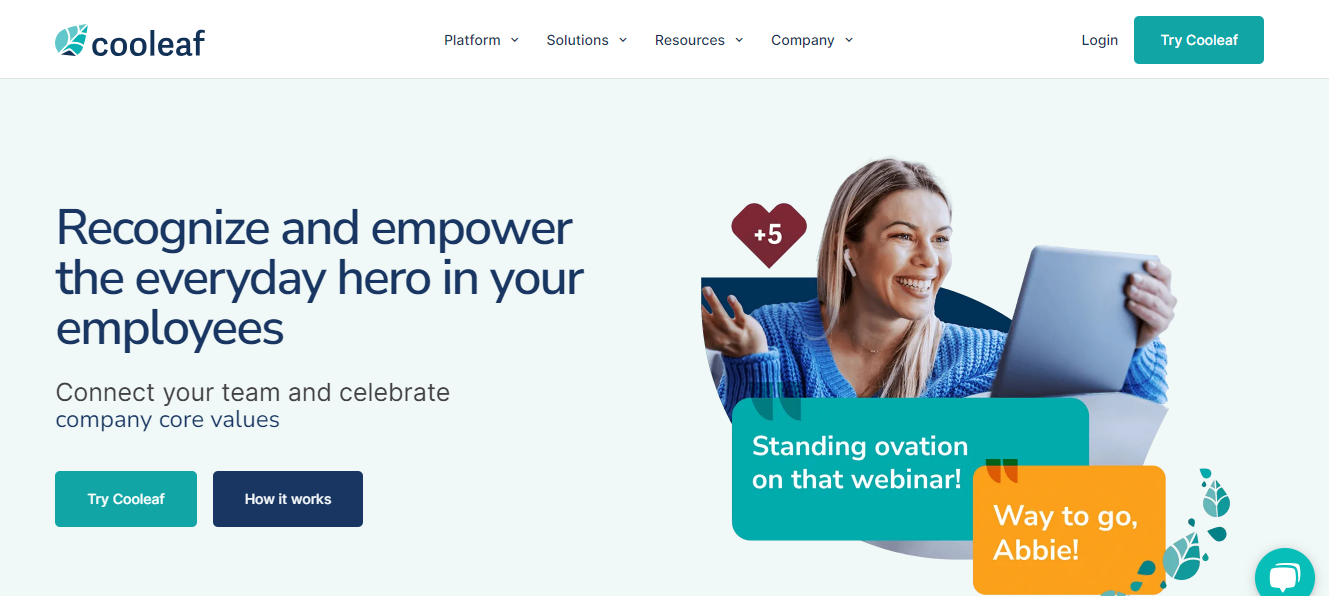 Cooleaf is an employee experience platform. It provides you with engagement tools and in-house expertise to build a healthy company culture.
Some of its top functions include pulse surveys, employee programs, public recognition, and analytics. You can learn what people feel about their work environment and build reward programs to make them feel part of the company.
Cooleaf's has also recently introduced a calendar tool for remote team engagement. You can use it to schedule team-building activities, engagement posts, and challenges.
Cooleaf can customize the activity plan to suit your business operations.
Core Features
Engagement surveys.
Recognition and reward programs.
Performance incentives.
Remote employee engagement calendar.
Workflow automation and personalization.
Analytics and reporting.
Third-party integration.
Price
Cooleaf shares prices on request. You can book a demo to learn more about the platform.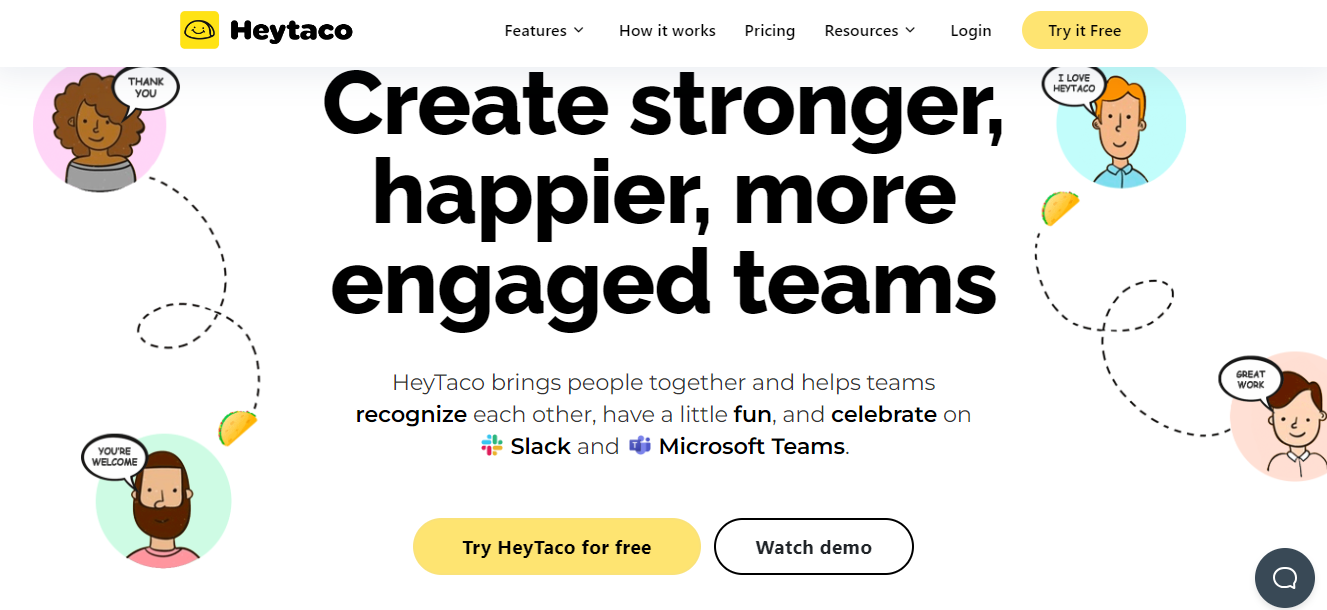 HeyTaco is a peer-to-peer recognition software. It delivers tacos (reward currencies) to users, so they can share them with co-workers to build connections.
The app is designed for companies that use Slack and Microsoft Teams as their primary tools for communication. You can invite Taco to any Slack channel and give commands to create entertaining posts.
As a manager, some basic functions you can perform include surveys, custom recognition rewards, company tags, and analytics.
If you have a physical workplace, you can share HeyTaco's posts on your Office TV.
Core Features
Employee recognition.
Feedback surveys.
Custom gifts.
Leaderboards.
Analytics.
Taco TV.
Slack and Microsoft Teams integrations.
API.
Price
HeyTaco charges $3 per user. You can buy pre-defined packages for your team or pay as you add users to your account.
You can try the app for 30 days before purchasing the subscriptions.
Raidboss is built for Slack users.
It enables you to improve teamwork and engagement on Slack through peer-to-peer gamification activities and performance rewards.
You can convert daily tasks into challenges to encourage competition and assign scores to recognize their efforts. If your team works on joint projects, colleagues can strengthen connections by sharing rewards with each other.
To boost your team's morale, you can offer bonuses and non-monetary perks on successful milestone achievements. With incentives, you can show appreciation and make employees feel valued.
Raidboss also provides team insights to monitor and measure individual performance.
Core Features
Gamification bot for Slack.
Leaderboard.
Incentive programs and perks.
Peer-to-peer reward sharing.
Recognition.
Health insights.
Custom branding.
Price
Raidboss charges $3 per user. You can try it for free and get a discount on high volume.
CultureBot is another excellent application for Slack users. With this tool, you can run team-building exercises and create a positive work environment.
Most of CultureBot's features lean towards employee engagement and wellness. You can add activities like shout-outs, health tips, and celebrations to your calendar, making the workplace a little livelier for your team.
CultureBot cores functions also include water cooler conversations and trivia. You can use them both to encourage social interaction and work connections.
Core Features 
Slack app.
Employee introduction.
Birthday, anniversary, and custom celebrations.
Shout-outs and rewards.
Conversation starters.
Surveys.
Trivia challenges.
Health tips posts.
Workflow automation.
API.
Price
CultureBot's prices start from $99. You can add up to 24 users to your account for free and get onboarding and live support in the premium package.
Friday Pulse is an analytical tool. It gives you insights into your employees' wellness to identify factors that contribute to your team's happiness.
This app comes in handy while implementing some changes in the company.
You can record your employees' experience through its Happiness KPI and team building tools, and compare it with industry benchmarks to measure the new policy impact.
You can set benchmarks for each department and get real-time actionable data at the team level to find and fix problems.
Friday Pulse integrates with both Slack and MS Teams and supports multiple languages.
Core Features
Happiness score.
Team building tools.
Culture profile.
Real-time monitoring.
Heat maps and impact reports.
Industry benchmarks for comparison.
Slack and MS team integration.
Expert support.
Price
Friday Pulse is free for up to 11 users. For premium features, it charges $7 per user.
You can test the premium features for 30 days and get discounts on large volumes.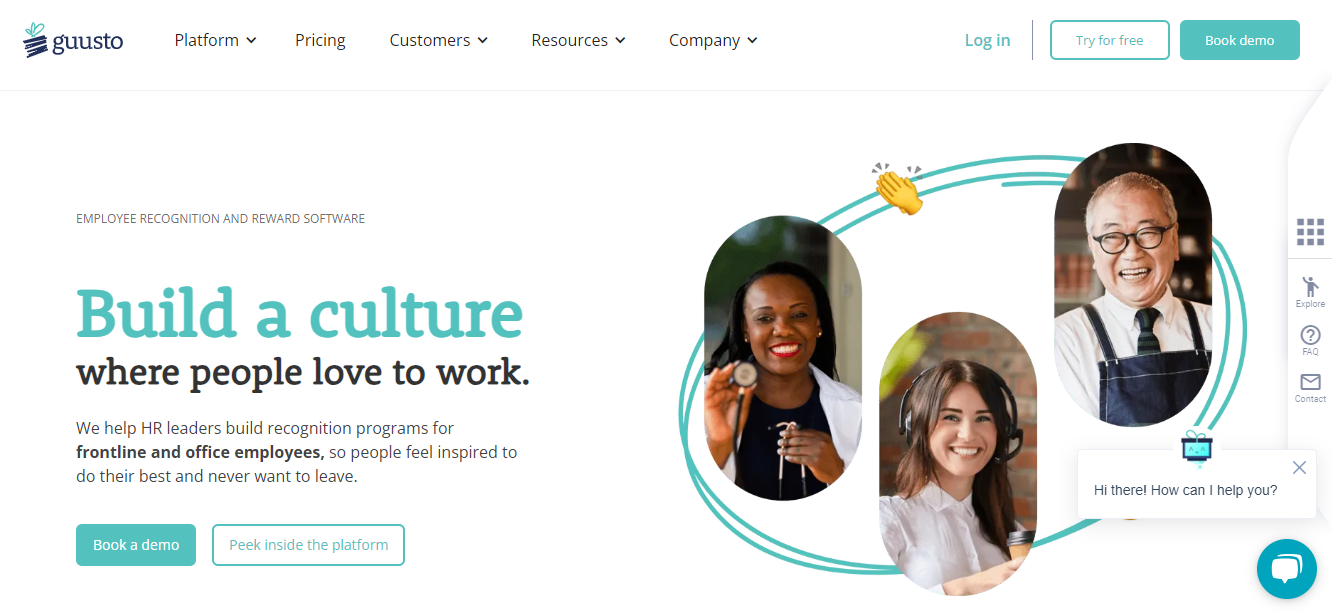 Gussto is an employee recognition platform. It enables you to send shout-outs to employees and send gifts to top performers.
You can use this tool to build a supportive culture for the office and frontline workers. Through its recognition program, you can motivate team members and show appreciation for their hard work.
You can access Gussto from the web and mobile and get printouts of the rewards to send physical gift cards. You can also transfer funds as gifts to any team member.
To manage your budget, you can set a limit on spending and cancel unclaimed gifts anytime.
Core Features
Reward programs.
Peer-to-peer shout-outs.
Challenges.
Budget management.
Bulk rewards.
Workflow automation.
Insights and reports.
Custom branding.
Web, mobile, and prints.
MS team integration.
Price
You can get started on Gussto for free. Its premium packages range between $80 and $350.
You can ask for an enterprise solution as well.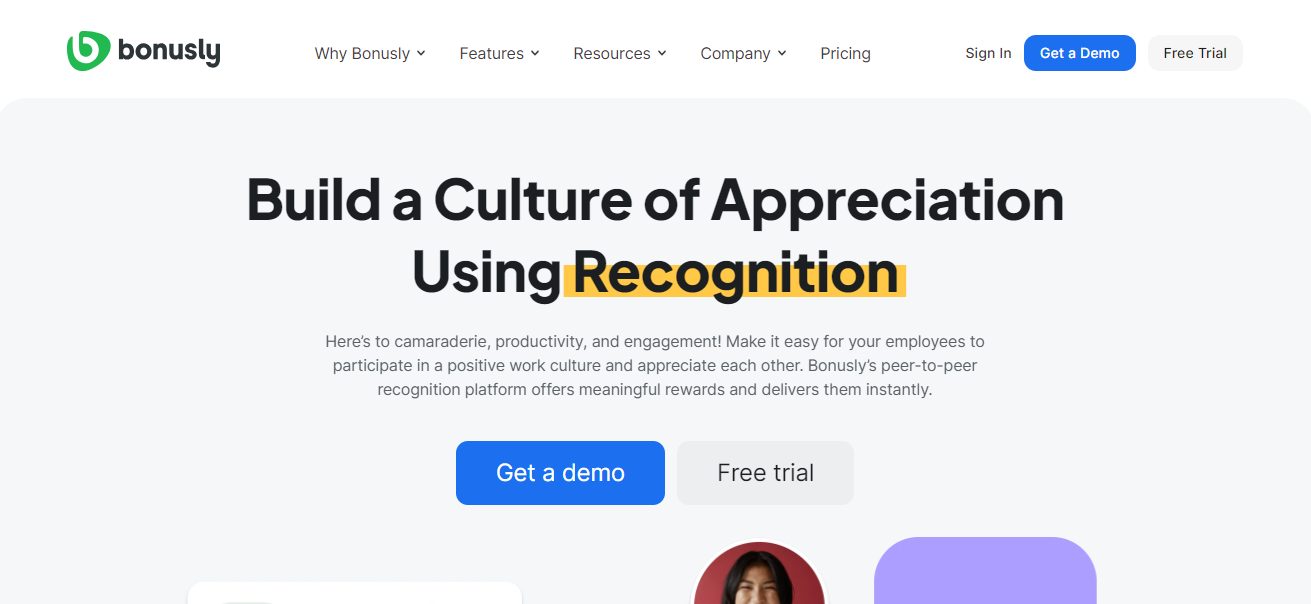 Bonusly offers versatile incentive programs. You'll get peer-to-peer recognition tools, gift and cash reward options, and engagement features.
You can send instant gifts on milestone achievements and create custom rewards, like an exclusive lunch with the directors on project success.
You can also make birthdays and anniversaries special by letting employees pick gifts for themselves from 1,200 available options.
Using automation tools, you can set some introduction and celebration messages on autopilot and attach rewards to them.
With analytics, you can measure various areas, including participation level, team relationships, and reward patterns.
Bonusly can be embedded into your website or custom applications.
Core Features
Incentive programs.
Monetary and non-monetary rewards.
Workflow automation.
Peer-to-peer recognition.
Analytics and reporting.
Mobile app.
Third-party integrations.
Price
Bonusly charges $3 to $5 per user. Mid-to-large-size companies can request tailored packages.
You can try the app for free.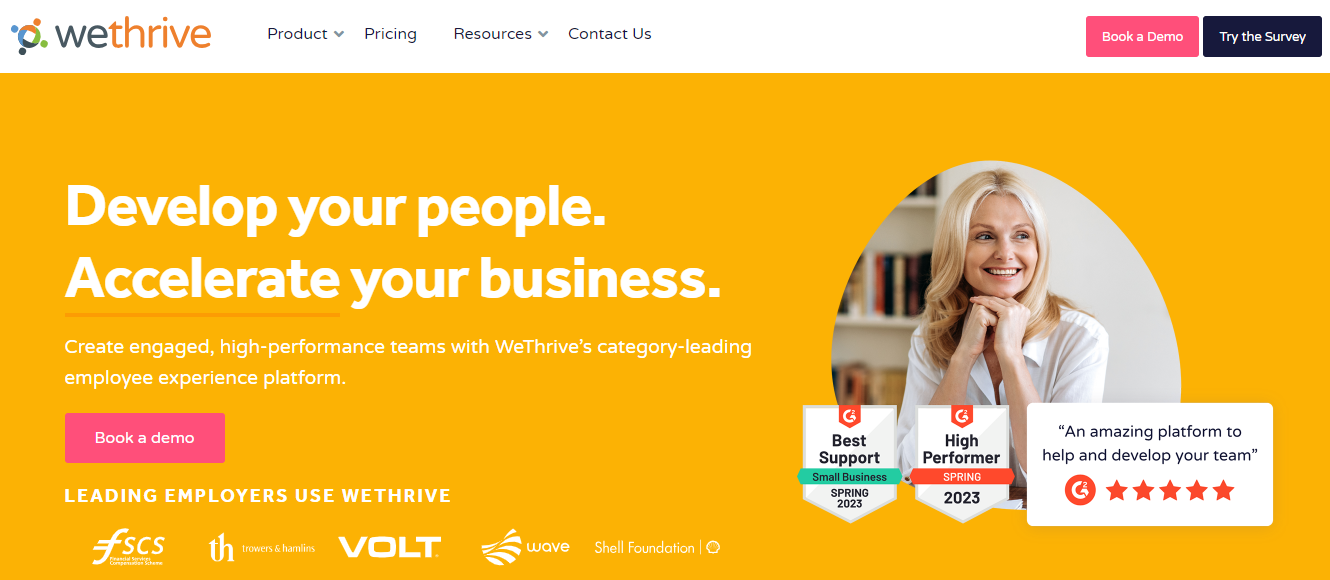 WeThrive covers performance management, employee engagement, and development.
It comes with AI-powered tools via which you can conduct surveys, make well-being action plans, run 1:1 sessions, and monitor your employees' work satisfaction levels.
WeThrive core focus is mainly on OKR (the company's goals) and employee performance.
Managers can take surveys and tailor their objectives and goals accordingly to get the maximum output from individual team members.
You can automate the processes and integrate WeThrive with your HRIS and Slack. You can also export reports and heat maps to share them with others.
Core Features 
Engagement, health, and performance surveys.
Benchmarking.
Leader, manager, and employee OKR.
Employee action plan.
HR, executive, manager, employee dashboard.
Tracking and reporting.
Workflow automation.
Third-party integration.
File export.
Price
WeThrive charges £5 to £8 per person. You can book a demo and ask for an enterprise plan.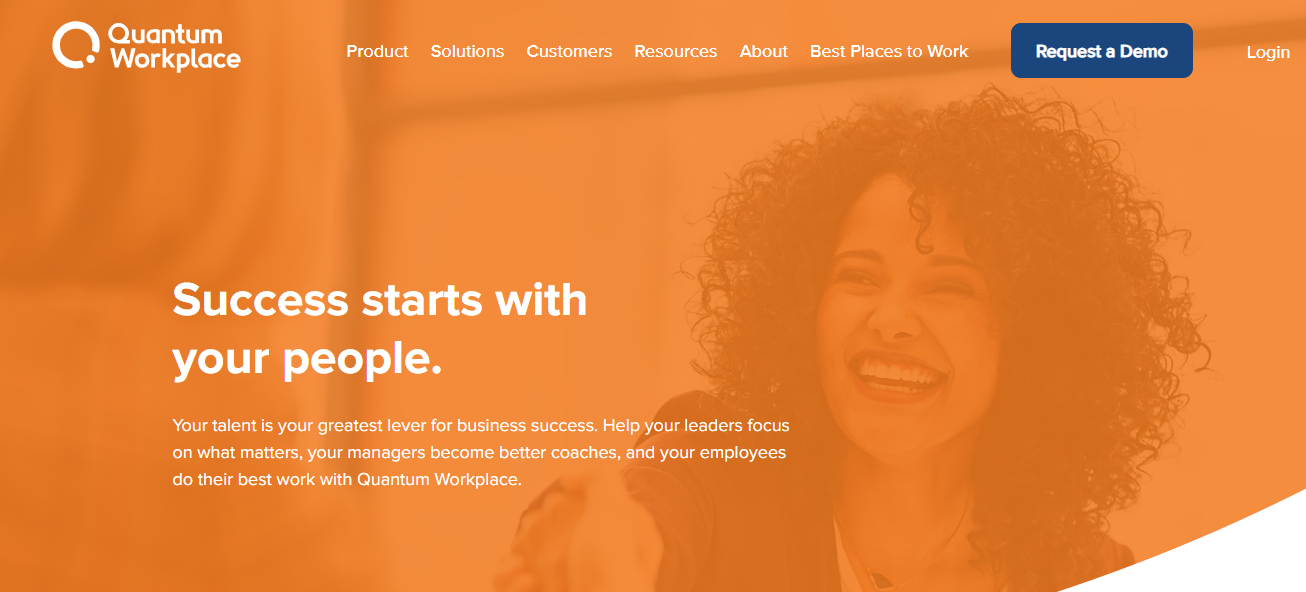 Quantum Workplace delivers survey tools to help businesses measure employee engagement levels.
You can create pre-defined surveys for your new and existing staff and set them on autopilot to periodically gather feedback for comparison.
Using its intuitive dashboard and reader-friendly charts, you can keep an eye on annual turnover trends and monitor employees' performance to spot flight risks on time.
With performance tools, you can set goals, highlight top performers, and share appreciation posts.
Quantum works well with popular business platforms and provides a mobile app for easy accessibility.
Core Features
Engagement surveys.
Real-time feedback.
People analytics.
Goal tracking.
Performance reviews.
One-on-one communication.
Recognition.
Integrations.
Mobile app.
Price
Quantum Workplace shares prices on request. You can ask for a demo to explore the platform.
Motivosity gives you community tools to build a clan culture.
It shares a combination of social and HR functions to help managers provide a positive working environment to their employees, and at the same time, collect data for performance review.
Key features of Motivosity community product are; personality profiles, interest groups, social feeds, and public recognition posts.
You can also purchase add-ons to get functions like monetary reward programs, pulse surveys, and one-on-one sessions. The add-ons offer plenty of other HR features for managers and executives.
You can use Motivosity for onboarding, employee recognition, manager development programs, and internal surveys.
Core Features
Social community.
Peer-to-peer recognition.
Employee engagement surveys.
Appreciation posts.
Development and performance reviews.
AI-powered tools for one-on-one conversations.
Monetary and non-monetary rewards.
Analytics and reporting.
Price
Motivosity charges $2 for its core software and an extra $2 for each add-on. You can purchase the whole suite or buy what you currently need.
Conclusion
Company culture software is generally an umbrella term for employee experience, recognition, and development platforms.
Any application that can help you implement standard practices and create measurable engagement activities is best for building a positive culture in your organization.
I have compiled the above list of software products based on these factors. I recommend exploring their website to make a well-informed purchase decision. Good luck!