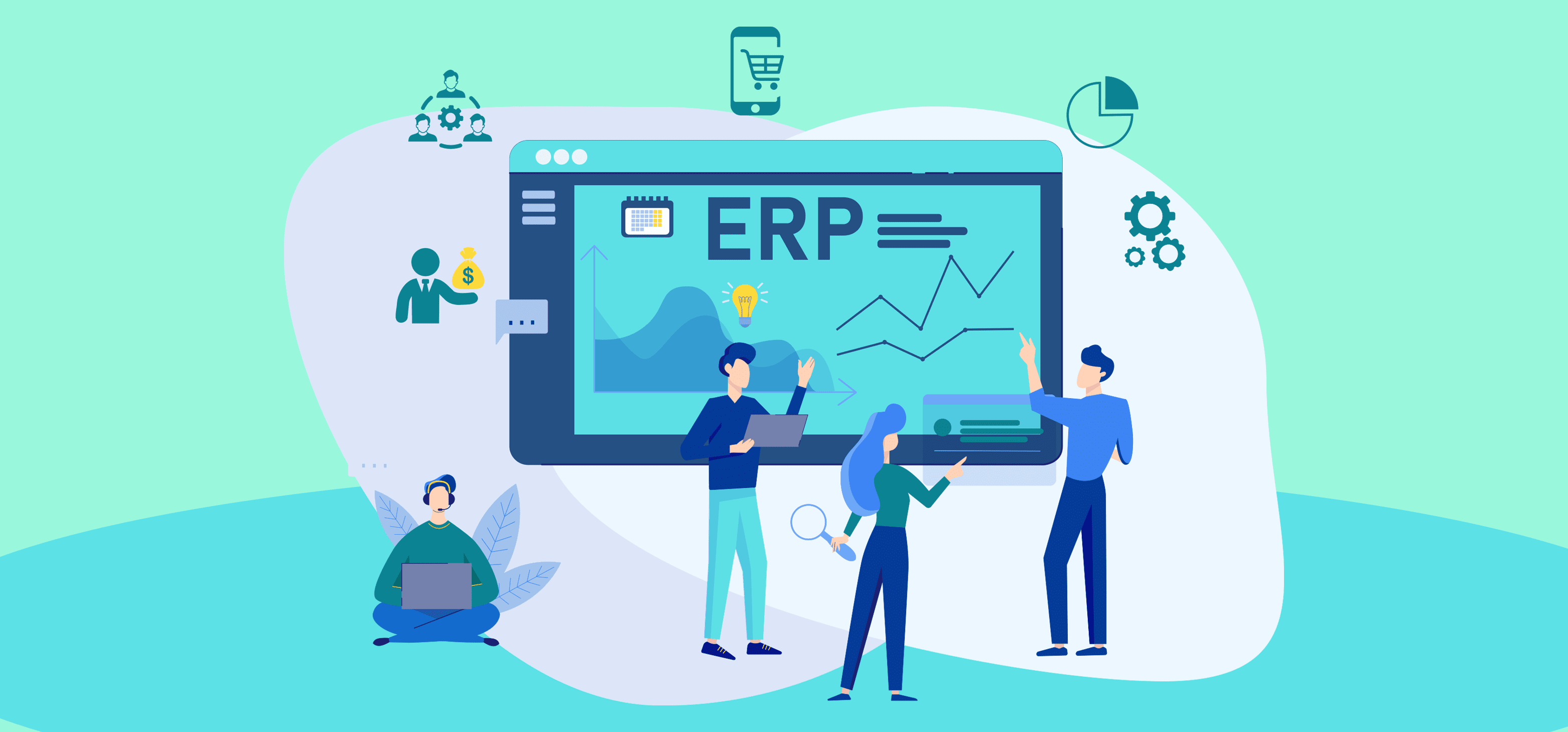 Running a business, regardless of its operating scale, is a hefty task. From Resource planning and management to team and customer management, different departments of every business require different managing strategies.
To juggle different business functions, independently or manually, can be very overwhelming.
With so many things on hand, keeping things running smoothly and maximizing profits is, therefore, challenging. ERP (enterprise resource planning) systems are what businesses use to keep their operations running efficiently.
ERP solutions automate and integrate all the key areas of your business including creating, planning, and managing human resources, customer relationships, clients, supply chain, and such.
This leads to structured and smooth workflows and effective decision-making so you can better utilize time and resources in areas that need special attention.
ERP software not only automates your business operations across all departments but also facilitates you in better management of resources, let that be in terms of materials or humans.
What is an ERP?
ERP is an acronym for enterprise resource planning. ERP software is basically a suite of integrated tools and functions that are specially designed to help you manage all your business operations by automating your everyday tasks related to inventories, resources, accounting, finances, etc., and connecting core business processes.
According to Bart Perkins, ERP is a "system of integrated software applications that standardizes, streamlines, and integrates business processes across finance, human resources, procurement, distribution, and other departments."
ERP system enables you to monitor the growth of your business by providing you with real-time updates and a bird's-eye view of all your business operations.
Such insights arm you with all the key information to make strong business decisions and plan your business strategies effectively. With detailed analysis provided by the ERP software, you can also track finances, resources, and production.
How does an ERP System work?
By now, you have a basic idea of what ERP is. The next question, popping into your head, must be how it works. Well, I will take you behind the screen where the magic happens.
ERP software works in a way to boost your productivity and increase business efficiency. To do this, it operates through a centralized dashboard that hosts several integrated tools and apps that all work together to simplify your routine business operations and connect all your departments in one place for a smooth workflow.
A typical ERP system has various modules which are specially designed for different business needs. When data is entered into the system by different departments, each module extracts this information and transfers this information into a centralized dashboard, where all the information is visible in the form of detailed reports and metrics.
This keeps everyone in the company on the same page and decision makers can analyze this information to access the business needs and evaluate performances across the departments and work better on underperforming areas with key focus and attention.
An example of ERP software at work in a product-based business is when the information about the customer order is automatically sent out to the distribution sites which are nearest to the customer.
ERP solution does this by evaluating numerous factors like inventory levels, shipment times, and location to pick out the most cost-effective option for you.
In a nutshell, an ERP system works to centralize the information database of a company, automate its routine activities and simplify the workflow all over the organization. Consequently, increasing work performance and efficacy and improving communication across the company.
Benefits of ERP
As it has already been established that an ERP system is a valuable asset for any company.
From providing you with a centralized information database of your entire business to fully automated day-to-day tasks, ERP solutions can work wonders for your company. Following are some of the great benefits an ERP software can bring to your firm.
1. Reduced Costs
An ERP is a worthy investment to make for your business. Its efficient network saves you both time and resources, instead of manually inculcating the data into the system across all the departments you can insert it once and it will be available throughout the organization.
Moreover, it streamlines redundant tasks like employee payroll, invoice allocation, and report drafting, hence saving you time and labor for more important tasks.
In addition to this, it provides you with one system for all your basic business operations, thus eliminating the need and cost for separate disparate systems.
2. All info in one place
ERP provides you with a centralized information database for all your company's operations. Whether you are operating on a small scale or running a multinational firm, all your data is accessible in one place.
This results in better collaboration between all the departments and more organized and swift completion of the tasks. Plus, this complete data visibility also enables you to operate from anywhere in the world and get instant real-time insights into specific operations or get a complete picture of the ongoing business processes just by opening an ERP suite.
3. Powerful Data Analytics
ERP solutions use business intelligence tools to pull the data and collect it in the most efficient form. It processes the data and generates insightful analytical reports that comprehensively show the overall performance of the business as well the performance of every department in an organization.
Leaders can use this accurate information to point out the areas that are not meeting expectations and invest more time and resources to come up with better strategies to boost the performance scale.
Furthermore, you can also customize such progress reports for the sake of clients, stakeholders, or your employees so as to keep them informed or to easily deliver your message aboard. This way, you can save yourself from the effort of going through tons of documents and spreadsheets to generate evaluation reports.
4. Better scheduling
ERP software also eases the boring scheduling tasks for you.
You can schedule the work hours or shifts of your employees, meetings, conferences, when the inventories are going to be delivered, when the invoices will be issued, etc. onto a single calendar that is accessible throughout the organization, so everyone can stay on the page and no time clash can occur.
5. Better Collaboration Across Departments
The more the departments in your company, the more important it is to maintain constant and effective communication across all the departments. Poor communication might lead to costly errors.
For instance, communication errors between your material supplier and distribution centers can cost you inventory errors.
ERP ensures that everyone in an organization is on the same wavelength by automatically organizing the files, documents, emails, calls, work schedules, etc.
6. Strong Data security
When you are operating online, there is a constant threat to your business integrity from malicious cyberattacks. An ERP also aids you in this regard by providing you with real-time risk management tools.
These tools automatically perform audits and fraud monitoring and protect your business database against data breaches.
Additionally, with an ERP system, you have all your data under one roof, this not only improves work efficiency but also improves security by eliminating the need for data duplication on different platforms
Best ERP Solutions For Small Businesses
You already know the advantages using an ERP solution can bring to your business. If you decided on benefiting from one, now the next thing you must be wondering is what are your options especially if you are running a small-scale business.
I listed down some of the best ERP solutions for small businesses, along with their key features and pros and cons.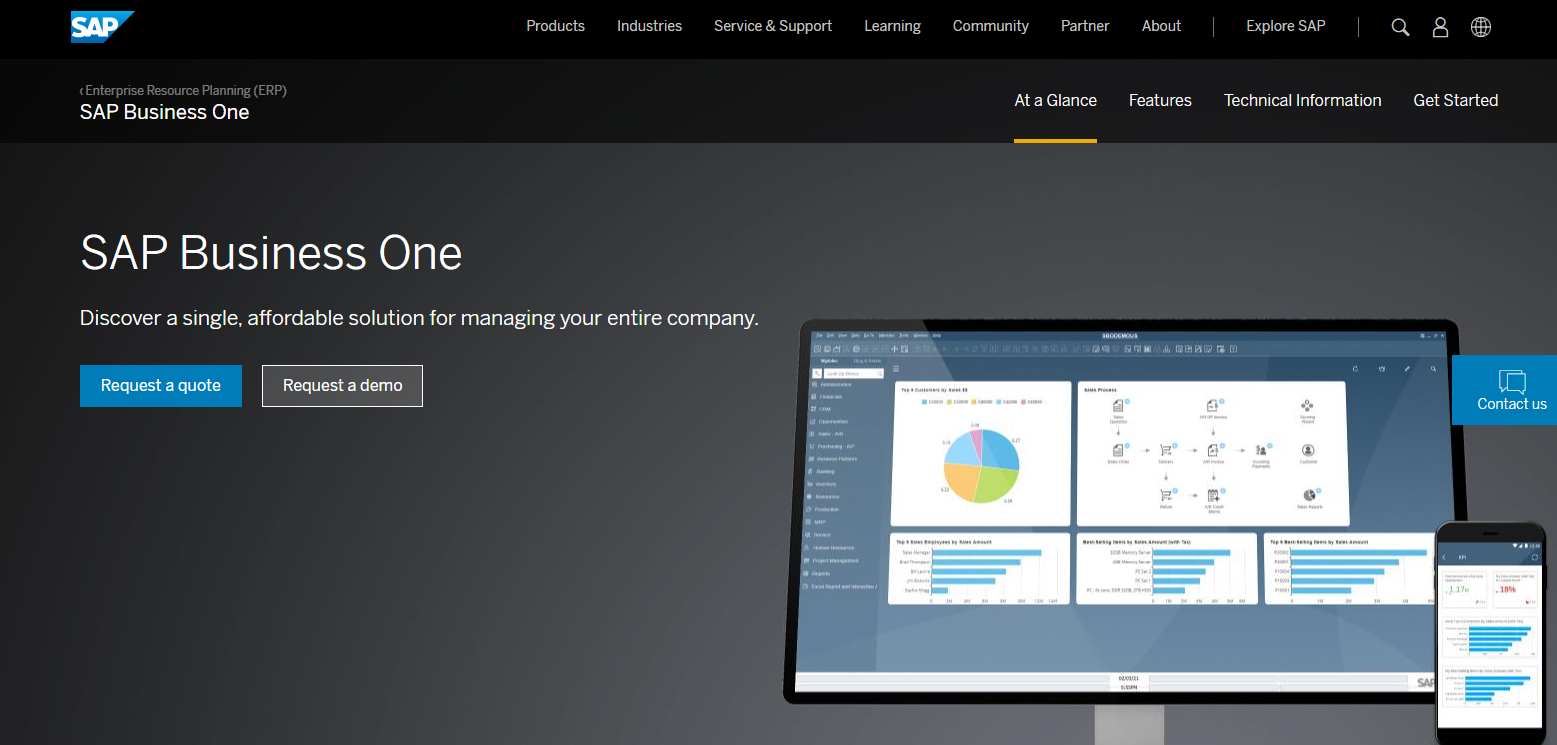 SAP Business One offered by SAP SE is an all-in-one solution for ERP needs. This software is designed to grow your business.
Perfect for small-scale businesses, SAP Business One allows you to increase your business scalability by streamlining your core business operations. Providing you with thorough insights about every business process so you are equipped with all the vital knowledge to make key business decisions.
It gives you clear and complete data visibility and control over every business aspect. You can significantly reduce the cost of managing your entire business using SAP Business One's complete set of financial management tools. With these tools, you can reduce the error and improve margins to make more profitable decisions.
You can easily access the data from different sources to create comprehensive performance reports or customize the already existing ones using BI-based reporting and analytical tools. You can also create detailed reports of sales processes using its sales and customer management functionality.
Key features
It allows you to automate the handling of all the key accounting processes including receivable and payable accounts and journal entries
You can run effective marketing campaigns by creating, managing, and analyzing different marketing activities
You can generate sales quotes using various templates
It automates the generation of procurement propositions
You can effectively manage inventories and track purchase orders
You can generate insightful reports in various formats using real-time data
Pros
User-friendly dashboard
Easy to deploy
Cost \-effective
Cons
Lack of drag and drop functionality
Pricing Plan
SAP business one provides a lot of pricing options for you to pick from. All businesses have different requirements; thus, it's best to check the boxes you need to be filled for your operations. The limited license costs $52 per user/month. This license comes with partial settings and focuses on logistics, finance, or CRM optimization.
SAP's professional license is a full feature package that costs $108 per user/month. You can also book a free personalized demo before making a purchase decision.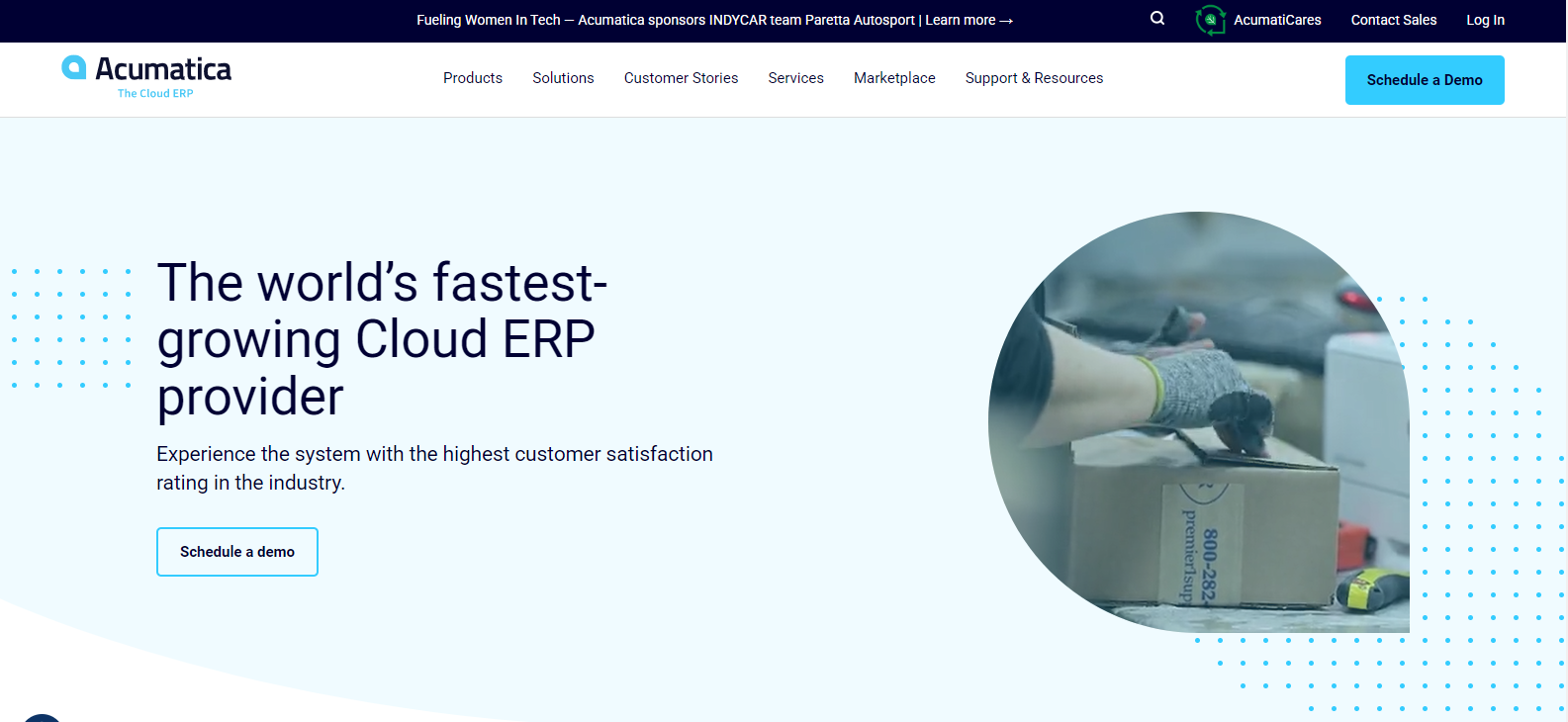 A comprehensive set of modules is available from reporting and centralized security, to the integration of electronic document management, to efficient order management, making Acumatica a leading ERP for small businesses.
A cloud-based ERP and accounting software are also available on the platform.
With customers around the world, Acumatica is a leader in cloud ERP. You can access your business anywhere and anytime with Acumatica ERP's all-inclusive licensing model, which delivers agile cloud and mobile technology. Get real-time insight into data wherever you are, using powerful customization tools.
To maximize ROI on all your technology investments, ERP extends the functionality for managing fixed assets and deferred revenues. Accounting software such as Acumatica ERP helps companies track billing for professional services, labor costs, and claim contract-allowable expenditures.
Key features
Ensure all technology investments deliver top ROI by managing deferred revenues and fixed assets
There are versions for different industries, like commerce, distribution, and manufacturing
An integrated customer relationship management system that provides real-time information about customer insights, activity, and quotes.
Billing rules for complex project attributes can be handled by project accounting
Multinational companies can benefit from financial applications
Pros
Continuous update of interface
Individual claim reporting
Easy customer management
Cons
To deny a claim, a user must type a manual email
Pricing Plan
Acumatica has introduced a very flexible and modern pricing plan for its users. The business allows you to book a free demo where you can understand the basic operations and convey your requirements. Their system analyzes your needs and suggests a plan based on the features rather than the number of users registered for the service.

Small and midsize businesses can benefit from Microsoft Dynamics GP, a financial accounting system. In 2001, Microsoft acquired Great Plains Software, which developed Microsoft Dynamics GP.
With Microsoft Dynamics GP, you can manage finances, human resources, manufacturing, supply chain, and field service, as well as gather information, collaborate and comply with regulations. It allows for better supervision, visibility, and control within an organization because Microsoft Dynamics GP connects all moving parts.
A la carte modules are also available, as well as thousands of third-party applications from independent software vendors (ISVs) that can be added to the system to meet specific requirements. Dynamics GP leverages the .NET and Windows frameworks GP. You can deploy the system on-site or host it monthly. Benefits include support and online training from the company and its partners.
Data is stored in Microsoft SQL Server as part of Dynamics GP's mid-market business accounting software package. Microsoft Dynamics is an intelligent business application written in the Dexterity programming language.
A comprehensive business management solution is available out-of-the-box with Microsoft Dynamics GP. Microsoft Dynamics GP was formerly known as Great Plains.
Key features
It is available on hybrid, premise, and private/public cloud
It offers management of the supply chain with regard to returns, production, inventory, etc
It manages accounts, payroll, and finances along with managing assets, cash, and bank
Performance can be tracked using analytics and real-time data to gain actionable insights
It manages contracts, professional services, contracts, etc and all sales opportunities too
Pros
Universal database making employee management simple
Multiple team members make payable processing quick and easier
Health insurance forms
Cons
The range of buttons on a dashboard makes simple tasks complicated
Out of sync data; difficulty in communication by modules
Pricing Plan
Dynamic's initial plan costs $150 per month for the first three users. For the next primary users, the cost jumps up to $250 per month. A read-only-access is also available for $50 per user/month. To add to the starter package, you can pay a one-time fee for all the features you require.
Syspro is a reputable name in the ERP industry that has years of experience in the field.  This fully-fledged solution is highly flexible and can be deployed on-premise, in the cloud, or through a hybrid model. Its focus lies on small to mid-size businesses engaged in the manufacturing and distribution sector.
With Sysprofully integrated and end-to-end business solution, you can manage all the aspects of the business including accounting, supply chain, order and inventory, production, customer relationship, manufacturing, planning, and scheduling.
The tools offered by Syspro are highly sophisticated yet easy to adopt and they enable you to integrate technologies like ML, AI, cloud, IoT, and consumer-grade user experience (UX) into the system.
Best of all you get the Syspro mobile application to access your business operations and data anywhere, anytime. Even though not all functionality or modules are available on the mobile app you still get most of the functions and access to the database.
Key features
It automates the order-to-delivery processes for you
With lot tracing and serial tracking, you can trace the whole product journey right from its source to its final destination
Gain balance for inventory investments and services through automatic KPI monitoring and permit customizations
You get comprehensive information on inventories in a single or multi-warehouse setting
Ensure the testing of new products before distribution to the consumers or clients
Pros
Data-driven decisions
Easy to use
A large number of modules are available
Easy data extraction from excel
Cons
Pricing Plan
Syspro provides a fully dynamic and customized pricing plan. Their website lists all the available features and their per-user subscription price. You can take your pick!
Dolibarr is an open-source ERP system for small businesses that provides an all-in-one solution to facilitate businesses in managing a wide range of everyday operations that too completely free of charge.
It hosts a range of tools and functions to help you run processes smoothly and efficiently and get rid of performance barriers. It gives you a whole picture of your business operations so you can track and monitor every aspect and effectively manage workflow throughout the organization.
Dolibarr ERP system is modular based, meaning you can choose the module and features you actually need based on your business type. With Dolibarr no-code module builder, you can craft custom feature packages and modules even without the prerequisite of coding knowledge. Furthermore, this system allows you to pick the functions from numerous capabilities like CRM, finance, manufacturing, marketing, etc.
Through the CRM module, you get support for proposals, contracts, and contact management. In addition to this, you can streamline manufacturing, purchasing, shipment, and warehouse functions via product and stock modules. Other modules include marketing, finance, and productivity modules, each with unique functions and features.
Key Features
You can immediately start working without the need to re-enter the data simply because of the inter-module integrations
Low code module builder assistant enables you to customize the module features very easily
With REST APIs you can extract any data, insert delete or update any record
Module TakePOS features enable you to effectively manage all points of sales with both one or several POS terminals
Module margin calculates the margins from the best suppliers and gives you the margin statistics per product, date, and customer
Pros
Free of cost
Well-integrated features and modules
Ability to add extra add-ons
Customization of features
Supported in every device
Cons
Only manages one currency at a time
No auto backups
Pricing Plan
Dolibarr is an open-base software. This means you can download the starter package for free. However, these options come with a limited set of features, The more advanced versions include a basic and premium option. You can subscribe to the basic plan for merely $12 a month and gain access to 2000 API calls plus 4 GB of backup data.
The premium plan costs $30 per month. An additional cost of $15 is incurred upon adding a new user.
Final Thoughts
Modern businesses are adapting to technical software to get rid of the day-to-day management hassles. ERP has truly proven to be one of the more revolutionary modes of optimizing business functions.
Since its inception, several players have entered the market space and made for a diverse industry.
I've already listed down my favorite picks. There's no single best option, though. You're the best judge of your business problems. Thus, make a pick accordingly and get ready to move towards virtual optimization!