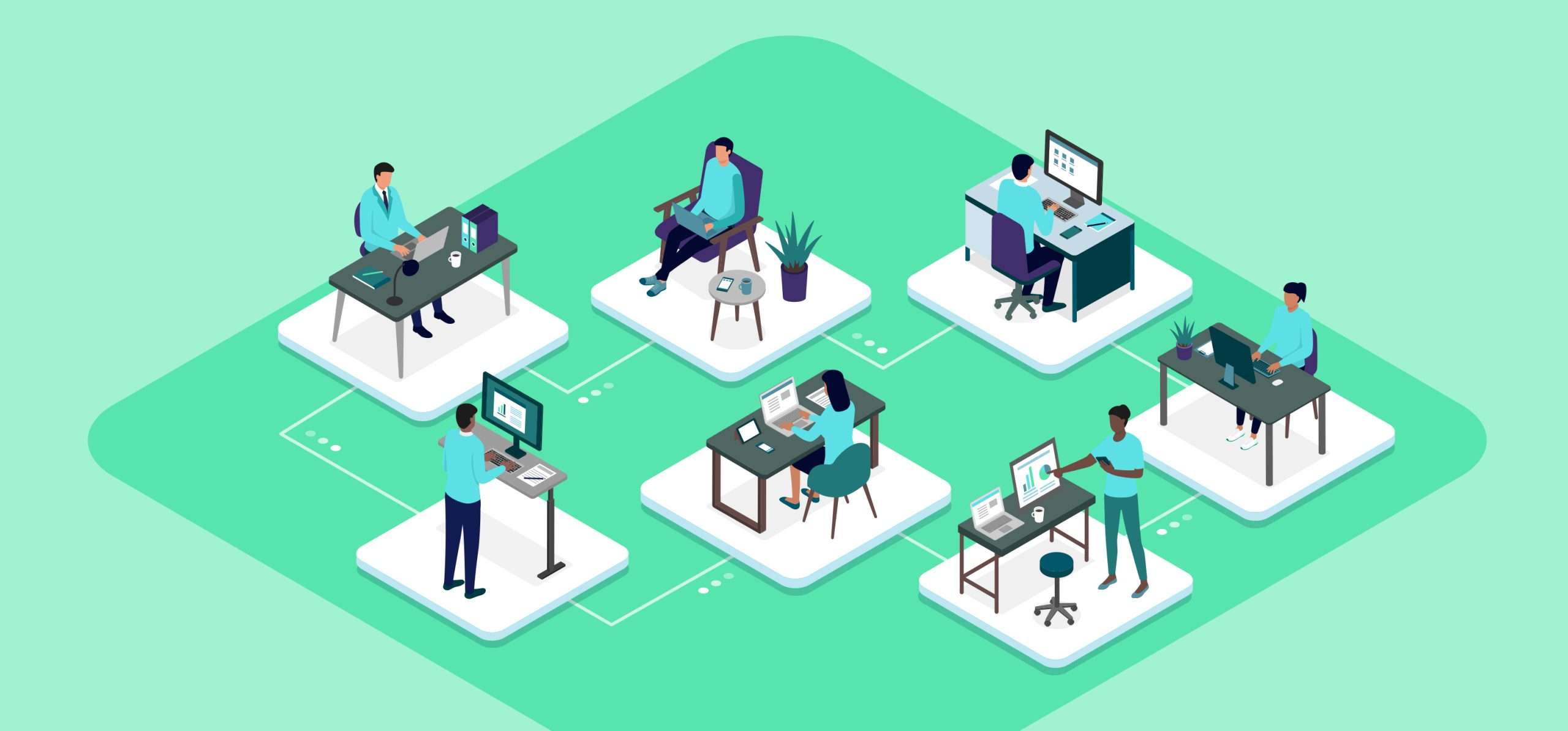 Hot desking software is a booking app that provides you with the necessary tools to utilize your office space effectively.
Using a centralized dashboard and automation, you can run a hybrid workspace system in your company and deliver a flexible working environment to your employees.
Let's explore the hot desking software and check out the list of apps that offer booking features.
What is a Hot Desking Tool and What Features to Look For?
Hot desking software allows you to build a digital reservation system in your office for desks, meeting rooms, parking spaces, and equipment.
Via this system, your staff can grab any vacant seat on the spot and book meeting rooms and other amnesties for a day or a limited period.
Some top features to look for in Hot desking software;
Seats and room reservations.
Office maps.
Teammate locator.
Microsoft, Google, Zoom, and other productivity platform integration.
Visitor management.
Many booking platforms come equipped with both hoteling (reservations in advance) and hot desking (First-come-first-serve booking) tools. While they are technically separate concepts, you can incorporate both into a single workspace model.
Below are some of the best hot desking tools available in the market. I have picked these platforms based on their user capacity and core functions.
Let's dive in!
Robin offers all the necessary features to establish a hybrid workspace.
You can design an office map to make reservations easier, assign permanent and temporary seats to the staff, and place boardrooms and empty spaces up for booking.
Employees can reserve available desks on the spot and align their schedules with teammates to work together in the office. With auto-notifications, they can keep track of weekly activities, so they don't miss out on important events.
You can also allow guest invitations and include amnesties in certain rooms for client meetings. To ensure your staff is not misusing the benefits, you can set a few policies on space usage.
Core Features
Desk and room booking.
Office maps and status board.
Visitor management.
Space policies and amenities setting.
Integration with Microsoft, Slack, Zoom, and other productivity platforms.
Analytics, reporting, feedback.
Mobile app.
Price
Robin shares prices on request. You can explore the software for free.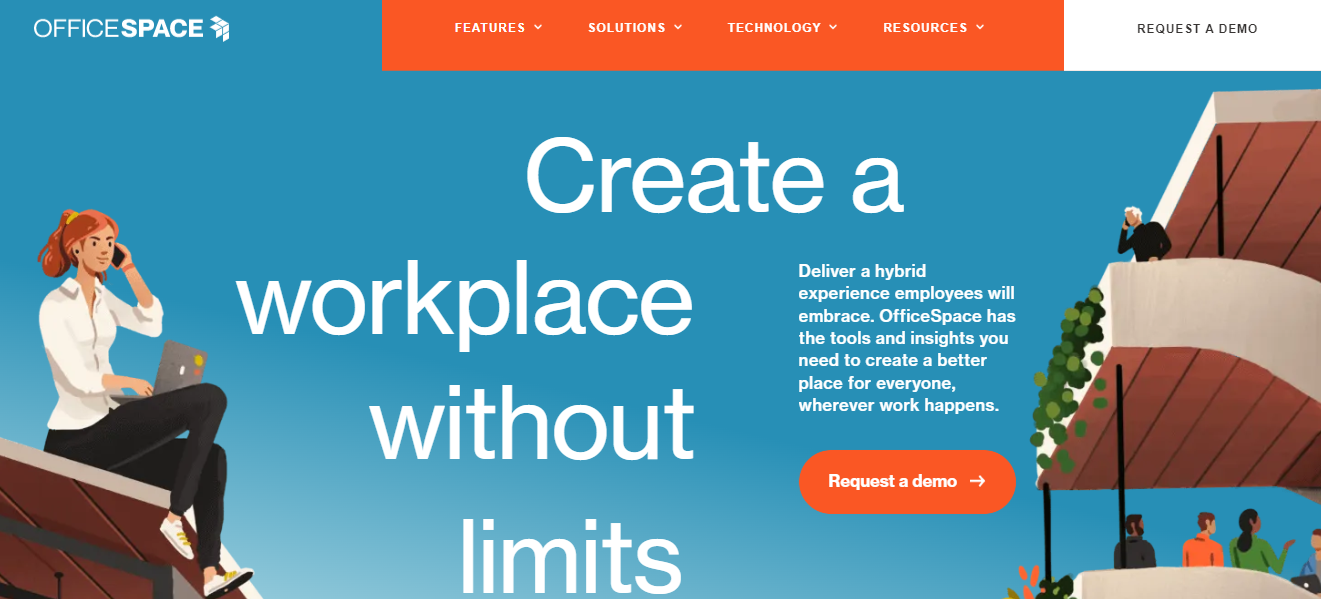 Office Space lets you plan and execute a booking system with ease.
You can create and test various office layouts, move departments to other areas at once, and reshuffle seating arrangements anytime.
Via a visual directory, employees can find open seats, check who is occupying the spaces, reserve rooms for meetings, and drop pins on the desk location to submit facility requests.
If you have a large workforce, you can assign specific spaces to managers and let them handle their team's schedules. They can book seats on their behalf, rearrange their desks, and move any member to another space.
Core Features
Desk and room booking.
Interactive floor plans and wayfinding.
Layout testing.
Health checks.
Office visibility.
Intelligent search.
Third-party Integrations.
Mobile app.
Price
Office Space offers custom quotes. Request a demo to learn more about it.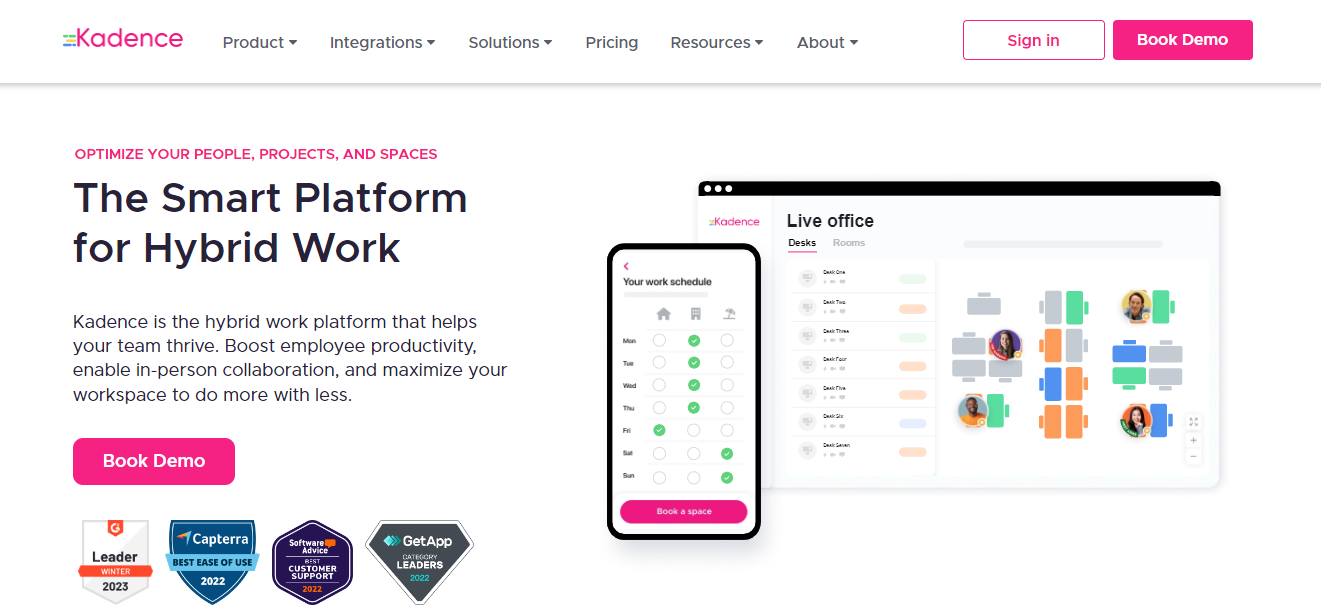 Kadence provides an intuitive platform for office space management.
People can easily check space availability on the interactive map and book desks from their Slack, Microsoft Teams, or Kadence mobile app accounts.
If some of your teams work together on joint projects, managers can make group reservations and invite external partners or guests to the meeting.
Kadence's best feature is its insight tool. You can see how many are currently occupying the space, who has booked rooms for the next few days, and what is the foot traffic on certain days.
You can also evaluate how much of your office's space capacity is being utilized to plan for additional resources.
Core Features
Desk and room booking.
Floor plans and office visibility.
Health screening.
Team coordination.
Visitor management.
Custom branding.
Third-party integrations.
Analytics.
Mobile app.
Price
Kadence charges $4 per user. You can add unlimited users and desks to your plan.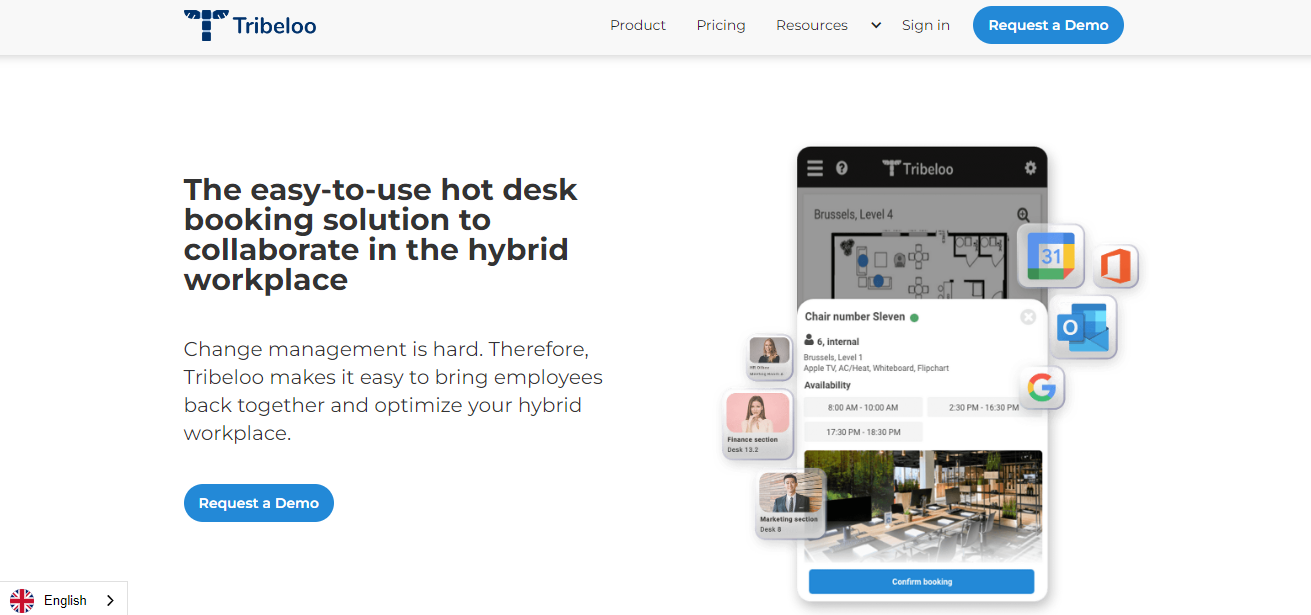 Tribeloo is a user-friendly hot desking software.
Via drag-and-drop interface, you can set up an office map and create neighborhoods to designate spaces for each department. You can also customize your resources to add other benefits like parking and facilities.
Staff members can locate teammates on the map, update their bookings directly from their calendars, make private reservations, and submit special requests. Tribeloo is planning to introduce a new feature soon that would allow you to invite your teammates to join you.
You can use Tribeloo on desktop, mobile, and room display screens.
Core Features
Desk and room booking.
Office map.
Facility management.
Privacy mode.
Analytics.
Outlook and Google integrations.
Mobile app.
Price
Tribeloo prices start from €3. You can take a free trial to explore it.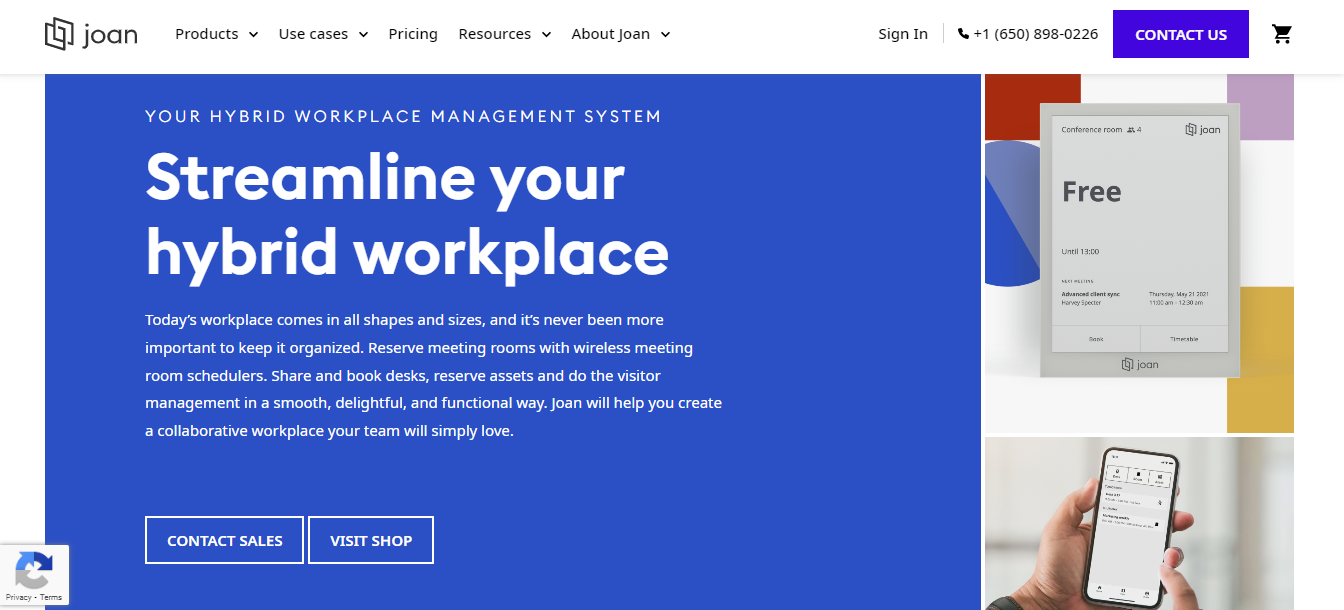 Joan offers on-premises room booking solutions.
It delivers wireless touchscreen tablets that you can mount on the office lobby or boardrooms to display reservations. Anyone can check the available slots on the device and book the room on the spot.
If you have TVs in your office, you can connect Joan to your devices and show the booking schedule on large screens. This comes in handy when you need to arrange conferences or training workshops and want to announce it to the entire organization.
For desk and other assets reservations, Joan provides a web portal and a mobile app. Employees can grab parking space in advance, book vacant desks, and request equipment.
Core Features
Meeting room reservation.
Desk, parking, equipment booking.
Floor plan.
Health screening.
Analytics.
Hardware.
Integrations and API access.
Mobile app.
Price
Joan desk booking plan costs €2 per person while room subscriptions start from €6.
You can take a 30-day free trial.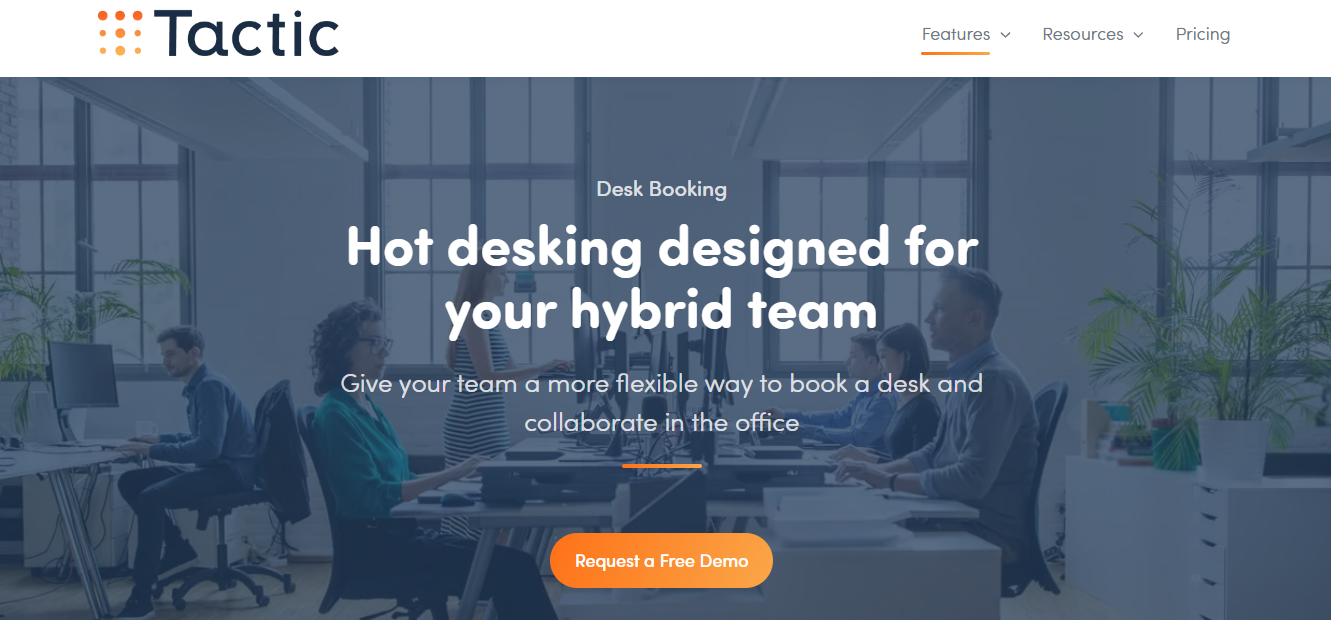 Tactic software provides desk booking, room reservation, and visitor management features.
With interactive maps and team schedule visibility, people can check available spaces and coordinate with their colleagues to book nearby desks.
You can fix booking times of both desks and rooms, set aside some space for selected teams, add approval workflows on certain spaces, and allow recurring room reservations.
For visitors, you can build a self-service check-in system and connect Slack to receive arrival notifications. You can customize your check-in processes to deliver a personalized experience to your guests.
Core Features
Desk and room booking.
Office map.
Teammate schedule visibility.
Health screening.
Visitor management.
Insights.
Admin control.
Third-party integrations.
Mobile app.
Price
Tactic charges $23 for 20 desks and $40 for five rooms. You can add up to 500 desks, 50 rooms, and 10 locations to the package.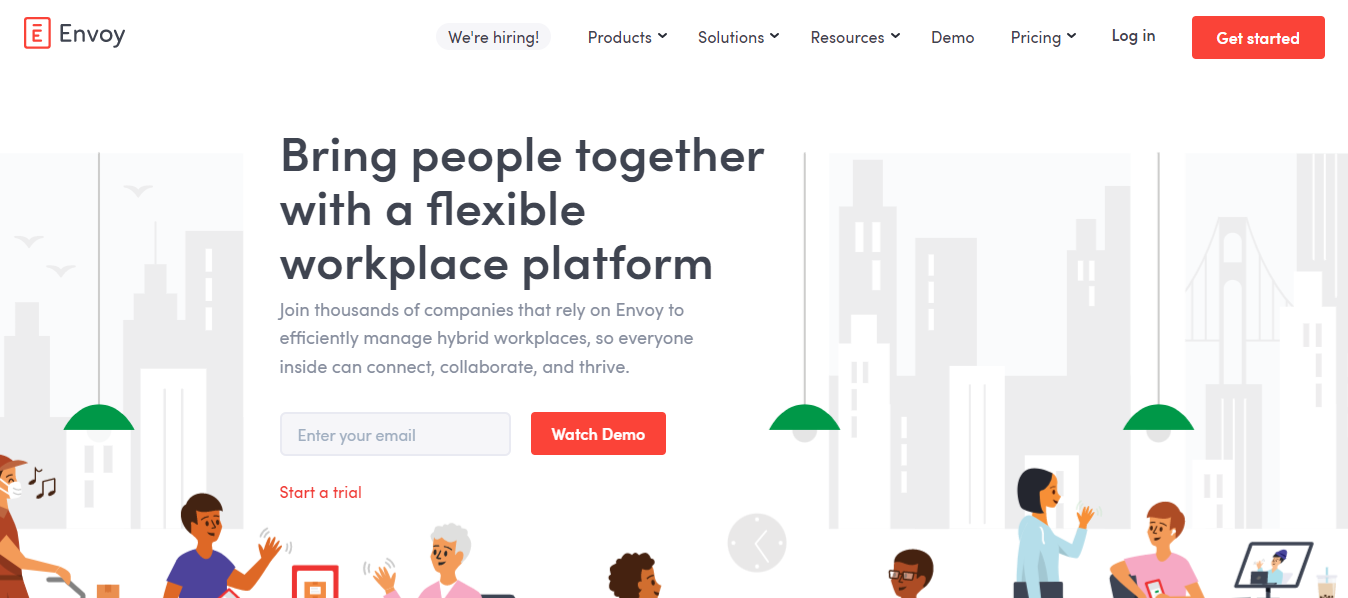 Envoy shares a diverse range of booking features.
Employees can choose where to sit and make reservations for the day or a week in advance. They can send invitations to colleagues to schedule their visit together and bring guests for work collaboration.
You can customize your office seating arrangements based on departments, projects, or functions and define which seats are available for hot desking.
What I found most interesting about Envoy is its delivery software. You can include your mail room activities in the app to automatically notify people when they receive any parcel.
Core Features
Desk, room, and amnesty booking.
Office maps.
Team neighborhoods.
Search filters.
Visitors and deliveries management.
Area restrictions.
Analytics.
Third-party integrations.
Mobile app.
Price
Envoy charges $4 per desk, $21 per room, and $119 per location for visitors.
The basic plan is free of cost.
Condeco enables you to put every available space in your office for booking, whether it's a desk, meeting room, parking spot, or recreational area.
You can divide your office space into open and restricted areas, create a check-in process for both staff and visitors, and manage multiple locations from a single dashboard.
Colleagues can book desks by the hour, reserve seats near their teammate's desks, and locate other people working in the office.
Leaders will have the authority to reserve rooms for a group, integrate Zoom to include remote members, invite guests to the meetings, and re-arrange the booking date and space.
The software is easy to use and works well on desktop and mobile.
Core Features
Desk, room, parking, and amnesties reservation.
Visitor management.
Group booking.
Search filter.
Smart calendar.
Admin control.
Third-party integrations.
Mobile app.
Price
Condeco's annual subscription charges range between $35 and $45.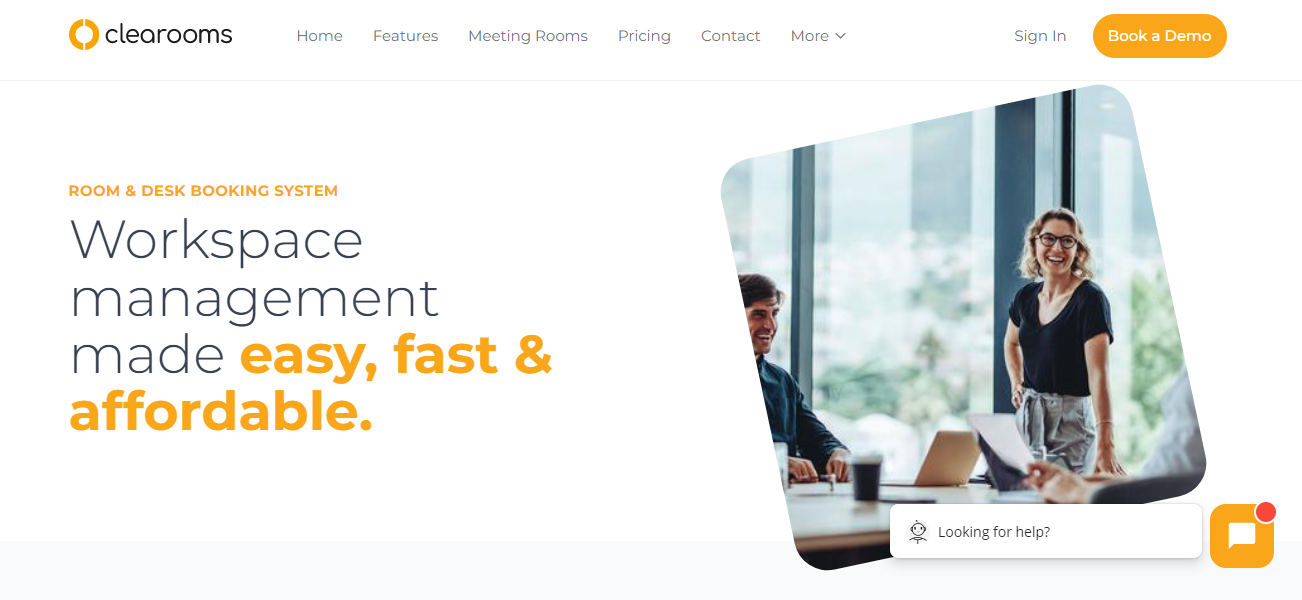 Clearooms is incredibly flexible software.
You can allocate spaces to teams, place a time limit on reservations, restrict any rooms or desks, and cancel or book seats on behalf of your staff.
Employees can view and reserve available desks from their smartphones, grab parking spots in advance, check in and out through a QR code, and locate people on the app.
You can connect Clearooms to your meeting room hardware and add refreshment service in the booking option. If someone has not checked in on time, Clearooms automatically cancel the reservation and make it available to others.
Core Features
Desk, room, and parking spot booking.
Interactive floor plan.
Neighborhoods.
Automation.
Analytics.
Third-party integrations.
Mobile app.
Price
Clearooms prices start from £20. You can purchase a plan for as low as five and as high as 1000 desks. For meeting spaces, Clearooms charges £10.
Yeastar is a communication platform that delivers a workforce management tool for desk booking.
The application covers desk and meeting room reservations, visitor management, third-party Integration, and hardware connectivity.
You can offer flexible booking options to your staff, designate spaces and desks to specific members, and allow guest visitations.
Through office maps, employees can find available desks in real time, locate teammates working in the office, and make recurring reservations.
What makes Yeastar appealing is its product diversity. You don't have to look outside for complementary features. You can buy other hybrid workforce management services, including VoIP, from the same platform.
Core Features
Hot desking, room reservation, facility booking.
Visitor management.
Interactive map.
Automation.
Colleague locator.
Flexible seating arrangements.
Hardware and software integrations.
Mobile app.
Price
Yeastar shares prices on request. You can try it for free.
Ronspot delivers desk, meeting room, and parking spot booking system.
Employees can book directly from the interactive map and retain their spot for up to 14 days. (90 days if you're on an enterprise plan.) Through search filters, they can adjust their results and discover desks with amnesties or additional assets.
You can set fixed booking timings, remove some seats from the slot, give reservation priority to selected members, and place a limit on bookings so everyone can use the space.
With both software and hardware integration, you can monitor your staff movement and record check-ins and outs.
Core Features
Desk, room, and parking spot booking.
Guest invitations.
Interactive maps.
Teammate locator.
Branding.
Automation.
Analytics.
Software and hardware integrations.
Mobile app.
Price
Ronspot charges €2 per desk. You can get started for free.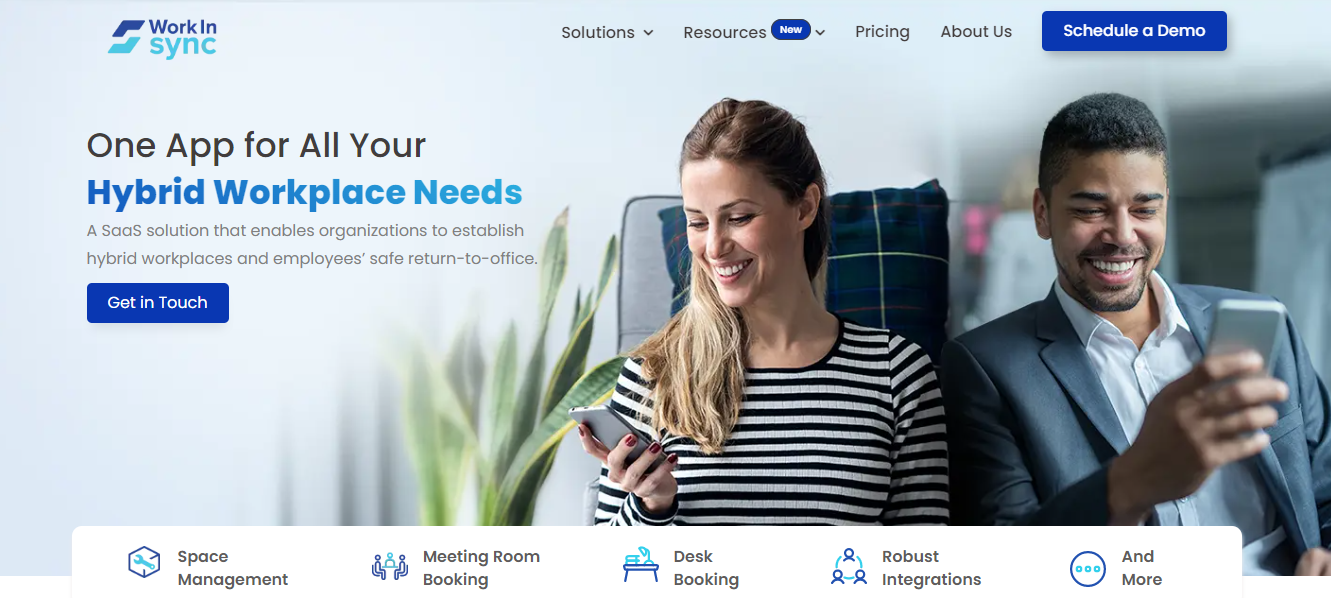 WorkinSync is built for mid to large-size companies. It provides advanced functionalities to help organizations establish a seamless booking system.
Your staff can reserve desks, rooms, parking spaces, and even cafeteria meals to make their office experience comfortable.
Via a centralized dashboard, you can monitor check-ins and outs, design shift schedules for teams, and manage facility requests.
Managers will have the flexibility to book desks on their team's behalf and reserve rooms for meetings. With auto-notifications, participants get instantly notified of bookings, changes, and cancellations.
Core Features
Desk, room, parking, meal reservations.
Visitor management.
Service requests.
Wayfinding.
Health safety.
Analytics.
Third-party integrations.
Price
WorkinSync per-user charges range between $3 and $6. The minimum user requirement is 100.
Schedule a demo to learn more about it.
Final Words
A Hot desking app can solve multiple workforce management problems at the same time.
You can use it to introduce a hybrid model in your office, utilize limited resources efficiently, and foster an immersive work culture.
Choose the software based on your company's goals. It will help you shortlist the best-suited applications for your organization. Good luck!