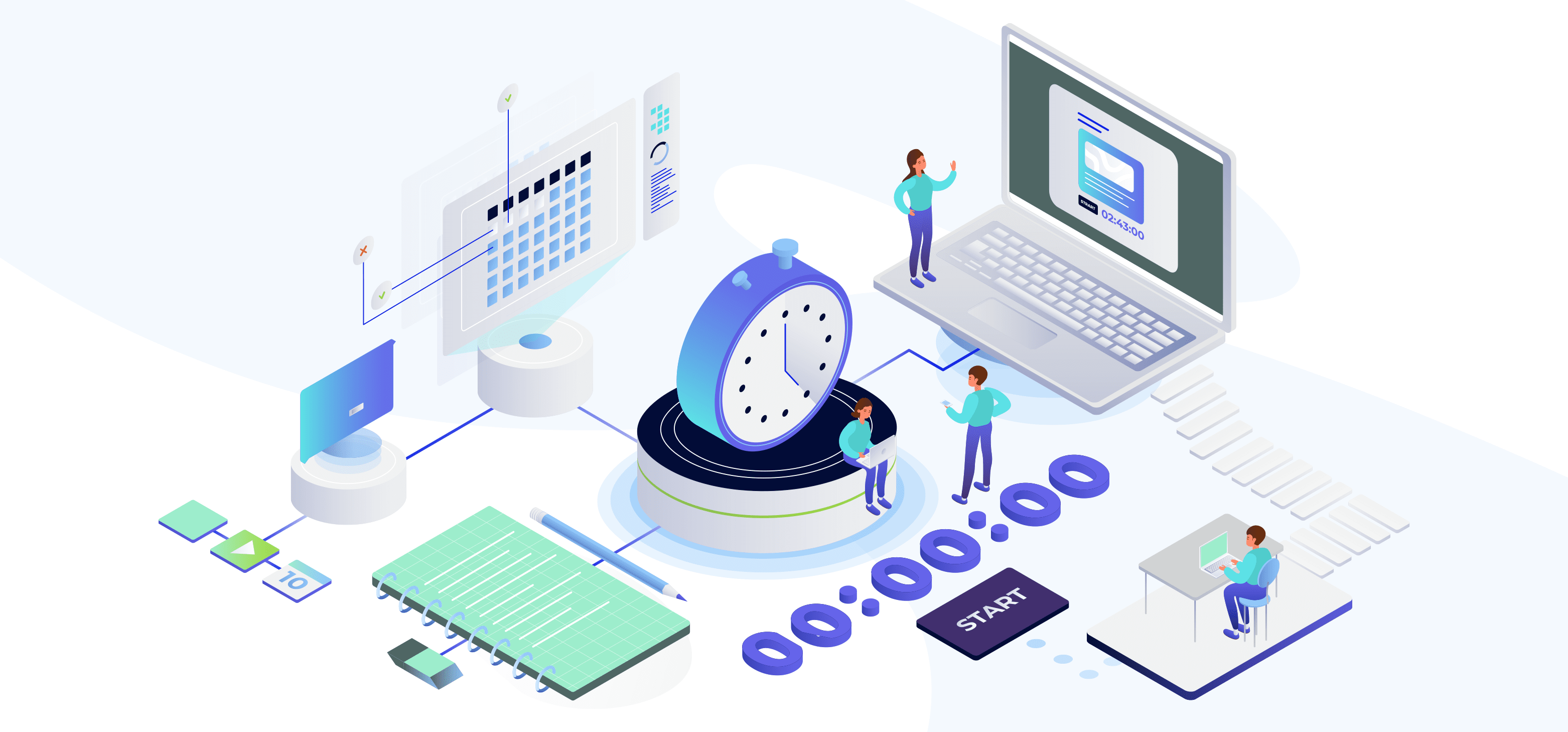 Manual timesheets are incredibly difficult to manage and often risk the chance of errors. No matter how meticulous you are, there's always a possibility your employee might under or over-record their billable hours, adding more work to your already full schedule.
Employee tracking software gives you real-time data on how your staff spends their workdays and where they invest most of their productive hours. You can gain more visibility into your daily operations and better manage your resources.
What is An Employee Time Tracking App and Why it's Important?
Tracking apps have auto-timers and supervision tools to record user activities and generate timesheets. They log your team's billable and non-billable hours to deliver an accurate measurement of your employee's work.
With such data, you can do a lot of things, such as forecasting project deadlines and developing schedules based on your staff's work capacity. 
It also enables you to reduce time theft and save the company's costs.
Below, you'll find some of the best software products for employee tracking. Explore the applications to understand their functions better.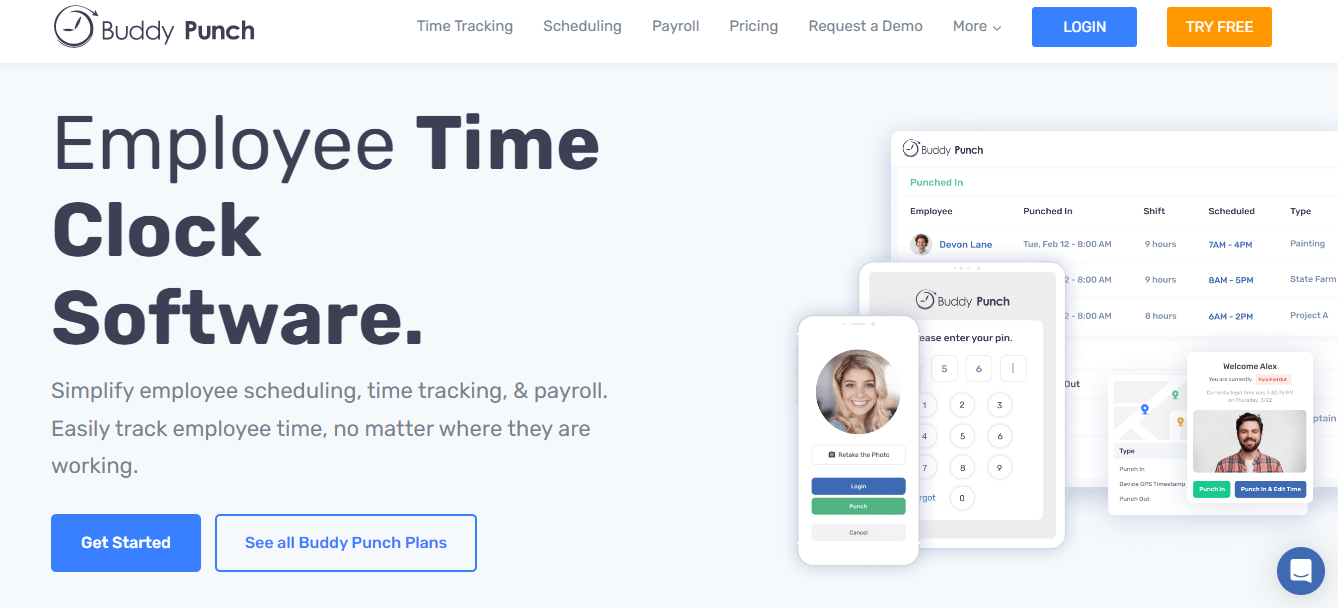 Buddy Punch is a time clock software. With this app, you can track your staff's working hours, manage PTO, record overtime, and note breaks.
It has an image capture tool and a GPS tracker that eliminates time thefts and delivers real-time data on your staff's movement. With reminders and notifications, you can monitor clock-ins, time off requests, absences, and overtime.
Buddy's Punch's advanced package also provides a scheduling builder. Using pre-built templates, you can plan shift schedules, limit jobs to specific locations, and allow your employee to trade shifts with others.
You can use Buddy Punch on desktop and mobile phones. It has separate apps for iOS and Android.
Core Features
Shift scheduling.
PTO and break recording.
Time clock and GPS tracker.
Facial recognition.
Payroll Integrations.
Reporting.
Mobile app.
API access.
Price
Buddy Punch's per-user charges are $3 to $4 per month.
You can take a free trial and ask for a custom plan.
Clockify comes with a diverse range of features, from a simple Pomodoro timer and calendar to complex project management and reporting.
Here, you can get the breakdown of your team's work and create timelines to compare performance.
For team monitoring, you can set the tracker on auto, get screenshots of employees' activities, and enable Geo-mapping to supervise the field team.
With its mobile-friendly app and a simple approval system, your team can easily bill their hours and submit leaves and expenses.
Core Features
Auto-tracker, Kiosk, and timesheets.
Custom timer and offline mode.
Activity summary and reports.
Screenshots and Geo-mapping to supervise staff.
Approval workflow to record leaves.
Expense and invoice sheets for payroll.
Calendar and third-party integrations.
Project management.
Desktop and mobile versions.
Price
Clockify's prices start from $4. You can sign up for free.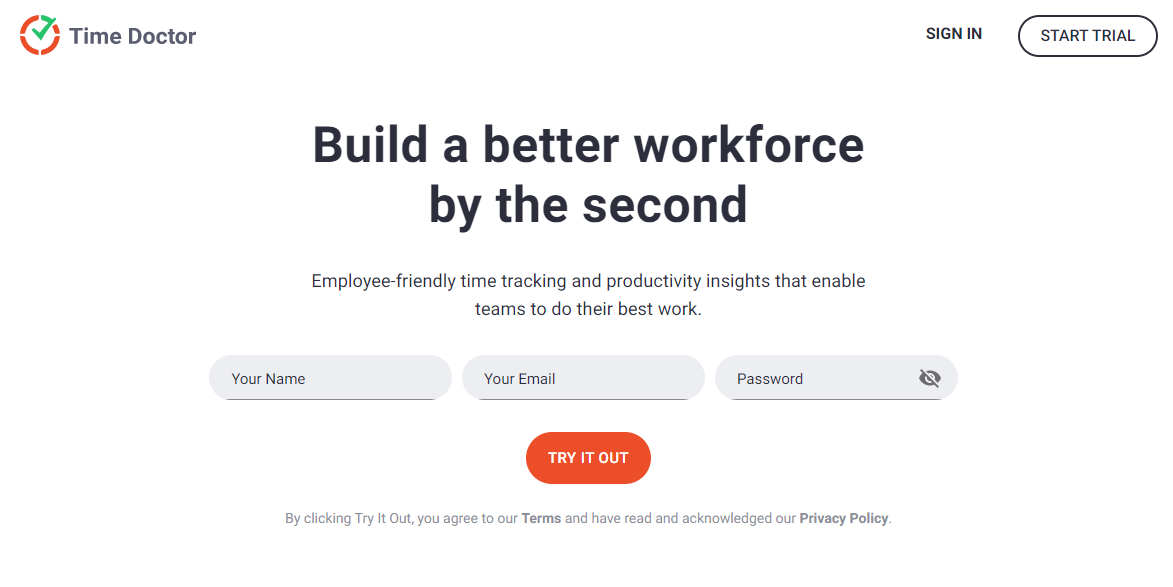 TimeDoctor is designed for remote teams. It tracks mouse and keyboard movement, automatically logging the hours your employee spends on their laptop.
With screen recording and analytics, you can monitor the websites your team typically uses to identify unproductivity activities. If any of your employees keep the laptop idle or get distracted by social sites, the app automatically sends alerts to get them back on track.
You can access TimeDocor via mobile phone and integrate it into your company's system. It's compatible with multiple devices and major third-party platforms.
Core Features
Online and offline time tracking.
Screenshots and recording.
Distraction alerts to grab user attention.
Productivity analysis and reports.
Client login to show progress.
Support desktop and mobile devices.
Integration with payment and productivity platforms.
Price
TimeDoctor basic plan costs $7 per user. It contains both clocking and screenshot features.
For more functions, purchase its premium package. It costs $20 per month.
If you've both contractors and permanent employees on your team, TimeCamp is ideal for you.
Contractors can on and off the tracker with a single click, create visual work summaries to show their billable hours, and generate invoices to get paid.
For teams, TimeCamp provides smart sheets that record employees' attendance, leave requests, and overtime. You can set up an auto-approval system and collaborate with your team to adjust any wrong entries.
The best feature of TimeCamp is keyword-based tracking. Your employees can assign specific words to each task to let the app automatically allocate hours to the right project. It saves them from manually starting the timer while switching from one task to another.
Core Features
Manual and auto-tracker.
Calendar to add tasks.
Timesheets for attendance and approval.
Screen monitoring.
Reporting and analytics.
GPS location for supervision.
Invoicing and budgeting.
Integration.
Price
TimeCamp's monthly prices start from $7. You can sign up for free.
HomeBase is perfect for shift-based businesses. It is an all-in-one app offering a centralized platform to create schedules, track hours, and process payments.
Your employees can clock in and out via mobile devices and get auto-reminders if they forget to do it on time. For unexpected leaves and overtime, you receive notifications, alerting you of the action.
Other notable functions of HomeBase are payroll and team communication. You can reach out to your employees and access their cards to review weekly metrics.
HomeBase also has an onboarding section to post jobs and hire staff.
Core Features
Templates for shift schedules.
Tracker and timesheets.
Budgeting, payroll, and advanced salary option.
Auto-alerts and reminders to both employer and employee.
Hiring and onboarding.
Team communication.
Mobile-friendly platform.
Integrations.
Price
HomeBase's premium subscriptions range between $20 and $80. You can explore the features for free.
Insightful helps you track and supervise on-premise employees' time. The dashboard has a stealth mode and trigger-based screenshot feature that randomly logs your team activities and records idle hours.
You can view their current status, monitor their screens, and label apps you feel might be unproductive. If you have a hybrid work model, your team can add Insightful to their computer and turn on visible mode to track hours.
With weekly reports and dashboard analytics, you can identify weak areas and develop better strategies to help your team optimize their time.
Core Features
Stealth and visible mode for on-premise and remote teams.
Auto and manual clocking.
Manager and Employee login.
Time and attendance tracking.
Automatic and manual screenshots.
Mapping and audit logs.
Integrations.
Price
Insightful monthly subscriptions cost $8 to $18 per month. You can buy add-ons to extend the functionality.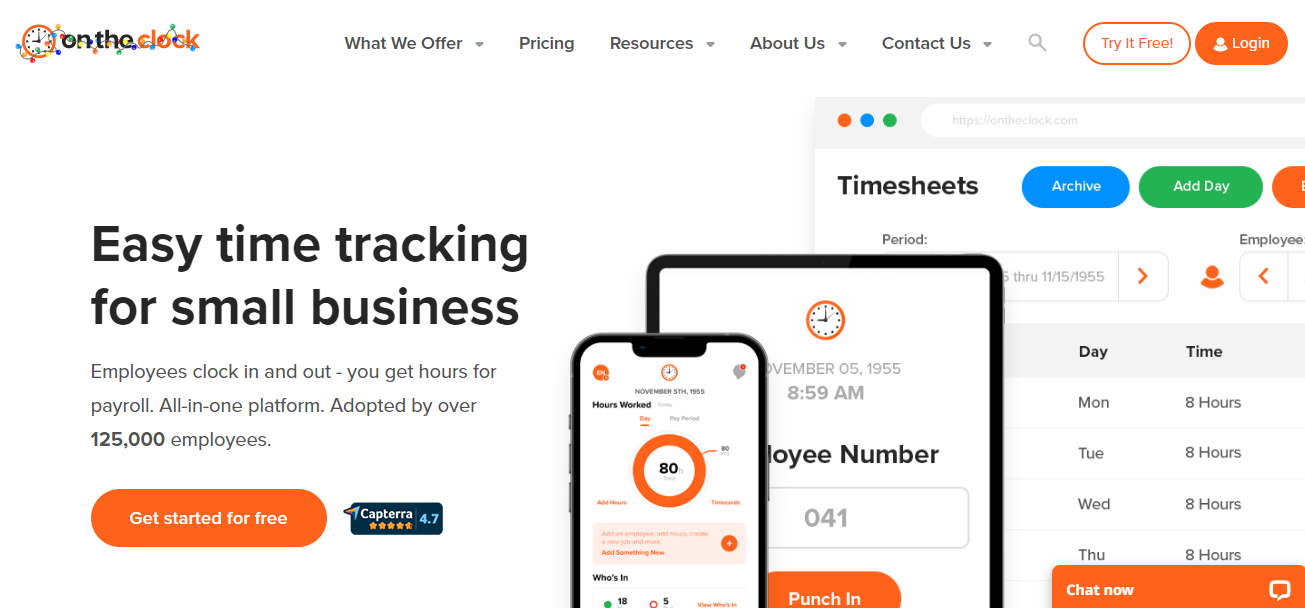 On The Clock works as a digital punching machine. It's a simple tracking app that records billable hours and sends timesheets to your accounting software for payroll.
Your site staff can manually punch in their attendance via smartphones and clock out when they leave the workplace. It automatically processes hours and time-offs to let you know how much to pay each employee.
With its thumbprint and Geo tracker, you can keep a check on your staff and reduce malpractices.
Core Features
Online and mobile timer.
Tracking hours and projects.
Attendance recording.
Breaks, overtime, and leaves.
Drag-and-drop schedule builder.
Multiple communication channels.
GPS and fingerprint to identify on-site staff.
Payroll integration.
Reports.
Compatible with desktop, tablet, and mobile.
Price
On The Clock's pricing per employee is $4. You can take a 30-day free trial to test the tool.
Attendance Bot allows you to monitor your employees directly from your Slack. It works like a chatbot and performs actions on word commands/messages.
Your team can record their hours with a simple in and out, ask for their schedule, and drop messages when they're on a break. For time-offs and flexible hours, they can send requests through Messenger and receive alerts when their leaves are approved. The bot delivers every request directly to you or your manager for approval before processing them.
You can also set your approval workflow on autopilot to save time.
Core Features
Integration with Slack and Teams.
Manual tracking and auto-reminders.
Timesheets and report downloads.
Shift schedules and approval workflows.
Current status of each member.
Hybrid work model features.
Price
Attendance Bot's charges $6 to $12 per user. You can try it for free and also ask for tailored solutions.
TMetrics delivers robust tracking tools. You'll get a team dashboard where you can monitor your employees' activities and get a summary of their billable hours.
You can add up to 200 people in your workspace, build multiple teams to separate departments, and restrict people from manually editing their timesheets.
Remote employees can download the app on their system and generate the breakdown of their hours. With a team view, you can supervise each user and observe projects with ease.
Other interesting features of TMetrics are time-off workflows, task management, reporting, and integration with productivity platforms.
Core Features
Screenshots and team view.
Online and offline recording.
Manual and auto-tracking with idle detection.
Team and task management.
Customization.
Integration with third-party platforms.
Compatible with desktop and mobile.
Client logins.
Price
TMetric per-user charges are $4 to $6. Its basic timer is free for up to 5 members.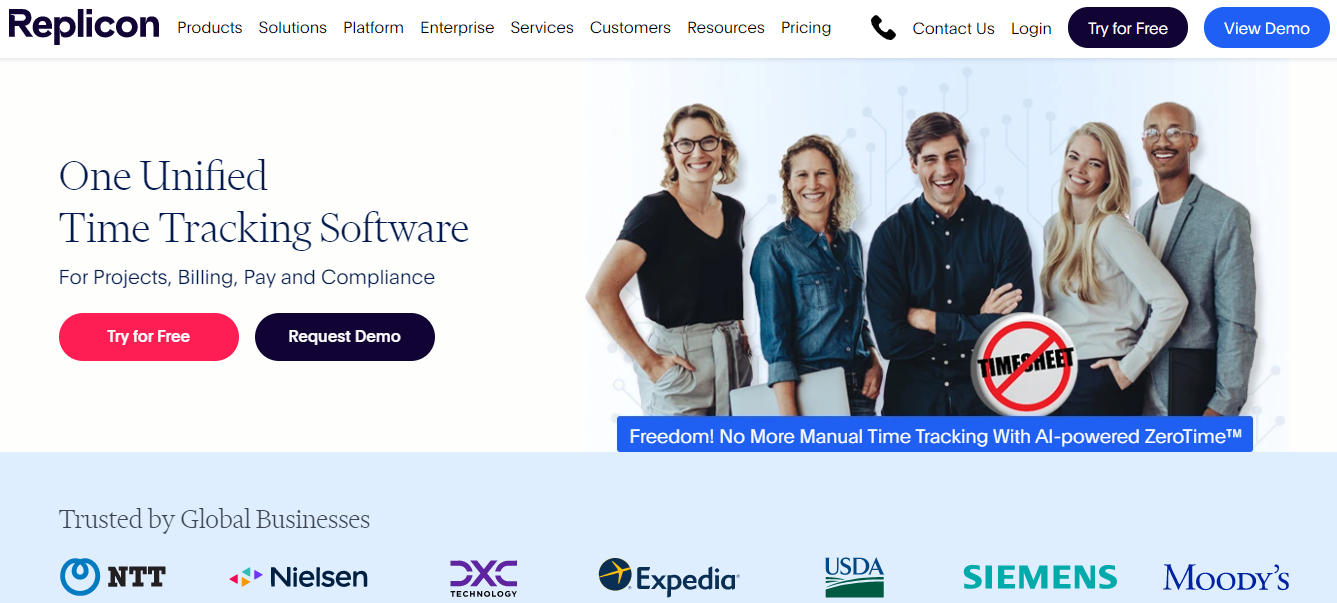 Replicon is well-suited for large organizations. It provides AI-powered features to help you manage your employees' schedules, billable hours, and payroll.
The software automatically tracks activities and generates timesheets, listing website and application usage.
If your staff generally prefer smartphones for work, they can log in from a self-serving kiosk to clock in and out, add breaks, and submit leaves. The self-serving portal has facial recognition and Geo features to identify users and track their locations.
For workforce management, you can create calendars and develop an approval hierarchy. Your team leads will be able to approve leaves, edit sheets, and adjust schedules.
Core Features
Advanced timer with auto-tracking and security features.
Workforce management dashboard.
Attendance sheets.
Projects, expenses, and leaves.
Self-serving portal.
Built-in compliance policies for payroll.
Reporting and analytics.
Integration with third-party software.
Mobile friendly.
Price
Replicon's subscriptions start from $6.
Accounting software, QuickBooks, offers a standalone tracking app that lets you record your field teams' billable hours and build timesheets.
The platform comes with a mobile app for employees so they can clock in, track time, and submit sheets remotely. They can sign digitally to show their proof of work and post pictures to confirm their activities.
You'll also find several staff monitoring tools like a kiosk and Geo-maps to take on-site attendance and see your team's current positions.
Overall, it's ideal for those who already use QuickBooks for payroll.
Core Features
Mobile app for tracking.
Kiosk to take attendance.
Drag-and-drop schedule builder.
Alerts and reminders to stay updated.
Custom reports.
Geo Map and GPS tracker.
Integration.
Price
QuickBooks Time costs a minimum of $10 per user. You can take a 30-day free trial before purchasing the plan.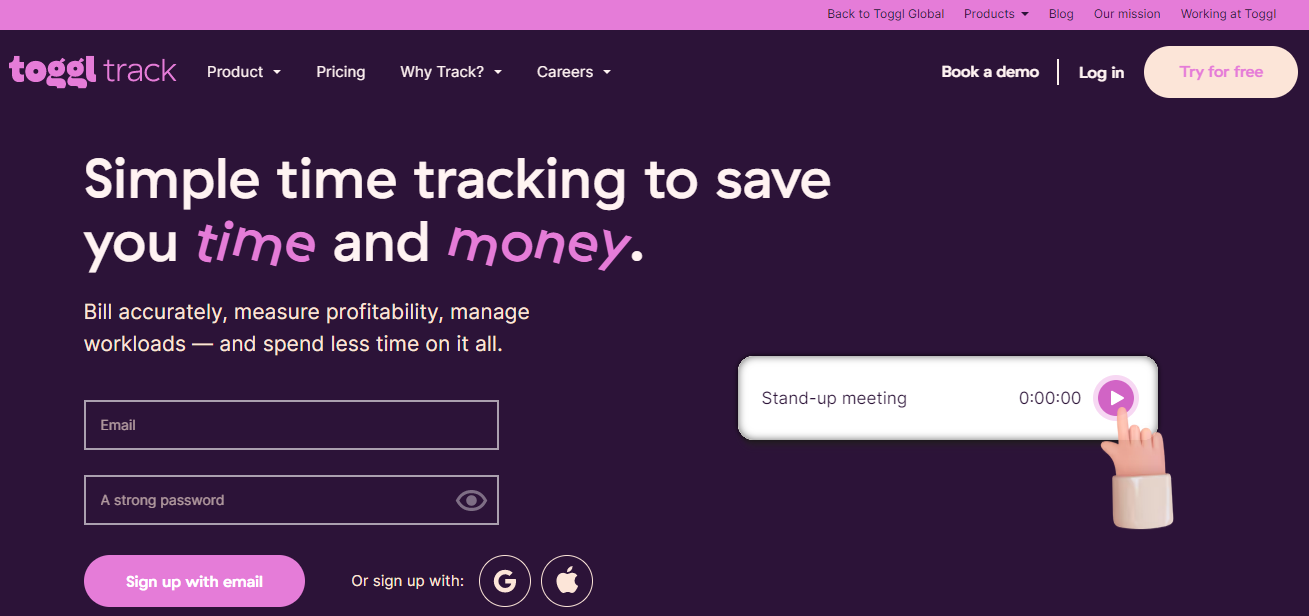 Toggl is best for those who run a small team of trusted employees and need a simple tool to track time and projects.
The software gives your team a flexible timer that enables them to automatically track activities when they're online and later post hours to record their offline work.
You can integrate a calendar to schedule tasks, set up estimates to measure work efficiency, and lock timesheets so no one can edit them later. You can also run audits to identify potential slackers.
The app works on desktop and mobile devices, and offers a Chrome extension for URL monitoring.
Core Features
Online and offline tracking.
Auto-alerts and reminders.
Manual entry option.
Progress monitoring.
Mobile and desktop versions.
Chrome extension.
Reporting, analytics, and team audit.
Integration with third-party platforms.
Price
Toggl's basic account is free and the starter plan costs $10 per month. You can request a custom quote.
Conclusion
Employee time tracking apps are generally well-suited for businesses that follow a remote or shift-based work model. If your company doesn't fall under the category, you can still use it to implement a proper monitoring system to discourage distractions.
Note down the functions you're looking for and compare them with the above list to discover the best app for your business.