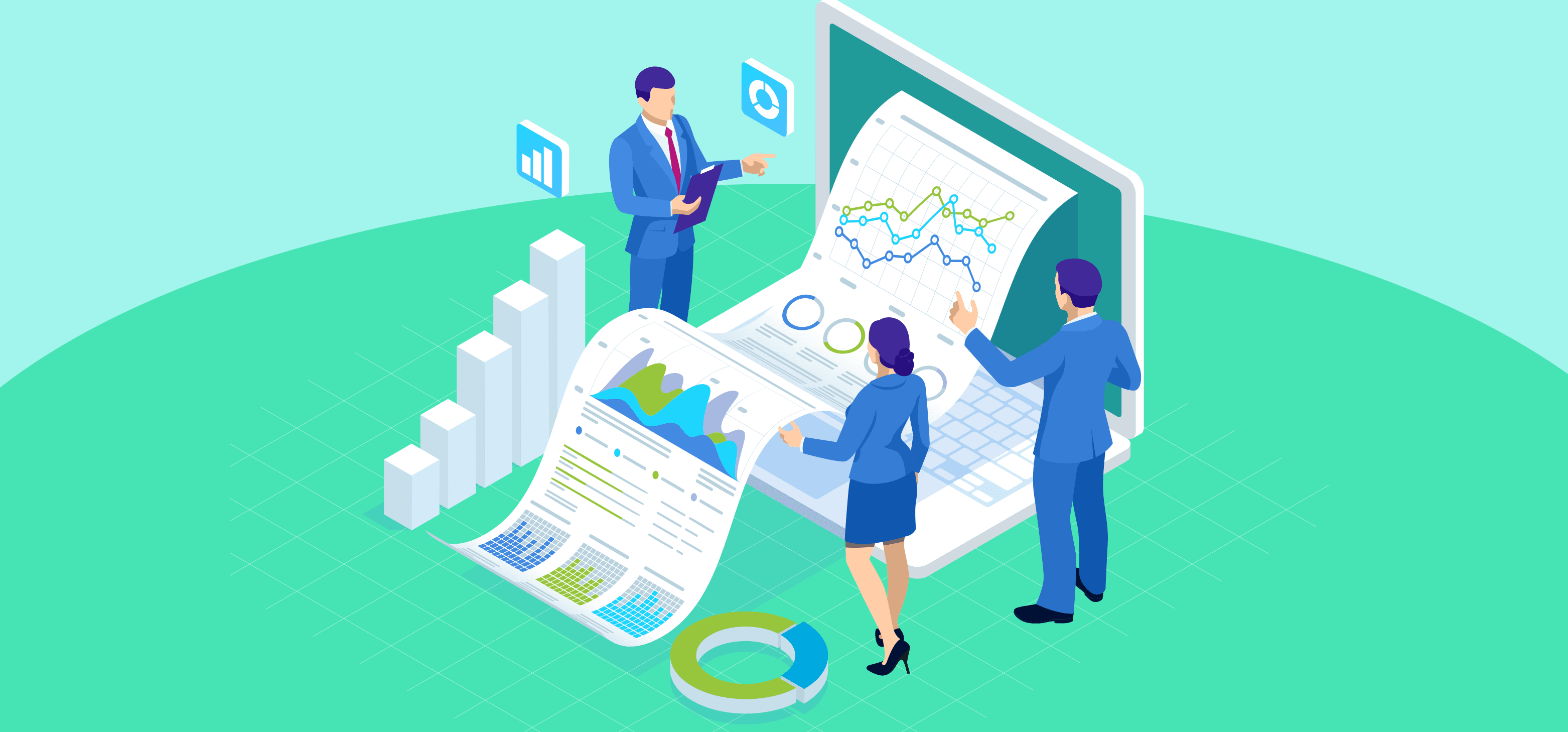 Today many brands run their business online.
All the employees are brought together with the help of different tools.
But, it becomes tough when it comes to measuring productivity.
It is essential because all the significant decisions get based on how your internal activity gets done.
With productivity data, you can plan, organize, assign resources and budget, avoid risks and uncertainties, and control the deviated goals.
This blog is a definitive guide to workplace productivity analytics and some tools you can use for your business.
I hope it will be helpful to clear up the concept.
Let's get started.
What is Workplace Productivity Analytics?
Workplace productivity analytics is a solution that helps an organization measure internal performance.
It is challenging to measure each activity manually. At the same time, it is very time-consuming.
To make follow-up easy, workplace productivity analytic tools help present productivity data in charts, tables, and graphs.
With a glance, you can identify which areas need improvement.
Based on the data, you can plan and manage all the organizational tasks and control costs.
Why is Workplace Productivity Analytics Important?
Gone are the days when managers used to measure tasks manually.
As I mentioned, it is time-consuming.
If you have a small business, you can take a follow-up without using any tools.
But if you are an organization, it becomes difficult to check on every activity.
So, for quick measure and high control, today's organizations use workplace productivity analytics software.
You get all the data under one roof.
By analyzing and interpreting them, you can increase the production efficiency of your organization if required.
Not only the tasks but, using this data, you can identify what are the shortcomings in the organization and how to fulfill them.
Here are some of the benefits you get by using workplace productivity analytics solutions.
Check on how many tasks get completed.

Analyze the incomplete tasks and the reasons behind them.

Help identify the resource need.

Track employees' engagement.

Check on which task is taking more time.

Help optimize the work

Identify and control cost

Measure the risks and uncertainties

Set the Benchmarks based on the past data

Manage employees by pre-scheduling their tasks

Control of employee absenteeism

Identify knowledge gaps and plan for the training
Who Should Use Productivity Analytics?
Today, much official work gets done through the system.
Employees spend more time using different software to complete the task.
Hence, it becomes difficult to measure how much work time they spend productively.
So, to track their work, every brand must use the productivity analytics tool.
Be it an agency, freelancer, B2B, B2C, or D2C brand. Businesses of any domain and of any size can use workplace productivity analytics solutions.
What Can You Track?
To measure work productivity, first, you need to install the solution into your device.
Then integrate all the business software of your organization into the analytics tool.
You will start getting the work productivity data soon.
Here, I have taken ActivTrack software, for example.
Many other tools are available online. In the end, I have mentioned some solutions that you should consider.
The following are the metrics you can measure:
1. Team Comparison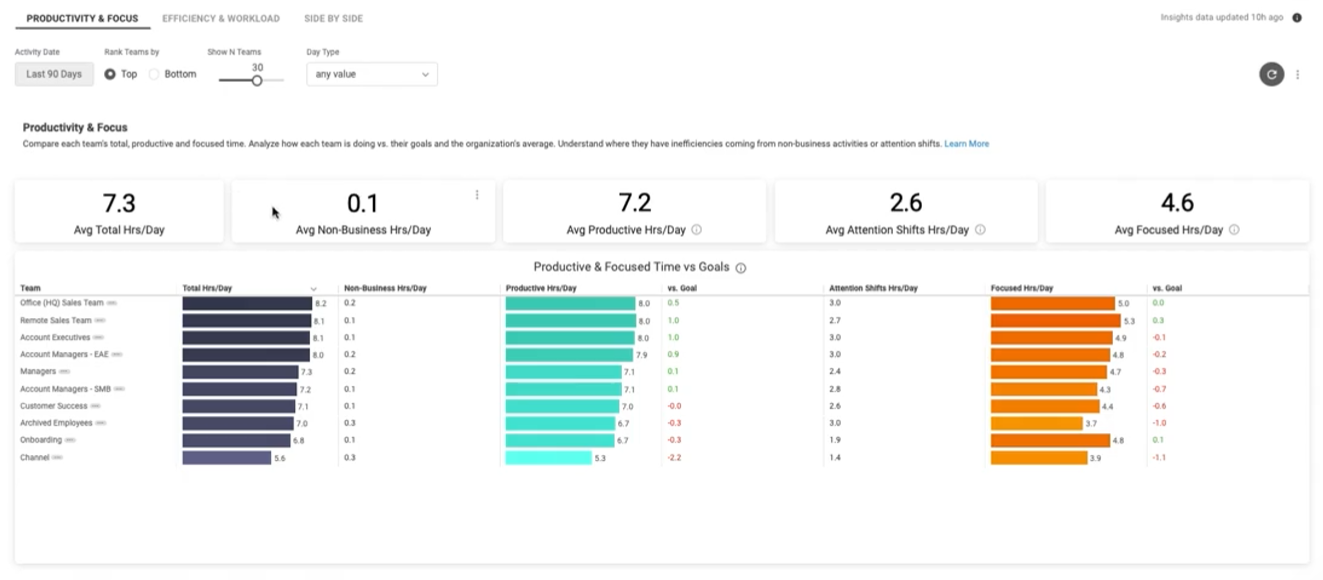 Compare the performance of different departments side-by-side.
Get the performance of the organization and the breakdown of individual teams.
Identify which team is working better.
What methods are they using?
Can it be applied to other teams to increase their efficiency?
As a manager, identify these problems and suggest the best possible solution for other team's improvement.
Result of the analysis
Know which department is performing well and which needs improvement.

Identify the resource needs.

Reallocate the resource if required.

Decrease the workload when necessary.
2. Team Efficiency
As a manager, you need this data to analyze the team's efficiency.
Know the average productive and focused hours per day of the whole team.
Also, the percentage efficiency tells you the productive and focused time compared to the total time spent online.
High-focused efficiency means your team spends less unproductive time online.
Result of the analysis
Focused efficiency – If low, then needs to pay attention. High efficiency is a good sign.

Training – Talk to the team if they face problems completing the task. If required, plan for a training session.
3. Employee Efficiency
View the individual performance of each employee.
Analyze their activity online and check the day-to-day trend.
This report will help you know the employee better. You get to know their productive and focused time spent online.
You can even break down their productive time to get a detailed view.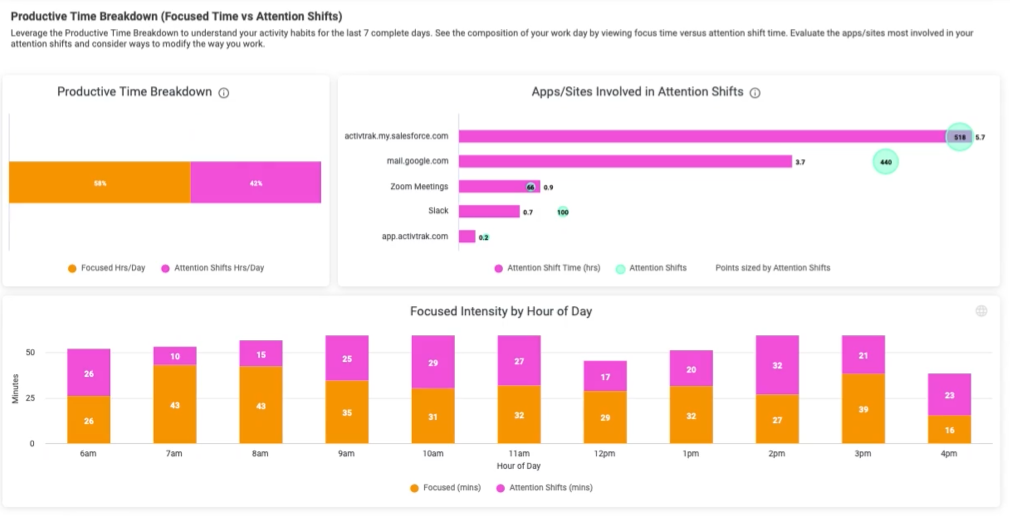 Check out the total work time and productivity percentage.
Know on which sites and how much time they spend.
This is a cool thing for managers to track.
But scary for the employees.
You also get some more analytics to track other activities of the employees.
Like, as in the past 30 days, how many times they took a break, total workload or healthy days they had, trends in work habits, etc.
Result of the analysis
Who is working well?
Who needs to improve?
How to increase their focused hours?
Why do they spend more time on certain apps or sites?
Check if they meet the deadline or complete the task.
Is their absence rate high? If yes, then find the reason.
If their work engagement rate is low, then why so?
Are they facing any problems in doing the task?
4. Workload Balance
The report shows how many employees are spending healthy, overutilizing, or underutilizing days.
For example, a red mark in the above image shows that 5 out of 21 days got overutilized.
Green shows 15 days were healthy and yellow shows one day as underutilized.
Result of the analysis
Redistribute the task to reduce employee fatigue if you find overutilizing days.

Identify the extra resources you need.

Underutilized days can be a sign of less task. Take a follow-up on them.
5. Week Summary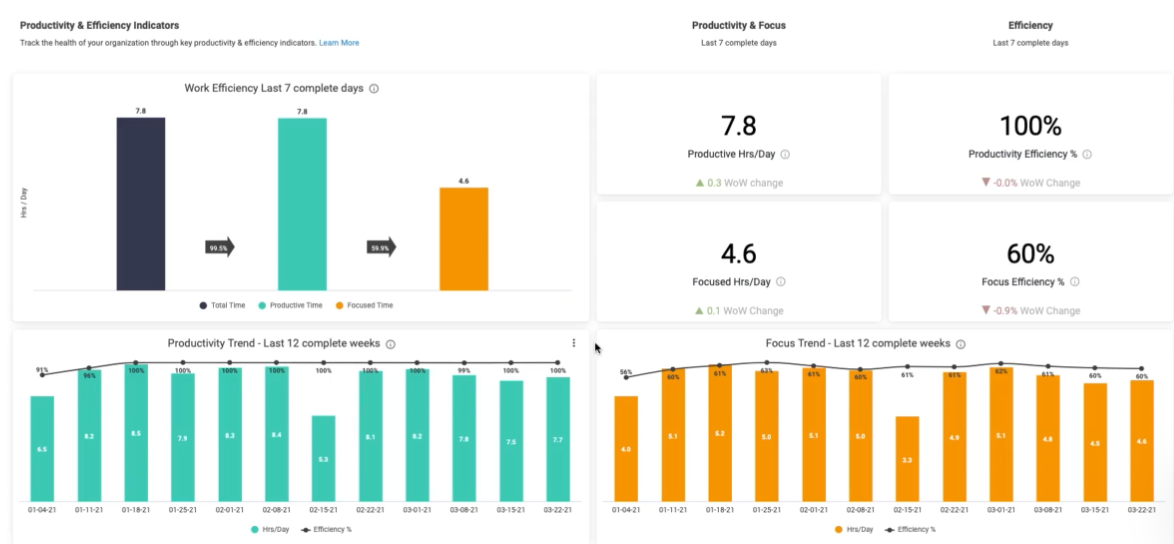 Analyze the work weekly.
This type of analytics will help you compare the weekly performance.
Also, know how the team performed in the current week.
Analyze the total, productive, and focused time. Interpret the increase or decrease in productivity as compared to the total time spent online.
Result of the analysis
Increase in productivity – It means you are performing well.

Decrease in productivity – Dig deep into the weekly performance. For example, missing targets, employee absenteeism rate, technical issues, etc. It is a sign to improve internal function.
6. Benchmarks and Goals
In this report, you see the trend of how every team is performing in periods.
It helps to see if the team is crossing the benchmarks every time or lacking behind.
As a manager, you should have close communication with the department to know the problems better.
Result of the analysis
An increasing trend is a sign of improvement.
Decreasing trends leads you to talk to the team.
Do they need training?
Are they facing any type of problem in meeting the goals?
Does any employee leave the job?
Is there a lack of equipment?
Do they need more hands to complete the task?
How to Use Workplace Productivity Analytics Data?
You might get confused about how to interpret the data and reap its benefits.
Here is a step-by-step guide that will help you study them.
1. Search and Tally
In the first step, you get to find the area that needs improvement.
That area will get identified when you have a set target.
So, before implementing any plan, you set the objectives and goals.
Once the workplace productivity analytics tool starts generating some data, analyze them and see if you are deviating from the goal.
2. Dig the Metrics
After you find an area that needs improvement, start digging into the metrics.
For example, I set a goal of completing 6 tasks on specified dates and assign them to the employees.
Now, I will take a regular follow-up.
I might see any overdue task or the task that is near the deadline but is still less than half done.
These will lead me to see other metrics that are resulting in the task completion delay.
3. Cause and Effect
Once I get to know that there is a deviation in the actual and estimated goal, I will find its cause.
There can be many reasons for overdue and incomplete tasks.
Was the employee on leave?

Is the person facing any problem in completing the task?

Is the person not skilled enough for that work?

Any technical issues they are facing?

Or any decision is pending on the organization's part?
Whatever the cause is, your brand has to face the consequences.
The delay in a task can lead to a loss in sales, revenue, customers, low business, delay in product launch, etc.
4. Statistical Decisions
Next, pull those statistics from the productivity analytics tool.
You get the charts and graphs prepared by the analytics tool on their own.
If required, download some extra data from other software that you use to manage the internal activities.
Create a proper presentation with charts, tables, and graphs.
Finally, present them to top management for decision-making.
5. Solution Estimation
Looking at the data, top management will come up with various solutions.
The solutions could be:
Improve employee engagement to reduce absenteeism.

Identify the resources needed and hire new employees.

Plan training programs to upskill the employees.

Use upgraded technologies for work.

Fasten approval time and decision-making process by the top management.
After you select the workable solution, put it in place.
Then again, keep a continuous follow-up to check if it's working.
If yes, well and good.
But if not, then again follow the whole step to find the cause, effect, and solution.
By doing this, you will improve work efficiency within the organization.
Challenges in Selecting the Best Tool
There are some challenges in using workplace productivity analytics solutions.
Check on them before selecting the tool.
Data accuracy – The software you select must give you accurate data. At last, you will be taking all your decisions based on them. Hence, data accuracy is the topmost feature you must look forward to.
Reporting – Not every software gives you the reports of all the metrics you need to make decisions on productivity. So, before selecting any solution take a demo and see what type of reports and metrics it covers.
Usage capacity – Check how many users can use this tool at a time. If your organization is very big and has employees above 1k, usage capacity becomes a major decision-maker in selecting a suitable tool.
Integration – You must be using different solutions for different activities. To measure the activities from all these platforms integration plays a major role. Hence, you should pick a solution that can integrate some of the important tools.
Outdated technology – If you make the mistake of selecting a solution that is not up to the current advanced technology, then you might miss some of the metrics that should get measured to improve work productivity. Hence, a check on outdated technology becomes a must.
Bets Workplace Productivity Analytics Tool
By now you must be clear on the concept of workplace productivity analytics.
Also, you are aware of how these tools can bring an improvement in your organization's work efficiency.
Now, let us see some of the best workplace productivity analytics solutions that you can consider for your organization.
First, sign up for their free versions and try for a few days.
Look out for the following things before selecting anyone:
Are you able to measure all the required metrics?

Is the data accurate?

Does it provide real-time data?

Can you generate customized reports?

Does it integrate with the other tools you use?

How many users can sign up at a time?

Which devices is it compatible with?
I do not recommend going and checking for the tool reviews.
First, try the software yourself and then check the ratings and reviews.
It is because the reviews act as a predefined judgment for the solution.
So, when you go and try the solution yourself after seeing the reviews, you will be keeping all those comments in your mind.
Instead of an unbiased experience, your opinion will get based on other people's reviews.
So, make a wise decision and select the best software.
Conclusion
That was all about workplace productivity analytics.
I covered all the aspects of the concept.
Also, I mentioned some of the tools that you can go forward with as per your organization's requirements.
But before selecting any tool, analyze first whether your brand needs a workplace productivity analytics tool or not.
Honestly speaking, you will need it for an informed decision.
And the decisions are good when it gets based on numbers and graphs.