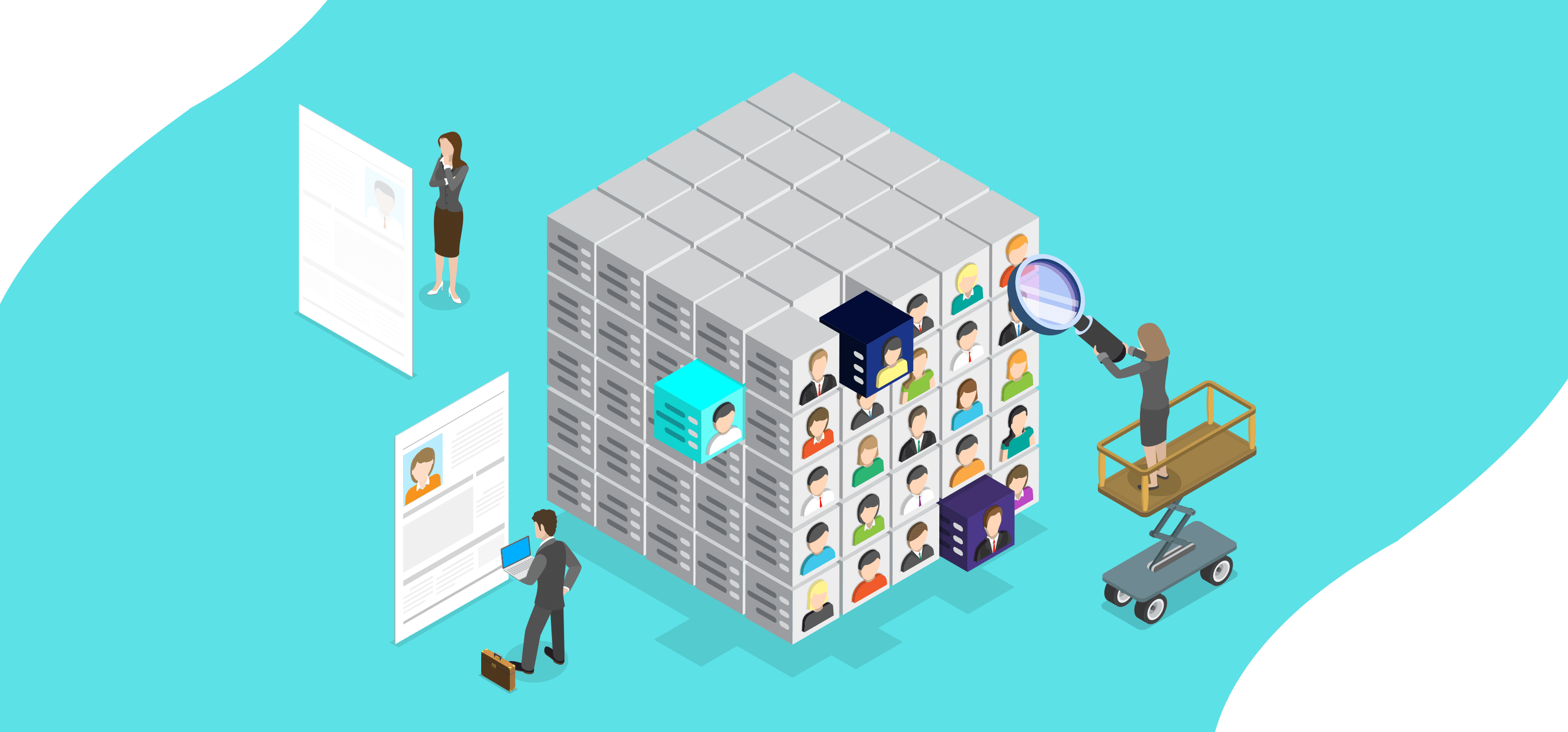 Applicant tracking systems (ATS) can make your hiring process incredibly easy.
It speeds up candidate sourcing and streamlines HR workflows, allowing you to efficiently handle a large volume of workload.
In this article, I have compiled a list of apps that comparatively offer the best ATS features. Their core functions and prices should give you the necessary information to make an informed decision. 
Let me share a brief background on ATS to cover the basics.
What are Applicant Tracking Systems and Why Do You Need it?
Applicant tracking systems help you manage and monitor your recruitment process. It gives you tools to attract applications, filter resumes, collect candidate profiles, and qualify them for the open position.
Most of all, it delivers a centralized platform to oversee the entire hiring cycle.
Companies use ATS primarily to improve their recruitment process.
Occasional hiring generally doesn't exert your internal resources much. But as your company grows, your workload doubles, which inadvertently affects your hiring quality.
With an applicant tracking system, you can automate bulk tasks and systematically organize your HR activities. It saves a lot of your time and eliminates the chances of errors.
Below, I have reviewed the 12 best Applicant tracking systems and platforms for you. Whether you are hiring internal staff or working for a client, you'll find the right tool in the list.
Workable is an all-in-one talent acquisition software.
It allows you to actively and passively find professionals, apply multiple screening methods to shortlist candidates, and automate workflows to expedite recruitment. It also delivers a Chrome extension to collect profiles while browsing and keep their records for future opportunities.
The platform's communication automation makes your job even easier. You can set up a series of responses for candidates and send them in bulk. With its mobile recruiting, self-scheduling, and bias-free screening, you can implement a simple and fair hiring system.
Workable has an assessment tool for senior-level positions as well. The screening test helps managers evaluate candidates' soft skills and personality traits.
Core Features
Active and passive sourcing.
Career page.
AL-powered recommendations.
Assessments.
Employee referrals and internal mobility.
Mobile-friendly application forms.
Self-schedule interviews.
Workflow automation.
Calendar integration.
Analytics.
Price
Workable's standard plan costs $335 per month. You can also choose its pay-as-you-go pricing plan.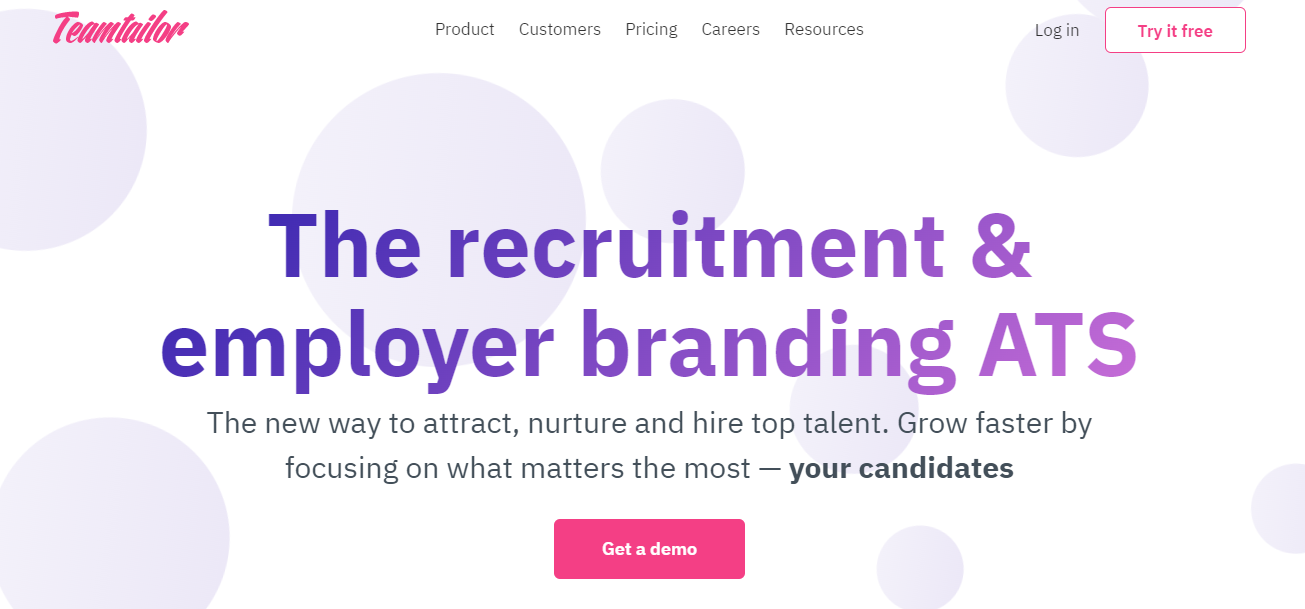 Teamtailor is comparatively more flexible and versatile.
You'll get a customizable funnel with triggers and bulk actions to optimize your hiring process and make it more efficient. To improve communication, you can select multiple channels, including SMS service.
The dashboard is personalized for each team member and provides a centralized system to keep everyone in the loop. Your team can review resumes and drop messages to share their opinion and get feedback from each other.
For talent sourcing, Teamtailor delivers job boards, internal departmental vacancy alerts, and employee referral options. With its drag-and-drop builder, you can quickly design campaign pages and choose any of the above channels to attract applicants.
Core Features
Job boards and career sites.
Campaign page templates.
Custom pipelines.
Screening questions.
Workflow automation.
Team collaboration.
Scoreboards and feedback.
Analytics.
Mobile app.
Price
Teamtailor prices are not listed on the website. Contact sales to get the quotes.
BreezyHR has the best automation features. With this tool, you can semi-automate each recruitment stage, from job posting and screening to candidate profiles and offer management.
It shares a rule-based screening function that immediately disqualifies irrelevant entries, so you won't have to go through the entire list to extract relevant profiles.
With its AI-powered score matching, you can also shortlist candidates without bias.
For interviews, it has a self-scheduling feature and a team calendar. You can show available time to candidates and let them choose the best time for the meeting.
Overall, BeezyHR is an ideal app for startups and growing businesses.
Core Feature
Access to over 50 job boards.
Background screening and reference checking.
Resume parsing.
Branded career site.
Workflow automation.
Candidate management.
Interview scheduling and video meeting.
Offer management and e-signature.
Referrals.
Multi-language.
Price
BreezyHR's prices range between $171 and $479. You can also sign up for free.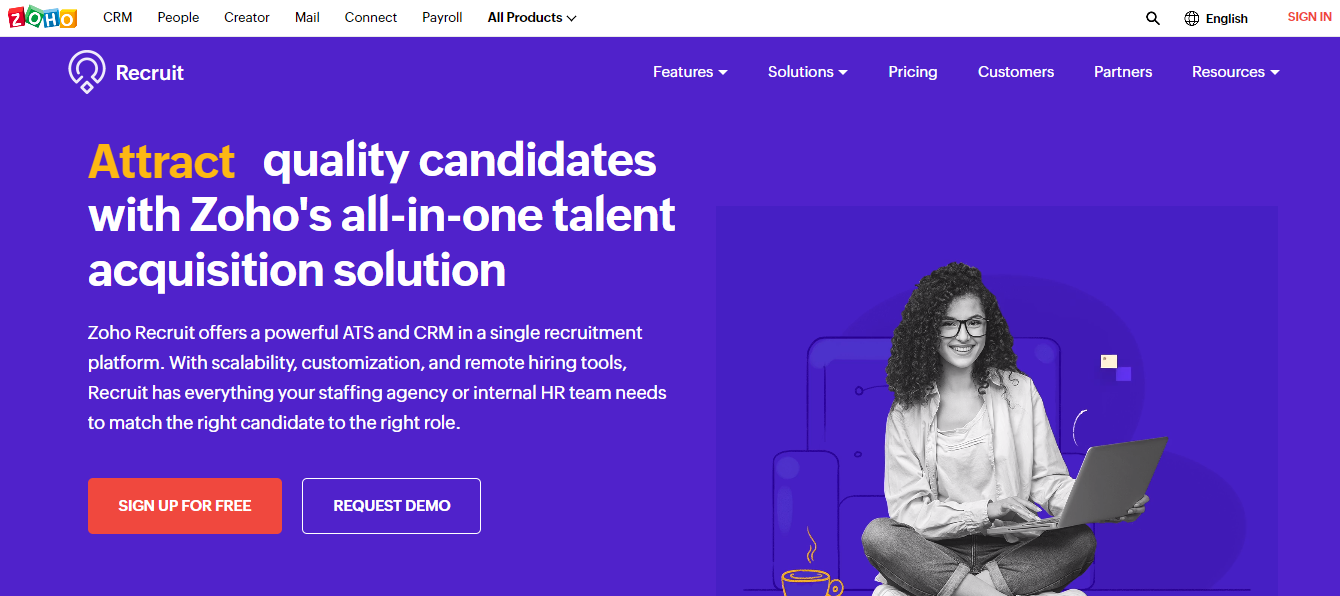 Zoho Recruit provides personalized packages for the internal HR department and staffing agencies.
Corporate HR managers can source talent, create hiring pipelines, send offer letters and track the recruitment cycle. The app integrates with over 50 third-party platforms and shares several add-ons to extend its functions.
For staffing agencies, ZOHO has scalable plans which allow up to 750 active jobs and bulk automation. The packages include background checking, advanced security, and a candidate portal.
You can also buy a client portal as an add-on for easy communication.
Core Features
Job boards and resume management.
Screening and assessments.
Pipeline and automation.
Branded career page.
Video interview and offer letter.
Communication tools.
Referrals.
Analytics and reporting.
Integrations.
CRM.
Price
ZOHO costs a minimum of $60 per user, while the add-on price range is $6 to $12. The basic plan is free.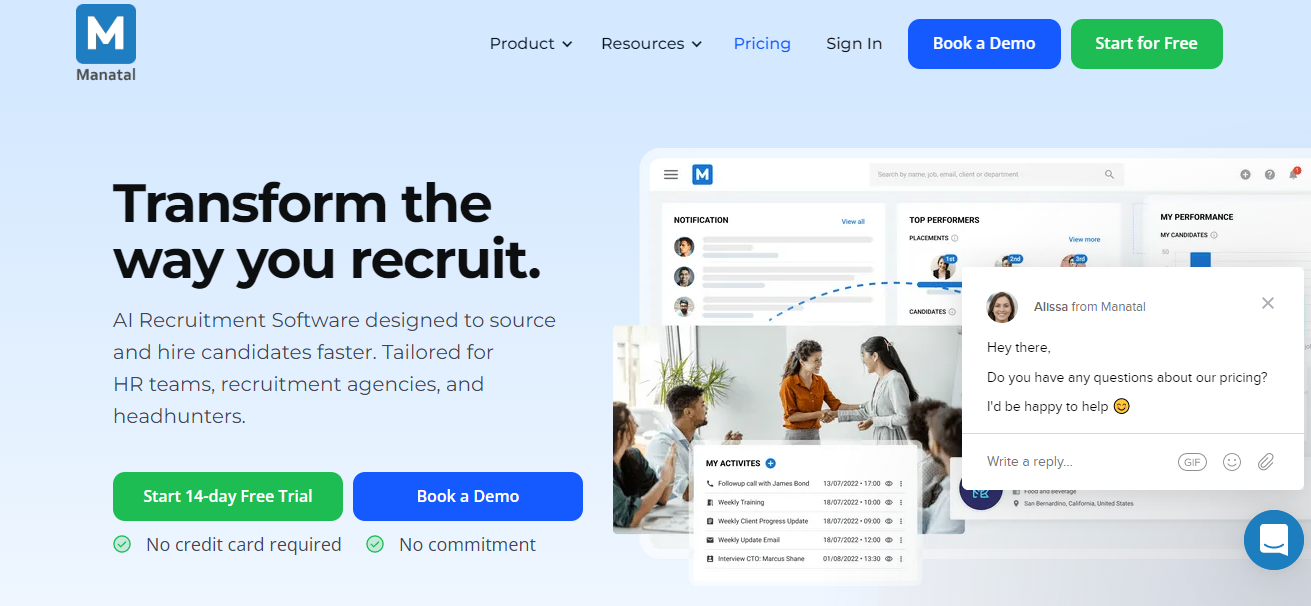 Manatal has all the essential ATS features you'd need to effectively hire top talent.
You can post ads to over 2500 job boards and use AI-powered screening to shortlist the most qualified, candidates for the job. The platform offers a built-in CRM and a Kanban dashboard to store candidate profiles and makes the pipeline more visible.
To further improve the screening process, you can enable AI-powered recommendations and apply tags to profiles. The AI engine automatically extracts relevant resumes based on your search criteria.
You'll also get an activity calendar to schedule meetings, add events, and include work tasks. Manatal delivers a unified inbox and built-in chat system for correspondence and team communication.
Core Features
Candidate sourcing.
Career page.
Screening questions and scoreboards.
Team collaboration.
Activity calendar.
CRM and automation.
Analytics.
AI-recommendations.
Integrations.
Mobile friendly.
Price
Manatal monthly plan starts from $19. You can also ask for custom quotes.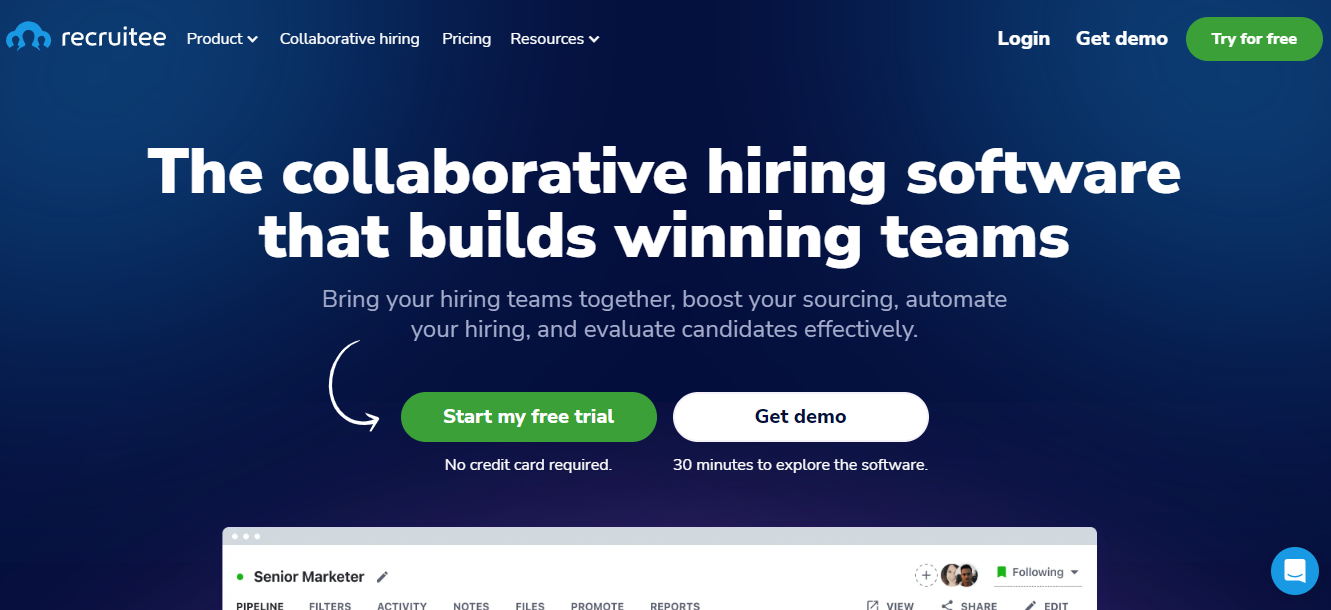 Recruitee offers a centralized platform to source talent, screen candidates, and manage hiring pipelines.
You can find top talent from over 1450 job sites and run smart campaigns to boost your ad reach. To shortlist candidates, you can apply screening questions and automatically disqualify irrelevant entries. With its mobile app and transparent candidate pipeline, you can oversee every activity with ease.
One of its core features is collaborative hiring, which allows you to invite your team to recruit the best talent together. With this tool, you can share work responsibilities, involve various departments in the evaluation process, and make better decisions.
Recruitee also provides virtual meeting rooms for remote interviews. It's easy to set up and supports Zoom and Google Meet.
Core Features
Talent sourcing.
Candidate pipeline.
Interview kit.
Offer management.
e-signature.
Reporting.
Collaborative hiring.
HRIS integration.
Mobile app.
Price
Recruitee's monthly subscriptions cost $222 to $399.
Jobvite delivers a complete suite of recruitment products.
Its candidate sourcing tool allows both external and internal hiring to help you increase your talent pool. You can post job ads to third-party sites and attract top performers from other departments.
The applicant tracking system comes with automation and AI-powered filters to make the initial screening easier.
The analytics is also pretty advanced, providing over 50 types of reports and valuable data on competitors to compare the pipeline performance.
Another thing you'll find interesting is the chatbot assistant. It automatically manages the hiring cycle and answers repetitive questions. You can deploy bots to your career site to weed out irrelevant applications.
Core Features 
Candidate sourcing and nurturing.
Career site.
Messaging option.
Video screening.
Chatbot assistant.
ATA and onboarding.
Powerful analytics.
Internal mobility.
Price
Jobvite shares prices on request.
JazzHR is built for small businesses. Its primary functions are applicant tracking and offer management, but you'll also find several customization and branding options to deliver a unified experience to candidates.
Here, you can design mobile-responsive career pages and send personalized brand messages to applicants.
The recruitment pipeline is completely customizable and allows workflow automation to help you save time.
With its robust resume screening and team collaboration tool, you can quickly assess, shortlist, and hire the employee.
For offer management, JazzHR provides digital signature and document storage. You can build a standard template for onboarding and use it for every new employee.
Core Features
Branded career page.
Job boards and referrals.
Resume screening.
Custom pipeline.
Workflow automation.
Offer management.
Team collaboration.
Reporting and analytics.
Integrations.
Price
JazzHR charges $39 to $359 per month, depending on the plan. For the ATS feature, choose its Plus Package.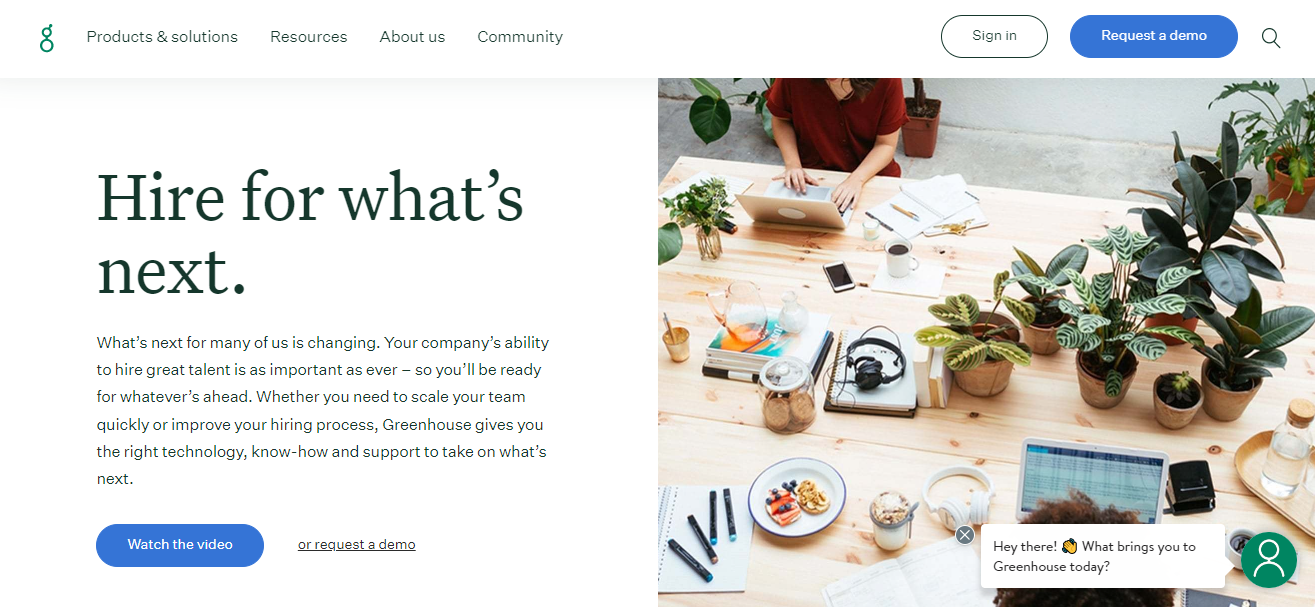 Greenhouse is one of the highest-rated application tracking platforms. It is easy to use, delivers robust features, and provides recruiting solutions for both small and large organizations.
You can access over 1000 job boards, create a bias-free screening process and let shortlisted candidate self-schedule their interviews. The dashboard shows scoreboards and analytics to help you evaluate each candidate's skills to make correct assessments.
In addition to an ATS, Greenhouse offers several onboarding features to introduce new members to the team. You can set up tasks for team members and automate the paperwork to expedite the onboarding time.
Core Features
Talent sourcing.
HR Pipeline.
Diversity and inclusion.
Analytics and reporting.
Team collaboration.
Survey automation.
Interview and onboarding.
Mobile app.
Integrations.
Price
Greenhouse provides custom quotes on request.
Smart Recruiters has a powerful applicant tracking system with advanced search capabilities and automation to optimize the hiring cycle.
You can track candidates by their source, monitor each recruitment cycle, and automate replies to improve communication. The background checking, assessment tests, and scoreboards further help you screen applications more quickly.
Some of its other notable features include brand career sites, job advertising, digital offer letters, and team collaboration.
Smart Recruiters also provides a chatbot to automate conversations. The bot can answer FAQs, walk applicants through the submission process and ask screening questions to shortlist candidates.
Core Features
Career site and job boards.
Hiring pipeline and approval workflow.
Resume screening and assessments.
Email automation.
Offer management.
Analytics.
CRM.
Chatbot.
Integration.
Price
Lever shares prices on request. Contact sales for the quotes.
Recruiteze provides a robust applicant tracking system for talent sourcing and candidate management.
The software comes with a career portal, screening process, advertisement templates, and email automation.
You can post ads to major job boards and create custom workflows to monitor your recruitment process. The CRM keeps a database of candidates as individual profiles to help you keep conversations separate.
Apart from ATS, Recruiteze also delivers another product that batch-formats candidate resumes.
If you're part of an HR agency and frequently entertains resume formatting request from clients, you'll find it extremely useful.
Core Features
Job posting.
Career portal.
Resume screening.
Custom workflow and tagging.
Career page and forms.
CRM.
Integration with email apps and bulk messages.
Activity reports.
Price
Recruiteze's prices start from $59 per month. You'll get a 15-day free trial to explore the software.
Applicant Stack offers a recruit and an onboard product.
The recruitment product delivers job advertisements, resume screening, and candidate assessment features.
You can create job ads and publish them on various social media channels and third-party sites. To shortlist qualified leads, you can add questionnaires at the initial stage and invite teams to score candidates.
It also has an SMS tool that allows you to offer a text-apply option to applicants and set up trigger messages in the later stages.
The onboard product, on the other hand, covers offer management and the reporting part. You'll get a portal to connect with new hires and an e-signature facility to digitalize documents.
Core Features
Job advertisement.
Talent sourcing from social media.
Keyword search.
Custom screening questions and resume scoring.
Email and text communication.
Team collaboration.
Workflow automation.
Onboarding.
Price
Applicant Stack's prices start from $99. Both recruitment and onboarding are standalone products and can be purchased separately.
End Note
Most applicant tracking system typically comes with additional features like background checking and e-signatures. But every app delivers the below four functions, regardless.
Talent Sourcing.
Career page.
Resume screening.
Recruitment Pipeline.
Focus on the above features while shopping for the best ATS software. Good luck!