Managing your employees remotely can be incredibly challenging without the right tech support. Whether you're a manager at a multinational company or run a small team, you need suitable business tools to efficiently oversee your staff.
Employee apps are designed to assist you with team management.
Via these platforms, you can track, monitor, and interact with your staff digitally, allowing you to easily supervise their activities anywhere.
What is Remote Employee Management Software and What Tools are Right for You?
Employee management software refers to any tool or platform that enables you to lead your team online and handle related operations. Those operations could involve anything from recruitment and shift scheduling to task management and payroll.
Every organization has different work models and may need specific platforms suited to their business needs. To discover the ideal app, you should look for software products that best fit your company's requirements.
Here are Some Top Features to Look for in an Employee Management app;
Onboarding.
Scheduling and time tracking.
Team communication.
Payroll integration.
You can find the above features in a diverse range of applications. Keeping that in mind, I have compiled a list of the 12 best software products that provide versatile employee management features.
Let's check them out!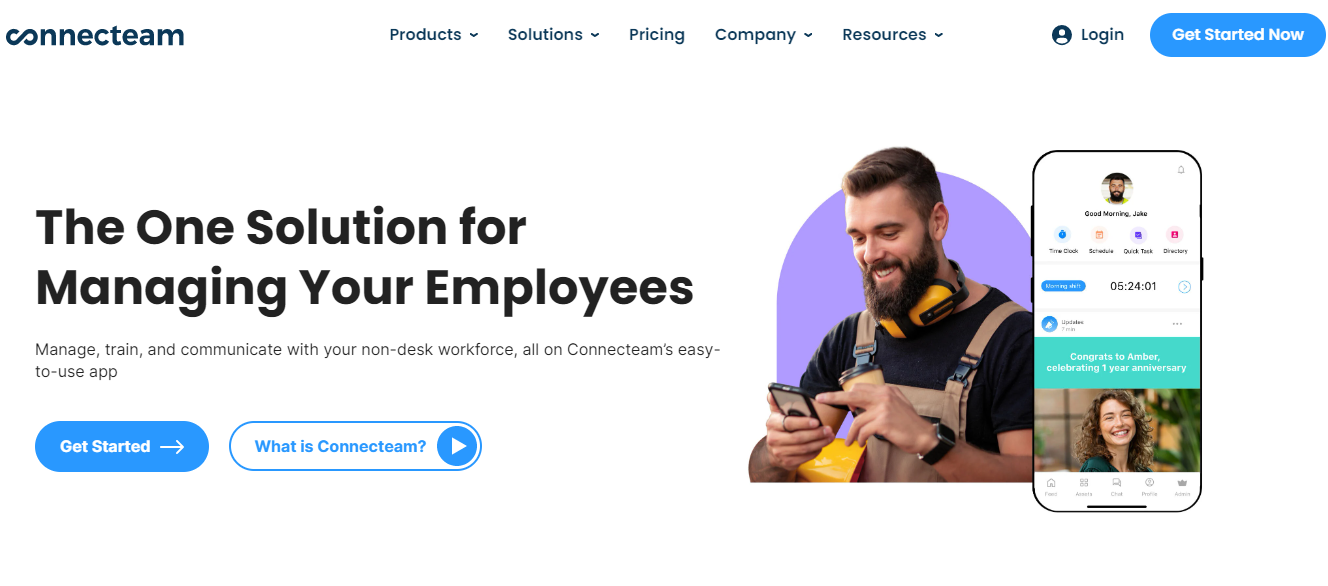 Connecteam gives you a centralized platform to manage and engage your employees.
Some of the things you can do through Connecteam include onboarding, shift scheduling, time clocking, and leave monitoring. With third-party integration, you can also connect your payroll app and process salaries.
For team communication, Connecteam provides multiple options. You can interact with your staff, start a news feed to regularly publish announcements, and run surveys to get employee feedback. The communication tool contains plenty of other features as well, such as a company directory and a knowledge base.
This software is well-suited for both shift-based and full-time remote workforce management.
Core Features
Task management.
Announcements feed and Team messaging.
Leave management.
Company directory.
Onboarding and training.
Gamification.
Payroll integration.
Mobile app.
Price
You can get started on Connecteam for free and purchase the basic premium package for $35.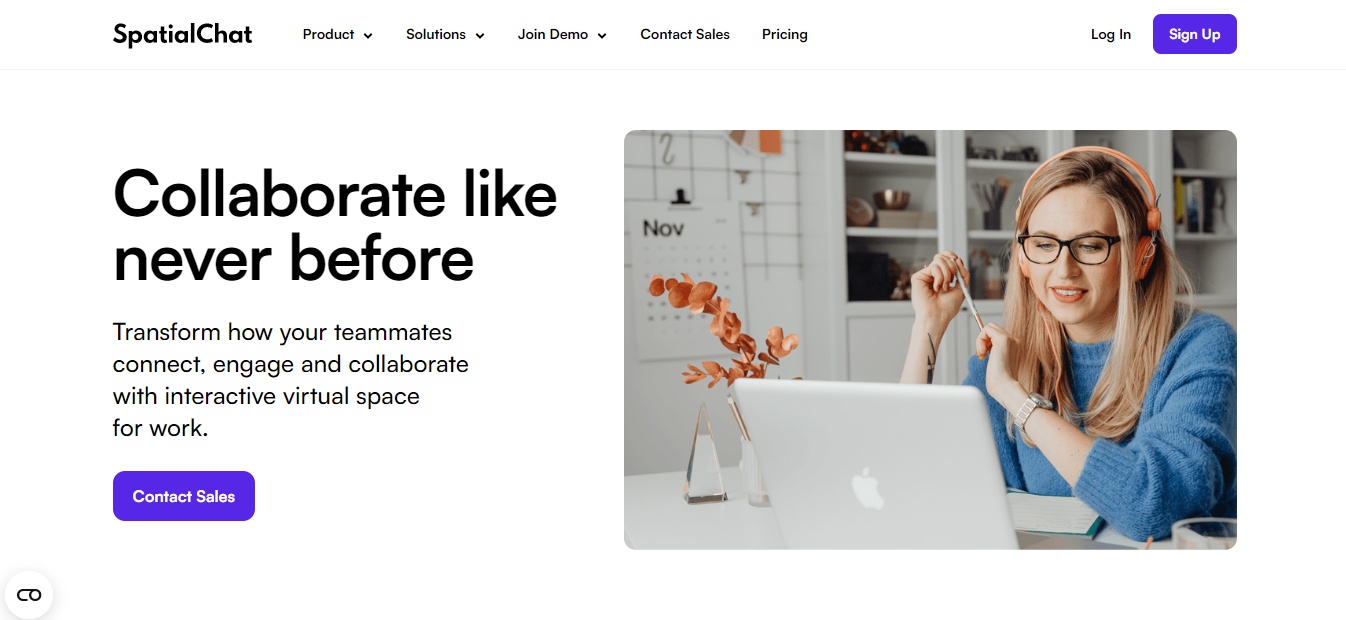 SpatialChat is a collaboration platform. With this tool, you can create workspaces where your employees can connect with each other and work together on projects in real-time.
You'll find a lot of amazing features in this app. It has a whiteboard for brainstorming, built-in video and audio to record meetings, a screen-sharing option for presentations, and chat for communication. Via third-party integrations, you can connect your business tools to extend the functionality.
You can build up to 100 spaces in SpatialChat and make any space private for special projects or meetings. You can also invite as many people as you want in your space. The maximum user capacity of SpatialChat is 5000.
Core Features
Collaborative workspace.
Private spaces for meetings.
Team communication.
Engagement elements.
Internal recording and timer.
Permission and roles.
Third-party integration.
Price
SpatialChat's basic plan is free, and premium packages start from $70.
Oyster is well-suited for distributed teams. It's a global employment platform that enables you to hire temporary and permanent staff worldwide and pay salaries in multi-currency.
You can onboard employees, collect documents, and manage attendance and time offs. Your staff can submit leave and allowance requests through the self-service portal and easily generate payslips.
You can automate your workflows to save time and set up an approval system for reimbursements. If you get stuck on legal matters, you can hire its in-house team for consultation. Oyster provides software and services both.
Core Features
SaaS platform for distributed teams.
Onboarding and offboarding.
Expense and leave management.
Contract and payslips generation.
Employment cost calculator.
Legal support.
Add-ons.
Price
Oyster charges $29 for contractors and $599 for employees.
You can ask for custom quotes.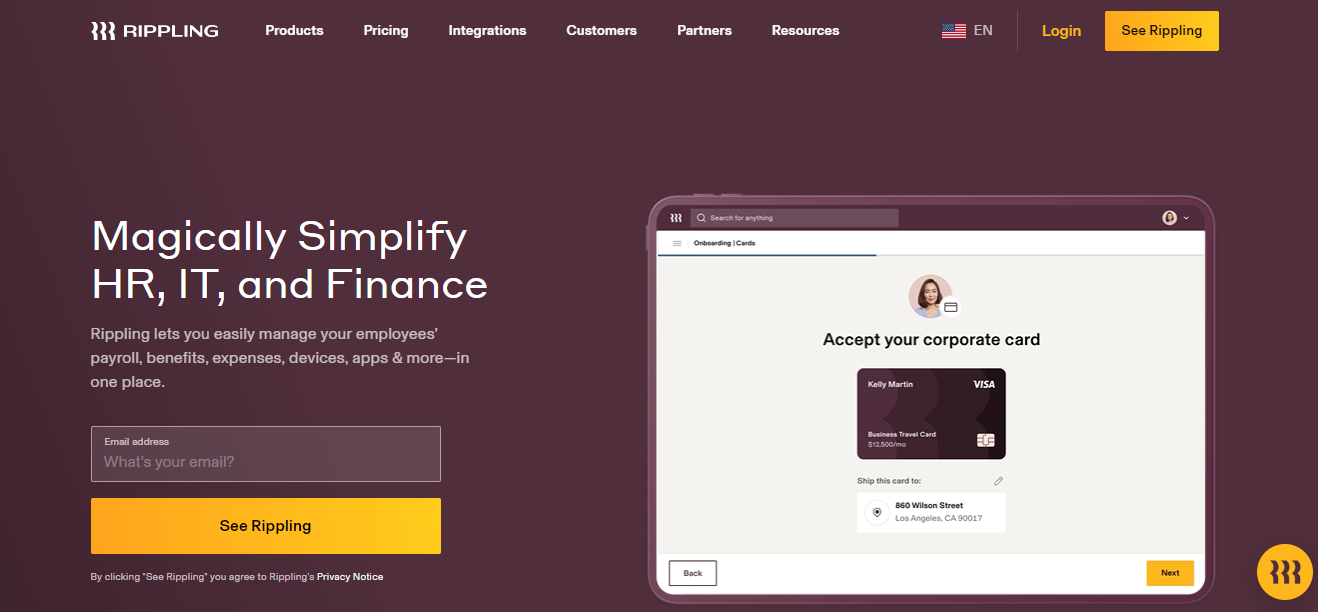 Rippling is also a global workforce management platform, but it's a little more versatile than Oyster.
You'll get HIRS software for core functions, corporate cards package for expense management, an IT cloud for app management, and a finance product for global payroll.
If you choose to go for the HIRS software only, you can still do plenty of things. For instance, you can recruit people, track working hours and time off, pay salaries, and publish training courses.
You can hire Rippling to recruit and pay people on your behalf as well. The platform offers EOR and PEO services for this purpose.
Core Features
Recruitment.
Onboarding and offboarding.
Time and attendance.
Global Payroll.
Compensation benefits.
Expense management.
Employee surveys.
Headcount planning.
EOR and PEO services.
Price
Rippling prices start from $8 per user. You can buy all or separate products.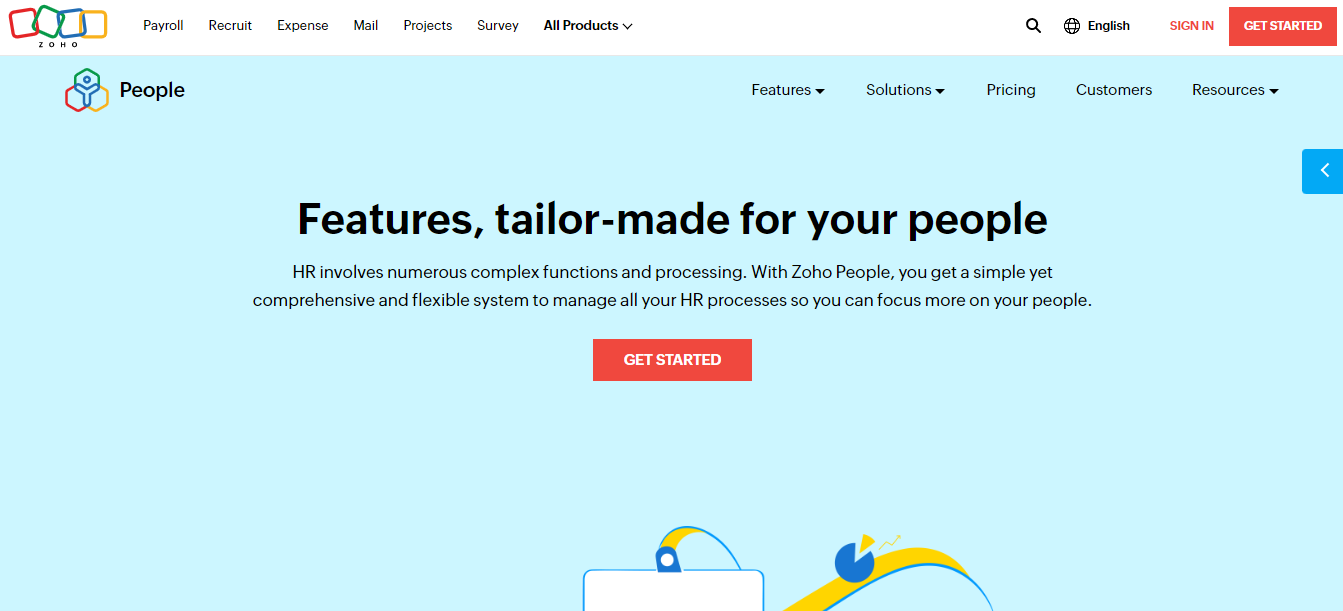 ZOHO People delivers a comprehensive platform to store staff data and manage your remote teams.
Here, you can build different entities and departments to establish a proper organizational structure online and set up various privacy levels to control content access.
With custom policies and flexible time tracking tools, you can offer multiple check-in and check-out options to employees and allow them to generate timesheets for payroll. Using holiday calendars and approval workflows, you can easily monitor your staff's work schedule and control their shifts and time off.
If your business requires on-site visits or traveling, you can create an expense management system for reimbursements. Employees can scan and submit receipts via mobile phones, and managers can approve and reject expenses.
Core Features
Employee database.
Onboarding and offboarding.
Attendance and leave management.
Shift schedules.
Document storage.
Workflow automation.
LMS.
Integrations.
Mobile app.
Price
ZOHO charges $2 to 10 per user for its People app.
You can take a 30-day trial to explore it.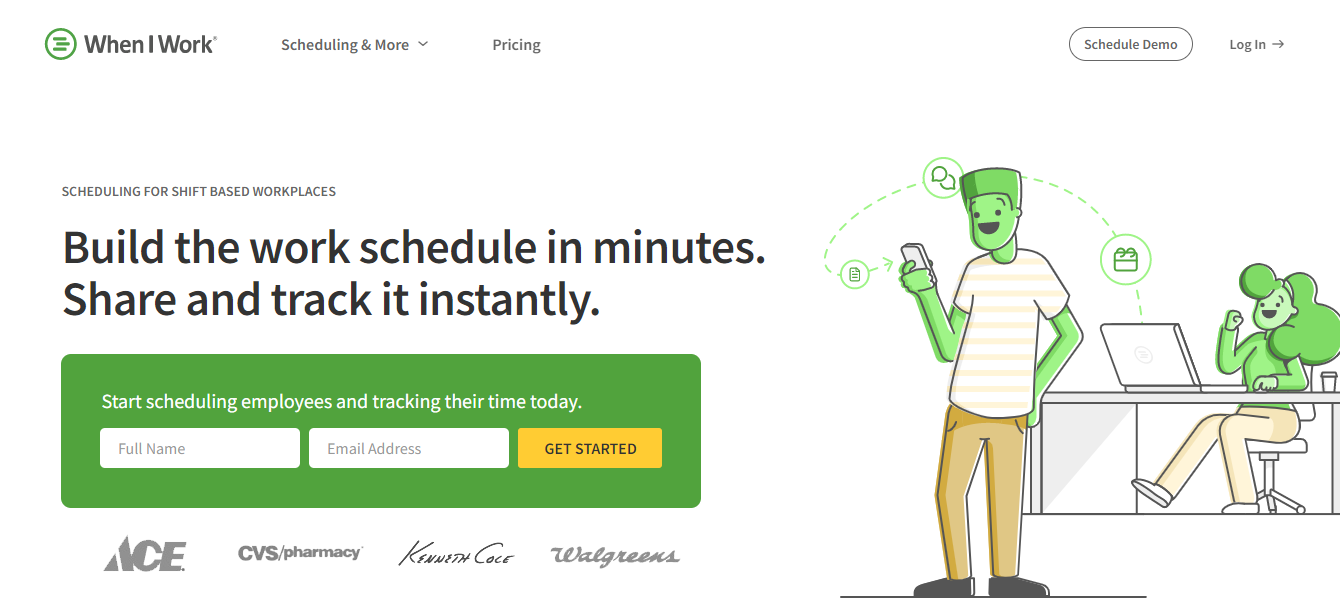 When I Work is ideal for a flexible or shift-based work model. With this app, you can make schedules, clock time, manage attendance, and send messages.
It has an intuitive shift planner that gives you a clear picture of your employees' workdays and time off. Your staff can set their own working hours, clock in from their mobile phones, record their breaks, and request overtime.
From the admin side, you can create daily tasks for employees, approve and decline time off requests, and change shifts remotely.
Through team messaging, you can broadcast announcements, send messages to a specific group, and initiate private chats.
Core Features
Time and break tracking.
Public and private messages.
Attendance and time off management.
Payroll integration.
Workflow automation.
Task lists.
Mobile app.
Price
When I Work charges $4 per user for the standard plan and $8 for the advanced plan.
You can take a free trial.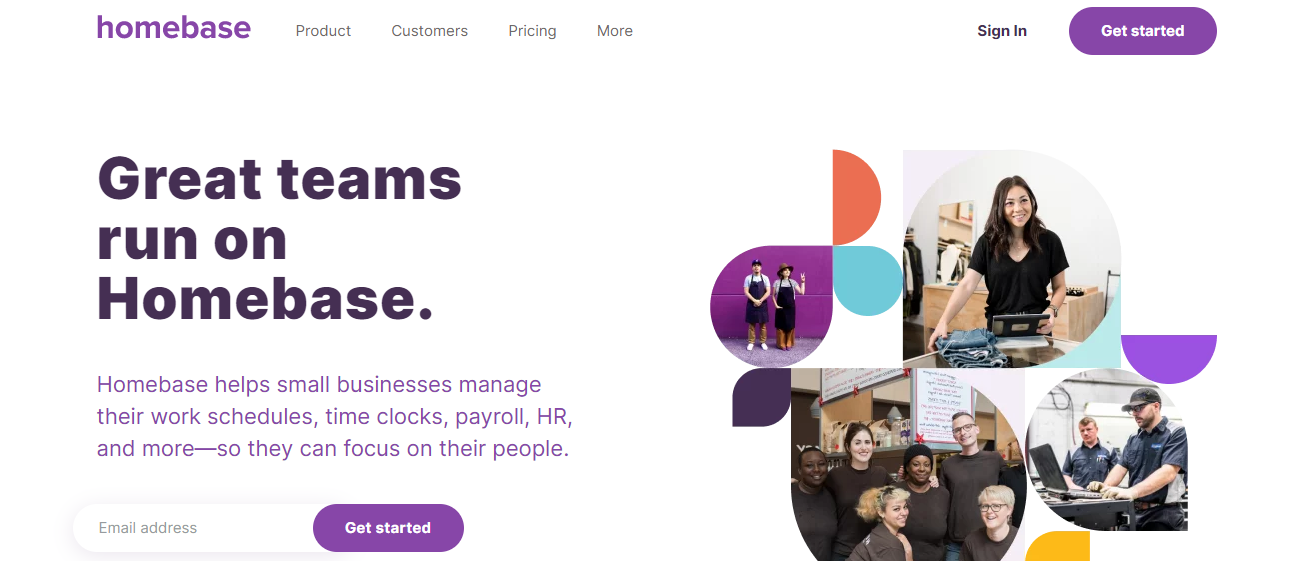 Homebase shares some common features with When I Work. Companies with remote or multiple site operations can use this tool to set up an online monitoring system to manage their staff.
You can add as many employees as you want to your account and distribute authority to make things a little easier. Using its mobile app, you can stay connected to your employees and send updates and event announcements.
With reporting and clock-in alerts, you can track your staff attendance, breaks, time off, and overtime. Other things you can do include hiring, paperwork, cost management, and performance tracking.
Core Features
Recruitment and onboarding.
Scheduling and time tracking.
Payroll.
Team communication.
Recognition and perks.
Third-party integrations.
Mobile app.
Price
You can use Homebase for free. Its premium subscriptions range between $25 and $100.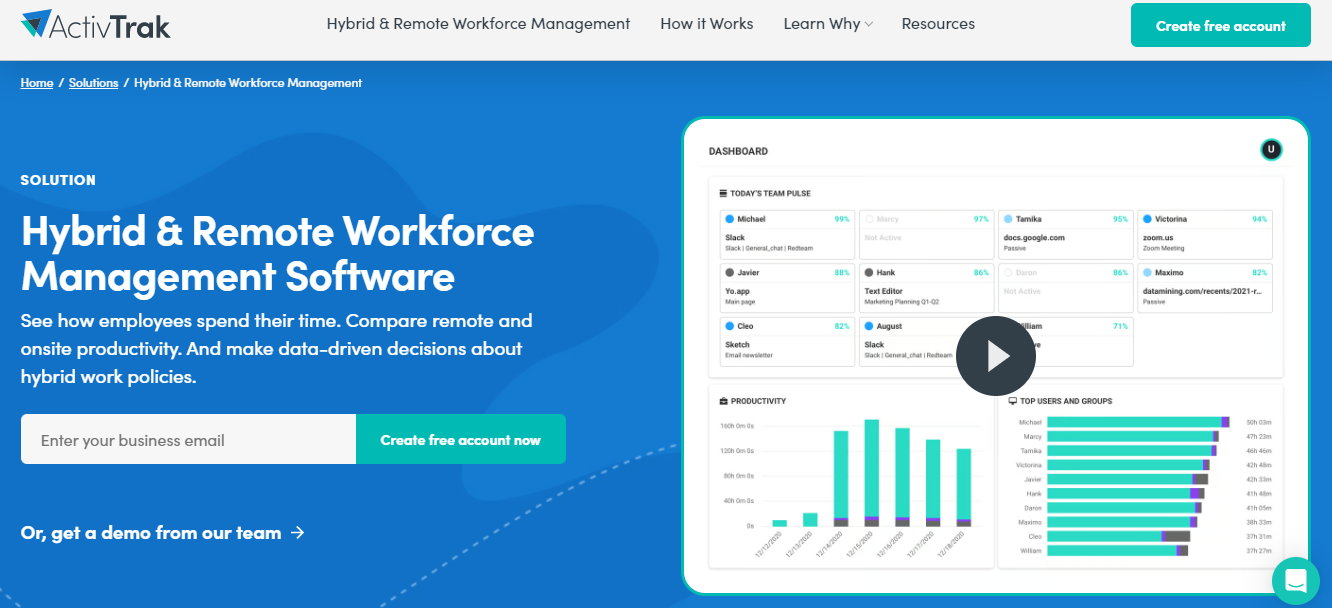 ActivTrak is a workforce analytics platform. The software summarizes your team activities into measurable insights to help you discover the best ways to manage your remote staff.
Some top insights you can gather with ActivTrak are; employee work habits, workload management, skills development opportunities, and team productivity.
You can also make comparisons between on-premise and remote work models, and perform A/B testing to see the impact of your current policies on team productivity.
There are several other decisions you can make with ActivTrak's insights. For instance, you can adjust your WFH schedule based on your staff's work capacity and purchase business tools that improve work efficiency.
Core Features
Company's health dashboard.
Remote employee activity reports.
Productivity trends.
A/B testing and benchmarking.
Technology usage report.
Integration with third-party applications.
Price
You can create a free account on ActivTrak. Its premium subscriptions start from $10.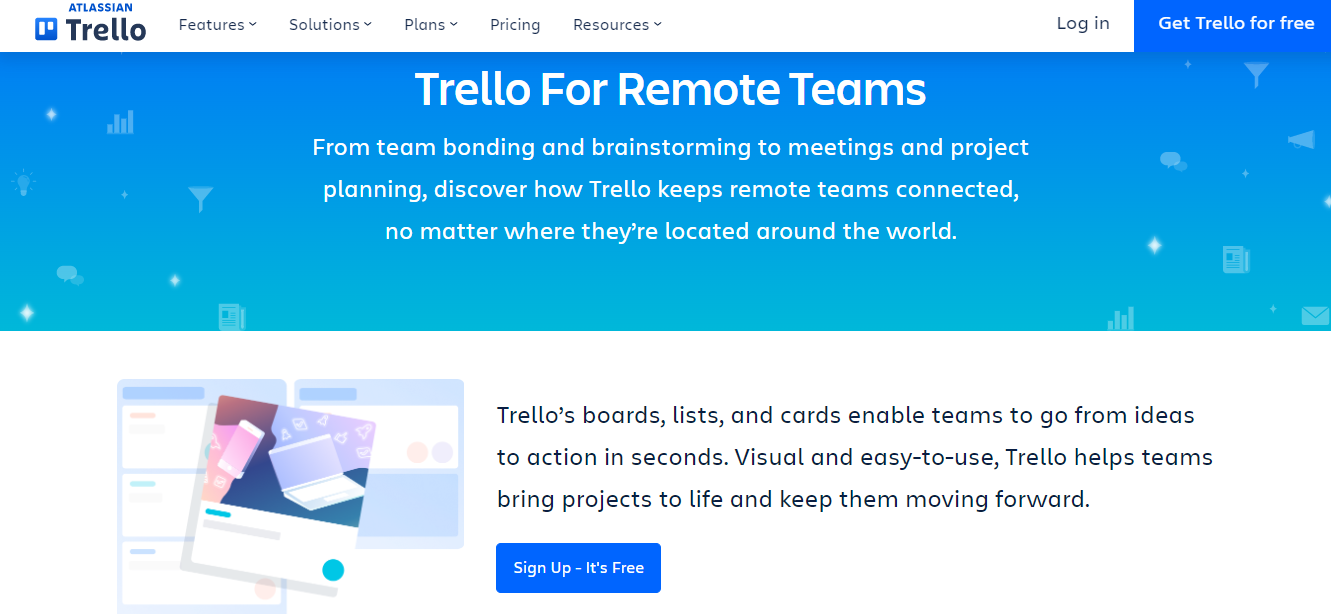 Trello is best for small teams. It's a project management app through which you can oversee your employees' tasks and stay in touch with them.
Using boards, cards, and calendars, you can create work schedules for your team and keep track of each assigned task. With Slack and time-clocking app integration, you can track your employees' working hours and share announcements and updates.
Via collaborative tools, your employees can work together on joint projects, brainstorm ideas, automate reparative tasks, and connect with colleagues.
Overall, Trello is a simple yet efficient tool for remote employee management.
Core Features
Task and time management.
Unlimited boards.
Public boards for announcements.
File attachments and chat.
Automation.
Guest account.
Integration with 200+ applications.
Workspace templates.
Mobile app.
Price
Trello's monthly subscriptions range between $5 and $18.
Its basic plan is free.
Time Doctor provides you with tools to track your staff's activities and measure their productivity.
You can record your employee's laptop screens to analyze their work habits and set up distraction alerts to help them stay focused.
Through work-life balance analytics, you can identify workload issues early on and build schedules that best suit your employees' work patterns.
If your business is project-based, you can create tasks for team members and generate timesheets for payroll. With PayPal integration, you can easily sync your data and disburse salaries.
Core Features
Employee monitoring.
Distraction alert.
Online and offline time tracking.
Payroll.
Productivity reports.
Work-life balance analysis.
Customization.
Integration and API.
Mobile app.
Price
Time Doctor's basic account costs $6, and the premium plan costs $17.
You can take a 14-day free trial.
Paylocity offers several products for remote employee management.
You can use its workforce app for operations, talent management software for learning and development, and an employee experience platform for team engagement.
If you work with overseas employees, you can buy recruitment and payroll tools to hire and pay your international staff.
Companies that run multiple on-site operations and want to manage their operations remotely can opt for Paylocity mobile app. Via the mobile app, they can process employee requests and allow their staff to record their work hours.
You can customize Paylocity and integrate it with third-party platforms.
Core Features
Recruitment and onboarding.
Time and attendance.
Payroll and benefits.
Performance management.
Document storage.
LMS.
Reporting.
Integration.
Mobile app.
Price
Paylocity shares prices on request.
Request a demo to know more.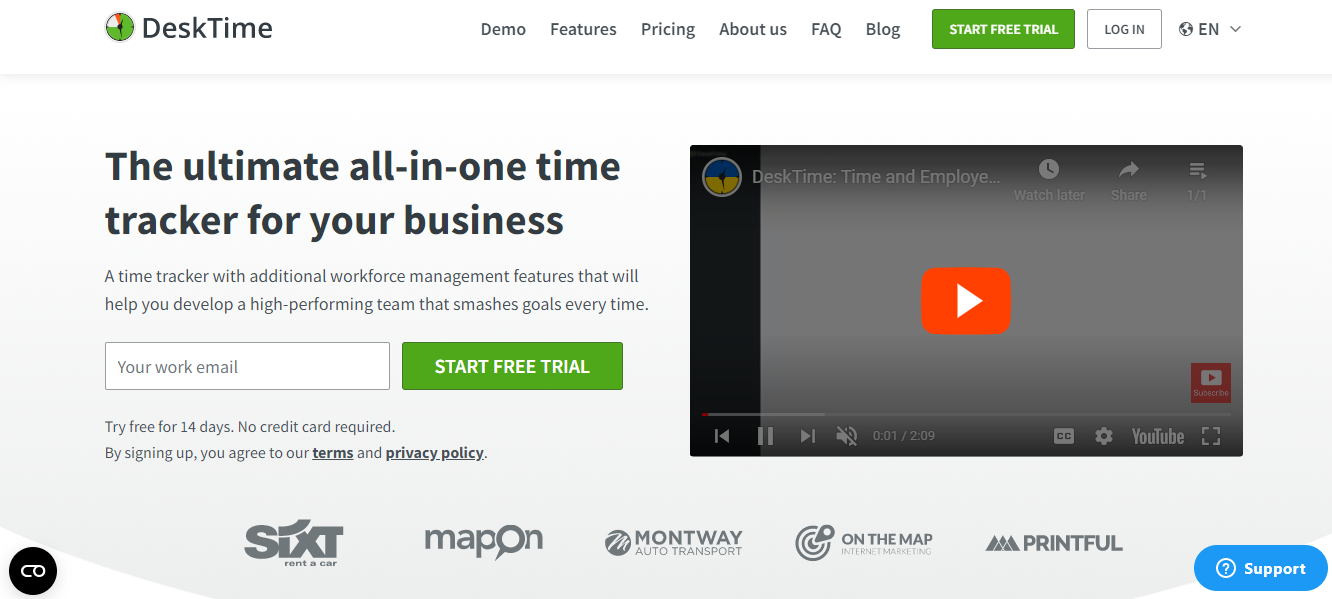 Desktime lets you create shift schedules and record working hours and breaks.
You can assign tasks to your team and automate time tracking, so your employees can accurately log their time, whether they're online or offline. With the shift planner and absence calendar, you can monitor tasks, re-schedule jobs, and manage time off.
Your staff can clock time from their mobile app and take time off during working hours for personal chores. To generate accurate timesheets, they can enable the web tracker and record time from the browser.
Desktime also has a booking tool for hybrid workspaces. If you decide to go for a shared workspace, you can manage desks, parking lots, and meetings rooms schedules from Desktime.
Core Features
Online and offline time tracking.
Shift scheduling.
Absence calendar.
Project management.
Employee monitoring.
Mobile app.
Third-party integration.
Space management for hybrid workspaces.
Price
Desktime charges $7 to $20 per user.
You can take a free trial.
Conclusion
Employee management software is a productive tool for both HR professionals and entrepreneurs.
It can help you keep an eye on your staff's work activities and connect with them anywhere and anytime.
I have covered versatile tools in this article for team management. I recommend exploring their official websites to pick the best software for your company. Good luck!