Overseeing staff activities manually often causes compliance errors and payroll miscalculations.
Shift trades, unexpected days off, and inaccurate timesheets are some of the general challenges of WFM, and they can seriously mess up your schedule, making you vulnerable to mistakes.
With a workforce management platform, you can centralize your data and set some jobs on autopilot.
The app not only gives you data visibility but also streamlines your processes.
What is Workforce Management Software and What Platforms Are Right for Your Business?
Workforce management software delivers scheduling, tracking, and compliance tools to allocate and oversee your resources efficiently.
It's designed for companies that run flexible work schedules or work on specific projects and typically hire temporary or seasonal staff.
Top Features to Look for in a WFM Software;
A shift schedule builder.
Timesheets for payroll calculation.
Mobile app for the remote time clock.
Dashboard summary or activity report for monitoring.
In this article, I have covered the 12 best workforce management platforms, summarizing their core features and prices. The review should help you choose the right software for your business.
Let's check them out!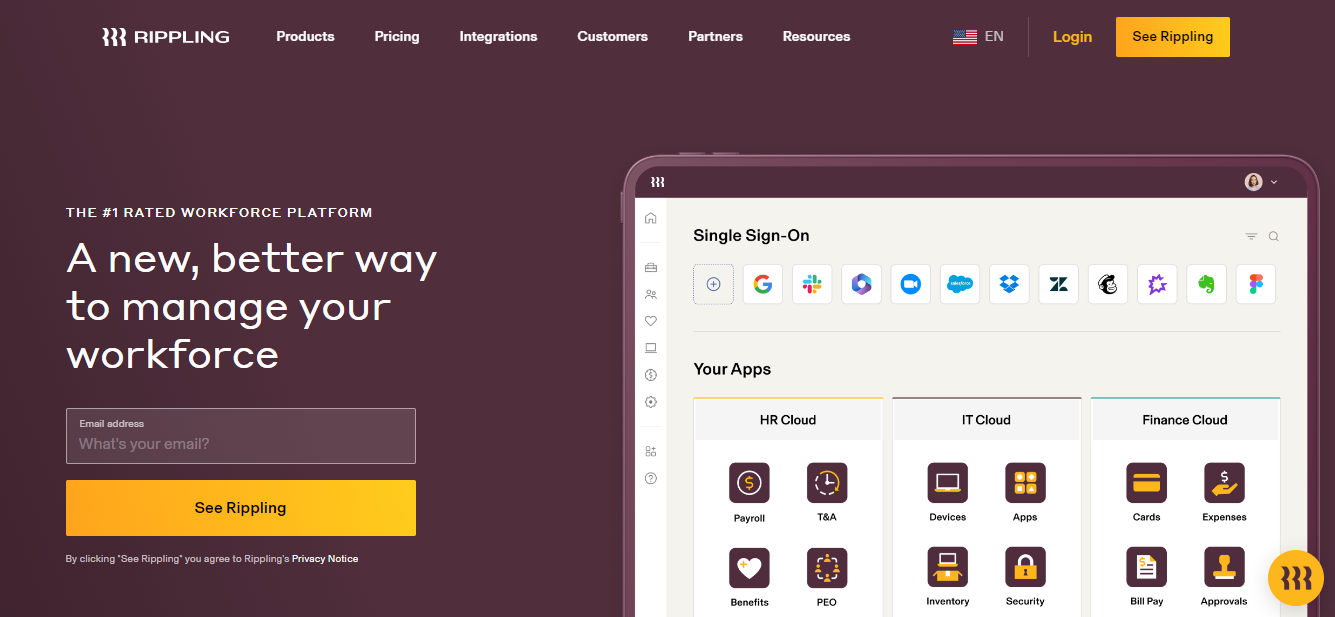 Rippling is a global workforce management platform. It offers HR, IT, and Finance products to hire, manage, and pay employees from one place.
You can store your staff's data in the system and set up an approval system to delegate jobs.
Using its pre-built templates, you can create proper workflows and automate repetitive actions.
If your company has specific policies attached to some roles, you can design custom policy workflows for that. It saves you from manually changing and applying policies every time someone joins your company or gets a promotion.
With its Finance cloud, you can issue corporate cards, handle reimbursement claims, and run payroll.
Core Features
Talent management.
Onboarding and offboarding.
Time and attendance.
Policy automation.
Corporate cards.
Approval system.
Device management.
Mobile app.
Price
Rippling shares prices on request. You can purchase HR, IT, and Finance cloud as separate products.
Connecteam is ideal for both remote and on-site workforce management. It's an employee app that allows you to make online schedules, record working hours, track assigned tasks, and engage employees.
You can create recurring tasks and set deadlines to ensure each job is completed on time. With checklists, status reports, and push notifications, you can supervise each job and maintain an open communication channel with the staff.
To encourage workforce productivity and improve team morale, you can offer incentives and non-monetary rewards to your employees.
Other interesting things you can do include leave management, payroll integration, and employee training.
Core Features
Onboarding and training.
Timesheets, overtime, and day off.
Team chat and news feeds.
Directory and a knowledge base.
Document organization.
Engagement tools.
Mobile app.
Integrations.
Price
Connecteam's prices range between $35 and $120.
You can try it for free.
Paylocity provides a suite of HR products to help you manage your workforce remotely.
You can use it to recruit temporary and permanent staff, build shift schedules, automate time and attendance, and process payroll.
With workflow automation, you can store documents, collect signatures, delegate jobs, and track tasks.
Your employees can access their accounts from their smartphones to clock time, submit time off requests, and connect with teammates.
If you plan to expand your business and need help with policies and other HR support, you can recruit Paylocity's in-house team for consultancy services. The software offers tailored solutions for small, medium, and large companies.
Core Features
Recruitment and onboarding.
Document management.
Scheduling and time tracking.
Payroll.
Performance management.
Learning and development.
Analytics and reporting.
Third-party integration.
Mobile app.
Price
Paylocity delivers custom prices. Contact sales for the demo.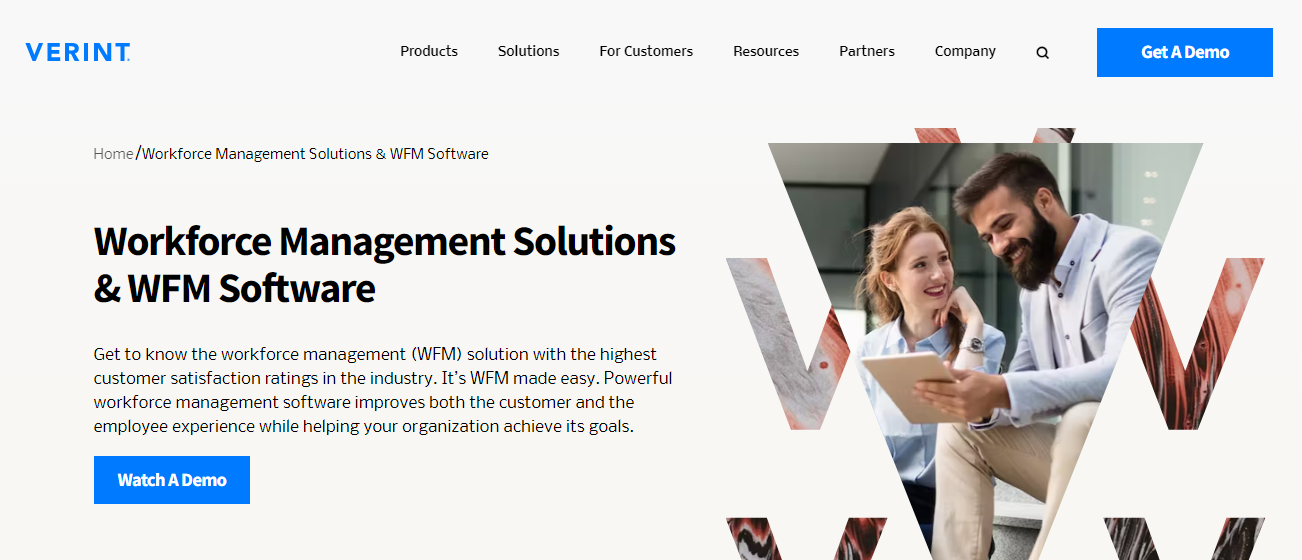 Verint's workforce software is designed for contact center employee management. It enables you to plan, execute, and manage your field staff online.
Your call agents can access Verint from their smartphones to check their schedules, request time off, and get updates. Via its intuitive dashboard, you can monitor your employees and see who's working and who's currently on a break.
With automation, you can set triggers on certain actions and automate a few tasks to save time— like PTO request approval.
Using Verint's AI forecasting and staff scorecards' data, you can predict the best shift schedules, discover areas for improvement, and measure team productivity.
Core Features
Shift schedules.
PTO, breaks, and leave.
Performance measurement.
AI-forecasting.
Workflow automation.
Self-service portal.
Mobile app.
Analytics.
Price
Verint shares prices on request. Ask for a demo to explore the software.
5. Calabrio (Formally Telepoti)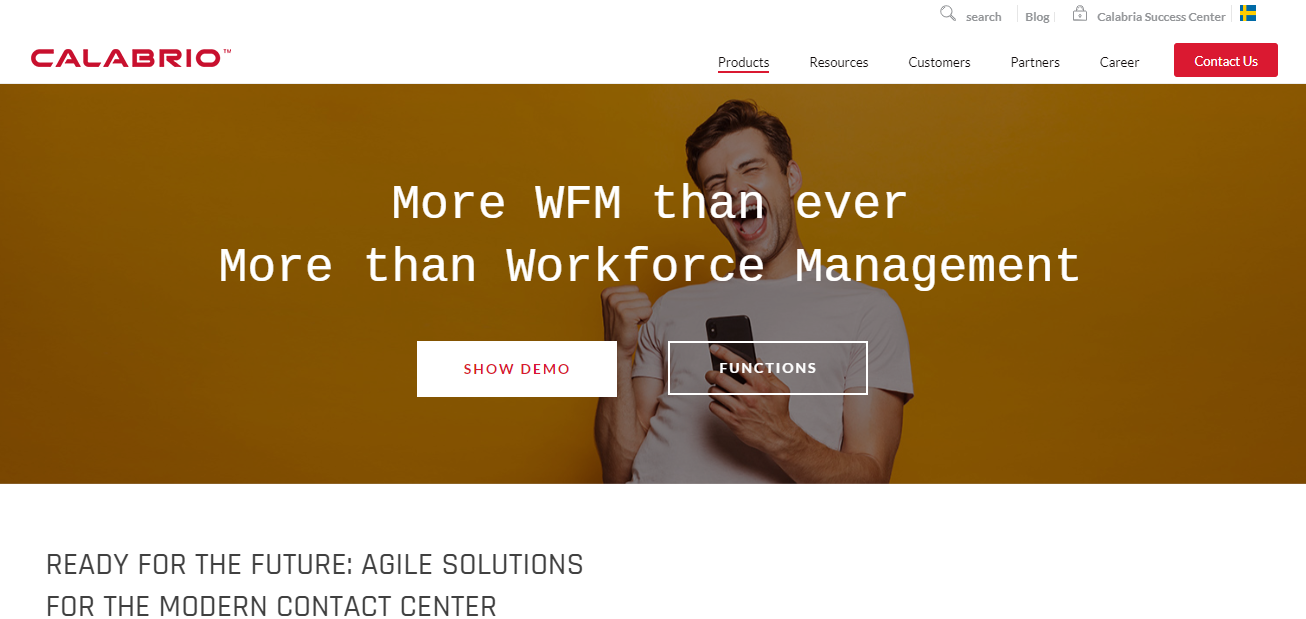 Calabrio is also a contact center WFM software. With its app, you can plan your budgets, create flexible shifts, supervise staff, and oversee time off.
Calabrio has some of the best self-scheduling features.
You can set certain parameters and let your employees handle their shifts to avoid micromanaging. Via its mobile app, your agents can share availability, check their colleagues' schedules to trade shifts, change their lunch break time, and request leave.
Other notable features of Calabrio are forecasting, performance tracking, and reporting. The software records all your staff activities and converts them into measurable insights to help you make well-informed decisions.
Core Features
Shift schedule management.
Forecasting and planning.
Self-scheduling.
Shift trade, time off, overtime, and absence monitoring.
Chatbot.
Workflow automation.
Performance measurement.
Gamification.
Analytics and reporting.
Mobile app.
Price
Calabrio provides quotes on request. Contact sales to know more.
Clockify core strength lies in time tracking and reporting. It's a monitoring software that allows you to manage your employees' schedules and accurately track their working hours.
Its dashboard summarizes all your workforce activities, including expenses, leaves, and overtime.
You can create project timelines, set hourly rates, and assign tasks to your team. With the help of its visual calendar, you can allocate appropriate paid time to each member to ensure no one gets overwhelmed with work.
Using the Kiosk feature and GPS tracker, you can record attendance and keep an eye on your employees.
Clockify also provides an option for remote employee management. If your business has a WFH model, employees can automatically track working hours and breaks from their browsers.
Overall, it's a user-friendly software product and integrates with third-party applications.
Core Features
Calendar for scheduling.
Time tracking and sheet generation.
Leave and expense management.
Approval system.
Reports.
Third-party integrations.
Kiosk.
Mobile app.
Price
You can get started on Clockify for free. Its premium plans range between $4 to $12 per user.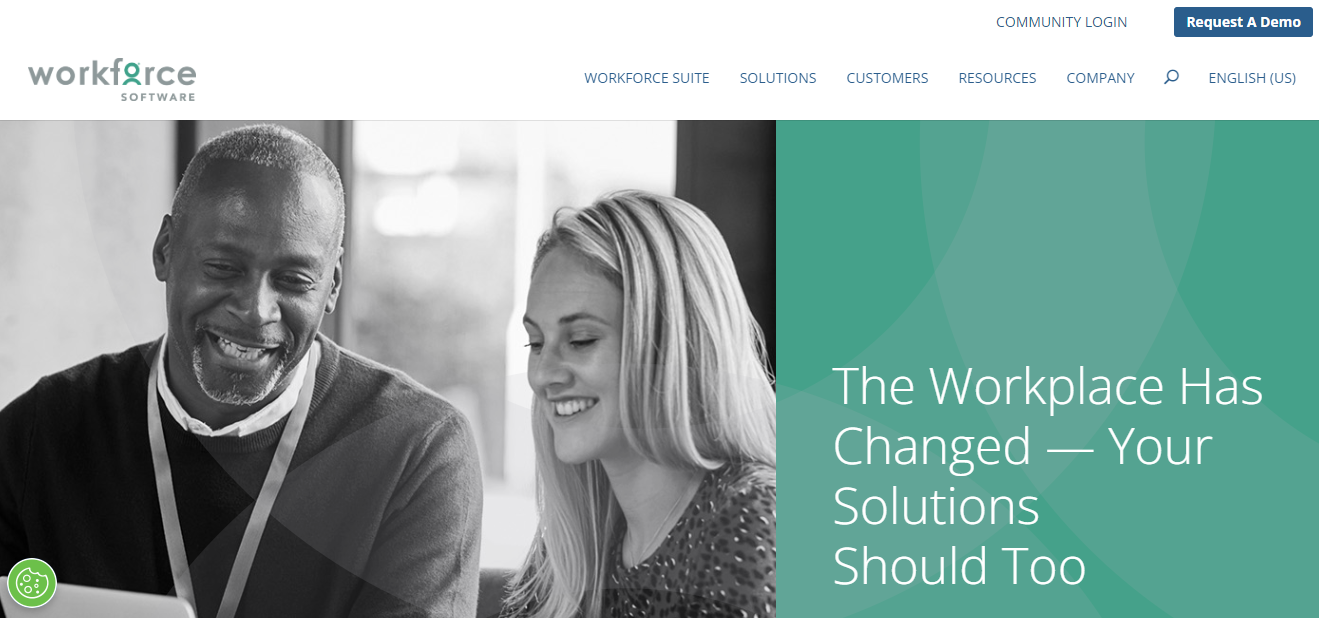 Workforce delivers a diverse range of tracking and automation tools.
You can build flexible schedules, use pre-built policy templates to set pay rates, and allow employees to self-manage their shifts. To handle unplanned leave and absence, you can automate resource replacement workflows, so no shift remains vacant for long.
With labor forecasting, you can predict human resource requirements and put contingency plans in place to avoid under or overstaffing.
The software shares tons of productivity functions to help you optimize your schedules and manage your staff with ease.
Core Features
Schedules, timesheets, and leave.
Chat and broadcast channels.
Task management.
Labor forecasting and analytics.
Workflow automation.
Policies and compliance.
Integrations.
Mobile app.
Price
Workforce shares prices on request. Request a demo to know more.
Workday is a global HR platform. It delivers a suite of products to digitalize various human resource operations.
One of its products cover field workforce management. With this software, you can establish an online system to manage shifts, attendance, and leave.
With AI-powered tools, you can build an adaptable schedule for your employees, giving them the flexibility to pick shifts that work best for them. Through the self-service portal, employees can check in and out, track their time, swap shifts, and get additional paid work.
If you want to manage all related activities from one place, you can opt for the Workday HCM platform. It's an all-inclusive package that covers recruitment, workforce management, payroll, and strategic planning. 
Core Features
Shift schedules.

Time and attendance.

Geofencing.

Absence management.

Workflow automation.

Analytics and forecasting.

Mobile app.
Price
Workday delivers custom quotes.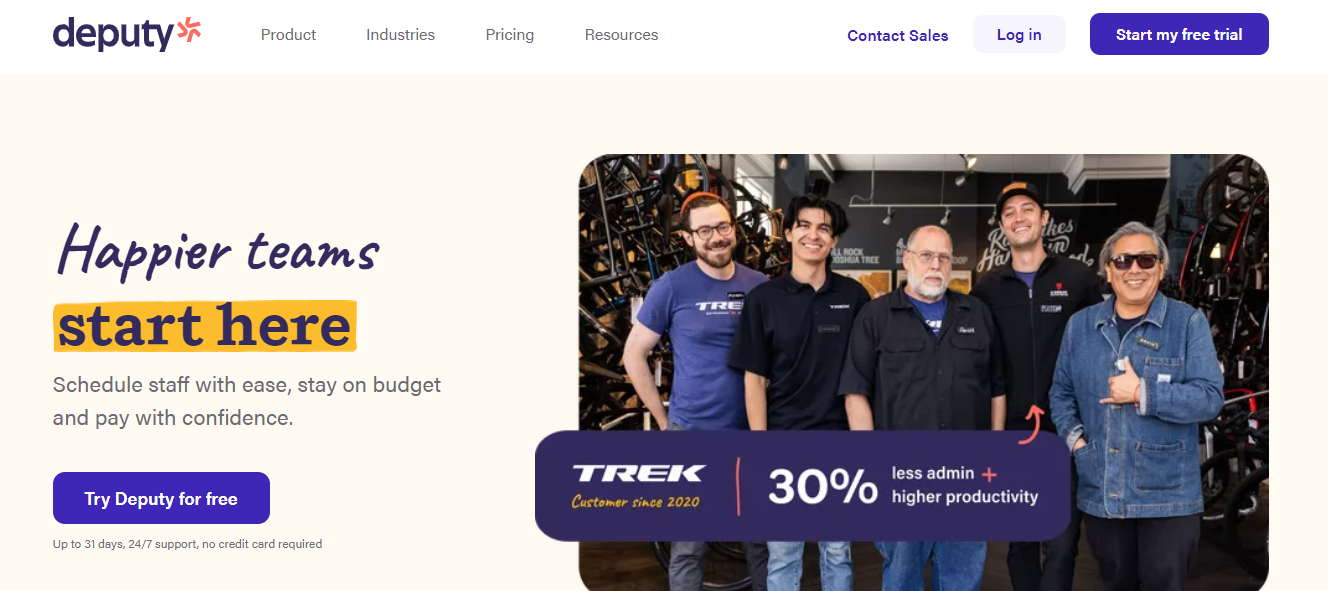 Deputy is an all-in-one platform. It contains employee scheduling, time clock, PTO management, and payroll integration.
You can auto-generate shifts, add meal and rest breaks in between, put a cap on working hours, and monitor time off.
To provide multiple time tracking options to your staff, you can install clocks on-site tables, desktops, and mobile phones.
For communication and updates, the app has a noticeboard. You can publish announcement posts, broadcast events, and send direct messages to individual employees.
Deputy works well with POS, payroll, and human resource software.
Core Features
Schedule planning and execution.
Time clock and payroll sheets.
Absence and break management.
Work automation.
Compliance alerts.
Third-party integrations.
Mobile app.
Price
Deputy charges start from $4. You can try it for free.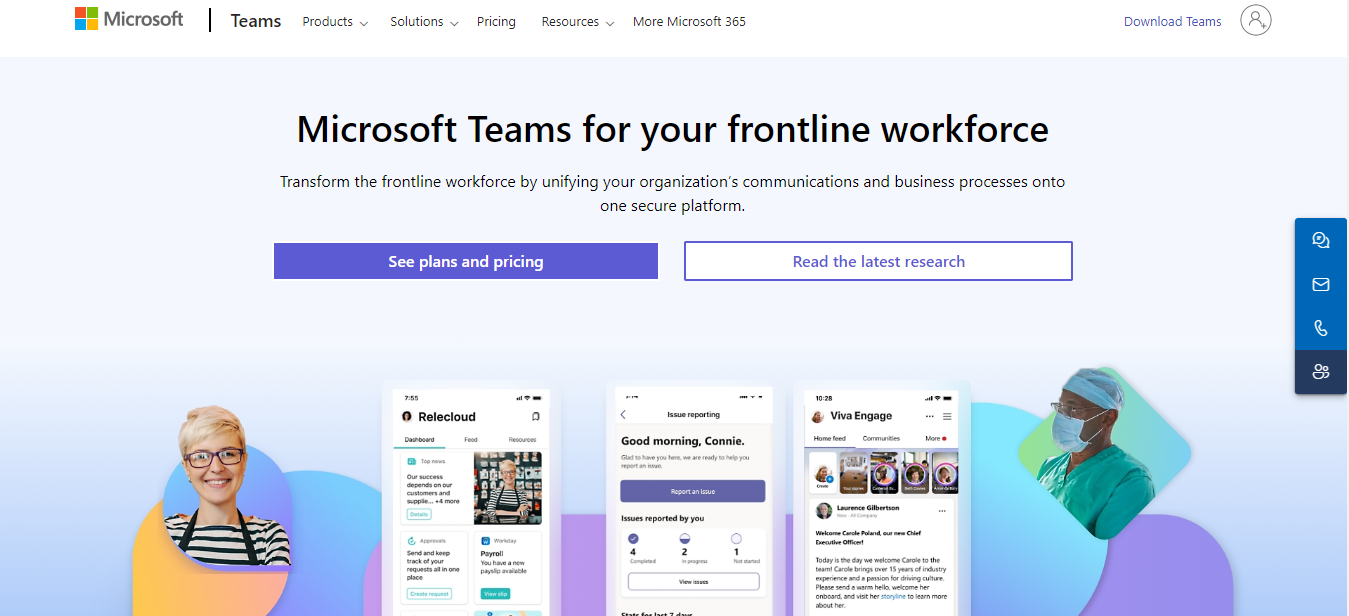 Microsoft Teams is one of the leading applications companies use to manage remote staff. It provides a digital workspace and a suite of tools to help managers stay connected to employees remotely.
The platform shares a separate package exclusively for frontline workforce management. The package includes around two dozen apps and a central place for information and updates.
Some top features of WFM are shift schedules, time and attendance, and a communication hub for your staff. You can create flexible schedules for your workforce and let employees pick their preferred shifts.
Via a self-service portal, your staff can clock their time, swap shifts, and request leave.
Core Features
Shift scheduling.
Time and attendance.
Communication tools.
Employee self-service.
Workflow automation.
Learning and development.
Integration.
Mobile app.
Price
Microsoft Workforce suite costs $3 to $4 per user.
Bizimply provides HR, operations, and employee suites for frontline workforce management. You can use them to handle all the essential functions, including onboarding, time and attendance, leave management, and training.
Bizimply's WFM suite particularly covers shift scheduling and time management.
It has a drag-and-drop builder, via which you can create a color-coded work schedule and send it to your employees. Your staff can clock in remotely from their smartphones, record their breaks, and clock out when their shift is complete.
With GPS and auto-timesheet tools, you won't need to manually track your employees or calculate labor wages.
If you need additional functions, like document management, you can purchase Bizimply's Operations suite. The product offers a manager's log book, equipment and vendor recording, and sales forecasting.
Core Features
Employee scheduling.
Time and attendance.
Photo capture and GPS tracking.
Auto-timesheets.
Permission roles.
Mobile app.
Integrations.
Price
Bizimply shares custom quotes. Contact sales to get the prices.
Find My Shift offers an intuitive scheduling tool for workforce management.
Anyone from retail, service, logistics, and manufacturing business can use this software to handle shifts, monitor employees, and calculate payroll.
You can build a tailored shift schedule for your workers and input different hourly rates for regular and specific days. Whether your employee is working on public holidays or putting in more hours for extra pay, FMS will automatically adjust the rate and accurately record your staff's wages.
With auto-notifications, you can easily monitor who has clocked in, who's on leave, and who might be working overtime.
The software also has interactive charts to forecast labor costs.
Core Features
Shift scheduling.
Time, attendance, and leave.
Payroll calculation.
Notice board.
Activity reports.
Self-scheduling.
Document storage.
Integrations.
Price
Find My Shift charges $25 to $70 per month. You can add five employees for free and connect your Slack account for messaging.
Conclusion
When selecting the right platform for workforce management, you should consider your business operations, your company's budget, and the software's usability.
Some applications may look perfect for your business, but might not be as user-friendly. Others could be simple but may provide excellent pricing packages.
List down your priorities and compare them with the shortlisted applications to find the best software for your company. Good luck!