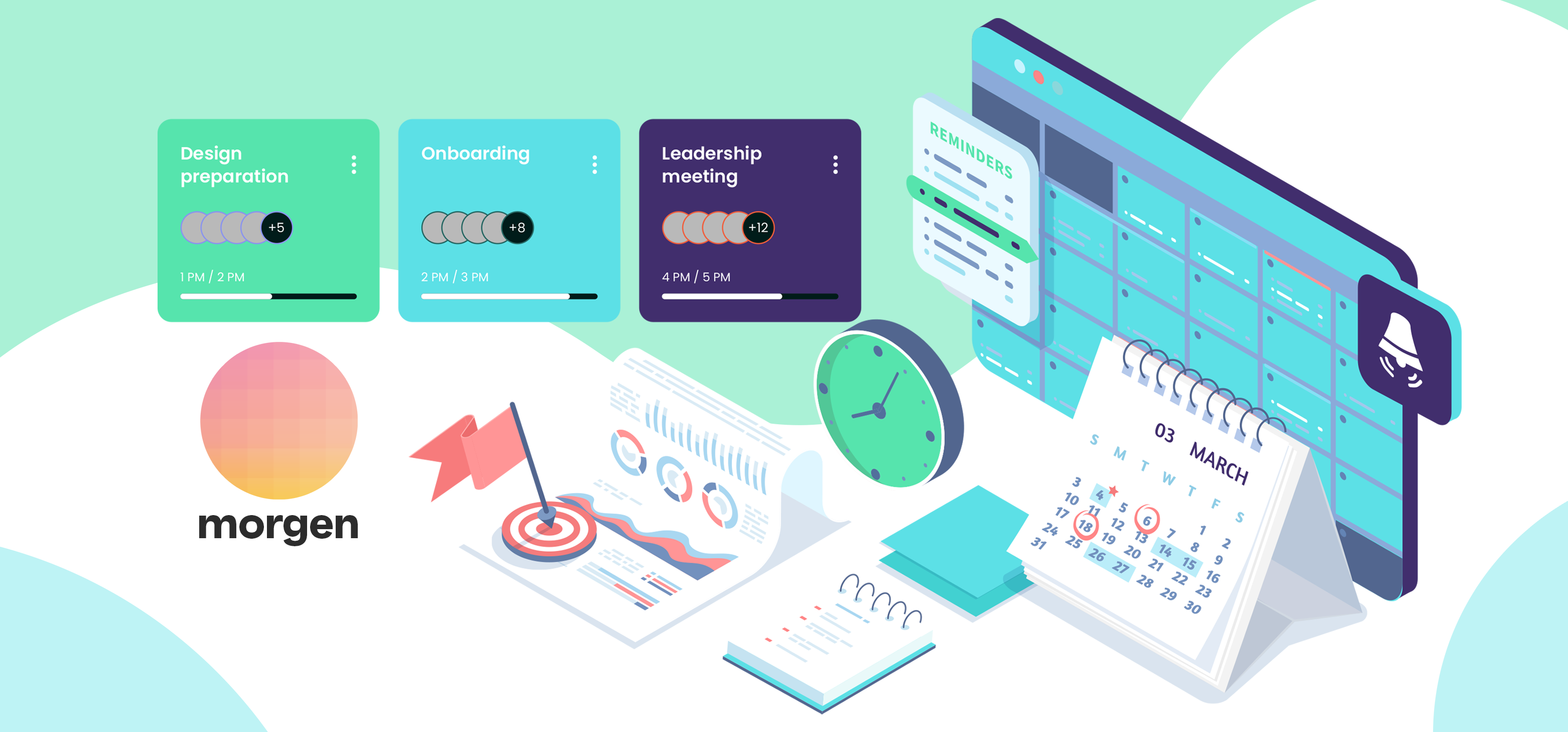 There is no shortage of productivity tools available today, with new ones constantly emerging.
In fact, as of writing this, I have a strong hunch that a new one might already be coded, or perhaps even better, already secured funding.
Due to this abundance, it can be quite a challenge to find the real gold among those claiming to be the "#1 tool in the productivity space" on their website's homepage.
Morgen is different.
This is not only because it goes beyond being a mere replica of existing productivity apps. That's true for sure!
But Morgen also offers a solution that combines a calendar, scheduler, and task manager, enabling you to effortlessly manage all your calendars, to-dos, and scheduling requirements in one place.
Keep reading as I uncover Morgen and explore its features and flaws to help you determine whether it is the best fit for your specific needs.
Our Verdict
Morgen is excellent for people and professionals who have a hard time dealing with multiple calendars, handling tasks, and setting up meetings.
It's got a super simple and clean interface, which makes it a breeze to organize and prioritize your work and personal schedules.
What is Morgen?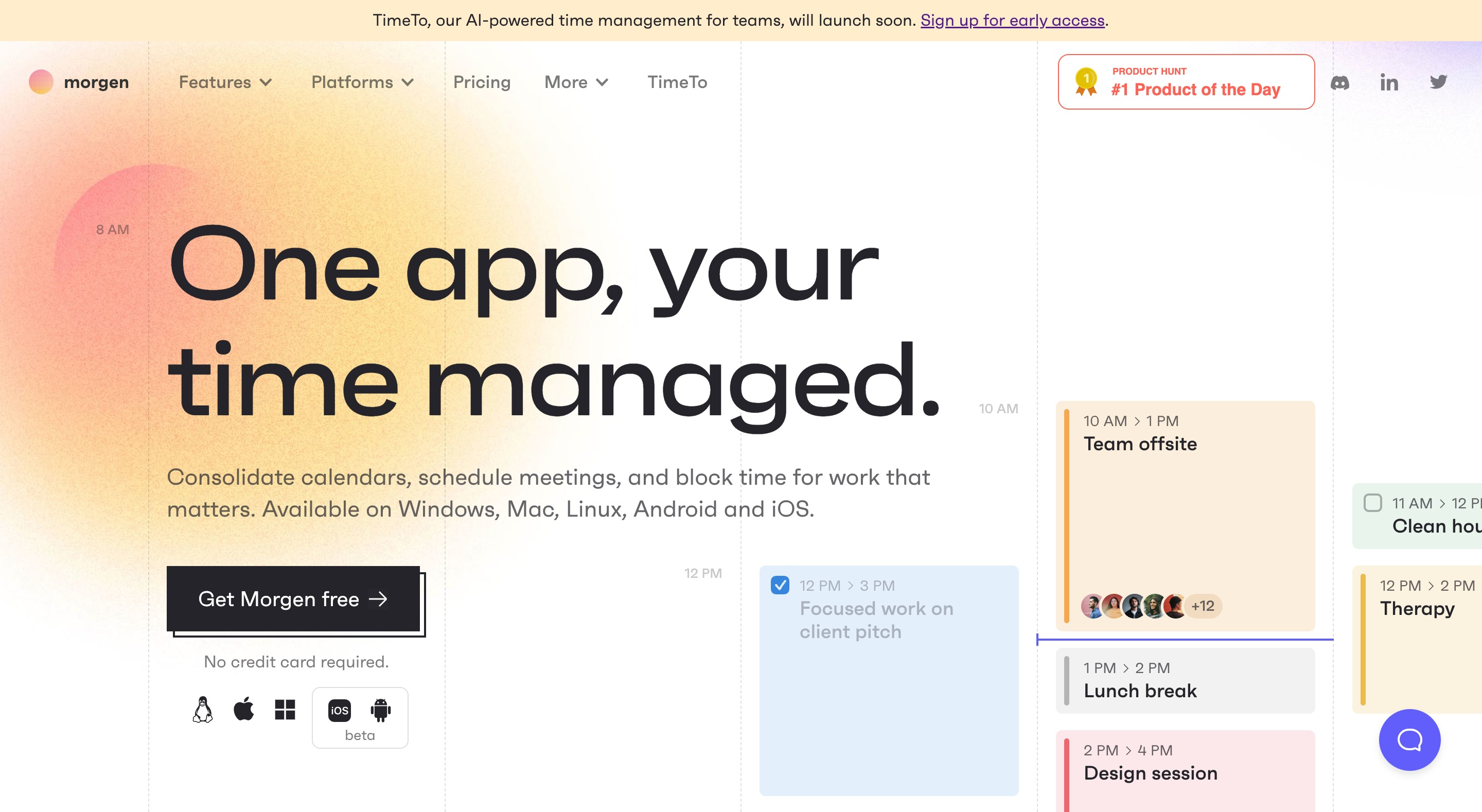 Morgen is a comprehensive calendar, scheduler, and task management app that aims to streamline users' work and personal schedules.
The three key features of Morgen include:
Unified calendar: Easily search for events and tasks by keyword, participants, or locations, support for multiple time zones, calendar view options include daily, weekly, monthly, agenda, etc
Scheduling Links: It eliminates the hassle of back-and-forth coordination emails. Morgen offers features like hassle-free scheduling, effortless schedule control, real-time availability check, customizable scheduling links and booking pages.
 Task Manager: Morgen's task manager integrates with popular to-do apps like Todoist, providing seamless tracking, prioritization, scheduling, and completion of tasks. Drag and drop tasks from lists to your calendar to block dedicated time, increasing productivity and preventing scheduling conflicts.
One of the best things about Morgen Calendar is the ability to connect to all your external calendar apps and show all the desired accounts directly on your Morgen Calendar dashboard.
Morgen Features
| | |
| --- | --- |
| Feature | Use Case |
| Unified Calendar | Consolidate and manage multiple calendars in one place. |
| Task Manager | Schedule and prioritize tasks directly in the calendar, integrating with to-do apps. |
| Integration with Calendars | Sync Morgen with various calendar platforms like Google Calendar, Office 365 & Apple Calendar. |
| Availability Sharing | Share your availability easily with customizable booking pages and scheduling links. |
| Multi-Platform Support | Access Morgen on Windows, Mac, Linux, Android, and iOS devices (does not have a web app, as of now). |
| Multi-Time Zone Support | Enable scheduling across different time zones. |
| TimeTo (Upcoming) | Time management tool for teams, leveraging AI to optimize time allocation and productivity. |
Classic Calendar Superpowers
Morgen allows you to manage, schedule, and plan from a consolidated calendar.
It integrates with various calendars, including Google Calendar, Office 365, Exchange, Apple Calendar, CalDAV, and more.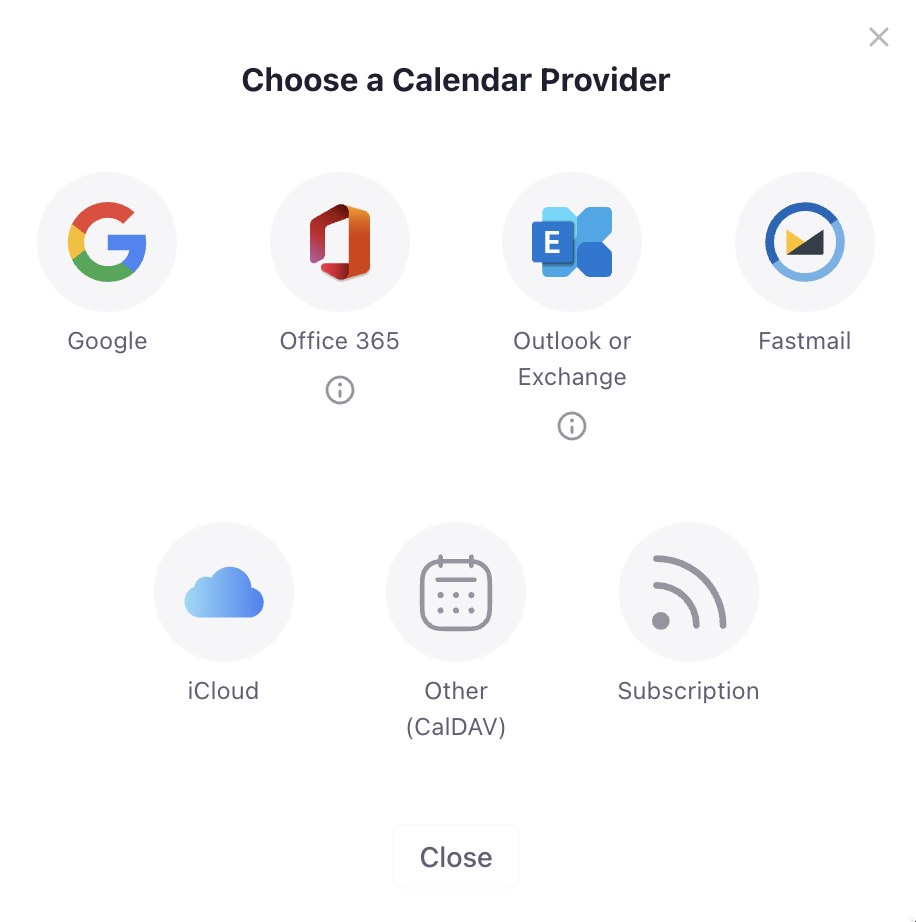 You can integrate personal, work, side hustles, and family calendars to have a complete picture of your time.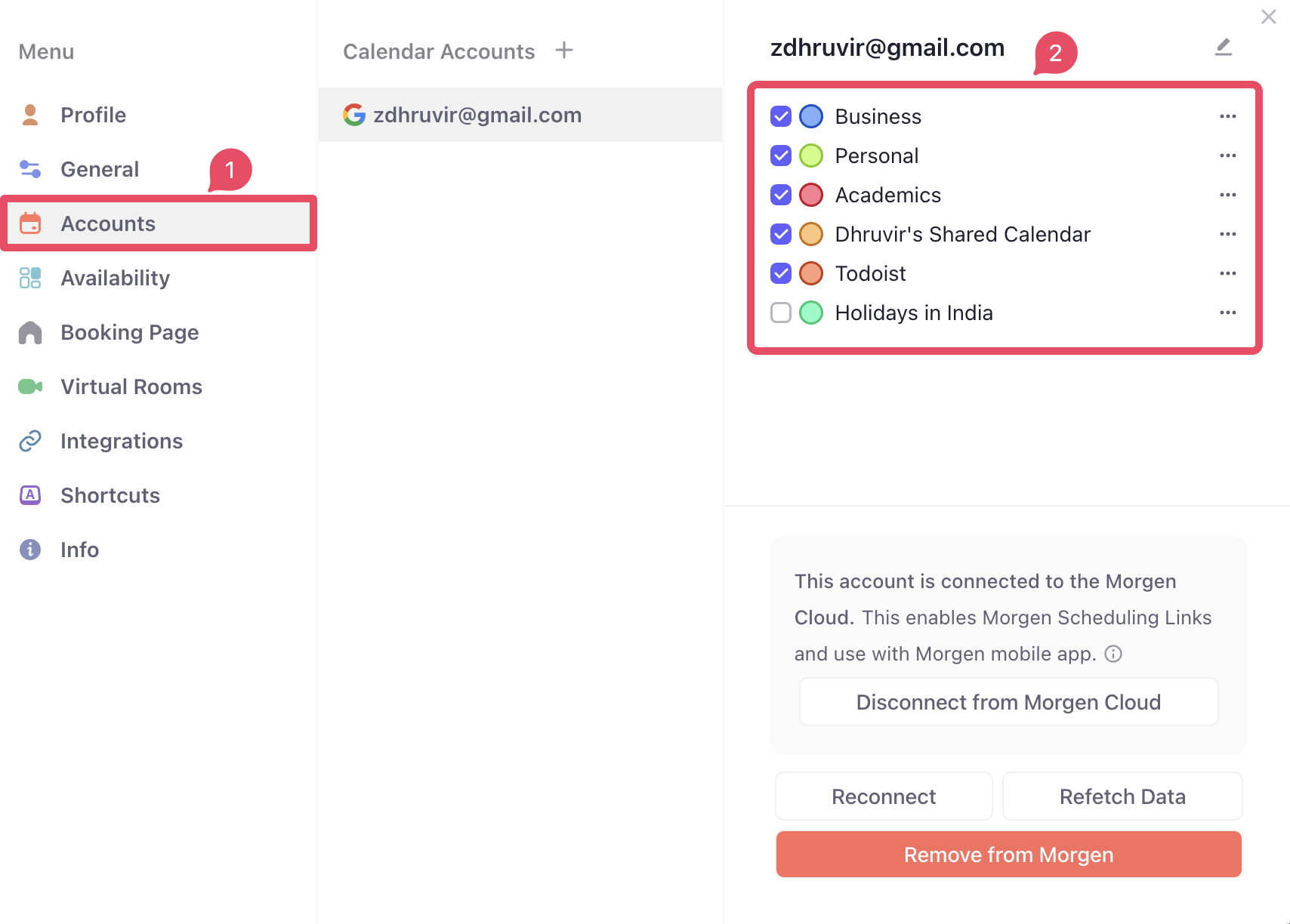 Morgen offers real-time syncing with calendars, ensuring up-to-date information.
In addition to that, if meetings make up a significant part of your work life, you might be glad to hear that Morgen integrates with popular virtual meeting platforms like Zoom, Google Meet, Microsoft Teams, and Webex.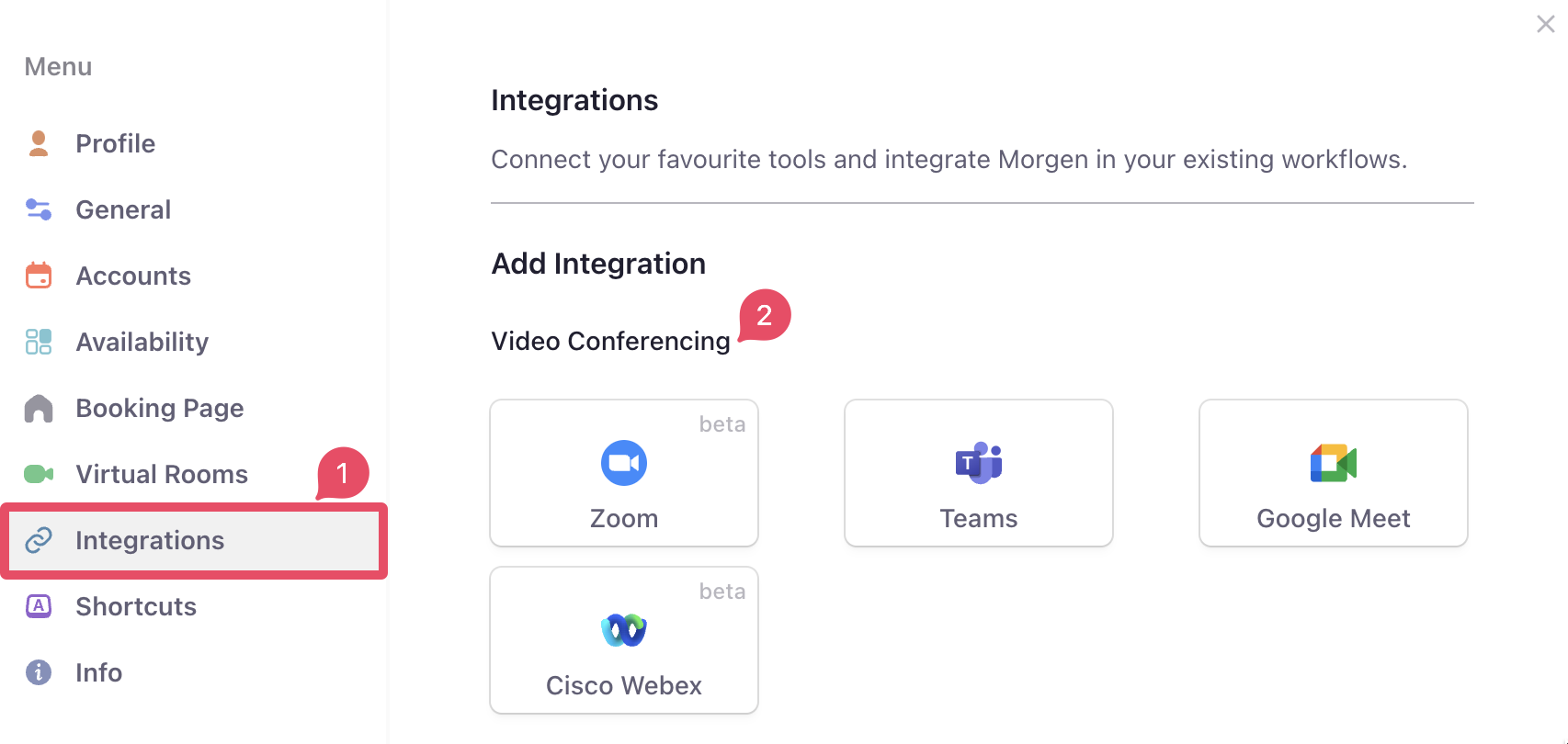 You can add meeting details to any invite with just one click and join meetings using Morgen's "Join Now" button.
And if the person on the other side of the meeting is located in a different time zone, you can use Morgen's multi-time zone functionality, making it convenient for users working in global teams or traveling frequently.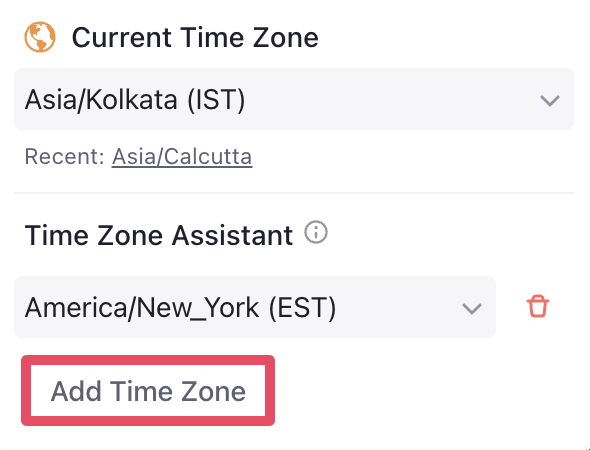 Furthermore, Morgen provides flexibility in choosing different calendar views, such as daily, weekly, monthly, agenda, and a 2-week view.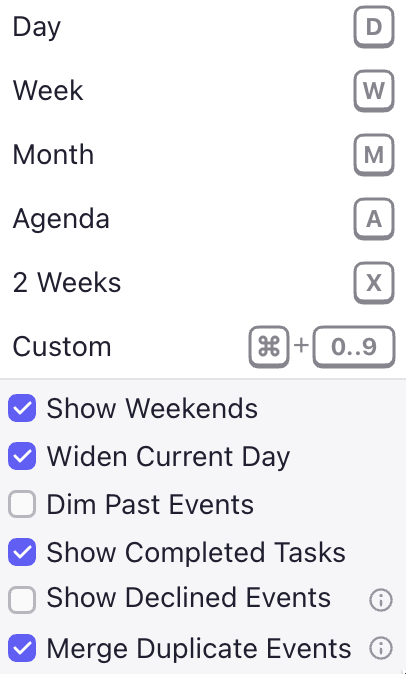 You will also see a search option in the top right corner, allowing easy finding of events and tasks by keyword, participants, or locations.
Lastly, there is a command bar that can be accessed either via:
Cmd + K
Or by clicking here:

It is highly useful and time-saving, especially when you want to create a task or an event on the go, change calendar views, and much more—all with a single click of your keyboard.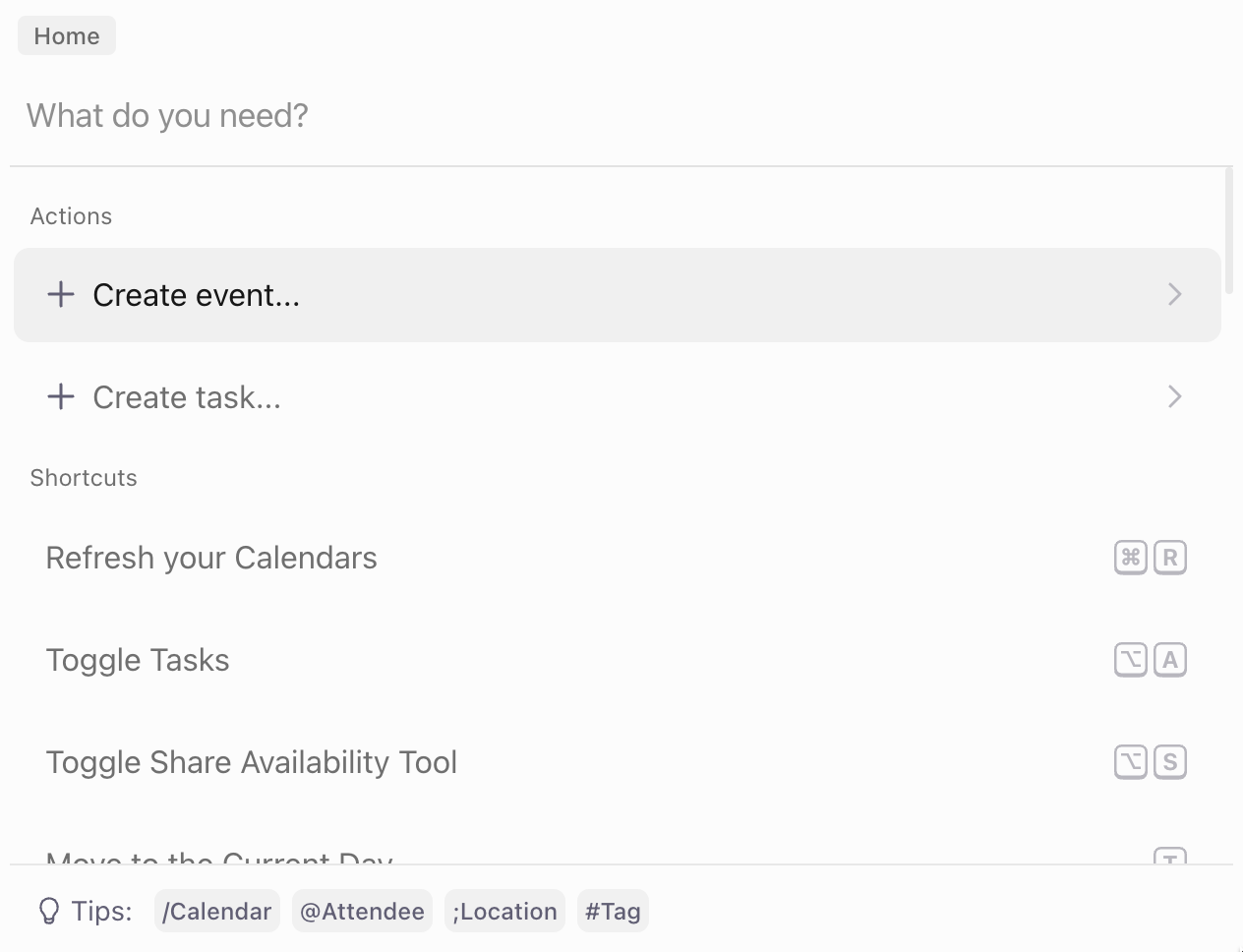 Performing Better Task Management
Morgen integrates your to-do lists and calendars, allowing you to schedule dedicated time for work.
Morgen's task manager is compatible with popular to-do apps like Todoist.
Tasks can be easily scheduled in your calendar by dragging and dropping them, promoting increased productivity and focus.
In addition to that, multiple task lists can be created to manage different projects and priorities, with the option to color code tasks for easy identification.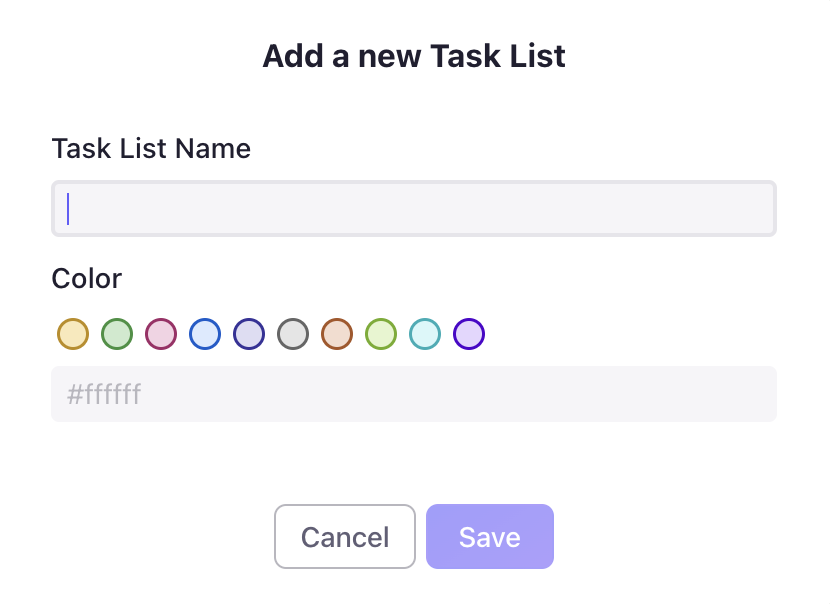 Even better, you can sort tasks by importance and urgency, ensuring that the most critical tasks are prioritized.
Additional features of Morgen include setting recurring tasks, creating multiple time blocks for a single task, and easily distinguishing tasks and events in your calendar.
Tasks can be marked as "free" to avoid blocking time for meetings.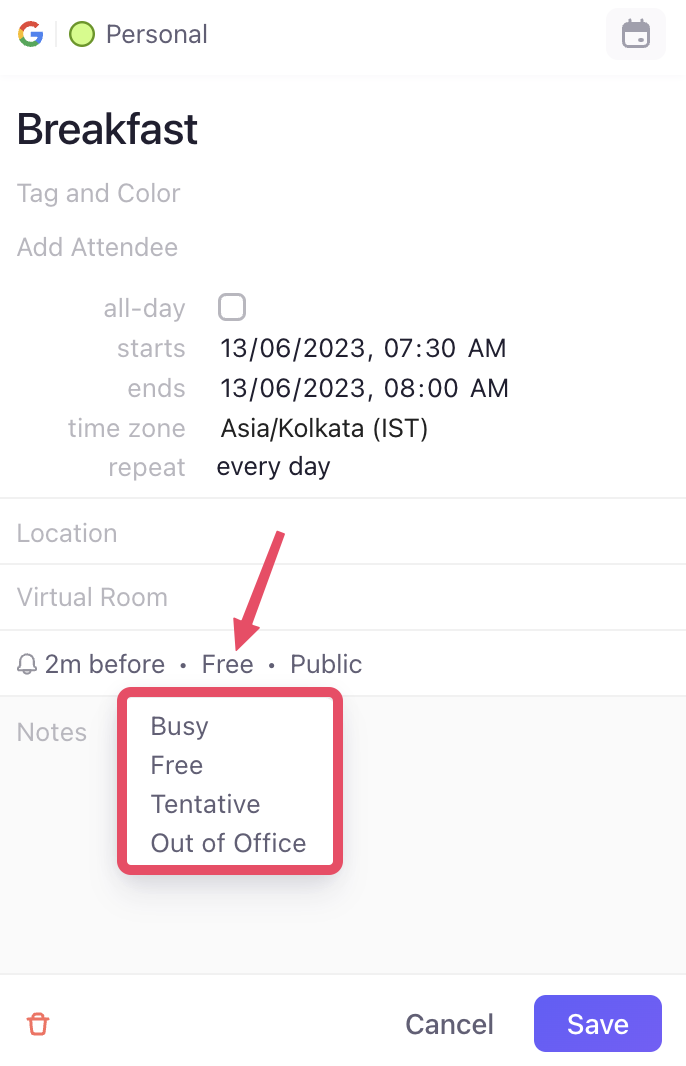 Here's a step-by-step guide to using Morgen's task manager efficiently:
After signing up with Morgen, connect your to-do apps: Connect your preferred to-do app to Morgen to import your existing tasks.


Create task lists: Start by creating task lists to manage different projects, priorities, or areas of your life. For example, you can have separate lists for work, personal tasks, or specific projects.


Add tasks: Within each task list, add individual tasks by clicking on the "New Task" button or using the provided input field. Give your task a title and any additional details or notes.

Set task attributes: You can set attributes like due dates, tags, importance, and urgency for each task.


Schedule tasks in your calendar: Next, drag and drop tasks from your task list into your calendar to allocate dedicated time for them.


Set recurring tasks: Some tasks require regular attention. Morgen allows you to set recurring tasks with specific rules and frequencies. This ensures that these tasks are automatically scheduled in your calendar at specified intervals.

Celebrate accomplishments: Whenever you check off a task as complete in Morgen, Morgen includes a celebratory emoji (🎉) to help you appreciate your progress.
Managing Meetings Scheduling The Right Way
Morgen embeds powerful scheduling links and booking pages in your calendar, eliminating the hassle of back-and-forth coordination emails.
To use Morgen's Scheduling Links feature in the best way possible, you can follow this simple step-by-step tutorial:
Step 1: Set up your calendars:
In Morgen, connect your calendars (such as Google Calendar, Outlook, or Apple Calendar) that you want to use for scheduling.
This allows Morgen to cross-check your availability when generating scheduling links.
Step 2: Customize your availability
Decide on your priorities and the time slots you want to make available for scheduling.
You can customize when you are free or busy by adjusting your calendars.
Step 3: Generate a scheduling link
Morgen allows you to create both one-time scheduling links for specific meetings and always-on scheduling links for ongoing availability.
Decide which type of link you want to generate based on your requirements.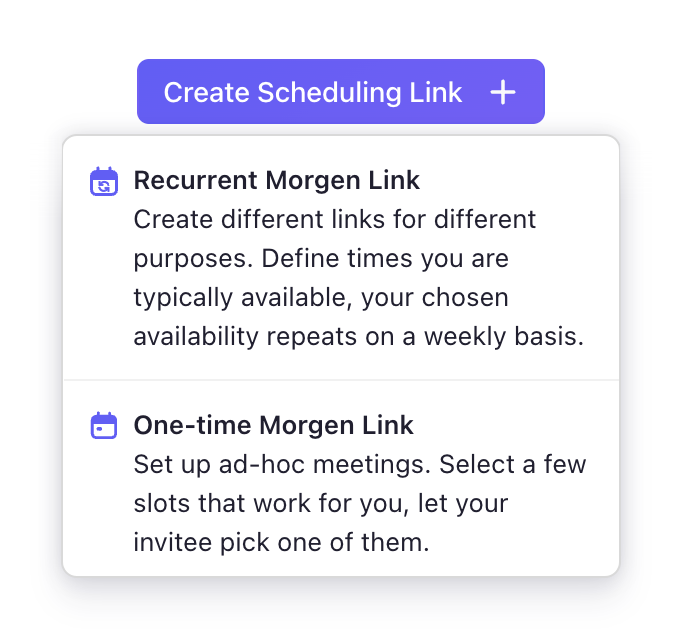 Step 4: Share the scheduling link
Once you have generated a scheduling link, you can share it with your invitees.
They will be able to see the available time slots that align with your priorities and select a time that works for them.
\You can share the link via email, or messaging platforms, or embed it on your website.

Step 5: Customize your booking page (optional)
In addition to scheduling links, Morgen also provides the option to customize your booking page.
You can personalize it to reflect your branding and real-time availability based on your calendars and rules.

That's all!
Interface And User Experience
Morgen is incredibly user-friendly and has nearly no learning curve.
The dashboard is designed to be easily customizable, allowing you to keep it clean and organized according to your preferences.
For example, the left sidebar serves as a hub for both task management and schedule organization, and you can effortlessly switch between the two.

The rest of the screen is dedicated to the calendar view.
If you prefer a distraction-free view without the left sidebar, simply click on the pane to hide it.

Additionally, to view different time zones directly from the calendar, hover over the timeline located on the left side.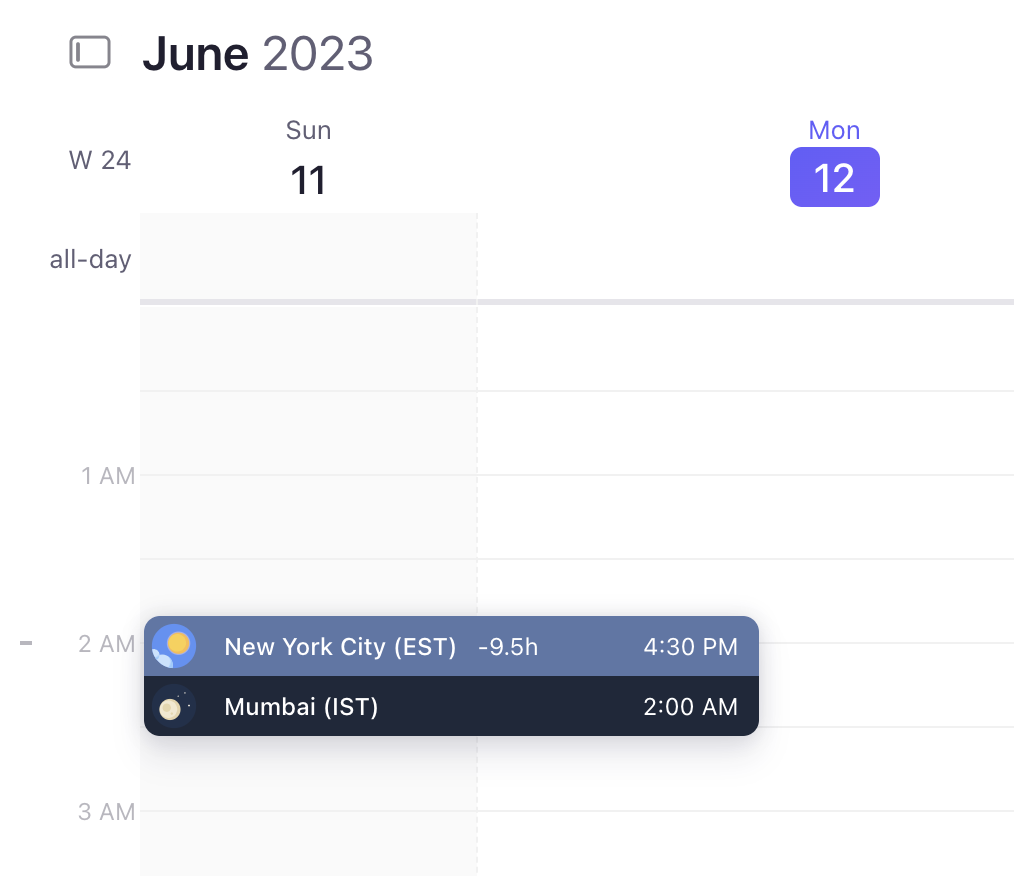 Overall, Morgen's user interface offers a seamless and intuitive experience for managing calendars, tasks, and scheduling.
The interface is clean, uncluttered, and visually appealing, enabling you to focus on your events and tasks without any distractions.
Morgen Pricing
Morgen offers three pricing plans: Basic, Plus, and Pro.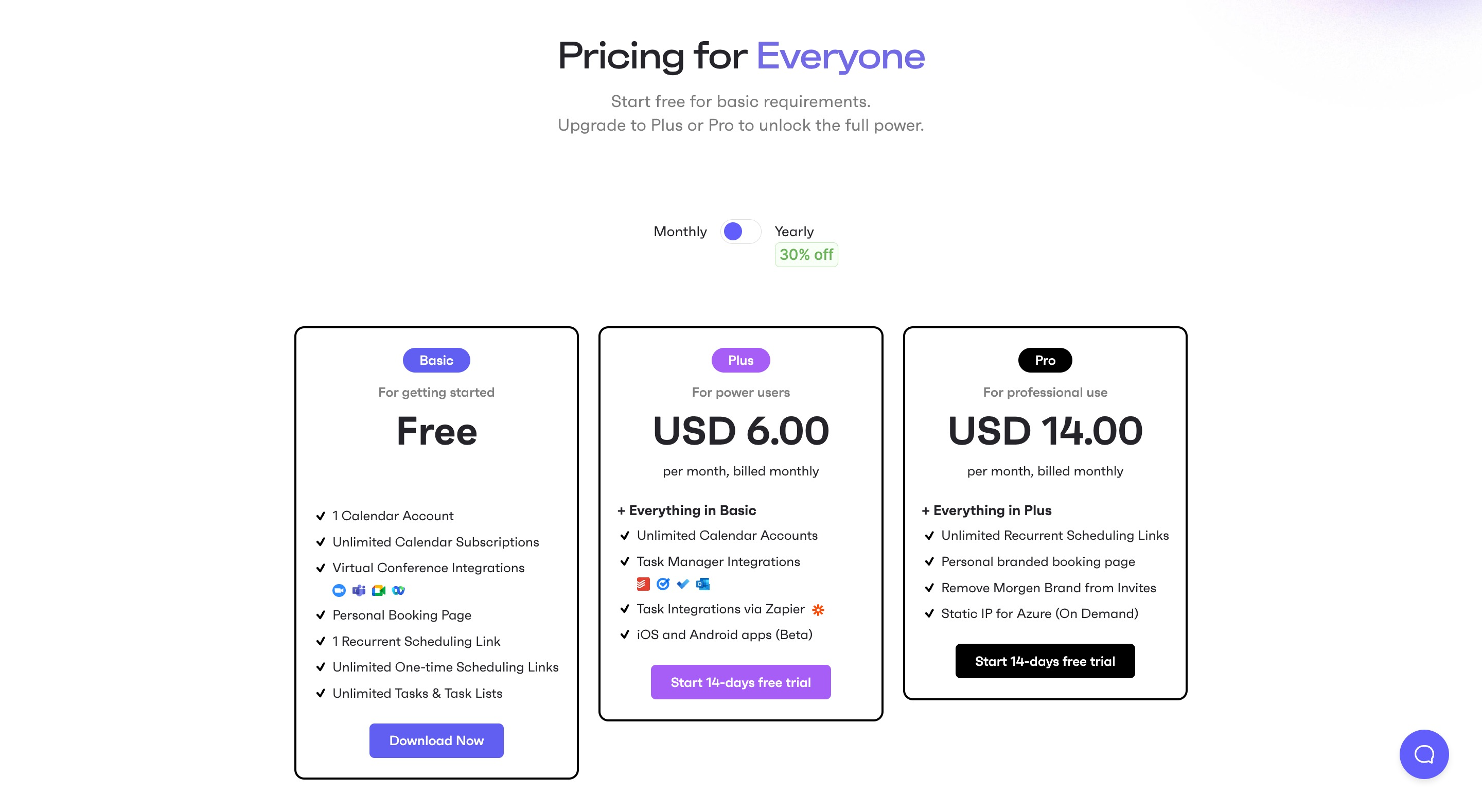 Basic: This plan is free and designed for users who are just getting started. It includes 1 Calendar Account and allows for Unlimited Calendar Subscriptions.
Plus: The Plus plan is priced at $6 per month when billed monthly. It includes all the features of the Basic plan. Additionally, users get Unlimited Calendar Accounts.
Pro: The Pro plan is priced at $14 per month when billed monthly. It includes all the features of the Plus plan and more.
Both Plus and Pro plans offer a 14-day free trial.
SIDENOTE: Students, academics, and nonprofits can get a 25% discount on Morgen Plus or Pro. They need to download Morgen and start their free trial, and then contact Morgen from their institutional or work email to receive a discount code. Here's an exclusive discount for Squeeze Growth readers.
What We Like About Morgen
Smooth and lightweight integration: We appreciate that Morgen integrates seamlessly into our workflow and can be easily used in inclusion with other apps.
Task management and scheduling: We find Morgen to be a valuable tool for managing tasks and scheduling.
Cross-platform and cross-service support: We like that Morgen offers a cross-platform and cross-service calendar experience. It syncs with various platforms and services, making it convenient for everyone to access calendars from different devices.
Where We Wish Morgen Did Better
Future planning feature: We are looking forward to a feature for future planning, as we may have many tasks we need to revisit later.
Web-based app: As of writing this, Morgen does not have a web app. This is something they should work on because many people, including me, would like to open an app on a web browser sometimes if not every time (for various reasons).
Conclusion: Take Control of Your Time with Morgen
In a sea of productivity tools, Morgen stands out as a comprehensive solution that combines a calendar, scheduler, and task manager into one powerful app.
If I were you, the next step I would take is to just shut my thoughts off and sign up for a free 14-day free trial to see how Morgen could help enhance my productivity.
Why don't you try that too? Stay hard!