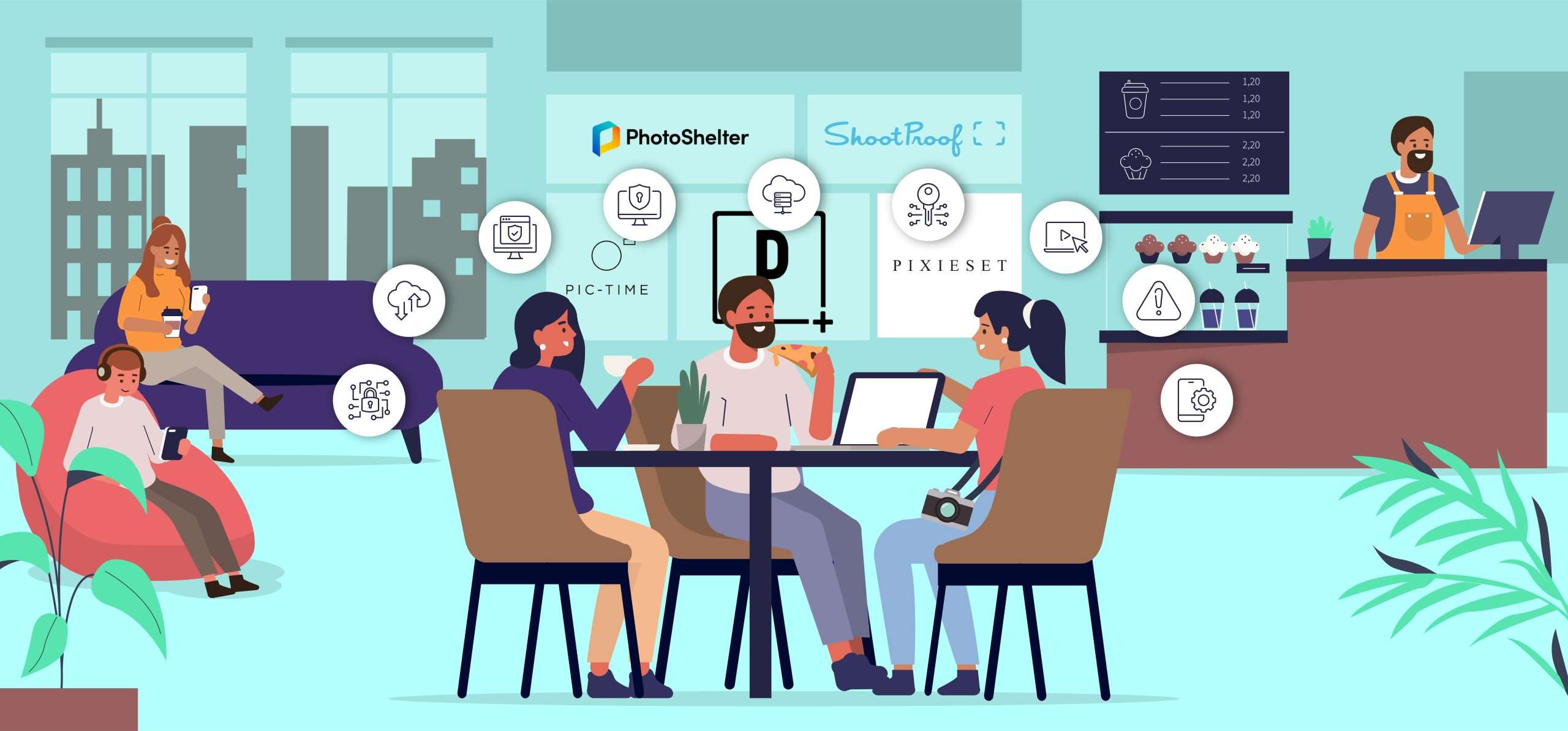 In today's digital world, photographers have many options when it comes to sharing their work with clients.
With over 1.7 trillion photos taken globally each year, standing out means adapting to whatever is best out there.
In this blog post, we'll explore some of the top apps that photographers can use to seamlessly share photos with clients.
These apps make it easy to share edited photos and collaborate with clients in real-time.
So if you want to:
Organize your portfolio professionally
Deliver your work effectively
And make your clients happy
Then keep reading!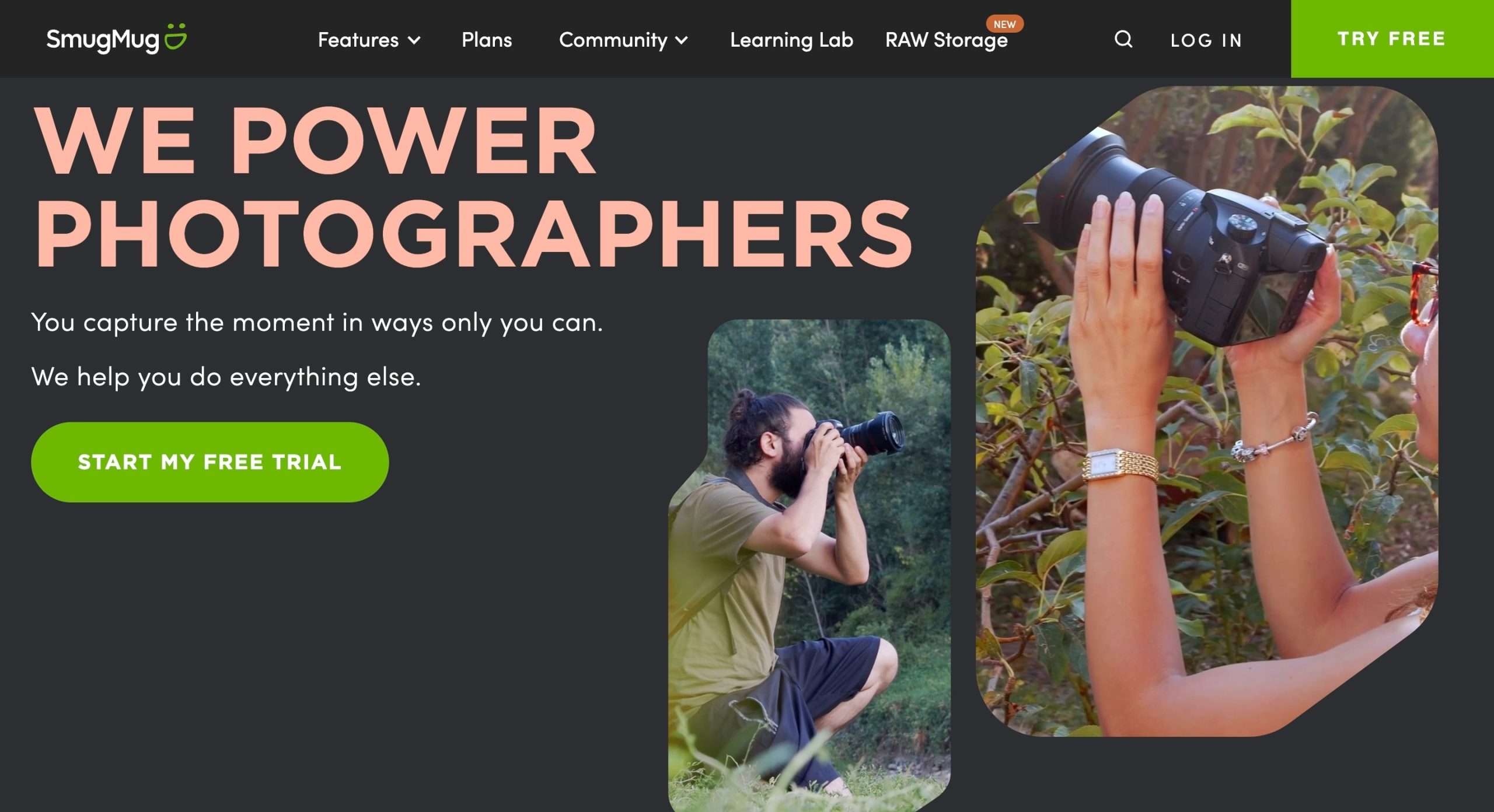 SmugMug is the ultimate online home for photographers. It lets you easily store all your photos in one place without any compression or limits.
With SmugMug, sharing your work is a breeze.
You can create beautiful galleries and portfolios with just a few clicks. Customize the privacy settings however you like, from completely public to fully private.
But SmugMug isn't just about storing and sharing.
It also helps you (the photographer) make money from your work. You can sell your photos through built-in ecommerce tools. Set your own prices, manage orders, and offer discounts.
SmugMug also works great with popular editing apps like Lightroom and Capture One. It lets you go seamlessly from editing to sharing your visions.
Security is top-notch too.
Watermarks, right-click protection, display size limits, and more keep your work safe from theft and misuse. You can even password-protect galleries to share private previews with clients.
SmugMug Features
Showcase work with customization
Protect images with watermarks
Sell photos with coupons & packages
Lightroom integration for smooth editing
Share private previews for feedback
Right-click protection to disable photo downloading
Price
SmugMug provides a 14-day free trial. Then there are three paid plan options:
Power ($15 per month)
Portfolio ($33 per month)
Pro ($53 per month)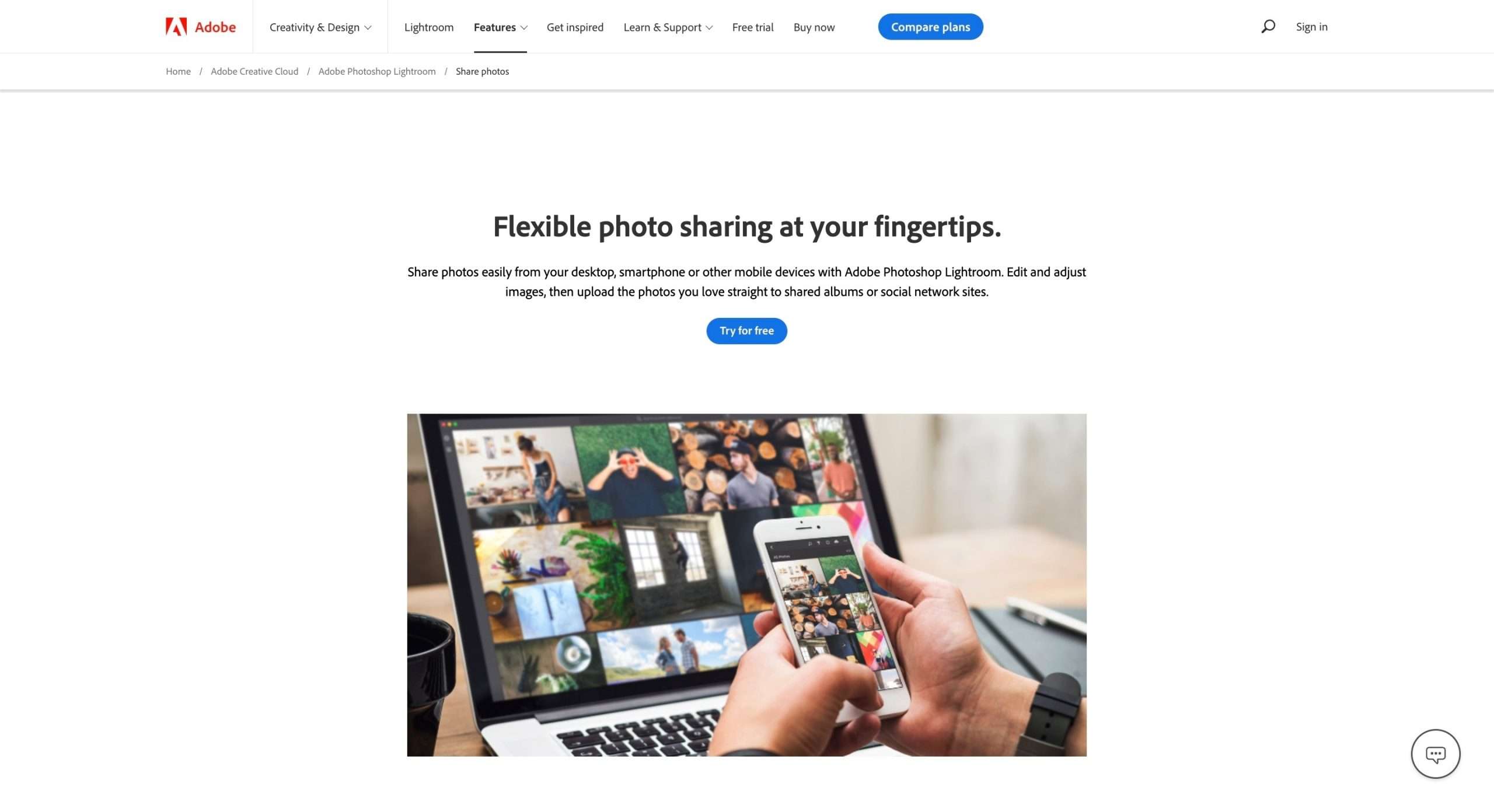 Adobe Lightroom is a super handy app that makes it easy for photographers to store, edit, and share their photos.
Although the primary use case is photo editing, you can also use it to share your amazing work with your clients.
One of the best parts about Lightroom is that you can access all your photos from any device, like your phone, tablet, or computer!
Lightroom lets you edit your pictures right in the app, too.
You can crop, adjust colors, and add fun effects—whatever you need to make your photos look amazing before sharing them.
And speaking of sharing, Lightroom gives photographers a bunch of options for putting their pics out there.
You can post individual photos or whole groups of them to sites like Google Photos and Flickr. You can even edit photos on the go with Lightroom's phone and computer apps.
Lightroom makes it super easy to save and share your photos in high quality. You can export your pics as JPGs or TIFFs to keep them looking crisp.
Adobe Lightroom Features
Convenient cloud storage
Cross-device accessibility
Seamless photo editing
Mobile apps for iOS and Android
Different high-quality export formats
Creative Cloud integration
Price
Adobe Lightroom offers a 7-day free trial. The paid plan starts at $9.99 per month (or $119.88 per month when billed annually).
Picflow is an awesome app that makes sharing photos with clients super easy for photographers.
With Picflow, you can upload all your photos at lightning speed thanks to the fast drag-and-drop uploader.
Once your photos are uploaded, you can use the handy gallery designer to make your galleries look fantastic.
Choose different layouts, add sections, and control the size of your images—anything you need to create a beautiful, professional gallery.
Your clients will be amazed!
Sharing and getting feedback is a child's play too. Clients can leave ratings, make comments, and mark their favorite shots. You'll know exactly what they love.
The review options like flags and color labels help to sort images during collaboration.
The workflow mode in Picflow lets you quickly filter, review, and take bulk actions. Way faster than doing things manually!
Picflow Features
Fast Uploader for quick drag-and-drop uploading
Gallery Designer with customizable layouts and sections
Client Review options like favorites, flags, comments
Password Protection and access controls for security
Workflow Mode with filters and bulk actions
Annotations for collaborating on images
Price
Picflow offers a generous free plan where you get 2 GB of storage, and you can add up to 2 members. The Plus plan costs $10 per month ($8 per month on annual billing) with 100 GB of storage and the ability to add up to 5 members.
Finally, there is a Pro plan, costing $20 per month (or $16 per month when billed annually). This plan offers 1 TB of storage and allows you to add up to 20 members.
WeTransfer is a superfast service built for sharing photos online. With WeTransfer, you can send huge folders of high-quality photos to clients in a flash.
It's perfect for transferring big photo shoots, entire portfolios, or other large projects.
Teamwork cannot get any easier than this with WeTransfer.
You can collaborate with other photographers on projects, even if they are on the other side of the world.
Security is top-notch, too. You can password-protect files and encrypt transfers to keep your hard work safe. Clients can feel confident too.
And when it comes to providing client feedback, they make it simple for your clients to provide comments right within the WeTransfer interface.
WeTransfer Features
Price
WeTransfer comes with a free plan allowing you to send files up to 2 GB. The Pro plan costs $12 per month ($10 on annual billing) where you can send and receive data of up to 200 GB.
There is also a Premium plan, costing $23 per month (or $19 when billed annually). This plan has no limit when it comes to sending and receiving files. You also get unlimited storage.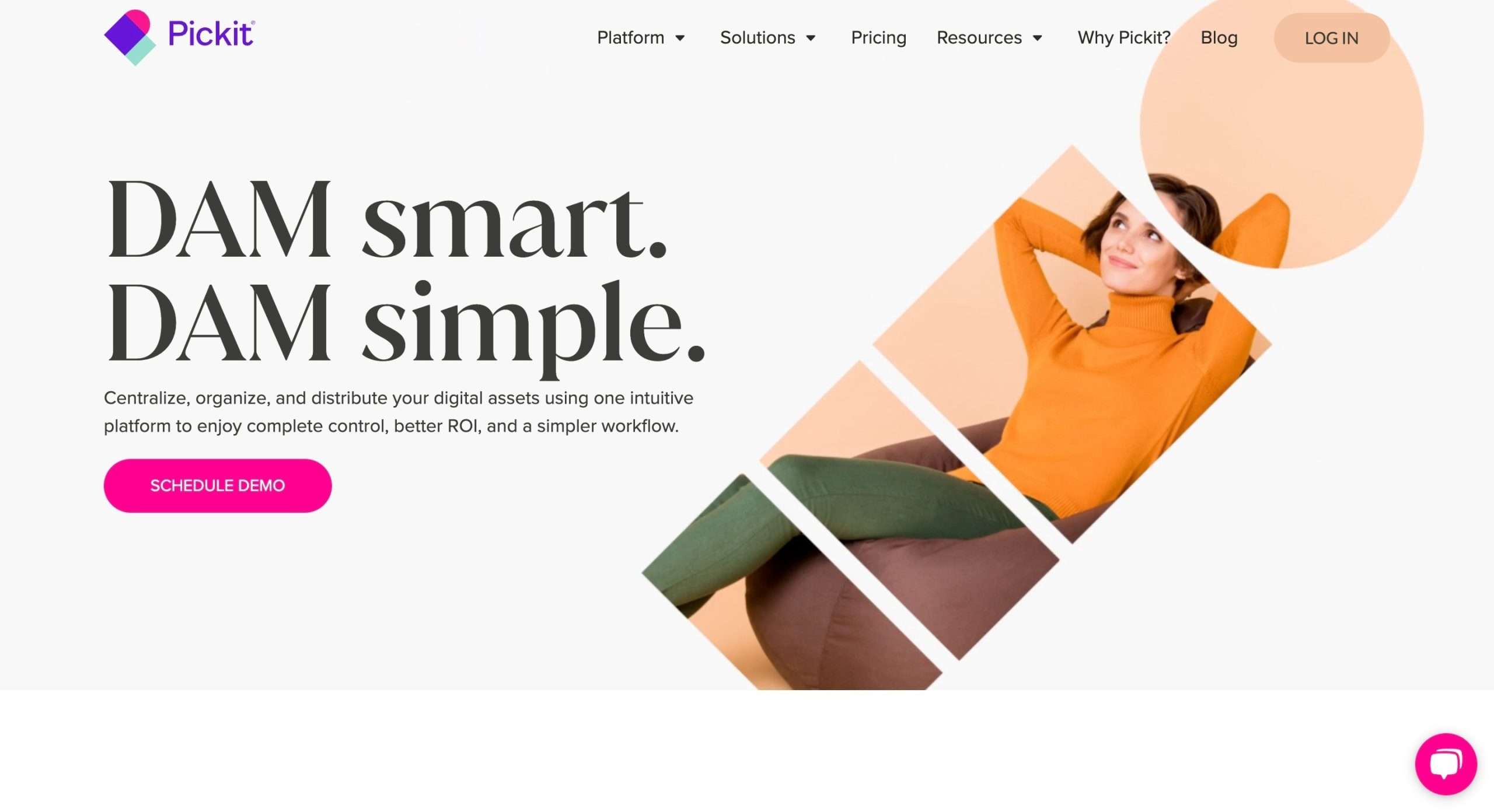 Pickit is a user-friendly tool that helps photographers organize, control, and share photos with clients.
It securely stores image files and offers advanced search, automation, and collaboration features.
With Pickit, you can gather all your digital photos, RAW files, edits, and albums into one organized library for quick access instead of having assets scattered across multiple folders, drives, devices, and cloud services.
Powerful search and AI make it easy to find the right photos quickly with keywords, metadata tags, facial recognition, visual similarities, and more.
You can create password-protected galleries to securely share photos with clients for review and feedback. Clients can view, download, comment, and approve images right within the platform.
Pickit also has helpful features, such as syncing edits across devices with Adobe Lightroom, proofing tools, unlimited storage options, customizable branding, and more.
You can even connect your Pickit library to directly access stock images from Getty, Adobe Stock, and more inside the DAM platform.
Pickit Features
Centralized photo library
Advanced search and AI
Client galleries and sharing
Automated workflows
Adobe Lightroom integration
Access licensed stock images
Price
Pickit offers a 14-day free trial. Then there are three paid plan options to choose from:
Business ($119 per month)
Business Plus ($599 per month)
Enterprise ($1199 per month)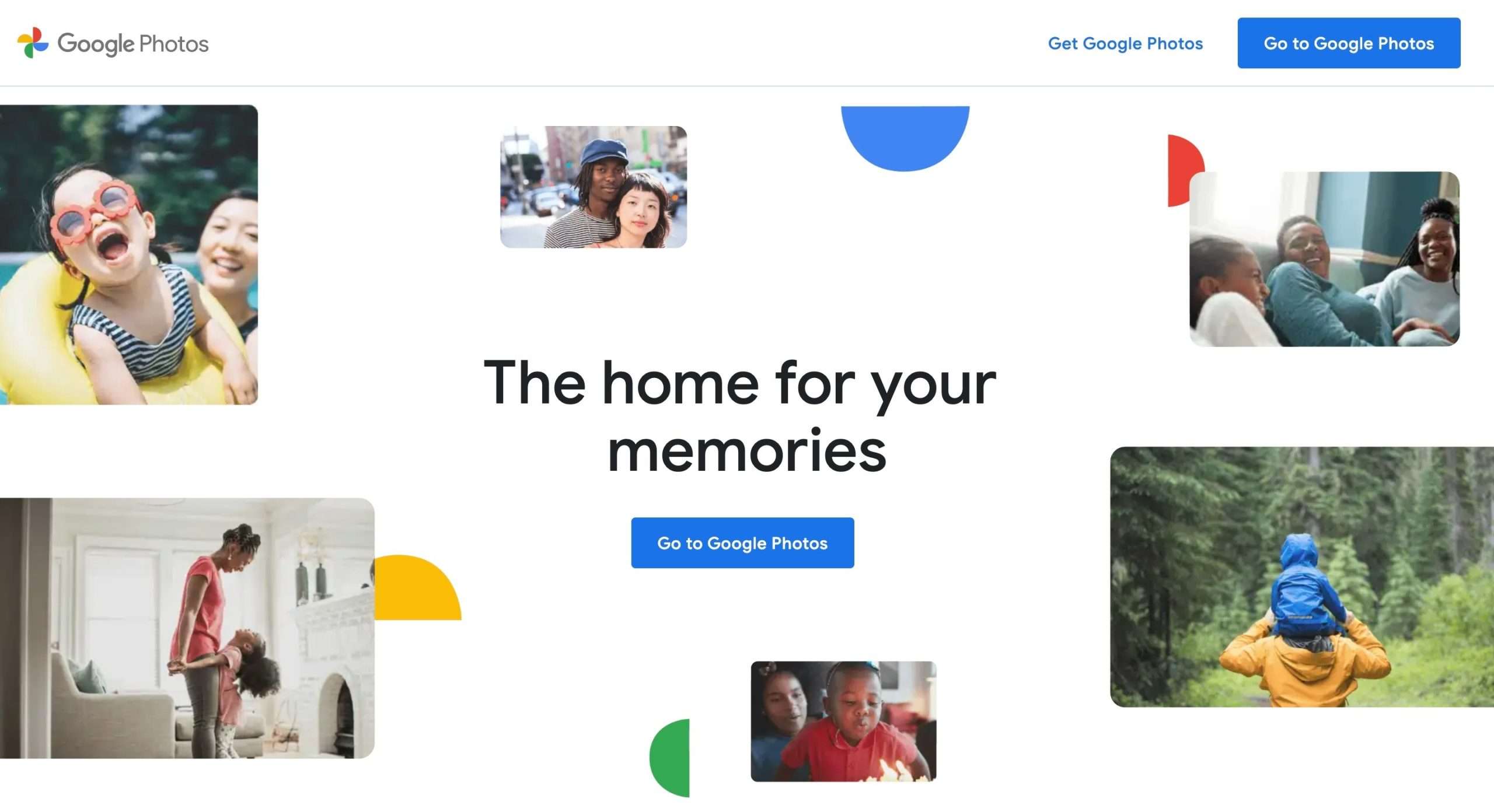 Google Photos is something we all know about, and rarely use it to our advantage. It is a powerful yet user-friendly photo storage and sharing app tailored to the needs of photographers.
Google Photos organizes your pictures into albums and collages, so you can easily find your best shots.
Sharing your best work with clients and collaborators is easy with Google Photos.
At the tap of a button, you can create shareable links or galleries to showcase your photos professionally.
Google Photos also integrates with various third-party apps and services. This allows you to easily access, edit, print or back up your treasured memories.
Google Photos Features
Intelligently categorizes your photos and videos
15 GB free storage
Basic editing tools like filters, cropping, rotation, and more
Quickly share photos by creating shareable links
Recognizes faces and groups photos
Easily search through your entire Google Photos library
Price
Google Photos is a part of Google One and offers 15 GB of storage for free. If that isn't enough for you, the paid plans start at $1.99 per month for 100 GB storage.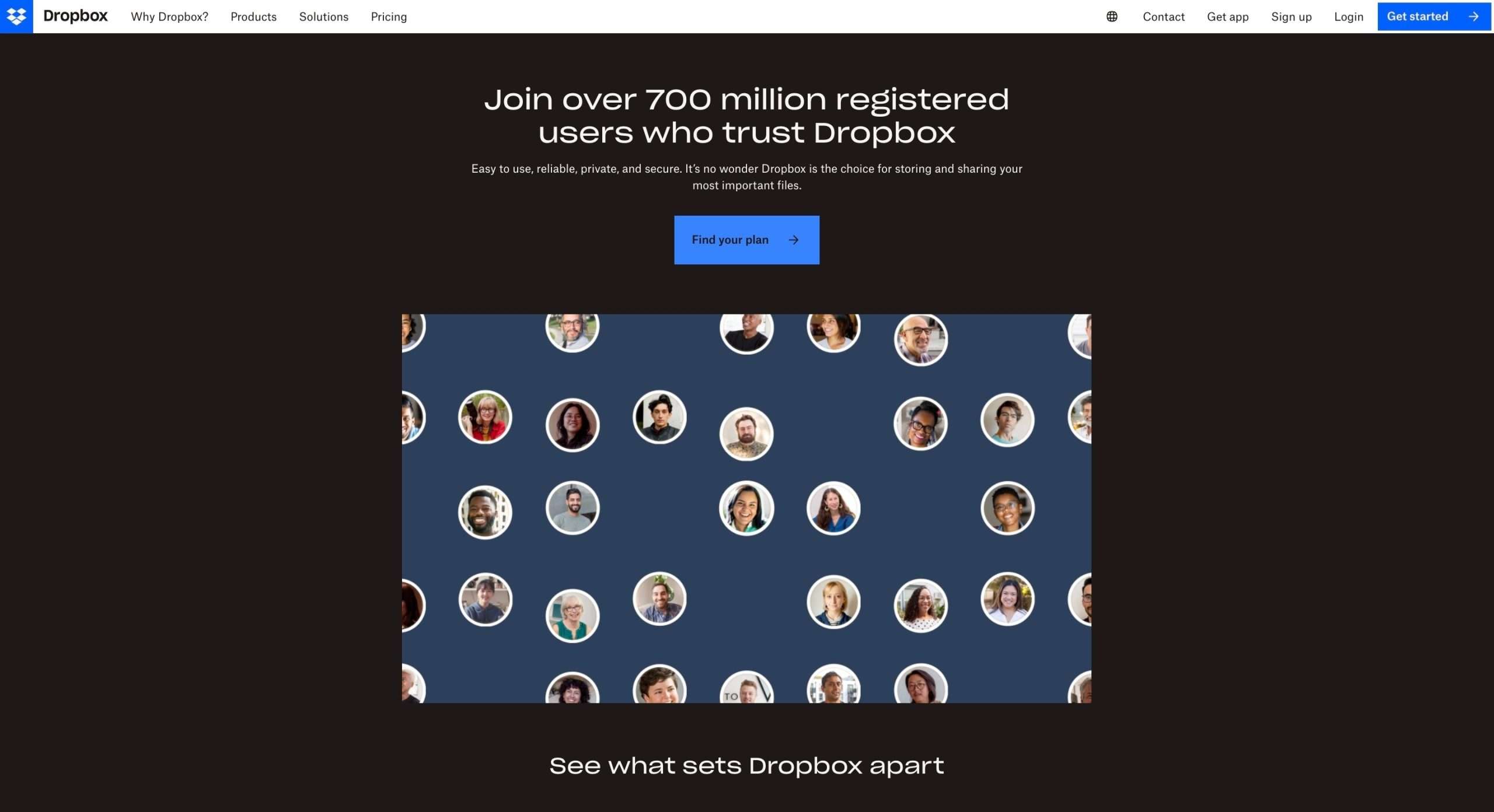 Dropbox is a good choice for photographers because it can store and share files easily. With a nearly zero learning curve, you can efficiently organize your photos into folders and albums, making your workflows more streamlined.
The user-friendly interface also makes it easy to share photos and galleries with clients for feedback and collaboration.
You can also collaborate with clients and team members by sharing folders and allowing multiple members to view, download, and edit photos in real-time.
The ability to access files from any desktop, smartphone, or tablet is a major advantage for photographers who work on the go.
The file preview feature supports viewing hundreds of image formats, so clients can easily browse photos.
Moreover, DropBox ensures that your content is safe from hackers, unwanted edits, and deletions. You can restore and recover anything within 30 days of deleting it.
DropBox Features
Efficient organization of photos into folders and albums
Makes sharing photos and galleries intuitive
Robust security measures
Real-time collaboration
2 GB free storage
Price
DropBox offers a free plan with a 2 GB storage capacity and a 30-day free trial on the paid plans. Speaking of which, you get four different paid plan options:
Plus ($11.99 per month – 2 TB)
Professional ($19.99 per month – 3 TB)
Standard ($18 per member per month – 5 TB)
Advanced ($30 per member per month – 15 TB)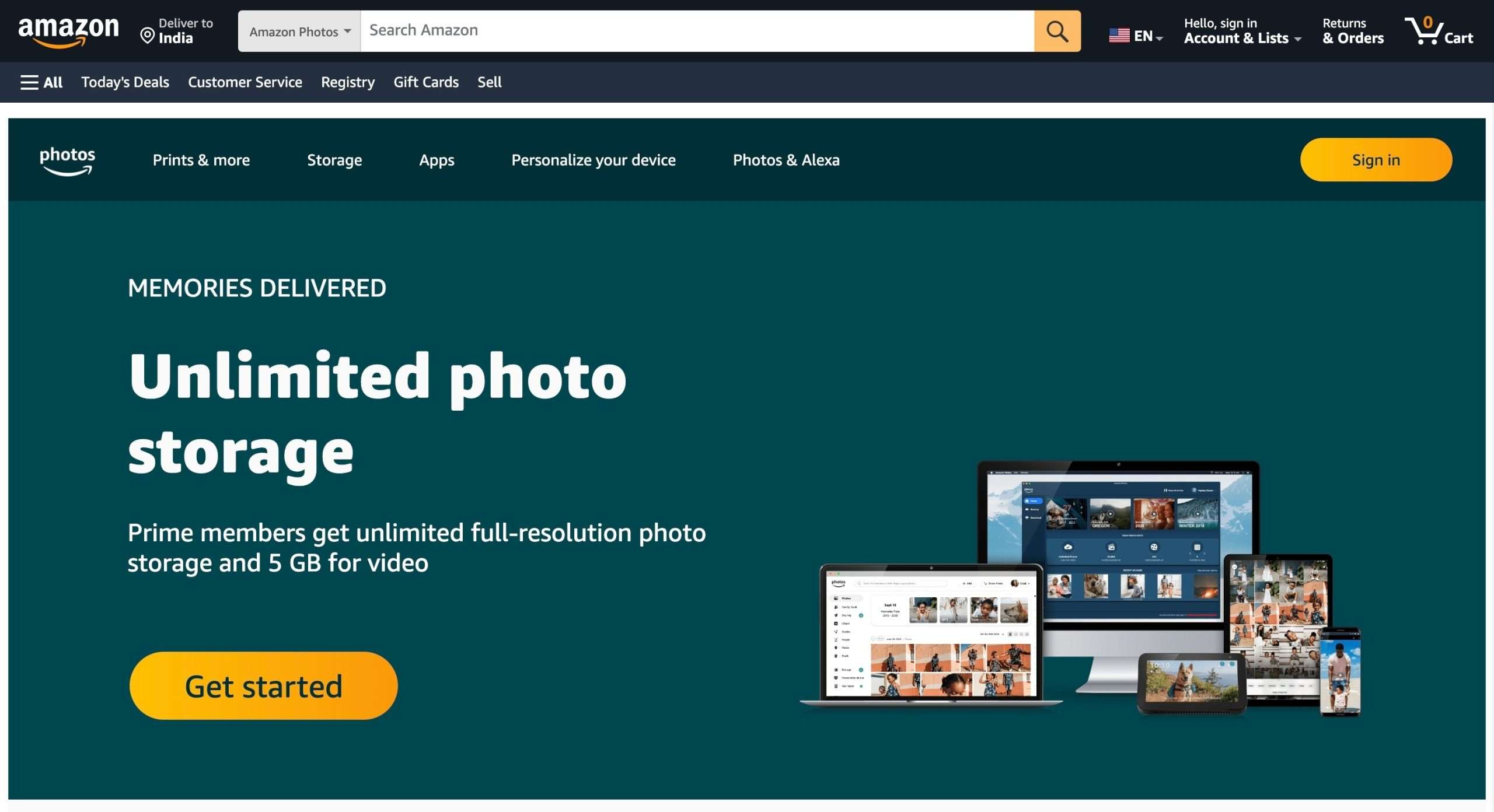 Amazon Photos, like Google Photos, lets you store full-resolution photos and videos.
It's the perfect little backup buddy, automatically uploading and securing all your pics and videos in the cloud.
With Amazon Photos, your entire gallery is at your fingertips on all your gadgets. Phone, tablet, laptop. Wherever you are, your photos will follow.
And it gets even better.
You can turn those digital moments into physical keepsakes like framed prints, photo books, wall decorations, and more. They'll even ship it straight to your door.
How's that for service?
Amazon Photos also lets you personalize your devices with your own pics.
Oh, and don't worry: your photos are safe with military-grade encryption.
The best part? If you are an Amazon Prime member, you can get unlimited photo storage and 5GB for your videos.
Amazon Photos Features
Unlimited photo storage for Prime members
Get 5GB of storage for your videos
Photos and videos are automatically saved in the cloud
Order photo prints, books, decor, and more
Smooth transfer from other services
Price
The free plan gives you GB of photo and video storage. The paid plans start at $1.99 per month for 100GB.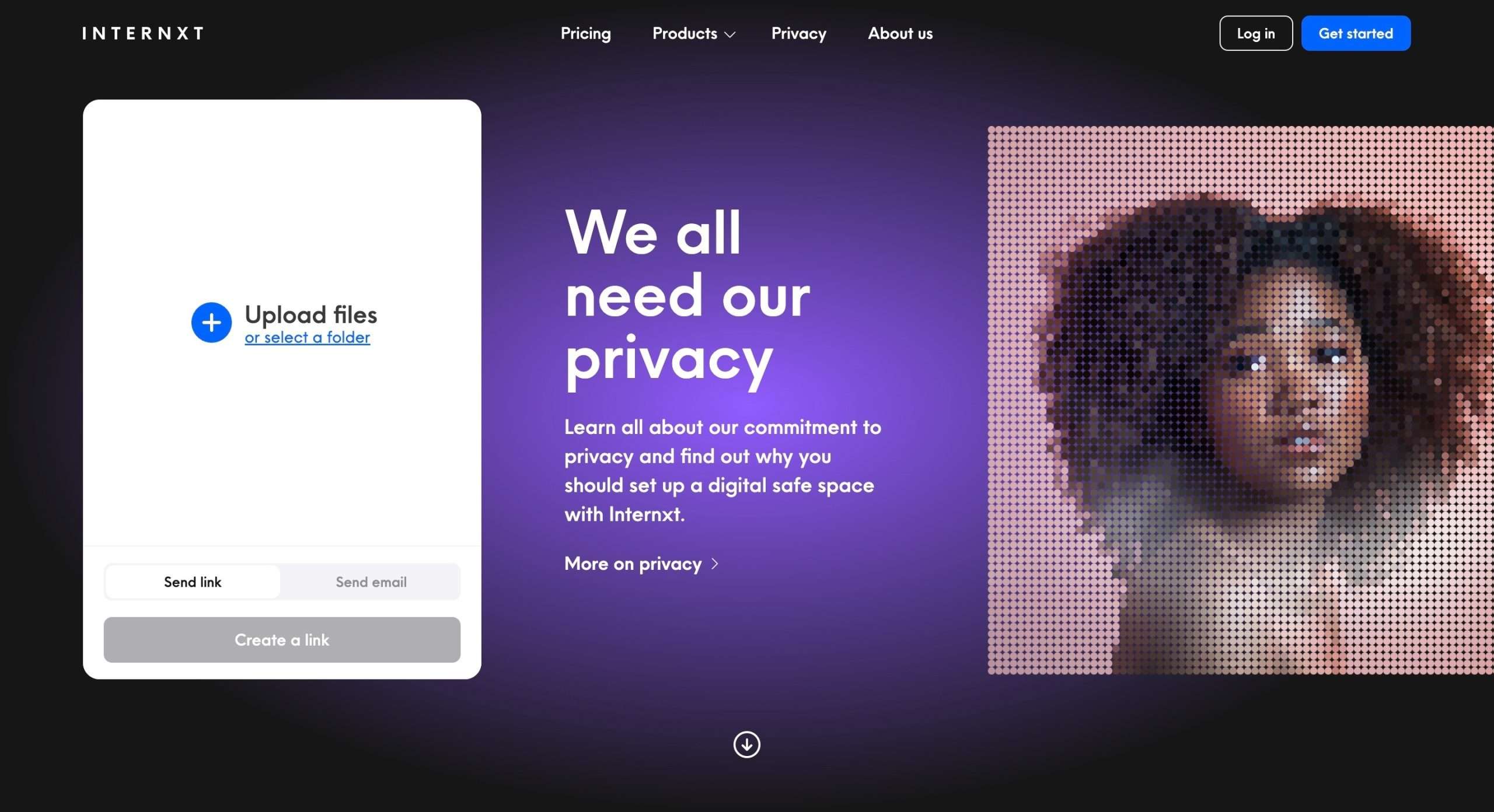 Internxt Send is a super secure way for photographers to share big photo files with their clients.
First, it keeps all your stuff completely private.
Internxt Send uses a fancy zero-knowledge system so that not even they can see your photos and files.
It also uses something called end-to-end encryption. This encrypts your files from the moment you hit send until your client downloads them.
With Internxt Send, you never have to stress about file size limits. Send giant photo files, even if they're gigantic!
It works with tons of file types too, including JPEG and PDF.
Uploading files is super simple. Just drag, and drop, and you're set! You can even email a link right to your client for easy sharing.
The link expires after 15 days so your photos won't be floating around the internet forever.
And get this—you and your clients don't even need an account! Just visit the website and start sending your masterpieces. Could it get any easier?
Internxt Send Features
Secure and private file sharing
End-to-end encryption
No file size limits
Supports multiple file formats
User-friendly interface
Share links expire after 15 days
Price
Internxt has a free plan allowing you to store and share files for up to 10 GB. If you require more storage space, then there are paid plans starting at €0.99 per month for 20 GB, €4.49 per month for 200 GB and so on.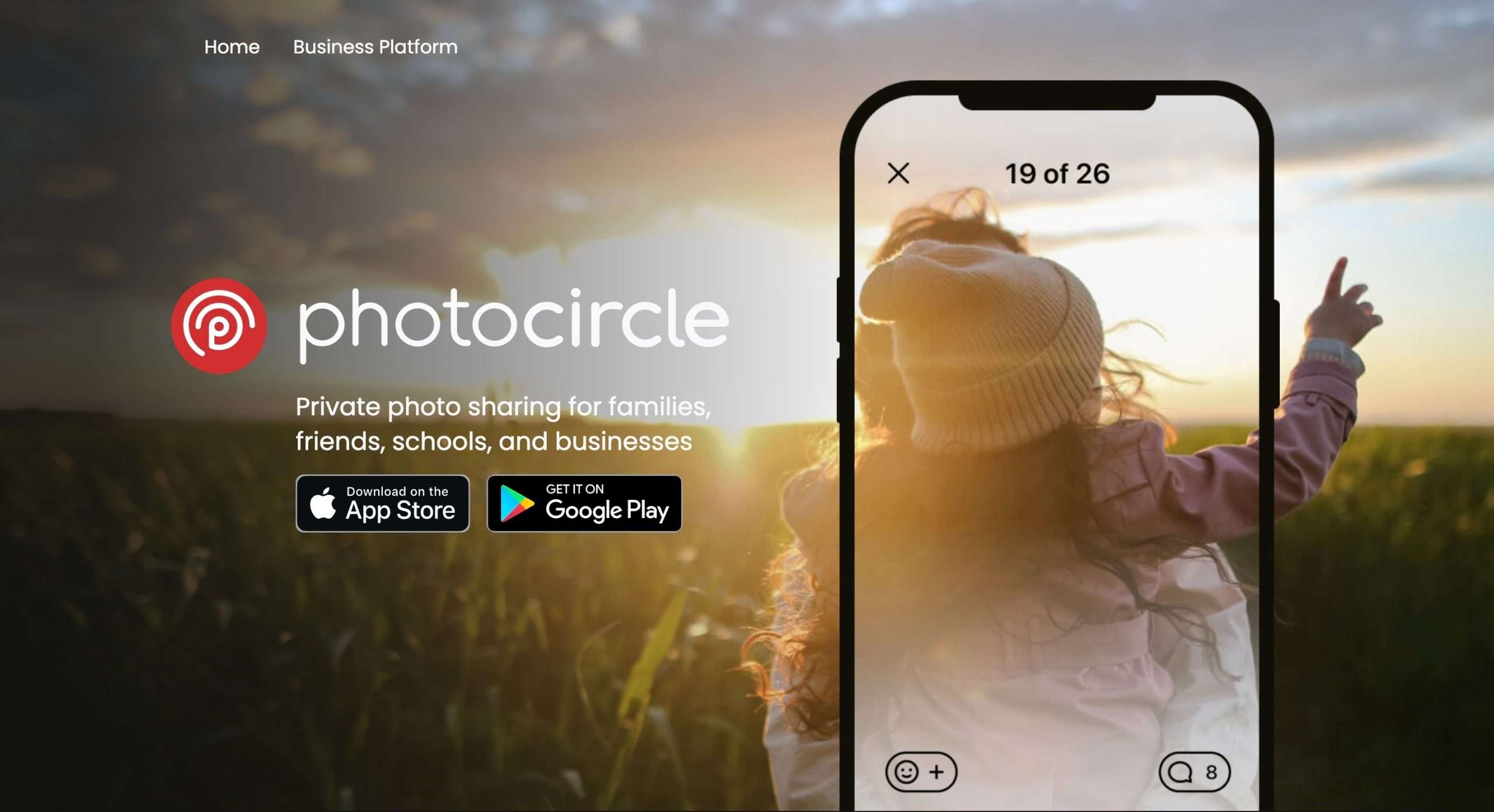 PhotoCircle is a photo-sharing app that lets photographers build trusted relationships with clients.
With PhotoCircle, you create circles – get it? — which are like private spaces to share photos and collaborate with specific clients or groups.
Then just drag and drop to share your favorite pics, discuss edits, and bring their vision to life.
The best part is, PhotoCircle takes privacy seriously. All your photos and client info are locked up tight as a vault.
Only the people you invite into a circle get access. So you can feel totally comfortable sharing more personal or sensitive shoots since it's all confidential.
As your business grows, you can create endless circles to connect with all your clients. It's flexible enough to give every single one the specialized attention they deserve.
And with automatic cloud backups, you never have to lose sleep again over lost photos or corrupted memory cards.
PhotoCircle Features
Create private photo-sharing circles
Unlimited circles for different clients/groups
Discuss and collaborate on images
Automatic cloud backup
Search photos by tag, date, name
Price
PhotoCircle is a free app for Android and iOS. In-app purchases start at $0.99 per month.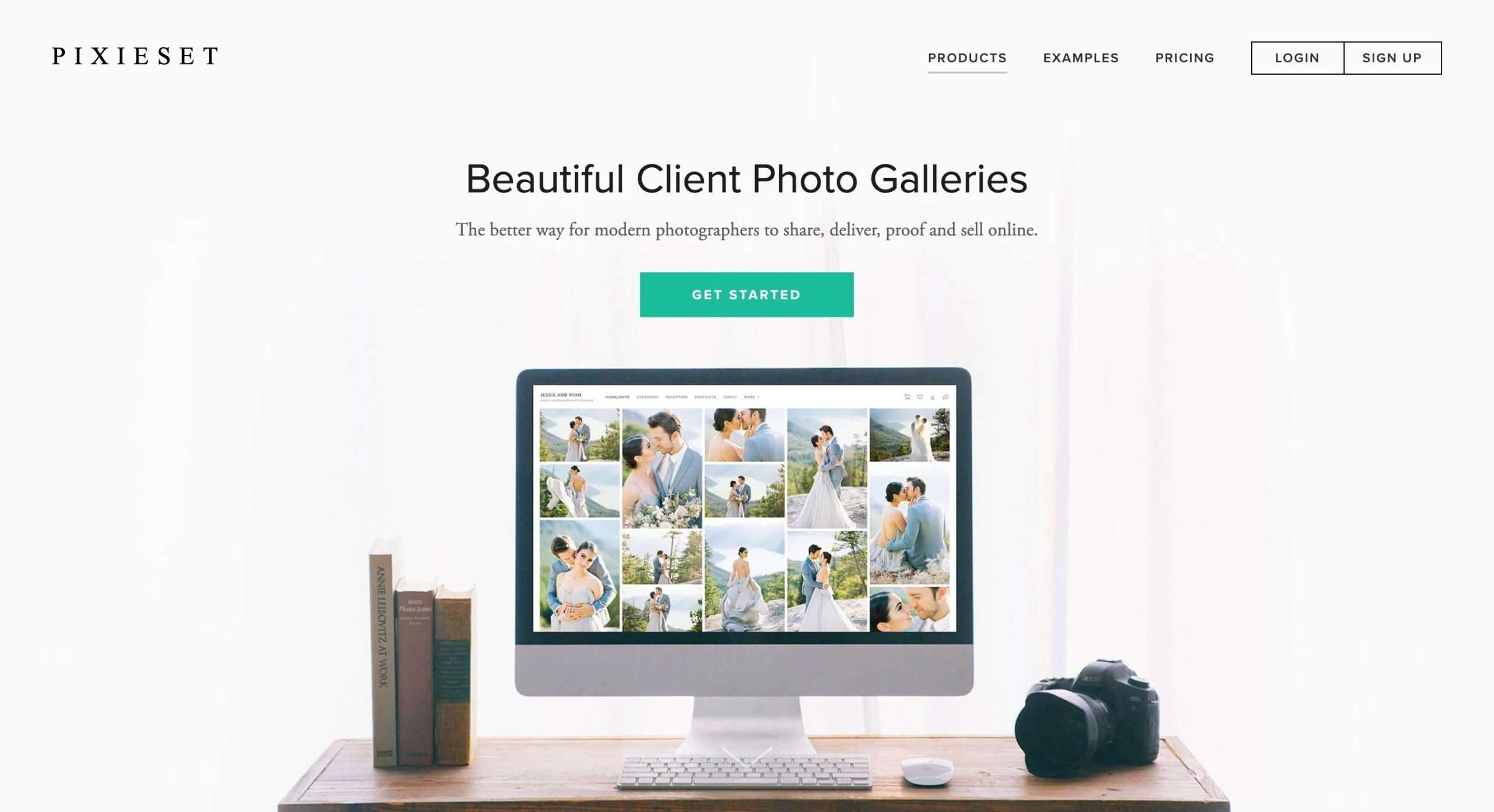 Pixieset is a beautiful photo-sharing app made for photographers to display, deliver, and sell their work online.
With Pixieset, each client gets a personalized gallery with a visually appealing cover and layout to make a great first impression.
You can make it easy to share photos on social media, so clients can show them off and help the business reach more people.
Pixieset provides instant digital downloads instead of physical deliveries to meet modern needs.
And to top it all off, Pixieset has an online proofing system. It makes selecting easier with the Favorites feature.
For print sales, Pixieset provides a 24/7 store that is commission-free for upgraded accounts, with integrated fulfillment or external lab printing.
Pixieset excels for weddings, portraits, events, and photographers focused on print sales. It can help impress clients, enable easy photo sharing, deliver images quickly, and facilitate print ordering and fulfillment.
Pixieset Features
User-friendly print store to increase sales
Personalized galleries with visually appealing covers and layouts
Easy social sharing for client engagement
Instant digital downloads for modern convenience
Online proofing system with Favorites feature
Price
Pixieset's Client Gallery product offers a free plan with a storage of 3 GB (which is over 1000 photos). The Basic plan costs $10 per month ($8 on annual billing) with 10 GB of storage, along with other features discussed above.
Then there are Plus (100 GB), Pro (1000 GB), and Ultimate plans (Unlimited storage) that cost $20, $30 and $50 per month, respectively.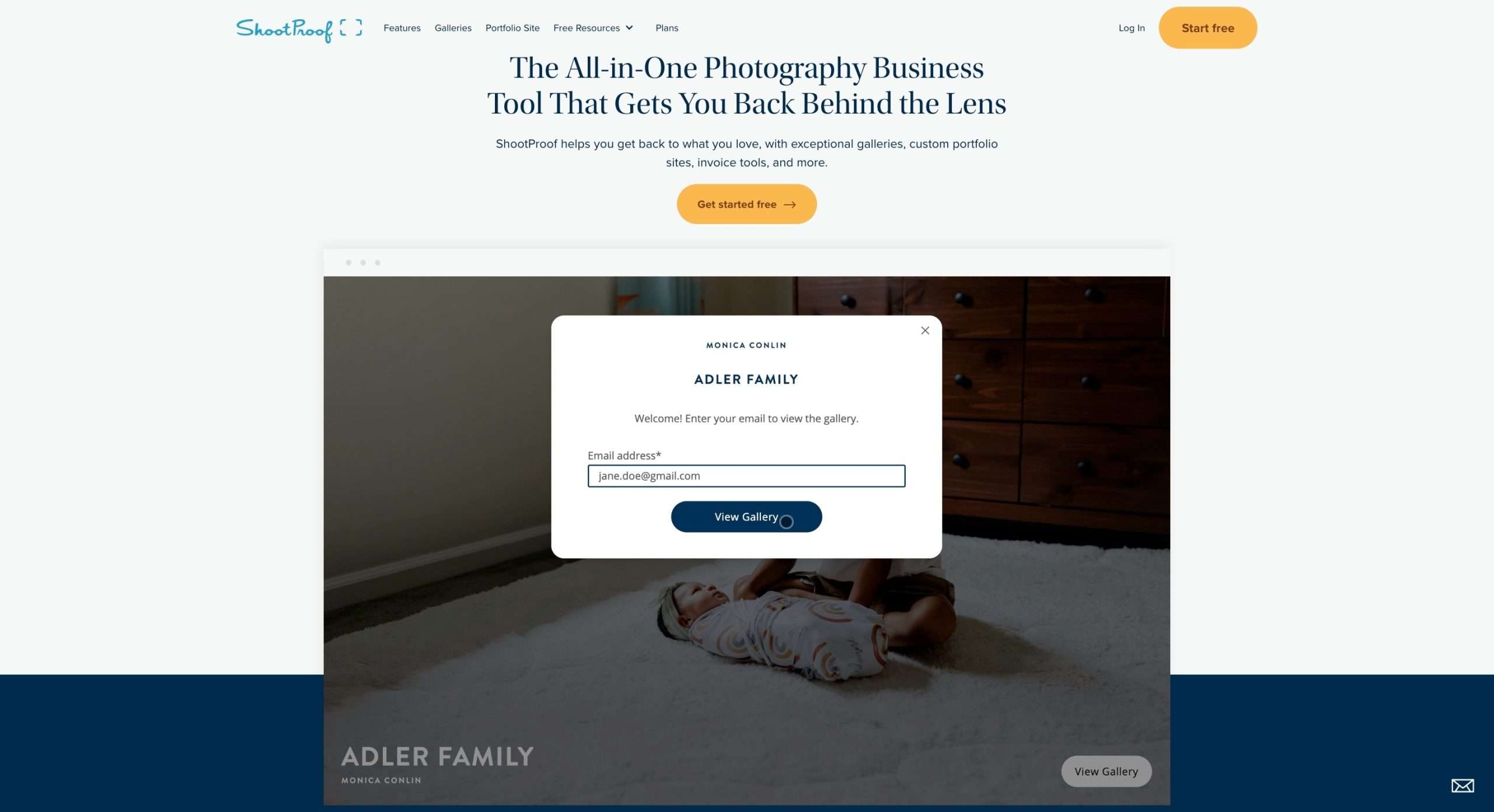 ShootProof is a beginner-friendly online gallery app tool for photographers. It goes beyond just sharing photos.
There are many reasons why it stands out.
For starters, you can create beautiful galleries with your brand's colors and fonts. You can even add a watermark for a professional look.
Thanks to ShootProof, you can take control of digital downloads, manage favorites, and labels, and collaborate effortlessly.
In addition, ShootProof lets you share your work securely with passwords and display your galleries on your ShootProof Portfolio Website.
You can sell prints and more from your galleries, thanks to partnerships with top photo labs.
The best part? They offer in-house studio management tools that save time by offering eSignature contracts and automated payments.
This way, you can focus on your passion for photography instead of dealing with paperwork.
ShootProof Features
Create beautiful galleries that are fully customizable
Professional watermarking for copyright protection
Have full control over digital downloads
Manage and organize your photos with Favorites and Labels
Collaborate seamlessly with clients and colleagues
Portfolio website integration
Price
ShootProof has a free plan with a storage capacity of up to 5 GB. The premium plan starts at $10 per month ($8.33 per month when billed annually) with a storage capacity of up to 75 GB. There are top-tier plans depending on your storage space needs.
Our Final Verdict
If you've made it this far down the rabbit hole of photo-sharing apps, you deserve a round of applause.
In a world where over 1.7 trillion photos are taken each year, finding the perfect platform to display your best photos can be just as difficult.
Now, the question remains: which app should you marry?
Each of these apps offers a unique journey through the world of photography, so choose wisely.
No matter if you're experienced or new to photography, there's a perfect platform for you. It's waiting to showcase your visual stories.
Either way, now that you have a good photo-sharing and collaboration app by your side, there is no reason not to click more! 📸