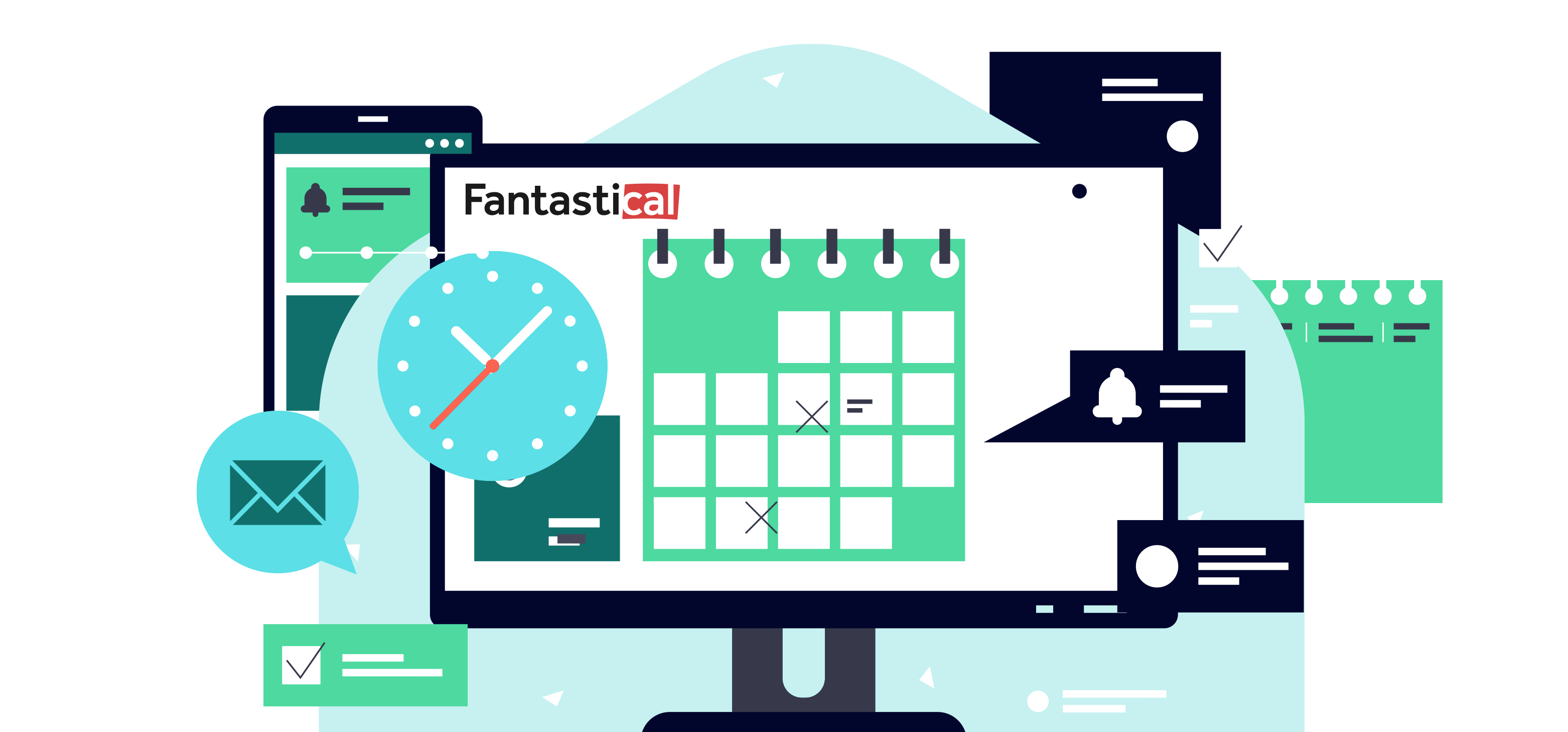 No matter who you are, if you want to stay productive, you probably use a calendar app to organize your days.
With a calendar app, you can schedule all your events and plans while making sure you don't miss anything important.
And one of the best calendar apps out there is Fantastical.
But what is it exactly, and is it worth the price?
Continue reading to find out.
Quick Summary
To put it simply, Fantastical is an excellent calendar app.
It's straightforward to use, especially if you're already familiar with iCal.
But additionally to that, the calendar app comes with many excellent additional features that turn this into one of the best calendar apps out there.
What is Fantastical?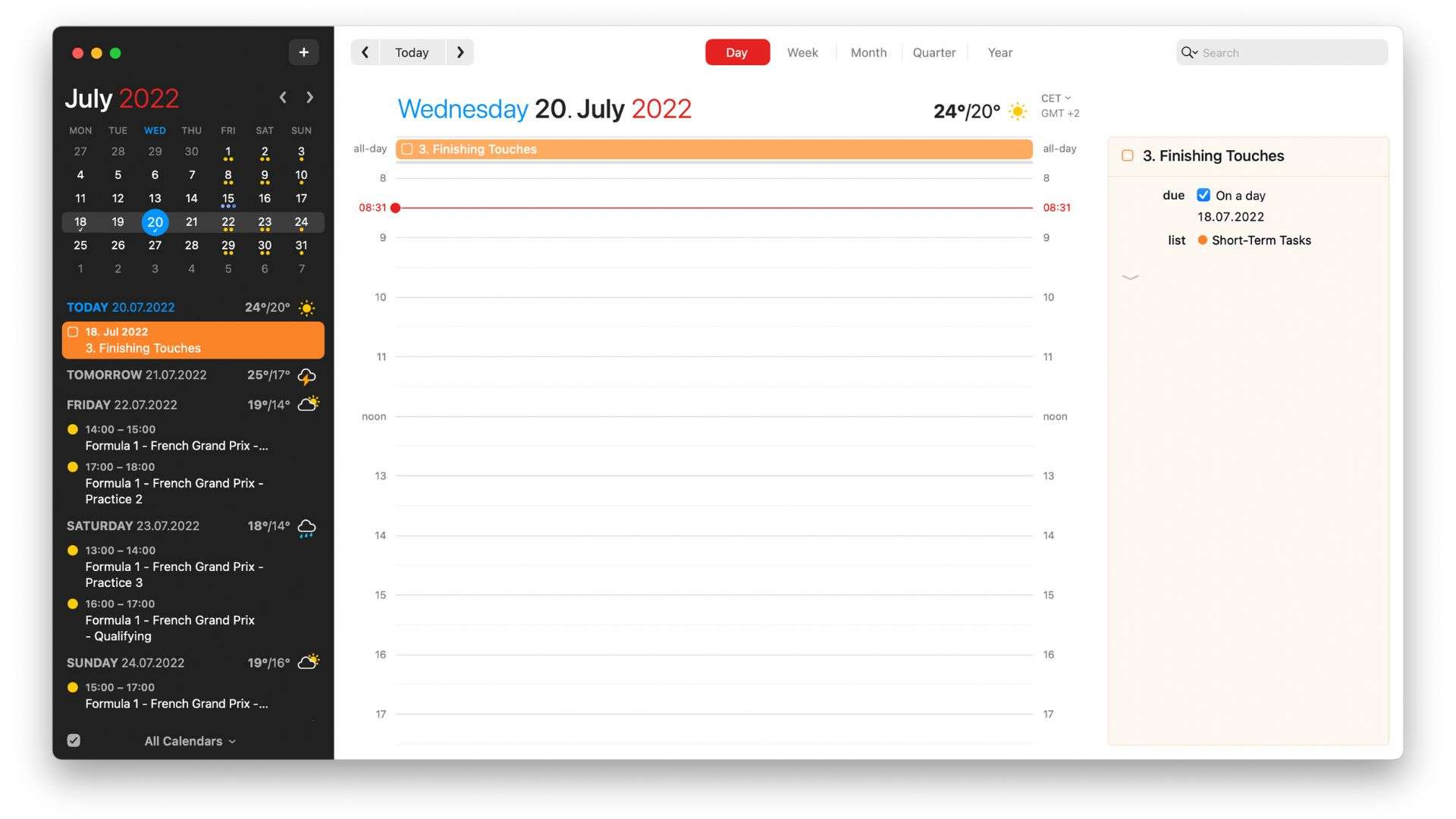 Fantastical is a calendar solution offered by Flexibits. You can schedule your days with it, but it comes with more than that.
Additionally, you can create tasks and make scheduling calls and meetings.
Who is Fantastical For?
Fantastical is a calendar app that is made for everybody!
It offers a comprehensive list of features that anyone can find helpful. However, if there's a person who gets the most value, it's someone who uses it for professional uses.
That includes scheduling calls with your team members or with potential new clients.
6 Features That I Love About Fantastical
Now that you know who Fantastical is for, you might want to learn more about the features you get with it.
Fortunately, there's a lot to love about it. Anyone can find something for themselves that they love about it.
Here are the six best features:
1. Task List
If you're a massive to-do list maker like me, you could stop using your current one and use the task lists on Fantastical instead. And what impresses me the most is how easy it is to create some.
All you need to do is:
Press the "+" button in the top-left corner
Switch to the task
And then write your task
It's that easy! You can additionally create new task lists to separate your tasks. For example, I used it to separate my daily and weekly tasks.
However, there's one nuisance it comes with. If you'd like to keep them in an orderly manner, you must be careful, as Fantastical orders your tasks in alphabetical order.
So instead of writing the task, you should first add a number beforehand.
2. Interesting Calendars
However, what sets Fantastical apart from other calendars, is its interesting calendars feature.
With it, you can add, well, some exciting calendars to your calendar. For example, with it, you can ensure you will never miss your favorite TV show.
For example, I use it to keep myself updated with F1 and what's happening.
Now I no longer need to search in Google about the schedule. Instead, I can just check the calendar and find the plan that way!
3. Call Scheduling
However, the Call Scheduling feature makes Fantastical a unique calendar solution. You can easily schedule meetings with your team members or sales calls with potential clients.
That works very similarly to a call scheduling software named "Calendly".
With it, you can share a link with potential clients, and they can choose the times that work the best for them.
And when it comes to team calls, your team members can pick the times that they are available, so you won't have to do any back-and-forth messaging, increasing your time efficiency.
4. Hidden List
If you've got a shared calendar or want to keep some events secrets from anyone else, then Fantastical has covered you. With it, you can easily hide them and look at them when no one is looking around.
Here's how you do it:
First, create the task/event you want to hide like you usually do.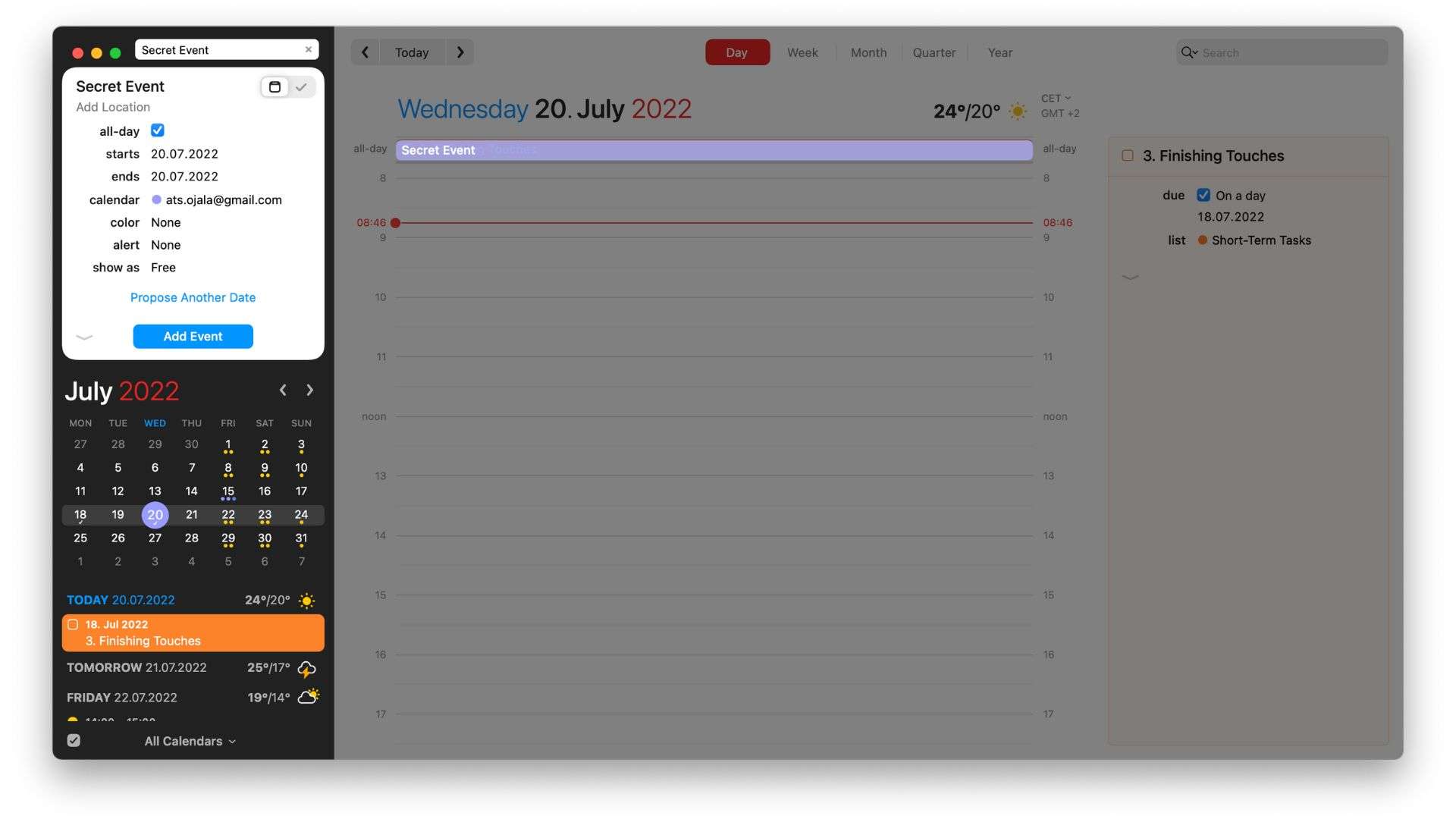 Then right-click on the task, and press the "hide" button.
And if you want to see your hidden list of tasks and events. Just go to the down-left dropdown menu. Then, pick the hidden list, and a window should pop up!
5. Additional Ease-of-Use Features'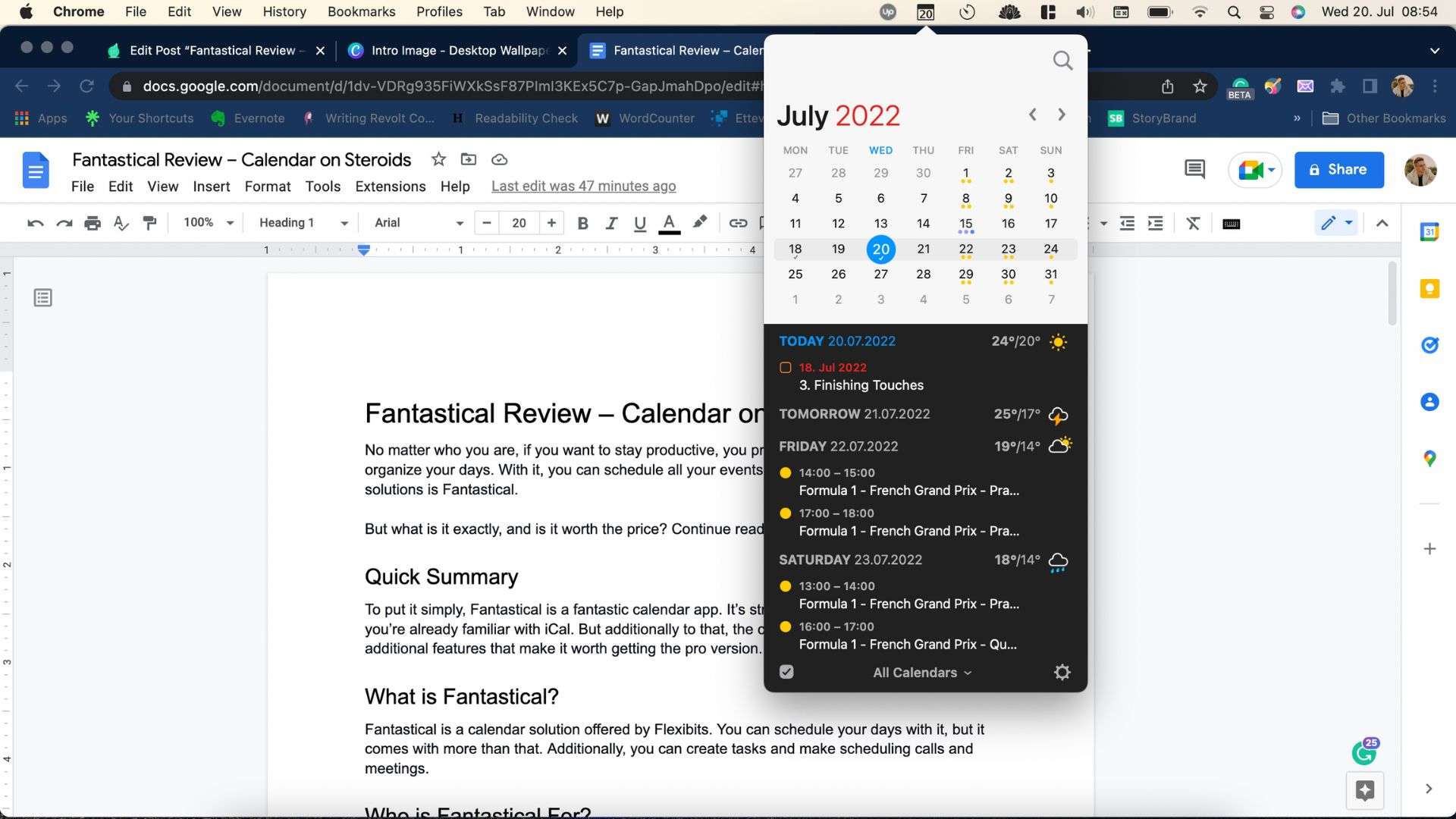 While those four were my four favorite features, there are a lot of small features that I enjoyed fondly. Most of these were to do with ease of use.
For starters, I'd like to discuss the excellent top bar shortcut on MacBook. When you click the calendar button on top, a window pops up. You can quickly check all your events and tasks, making it highly convenient.
6. Privacy-First Approach
While it's not really a feature, it's something that is good to know about. And that is Fantastical, respects your privacy. And here's how they do it.
Fantastical also won't store any data. All your events and tasks files are encrypted and won't be stored in Fantastical servers. So, you can be sure that all your events are private to you or anyone you're looking to share them with.
My Experience With Fantastical
Now you know what Fantastical is and the great features it comes with. Now you might be asking – how good is it?
Well, for that, I can say that I was mostly pleased with it. I enjoyed the 5-day experience I had with it.
What surprised me the most was how similar it looked and felt to iCal. That made it super easy for me to start creating new calendar events. Additionally, I enjoyed how well they incorporated the task list.
It was simple to use, and I really enjoyed being able to create multiple task lists to separate my different tasks.
Furthermore, both interesting calendars and hidden list were also great features. They helped me to increase my productivity even more and kept me informed of what was happening in the F1 world.
And while my experience was good enough, I'm not going to switch from my current calendar app – Google Calendar. That is because I don't feel like I will use the features enough to counteract the costs.
That is mainly because I don't have a lot of calls with potential customers. And since I don't use that feature, I feel better off without it. Plus, the alphabetical order of tasks is too big of a nuisance.
However, if I had calls frequently scheduled out, I'd switch to Fantastical at a moment's notice! The features are great, and the interface is easy to use. So, I highly recommend it, even though I will not use it.
Fantastical Pricing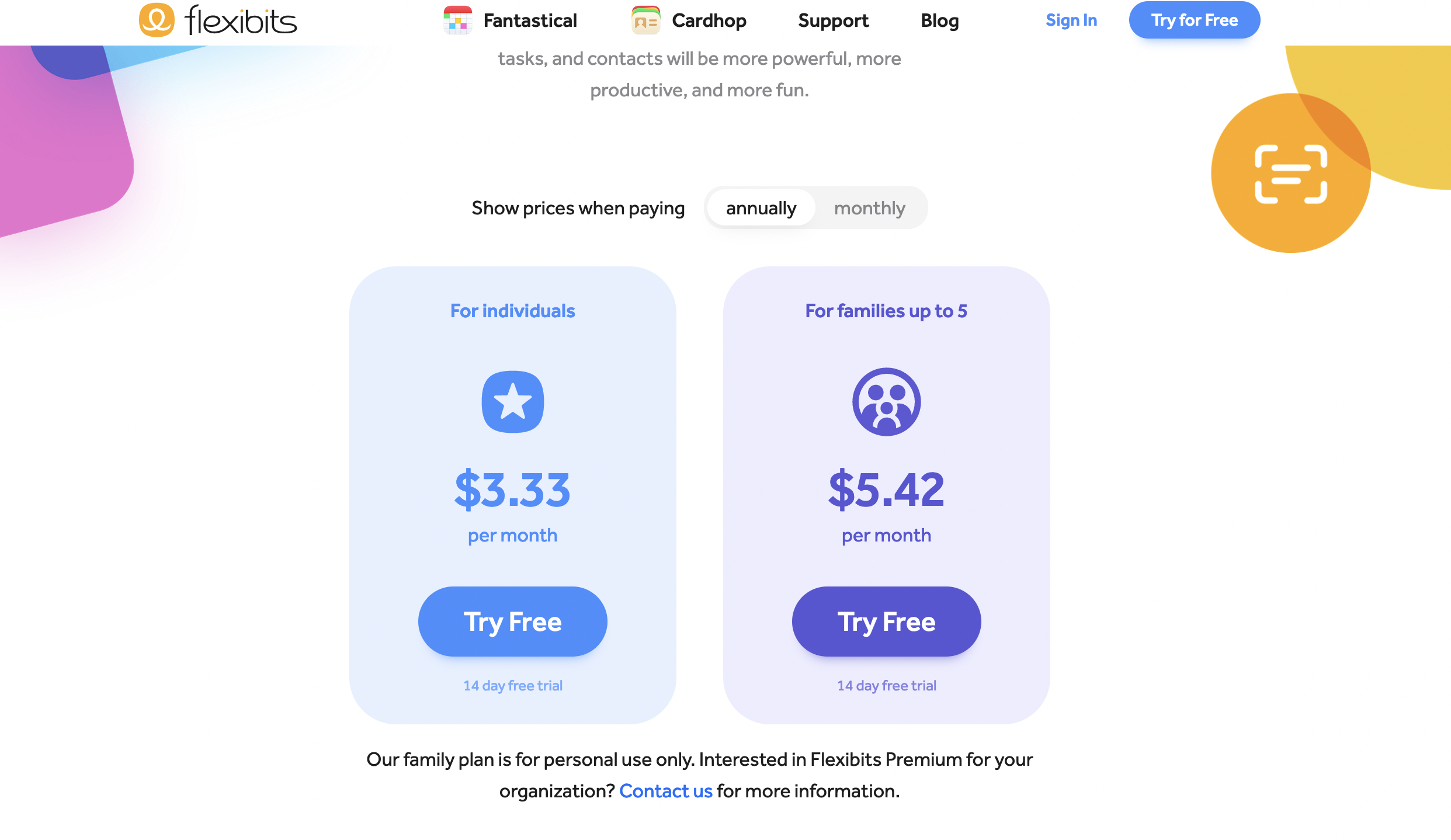 Fantastical comes with multiple pricing plans. Each one is different.
Let's start with the free version. You get all the essentials with it, like adding events and tasks without barriers. Additionally, you get the weather forecast for three days and the ability to integrate with task management apps like Todoist.
However, there's where the features end. For the paid plan, you've got two options: individuals and families.
With it, you get all the features, including Interesting Calendars, Call Scheduling, for just $3.99 per month! However, if you're looking to use it with your whole family, you can pick the family plan with five members for only $5.42 a month.
However, if you want to save some cash, you can also pick the annual plans:
Individual Plan – $

39.96

per year ($4.99 per month)
Family Plan – $

65.04

per year ($7.99 per month)
Get started with Fantastical →
Conclusion
And that's it for my Fantastical review. As you can see, it's an impressive calendar app for anyone using Apple devices.
It has some unique features like Interesting Calendars, Hidden List, Call Scheduling, and more.
It's a must for anyone who wants to get more than what Google Calendar offers. And thanks to the reasonable pricing, it's affordable for everyone!