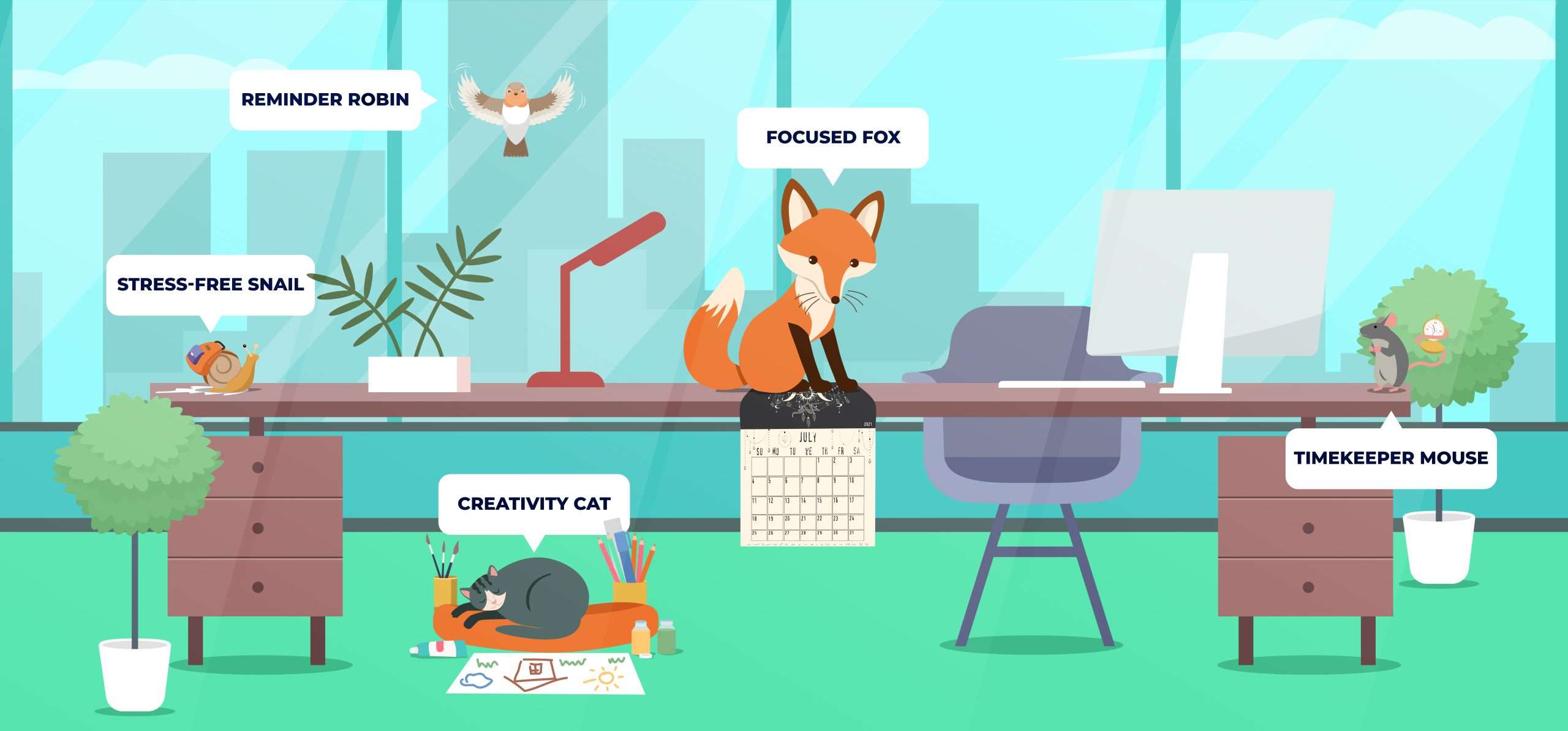 Sometimes, everyone feels unmotivated and believes they are the laziest individuals on Earth.
Consider individuals like David Goggins, who starts his day by running over 10 miles without fail, or Joe Rogan, who takes a 3-minute could plunge every single day after waking up.
It's not that they always feel like doing it or are constantly motivated.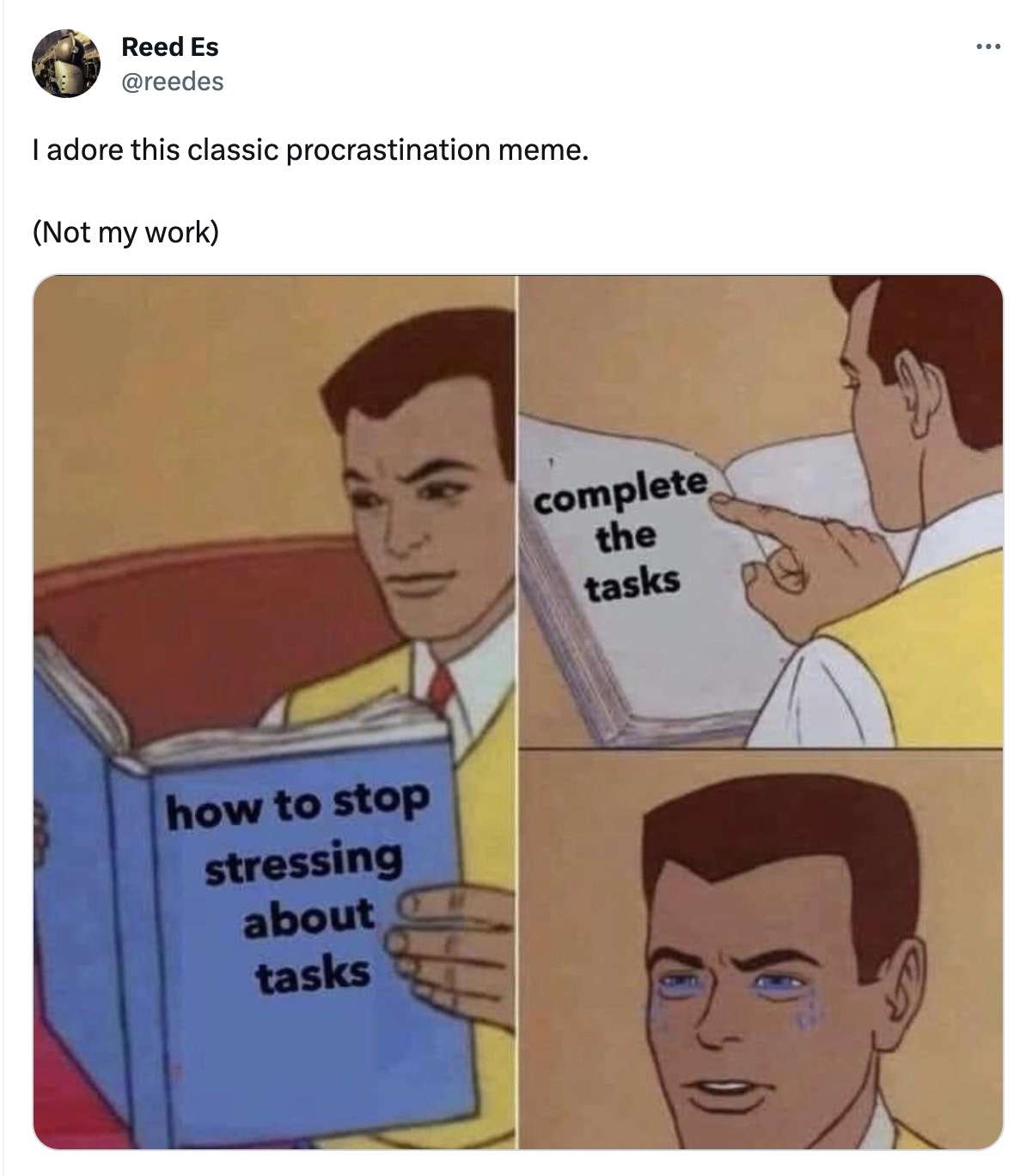 I firmly believe that, among other factors, what sets high performers apart is their unwavering discipline in planning tasks in advance and taking action to accomplish them.
That is the key.
To quote Blaise Pascal, but in a slightly different way—
"All of humanity's problems stem from our inability to effectively allocate time on our calendars and work towards it."
This article introduces you to the 12 best productivity calendar apps that can help you overcome time management challenges and help you build the same discipline you need.
Motion is a productivity calendar app designed to help you manage your calendars, meetings, projects, and tasks in one place.
It incorporates automation and AI to intelligently plan your day, schedule meetings, prioritize tasks, and resolve calendar conflicts.
Motion provides a calendar feature that enables you to create a daily schedule overview with ease. It even allows you to prioritize your tasks automatically based on importance, with deadline tracking and reminders.
Moreover, Motion includes project management capabilities that offer a complete view of tasks and projects through Kanban or list view.
You can also automate your tasks and schedule your projects. In addition, Motion monitors and tracks the time you spend on tasks and meetings.
If you work with a team, it provides collaborative features for adding notes, attachments, and comments to tasks and projects.
Lastly, Motion offers a Meeting Scheduler, which is great because it allows you to easily share availability and create a custom website for booking time on your calendar.
Useful Features
Quick and easy setup
Meeting scheduler
Intelligent AI-powered calendar
Automatic task and project manager
All-in-one place integration
Pricing
Motion offers a 7-day free trial. After the trial period, users can choose from the following pricing plans:
Individual Plan: $34/month ($19/month when billed annually)
Team Plan: $20/user/month ($12/month billed annually)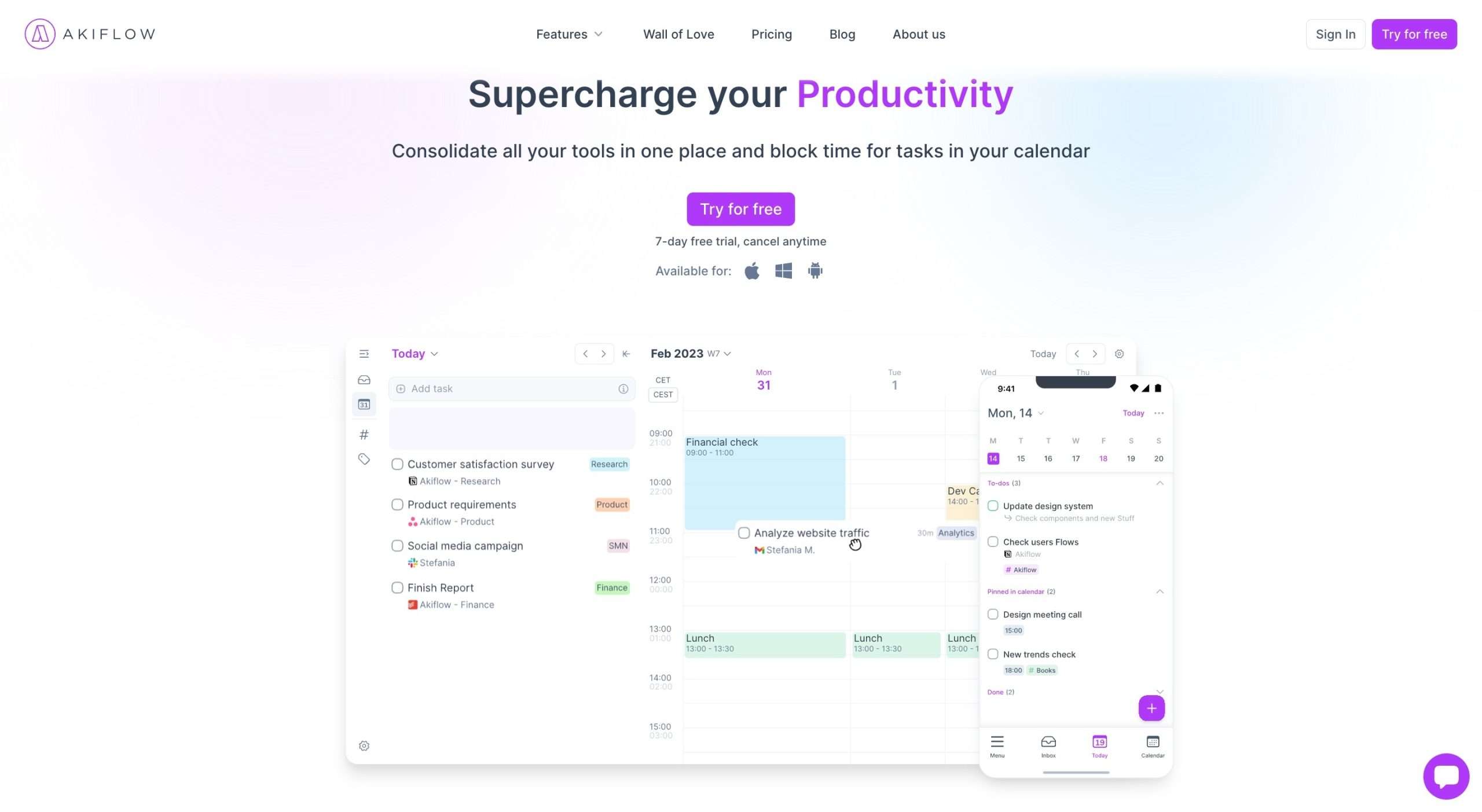 Akiflow provides a central hub where you can bring together all your tasks from various applications and block time in your calendar for focused work.
With the universal inbox, you can import tasks from your favorite tools, making it convenient to access and manage all your tasks in one location.
With Akiflow, you can easily block time for your tasks in your calendar. By dragging and dropping tasks into open slots in your calendar, you can effectively allocate dedicated time for focused work.
Additionally, Akiflow provides quick task actions, allowing you to prioritize, plan, and snooze tasks using convenient keyboard shortcuts.
Moreover, you can share your availability with others, enabling them to book time with you without the need for any third-party tools.
Akiflow enables you to create tasks with various recurrence patterns, such as daily, monthly, or custom schedules, providing flexibility in managing repetitive tasks.
Lastly, Akiflow automatically links content from your tools, eliminating the need for context switching and allowing for seamless integration of information.
Useful Features
Quick Task Actions

Time Blocking

Share Availability

Recurrent Tasks

Command Bar
Pricing
Akiflow offers a free trial for a week. Its paid plan costs $24.99/month (or $14.99/month when billed annually).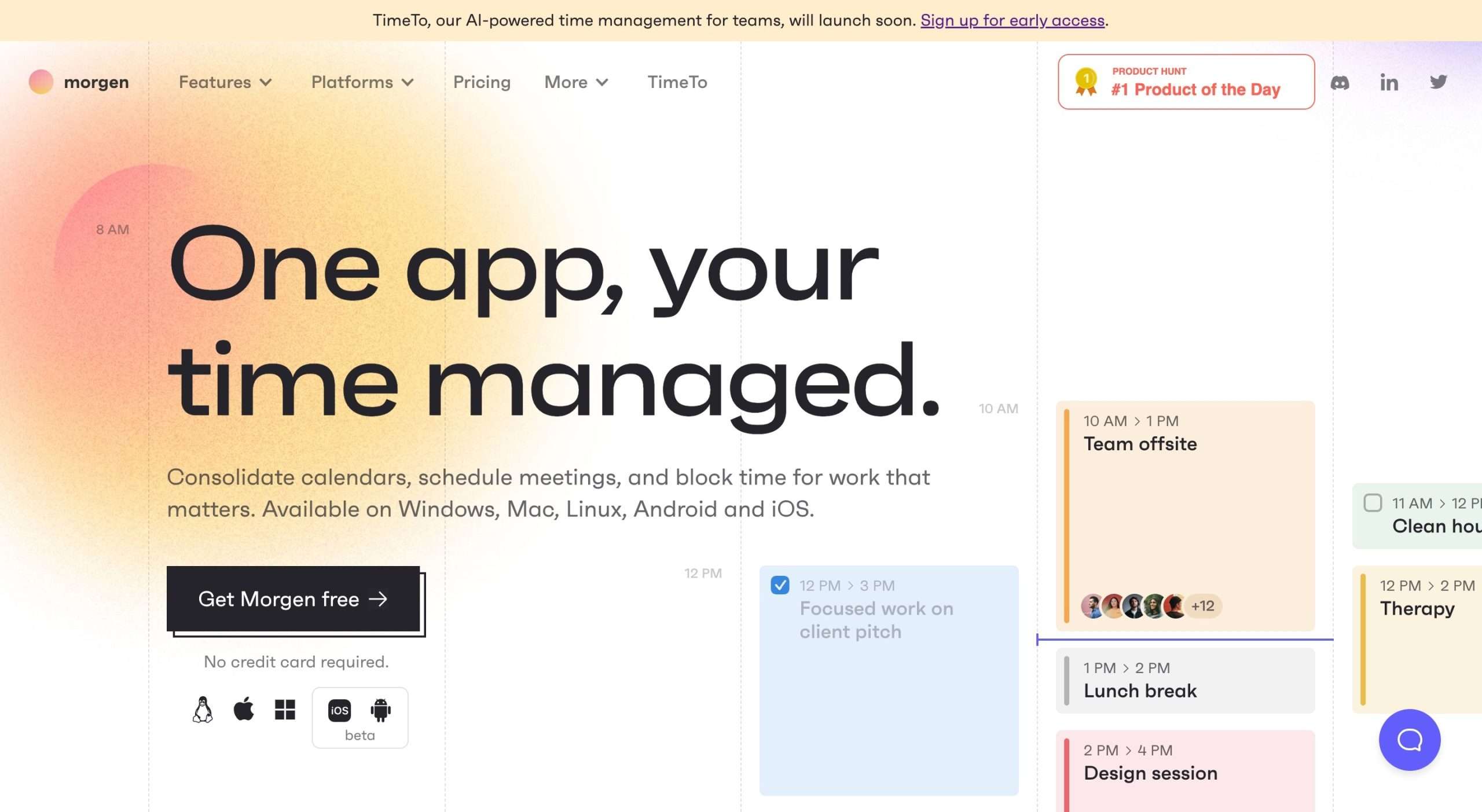 Morgen is a unified calendar, scheduler, and task manager tool that aims to simplify the management of work and life schedules.
It provides a centralized platform for calendar and task management, allowing you to consolidate calendars and sync them with to-do lists.
One of the key features of Morgen is the ability to easily schedule your to-do tasks and allocate time for important activities directly in your calendar.
Morgen also offers hassle-free meeting scheduling through customizable booking pages and scheduling links.
You can share your availability with others, making the process of scheduling meetings more efficient and reducing back-and-forth communication.
Moreover, Morgen provides additional features to improve productivity.
For example, it allows you to declutter your calendars by deleting duplicate events. Additionally, it facilitates multi-time zone scheduling, making it easier to manage events across different time zones.
With its user-friendly interface, Morgen supports various platforms such as Windows, Mac, Linux, Android, and iOS, ensuring accessibility across devices.
Useful Features
Consolidation and synchronization of multiple calendars
Integration with various to-do apps
Task scheduling directly within the calendar
Multi-time zone scheduling support
Customizable booking pages for hassle-free meeting scheduling
Pricing
Morgen has a Basic plan which is completely free to use. The Plus plan costs $6/month ($4/month on annual billing) and the Pro plan costs $14/month ($9/month when billed annually). The paid plan has a 14-day free trial.
Sunsama is a digital daily planner designed to help you achieve work-life balance by improving productivity and focus.
It provides a guided daily planning experience, enabling you to be intentional about how you spend your time and effectively prioritize your tasks.
Sunsama offers a step-by-step routine to plan your day, helping you structure your tasks and allocate time for each activity.
You can import tasks from various project and task management tools such as Trello, Asana, and more.
Additionally, Sunsama integrates with your Gmail or Outlook to include important emails and syncs with your calendar to seamlessly incorporate meetings.
Sunsama encourages you to set realistic goals by allowing you to decide how much time you want to allocate to each task.
Furthermore, it allows you to browse your tasks within popular task management tools like Asana, ClickUp, Notion, Jira, GitHub, Todoist, and Trello within its interface.
You can conveniently import the tasks you want to work on for the day.
Useful Features
Drag and drop tasks from project and task tools

Guided daily planning & weekly review

Dark and focus mode

Unified daily view

Timeboxing

Analytics
Pricing
Sunsama has a 14-day free trial. Then monthly subscription costs $20/month ($16/month on annual billing)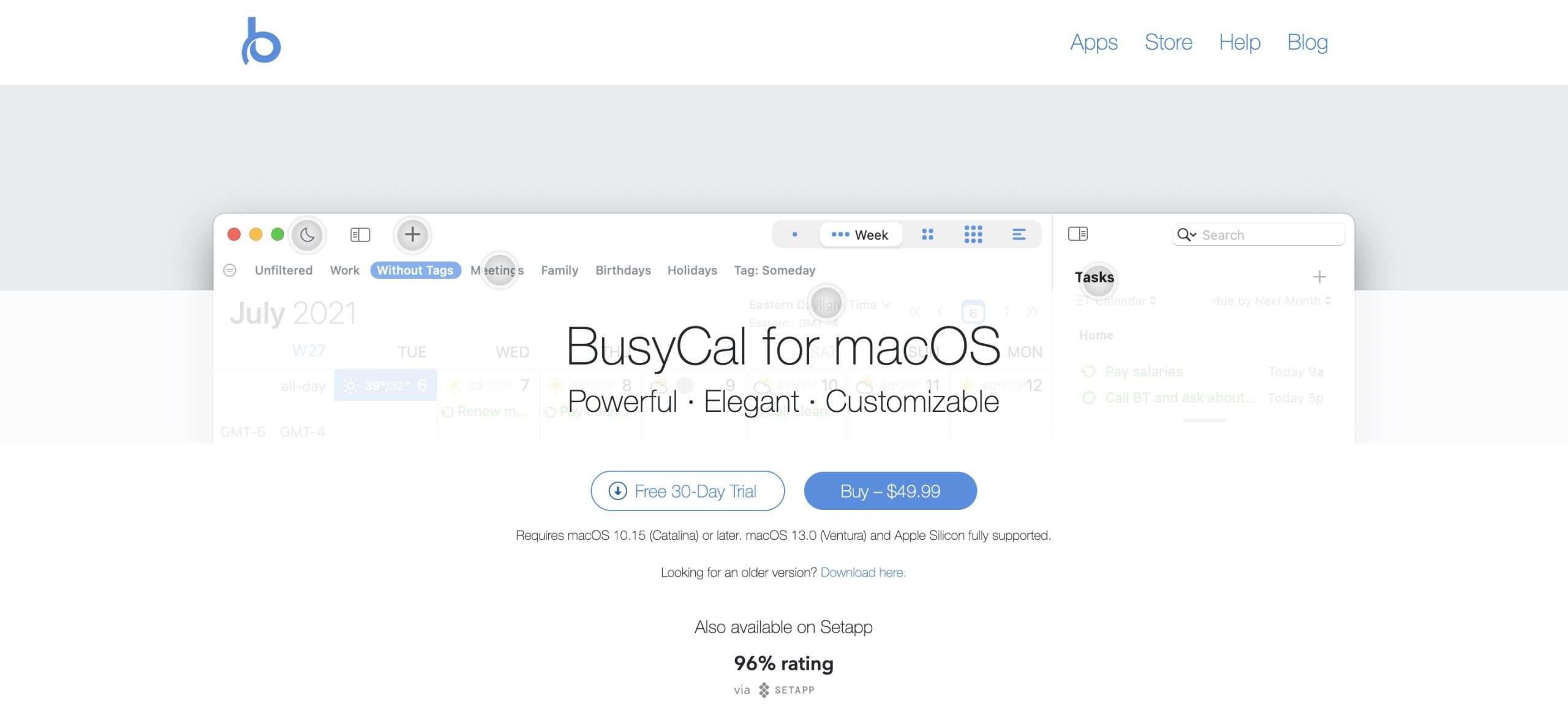 BusyCal is a powerful and highly customizable calendar app specifically designed for macOS. It offers a variety of viewing options, including Day, Week, Month, Year, and List views.
These views can be personalized to suit your preferences, such as adjusting the number of weeks displayed in the Month view or the number of days shown in the Week view.
One of the notable features of BusyCal is its embedded info panel, which provides a convenient sidebar for quickly viewing and editing event details with speed and precision.
Additionally, BusyCal seamlessly integrates tasks into your calendar. Tasks are displayed on their due dates and carry forward until they are completed.
Another useful feature of BusyCal is its support for travel time. You can allocate time slots for travel to events or locations, ensuring that you can plan your schedule accordingly.
BusyCal also offers natural language input, making event and task creation effortless. As you type, BusyCal automatically recognizes event details such as the title, date and time, location, and more.
Useful Features
Customizable calendar views (day, week, month, year, list)

Menu bar app with mini-month calendar and weather forecast

Quick entry using natural language

Calendar list & calendar sets

Smart filters for filtering and formatting

Alarms with snooze functionality

One-click conference calls integration
Pricing
BusyCal provides a 30-day free trial period. The paid plan is available for a one-time fee of $49.99.
Fantastical allows you to effortlessly create new events and reminders using natural language input.
It seamlessly works across your Mac, iPad, iPhone, and Apple Watch, ensuring that you can access and manage your calendar and tasks from any of your devices.
Fantastical boasts a beautiful and user-friendly interface with multiple views. It provides detailed full-screen views for iPhone, iPad, and Mac.
Fantastical enables you to upload files or images directly from the app to your iCloud, Google, or Exchange events. This feature makes it convenient to have all the necessary resources in one place.
Not to forget the various views it offers to cater to your preferences.
Whether you want a quick overview with the DayTicker and Calendar views or need more detailed information with full-screen views of your day, week, month, quarter, or year, Fantastical has got you covered.
You can also create quick templates from existing events and tasks.
Simply select a template, and all the details will be copied into a new event or task instantly. It saves you time and simplifies the scheduling process.
Useful Features
File and photo attachments
Powerful views
Event & task templates
Calendar sets and focus filters
Conference call detection
Time zones support
Pricing
Fantastical has a 14-day free trial. The paid plan for individuals starts at $4.75/month (on annual billing).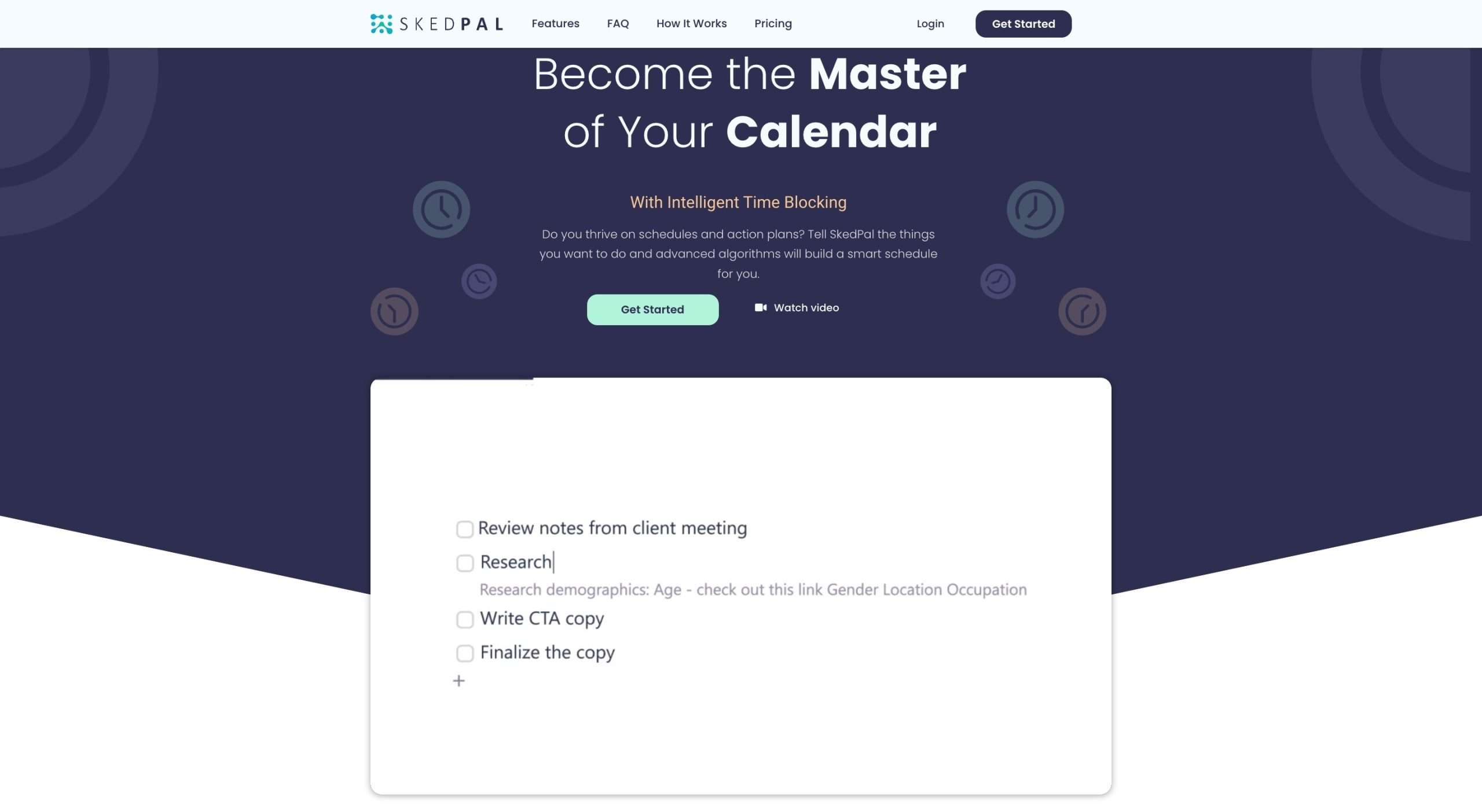 SkedPal is an intelligent time-blocking and scheduling tool that combines task management and calendar functionalities.
It uses advanced algorithms to help you prioritize tasks, create efficient schedules, and manage your time effectively.
With SkedPal, you have a single app that integrates your to-do lists and calendar, eliminating the need to switch between multiple tools.
Additionally, SkedPal offers a unified workspace that combines projects, tasks, notes, and calendar events.
You can create nested lists to organize your tasks and easily break down big tasks into smaller sub-tasks.
Moreover, SkedPal supports rich text notes and file attachments, enhancing project and task management.
Furthermore, SkedPal provides a single calendar view that includes all work and personal tasks and meetings.
This feature enables you to have a comprehensive overview of your schedule.
Useful Features
Intelligent time blocking
Goal and routine scheduling
Create infinite nested lists to organize tasks
Rich text notes and file attachments
Integrations with Google Calendar, Outlook Calendar, and more
Pricing
SkedPal has a 14-day free trial, The monthly paid plan starts at around $14/month.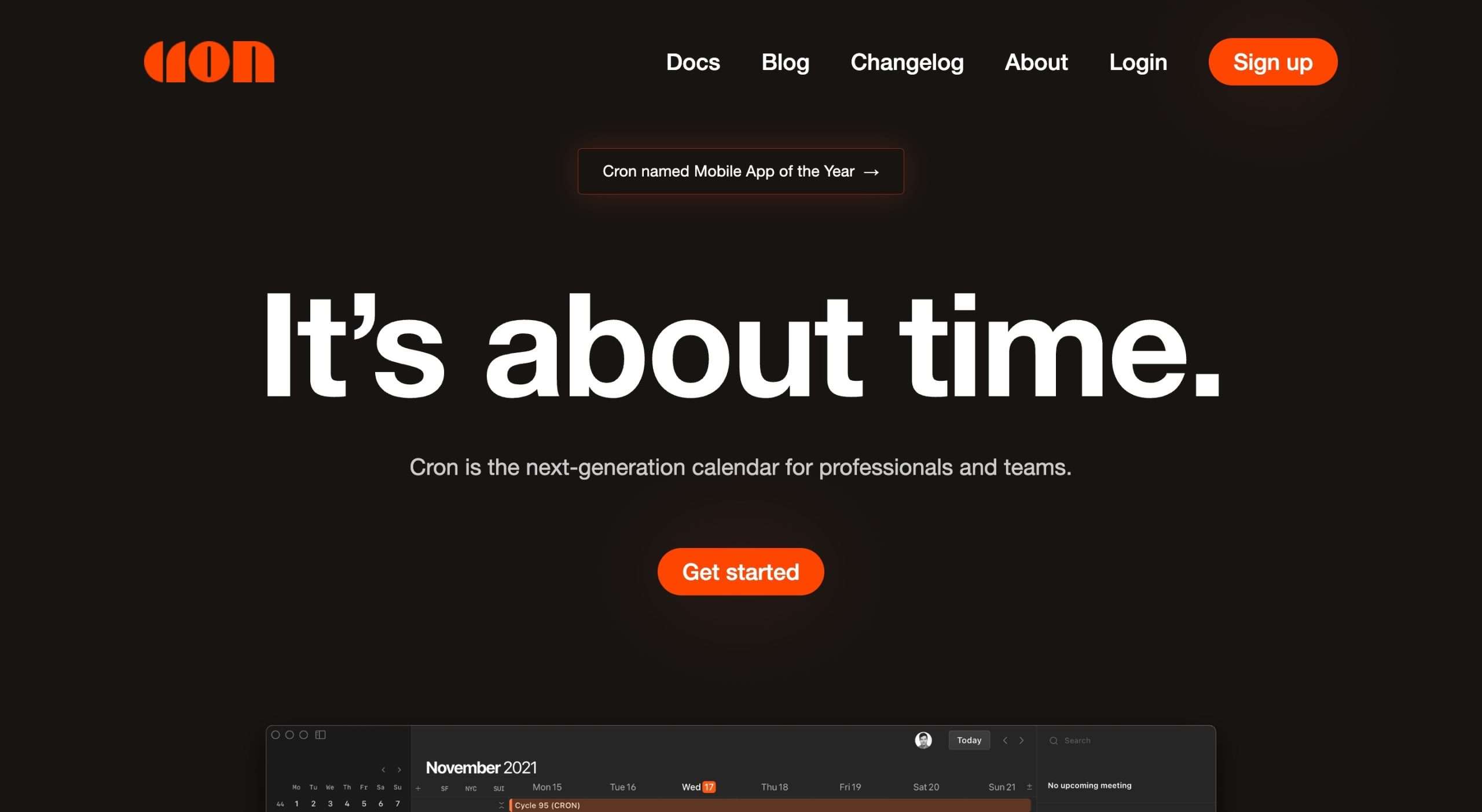 Cron Calendar's primary purpose is to help you schedule meetings and manage your time more efficiently.
By integrating deeply with your Google Calendar accounts, Cron Calendar ensures seamless synchronization of all your events and resources.
With its sleek design and intuitive interface, it offers a user-friendly experience for managing your schedule on the go.
You can easily access and manage multiple time zones by dragging the time zone column to the right, allowing you to virtually "travel to any city" and add more time zones as needed.
Cron Calendar allows you to connect multiple calendar accounts and automatically sync events between them. This feature enables you to select an event and block it on different calendars.
For example, you can quickly block an event from your personal calendar on your work calendar, helping you effectively manage your schedule and avoid conflicts.
Moreover, Cron offers six different Home Screen Widgets that provide rich previews of upcoming events, a monthly overview, and a button for quickly adding events, among other functionalities.
Useful Features
Scheduling and time management
Sleek design and intuitive interface
Multiple time zone management
Connect multiple calendar accounts
Conflict avoidance
Home screen widgets
Pricing
As of writing this, Cron is free to use for Apple users.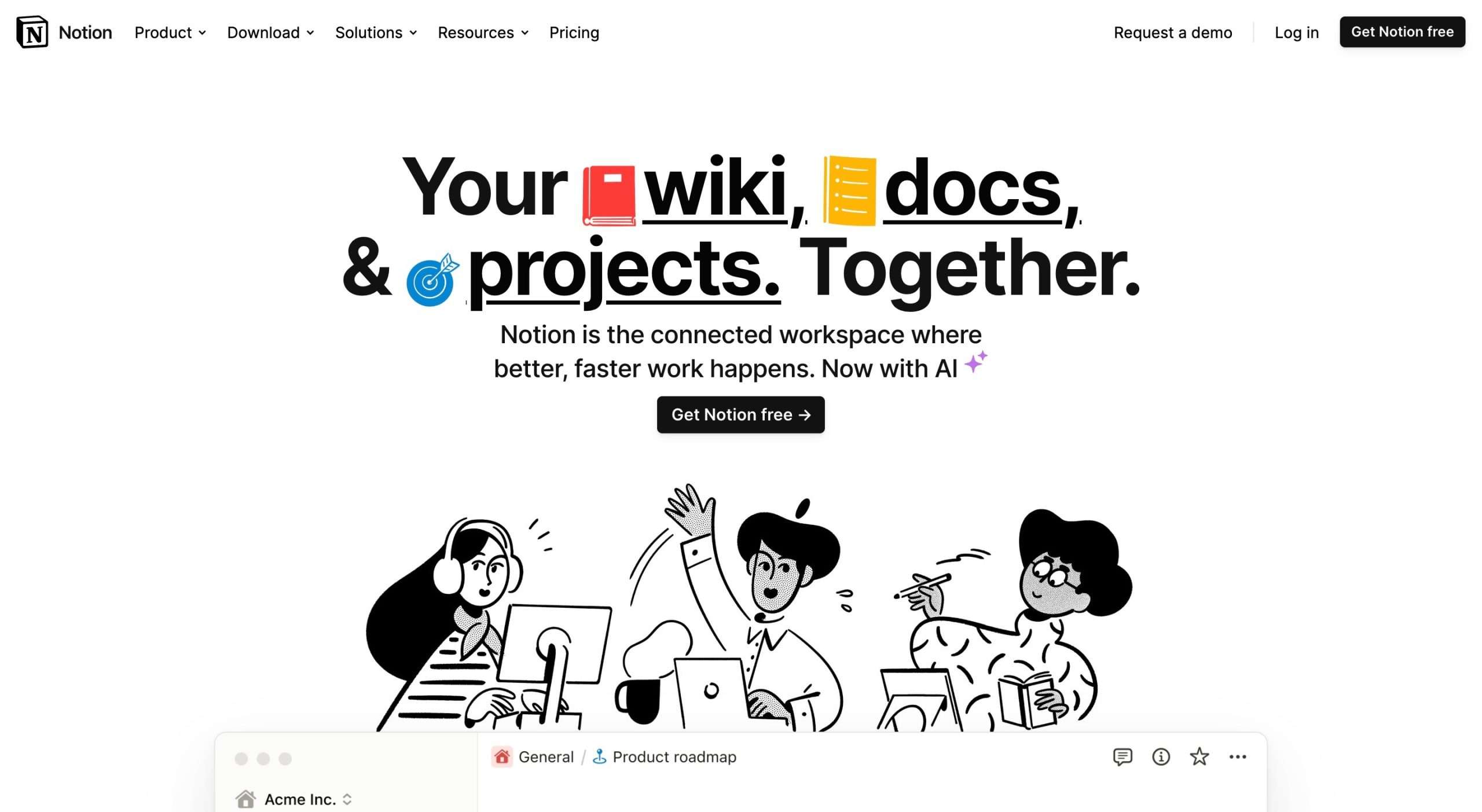 Although Notion is primarily known as a note-taking and project management app, it seamlessly integrates the functionalities of a traditional calendar with its flexible and collaborative features.
With Notion, you can effortlessly organize your schedule, plan events, and keep track of important deadlines, all within the same workspace where you manage your tasks, projects, and documents.
Notion offers a visually appealing and intuitive interface, providing you with the flexibility to view your calendar in various formats, such as month, week, or day, depending on your preference.
With Notion, adding events, appointments, and tasks to your calendar is quick and easy, requiring just a few clicks.
You can also set reminders, assign tasks to team members, and include relevant notes or attachments.
Switching between different calendar views, such as month, week, or day, is effortless, allowing you to gain a comprehensive overview or focus on specific timeframes as needed.
Moreover, Notion enables you to share your calendar with team members, clients, or collaborators, granting them the ability to view and contribute to your schedule.
Useful Features
Easy scheduling
Customizable views (month, week, day)
Collaboration and sharing
Integration with other Notion features
Cross-platform synchronization
Pricing
Notion offers a freemium pricing model, where you can use the core features of the tool for free. Notion offers paid plans starting at $10/month. If you are a student with a university email ID, you get to use the paid plan for free.
Amplenote stands out as a comprehensive tool that combines note-taking, to-do lists, and calendar scheduling, enabling you to streamline your workflow and stay organized.
With Amplenote, you can effectively capture and manage your ideas using various modes and features.
Amplenote's "Jots" mode allows you to log daily activities and quickly capture inspiration wherever it strikes. It helps you jot down ideas and important information on the go, ensuring that you don't lose valuable thoughts.
In the "Notes" mode, Amplenote enables you to connect and refine ideas, allowing you to discover their best versions.
You can organize your notes, add rich footnotes to enhance your writing and embed pictures, videos, Google Sheets, and other elements within your notes.
Amplenote's "Tasks" mode helps you prioritize the most important to-do items lurking within your notes.
It offers a task-ranking system based on the famous Eisenhower Matrix, which clarifies which tasks to focus on today.
Furthermore, the "Calendar" mode in Amplenote allows you to drag and drop tasks into a schedule that optimizes every precious minute.
It helps you plan your day, allocate time slots for specific tasks, and visualize your commitments in a calendar view.
Useful Features
Publishing and collaboration capabilities
Effortless imports from Evernote, Roam, and more
Keyboard-friendly navigation
Quick Task Bar for capturing ideas
Complements Zettelkasten system
Pricing
Amplenote has a personal plan that is completely free to use. The Pro plan costs $5.48/month. The Unlimited plan costs $10/month while the Founder plan costs $20/month.
Vimcal is a powerful calendar application designed to empower you with complete control over your time.
With Vimcal, you can experience lightning-fast performance and ease of use, enabling you to accomplish tasks quickly. You can utilize hotkeys and natural language commands to streamline your workflow.
This means you can instruct Vimcal to perform actions or navigate through the calendar using simple keyboard shortcuts or by typing instructions in a natural language format.
For example, you can say "Schedule a meeting with John tomorrow at 2 PM" or use a hotkey to instantly create events without manually clicking through various options.
One of the standout features of Vimcal is its AI Scheduling Assistant.
By leveraging artificial intelligence, Vimcal can provide intelligent suggestions and options to streamline your scheduling process.
It can automatically propose suitable meeting times based on your availability and preferences, eliminating the need for back-and-forth communication.
Vimcal is not limited to desktop usage; it also offers a mobile application for iOS devices, ensuring you can access your calendar on the go.
Useful Features
Unified calendar view for coordination across multiple accounts
Lightning-fast performance and responsiveness
Hotkeys and natural language commands for quick actions
AI Scheduling Assistant for intelligent scheduling suggestions
Time zone support for easy scheduling across different regions
Social profiles and company dossiers for better interaction with contacts
Pricing
Vimcal has an. iOS-only free. The paid plan (iOS + Desktop) costs $15/month (or $12.5/month on annual billing).
Aika is a simple time-blocking app designed to help you schedule your work and tasks in a structured manner.
Alongside its clean and user-friendly interface, Aika offers valuable insights and enhances mental clarity by visually presenting your tasks on a schedule.
This visualization allows you to see how you're allocating your time and enables you to prioritize your activities effectively.
By utilizing Aika's time-blocking scheduling capabilities, you can easily plan your day by allocating specific time slots for different tasks and activities.
To cater to various preferences, Aika provides a range of built-in themes, including a dark mode.
In addition, Aika offers a time-tracking feature that allows you to gain visibility into how you're utilizing your time.
This feature provides insights such as the total time scheduled, the most frequently used time category, and the evolving priority of different categories over time.
Useful Features
Time blocking scheduling

Mobile compatibility

Built-in themes (including dark mode)

Time-tracking insights

Easy to use

Regular updates
Pricing
Aika offers a free trial period without a specified duration. Their monthly paid plan is priced at $4/month, and they also provide a lifetime access option for $150.
Choosing The Best Calendar Productivity Booster
To sum it up, the key to becoming a high performer lies in unwavering discipline and effective time management.
By using the right productivity calendar app, you can overcome time management challenges and develop the discipline you need.
Whether it's intelligent AI-powered scheduling, collaborative capabilities, customizable views, or seamless integrations, these apps provide the tools you need to boost productivity and take control of your time.
Choose the app that suits your needs and start maximizing your productivity today.