There are times when freelancing is presented as the ideal work environment.
By working online, you can set your schedule, work on projects you're interested in, and make more money than you would at a traditional job. It can be a valuable source of income for individuals who require flexibility, but it is not without its downsides.
Maintaining a steady flow of work can be challenging in the world of freelancing. Contrary to working a regular job, freelancing requires that you maintain your motivation and pay attention to detail.
Freelancers have the freedom to write about what they're passionate about and can often set their own schedules.
There is nothing wrong with these perks, but they do pose challenges that can be tricky to overcome. It can seem as though there are millions of other freelancers who are more talented, more experienced, and more successful than you.
In the past, everything had to be manually done in the realm of freelancing, from bids to payments. This is no longer the case. The good news is, that there are now a lot more tools available to freelancers than there were previously.
Some of them still handle their clients, invoices, and job postings manually, while others have become enlightened and embraced tools that help them succeed.
The collection of the right tools is just as significant as your work and your skills.
You need the right tools if you want to be as productive and efficient as possible. The following tools are the absolute basics that all freelancers should have in their tool belts, regardless of their chosen niche. Let's get right to it.
Project Management:
Google Docs provides a simple, powerful online environment for teams to create, edit documents and collaborate using their web browser.
It is perfect for freelancers who are involved with content writing since it can be used for various tasks, including creating the draft, collaborating with colleagues, and communicating within the team.
Trello is one of the most well-known project management tools used by small businesses and freelancers. It allows you to work and manage your team interestingly and dynamically.
Your activities can be broken down into lists and cards, and things can be arranged on the board using Trello. Almost any task can be accomplished with its flexibility.
And Co is an all-in-one app that can help freelancers and small businesses manage their businesses. The app has many features for invoicing to get paid, tracking time, managing projects, accepting clients and so much more.
Freelancers, in particular, can find AND CO useful as it's the best platform for financial management, proposal and contract building, and much more.
Financial Management:
Payoneer is a payment solution provider that offers a variety of financial solutions for businesses, professionals, digital marketers, marketplaces, and freelancers.
If you are a freelancer or business owner who does not have a local bank account and would like to accept international payments, Payoneer is a great choice.
And the reason we recommend Payoneer over PayPal and WISE is that it charges a fixed fee, which is generally lower when you receive large payments.
Xero is a cloud accounting platform used by freelancers and businesses to help manage their finances and boost productivity. It lets you get all the numbers you need in one secure environment, keeping all your vendors, customers, and employees informed.
In addition to tracking expenses and income, Xero allows freelancing businesses to monitor cash flow.
With Zoho Books accounting software, you can manage your business, and handle your customers, vendors, employees, and clients more effectively. It can help you save time on repetitive tasks, maintain more accurate records, and create professional-looking financial reports.
Businesses and freelancers can use Zoho Books to handle accounting and bookkeeping services with simplified invoices for delivery, billing, payroll management, customer management, inventory management, and more.
Writing Assistants:
WordTune is a new-age AI-powered writing tool, purpose-designed to help make your content clear, concise, and authentic. It listens closely to what you say and instantly provides you with the best match words that represent perfectly your style of writing.
Freelance Content writers can benefit from WordTune as it adapts to their personalities and writing styles to improve their writing – instead of recommending the "right" words, it makes suggestions that suit their styles.
Content writers can create tidier and more concise content thanks to the Hemingway Editor, so they can focus on the intent of their writing and improve general readability.
Using the tool, you can determine where your sentences could be improved. It highlights overly complicated sentences as well as words or phrases that are commonly overused. The tool then suggests alternative sentence structures and word choices.
Grammarly is undoubtedly the most accurate grammar and spelling checker and is an outright essential part of every content writer's arsenal. This tool shows a little red line underneath any word that may have spelling, grammar, or punctuation errors.
This writing-enhancement app is perfect for bloggers, writers, students, and anyone who has to write anything. Grammarly is there to help everyone who has trouble focusing on improving their writing.
Graphics Designing:
Canva is the go-to online platform for those looking to create an amazing design in less than a minute. This free and easy-to-use design tool makes designing anything from quotes to business cards, flyers, posters, and more.
Canva has become a popular platform among bloggers, freelancers, graphic designers, and small businesses to create stunning graphics.
Behance is one of the most important online platforms for freelance artists, designers, and writers. It provides a platform that gives all artists a chance to shine!
With Behance, freelancers and graphic designers can now create an online portfolio in no time. Using it, creative people can display their work regularly and show it to the world.
Shutterstock.com is the world's most popular stock photography website. Essentially, Shutterstock exists to service businesses, marketers, designers, and artists who need images or footage for their brand or marketing purposes.
Photographers, bloggers, magazines, YouTube channels, etc. can purchase images, footage, and music from Shutterstock for use on their websites, blogs, and magazines.
Time Management:
RescueTime is an awesome tool for anyone who wants to track their productivity and block distractions. It tracks the websites and apps you use, checks your productivity, and helps you be more productive.
The key to being more productive and having a better work-life balance as a freelancer is to know what you spend your time on, and RescueTime is the best tool for that.
Tens of thousands of freelancers and small businesses worldwide use Harvest. With flexible time tracking, invoices, expense reports, and team management features, it's user-friendly and easy to set up.
This software is great for freelancers who need to track their time and money, and for small businesses looking to manage their teams and clients.
ActiTIME is an easy-to-use and highly flexible time-management platform that offers a complete solution for timekeeping, quotes, billings, project management, and employee attendance tracking.
Whether you work as a freelancer or for a large corporation, actiTIME saves you hours of work every day.
Marketing Tools:
ConvertKit is an email marketing service that allows you to collect customer email addresses for your mailing list, so you can send customized messages and build meaningful, long-lasting relationships with your customers.
With ConvertKit, an email marketing platform built for creators, you can build your email list like a champ, whether you're a freelancer or a business owner.
Sprout Social is a social media management platform that allows you to schedule, publish, track analytics, and learn more about your audience using multiple social networks.
Whether you manage social media for personal use, your brand, or your business, Sprout Social can help you organize your online presence from one centralized location.
SEMrush is an SEO tool that allows you to analyze your competitors, perform site audits, find keyword ideas, write better blog posts, and so much more.
It has a spot on this list because it's simply one of the most powerful content marketing SEO tools.
In the content world, whether you are blogging or trying to emulate your competitors' success, SEMrush is what you need.
Communication Tools:
Slack delivers real-time communication, co-browsing, and file sharing so that you can quickly share the right information with the right person at the right time. It's one of the best options for robust communication and collaboration.
As a communication platform for teams of all sizes, Slack is the best choice for online communication among freelancers and business professionals.
Zoom is a cloud-based platform that can be used for webinars and meetings, as well as for virtual video and audio conferencing. You can use it for quick or long conversations, instant video conferences, and screen sharing.
If you're a freelancer, consultant, working from home, or anyone who works with clients outside your company or office, Zoom is an invaluable tool
Hunter.io helps you find prospects' specific email addresses when you don't know whom to email or don't want to get entangled in an email chain. With it, you can find contact information, email addresses, and job titles of the people you want to reach.
With Hunter.io, freelancers, marketers, and businesses can easily find new clients quickly and easily in just a single click.
Proposal Tools:
Bonsai is an all-in-one solution that helps you manage every aspect of your freelance business – from proposals to contracts to invoices and payments. It is an easy-to-use resource that streamlines proposals, contracts, invoices, and expenses for freelancers.
Whether you're a freelancer or you're managing one, Bonsai offers a simple solution for your contracting needs.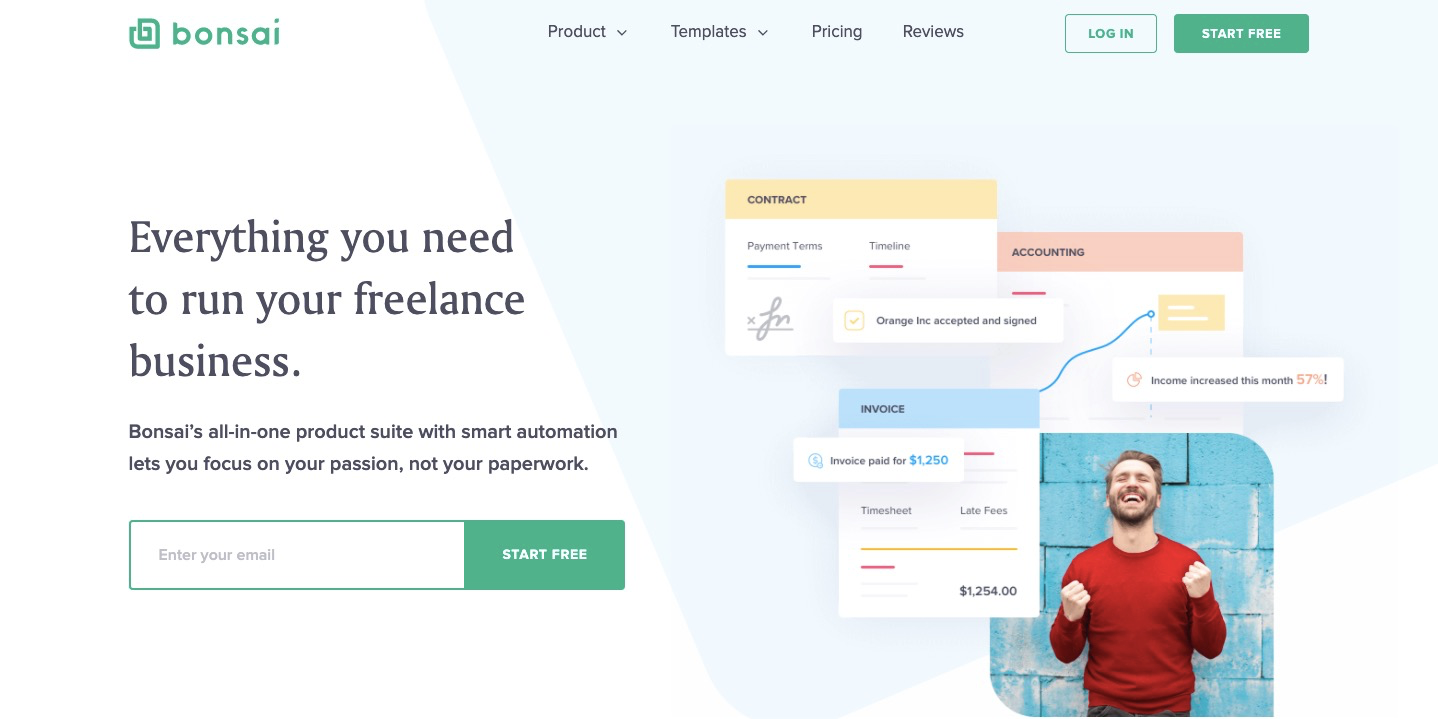 Proposify is online proposal software that takes the pain out of creating and managing sales proposals. With it, you can create professional, customizable proposals and contracts with ease, and it comes with ready-made templates.
By using Proposify, freelance professionals and service providers can create proposals efficiently.
Prospero aims at writing and submit proposals simpler and easier by providing a web-based application that allows designers, developers, writers, and video artists to design good-looking proposals in a matter of minutes.
With Prospero, you can send proposals directly to clients. Aside from this, it also offers e-signature support and various integrations to streamline the process.
Cloud Storage:
Dropbox is a free service that allows users to store their files in a cloud-based database. This gives you the ability to access your files from multiple devices, and share your files with anyone who has a Dropbox account.
For freelancers, designers, and anyone using the internet, Dropbox is a great resource to safely back up their files to the internet and access them from anywhere.
JustCloud is a leading player in the cloud storage space that provides unlimited cloud storage that can be customized to fit your needs. With its file-sharing feature, users can share files with their peers, which can be accessed from any computer or mobile device connected to the Internet.
For small businesses and freelancers, the cloud storage in the form of a file-sharing solution is an efficient way to organize documents.
Google Drive is a free service from Google that allows you to store files online and access them anywhere on any device connected to the Internet. This makes it ideal for real-time collaboration and sharing of documents.
The cloud-based storage service is gaining large popularity not only among freelancers and entrepreneurs but also among students and business professionals.
Productivity Tools:
Evernote is a powerful, free app that allows you to create text notes, photo notes, audio notes, and just about anything else you can imagine. It syncs all of your notes and files across all of your devices.
If you're a business owner, student, or simply someone who likes to be organized, Evernote is the one tool to use.
Any.do is an intuitive platform offers a simple yet powerful task management solution that allows you to organize your tasks, set priorities, and manage your time.
Any.do's built-in reminder and calendar features are great. Set one-time or recurring reminders, integrate with your calendar, and keep track of upcoming assignments like never before.
Besides that, Any.do's chat and collaboration tools make teamwork a breeze. You can easily communicate with clients, share project updates, and collaborate in real-time.
Any.do's versatility allows you to manage both aspects effortlessly. From work projects to grocery lists, you can keep everything organized in one place.
Plus, the cross-platform integration ensures you're always in control, no matter where you are.
Pocket is like a bookmarking system that saves all the content you want to read for later. When an article is saved to Pocket, it will remain there, regardless of how long it has passed since the user last read it.
By managing all the information, you find on the Internet every day, Pocket can improve productivity and save you time.
Learning Tools:
Skillshare is, quite simply: a library of online classes. You can take a wide range of classes on Skillshare, including classes in business, music, technology, and more. It is an online community where anyone can learn from experts and share their knowledge.
Among freelancers, the best place for learning, improving habits, and discovering new skills is Skillshare. It is for anyone who wants to add to their toolbox, whether you are an expert or just starting.
Udemy is an online learning and teaching platform that empowers people all around the world to learn, engage with the world, and achieve their goals by learning. It is a must-use platform for anyone trying to better their lives through education.
If you are a freelancer, Udemy is an excellent resource for learning. You can watch unlimited inspirational videos about your business, and you can complete courses to improve your existing skills and learn new ones as well.
Creative Class is an online course for freelancers and those who want to showcase their creativity online, so they can attract and serve clients in a better way. It includes lessons to help you get more clients, make more money, and become more efficient.
This course is a great choice for people who need advice on finding clients, pricing their work, and establishing good client relationships.
Bonus Tools:
HubSpot is a marketing automation tool designed to help you generate leads, nurture those leads, and increase your sales. With its various functions and features, it can help you build a brand for your business.
The brand-building abilities of HubSpot lend it as the perfect option for freelancers to use as a go-to solution.
Medium is a social media platform that has opened blogging to everyone. It is a social publishing platform where people can share and read stories. The platform is easy to use, and you'll find that there is an audience ready to read what you have to say.
It also allows freelance copywriters and content creators to make a little money from their work, as well as publish portfolios on the site.
Conclusion:
Picking the right freelance tools for your business can make all of the difference to your productivity. You have a finite amount of energy each day, so you need to make sure you're using your time as effectively as possible.
The tools you use to run your freelance business are vital. Not just any tool will do.
It needs to be the right tool for the job. Without the best tools and services, you'll feel like you're working with one hand tied behind your back.
While you can get by without any tools and your results will be mediocre, if you want to succeed, it's time to get started using the tools we have outlined above and watch your income soar.