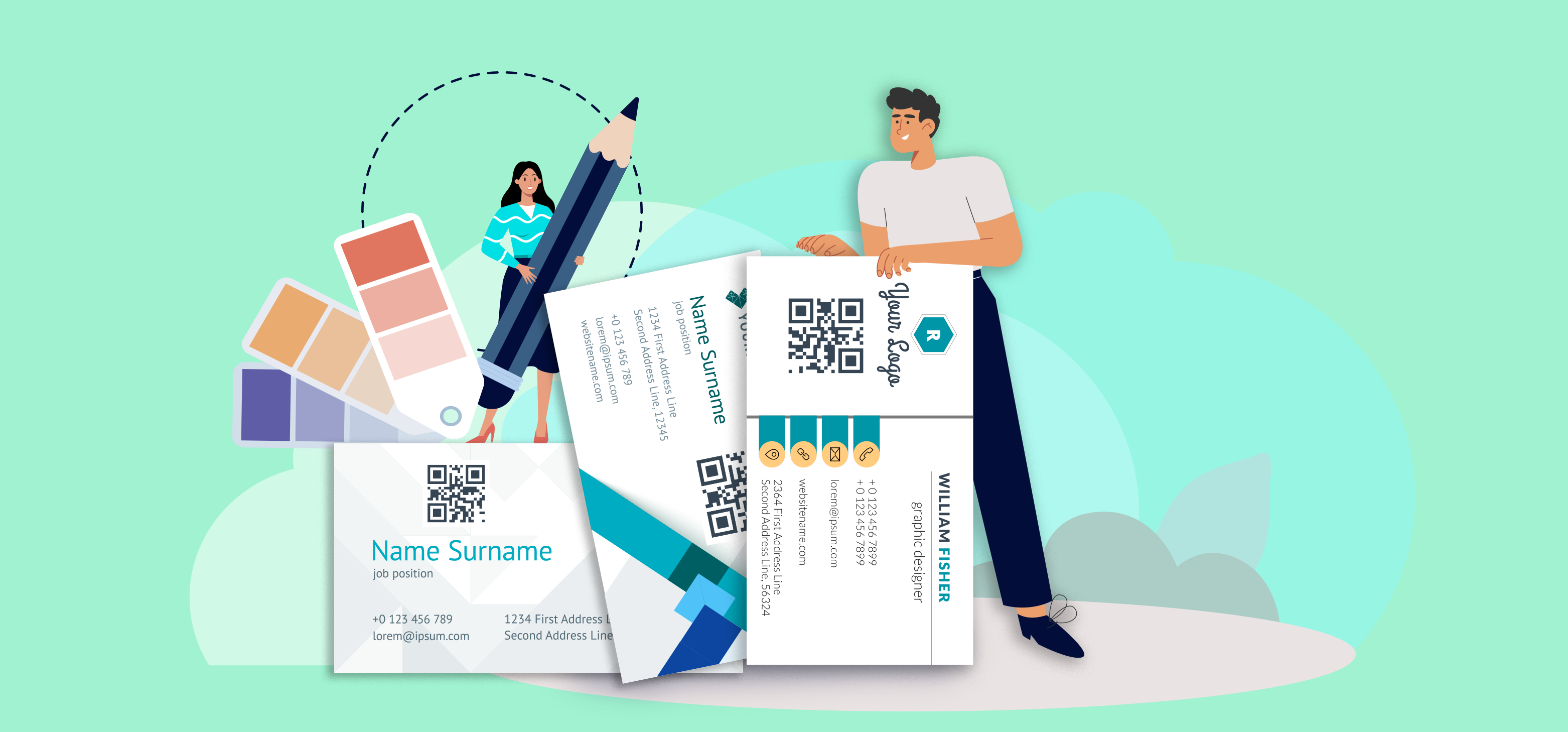 Virtual Business Cards, also known as Digital or Electronic Business Cards, are the formatted electronic version of the usually-used paper business cards that anyone can see and share on their smartphones or any other technical devices.
It is basically a modern way of sharing your contact data or information.
Other than the general way of providing your name, company name, email address, contact number, etc., you will also be able to add a photo, video, logo, or even social media profile to these virtual cards.
These cards can be created with the help of virtual business card maker platforms and shared through QR codes to the recipient's contact number or email address.
In this article, I will present the best virtual business card makers that you can consider for making your business cards.
Moreover, we will discuss the features, pros, and cons of every card maker, which will help you decide which one to opt for.
Founded in 2015, L-Card Pro is a contact management solution software that provides virtual business card-making services.
It includes a centralized digital business card database, map integration, PDF conversion, etc. The platform helps in developing an unlimited number of business cards with the help of paper card designs, templates, or backgrounds.
It uses the award-winning Optical Character Recognition (OCR) Technology for accurately scanning and reading digital cards in 27 different languages.
It allows customization of the card's QR code through front and back color selections, as well as logo or photo insertion in the code's center.
This card-making tool is best for Insurance Companies, Banks, Pharma Sales, Real Estate, Corporations, Government Offices, etc.
Key Features
It supports data importing or exporting.
It has a contact database.
The sales pipeline management feature tracks all the sales opportunities.
Permits sharing of contacts.
Lead management helps to bring about more business leads.
Provides a lot of design templates.
Pros
Easy to use.
Contains a free version.
Capable of running well on Android mobiles, iPhones, and iPad.
Customer support service is available via chat.
Cons
Does not work on Linux, Chromebook, or Windows.
Pricing
L-Card Pro pricing plans start at a flat rate of monthly $2.00. The Enterprise plan is monthly $2 with $10 from activating the application. The individual plan is $40 for life. They contain a free version and offer a free trial as well.
A dobe Spark is a web and mobile-based design software and application.
It is another suitable option for creating business cards for small, medium, and large enterprises.
This is done solely with the help of integrated designing tools such as templates, themes, logos, texts, icons, font, typography, colors, animations, voices, design filters, style signatures, etc. The platform allows the creation, generation, and management of QR codes.
It is important to note that Adobe Spark does not offer any free trials. However, it has a free Adobe Spark Branding version that also allows downloading, printing, and sharing business cards.
Key Features
The branding is customizable.
It supports print management.
All the templates are customizable, designable, and manageable.
The content library manages the content well.
The data is imported, exported, and synchronized.
The videos can be well organized, edited, and supported.
It involves the previewing functionality, which lets you preview the design.
It allows third-party integration.
Pros
Easy to use and access.
Excellent template selection for adding typography, element, fonts, and changing colors.
Has a bunch of premade themes and image packages.
It allows the creation of all sorts of projects, including videos, web pages, slides, banners, flyers, etc.
It is accessible from any device, be it a PC, Chromebook, Android mobile, iPhone, and iPad.
Its support services include a help desk, chats, and emails.
Cons
It does not offer any sort of free trial.
A limited number of templates.
Not very detailed for video editing.
Lacks certain optimizations.
Pricing
The Adobe Spark pricing plans start from monthly $9.99 or yearly $99.99 for individual users. For design teams, it is either a monthly license of $19.99 or a yearly license of $239.88.
CamCard is yet another great cloud-based application solution for virtual business card design. It helps with proper contact management assistance via quick searches, data captures, electronic business cards, etc.
This business card-making platform is best for all sorts of business usages, regardless of the size of the organization. CamCard allows the exchange of virtual business cards via QR code creation. It also manages notifications, batch scanning, meeting notes, electronic cards, etc.
Key Features
It allows data importing, exporting, and extraction.
It has a contact database.
It allows the sharing and management of contacts.
Its lead management feature helps to generate more business clients.
It contains many Design Templates.
Pros
It has a user-friendly interface.
Great tool for creating business contacts.
Sharing and editing cards is especially likable.
It is accessible from any device, be it a PC, Chromebook, Android mobile, iPhone, or iPad.
Being intuitive, it can easily scan and read cards in more than 15 different languages.
Its support system includes a help desk, email, and forum.
 Cons
It does not offer any free trials
It is not a good enough option for scanning documents.
Pricing
It does not offer any free trials or contain any free versions.
The CamCard pricing plan starts from monthly $15 per user, and for team users, it is monthly $5 per user. For the CamCard Business plan, it is $12 per user. It is important to note that all the plans for CamCard require a minimum of three users.
Founded in 2013, the Knowee software provides various internet services which convert business cards into the best sales tools and sustainable communication channels. It is involved in developing comprehensive suites which are beneficial for Customer Relationship Management (CRM) and business cards.
It provides centralized control over the making, editing, or deleting of virtual business cards under a corporation. The ID application process is done via validation. On request, it also allows complete integration with the existing IT cooperation systems.
Knowee supports the generating, scanning, uploading, downloading, and sharing of QR codes. The platform is equally well suited to individual users and large cooperative organizations. In fact, it is the only tool that enables a truly digitalized and compatible card for your business.
Key Features
The data is extracted, captured, transferred, imported, exported, and synchronized.
It supports video and image editing.
It allows the management of contacts, templates, and users.
There are a lot of Design Templates inside the software.
It has the option of searching and filtering.
The Wizard component lets the users create step-by-step interfaces with complete ease.
Pros
Easy to use.
It is customizable as well as compatible.
24/7 live helpful support team.
Contains a free version.
Capable of running on Windows Desktop, Android mobiles, iPhones, and iPad.
Customer Support Service is available via email, help desk, FAQs, Forum, and Phone Calls.
Cons
The provided information on the software is a bit complicated and requires a lot of time from the employees to get a full understanding of it.
It could be made a bit more user-friendly and less complicated.
Not compatible with Mac, Linux, and Chromebook.
Pricing
The Knowee prices are calculated daily depending on the number of users. It starts at a monthly $5.00 per user. There is also the free trial offer, which lets the users decide if the platform is really worth using.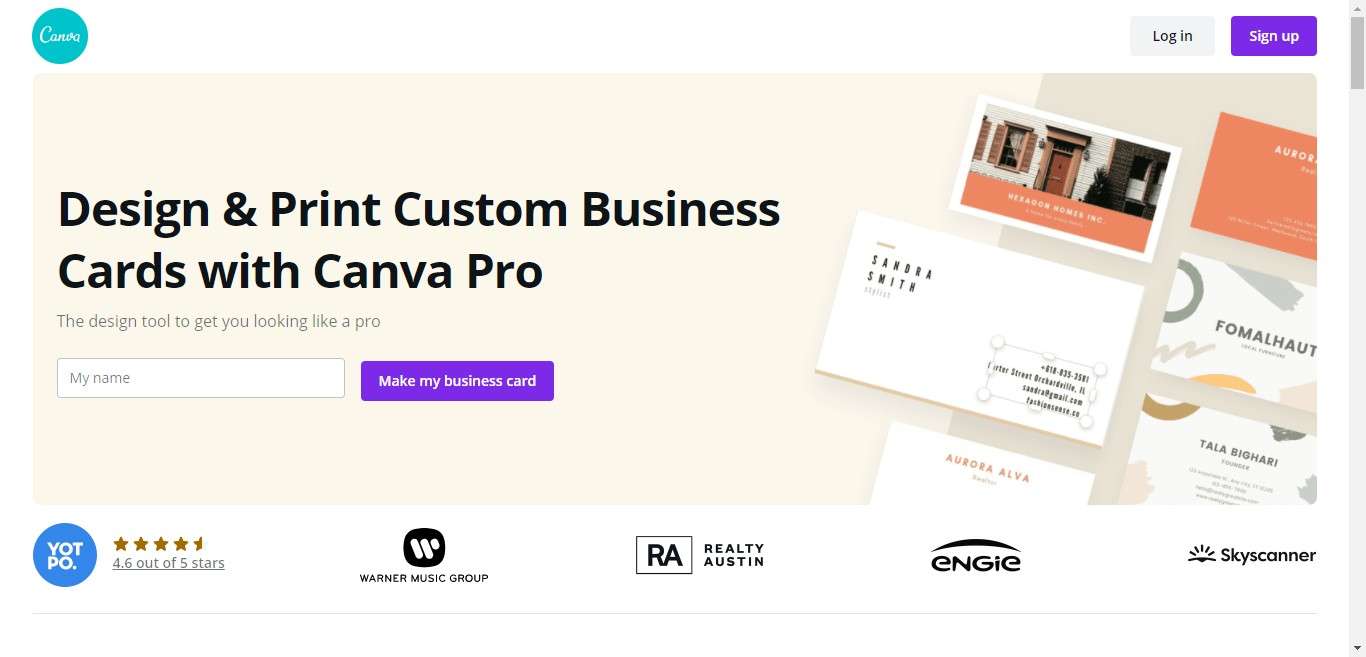 Founded in 2012, Canva software is one of the top online designing software and application platform which can easily create virtual business cards.
It has a superb user-friendly editing interface which is equally beneficial for those who do not have any prior designing knowledge.
With the help of several templates and layouts available in the software, one can quickly start to create, customize and share their business card designs with a few clicks. You can adjust, change or choose all the elements you require for your business card details.
These cards can be downloaded, printed, and shared for free.
Canva users can also generate QR codes for their digital cards even while using the free version. The platform is the best solution for small businesses, non-profit organizations, and business enterprises.
Key Features
Canva Animator allows you to choose an animation style and download it as a movie or GIF.
It supports artwork, audio files, sharing, and change management.
It is excellent at sharing and managing content.
It contains various collaboration tools.
It has customizable fonts, templates, and branding.
It has got categorized as an asset, library asset, and sharing asset.
It allows managing, importing, and exporting content.
Pros
It is user-friendly, intuitive, and affordable.
It offers quite a lot of design content.
Possesses the ability to customize items.
Contains multi-platform design options.
It has a free trial in which card creations can be made for free.
The application is great for promotions and business.
It is a cloud & web-based platform licensed with SaaS (Software as a Service).
It runs well on Mac, Windows, Android, iPhone, iPad, etc.
Its support service is available via email, chat, help desk, webinar training, and video training.
Cons
The downloaded material cannot be manipulated.
The watermark cannot be removed without upgrading to the paid version.
The application is not entirely free.
For professional usage, you need to upgrade to the paid premium options.
Pricing
The platform has a free version and a free trial version.
The Canva Pro pricing plan starts at a monthly $12.99 for the first user and then requires a monthly $6.99 for extra users. The Canva Enterprise plan is at a monthly $30.
Haystack Software is one of the world's largest virtual business card-making platforms.
It helps with developing contactless digital business cards for small, medium, and large enterprises. It does that with the help of Human Resources (HR) & CRM integrations, cybersecurity, admin control, and strict privacy.
The software is best for all the sales teams who aim at developing a healthy relationship with their client base. The virtual business cards generated in Haystack can be easily shared via QR code scanning if the recipient is also a Haystack user.
Key Features
Administrators the activity dashboard.
Allows extraction of data.
Provides a library of images.
Permits contact and template management.
Contains several design templates.
Displays reporting and statistics.
Allows third-party integrations.
Pros
It is easy to use, open, and connected.
Customer support service through emails, phone calls, and help desks.
Runs well on Android and iPhone.
Cons
Lengthy registration process
Lacks feasibility or practicality.
Pricing
The Haystack Pricing Plan starts at a monthly $7.95 per feature. The Business plan is monthly $7.95 for individual users, and there is an added $3 for every additional user. The Enterprise plan is for over 100 users, and one must contact the Haystack team to know its pricing details.
Haystack also offers a free trial offer for users to test the software before purchasing the plans.
The Covve is contact management software powered by AI (Artificial Intelligence).
It is efficient for growing, leveraging, and staying in touch with your business network by creating tons of digitalized business cards. The QR code of the cards can be easily generated by clicking on the "QR code button" after ultimately providing the business card info.
The platform helps scan and digitize cards and enhance your contacts, segmenting and quickly navigating them, getting new alerts when they are affected, and reaching out to them with smart reminders. All your data will be kept safe and secure.
Key Features
The API (Application Programming Interface) feature allows two software or applications to communicate to access data.
Controls the extraction of email addresses.
Administers the data extraction, capture, transfer, import, export, retrieval, and quality contract.
Contact database.
Authorizes the creation of databases.
Helps with contact and meeting management.
Has the documents.
It allows capturing, editing, and extraction of images.
Pros
Simple to use and extremely fast.
Its scanning ability is exceptionally accurate and can be scanned in multiple languages.
Excellent Customer Relationship Management (CRM) for businesses.
Runs perfectly on Android, iPhone, and iPad.
Provides customer services via email chat and help desk.
Conducts live online training, webinars, and documentation.
Cons
It often faces difficulties when it is set up at first.
Not compatible with Windows, Mac, Linux, and Chromebook.
The layout and main home screen personalization should be improved.
It faces lagging or bugging problems on Android phones, but works smoothly on iOS.
Pricing
Covve contains a free version and offers a free trial as well. The Covve pricing plans start at a monthly $2.99. The Covve Pro plan is monthly $7.5.
Conclusion
The virtual business card makers mentioned above have their own uniqueness and are highly recommended.
I personally consider Canva, Covve, and Adobe Spark to be best suited for making virtual business cards based on their free and unique features, content, benefits, service, ratings, etc.
However, with everything said, it leaves up to you to decide what will go well with your personal preferences, requirements, and budget. So, take your time to carefully choose the right virtual business card maker for you and your company.