Employee attendance software can be an incredibly efficient tool for maintaining payroll accuracy.
It provides an electronic system to keep track of your staff check-ins and outs, enabling you to optimize your labor costs and manage the workforce with ease.
In this article, I have reviewed some of the best employee attendance apps, summarizing their core capabilities. The list covers software products that are well-suited for both on-site and remote operations.
What is an Employee Attendance Software and What Features to Look for?
Employee attendance software is an online tool that records your staff's work hours and leave of absence. It generally provides a clock or a punching system to log shift times and generate time cards or sheets for payroll.
Some Top Features to Look For;
Time tracking tools for attendance.
Geo-Fencing and other sign-in options to prevent buddy punching.
Approval system for time off management.
Reports to monitor overtime, late, and absence.
If you have a remote team, you can opt for screen monitoring applications as well. They typically come with tracking tools to record paid hours and time off.
Let's look at the 12 best employee attendance software products and explore their features and pricing.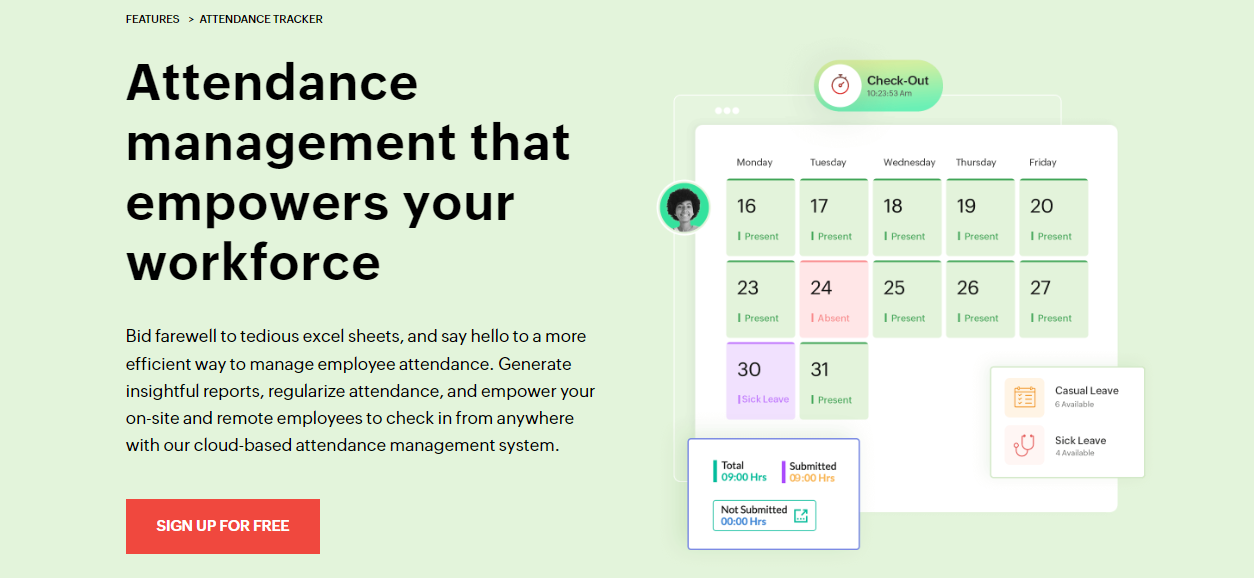 ZOHO offers a wide range of business tools for HR, finance, and operations.
For employee management, it has a software product called "People" that covers time and attendance.
You can provide your employees with multiple ways to mark attendance and add different paydays for the local and global workforce. Via ZOHO's timesheets, you can establish a multi-level approval system to oversee time off and holidays.
With attendance reports, you can get a summary of your staff's work habits and monitor late clock-ins and outs.
There are other functions included in the package as well, such as shift scheduling and task management. You can automate your staff's shifts, assign jobs to members, and track each project.
Core Features
Attendance via mobile and kiosk.
Absence scheduler.
Facial recognition and biometric option.
Geo-restrictions.
Customization.
Integrations.
Shift automation.
Timesheet management.
Reporting.
Price
ZOHO's packages range between $2 and $10 per user. I recommend the Professional Plan for employee attendance.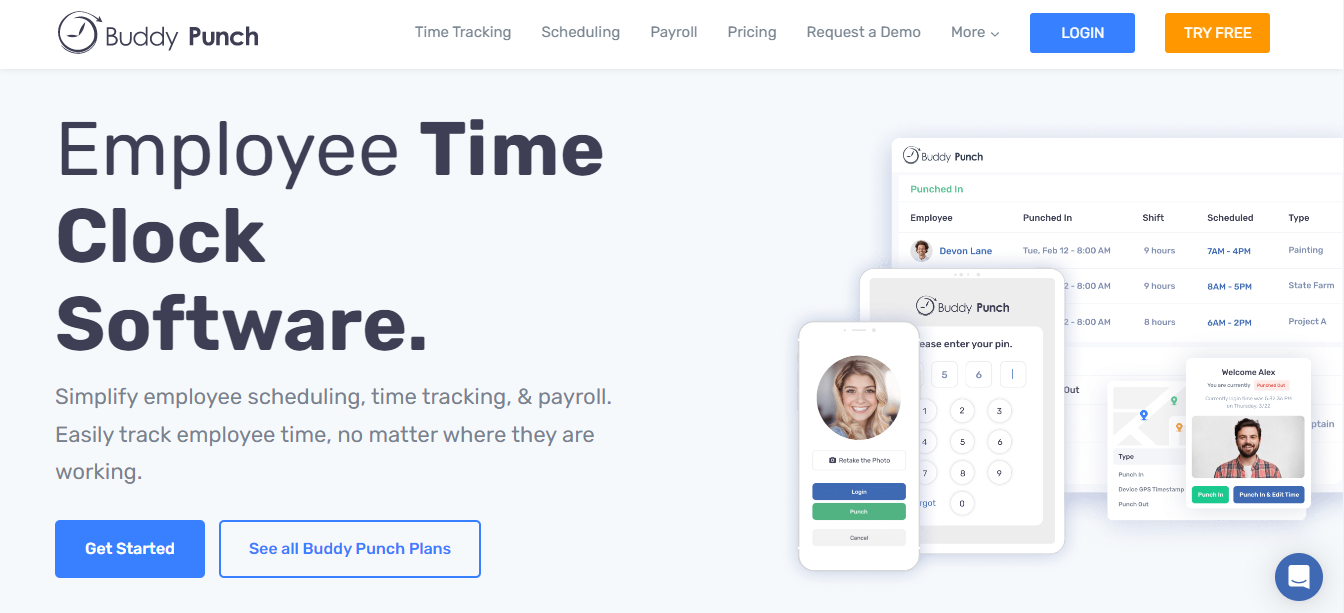 Buddy Punch is a time clock software. With this tool, you can implement an online attendance system for on-site employees.
Some top features of Buddy Punch are; facial recognition, GPS location tracking, break recording, and time off approvals. It also has a drag-and-drop builder via which you can plan staff shifts.
You can automate time tracking to eliminate manual paperwork and integrate your accounting software to process payroll. With multiple punching methods and auto-clock-in, you can reduce time thefts and generate accurate attendance sheets.
Using the reporting feature, you can get a detailed summary of your employees' working hours, PTO, and late clock-ins.
Core Features
Shift scheduling.
Availability management.
Several punching methods.
GPS tracking.
PTO and overtime recording.
Auto-calculations.
Approval workflows.
Payroll integrations.
Reporting.
Price
Buddy Punch prices start from $4.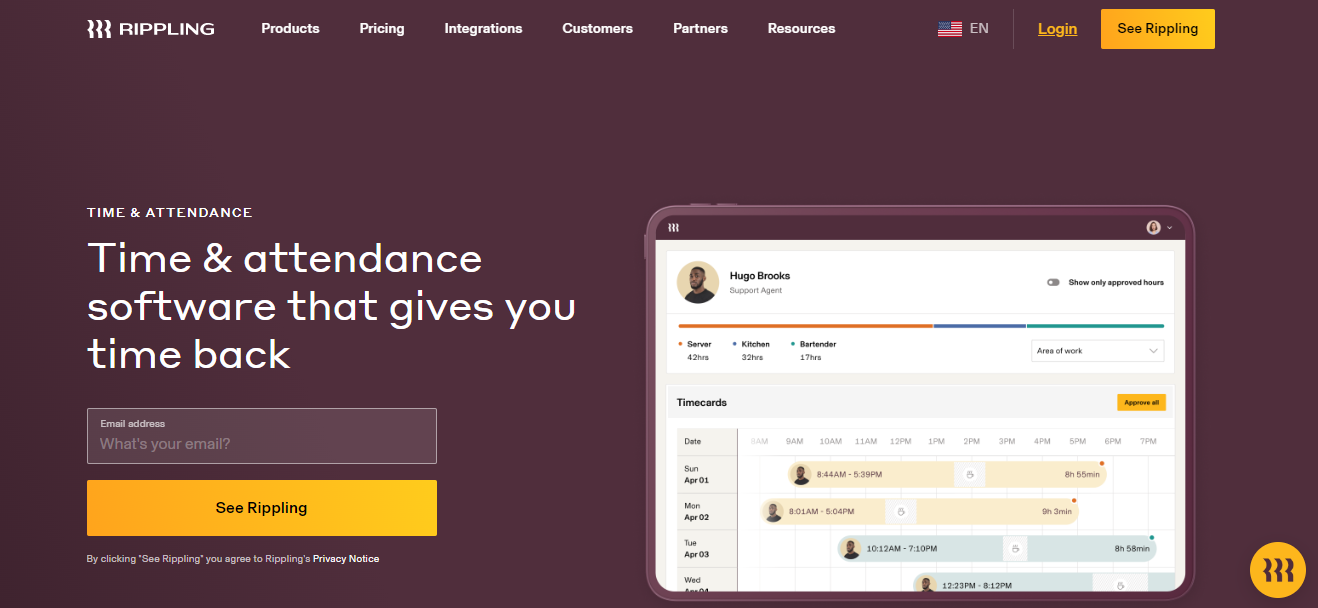 Rippling provides a global workforce management solution. The product covers diverse HR functions, including employee time and attendance.
You can build workflows to automate time tracking and set up custom rules to detect overtime. Via built-in compliance, you can implement different policies to ensure the work schedule aligns with the local regulations of each country.
Your staff can clock in from their mobile phones and record their hours. To make the system airtight, you can add geo-fencing and selfie clock-ins so no one else punches in on their colleague's behalf.
With reports, you can keep an eye on your employees' work activities.
Core Features
Time tracking.
Breaks and overtime recording.
Approval system.
Mobile and kiosk clock in.
Geofencing.
Custom workflows.
Payroll integration.
Reporting.
Price
Rippling shares prices on request. The minimum price per user is $8.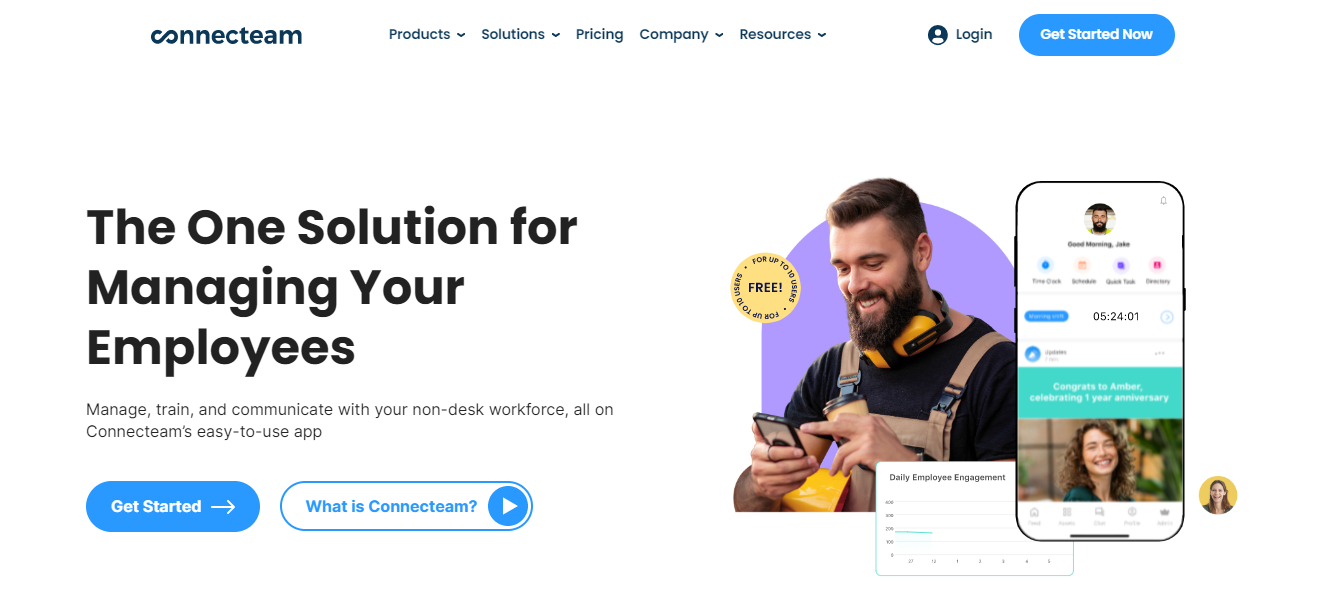 Connecteam offers a unified platform to manage employees from one place. It has an operation product, which is specifically designed to help you with staff attendance.
You can use this product to mount a kiosk at your site office and set up a geo-fence to monitor employees. Through timesheets, you can track billable hours and apply different rates to jobs and days to ensure each employee gets paid correctly for the work they deliver.
With Connecteam mobile app, you can give your staff the facility to clock in via their mobile phones while traveling. If someone stays longer than they're supposed to or arrives early, Connecteam immediately sends an alert to notify you of the changes to the schedule.
Core Features
Time clock
Shift scheduling.
Geo-fencing.
Timesheet and payroll integration.
Mobile app and Kiosk.
Automation.
Reporting.
Price
Connecteam's free to use. Its premium packages start from $29.
Clockify offers flexible methods to record employee attendance. You can use this tool to add a kiosk at your office for your site staff and provide browser and mobile sign-in options to remote employees for attendance marking.
Via its team dashboard, you can get a breakdown of your employees' working hours to monitor their punctuality. If you need a detailed summary of your staff shifts, you can generate an attendance report and export it for review.
With Clockify, you can also track time off, breaks, and team availability. To manage operations, you can establish an approval system and share admin control with team supervisors.
Core Features
Kiosk and GPS.
Time and attendance.
Scheduling.
Auto-tracker.
PTO management.
Timesheets lock.
Approval system.
Calendar integration.
Reporting.
Price
Clockify's prices range between $4 and $12. You can try it for free.
Replicon is also an ideal app for the global workforce. It has an AI-powered tool called ZeroTime that automatically monitors your employees' online application usage and accurately records their work hours.
You can create custom timesheets to include the breaks, holidays, and leave policies that your company specifically follows.
With Replicon's library of preconfigured pay rules and its compliance dashboard, you can establish work schedules that comply with local labor laws.
Replicon has plenty of features to help you manage your employee's time, attendance, and absence. You will even have the option to add full-time, part-time, temporary, and permanent staff.
Core Features
Cloud-based time clock.
Auto-data collection.
Timesheets.
Schedule management.
Attendance tracking.
Time off booking.
Labor compliance.
Automation and customization.
Payroll export.
Mobile app.
Price
Replicon's time and attendance prices start at $6.
You can try it for free.
Desktime is designed for remote employee attendance management. It's a time-tracking software that automatically records your team's work hours, breaks, and idle time.
You can build your employees' schedules and sync them with the time-tracking tool to monitor both from one dashboard. Via its absence calendar, you can log vacation and leave, approve and decline time off requests, and check your employees' availability.
You can also give your staff the flexibility to pick shifts. This enables them to take the workload they can comfortably manage.
If you have a space rented for meetings and events, you can book them through Desktime as well. The app has a workspace management tool in the package that allows reservations.
Core Features
Shift scheduling.
Billable hours, breaks, and project tracking.
Absence and time off management.
Labor cost calculation.
Customization.
Third-party integrations.
Mobile app for Android and iOS.
Space management.
Price
Desktime prices range between $7 and $20. You can take a free trial to explore it.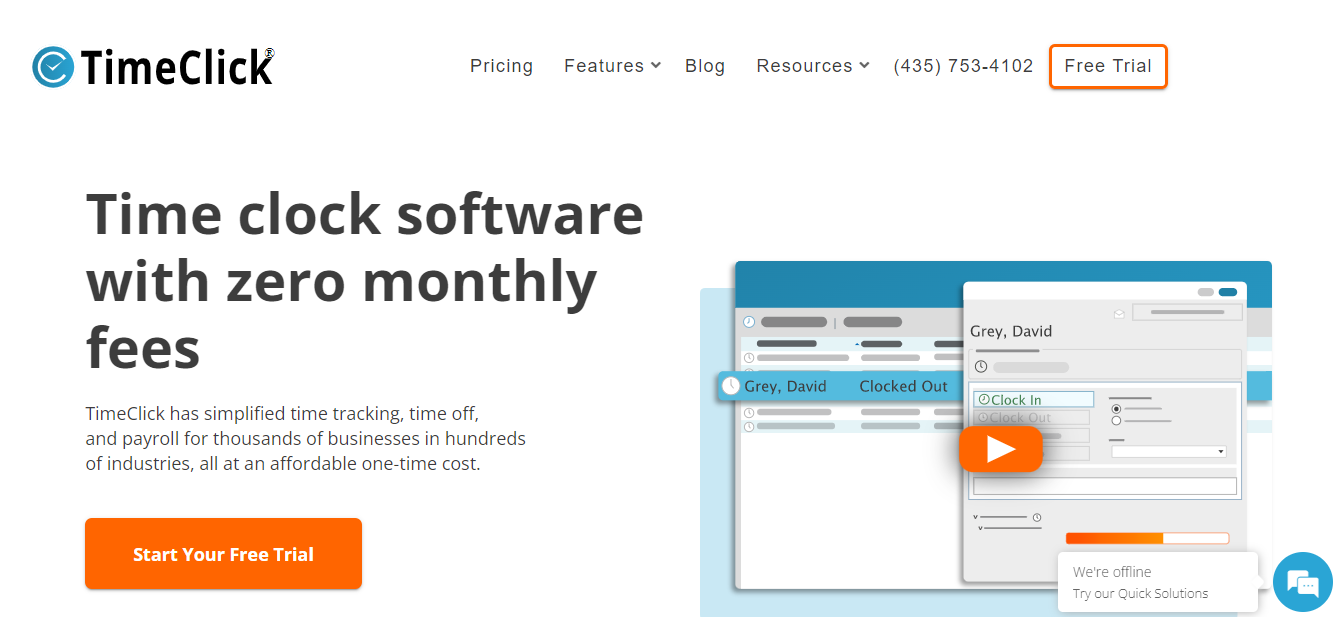 TimeClick helps you track employees' attendance, working hours, and PTO.
You can set up multiple departments to organize teams and download the clock on both desktop and mobile for on-premise and remote attendance recording. Using its custom reporting, you can monitor your staff activities and export timesheets for payroll.
If you want to monitor punctuality, you can restrict your employees from punching in before their shifts. You can also see who typically shows up late for work.
Your employees can anytime access their work schedules and request time off. You can set a limit on the PTO and automate your workflows, so you don't need to manually enter PTO in the timesheet.
Core Features
Department-wise time tracking.
On-premise and remote attendance marking.
Shift scheduling.
Leave, holidays, and PTO recording.
Approval system.
Timesheets.
Custom reports.
Admin control.
Mobile app.
Price
TimeClick charges annual fees for software usage. The minimum annual subscription cost is $250.
Purely HR delivers a suite of HR tools to manage attendance, time off, and timesheets.
Here, you can centralize your staff data, add multiple locations, and set up different PTO policies for each office. To record attendance, you can set IP restrictions and automate the time off workflows.
With the time clock dashboard, you can keep an eye on your employee's attendance and log their work hours.
One of PurelyHR's unique features is the Warning module. You can implement custom work violation policies to handle infractions online. This is a bonus feature that might come in handy while dealing with time theft or duty negligence.
Core Features
Time clock.
Time off management.
Timesheets.
Document storage.
Approval workflows.
Reporting.
Work violation policies.
Price
PurelyHR may charge from $5 to $105, depending upon the package you choose. You can add or remove any function from your package.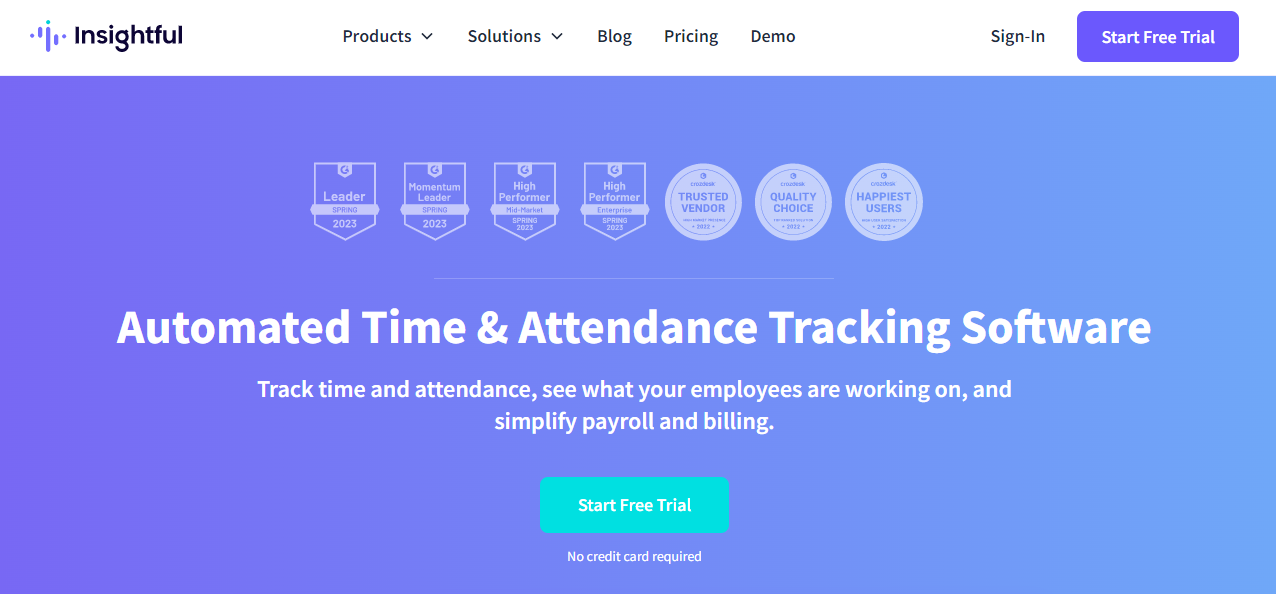 Insightful is best for a hybrid workforce. It's a screen monitoring software that provides cloud and on-premise solutions to help you record on-site and remote employees' attendance.
Using auto-clocks, you can track your employees' punctuality and work productivity. The app automatically records your staff's computer sign-ins to mark attendance and log unpaid and paid breaks to separate billable hours from private time.
Through productivity reports, you can get a breakdown of your staff activities to see how long they typically work on projects, how frequently they come late, and how much time they spend on idle browsing. It gives you measurable data to generate accurate timesheets.
Core Features
Employee screen monitoring.
Auto-attendance.
Unpaid and paid breaks.
Productivity tracking.
Activity reports.
Stealth mode.
Cloud and on-premise app.
API.
Price
Insightful per-employee charges start at $7. You can request custom prices.
On the Clock is built for small businesses. For $3.50 per user, you can get an online time clock, GPS tracking, PTO management, and staff scheduling.
The software provides a drag-and-drop scheduler to plan shifts and desktop and mobile apps for attendance tracking. Whether your employees work from the office, home, or site, they can clock in and out effortlessly with fingerprint sign-in.
Through live feed, you can easily track your staff location and check who's in the office and who's taken a leave of absence.
You can integrate On the Clock with your accounting software to synchronize the data and process payroll.
Core Features
Desktop and mobile time clock.
GPS tracking and fingerprint sign-in.
Employee schedule.
PTO management.
Approval system.
Overtime alerts.
Payroll integration.
Price
OTC prices change with the user number. The minimum rate is $3.50.
You can try it for free.
When I Work is a leading employee attendance software. It provides a powerful schedule builder and an online time clock to help you keep accurate records of your staff's attendance.
You can add its time tracking clock on any device to make checking in and out easier for your staff and turn on alerts to get notified of late and missed shifts. With its GPS tracker and auto-time tracking tool, you can eliminate buddy punching and time thefts.
Using its mobile phone, you can check your employee's schedules, re-arrange shifts, and approve and decline time off requests.
Core Features
Shift scheduling.
Time clock.
Attendance notification.
Geo-fencing.
Availability and PTO management.
Timesheets and payroll.
Attendance report.
Team chat.
On-demand Pay.
Price
When I Work charges $4 to $8 per user. You can take a free trial.
Conclusion
Employee attendance software can solve several problems for you. It can eliminate manual data entry, improve payroll accuracy and give you more control over your staff work schedules.
On the other hand, it can also be used to divide responsibility among staff and managers, making the attendance system self-sufficient and transparent.
Consider the system you want to implement in your company and pick the app that best suits your needs. Good luck!