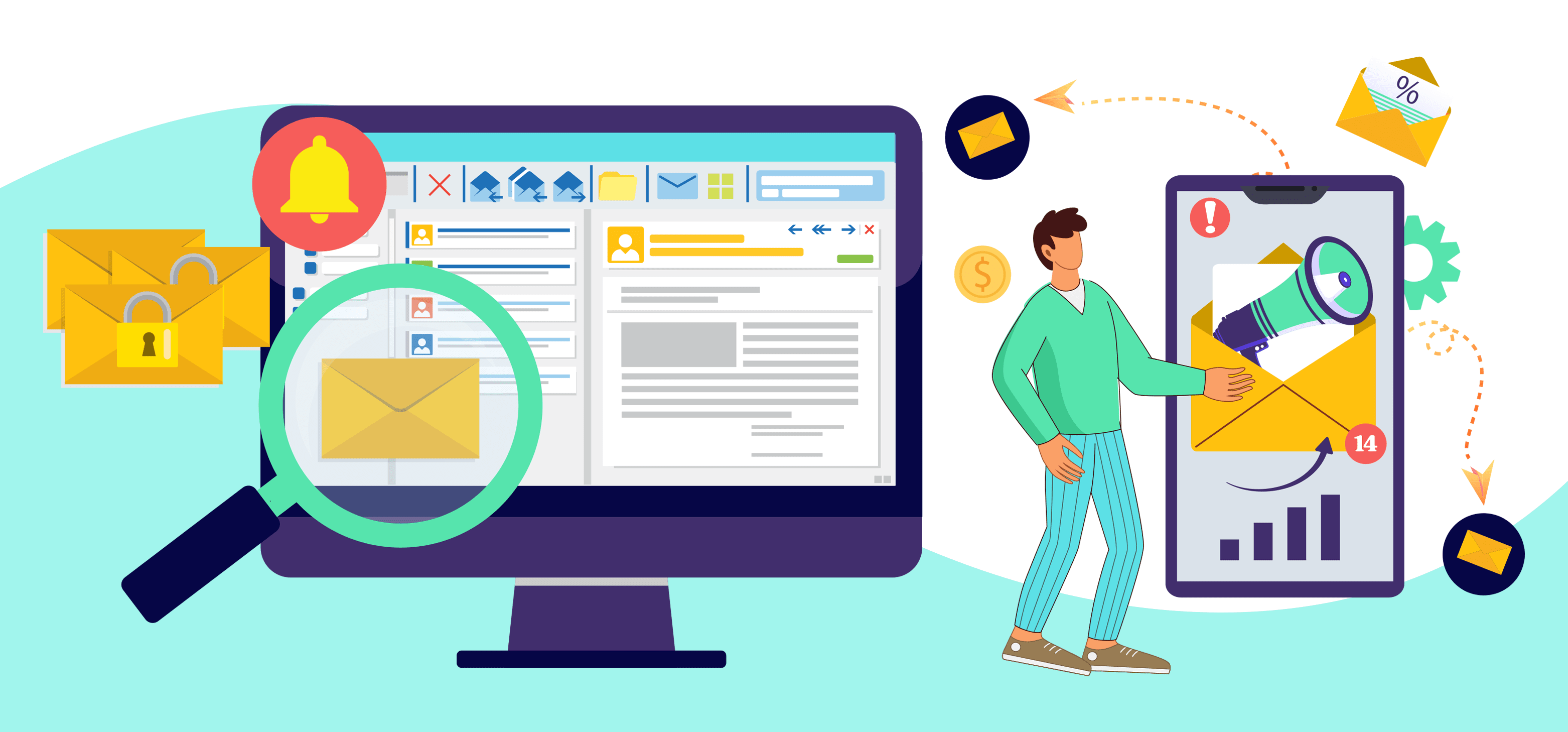 People, on average, spend 28% of their time on emails.
Every time you receive notifications, you feel the urge to check your mail, breaking your concentration from work.
And the worse thing is a major portion of those messages often turn out to be irrelevant, wasting a chunk of your hours and ultimately affecting your performance.
Email productivity apps help you reduce distractions and organize your inbox.
You can get more work done in less time and improve your response rate.
What is an Email Productivity App and What Features to Look for?
Email productivity app is an umbrella term for software products that deliver organizing, collaborative, and automation tools.
Some of the apps are built for specific purposes like inbox cleaning, but most platforms are typically flexible and versatile.
Below are some of the features you should look for in an email productivity app;
Unified inbox to oversee multiple accounts in one place.
Ability to sort, delete, and block irrelevant emails.
Auto-archive important and old emails.
Collaborative tools to share messages.
Web and mobile support.
Note the above functions you need and compare them with the below list to find the ideal tool.
Let's check out the reviews.
Sanebox is an email organizer. It extracts unimportant messages from your inbox and drops them in separate folders to read them later.
The tool uses AI filters to monitor your behavior and then develops a pattern to follow. For example. If you drag an email to its newsletter folder, Sanebox will automatically send future messages from that particular sender to the designated file until you instruct otherwise.
You might have to train it initially to recognize which email should go where, but once Sanebox learns your preferences, you won't have to worry about missing any priority message.
The app works well with major email providers, such as Gmail and Yahoo, but here's a link to check compatibility.
Core Features
Email manager

AI filters.

Custom folders.

Do not disturb feature.

Daily summary of messages.

Bulk deleting.

Multi-device support. 
Price
Sanebox lets you add any feature you want to your subscription package. Its basic plan delivers two functions of your choice for $4 per month. 
If you need access to all features, buy its Dinner plan for $17 per month.
Shift is a desktop app that lets you manage all your email accounts, cloud drives, calendars, and team messages from one place.
You can easily toggle between your accounts, access the calendar with a single click, and do a unified search to retrieve files from your inbox and cloud storage.
For project management, you can build different workspaces and integrate team messengers like Slack to keep your communications separate.
What makes TryShift unique is its versatility. Aside from messages, you can connect your social media accounts and any software or extension you typically use. The platform only provides a centralized place for work and doesn't change your app's interface.
Core Features
Unlimited Gmail and Outlook addresses.
Workspaces for teams.
Cloud drive and calendar integration.
Unified search bar.
Supports social media accounts, messengers, CRMS, and other third-party platforms.
Chrome extension.
Compatible with both Windows and Mac.
Price
You can download Shift for free. It charges $150 for premium and team features.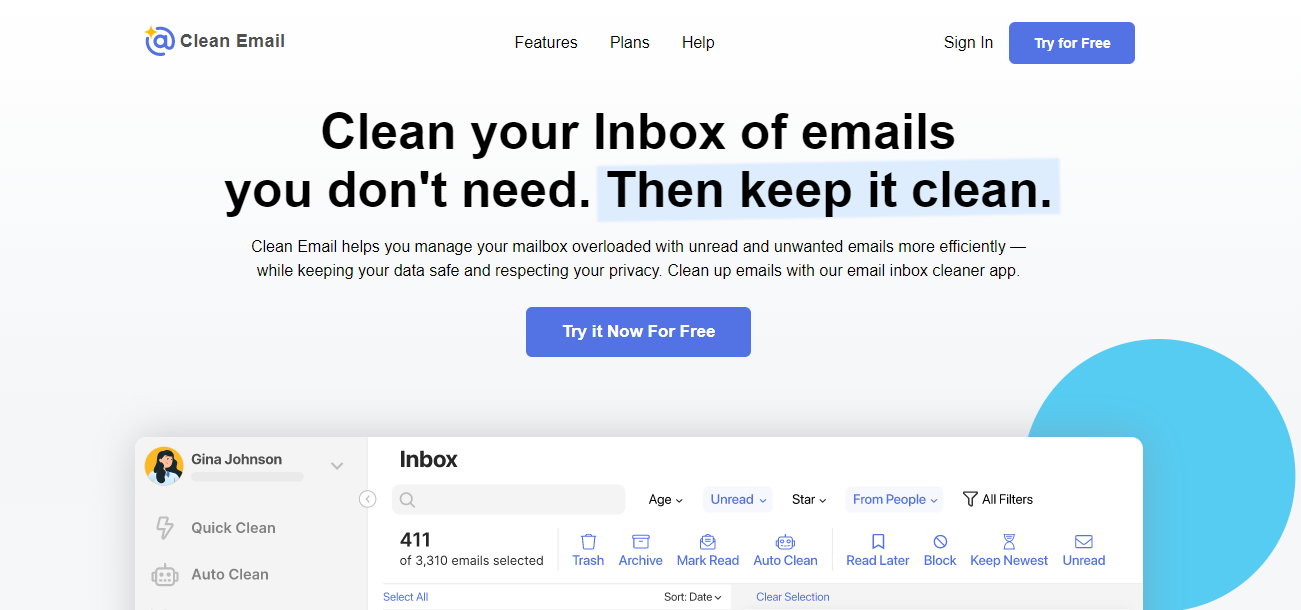 CleanEmail does exactly what it says. It deletes old messages and regularly removes unwanted emails to keep your inbox clean.
You can categorize your emails in groups and tag them with keywords. The classification helps you quickly find priority emails and delete irrelevant messages, like social media notifications.
For newsletters, Clean Email offers unsubscribing and pausing options. If you like receiving newsletters from your favorite brand but can't spare time to read them for whatever reason, you can pause them temporarily.
CleanEmail has good security features as well.
You can weed out bot messages, block unknown mail, and set a privacy guard to protect your personal information.
Core Features
Auto-archive and bulk deletion.
Unsubscribe or pause newsletters.
Bot-delivered and unsecured message alerts.
Categorizing emails.
Daily summary.
Compatible with email clients and devices.
Price
CleanEmail's prices range between $10 and $30.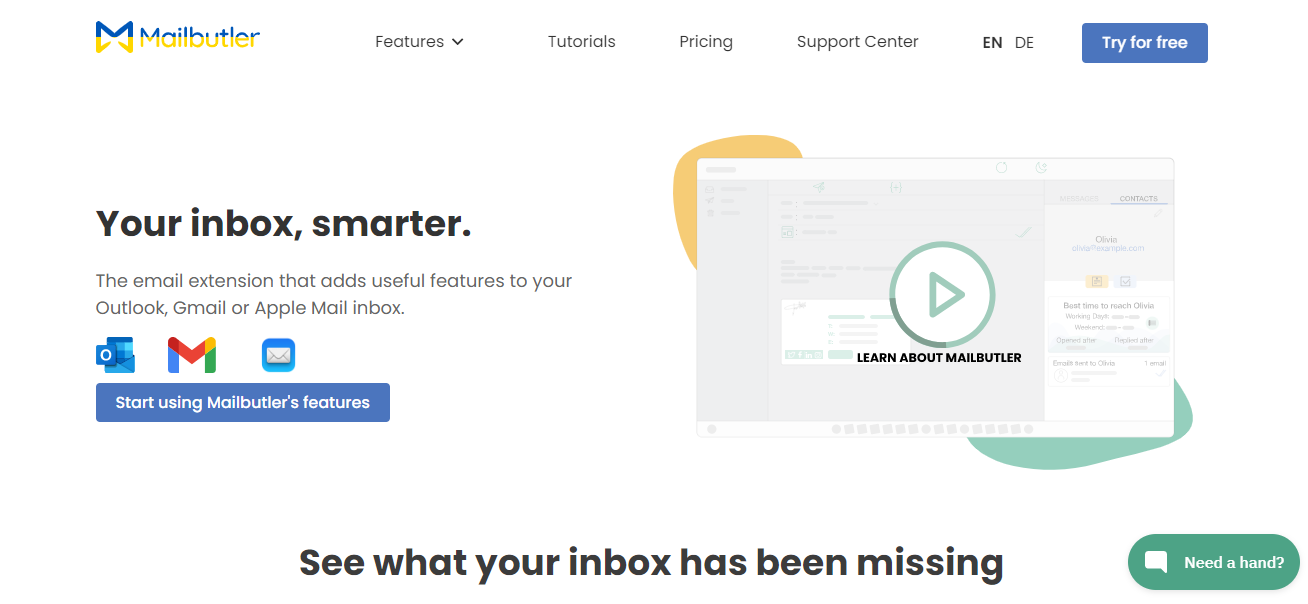 Mailbutler is an email extension for Gmail, Outlook, and Apple. It delivers ten different productivity features to help you declutter your inbox and streamline work communication.
You can schedule emails, snooze non-urgent messages, turn emails into tasks, and attach notes.
For quick drafting, you can save various templates with placeholders, so when you send a message to, say, John, the app automatically adds John in the recipient's name.
The best feature of Mailbutler is contact management. You can include additional information in your contact card and get valuable insights on the recipient to personalize conversations.
Core Features
Schedule and snooze emails.
Convert emails into tasks.
Save templates.
E-signature option.
Contact management.
Support Gmail, Outlook, and Apple.
Price
Mailbutler's basic plan is free to use, and its premium subscriptions cost a minimum of $8 per month.
Boomerang is a scheduling and tracking app for Gmail users.
It comes with amazing time-saving features, such as sharing your availability to arrange meetings and temporarily pausing the inbox to receive emails from selected senders only.
Some of the things you can do with it include booking meetings directly from the calendar, tracking your email's open rate, and setting alerts to get notified if someone fails to respond.
Its most interesting feature is Respondable. It's an AI assistant that monitors your composition and offers tips to optimize your message. It enables you to draft better emails and increase your response rate.
Core Features
Email and meeting scheduling.
Snooze and pause to receive priority emails.
Response tracking.
Content insights.
Reminders and alerts.
Follow-up message automation.
Mobile support.
Customization.
Price
Boomerang prices start from $5. You can try it for free as well.
Mailmanager is an Outlook organizer. It is built for companies that want to incorporate a centralized system for their employees.
The app's core function is auto-filing. Meaning, it predicts your filing locations based on your historical pattern and automatically archives emails and other notes to the related folder. If your filing system isn't well-organized, its AI assistant suggests suitable locations for email recording to help you with filing.
Another function you'll like is its advanced search filter. You can quickly retrieve important emails and access your team's messages.
Mailmanger integrates with popular cloud storage systems and has all three desktop, web, and mobile versions.
Core Features
AI-powered auto-filing.
Advanced search.
Conversation trail history.
Reminders and summaries.
Integration with storage systems.
Compatible with desktop and mobile devices.
Price
Mailmanager shares prices on request. You can take a free trial or book a demo before purchasing it.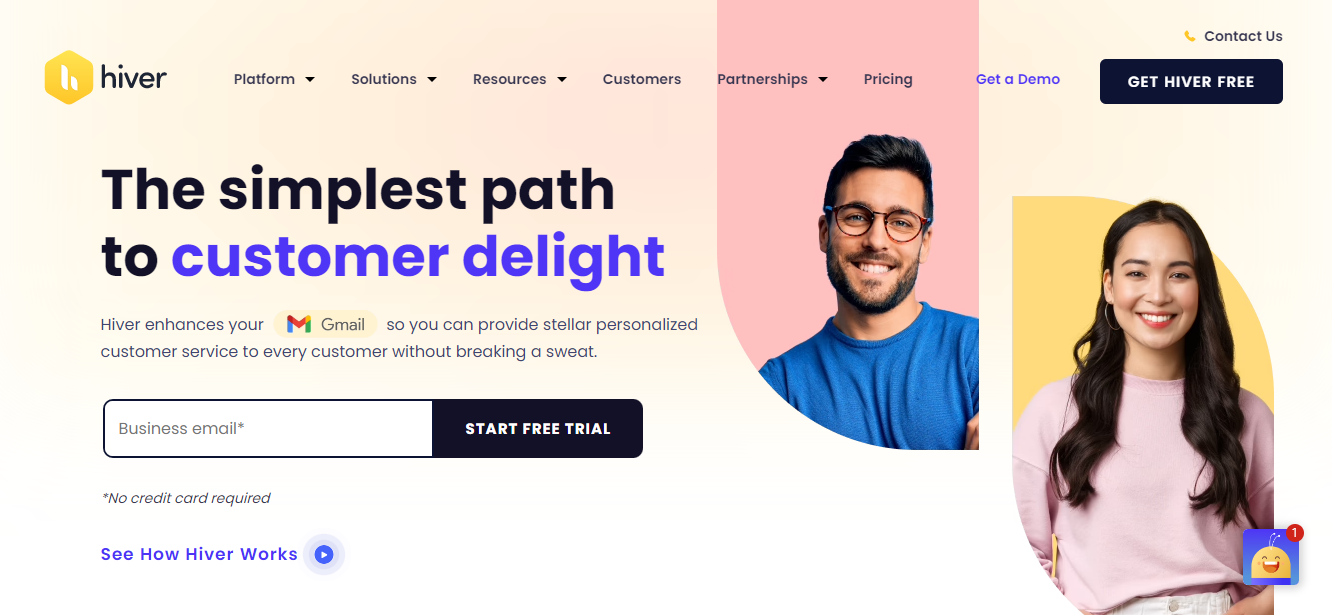 Hiver provides you with tools to run a helpdesk from Google Workspace. With this app, you can both manage internal communication and deliver multichannel support to customers via your Gmail.
Its shared inbox makes it easier to delegate emails, invite others to resolve queries and work together on drafts. You can set keyword triggers to automatically assign emails to the designated member, and add auto-tags on emails to categorize messages.
Hiver also offers an AI bot named Harvey for repetitive tasks and auto-suggestions. The assistant closes the conversation status on your behalf and helps you select email templates for specific responses. You can track all its actions and disable it anytime.
Core Features
Shared inbox.
Email templates.
Auto-assigning and tagging.
Team collaboration.
AI-bot for workflow automation.
Conversation tracking and analytics.
Integrations with productivity software
Multichannel support.
Compatible with iOS and Android.
Price
Hiver charges $19 to $69 per user.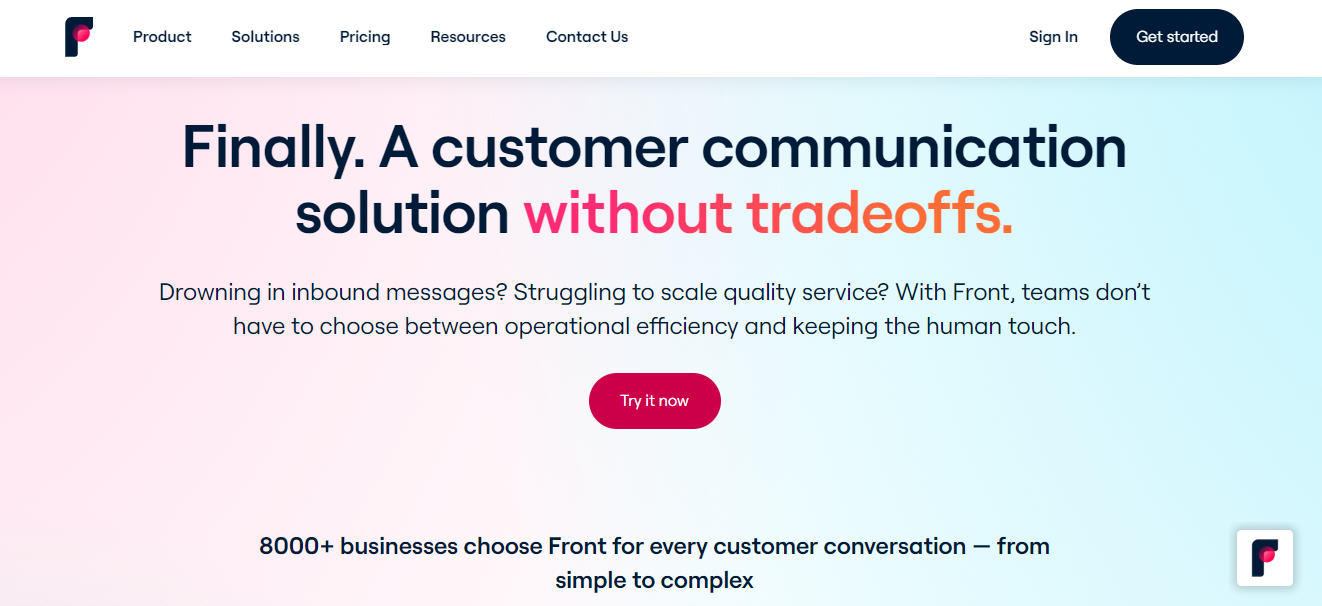 Front works similarly to Hiver, but unlike Hiver, Front isn't integrated directly into your email account. Instead, it centralizes your Gmail and Outlook in a unified inbox.
Its interface is familiar, so there's a little learning curve. You can keep your and your team's inbox separate and even connect the SMS and social media channels to your account.
Some of its basic functions are team communication and workflow automation. You can share drafts, delegate conversations, and sync the calendar to schedule meetings. With tagging and tracking, you can keep your emails organized and monitor your team's responses.
To manage your team better, you can create multiple shifts and automatically assign emails to members with the least workload.
Core Features
Gmail, Outlook, SMS, and social media account integration.
Individual and shared inbox.
Team collaboration.
Smart automation.
Conversation tracking.
Analytics and customer insights.
API access.
Integration with CRM and messaging platforms.
Price
Front's pricing starts from $19.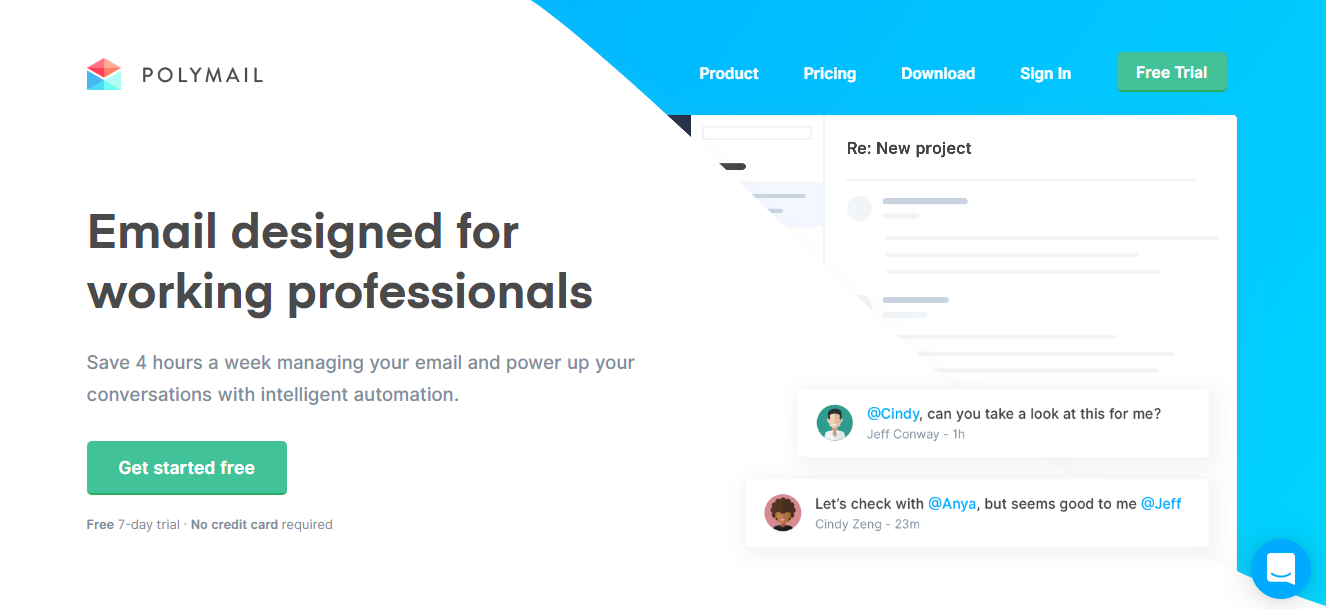 Polymail is best for both independent professionals and sales teams.
It integrates with major email providers like Gmail and Outlook, allows up to 20 user accounts, and supports Salesforce CRM.
You can build and automate email threads, share your calendar to show availability, and track messages.
To take a break, you can snooze your inbox and activate a canned response to let people know you're out of the office.
If you work with a team, you can restrict views and set privacy to share specific messages with selected persons only. With its conversation insights, you can monitor your team's activities and oversee their communications.
Core Features
Shared inbox.
Email templates and automation.
Conversation tracking.
Team collaboration.
Snooze and schedule messages.
Calendar and CRM integration.
Out of office auto-reply.
Contact management.
Price
Polymail's basic account costs $10.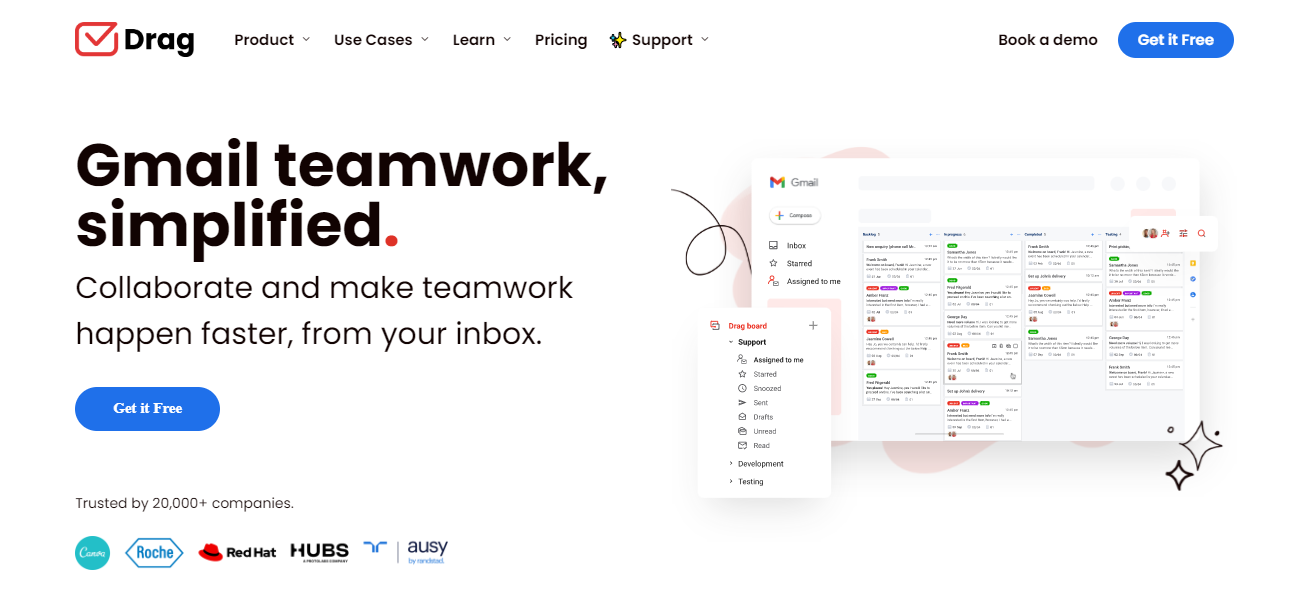 Drag provides a Kanban board folder and a shared inbox to help you develop a visual workspace inside your Gmail.
You can create multiple boards, drag emails across them to assign tasks, and use its team chat to communicate your instructions. The app has a collision detection function that alerts you when two team members are working on the same job to avoid duplication.
Within the shared inbox, you can talk to others using your department alias and swap emails with your team. To reduce your workload, you can schedule emails, automate repetitive follow-up messages and turn on the tracking to see who reads your emails.
Core Features
Gmail shared inbox.
Kanban board.
Email templates.
Team collaboration.
Workflow automation.
Conversation tracking.
Analytics.
Multi-device support.
Price
Drag charges a minimum of $10 per month. You can try its basic features for free and book a demo to explore its premium functions.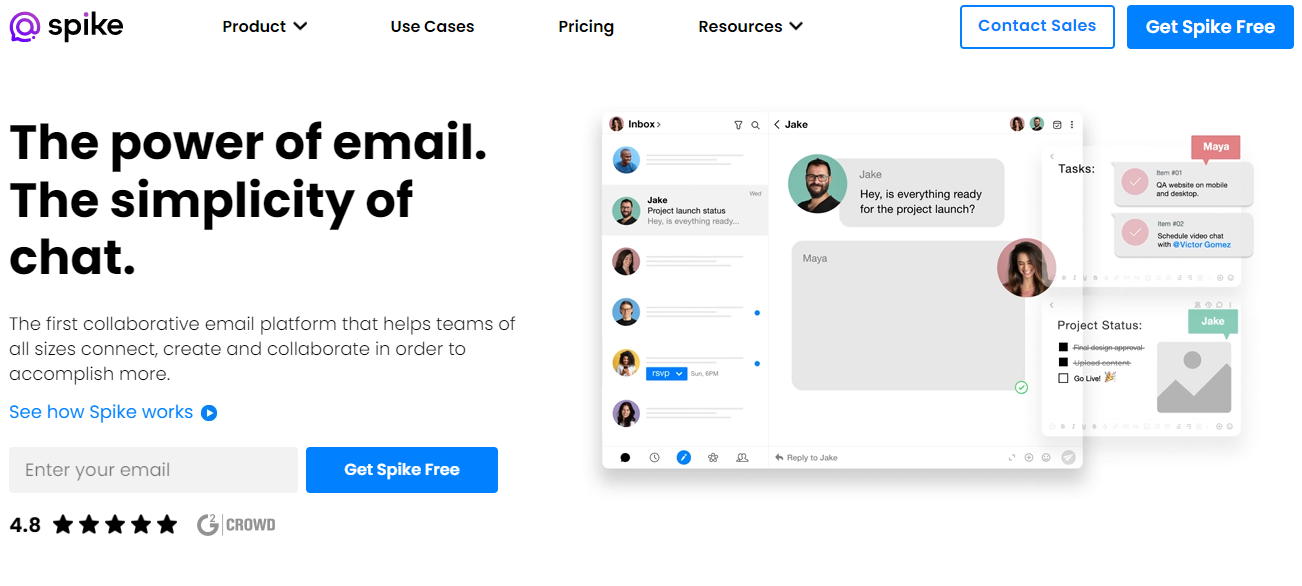 Spike offers a smart inbox to simplify team communication. It converts email threads into a clean chat format, brings priority mail to the top, and archives old messages in bulk.
You can create groups for joint conversations, send audio messages, and start video meetings on the spot. With its cloud integration option, you can attach large files from Google or OneDrive and preview them without downloading each file.
One feature you'd find extremely useful is its custom notification. You can assign sounds to contacts to recognize the sender by its notification music. It is a perfect tool for those who can't check emails but also don't want to snooze their inbox in case they miss any urgent message.
Core Features
Unified inbox.
Email conversations.
Team collaboration.
Priority mail option.
Bulk deletion.
Group messaging.
Search bar.
Calendar and video meeting.
Cloud integration.
Price
Spike's monthly subscriptions cost $8 to $16. Its basic plan is free.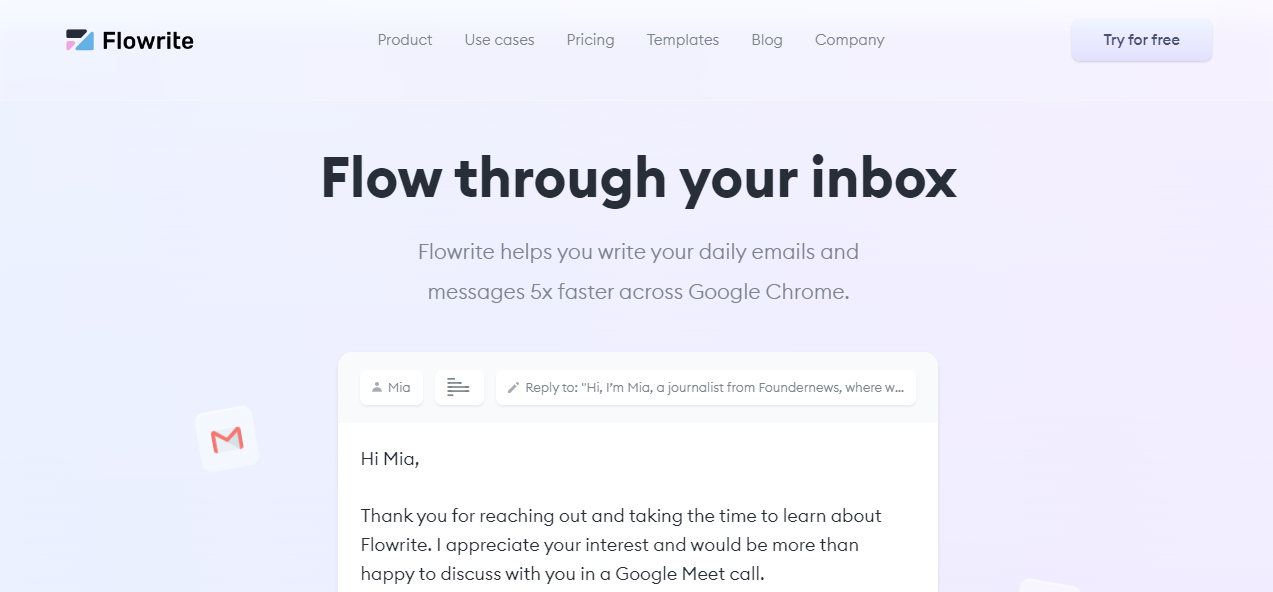 Flowrite is an AI content generator. It connects to your email composer and automatically drafts formal responses to help you shoot quick responses.
Its template library covers almost every department correspondence, from sales and customer support to Human resources and accounts. Whether you need to ask for meeting availability, share product updates, or request payment, you'll find relevant templates on Flowrite.
You can switch the writing tone from formal to friendly and include additional instruction to generate tailored responses.
Overall, it's incredibly time-saving and integrates with LinkedIn and professional social networks.
Core Features
AI-writer.
Unlimited content generation.
Web tool and Chrome extension.
Template library.
Tone selection.
Integration with email clients and social accounts.
Price
Flowwrite charges €12 per month. You can download its extension for free and try it for 30 days.
Conclusion
An organized inbox can make a lot of difference in your productivity.
You can manage your correspondence with ease, automate time-consuming jobs, and improve communication.
Take advantage of these productivity apps to develop a better email management system. Good luck!