Helium 10 is a popular software suite designed to assist Amazon sellers with optimizing their business and increasing sales.
With a huge range of tools for product research, keyword optimization, listing enhancement, and sales analytics, Helium 10 is an all-in-one solution for ecommerce sellers.
It eliminates the guesswork involved in finding profitable niches and high-demand search terms. And that's just a tiny part of the equation.
While the subscription plans don't come cheap, Helium 10 offers a complete solution for the ones starting out as well as established Amazon FBA & Walmart sellers and brands looking to scale up.
In this guide, we'll provide an in-depth review of Helium 10.
Whether you're a veteran seller or just starting out, read on to see how Helium 10 can help take your ecommerce business to the next level!
Our Verdict (TL;DR)
Helium 10 is an invaluable tool for any Amazon seller serious about speeding up the whole process.
It excels at comprehensive product and keyword research, listing optimization, detailed sales analytics and tracking, among other features.
In sum, Helium 10 conflates into your workflow with over 30 different tools working together to provide, what we all like to hear, "MORE BUSINESS".
Helium 10 Reviews and Ratings
| Review Aggregator | Ratings (out of 5) |
| --- | --- |
| GetApp | 4.3 |
| G2 | 4.2 |
| TrustPilot | 4 |
| Capterra | 4.3 |
Helium 10 Overview
Helium 10 is one of those "too good to be true" situations that actually lives up to the hype. As an entrepreneur trying to make it in the cutthroat world of ecommerce, you need every advantage you can get.
And Helium 10 provides a boatload of advantages:
Product Research: Helium 10 product research tools are the real deal. You can spy on profitable niches, drilling down on actual search volume, ratings, dimensions and more. This allows you to identify money-making products before your competitors fold their blankets.
Keyword Research: Helium 10 takes the process of keyword research and makes it stupidly simple. Their Cerebro keyword tracker allows you to generate hundreds of relevant keywords and track their performance over time.
This means you can actually rank for terms people are searching for instead of wasting months targeting worthless keywords.
Listing Optimization: Their listing builder makes it easy for non-techies like us to create high-converting listings that convert at 5-10x industry averages. And you don't have to get dirty with copywriting or A/B testing—their AI handles all that for you.
Operations: Helium 10 streamlines everything, from inventory and shipment tracking to reconciliation and feedback monitoring.
I could go on and on about their analytics, PPC and marketing tools, but you get the idea.
What We Like About Helium 10
Comprehensiveness: Helium 10 offers a suite of 30+ tools that cater to the unique needs of e-commerce sellers.
Useful for Amazon Sellers: Helium 10 is functional and effective, especially for tasks like keyword research, market insights, and inventory management.
User-friendly interface: It is intuitive and easy to use, even for beginners. Clean dashboards make navigation simple.
Accurate data analytics: Helium 10 crawls Amazon frequently to provide real-time, accurate sales estimates, keywords, and product data.
Where Helium 10 Can Improve
Limited ASIN Tracking: Some users have mentioned that the ASIN tracking limit has been reduced, leading to inconvenience for sellers with many products to monitor.
Steep learning curve: The breadth of features means there is a lot to learn when getting started. Can be overwhelming initially.
Privacy concerns: Some discomfort about allowing third-party software access to your Amazon or Walmart accounts.
Now that you have a contour of what Helium 10 is and what it can and cannot do for your business, let's explore the tools and features it provides and the best ways you can use it.
Insights Dashboard by Helium 10
Helium 10's Dashboard Insights provides sellers with actionable metrics and data to help optimize and grow their Amazon businesses.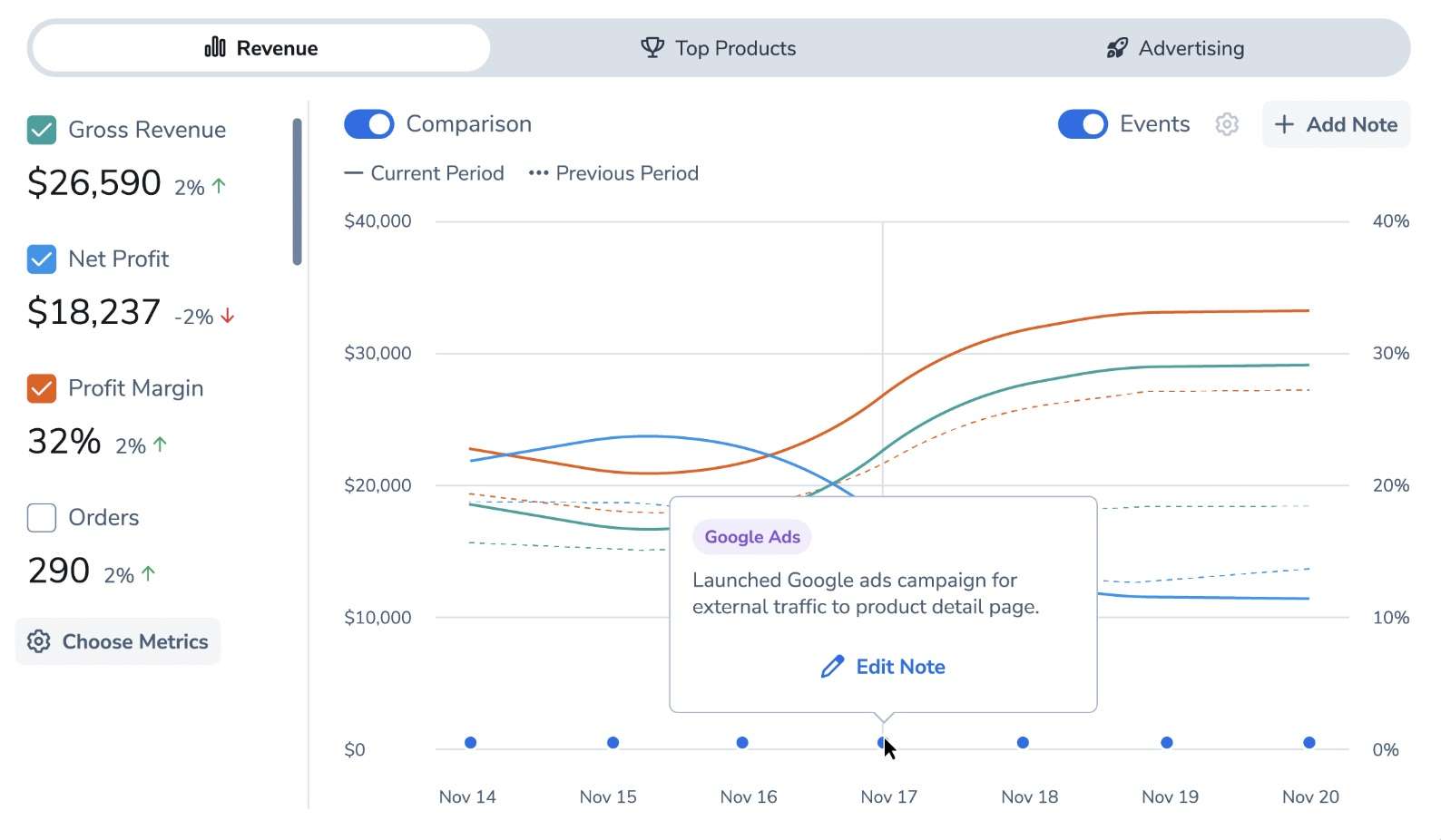 With insightful snapshots of key performance indicators, it allows you to quickly identify areas that need your attention.
The main dashboard showcases important metrics like your gross revenue, sessions, conversion rate, and more over custom date ranges.
One of the most useful insights is inventory tracking.
As long as you have Helium 10's inventory management system enabled, Dashboard Insights will notify you when your inventory levels are running low.
This allows you to restock items before they run out of stock and hurt your listing's placement and sales.
The dashboard also scans your listings and highlights opportunities to optimize them.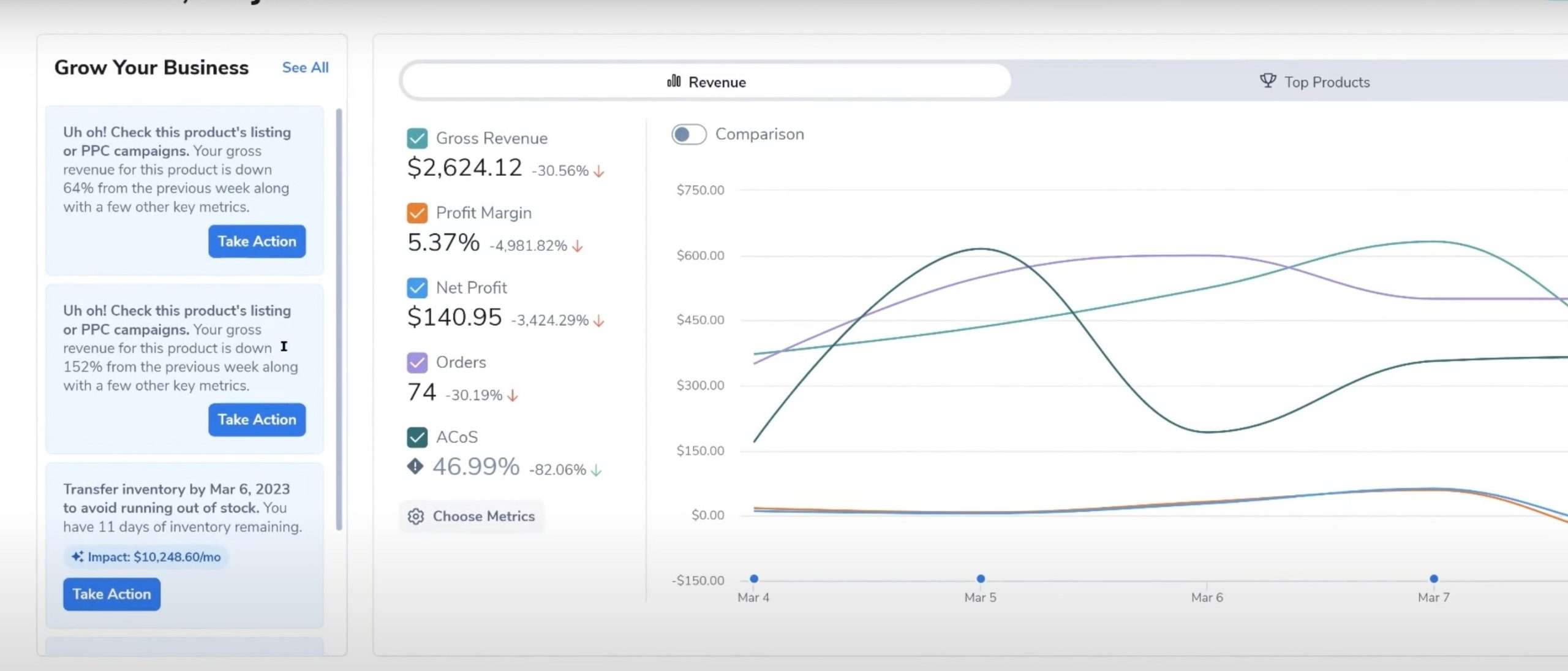 For example, it may point out listings with missing capitalized letters in bullet points, a lack of white background product images, or other issues that could improve the listing quality.
Each insight comes with clear and actionable recommended next steps.
For instance, if you have many unsupported product claims flagged by Amazon, it will advise filing claim responses. Following through on the recommendations can lead to more sales and fewer issues with Amazon.
Product Research Tools
Helium 10 offers three powerful product research tools to help you identify profitable products, understand market demand, and gain a competitive edge.
Here are those tools:
1. Chrome Extension
Helium 10 offers a free browser extension that allows quick on-the-fly product analysis while browsing Amazon.
It provides a suite of capabilities to conduct comprehensive product and keyword research, analyze reviews, find suppliers, grab ASINs and more—all from the browser.
The extension essentially puts the power of Helium 10's robust databases and analysis features at your fingertips while browsing Amazon or Walmart.
With just one click, you can access millions of data points, customer reviews, sales estimates, keywords, and supplier information on Alibaba to identify lucrative product opportunities and make data-driven decisions.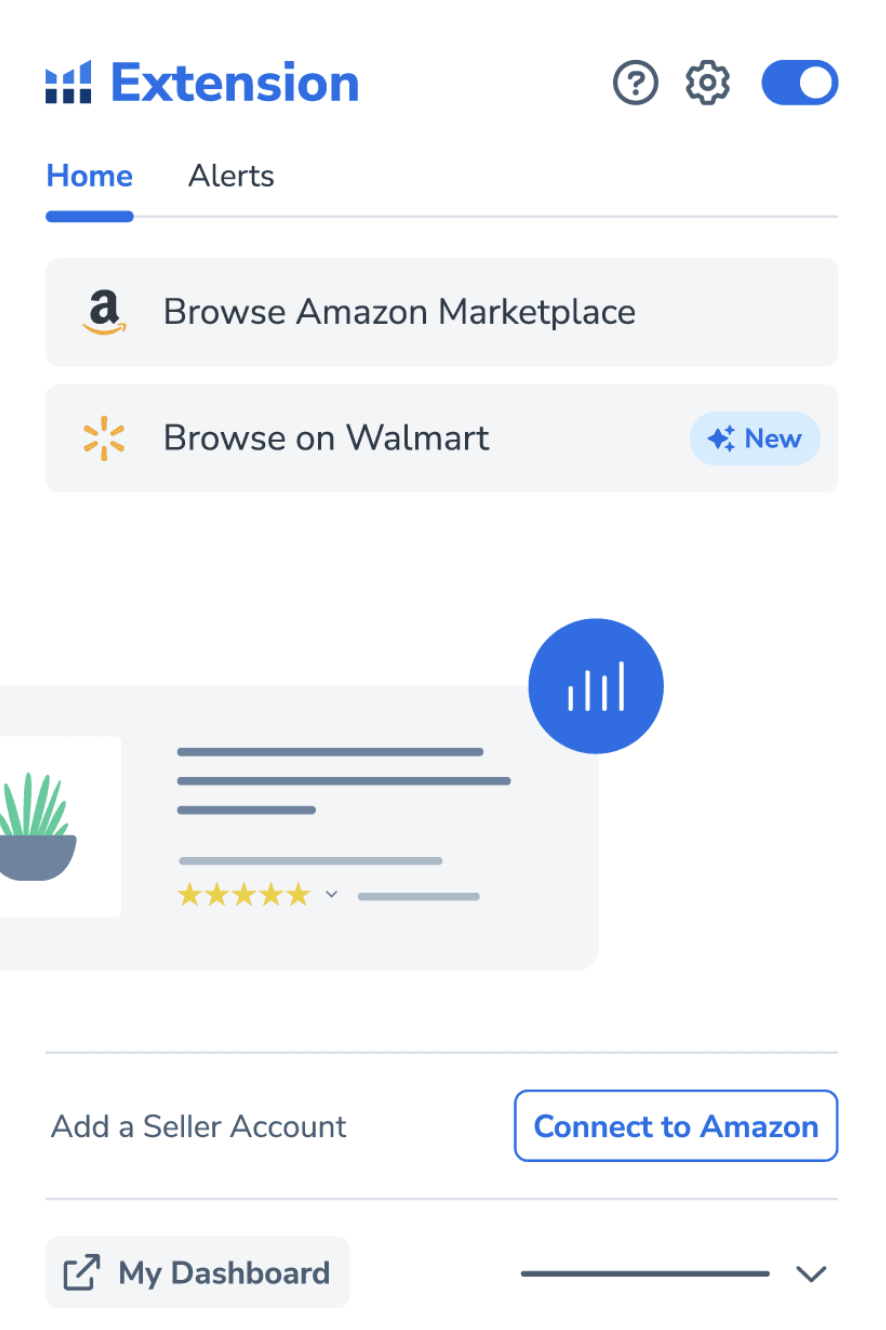 Some key use cases for the extension include:
Product Research: Quickly analyze any Amazon or Walmart product to understand estimated sales, revenues, dimensions, ratings and more.
Keyword Research: Discover high-performing keywords and optimization opportunities related to a product.
Review Analysis: Summarize and extract key customer feedback from reviews.
Supplier Finder: Easily find suppliers on Alibaba to source products.
ASIN Grabber: Obtain ASINs for creating effective sponsored ads.
2. Black Box
Black Box is an Amazon product research tool designed to help sellers find profitable products to sell on Amazon.
It allows you to search Amazon's catalog of over 450 million products using custom filters to identify high-demand, low-competition items.
Black Box has dozens of filters you can use to narrow down your search results.
For example, you can filter by:
Product category
Estimated monthly sales
Number of sellers
Price range
Weight
Review rating
Number of images
Once you apply your desired filters, Black Box will show you a list of products matching those criteria.
You can then sort, analyze, and organize these results using Black Box's other features.
How to Use Black Box Effectively?
Follow these steps to get the most out of Black Box:
Set your search criteria: Determine the specifics you want in a product, like a price range, monthly sales, reviews, etc.
Apply filters: Use the custom filters to narrow down the Amazon catalog based on your criteria.
Analyze results: Look at factors like number of sellers, competition level, opportunity score, etc.
Save promising products: Organize and bookmark products worth exploring further.
Uncover new niches: Leverage smart filters and unexpected ideas to find untapped opportunities.
Monitor and iterate: Check back regularly and adjust filters to stay updated on market trends.
By leveraging Black Box's powerful filtering capabilities and using it alongside other product research tools, you can efficiently discover lucrative new products to sell on Amazon.
3. Xray
Xray is a powerful all-in-one product research and analysis tool that provides detailed and advanced data and insights about products listed on Amazon.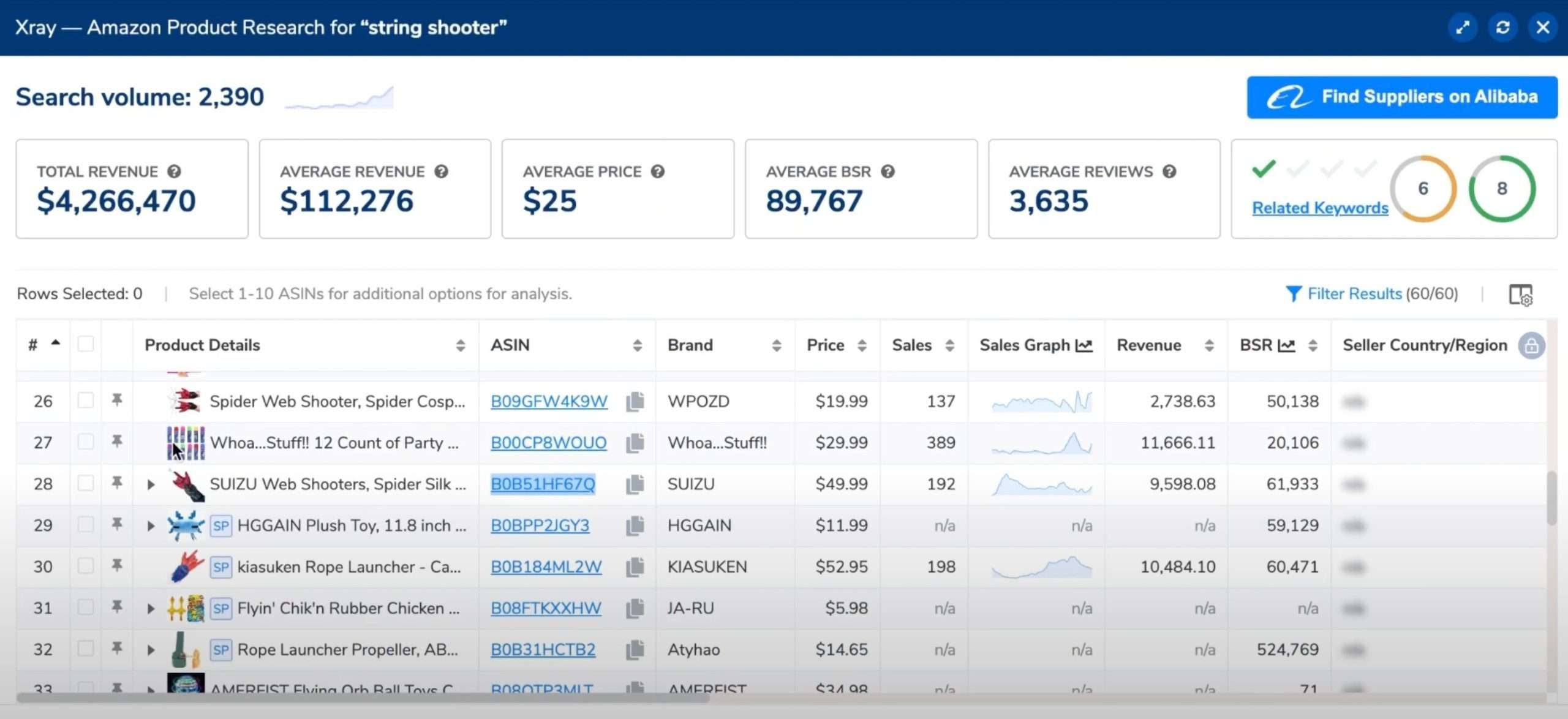 It allows you to analyze the Amazon Marketplace, conduct competitor research, find profitable niche opportunities, and make data-driven decisions about your ecommerce business.
Xray also helps you find keywords that your competitors are ranking for and identify lucrative long-tail keywords with less competition.
Furthermore, you can analyze competitors' pricing, reviews, sales rank, and inventory levels to inform your own product listings and pricing decisions.
Not to mention that it allows you to export Xray data to CSV/XLS for further analysis and integration with other tools.
How to Use Xray?
Step 1: Enter a Keyword or ASIN
Start your search by entering a relevant keyword or ASIN into Xray to pull up related products.
Step 2: Analyze Product Opportunities
Use the sales estimate data, BSR, reviews, and other metrics to find profitable product opportunities. Look for high-demand and high revenue potential.
Step 3: Research Keywords
Dig into the keywords your competitors are ranking for. Identify low-competition long-tail keywords to target.
Step 4: Evaluate Competitors
Compare competitors based on pricing, sales, reviews, and BSR. Learn how you can differentiate.
Step 5: Export and Analyze Data
Export data to dive deeper into trends and opportunities. Integrate with other Helium 10 tools.
With that out of the way, let's move on to Helium 10's keyword research tools.
Keyword Research Tools
Helium 10 offers two phenomenal Amazon keyword research tools that can help you find high-performing keywords, improve rankings, and craft better product pages and campaigns on Amazon.
Here is an overview of both:
1. Cerebro
Helium 10 Cerebro is a powerful reverse ASIN lookup tool that enables Amazon and Walmart sellers to analyze competitor products and gain insights into the keywords driving sales and traffic for those listings.
Cerebro allows you to input ASINs or product IDs to retrieve valuable keyword data related to a competitor's product listing.
Cerebro also provides insights into:
Keyword ranking for the competitor's product
Search volume data for those keywords
And the average organic position of the keywords.
Here are some tips and steps you can consider while using Cerebro:
Steps To Use Cerebro Effectively
Select a Baseline Product: Start by choosing a low-selling product like yours as a baseline for analysis.
Input Competitor ASINs: Input ASINs of top-ranking competitors in your niche that match your product in terms of form, function, and price.
Analyze Keyword Data: Use Cerebro's keyword search to identify 10-15 top keywords driving traffic for those listings.
Filter and Refine: Leverage filters like search volume, competitor rank etc. to narrow down the most relevant, high-potential keywords.
Optimize Listings: At last, incorporate these top keywords in your product listings to boost visibility and sales.
2. Magnet
Magnet is an invaluable keyword research tool that helps you find high-volume, relevant keywords that customers are searching for on Amazon and Walmart.
This allows you to understand buyer intent and create targeted product listings accordingly.
The coolest thing about Magnet is that it uncovers popular yet untapped keywords, even non-English phrases and typos.
What's more, it allows filtering keywords by metrics like sales volume and word count.
Here are some best use cases for Magnet:
Identify high-volume, high-relevancy keywords to target in listings.
Optimize listings with keywords customers are searching for.
Increase product visibility and organic traffic to listings.
Uncover popular yet undiscovered keywords to expand reach.
Magnet enables you to optimize your listings around keywords that matter, driving more traffic and sales on Amazon and Walmart.
Listing Optimization Tools
Helium 10 has a range of powerful Listing Optimization tools (four to be specific) to enhance each component of your Amazon product listing.
The primary goal of the Listing Optimization tools is to help you improve your Amazon SEO and drive more traffic to your product listings.
Here's an overview of the Listing Optimization tools and their capabilities:
1. Frankenstein
Frankenstein is an advanced keyword processing and management tool to assist you in optimizing your product listings.
With the ability to handle massive keyword lists containing thousands of terms, Frankenstein streamlines an otherwise tedious and time-consuming process.
One of the key features of Frankenstein is its ability to clean up and merge unwieldy keyword lists into a more organized and cohesive set of relevant keywords.
Through deduplication filters, it removes any duplicate or redundant terms.
It also eliminates irrelevant characters or words using customizable filters, ensuring you are left with only the most meaningful keywords.
2. Scribbles
Scribbles create optimized product listings that maximize sales.
With a user-friendly interface and a variety of features, Scribbles simplifies and enhances the process of optimizing listings for search ranking and conversion.
One of the key capabilities Scribbles offers is live keyword tracking.
As you edit your product titles, bullets, and descriptions, Scribbles tracks the keywords you use in real-time.
This allows you to immediately see how you're utilizing keywords and ensures you target only the most relevant, high-traffic terms that will drive organic traffic to your listings.
Scribbles also provides helpful metrics like character and word counts.
Using color-coded indicators, shows you when you're approaching the title character limit or exceeding Amazon's guideline word counts for bullets and descriptions.
3. Listing Analyzer
With Listing Analyzer, you can evaluate and improve your listings to outperform competitors.
Here's how it works:
Listing Analyzer allows you to import up to 10 ASINs to analyze key metrics and identify areas for optimization.
It generates an Optimization Score for each listing, assessing elements like titles, descriptions, back-end keywords, images, reviews and more.
On top of that, here are its features:
Measure listing power and optimize score for each product
In-depth optimization checklist evaluates all listing elements
Analyze competitor listings to inform optimization strategy
Import multiple ASINs to understand niche and market trends
With Listing Analyzer's step-by-step recommendations, you can create listings that convert browsers into loyal, repeat buyers.
4. Listing Builder
Listing Builder leverages AI-enhanced (integrated with ChatGPT) copywriting and keyword suggestions to generate persuasive, SEO-optimized listing copy.
Listing Builder provides you with a convenient dashboard where you can manage the status of all your product listings.
This centralized control allows you to monitor and update many listings from a single location.
To rank better and become more visible to their target audience, you also receive valuable keyword suggestions from Listing Builder.
Managing Day-to-day Business Operations With Helium 10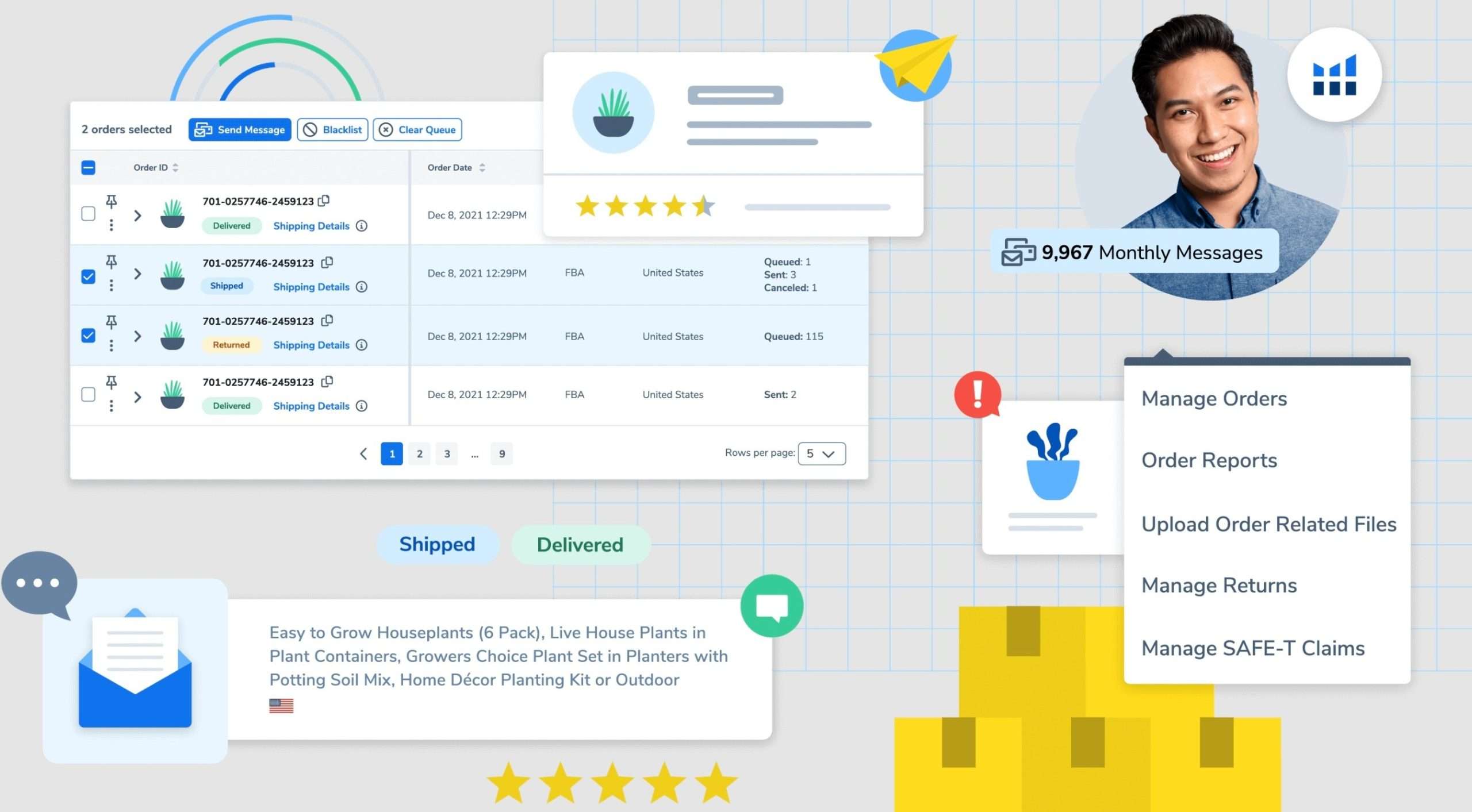 Helium 10 also comes with an Amazon Operations tool that is all about helping you manage your day-to-day Amazon business.
One of the core tools in Operations is the Amazon Inventory Management Software.
It streamlines your stock-keeping process, making it easier than ever to manage your inventory.
You can complete supplier orders and seamlessly send your inventory to Amazon. Plus, it keeps you informed with real-time quantity updates and restock recommendations, so you're always in the know.
But that's not all!
Let's talk about the other tools under Operations:
Refund Genie: It is a lifesaver when it comes to handling owed reimbursements. It helps you identify and recover your money for damaged, lost, or destroyed inventory.
Alerts: With Alerts, you'll receive timely notifications about changes in your listings, hijackers trying to steal your sales, and more.
Follow-Up: Follow-Up makes it easy to automate personalized emails to your customers, increasing your review count and strengthening your brand reputation.
Seller Assistant: This is your virtual assistant, making your daily tasks more manageable. It simplifies your business operations, allowing you to focus on growing your Amazon empire.
These tools take away the hassle of manual tasks and empower you to manage your business like a pro.
Analytics Features
Helium 10's Analytics tools provide you with the data-driven insights you need to boost your success on Amazon.
Here are the specific tools they offer:
1. Profits
It gives you a clear picture of your financial health across your product listings.
You can review gross profit data to identify sales trends and understand your profitability.
Keep track of important metrics like orders, units sold, ROI, profit margins, refunds, and more.
2. Market Tracker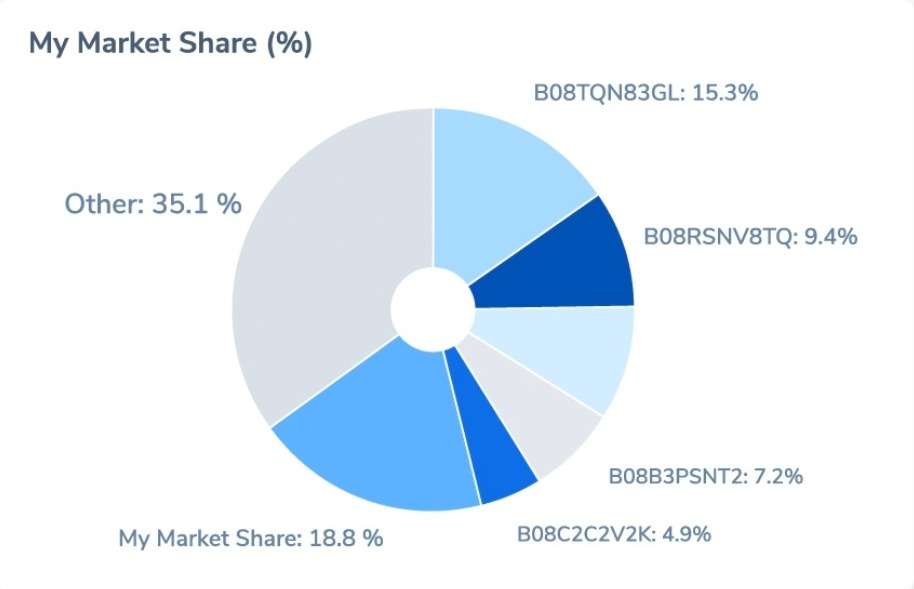 With this tool, you can check your competition and keep a close eye on their activities. Stay ahead of the game by tracking your competitors' products, prices, and sales performance.
3. Keyword Tracker
Helium 10's Keyword Tracker helps you stay on top of your keyword performance, allowing you to optimize your listings and boost your visibility.
4. Market Tracker 360
This advanced version of the Market Tracker tool provides even more in-depth insights into the market. You can analyze historical data, track trends, and identify potential opportunities to capitalize on.
Now, here's the exciting part: Helium 10 understands that you might be overwhelmed by all the data and numbers.
That's why they provide you with insights that truly matter. You won't get lost in "analysis paralysis" because they focus on what's essential for your success on Amazon.
Marketing Tools
Helium 10 does not fall behind in contributing to your marketing success, either.
Their phenomenal marketing tool "Adtomic" aids in Pay-Per-Click (PPC) Advertising, promotes brand awareness, and boosts customer engagement – all in one place!
Here's everything you need to know about it:
Adtomic
Adtomic is an Amazon PPC Tool that lets you run Pay-Per-Click campaigns like a pro.
One of the coolest things about Adtomic is its AI-powered capabilities.
It uses advanced optimization and automation techniques to make your advertising campaigns perform at their best.
Oh, and speaking of that, Adtomic gives you crystal-clear visibility into your PPC performance. You'll get important metrics like Total Advertising Cost of Sales (TACoS), Organic Ranking, and Sponsored Ranking.
Adtomic also offers three different campaign templates and custom bid algorithms that cater to your goals and experience level.
Whether you're a seasoned PPC pro or just getting started, Adtomic has got you all in.
Using Adtomic effectively
Efficient campaign management: Adtomic makes it a breeze to create, manage, and optimize your PPC campaigns. With its user-friendly interface and smart templates, you can quickly set up campaigns.
Advanced optimization and automation: Adtomic's AI-powered capabilities analyze your campaign data to offer smart suggestions and adjustments.
Tailored campaign templates: Adtomic offers three different campaign templates and custom bid algorithms designed to cater to your specific goals and PPC experience level
ROI tracking: Keep a close eye on your Return on Investment (ROI) using Adtomic's performance tracking features. It helps you identify the most profitable campaigns.
Adtomic lets you take control of your Amazon PPC campaigns, increase traffic, drive sales velocity, and save time while achieving your business goals.
Other Helium 10 Tools (Free)
Fortunately, it does not have to end here.
Besides all the premium tools that they offer, Helium 10 also comes with a bunch of free Amazon Seller Tools revolving around keyword research and advertising.
Here are all the free Helium 10 tools you can start using right now:
Free Amazon Keyword Tool: Uncover relevant keywords
PPC Audit: Evaluate ad campaigns
Chrome Extension: Insights while browsing Amazon
Amazon Anomaly Tracker: Track sales anomalies
Amazon Sales Estimator: Estimate potential sales
Amazon Trending Products: Spot hot products
URL Builder (GEMS): Create search engine friendly URLs for Amazon/Walmart
Now that you know what Helium 10 is and all the features and benefits it offers, it's time we discuss the price.
Helium 10 Pricing
Helium 10 offers a range of pricing plans that cater to different types of Amazon sellers.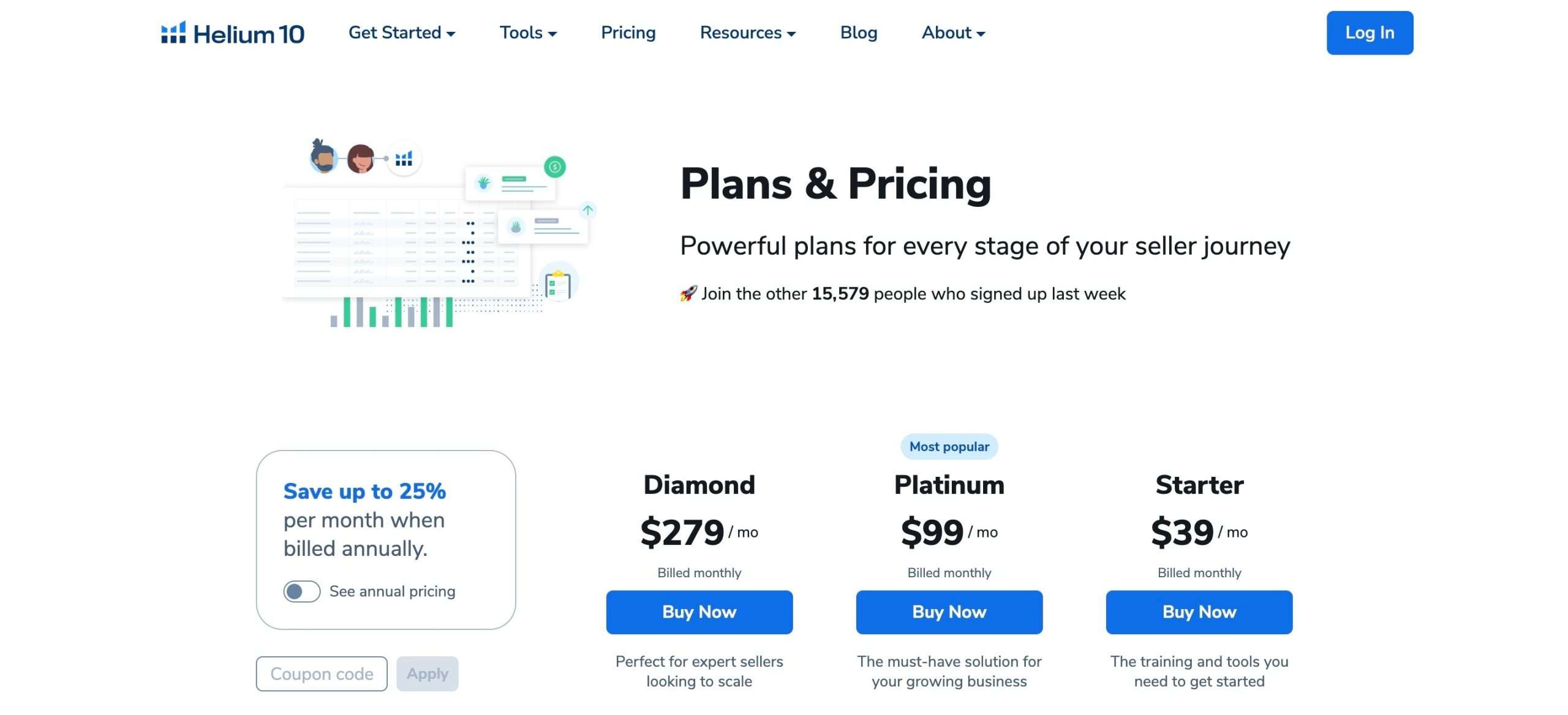 Here's a breakdown of their pricing:
Free Plan: With this free account, you can explore some basic features and free tools they offer.
Starter Plan: The Starter Plan costs $39 per month when billed monthly. It is ideal for beginners and provides the essential training and tools you need to get started with selling on Amazon.
Platinum Plan: The Platinum Plan costs $99 per month when billed monthly. This plan is suitable for growing businesses and provides a more comprehensive set of tools and features to support your Amazon selling journey.
Diamond Plan: The Diamond Plan costs $279 per month on monthly billing. It is perfect for expert sellers looking to scale their Amazon business. This plan offers advanced features and tools to help you achieve significant growth.
Custom Plan: If none of the above plans suit your needs, Helium 10 also offers a custom plan option. This allows you to tailor features and services according to your specific requirements.
Additionally, Helium 10 offers powerful add-ons to enhance any subscription. These add-ons include the A.I. Powered PPC Tool, Market Intelligence, and Exclusive Training.
Please note that a paid Helium 10 subscription plan is required to purchase these add-ons.
SIDENOTE: If you're uncertain about which plan is right for you, Helium 10 provides a seller journey quiz to help you find the perfect plan that aligns with your goals.
Start using Helium 10 for free →
Automate Ecommerce Tasks For Better Focus
By now, one thing is clear: Helium 10 is clearly an end-to-end ecommerce management solution developed to help Amazon sellers and brands optimize their business.
While subscription plans are an investment, they can pay for themselves many times over by helping you identify profitable niches, rank for the right keywords, create high-converting listings, and run effective PPC ads.
If you're ready to take your Amazon business to the next level, sign up for a free Helium 10 account today.
Start with their free browser extensions and tools, then consider exploring their paid plans based on your specific needs and budget.
Selling on Amazon can be easier and more profitable than ever before.