PPC advertisements—or sponsored ads — are one of the effective marketing tactics to increase your product visibility on Amazon.
They are based on a cost-per-click model, which allows you to display advertisement posters on Amazon and pay for only the number of times your visitors have clicked on your post.
You get a steady stream of traffic to your store, and Amazon earns the commission in return. A win-win for both.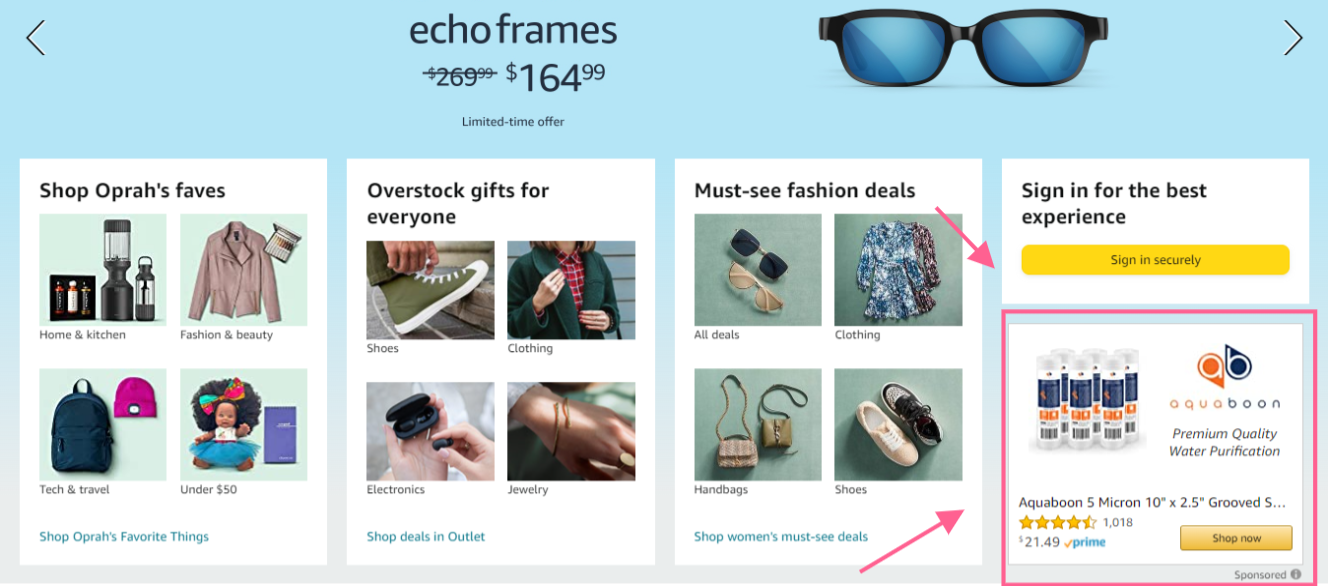 Now, while setting up your paid campaign is pretty easy, running it successfully is another matter.
Amazon is a highly lucrative platform. Over 1.5 million people actively sell their products on it, and almost all use some type of PPC advertisement to grab their customer's attention.
It makes it incredibly difficult to get your item ranked on the first page without a solid strategy, irrespective of how much money you spend on advertisements.
To help you get the maximum benefit from your campaigns, I have put together the seven Amazon PPC strategies that will give you the best chance to beat the competition.
Let's go over them one by one with examples for clarity.
1. Go for Interest Targeting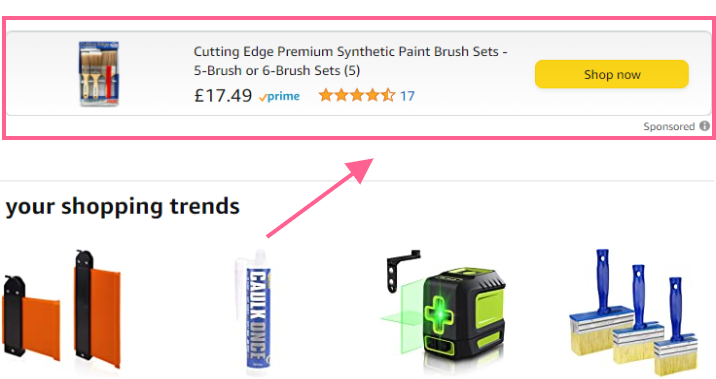 An average Amazon seller spends around $250 a day on PPC ads to generate the desired sales. That means you need to spare that much amount from your future profits to have the chance to run your store successfully.
While $250 may not feel like a significant amount to a well-established business, it's relatively high for new sellers who aren't even sure whether they should invest in a saturated market.
Luckily, interest targeting can help you get the initial impression of Amazon visitors without bleeding too much on ad campaigns.
If you aren't sure what is Interest targeting, it's a personalization technique where you display your post to people who might be interested in your products so you can discover the potential for your business.
Amazon offers a targeted ad option to customize your post as per your requirements and capture a certain market. It exhibits your advertisement to your prospects based on their online surfing history on Amazon.
With interest targeting, you can learn your prospect's shopping behavior and plan your marketing strategy accordingly.
Here's an example for inspiration.
Real-time Example: DSD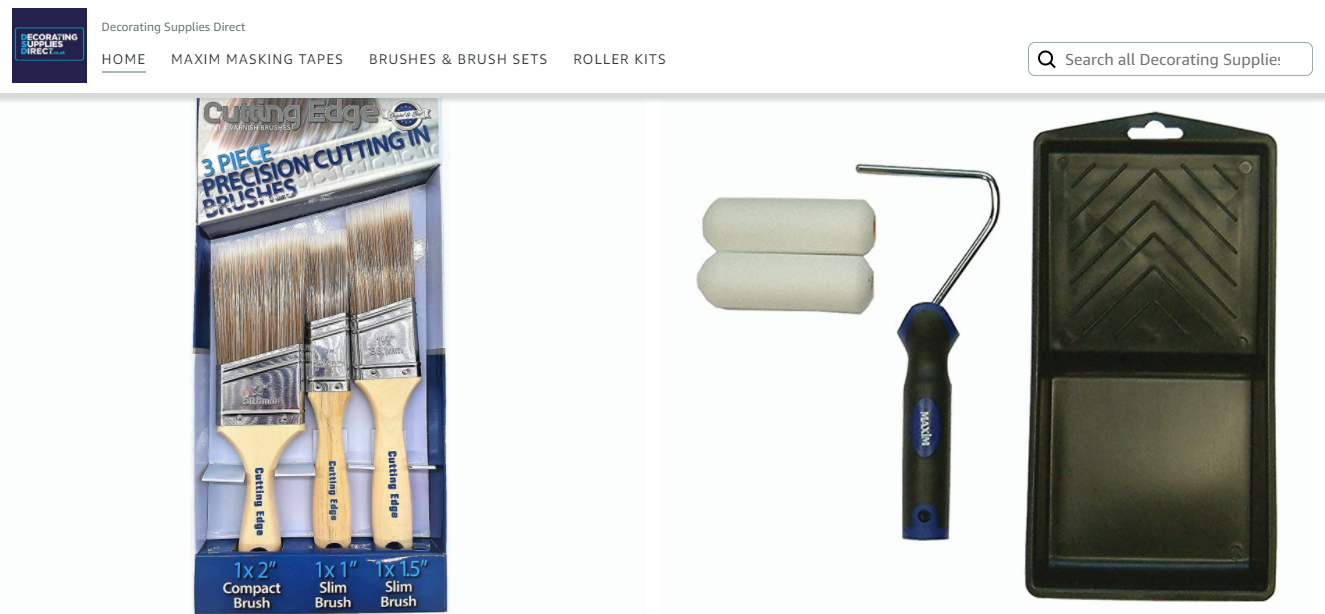 DSD is an online decorating tools company from the UK that caters to a wide range of clients across multiple marketplaces.
It was a brick-and-mortar business that had been seeing a steady stream of sales for years until COVID led it to turn to Amazon PPC ads to boost its revenues.
DSD started with targeted product posts spending a small budget to gather primary data. With that information, it optimized its next ads and launched full-fledged campaigns.
Within three months its traffic increased by 177%, and it managed to grow sales by 363%.
DSD's decision to start with initial interest-based ads saved it marketing costs and allowed it the space to adjust its strategy.
2. A/B Test Multiple Ads
Amazon offers three types of sponsored advertisements to its sellers. A product, display, and brand ad.
Brand posts would majorly help you create awareness of your business. A product Ad drives most of your traffic to your page, and a display ad retargeting shoppers who have previously purchased related items from Amazon.
While all three are highly effective, they serve different purposes. More, they're placed at the different parts of the page.
By A/B testing all ads, you can learn what part of the page your target market lingers the most, which posts bring the highest response, and what type of content works the best.
The insight will help you better structure your PPC ads and set a template for future campaigns, saving you a lot of money in the process.
Let me give you an example.
Real-time Example: SteadyRack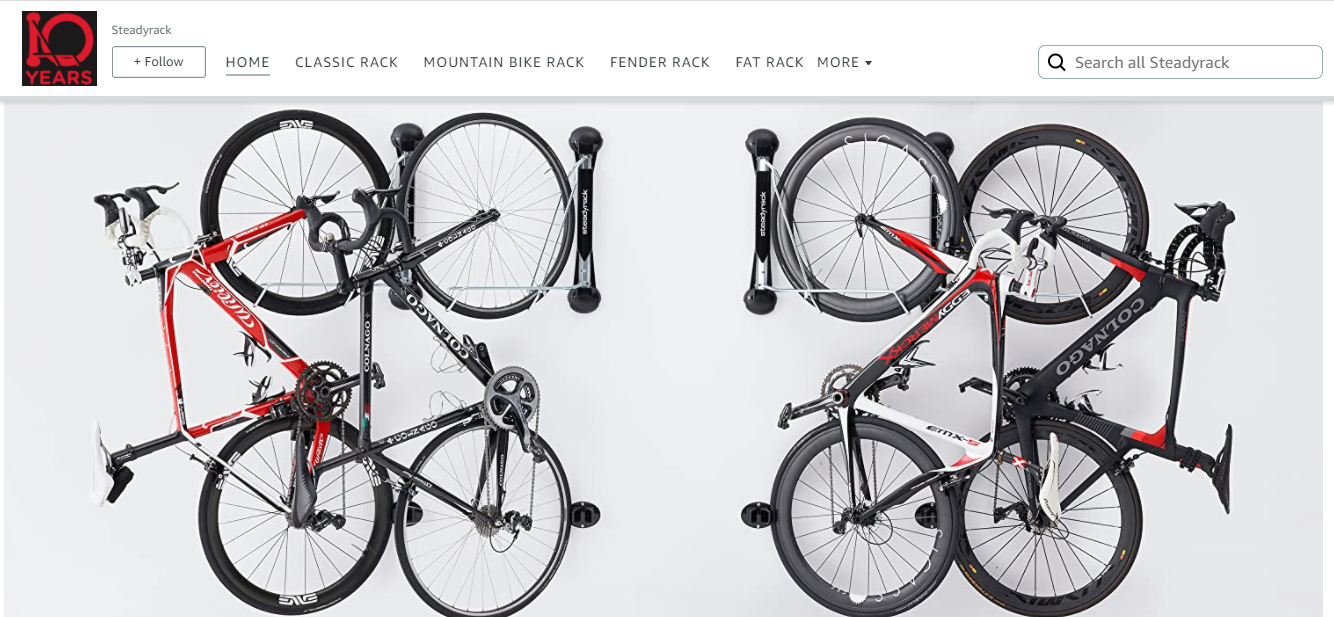 SteadyRack is a bike storage seller with an almost five-star rating on Amazon.
It started its marketing with several display ad campaigns, but in 2020, the brand took a fresh approach, and launched two identical campaigns with slightly different content.
Why? SteadyRack wanted to see whether it should embed a custom logo in its posts.
After testing it for one month, SteadyRack discovered the custom version generated 47% more revenues and lowered the ACOC by 38% comparatively.
Without A/B testing, it probably wouldn't have realized a change in headline or logo could affect your revenues.
3. Create A Diversified Bidding Strategy
Amazon has an auctioning system for advertisements to decide which post should be displayed first. It runs a draw based on certain parameters to pick the sponsored post best matching its criteria.
Optimized bidding is one of those perquisites.
Bidding is essentially the advertising cost you pay for each click on your ad. Amazon offers three bidding options under each campaign to give you the flexibility to pay however much you can afford for your product ads.
You can fix your cost price or allow Amazon to up and down the number with dynamic bidding.
What bid price you should set is where the real fun begins.
The average cost per click in the US is $1.20, but that doesn't mean your product will start generating sales by putting that number on your ads.
The success of the bidding strategy varies from business to business. What works for one may not work for you. The best way to make sure you don't incur heavy losses is to set diversified bidding—meaning doesn't stick to one bid number.
Take help from Amazon campaign manager suggestions and try a combination of ads to see which drives better results. Better Body Foods did it as well and got the results it wanted.
Real-time Example: Better Body Foods
As a leading health food brand, Better Body Foods has a decent presence on Amazon but was looking to improve its return on its advertisements.
It took Amazon's bid suggestions to set trending keywords for low-impression campaigns and reduced the bid amount on ads with high-volume traffic but low returns. Later, they increased bids when campaigns began to generate traffic.
With that strategy, BBF not only reduced their CPC by 27% but also increased their return by 28%!
4. Add Keywords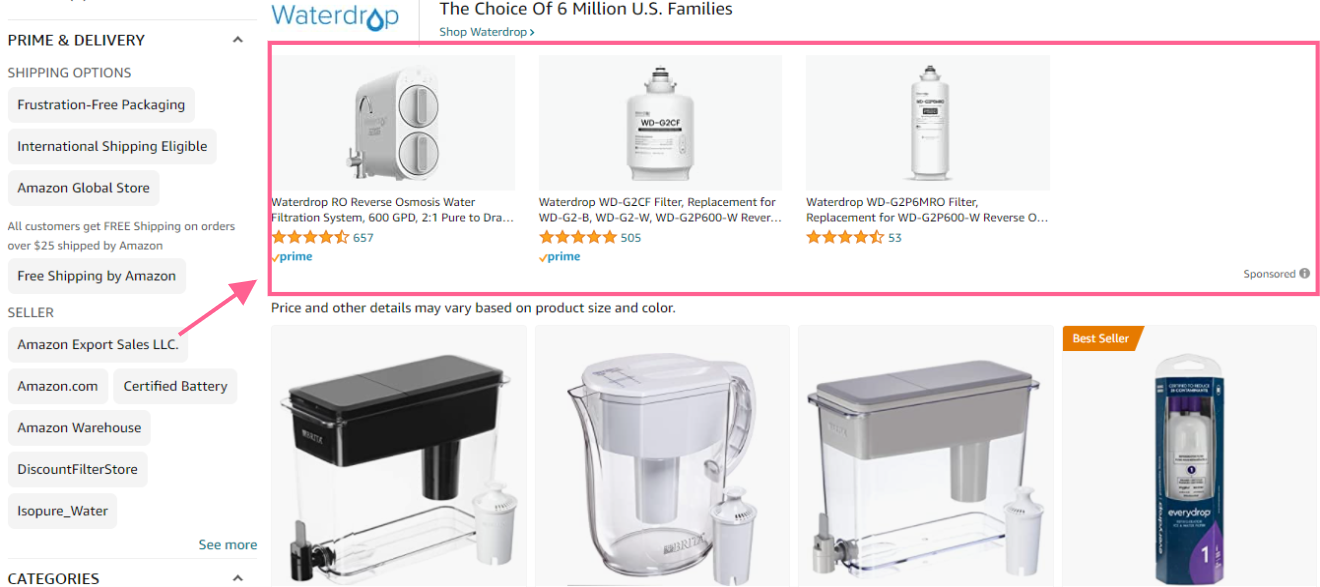 Are you aware Amazon, like Google, employs SEO principles to improve user experience?
It has a search-based navigation model that consists of putting forward the most relevant product—and ads—to make sure its visitors get what they came for it.
For you, this is amazing news! You can use it to your advantage to get a step ahead of your competitors. All you need is a little guidance on SEO rules and discover phrases your target market commonly uses while they search for a product similar to yours.
There are two ways to do that.
You can buy keywords research tools like Helium 10 to extract long-tail keywords for you and manually add them to your ads, or you can let Amazon pick them with the Automate option. Both options will be available to you as you create your new campaign.
Embedding keywords in your ad content will increase the probability of success significantly.
Here's a real-time example.
Real-time Example: Filterway
Filterway is a water purification product enterprise that runs multiple brands in the US and Canada. It has a decent online presence, but a while back it had been struggling with competition and was looking for ways to improve its sales.
After auditing its products, Filterway realized it was not showing on top search results and might need to add trending keywords to increase visibility.
Filterway started with its best-forming product, AquaBoon, and relaunched the SEO improvised PPC campaign.
Within two months, its advertising cost (ACOS) was reduced and the PPC campaign generated over $25k in sales!
All because Filterway added keywords to its ads.
5. Optimize Product Listing
Ever noticed, most product headlines on Amazon are relatively long, cramped with as much information as possible?
That's because SEO doesn't end at keyword placement. Optimizing your ad copy and product listing (page content) is equally essential to bring in organic traffic.
Your PPC campaign wouldn't drive positive results if your image is mediocre, or the headline doesn't clearly show what you're selling.
If by chance, you do manage to attract visitors, you'll lose prospect leads if your product page doesn't have the relevant information they're looking for.
With optimized content, you can gain access to top pages, grab your audience's attention, and increase your overall conversion ratio.
Bear Grips is a classic example.
Real-time Example: Bear Grips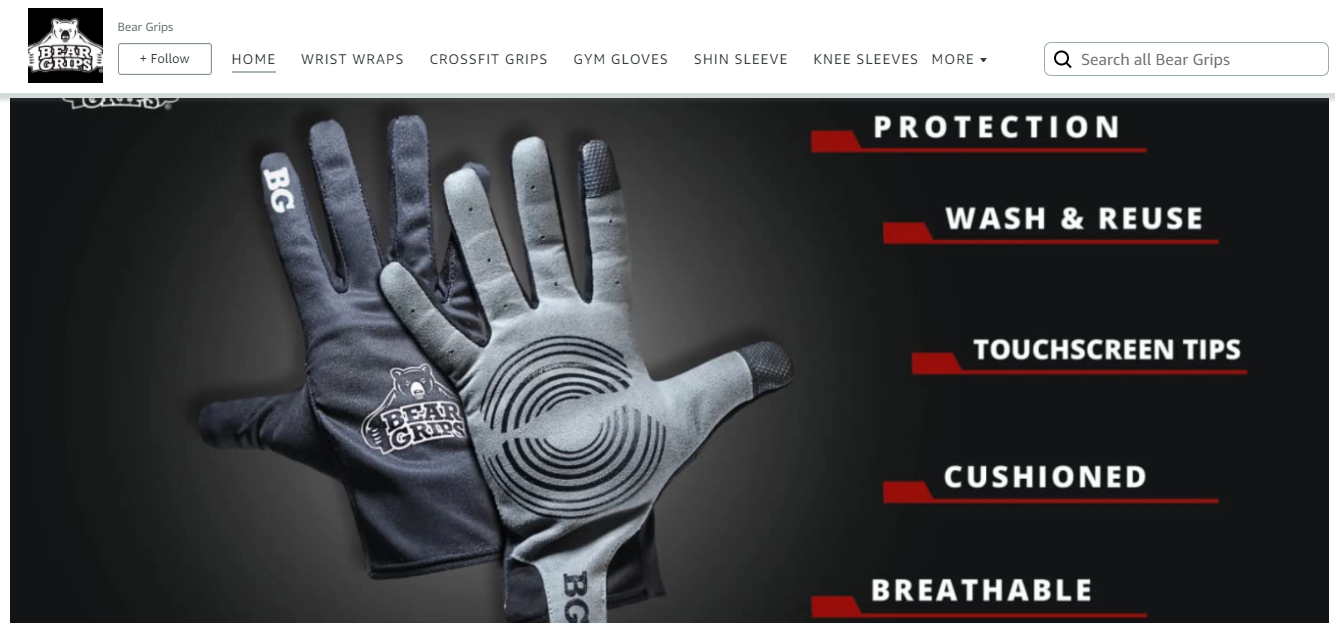 Bear Grips is one of Amazon's long-time sellers that offers fitness gear and small accessories. The brand has a decent presence on but wanted to improve its ACOS and, in turn, its sales.
During its initial analysis, Bear Grips found out its product listing was dampening PPC sales because the text didn't fully offer a quick glimpse of its items.
To fix the problem, it replaced its heading with clear text, optimized its entire page, and launched new display ads.
The brand saw a 66% increase in its sales that month.
6. Try Brand Video Ad
Videos generate nearly 82% of engagement due to the nature of the content. Most people don't have time to go through textual content and prefer to watch the video for brand information.
On Amazon, video works even more efficiently. Most of the sponsored ads are typically in static form.
With a video advertisement, you can quickly catch your prospect's interest with visually appealing shots and offer them product details with a static card attached to it.
If you go for video ads during the festive season, you can further increase the probability of conversion by 21%.
But, of course, you don't have to limit your option to them only. Macally launched its sponsored brand video ad in August and still generated a good response.
Here's the story.
Real-time Example: Macally
Macally sells high-quality computer items and accessories to its customers.
As an electronic niche brand, it considers video ads the best source of both marketing and educational content on Amazon.
When Macally launched its new product, it published a mix of static and brand video-sponsored posts as an experiment to observe whether brand video generates more conversions.
Macally's assessment turned out to be right. Its video advertisements captured nearly 50% of its sales afterward.
7. Build Similar Product Ad Groups
Many brands launch multiple product lines to add diversity to their portfolio. It's an effective way to capture more than one market and expand your business quickly.
Unfortunately, the same diversity may sometimes create complications, particularly if you're a small business owner.
The more products you've, the harder it becomes to manage them. As a result, some end up with a cluttered mess of random campaigns, wasting their time and money.
Successful Amazon sellers use ad groups to overcome it.
An ad group is an option that appears when you launch your first campaign, giving you the facility to create one setting for similar-nature items.
By building groups, you not only can properly structure your campaigns but can increase the impression by giving the same keywords to related products.
Real-time Example: Baker's Dozen
Baker's Dozen is a small confectionery tools brand whose owner hoped to expand her business on Amazon but lacked the experience to run successful marketing campaigns.
Her initial try ended up with a clutter of random ads with no proper structure to it.
With outside assistance, Baker's Dozen created separate ad groups, optimized them accordingly, and released new campaigns.
The systematic organization boosted her sales by 162%, opening a path to a profitable store on Amazon.
Final Words
We recommend watching our video podcast with Lem Turner, who shares his strategy to find high-selling product ideas on Amazon.
PPC marketing strategy requires time to deliver positive results.
It's a long process encompassing multiple trials and errors until you finally discover the right combination to earn the profits you expected.
So, explore every option I mentioned above, set a realistic advertising budget, and be patient.
Just remember, it takes around eight clicks on your ad before you generate one sale on Amazon.
Keep these in mind when you launch your next PPC campaign.