New to Amazon FBA?
Or are you a seller already, but disappointed by your sales?
No doubt, Amazon has revolutionized the way you could sell your products online. And create a handsome passive income stream while you're asleep.
Everyone has a superficial idea about how to be a successful seller on Amazon. But not everyone understands what it takes to land the sales.
Which is, that's right, to write killer Amazon product descriptions.
Half the battle is won when you can grab your shopper's attention.
And that starts with writing a great product title—a powerful lead magnet. A tool that reflects what customers generally type on the search bar.
The keywords not only grab your shopper's attention. But also acts as a welcome mat for your listing page.
And once a shopper lands on your page, the product description takes the matter further.
Unlike a physical store, shoppers can't interact with you. Nor touch and feel the product.
A killer copy of your Amazon product description, therefore, reduces the gap.
It should not only answer what product they are looking for. But also justify why they stumbled upon your title description in the first place.
And for that to happen, you should know certain strategies that can engage them. By laying out the product information in a way that can hook their interest.
However, it's equally important to learn what not to do. And how subtle mistakes could cost you, losing your shoppers to your competitors.
So, ready to take your Amazon business to the moon?
Wear your thinking cap and follow me in this extensive guide on how to write killer Amazon product descriptions.
How to write a killer title for your product listing?
A good title draws attention. Be it a news headline, ad banners, or your email notification.
But things work differently for Amazon product titles.
You don't need a catchphrase. Rather, a clean and concise description of your product as it is.
For example, you're looking to sell an office chair specifically for tall people. The Amazon search bar auto-suggests "office chair for tall people" to the concerned customers.
Now, what should be the correct option for this listing's title?
Best office chair for tall people with multiple adjustments and ergonomic features for maximum comfort at work
[Brand name] Ergonomic Office Chair for Big and Tall People with 2D Armrest Lumbar Support and PU Wheels Swivel Tilt Function Black
You got it, right?
Option b. not only addresses the target audience. But it mentions all key attributes while making it clear which customers are supposed to visit it.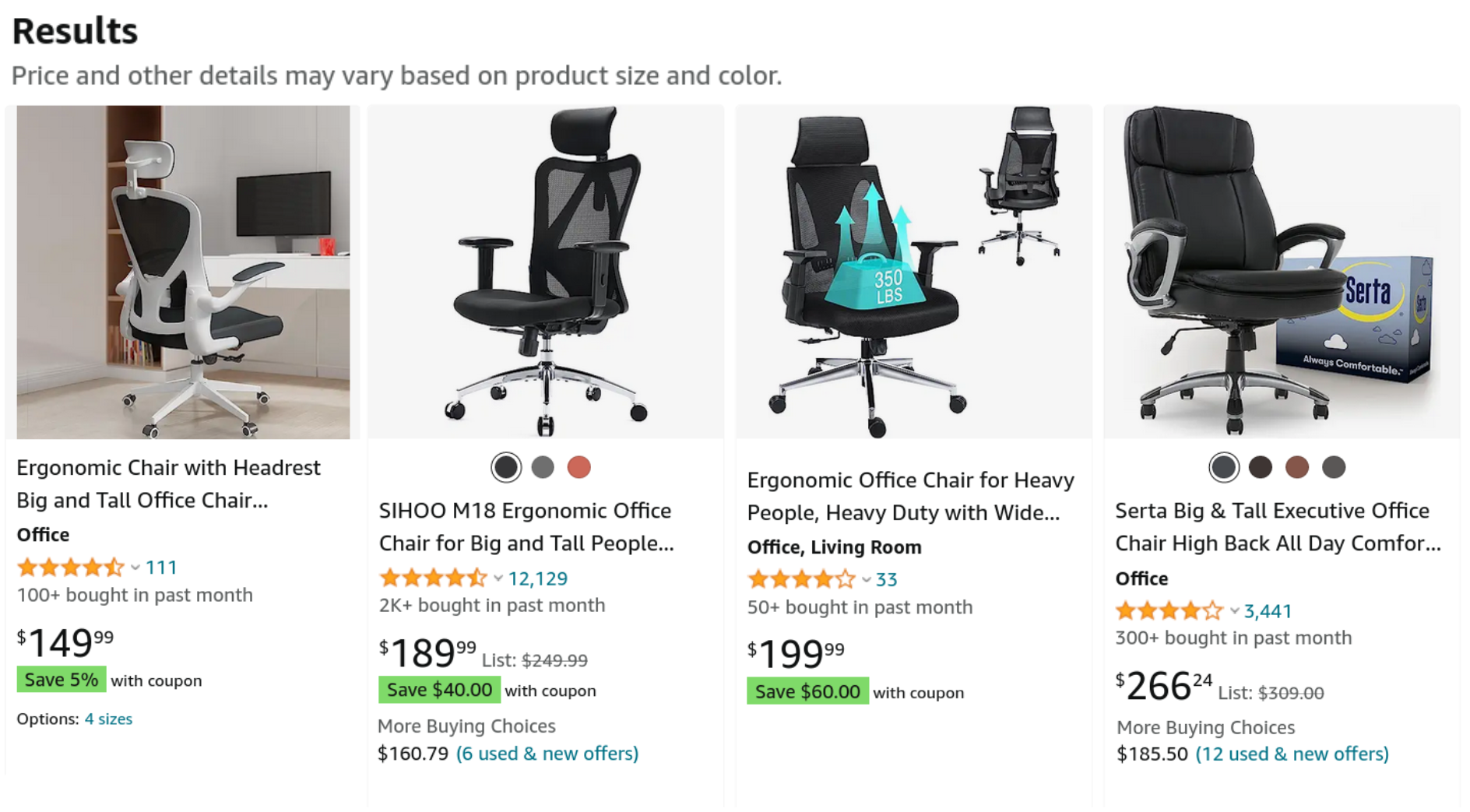 Just observe what top-listed products are doing right. Notice how they use keywords like a big and tall office chair. Or an office chair for big and tall people.
As you skim through other listings, you'll also notice how most of the product titles are trimmed down. Whereas, some of them display complete product titles.
Why is that?
The complete title shows up when the listings are sponsored.
Not for all the sponsored products, though. But the ones that are frequently viewed or highly rated.
Doesn't matter. As long as your new products follow the listing guidelines. Opportunity will certainly help you turn the tables on your competitors.
And to make that happen, here's what you should do.
Steps to Write a killer title for your product listing
First, click on Brand Analytics and find Amazon Search Terms.
On the Amazon Search Terms page, select your Amazon market. For example, Amazon.com for the global marketplace. Or you can choose, say, Amazon.co.uk for a marketplace across the UK. Amazon.ca for Canada… and so on.
On the Search Term, enter your product's keywords. For example, here we have an "office chair for tall people". Then set the Reporting Range to "Monthly".
You'll see the list of the most searched keywords on Amazon for that particular month. So pick 3 best-performing competitors based on good clicks and sales rank. Check the image below.
Visit each product page one by one. Copy their titles and organize them on a document.
Identify the main keywords, sort them out, and merge them to redefine your product.
By the way, this isn't plagiarizing the keywords. Rather, it's purposely done to improve readability and make your title SEO friendly.
And that's how, folks, Amazon's algorithm recognizes the listings.
Keep in mind that the character limit for Amazon product title descriptions is up to 200.
But don't fluff them unnecessarily!
Instead, focus on an ideal length to increase the chances of ranking.
For example, the total number of characters for 3 product titles is 433. This means your ideal product title should contain around 144 characters on average.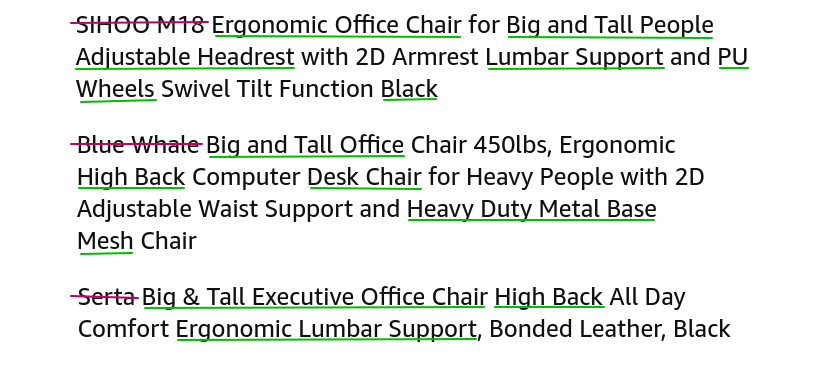 While talking about fluff, limit the use of caps as well.
Now, start with sorting primary and secondary keywords. Leave the brand names.
And merge them with your brand's unique offering. Say, your chair comes with a unique flip-up or 3D armrest feature.
Let's see, what does it look like.
[YOUR BRAND] Big & Tall Ergonomic Office Chair with Flip-up
Armrests High Back Mesh with Adjustable Headrest Lumbar Support 
and Heavy-Duty PU Wheels, BLACK
150 characters, not bad huh!
Once you're done with the title, go to "Vital Info" on the seller central to place your title along with other details.
With such a title description, you'll understand that customers searching for an office chair not only want tall chairs. But also a 3D armrest for flexibility.
Some of you may come up with a question like, "Can I just pick the top 3 bestsellers and go with it ?".
I would say no.
Because of doing so, you may still end up with similar products. However, they'll pack different features that are not intended for your target audience.
Strategy you should keep in mind before selecting your titles:
On the Brand Analytics page, the Search Terms report provides you with a detailed list of product titles.
Including click share and conversion share percentage.
This is where you should consider products with over 10% of click and conversion shares.
And that's one of the most important steps while creating high-ranking keywords for your product.
Backend keyword optimization
Amazon FBA sellers generally focus on 4 aspects to index their product listing – title, images, bullets, and description.
But many of them miss out on backend keyword optimization.
This may cost them ranking even though they successfully manage to show up on the listing.
So what are they?
They're the hidden keywords. But only accessible to Amazon sellers.
While they're not visible to shoppers, using backend keywords is a means to communicate with the Amazon A9 algorithm.
That's a way for the algorithm to understand the nature of the product and its relevance.
Now once you're in the "Keywords" section on the seller central editor, find "Search Terms".
Here, you're going to enter the backend keywords for your product.
Let's see how to generate them easily.
Creating backend keywords:
Now looking into the current example, we have "office chair" as the primary search keyword.
This is then followed by different secondary search keywords based on certain people, purposes, or material types.
What you have to do is to sort and merge keywords relevant to the context of "office chair for tall people".
But before you go on, there is statutory advice. The "Search Term" field uses 250 bytes.
And you may miss out on backend SEO value if you don't fill up close to 250 bytes.
However, if you go beyond the limit, it flags the Search Term and suggests you to reduce them.
So where were we?
That's right, sorting and merging keywords.
Now this is going to be interesting. What I did here is to start searching step by step from the primary keyword, which is "office chair".
Then put "office chair for" on the search bar.
Next, "office chair for tall".
And lastly, of course, "office chair for tall people".
By now, we gathered so many valuable keywords that people are using to search for this particular product.
But if you're falling short of words, feel free to include Google search terms.
Even better if you can find them using free keyword planner tools.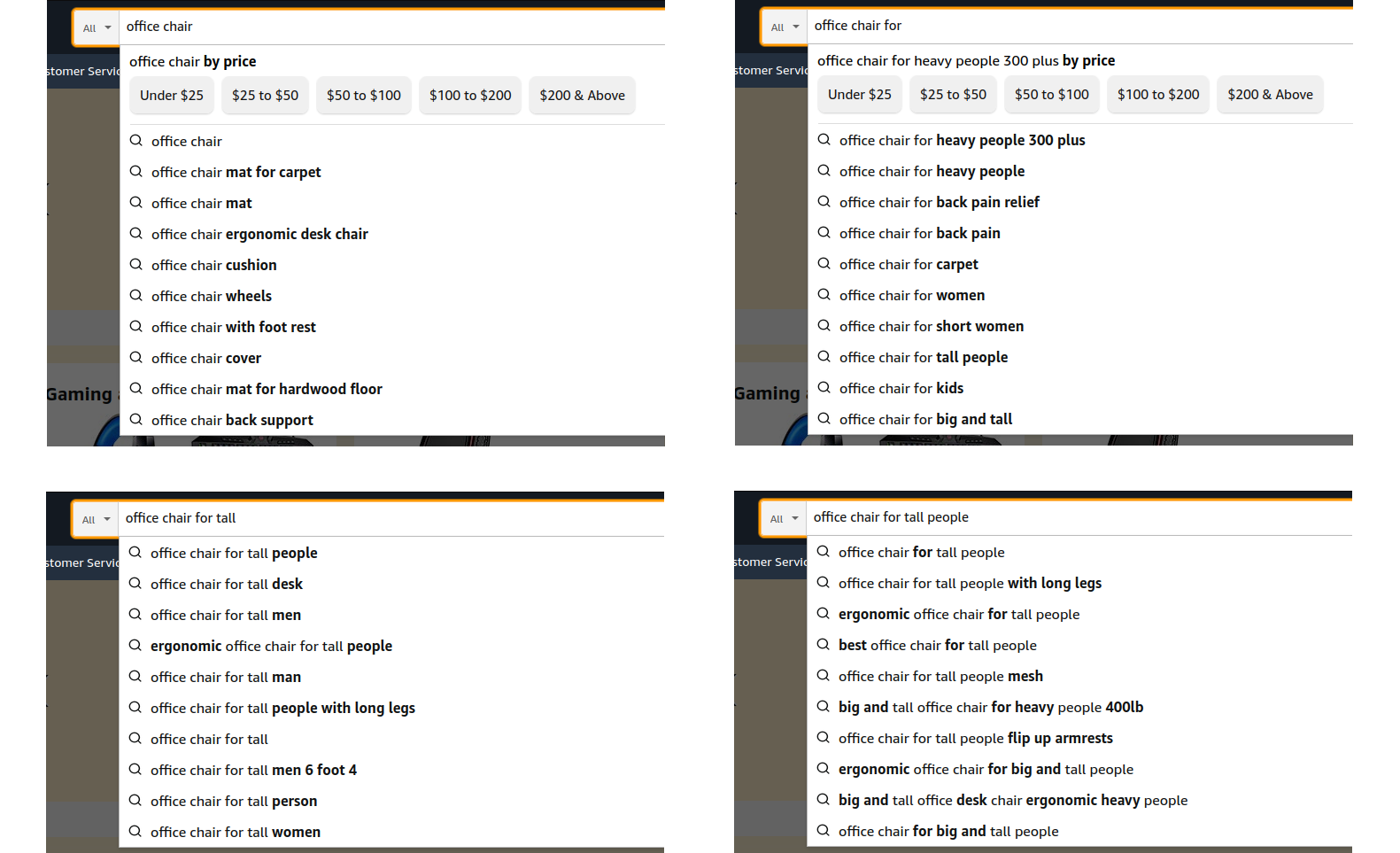 Okay, let's sort and merge them to see what we could get. Here, I used the byte counter tool on mothereff.in.
Office chair ergonomic tall people big large heavy person long legs plus size men women mesh cushion back lumbar support footrest flip up armrests wheels desk back pain relief comfortable cheap work from home living room executive managers computer
249 bytes. Close enough!
But did you just notice how I laid out the keywords?
Unlike the one used in the main title, the backend title follows some strict rules:
Avoid the use of punctuation and prepositions
Never repeat the keywords
Don't mention brand names
You may use synonyms or common misspellings that are often used to search
You may also use a translated word generally searched in another language of similar product
Always separate your texts with space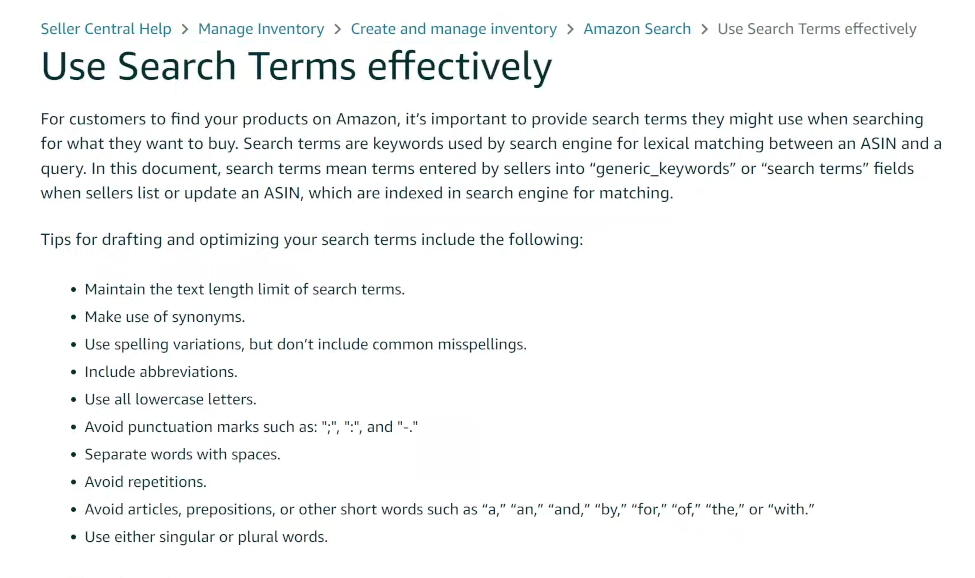 Note: Many sellers from the Amazon FBA community often sing the praises of Helium 10's Cerebro and similar Amazon-focused tools.
What you can do here is put your competitor's ASIN into the search box.
It then shows you everything from the keywords to their search rankings.
You can see which keywords work and which don't. Besides, you can also create a winning strategy for your product description and A+ Content with such data.
But that comes at a cost.
How to Write a Killer Amazon Product Description?
Creating an Amazon product description is like being in the shoes of a salesperson.
But it's not an easy ride, maximizing your product's visibility and conversion. 
You need to get familiar with the platform. It's rules and strategies. Which may sound a bit complicated if you're just starting. 
But trust me on this!
As you go through these steps, I'm sure you'll leave no stone unturned to create a killer copy. Some of which your competitors might be missing out on this opportunity. 
Understanding your Customer persona
If this is your first time as an Amazon FBA seller, you should get familiar with some digital marketing skills. 
What I mean to say is before you go on creating product descriptions, try to understand your shoppers. 
Create a customer persona. 
Here you ask important questions. Here you keep your customers at the center stage. And try to investigate their specific needs. 
For example, create a checklist of questions like:
What keywords are used on Amazon to search for products?
Who can buy my product? And why?
What are their goals?
What are their pain points? And how can my product help them?
For example, have a look at Alice's persona which may resemble many working women like her.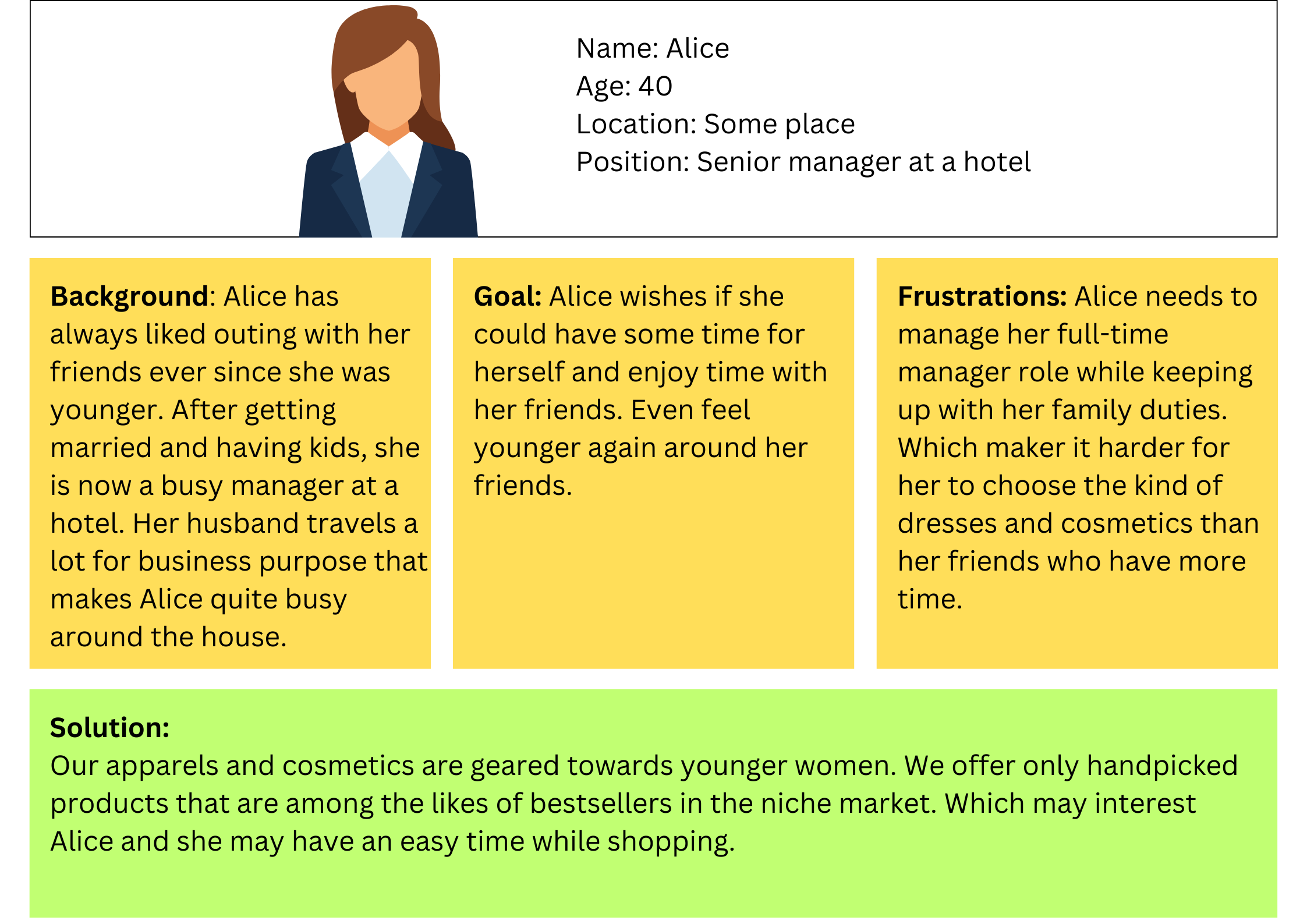 Now this is a very basic persona. And you can go on searching for more cues across the internet. 
Eventually, you'll be able to curate descriptions in a way that your listing may show up to the right people. 
Make description an effortless read
A jam-packed piece of text is something no eyeballs would like to pay attention too.
Having a keyword and information-rich description is an important step for Amazon SEO. But it poses no value when it fails to compel your shoppers.
Therefore, the first thing you should care about is readability. And here's how you can make the best use of Amazon's editor:
Find the average word count of some product descriptions around your niche. Avoid making it too short or too lengthy.
Always use easy language. They're here for useful details, not to praise your literature skills.
Format with bullets and take advantage of HTML tags. Going to expand on both of them shortly.
Avoid schoolboy errors. Your shoppers expect a professional copy. So make sure there are no typo, spelling, or grammar mistakes before posting.
Sell benefits, not features
Superlatives suck. We hear them everywhere all the time.
Best, state-of-the-art, top-of-the-line, or any adjective that feels beyond normal – barely anyone buys into them. They make things less reasonable. Untrustworthy.
Say, you want to sell a linen shirt. And you go on writing like "This amazing shirt is made with the state-of-art linen fabric."
This is … meh!
But how about this one?
We use traditionally-woven linen fabric that breathes and makes this shirt comfortable summer wear.
See the difference!
Even I suggest not using "love".
How can someone love the product while he/she is yet to trust it and make purchase decisions?
So, this is where you need some rhetorical skills.
When you mention the features, your shoppers will find the motivation to buy. That motivation comes from the advantages they may have.
But the advantage will draw them even closer when they feel as if it's coming out of someone's experience.
Throw some life into the list of features. Don't forget to add measurements. Or ingredients if it's a food item.
It's even better when you add safety or any regulatory standards. Adds a layer of trust.
You may point out some flaws in your competitors and how your product stands out.
That's how you can use this space to evoke interest. And eventually, drive conversions.
Formatting with bullets
Amazon seller central is a space where you can make the most out of the product listing editor.
Here, you can see 5 placeholders for "Key Product Features" by default. It also lets you add more placeholders.
So anything you write here gets reflected as a bulleted description under the "About this item" area. And you won't need to add bullets by yourself.
But feel free to add some emojis like this green tick. Looks tidy and easy to scan.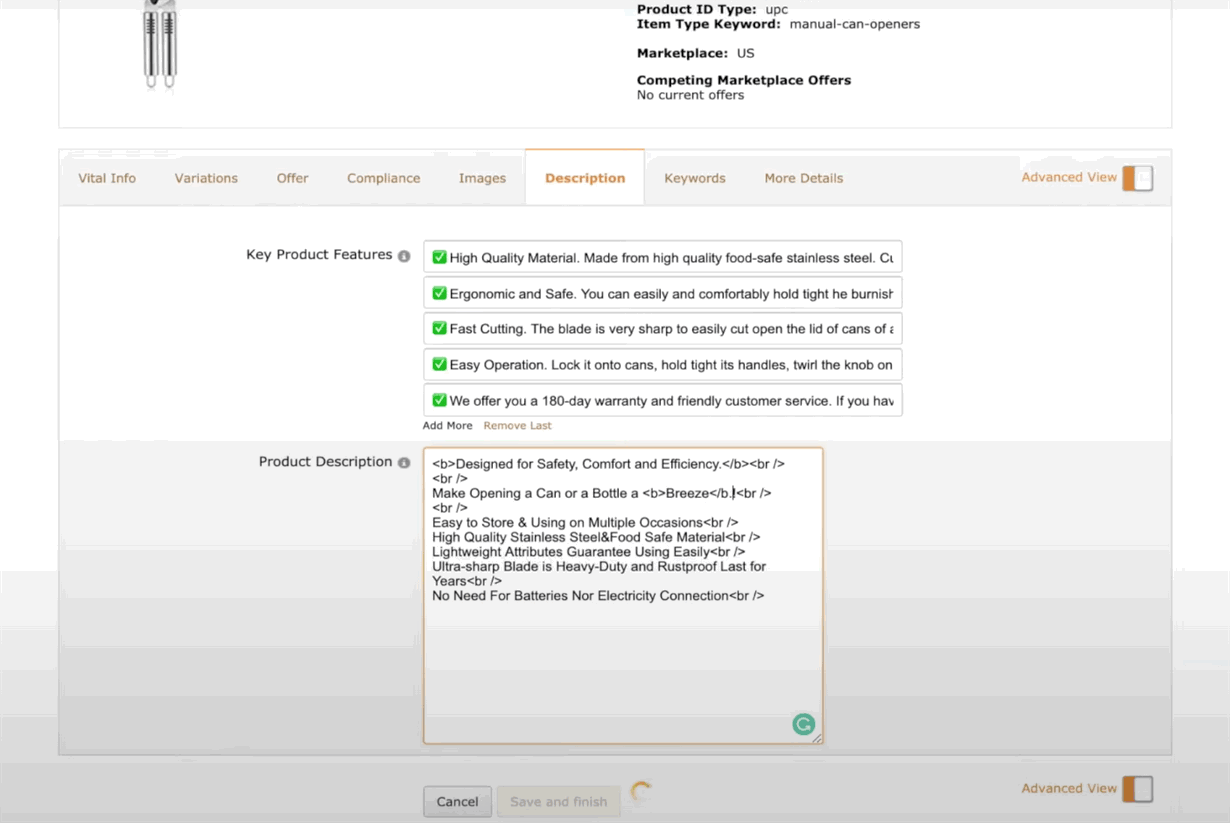 You may even try theme-based emojis as bullets, which look even more fun.
Just like how this food chopper doesn't shy away from using fruit emojis,
Really complements well with the product around the food theme, isn't it?
Besides all these illustrative add-ons, your content itself should be able to connect with your shoppers.
Make sure you follow these simple rules for your copy:
Ideally, 5 bullet points are enough to talk about the features.
Lay out benefits and the most important features in the first 3 bullet points.
Use sensory phrases to give them a sense of the product's look, feel, and overall experience.
Keep the word count between 40-60 for each bullet point.
Avoid over-explaining or any kind of repetition.
Formatting with HTML tags
Now you're in the Product Description editor where you list down the key specs of your product. But look here!
It's a white space and doesn't look like a markup editor.
Whichever way you arrange your product description, it would end up as an unformatted chunk of text.
But hey, you can use some HTML tags. You can properly align your Amazon product descriptions and make them easy to read.
Though, many sellers often argue about the use of HTML tags in Amazon product descriptions.
You should note that some tags may distort the alignment or show an error. So better not to include these HTML tags:
Font type
Font size
Font family
Text Color
Ordered/ Unordered list tags
Background image
Don't worry about bullets! You can still use line break tag <br> to list down the texts.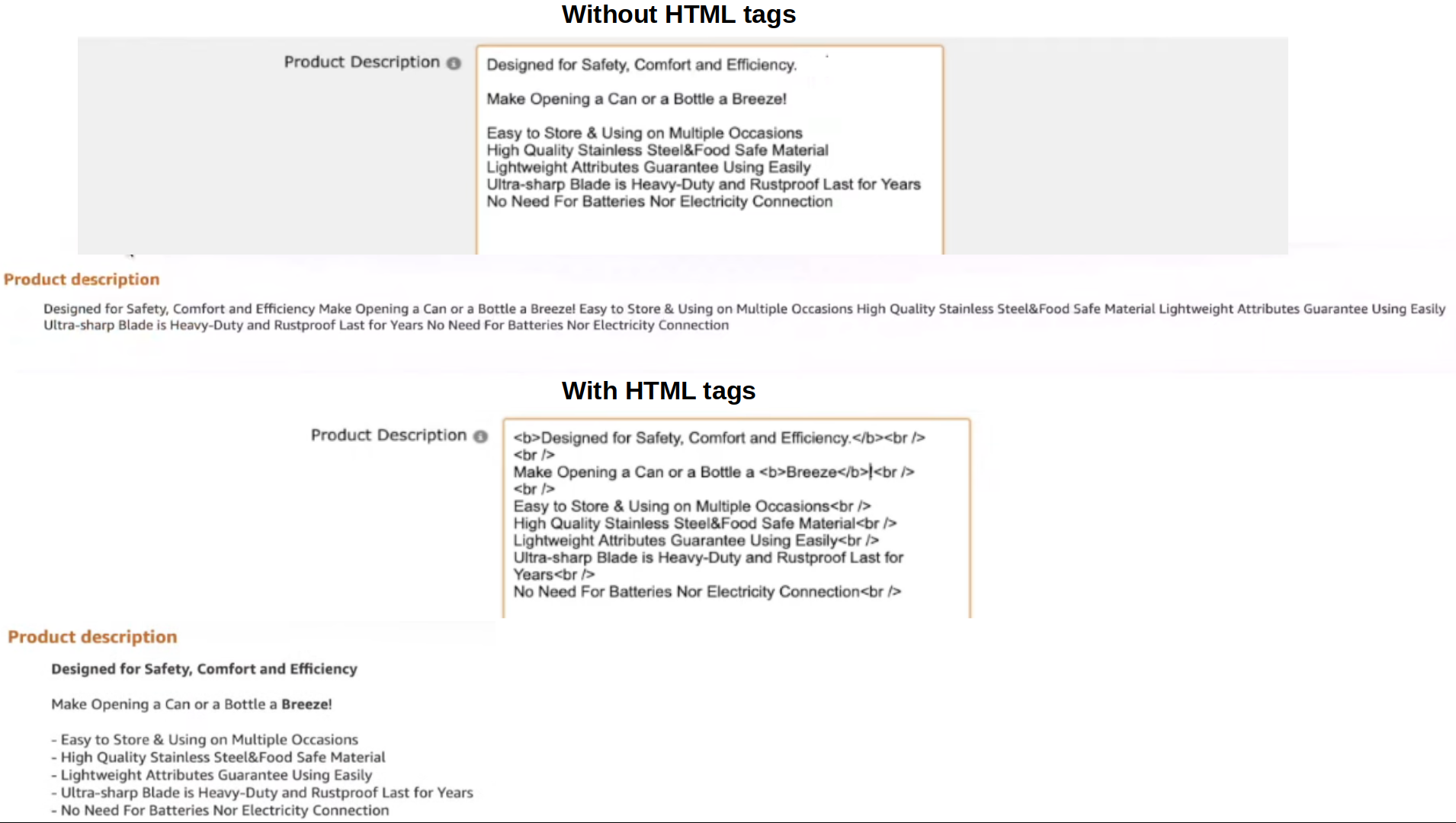 So here are a handful of tags you can work around on this editor:
Paragraph <p>
Line break <br>
Bold <b>
Copyright Symbol &copy;
Trademark Symbol &trade;
Also emojis
Images for Amazon product description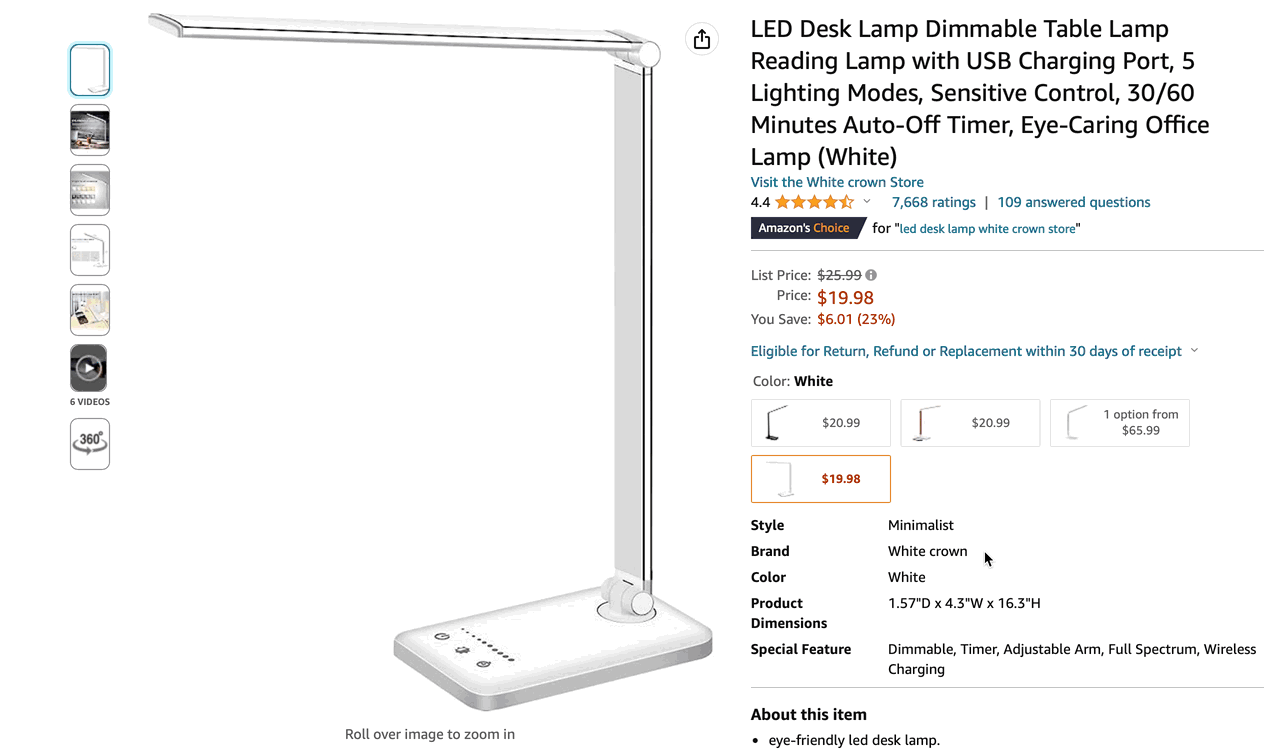 While you're vocal about Amazon product descriptions, never underestimate the importance of images. 
According to Amazon guidelines, you must use high-definition images with a white background. 
Try to present the product from all angles. 
Show product dimensions, capabilities, and different colors or styles your product comes with. 
It would be great if a person demonstrated the product. Giving them an idea about the size and usability. 
You may even like to show the 3d-rendered image of your product to get an immersive detail. 
Collectively, this may result in a better SERP ranking, product page engagement, and eventually, sales conversions.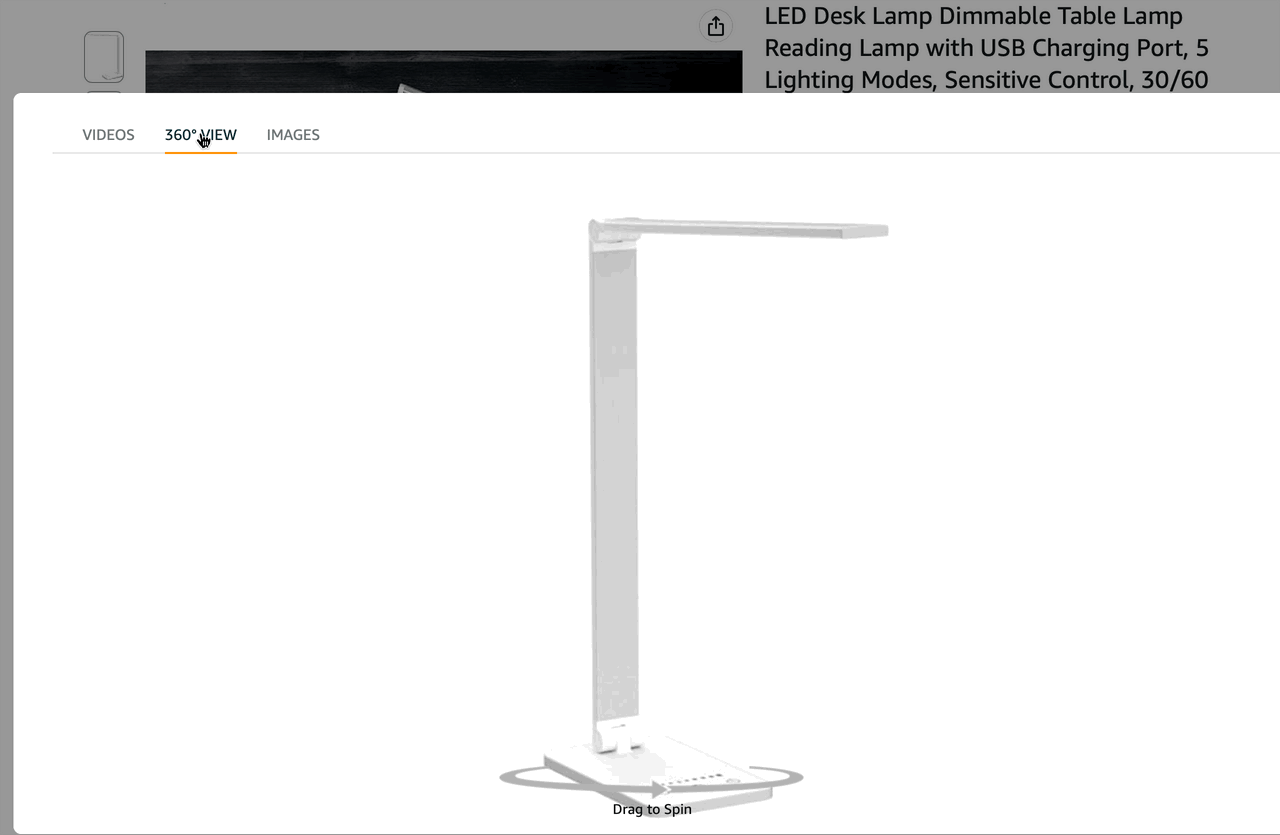 Use of images on listings for different age groups:
In certain cases, you need to change the way you've been marketing your product.
You crafted a killer product description. And that's good!
But how can you make yourself more noticeable in the search results?
By optimizing your main image, you can effectively increase your CTR.
What I mean to say is when you're selling products focused on certain age groups.
For example, search for "handwriting practice for kids". Though, there is no specific mention of age in the search term.
The search result will show you books for all age groups.

Agree, you can differentiate the books based on the age groups in titles.
However, it is the visual influence of the badges defining the age groups that caught your attention first.
Although some listing images without such indicators still manage to get good sales.
But it's better to stay creative with your marketing strategies for competitive advantage.
Here's yet another interesting example.
Say, you are looking for a "sketchbook for kids".
You might be amazed by the creative presentation of the product images.
But what caught me off guard was the listing in the middle of this image.
Doesn't it look playful?
It looks inviting. It teases you with a reveal of some sketchbook features.
As if convincing the shoppers to check it out of curiosity.
This may increase your CTR significantly. And so, better sales.
Therefore, when you effectively update the main image that complements the product title, you're manifesting better CTR.
Product description using A+ Content
The standard Amazon product description is just so lackluster. 
You may use some HTML tags like bullet points, paragraphs, bold texts, etc. 
However, the description still looks boring and fails to catch their attention. 
No images, just pieces of text. 
Not everyone finds it interesting enough to scroll down. And as a result, it makes little impact on the conversions. 
Unless you're not living under the rocks and making the most out of A+ content.
By making that switch, you can significantly boost engagement rates.
Amazon's A+ Content is like a product brochure. Gives a detailed look to your product's features and benefits with a professional touch. 
Not only it optimizes your product listing, but can also increase your conversion rate and sales. 
And yes, you don't have to use the same images as on the top of the page. 
For example, take a look at how ideal Amazon A+ Content should be.
Now why should you be serious about it?
The use of professionally photographed images on A+ Content immerses the shoppers in its aesthetics. 
It evokes the feeling of having it. Their distinguishable social presence.  
And these aspects are most likely to influence their purchase decisions. 
There is yet another important aspect of A+ Content that not many Amazon sellers are aware of. 
So what could it be?
It's about cross-promoting your products. 
Look, there is a bit of drama that goes on the product pages. 
For example, a shopper clicks on your product listing (with no A+ Content).
Maybe he/she doesn't like your design. And scrolls down only to find the sponsored section with a range of products from other brands.
And then the shopper changes the heart and clicks on one of your competitor's listings. 
Maybe you had that one great product on a different link. And the shopper might have liked it was that showed up on the same page.  
But this time, you lost the chance. 
Thankfully, A+ Content features a module that could make this scenario in your favor. 
Here, you can create a bottom section termed "Product comparison chart".
You can now promote all the different models of the same niche your brand has – on the same page.

This means the shoppers are more likely to be on your page.
And still, choose from one of your products rather than drawing a comparison with your competitors. 
How to create a well-formatted template with A+ Content? 
A+ Content is basically Amazon's secret sales funnel. 
Advertisement is never boring when we live by the morals of Ogilvy. With a great advertisement copy, you can make your content more persuasive. 
So to make that happen, it gives you 2 choices to get started with – Basic and Brand Story.
On Basic A+ Content, the heading begins with "Product Description". It's something you create differently for different product listings. 

On Brand Story A+ Content, the heading begins with "From the manufacturer or brand". 
It lets you add your little brand story, which reflects across all of your listings. Great to have them be familiar with your brand.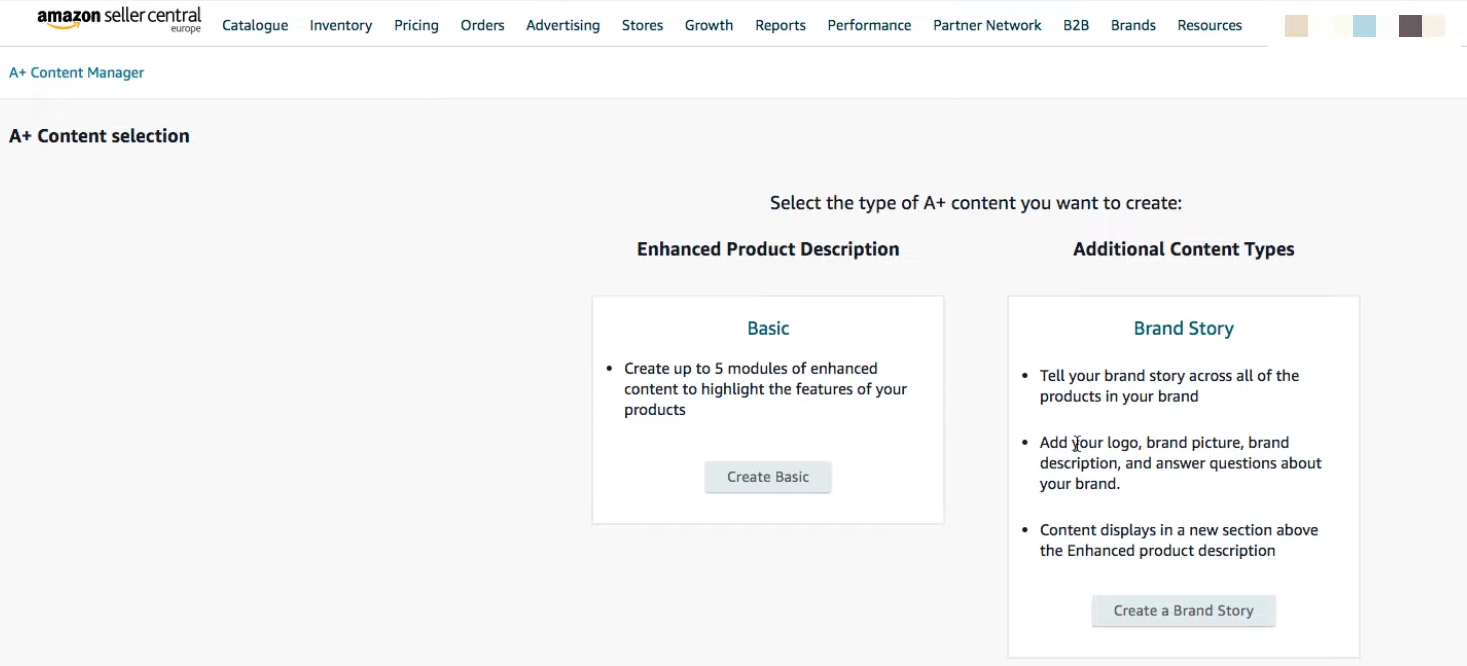 Note that you can still have a small section about your brand on the Basic A+ Content. But you need to create them separately for all the other products of your brand. 
A+ Content works in a way that Amazon calls a "Module".  
When you click on "Add Module", it shows different section templates you can add.
For example, a Standard comparison Chart lets you present a range of different products within the same niche.
Standard Four Images & Text where you lay out 4 product images with descriptions below them. 
Similarly, you can choose from over a dozen templates to create the layout for your A+ Content.
Note that you can't include more than 7 Modules. So you should plan out and be selective about your product presentation.  
So how are some Amazon FBA sellers able to do something unique with the A+ Content that ultimately drives conversions?
Well, you can be creative about it. 
But make no mistake ordering the modules in a way that doesn't resemble a sales funnel!
So to make things easy, this is how your basic layout should look like:
At the very top, start with a brief story about your brand. Include your brand logo.

Under that, include a Standard Text talking about your brand.

Next up, add information about the product itself. The best way to do this is to use the 3 or 4 images & text module. 

Now add high-quality images of your product. Add a bit of description underneath each image. This is a great way to mention the key features and benefits of your product. 

At the bottom, use a Standard Comparison Chart module. Here you can present different products you're offering in your product range. A chance to cross-promote them on each of your listings.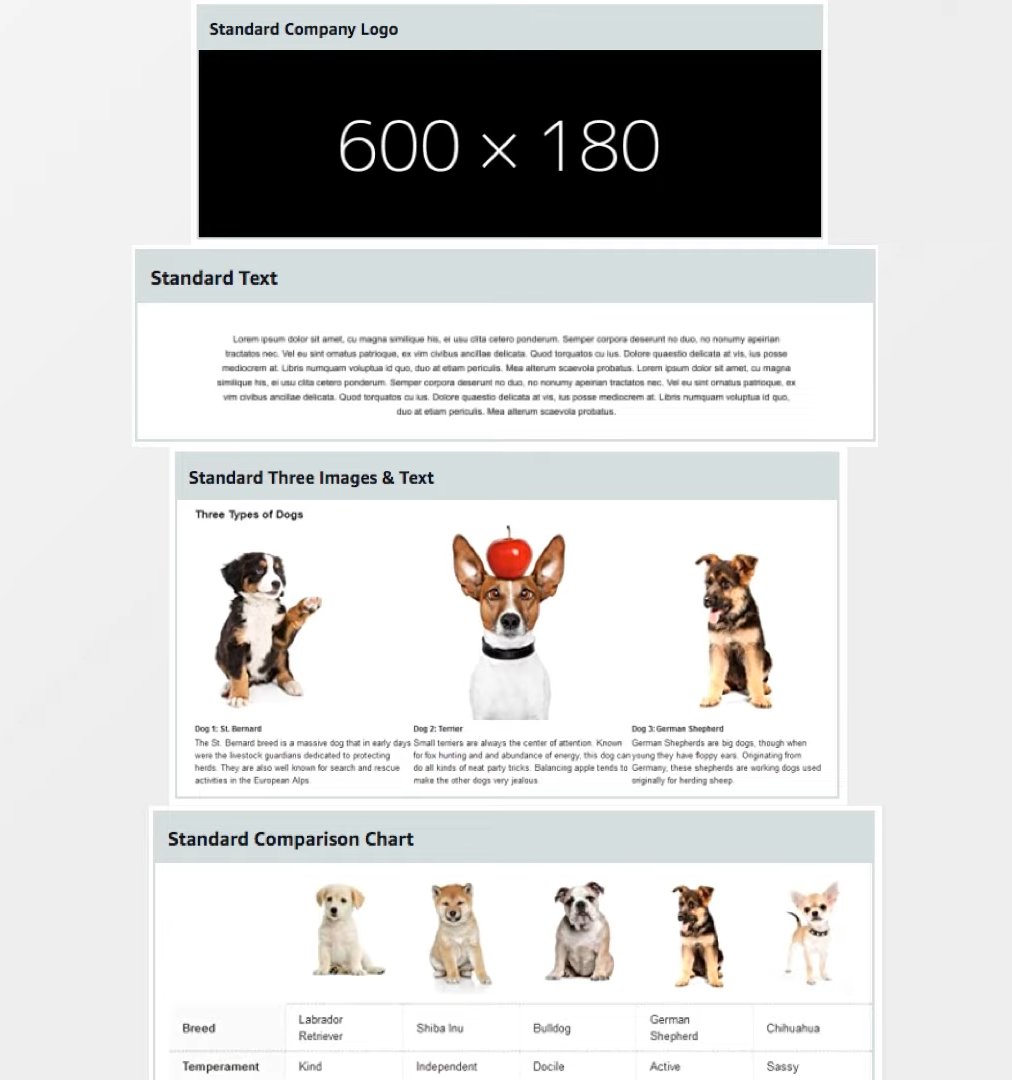 Keyword optimization in A+ Content:
By now, I hope you understand the value of keywords in your product title and description. 
On A+ Content, however, there's still a debate about whether the text you add is actually crawlable or not. 
You can still use your keywords to keep up with the context of your listing.

But if there's anything you can be sure about optimizing your listings, you can fill up the text on your image keyword.
The keywords here will get indexed (as Alt text) which will eventually be able to rank your product listing on Amazon. 
Connect with your audience
It's a seller's dream to see their product go live and generate some sales. And with sales, they also receive reviews and questions.
While you can't do anything about reviews. You can take advantage of customer questions by leaving valuable replies.
However, there are still so many sellers who remain disinterested in customer's queries.
But to stay competitive as an Amazon seller, consider participating in Customer's Q&A.
Interestingly, you can also leave a short video guide, for example, to show how to operate a gadget.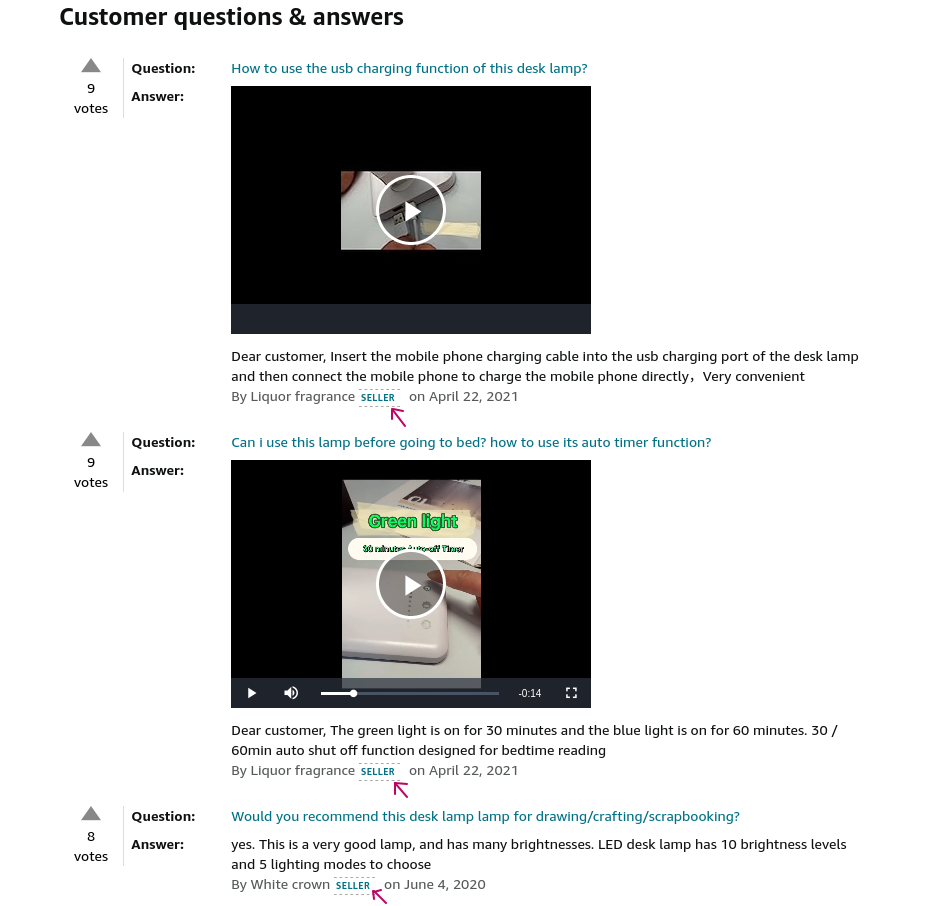 Familiarize yourself with Amazon's rules
Before getting your feet wet, make sure to familiarize yourself with Amazon FBA rules.
I mean, who in their right mind would like to see their listings removed or suspended?
As you explore their help guide, you'll find complete literature about the rules. And everything about preventing yourself from getting into trouble.
But to keep it short and sweet, here are some of the most important ones:
Never use these words in your product descriptions – item's price, condition, availability, or any promotional material.
Never mention any urgent terms like limited stock or hurry up.
Never use any type of code in descriptions.
Neither add anything about asking for reviews, nor any testimonials
Don't copy and paste from a listing similar to yours or from anywhere.
Avoid using irrelevant or tricky product titles or any clickbaits.
Ensure you add descriptions that match your listing images and vice versa.
Don't overprice your product listing.
So to know more about Amazon rules, why not visit Amazon Seller Central and bookmark the page?
Understand the mystery of the Amazon Algorithm
Also known as the A9 algorithm, it closely resembles the Google search algorithm. Both are user-centric.
They both build up authority using customer search queries. And impacted by click-through rates.
However, the Amazon algorithm doesn't focus much on UX and product research. But on conversions and sales.
It may take you like half a year on Google. But you can rank your listing significantly quicker on Amazon.
And that majorly depends on the conversion rate and sales history.
So for a seller looking to rank organically, here are 9 key factors that the Amazon algorithm is trained to prioritize:
Keywords
Images
Conversions
Stock availability
Sales History
Impressions
Pricing
Customer reviews
Click-through rate
A good impression alone, however, doesn't impact your organic ranking.
Your listing may have appeared several times on the screens. However, the algorithm doesn't give any importance when it fails to receive enough clicks.
But it does complement well with CTR. And Amazon does give importance to it.
Because, when you receive considerable clicks, the algorithm understands that your product is useful to the shoppers.
The better the traffic, the higher the chances of conversion. And for that to happen, always remember!
Come up with a great product title. Use a CTR-friendly listing image. And, of course, HD images for your product descriptions.
Note: There's no such thing as the A10 algorithm. And it will never be.
It's largely termed following patches in the A9 algorithm which address some of the new factors, like:
Traffic and sales from external sources like social media, YouTube, or blogs.
Authority is based on the seller's time on the platform, product acceptance/returns, and many other factors.
When sales are not made directly from searches, but internal factors like "Recommended products"
Availability of stock and shipping time
Final Words
The world's leading eCommerce platform witnesses the ever-increasing swarm of sellers.
While many of them giving up their monotonous 9-5 hamster wheel life.
But only some sellers understand the balance between connecting with shoppers and selling products.
And that can be maintained by understanding the art of writing great product descriptions.
While the established sellers may have all the weird tricks.
For starters, however, content strategy is the only key.
The product description isn't set it and forget it. Always optimize them from time to time.
Make sure you're honest with the descriptions. Nothing wrong in taking inspiration from bestsellers.
But stay unique and creative.
Don't fall for help from AI such as ChatGPT. It may backfire on you rather than creating a ranking strategy for your product description.
Live by the rules, not the best practices.
And lastly, focus on selling the benefits, not the features. Because being reasonable counts more in this world.
In the words of William Shakespeare, "Strong reasons make strong actions".