If you are a seller on Amazon, you know that listing your product on Amazon is comparatively easier.
However, reaching the top of desired search queries and generating recurring sales—now that's difficult.
As an Amazon seller, I understand that you have to navigate through various obstacles to ensure the presence and success of your product(s).
From managing shipping logistics to optimizing product listings and monitoring sales performance, there is an overwhelming amount of responsibility to handle.
Amazon seller software solves all of these problems, and more, by providing you with tools and resources to streamline and automate various aspects of your Amazon seller business and take your business to new heights.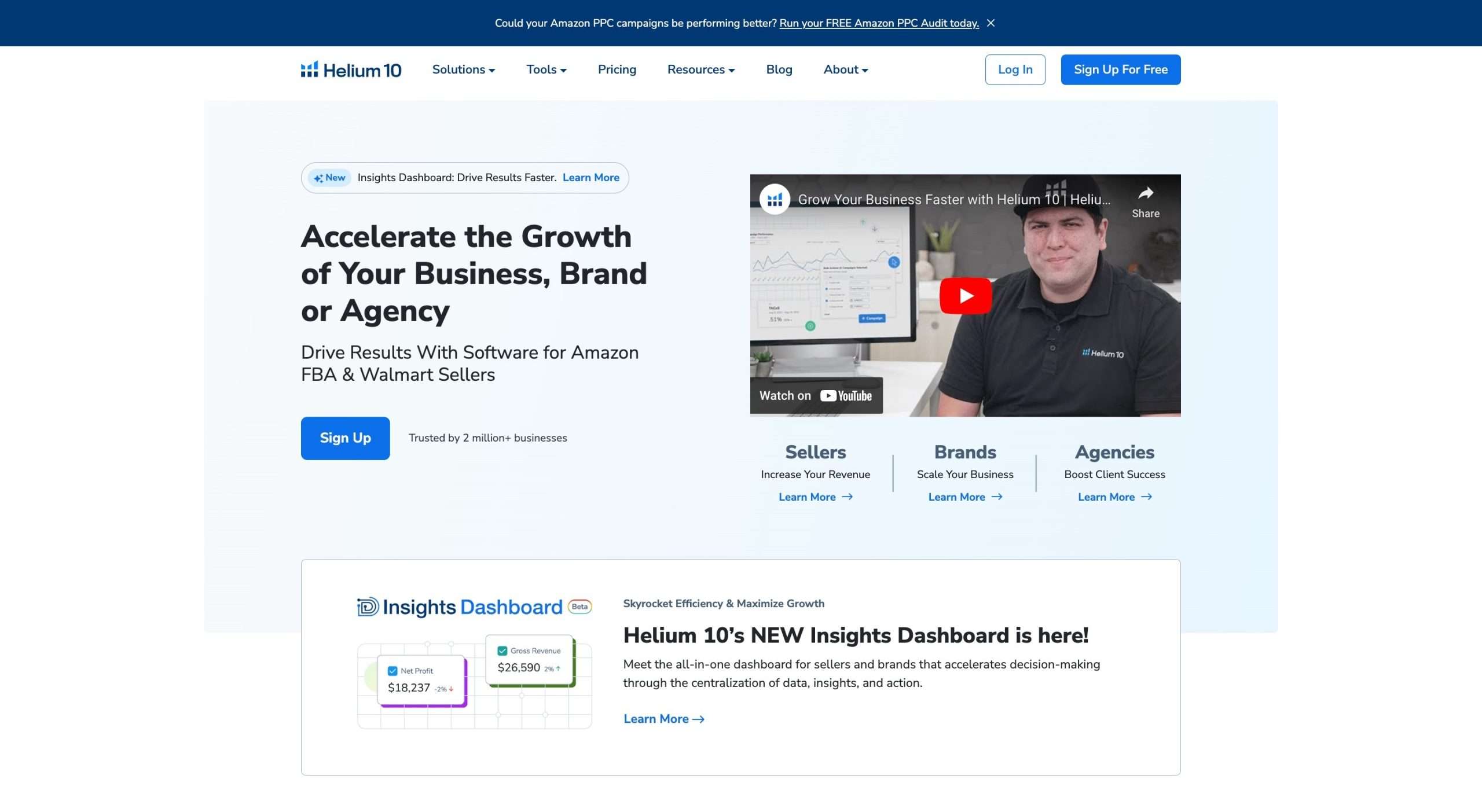 Helium 10 offers a range of powerful tools and features to help you boost your Amazon PPC campaigns, increase your sales, and dominate the marketplace.
One of its most useful benefits is the Amazon PPC Audit, which allows you to evaluate the performance of your pay-per-click campaigns and identify areas for improvement.
In addition to that, Helium 10 offers tools for research, listing optimization, marketing, and analytics. Here are some of them:
Product Research: Helium 10 provides tools like the Chrome Extension, Black Box, and Xray, which enable you to quickly identify winning products.
Keyword Research: Helium 10 helps you find the most relevant and high-ranking keywords for your listings.
Listing Optimization: Helium 10 empowers you to optimize your product listings to increase visibility and conversion rates.
Analytics: With its rich data and analytics tools, you can gain valuable insights into your sales performance, keyword rankings, and market trends.
Keep in mind that this is just the tip of the iceberg.
I have never seen a tool in my entire life that offers such an impressive array of Amazon seller-related features like Helium 10.
Helium 10 is available as a web app and a mobile app for both Android and iOS, and it also offers a free Chrome extension.
Useful Features
Product research
Keyword research
Listing optimization
Competitive intelligence tools
Analytics capabilities to elevate product performance
Marketing and advertising (build and optimize PPC campaigns)
Pricing
Helium 10 offers a free plan. It has three paid plan options:
Starter ($39/month)
Platinum ($99/month)
Diamond ($279/month)
Jungle Scout is an all-in-one platform designed to help you grow, manage, and succeed on Amazon.
So, what can Jungle Scout do for you?
Jungle Scout offers a Chrome extension, available on Chrome and Firefox, which allows you to instantly validate product ideas as you explore Amazon.
You can evaluate new opportunities, forecast product sales, and even request reviews with just a single click.
Additionally, Jungle Scout provides the Opportunity Finder, which helps you uncover promising opportunities based on high-demand and low-competition keywords.
Finding products to sell has never been easier with Jungle Scout's Product Database.
With advanced filters and sorting options, you can scout through over 500 million products on Amazon to quickly identify profitable opportunities.
Moreover, Jungle Scout's proprietary AccuSales algorithm processes a staggering 1 billion data points daily, providing you with the most accurate and reliable information to make key business decisions.
Useful Features
Assess product potential
Discover opportunities by keyword
Product Database with over 500 million products
Save and monitor product opportunities
Build optimized listings
Automate review requests
Pricing
JungleScout offers a 7-day free trial. Its Basic plan costs $49/month ($29 per month on annual billing), and the Suite plan costs $69/month ($49 per month on annual billing). Lastly, they have a Professional plan that costs $129month ($84 per month when billed annually).
Zonbase is an all-in-one software suite designed to help Amazon sellers succeed in their e-commerce businesses.
One of the key tools offered by Zonbase is ZonResearch. With ZonResearch, you can apply various product filters to narrow down your search and find profitable opportunities that align with your specific criteria.
Another valuable tool in the Zonbase suite is the Chrome Extension. This handy extension allows you to see behind Amazon's search results, providing you with valuable insights.
Zonbase also provides tools to optimize your product listings and increase visibility. The PageOne feature helps you reach the organic first page of search results on Amazon, enhancing your product's visibility and driving more traffic.
Additionally, the Keywords tool enables you to perform easy keyword research, helping you identify the most relevant and high-ranking keywords for your products.
Zonbase also offers tools for listing creation, photo enhancement, inventory forecasting, and much more.
Useful Features
ZonResearch to find profitable products on Amazon
Simplified keyword research
Hourly updates on trending and popular products
Product Validator to validate the suitability of a product
Uncover competitor's keywords by using Reverse ASIN feature
Listify AI to optimize product listings automatically
Chrome Extension to get valuable data such as sales estimates and pricing
Pricing
Zonbase has a 7-day free trial and three paid plan options to choose from:
Standard plan ($37/month or $30/month with annual billing)
Legendary plan ($97/month or $67/month with annual billing)
And Diamond plan ($297/month or $200/month with annual billing)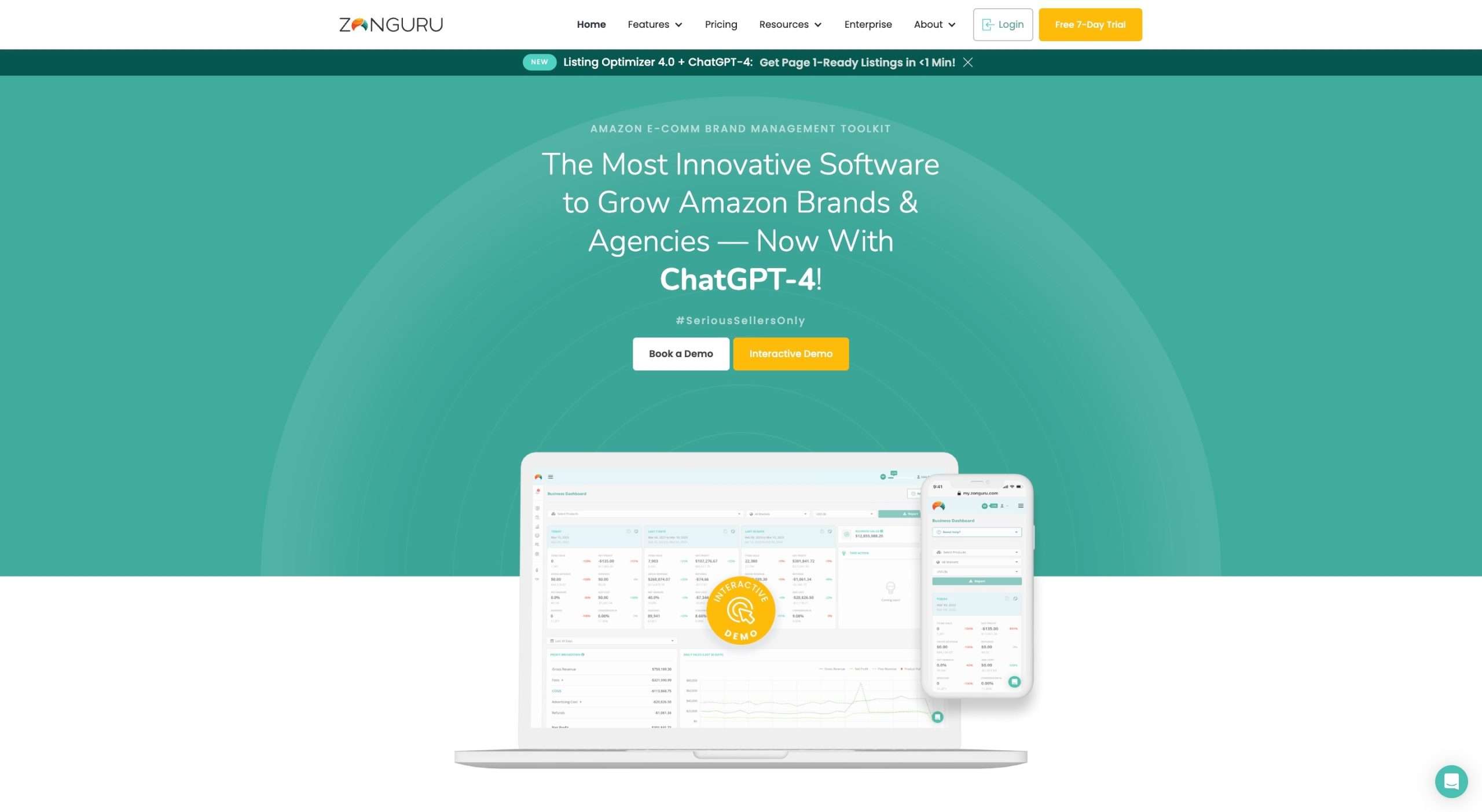 ZonGuru is an all-in-one software suite designed to enhance your FBA business. It offers a comprehensive range of tools to assist you in finding the perfect products to sell.
One of their standout features is the Niche Finder, which revolutionizes the process of generating product ideas by providing quick results.
If you prefer to conduct research directly on Amazon, their Chrome Extension allows you to do so effortlessly and swiftly.
Keeping an eye on your competition is crucial, and ZonGuru's Sales Spy tool allows you to track monthly sales data for any Amazon product.
In addition, their Love-Hate feature enables you to identify the strengths and weaknesses of a product, helping you differentiate your own offerings effectively.
Here's something unique: ZonGuru's Easy Source. In collaboration with Alibaba.com, this tool pairs you with the ideal supplier, simplifying your sourcing process.
Last, but certainly not least, ZonGuru helps you maintain long-term success by keeping your customers engaged.
Their Email Automator empowers you to set up rules for automatic customer outreach, targeting those who have made purchases from you. Furthermore, the Review Automator allows you to automate review requests with just a single click.
Useful Features
Generate product ideas quickly
Track monthly sales data for any Amazon product
Uncover buyer keywords that drive product sales
Spy on your competition's backend listing copy
Automate customer purchase emails and reviews
Research products and niches directly on Amazon (with Chrome Extension)
Pricing
ZonGuru offers a 7-day free trial, and their pricing options include the Researcher plan at $49 per month ($29 per month with annual billing) and the Seller plan at $79 per month ($49 per month with annual billing).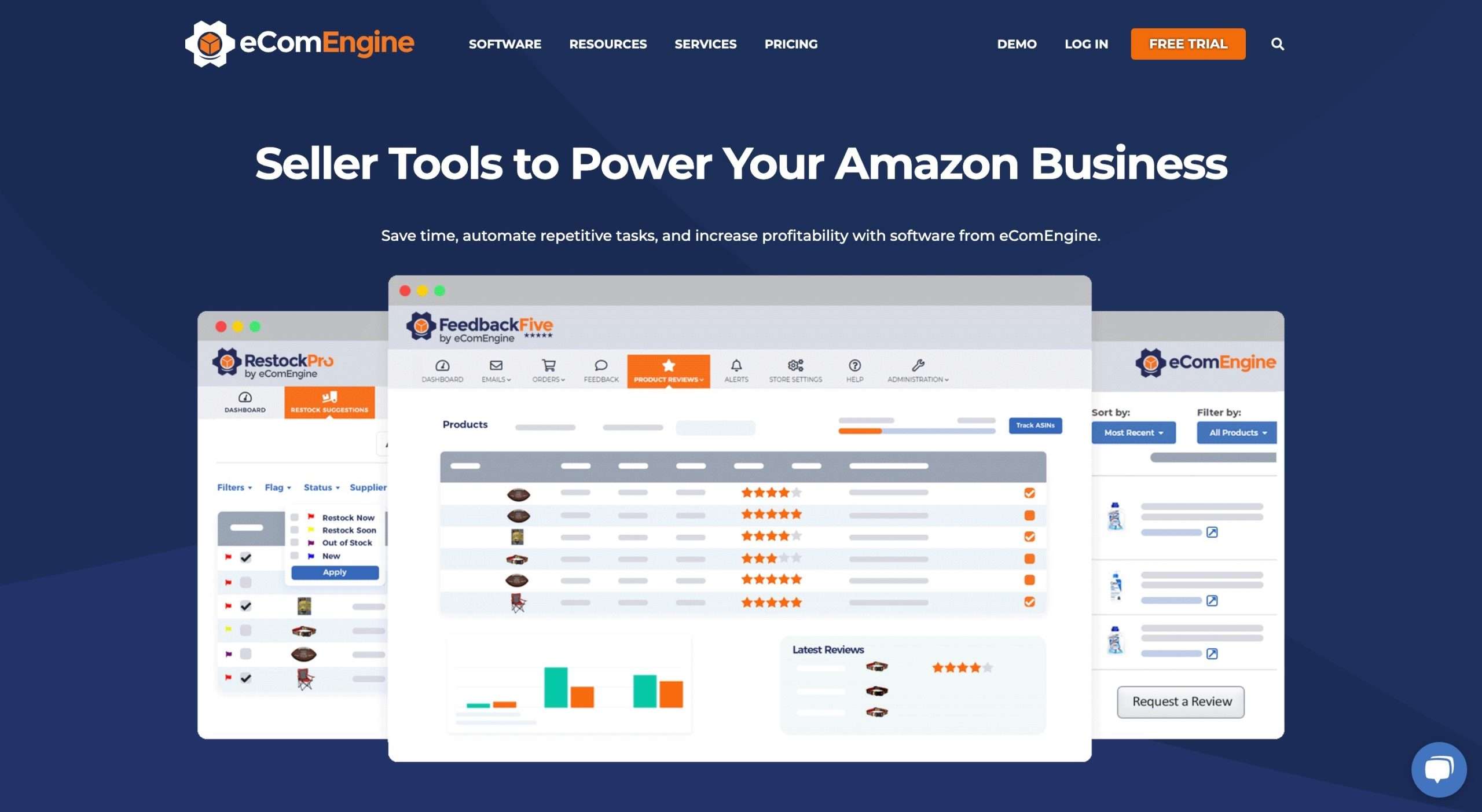 FeedbackFive is designed to automate your Amazon feedback and review requests, making it easier than ever to build and protect your brand while staying compliant with Amazon's policies.
One of the crucial features of FeedbackFive is its ability to save you time and effort by automating your Amazon review requests.
This automation allows you to achieve the desired results without the constant time commitment.
Additionally, FeedbackFive allows you to streamline your Amazon reputation management. You can monitor your listings and receive review alerts, ensuring that you are always aware of any issues without the need for constant checking.
Taking it one step further, FeedbackFive also offers product alerts, which keep you informed about potential hijacker activity, listing suppression, and other changes in your listing status.
These alerts include recommended actions, enabling you to quickly resolve any problems and get your listings back on track.
When it comes to tracking the impact of your requests, FeedbackFive provides comprehensive analytics.
You can conveniently view all your Amazon reviews, feedback, and ratings in one place, gaining valuable insights into how your FeedbackFive requests affect your ratings.
Furthermore, it offers review monitoring, allowing you to track feedback and reviews for your ASINs as well as competing ASINs.
Useful Features
Automated Amazon review requests
Streamlined Amazon reputation management
Product alerts and listing monitoring
Analytics and Reporting
Specific product review monitoring
Pricing
FeedbackFive offers a 30-day free trial. The paid plan for sellers starts at $24/month, which includes 2,000 emails per month and covers 50 ASINs.
MerchantWords offers everything you need to uncover product opportunities, understand the competitive landscape, increase your traffic, and ultimately grow your sales and business as an Amazon seller.
One of the key features of MerchantWords is its ability to identify and track keywords. With their Amazon keyword tools, you can easily pinpoint the top shopper searches and competitors' ranking terms.
MerchantWords also enables you to discover emerging trends and top-ranking products.
When it comes to data and analytics, MerchantWords has got you covered with their suite of tools, which includes ASIN Plus, a powerful reverse ASIN lookup tool, and Classic Search, providing detailed information on keywords, volume, and seasonality.
MerchantWords doesn't just provide tools; they also offer valuable data services.
If you're looking for full-service solutions, you can take advantage of their API or data-driven SEO services to increase exposure and drive more sales.
Useful Features
Gain insights for improved clicks and sales
Find emerging trends with Digital Shelf
Identify related and complementary keywords
Discover top Ranking products for any keywords
Analyze and edit your research with the Keyword Explorer feature
Pricing
MerchantWords offers pricing plans that range from $35/month for the Silver plan to $749/month for the Enterprise plan. However, they do not currently provide a free trial.
SellerTools is a powerful Amazon optimization platform developed by the top 1% of Amazon sellers, designed to help you take your business to new heights.
One of the key features provided by SellerTools is the Product Manager, which eliminates the guesswork from keyword research by providing you with expert-level insights in just minutes.
With the Product Manager, you can swiftly discover the most valuable keywords for your product. This gives you a competitive advantage in targeting the right audience and increasing your visibility on Amazon.
Another indispensable feature is the Competition Research tool. By entering either the product name or ASIN number, you can analyze the competition and gain valuable insights.
Next, we have the Keyword Manager, which automatically imports keywords from your competitors' products and suggests a prioritized list of the most important keywords for you to focus on.
SellerTools also offers a powerful Chrome Extension, serving as your all-in-one toolbox for Amazon success.
This extension allows you to check sales, request reviews, and access vital information without leaving Amazon's platform.
It provides real-time data on Total Amazon Traffic, daily sales, and even enables you to send payments and gift cards directly from Amazon or any other website.
Useful Features
Provides real-time information on Total Amazon Traffic and daily sales
Competition Research by entering the product name or ASIN number
Automatically import keywords from competitors' products
Get expert-level keyword research insights
Chrome Extension
Pricing
SellerTools offers a completely free plan to get started with. Additionally, they have a Chrome Only plan, which provides access to their Chrome Extension for $37/month.
Apart from that, they offer three other plans: Lite, Starter, and Growth. The Lite plan is priced at $67/month, the Starter plan at $117/month, and the Growth plan at $357/month.
Keyworx is the ultimate Amazon Keyword Rank Tracker that takes your Amazon selling game to the next level!
With Keyworx, you can effortlessly monitor and optimize your keyword rankings, ensuring your products stand out in the competitive marketplace.
One feature that makes Keyworx stand out from the rest is its ability to track both organic and paid keyword rankings.
Plus, Keyworx allows you to monitor Best Seller and Amazon's Choice badges, giving you insights into the factors that influence customers' purchasing decisions.
Keyworx offers daily alerts with ranking changes. You will receive timely notifications straight to your inbox, so you're always aware of any fluctuations in your keyword rankings.
Getting started with Keyworx is a breeze. Simply select your products, whether they're yours or your competitors', and let Keyworx do the rest.
It will scan your products daily, keeping a close watch on their rankings. If there are any changes, Keyworx will promptly notify you, ensuring you're always in the loop.
Useful Features
Track both organic and paid keyword rankings
Monitor Best Seller and Amazon's Choice badges
Daily alerts with ranking changes
Easy setup and product selection
Pricing
Keyworx has a free plan with a limit of 5 tracking keywords at a time. The Starter plan costs $19/month, allowing tracking of up to 100 keywords. The Pro plan costs $49/month and allows tracking of up to 1000 keywords. Lastly, there is an Elite plan that costs $99/month and enables you to track up to 2500 keywords, with full API access.
Sistrix is a powerful toolkit designed to help you succeed on Amazon. With Sistrix, you can uncover the secrets of your competitors' success, enhance your product rankings, and achieve better results.
One of the awesome features of Sistrix is its ability to highlight the most popular product searches on Amazon. By identifying these high-demand keywords, you can optimize your listings to attract more potential customers.
Sistrix also provides valuable insights into your visibility on Amazon through its unique Sistrix Visibility Index.
This index measures the success of brands, resellers, and products in Amazon search, offering trustworthy data that can inform your decision-making process.
Another area where Sistrix outperforms is Amazon SEO.
It allows you to optimize your rankings on the platform by investigating the secrets behind your competitors' achievements.
Additionally, Sistrix offers a powerful tool to analyze customer reviews. You can delve into Amazon's customer reviews and gain valuable insights.
Useful Features
Popular product searches
Sistrix Visibility Index
Amazon SEO optimization
Customer review analysis
Integration via API interface
Pricing
Sistrix offers a 7-day free trial. They have four paid plan options:
Start (€99/month)
Plus (€199/month)
Professional (€349/month)
Premium (€599/month)
DataHawk is a comprehensive software platform designed to empower you with robust analytics tools. With DataHawk, you gain access to a wide range of powerful features tailored specifically for Amazon sellers.
First and foremost, DataHawk offers robust analytics capabilities.
You can explore and analyze your SEO, product, market, advertising, and finance data to optimize your organic search performance.
Do you want to know how your keywords are performing?
The Keyword Rank Tracker allows you to track daily keyword ranks, identify the ones driving the most organic traffic, and measure the success of your SEO changes.
What's more, DataHawk's Listing Optimization Tool helps you monitor changes in your product detail pages (PDPs) and their impact on visibility.
For a holistic view of your performance, DataHawk offers Profit and Loss Tracking.
You can monitor your revenues, costs, and expenses with a comprehensive profit and loss dashboard that breaks down Amazon fees, PPC spending, return costs, promotion costs, and fixed costs.
Useful Features
Listing optimization tool
Profit and loss tracking
Competitive analysis
Custom recommendations (manage advertising campaigns)
Robust analytics (analyze SEO, product, market, advertising data, etc)
Pricing
You can book a demo and learn more about DataHawk pricing upon request.
Perpetua offers an innovative Amazon Advertising Software designed to optimize all types of Amazon ads, helping you achieve maximum returns from your Amazon PPC campaigns.
Creating, launching, and optimizing Sponsored Ads is a breeze with Perpetua's user-friendly Amazon advertising software.
In just seconds, you can set up compelling ad campaigns that resonate with your target audience.
One renowned feature of Perpetua is its always-on bid optimization. It analyzes data and adjusts bids automatically on a daily basis, aligning with your target ACOS (Advertising Cost of Sale).
This means you can rest assured that your campaigns are running at peak efficiency, delivering the best possible results.
The Keyword Boost functionality is another powerful capability at your disposal.
By leveraging Keyword Boosts, you can launch standalone campaigns that focus on the keywords that matter the most to your business.
Using Top of Search multipliers, you can ensure your ASINs (Amazon Standard Identification Numbers) show up exactly where you want them to, capturing valuable visibility and driving conversions.
Useful Features
User-friendly ad campaign creation and optimization
Always-on bid optimization
Advanced levers and insights
Keyword Boost functionality
Full-funnel advertising tactics
Brand amplification beyond Amazon
Pricing
As of writing this, Perpetua does not offer any free plan or a trial. The Starter plan costs $250/month and the Growth plan costs $550/month.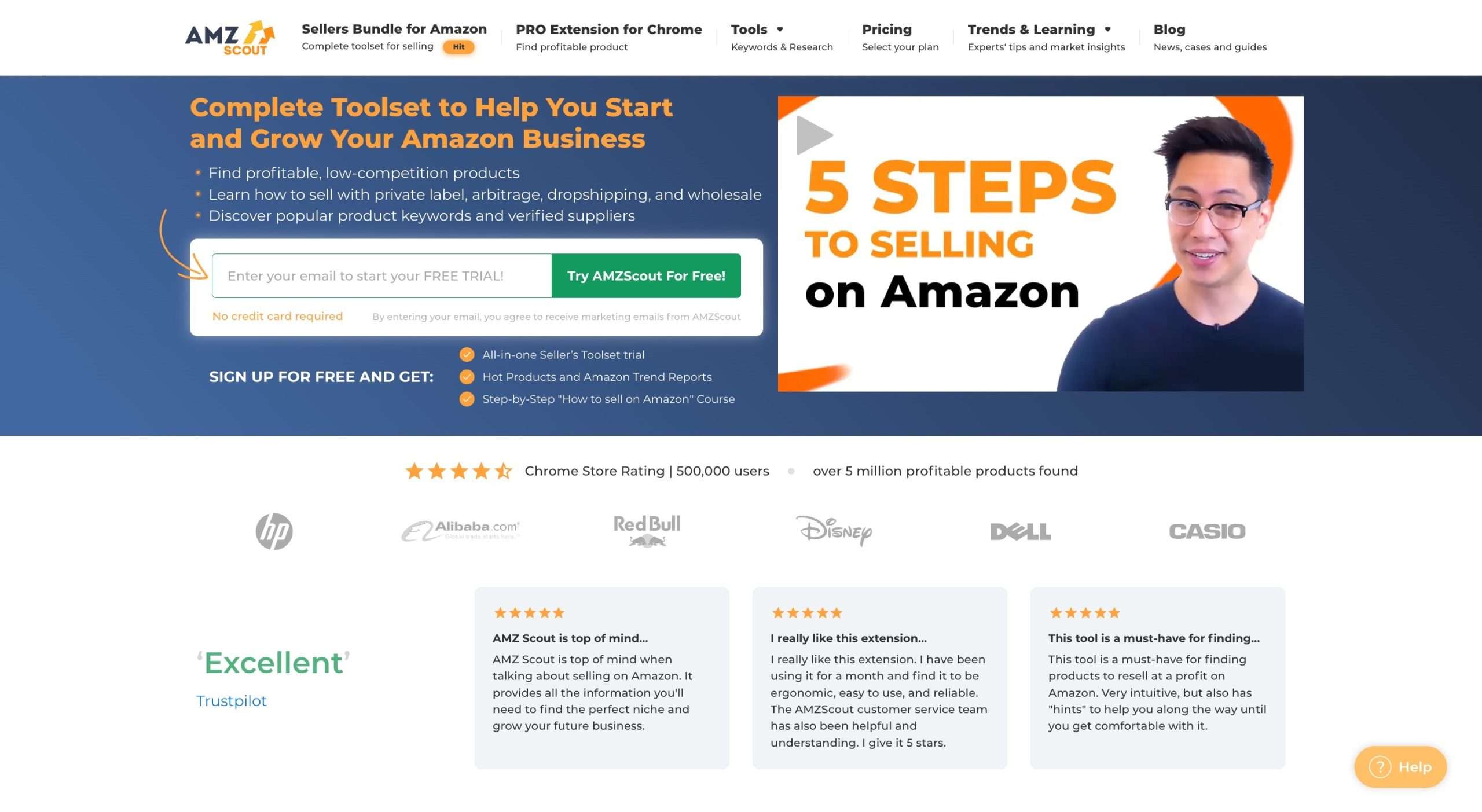 AMZScout is an all-in-one Amazon toolkit designed to elevate your selling experience. Whether you're engaged in dropshipping, online arbitrage, or wholesale, AMZScout has got you covered.
Finding profitable products is paramount, and with AMZScout, it becomes a breeze.
The Product Database empowers you to sift through millions of products, assisting you in uncovering hidden gems that align with your desired sales margins, weight preferences, and other relevant criteria.
AMZScout offers two invaluable keyword tools.
The Amazon Keyword Search helps you discover thousands of relevant keywords to optimize your product listing and attract a larger customer base.
Lastly, the Keyword Tracker enables precise monitoring of your rankings for advertised keywords, ensuring that you maximize the potential of your advertising budget.
Useful Features
Monthly Amazon product trend reports
Product database
Product tracker
Reverse ASIN lookup
Amazon keyword search
Pricing
As of writing this, AMZScout's seller's bundle for Amazon is available at $49.99/month. There is a 7-day free trial available.
Choosing The Best Amazon Seller Tool For Your Business
Finding success as an Amazon seller requires strategic planning, effective optimization, and continuous monitoring of various aspects of your business.
To unlock the full potential of your Amazon seller business and maximize your success, we highly recommend integrating one or more of these apps into your workflow.
Ready to supercharge your Amazon selling journey?
Choose the app that best fits your needs, sign up for a free trial or select a suitable pricing plan, and start optimizing your Amazon business like a pro.
Remember, success on Amazon is within your reach, and with the right tools by your side, the possibilities are endless.