As a leading global e-commerce platform, Amazon offers a lot of business opportunities. But it's a highly saturated market, and getting noticed is a big challenge for many Amazon sellers.
The good news is; you can cut through the competition with SEO optimization techniques, and plenty of tools can help you with that.
Using the right Amazon app, you can easily improve your product visibility and attract more traffic to your shop.
Let's explore the Amazon SEO tool's top features and review the list of trending software products.
What is SEO Tool and What Apps Are Best for Amazon SEO?
Search Engine Optimization (SEO) platforms are online applications that help you identify and track key areas to increase your site visibility on search engines.
Those areas could be anything from page content and advertisements to site design and speed.
Amazon SEO tools, on the other hand, are specifically designed to optimize your listing and PPC ads. While each SEO software comes with unique selling points, most Amazon apps focus on product ranking.
Top Features to Look for in an Amazon SEO App;
Keyword and product research.
Keyword monitoring.
Listing optimization.
Competitor analysis.
Below are the 12 best Amazon SEO tools available in the market. Compare their features and prices to pick the software product for your business.
Helium 10 is one of the top Amazon FBA software products.
Via this app, you can perform over two dozen research and management functions, such as product research, listing optimization, PPC campaigns, and inventory management.
The platform comes with a Chrome Extension and AI-powered tools to make the data easily accessible to you. Using the keyword finder, you can identify selling opportunities and collect valuable keywords for product listing.
With the Insights dashboard, you can continuously monitor your business health and make strategic decisions.
There are several other interesting data you can gather through Helium 10. For instance, you can audit your listing to find areas for improvement and track your keyword performance to measure its visibility.
Core Features
Keyword research and tracking.
Product search.
Listing optimization.
Competitor keyword analysis.
Market evaluation.
PPC management and audit.
Chrome Extension.
Insights dashboard.
Price
Helium 10 prices start at $20.
You can buy add-ons to extend the functions.
Jungle Scout is Helium's close competitor. Both are Amazon seller software products and share some common features.
You can use Jungle Scout to discover profitable products, find high-performing keywords, optimize your listing, and track your keyword rank. Moreover, you can centralize your advertising data and monitor key metrics to see the impact of keywords on your ad's visibility.
With auto-alerts, you can keep an eye on your competitor's listing and monitor changes to market prices and ratings.
Jungle Scout delivers Chrome and Firefox Extensions for keyword and product searching.
Core Features
Keyword and product search.
Keyword tracking.
Advertising and sales analysis.
Competitor and market monitoring.
Listing optimizing.
Browser Extension.
Automation.
Smart alerts.
Inventory management.
Price
Jungle Scout shares three plans ranging between $29 and $84. There's no free trial, but each plan comes with a 7-day money-back guarantee.
You can also get an enterprise package.
SEMrush is an all-in-one software that delivers around 50 SEO tools to optimize your content marketing strategy and help you grow your business.
The platform also offers an app marketplace to give you the flexibility to purchase selected features. The store has several SEO tools for Amazon, such as keyword wizard, competitor tracker, and PPC optimizer.
Last year, SemRush launched a new app specifically for Amazon Sellers that allows you to collect and manage your keyword list.
This can be a time-saving feature if you pair it with the SEMrush keyword research app. Using both platforms, you can find, analyze and save your keyword from one place.
Core Features
Keywords discovery.
List manager.
Traffic insights.
Competitor tracking.
Listing alerts.
Product research.
Price
SEMrush charges $10 for Amazon Keyword Manager and $15 for the Wizard.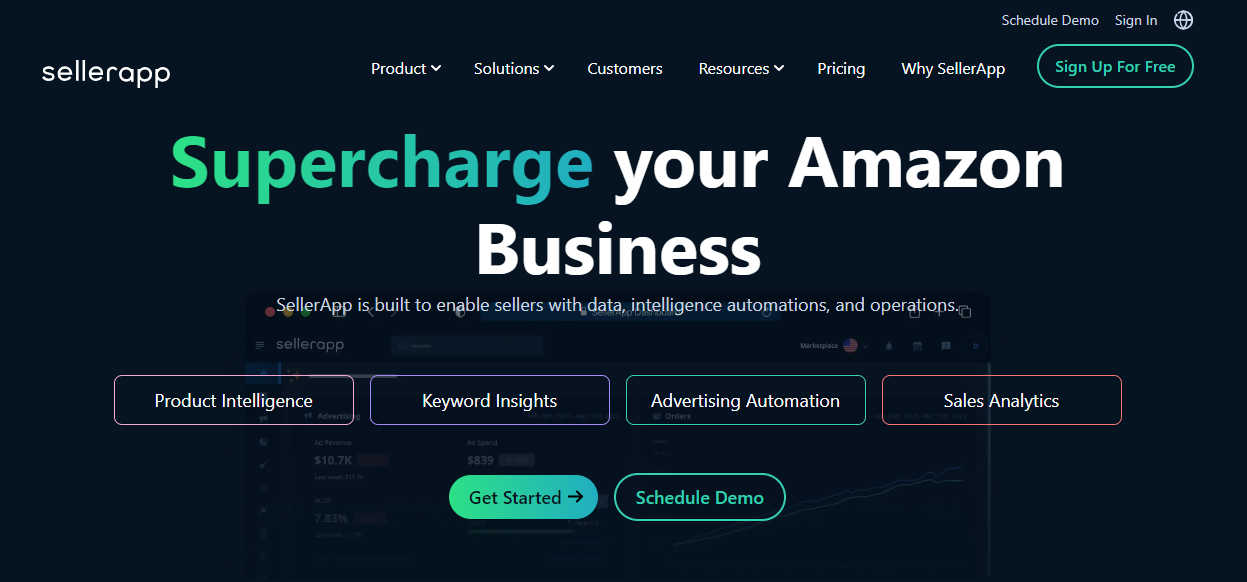 Sellerapp provides analytics and workflow automation. Via this platform, you can do product research, find Amazon keywords, evaluate your listing, and track your content performance.
The software comes with some amazing AI-powered tools to expedite your preliminary research. You will get access to 200M keywords and have the resources to collect a precise list of targeted words.
Using listing analysis and index checker, you can easily evaluate the current visibility of your products and see your competitors' strategies.
Lastly, you can forecast your product demand through Sellerapp's profit dashboard and design SEO optimized PPC strategy to increase sales opportunities.
Core Features
Keyword discovery and tracking.
Product research and insights.
Listing optimization.
Competitor analysis.
Index checker.
PPC optimization.
Chrome Extension.
API.
Price
Sellerapp charges $49 to $99 per month.
You can get started for free and also purchase its managed services.
Up next, we have AMZScout. It's an analytics platform that provides keywords and product search tools for Amazon.
With its keyword feature, you can discover top trending keywords and reverse search your competitor's ASIN to analyze their listing. Using the generated data, you can collect best-performing phrases for product listing and find targeted words to optimize your PPC campaigns.
In addition to keyword research, you'll receive a PRO Extension for product research. You can use it to get a full breakdown of your targeted products to estimate their demand and profitability.
Core Features
Keyword research and tracking.
ASIN reverse lookup.
Product evaluation.
Competitor analysis.
Chrome Extension.
Short courses and guides.
Price
AMZScout has monthly, annual, and lifetime packages. You can get a bundle offer at $50 per month and also purchase add-ons for $10 to $50.
Perpetua is an Amazon marketing analytics platform that offers research and monitoring tools to optimize PPC campaigns.
You can use it to discover organic keywords and track share of voice to measure your brand position again your competitors. The latter allows you to see how easily your products and service can reach your target market, so you can make plans to improve your brand visibility.
With Perpetua's bid automation, you can optimize your sponsored ad costs and ensures your potential customers see your advertisements.
One other thing you can do via Perpetua is SERP monitoring. You can leverage the data to boost your PPC advertisements.
Core Features
Keyword research.
Share of voice tracking.
Benchmarking.
SERP monitoring.
Customer insights.
PPC campaign optimization.
Integration.
Mobile friendly.
Price
Perpetua prices start at $250.
You can request a demo and ask for custom packages.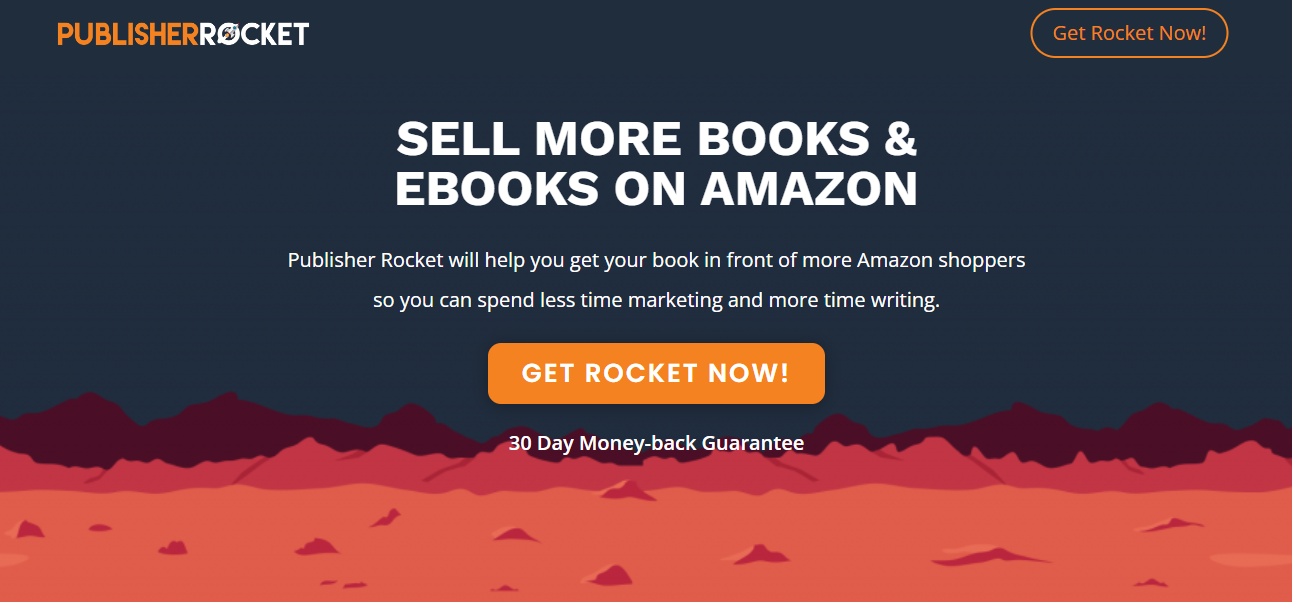 Publisher Rocket is ideal for Amazon booksellers. It gives you SEO and marketing tools to increase your product visibility on Amazon.
You can find phrases your target audience type on the search engine and locate product listings with the same keywords. Through search filters, you can discover your niche categories and identify the level of sales you may need to rank higher.
Publisher Rocket also shares competitors' data to help you understand their marketing strategy. You can check trending products' book covers, average prices, and monthly revenues to see what attracts your target market and which price range may bring more leads.
Core Features
Keyword research for listing and advertising.
Niche discovery.
Book title evaluation.
Access to competitor data.
Rank and potential sales analysis.
User-friendly interface.
Price
Publisher Rocket charges $97 one-time free for full access. You'll get a 30-day money-back guarantee.
AMZ.One offers a suite of tools to help you optimize your Amazon strategy and improve product ranking.
Here, you'll get around nine to ten core functions and unlimited keyword and product research options in your monthly package.
The best thing? Irrespective of the package you choose, you'll be able to perform keyword research, product discovery, listing optimization, and competitor analysis.
Two unique features of AMZ.One are; promotion giveaways and alerts. You can promote your products through AMZ to gain more exposure and set up trackers to get alerts on product changes or negative reviews.
AMZ.One also provides a Hijack tool that tracks your listing and notifies you of similar products.
Core Features
Keyword and product research.
On-page analyzer.
Competitor tracking.
Promotions.
Hijack listing.
Product and negative review alerts.
Sales tracking.
URL Shortener.
Price
AMZ.One's basic plan costs $20, and the professional plan costs $180 per month.
You can take a 14-day free trial.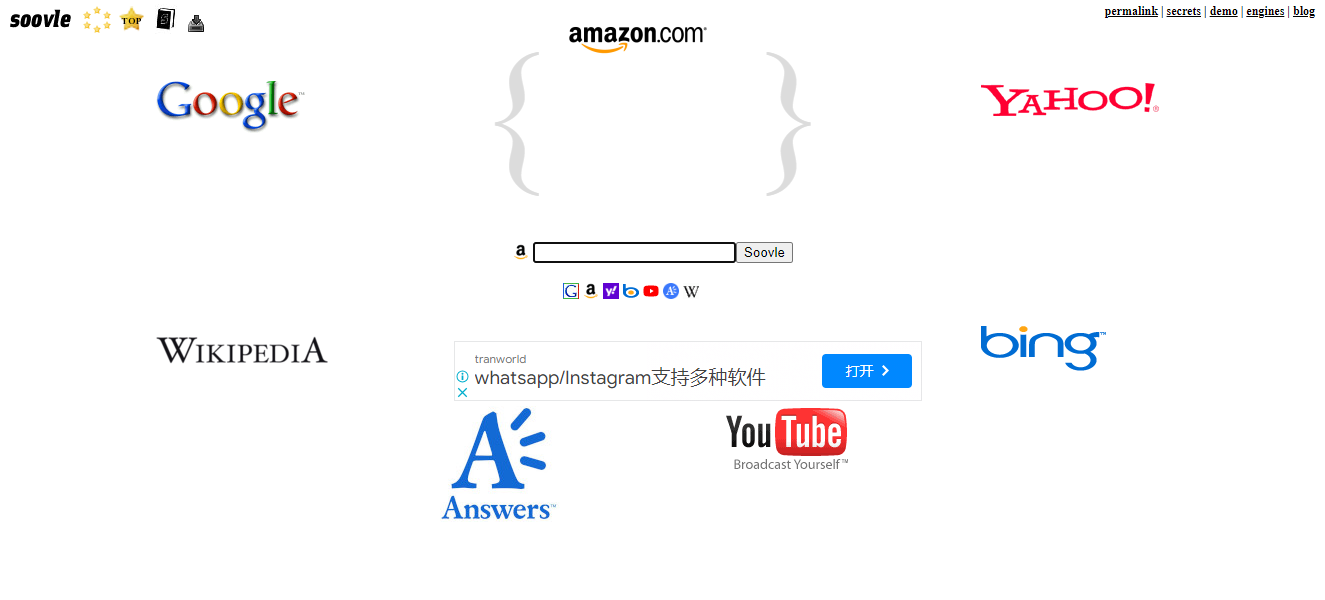 Soovle is ideal for initial research. It's a free platform that generates a list of keywords words and phrases around your primary word.
You can use Soovle to get a general idea of your product demand and collect a list of seed words for in-depth keyword research. For instance, if you're planning to sell bags and don't have much data to start your research, you can find primary keywords through Soovle and begin from there.
The more words you add to the main key phrase, the more precise data you'll receive. Every generated keyword also comes attached with a URL to lead you to the original source.
Please keep in mind that Soovle only generates keywords, and not their volumes or any other measurable data. The app is designed to offer keyword ideas.
Core Features
Simple interface.
Keyword idea generation.
One-to-four-word phrases.
Multi-platform support.
URL link to the source of keywords.
Suggestion saving.
List download.
Price
Soovle is completely free.
KTD is another good free tool for Amazon SEO.
It has slightly more options than Soovle, which enables you to filter your search results. For example. You can search keywords by your product name, category, or general word. In addition, you can add negative words and mention minimum and maximum scores to narrow down your list.
You can also access data from 16 Amazon marketplaces and generate both broad and precise results.
The app is incredibly easy to use and provides a download option to save the list.
Core Features
Keyword discovery.
Global search.
Broad and narrow results.
Negative word filter.
Word score.
File download.
Price
Amazon Keyword Tool is free of cost.
MercahantWords is a keyword data software for Amazon. It delivers a vast range of functions to help sellers rank their products and find more profit-generation opportunities.
Here, you can extract top searches of your target market, save related keywords that could strengthen your SEO, and discover trending and popular products to identify lucrative niches.
You can also analyze your competitor's ASIN to see what keywords they're using to rank their products and services.
With SEO Diagnostic report, you can collect every relevant data to make strategic decisions.
MercahantWords' subscription packages allow up to 100k searches, 10k reports, and 10k keyword collections. 
Core Features
Global search.

Keyword and related phrases discovery.

ASIN reverse lookup.

Market and niche insights.

Keyword analysis and collection.

SEO reports.

Bulk action and CSV downloads.

API.
Price
MerchantWords shares four packages. The basic plan costs $35, and the enterprise plan costs $749 per month.
You can purchase other services as well. For example. Merchant offers an AI-powered tool called PowerListing that automatically optimizes your listing. Here are the product details.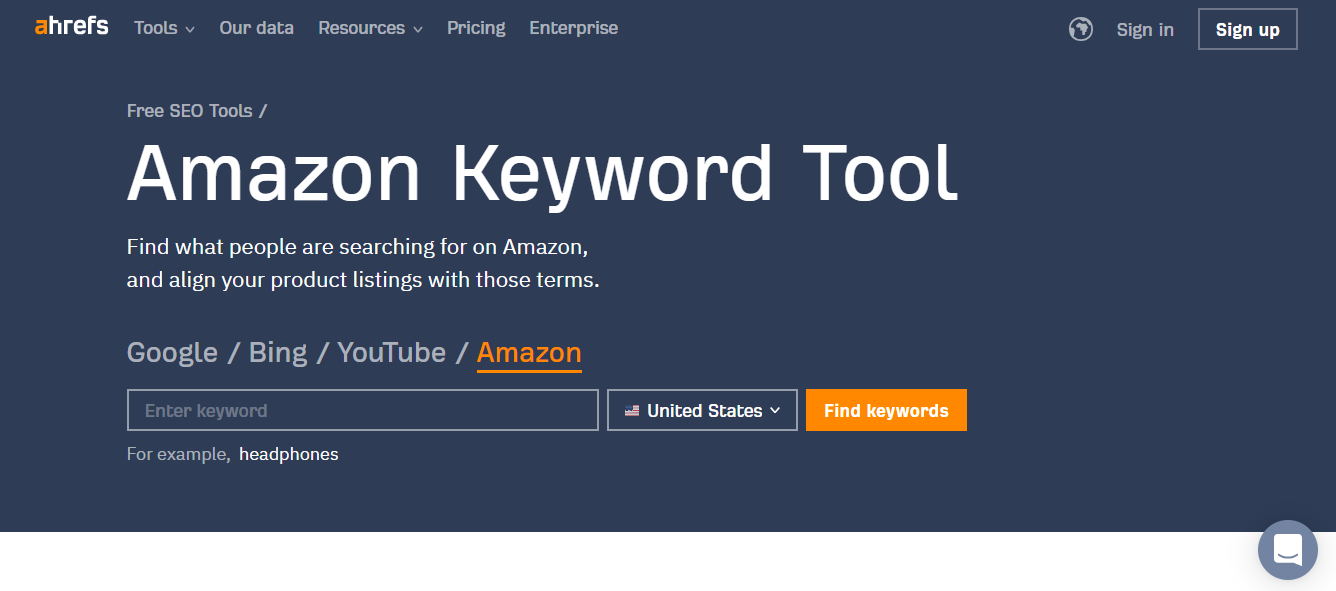 Ahrefs is a leading SEO software. Well-known companies use it to optimize their site content and attract more traffic.
The app delivers several products to help you track your SEO performance and generate more leads. One of its products also includes a research tool that allows you to find trending keywords on Amazon.
This feature is completely free and delivers almost accurate readings. Some of the things you can extract through it include; related keywords, search volume, CPC, and return rates.
In addition, you can paste your competitor's product listing to identify "their" valuable keywords.
Overall, it's a good software product for initial keyword research.
Core Features
Keyword research.
Competitor analysis.
Access to search data from 170 countries.
Filters.
Key metrics like CPC, RR, and GV.
Readable reports.
File export.
Price
Ahrefs Amazon search tool is free of cost.
Conclusion
Amazon app market offers a diverse range of free and paid SEO tools.
Some, like Soovle, are designed to deliver specific data, but plenty of platforms, like Helium 10 and Jungle Scout, provide versatile features.
To pick the best SEO tool, narrow down the areas you want the app for and shortlist the most relevant software products. Good luck!