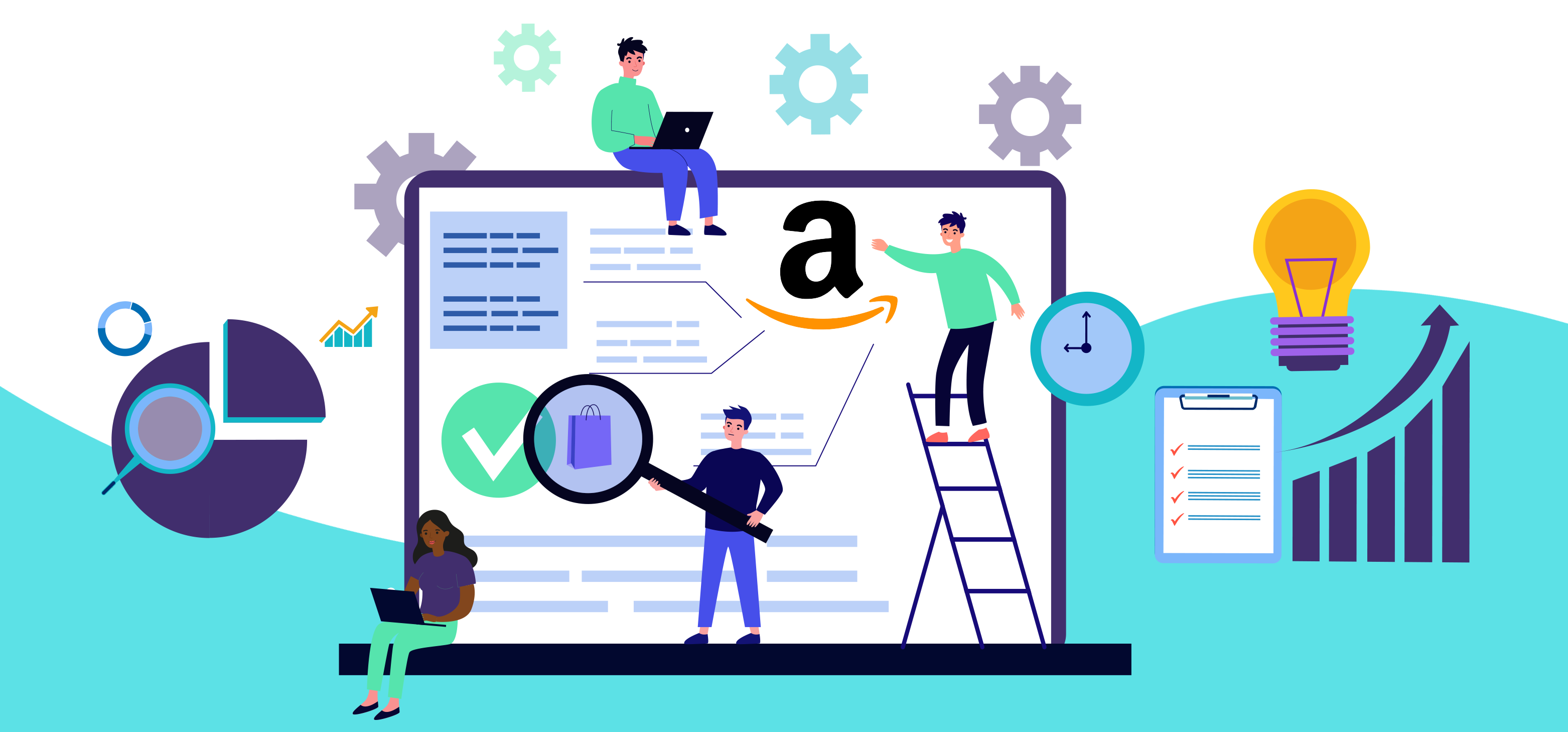 Selling on Amazon can feel like searching for maybe-buried dinosaur fossils.
With over 12 million products and services on display, how do you know where to start digging? Especially when 89% of online shoppers prefer buying from Amazon over any other website (Source).
Let's face the hard truth: to strike gold on Amazon, you need to put in the work—doing product research, calculating costs, following trends, and consistently analyzing data.
As you might have realized, it's not equivalently easy to be praying for all this to happen.
But what if I showed you that there are tools that can help you do all of this faster and more effectively?
With the right product research tools at your fingertips, profitable niches become visible.
This blog post will explore the 12 best product research tools for Amazon to help you discover products that sell.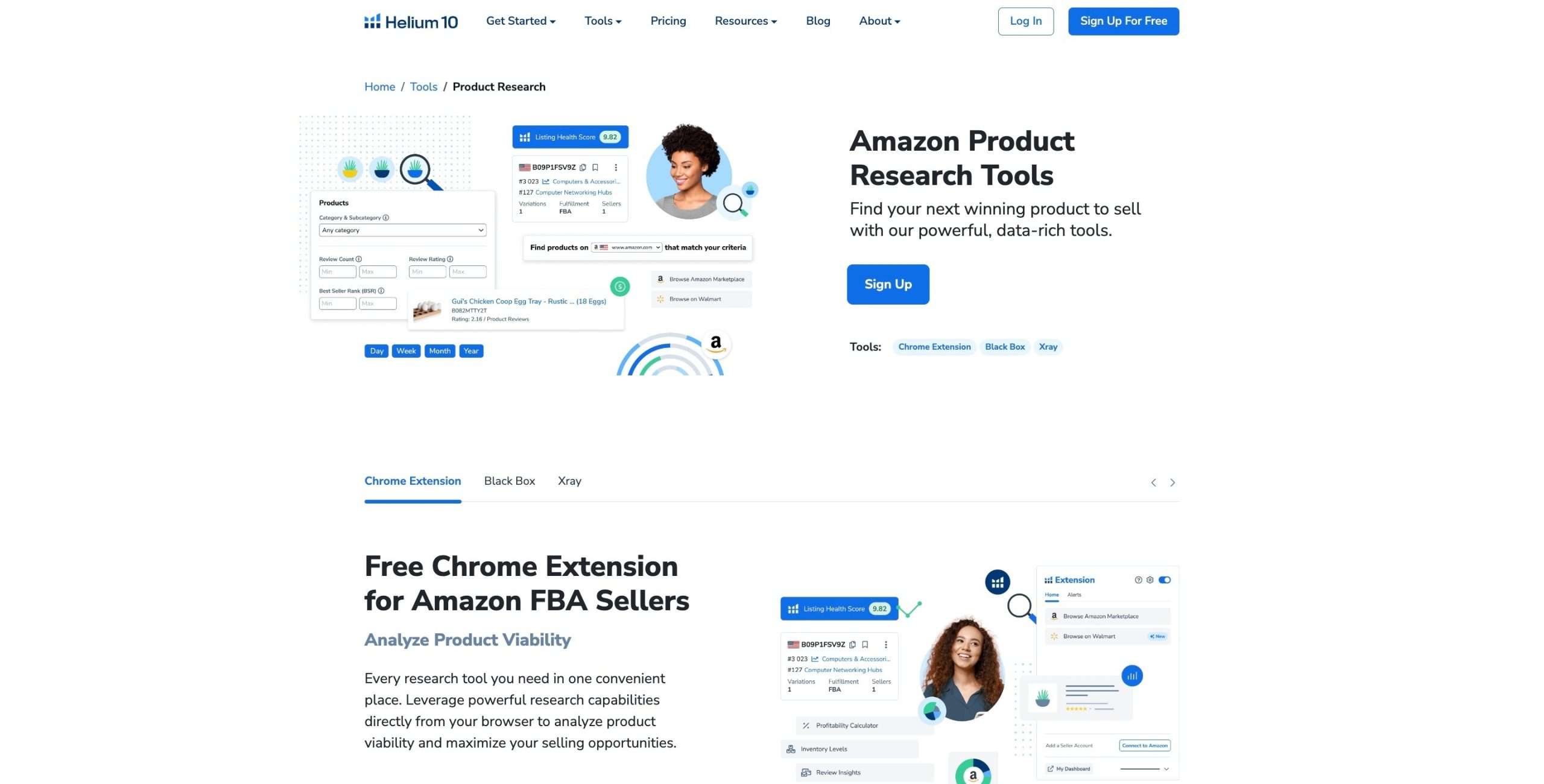 Helium 10's suite of powerful Amazon product research tools helps you cut through the noise and find winning products faster.
One of Helium 10's most popular tools is its Chrome extension, which allows you to perform quick product research in your browser as you browse Amazon.
With a click, you can analyze key metrics like estimated monthly sales, revenue, bestseller rankings, reviews, and more to gauge potential viability and profitability.
This enables you to filter out low-performing products instantly and hone in on real opportunities.
For even more robust analysis, Helium 10 offers tools like Black Box and Xray.
Black Box helps you discover high-potential products across Amazon's 450 million ASIN database through customizable filters and saved keyword alerts.
You can precisely pinpoint products by category, price, demand, competition, and other attributes.
Xray then provides in-depth insights into a product's historical performance, visualizing trends in sales rank, revenue, and search volume over time.
Together, Helium 10's tools simplify and speed up the product research process, helping you find hot niches, avoid over-saturated markets, and launch products strategically.
Pro Tip: Check out the success stories of Amazon sellers who crushed it with Helium 10 and how they did it.
Helium 10 Features
Chrome Extension for quick product analysis directly on Amazon listings
Black Box to search 450M+ ASINs and discover profitable product ideas
Xray for visualizing product sales, revenue, and demand over time
Keyword research to optimize listings and boost visibility
Best Seller Rank (BSR) tracking for competition analysis
Seamless integration with other Helium 10 tools and dashboards
Pricing
To access product research tools in Helium 10, you can go with either of the paid plans:
Starter ($39/month with limited access to Black Box)
Platinum ($99/month)
Diamond ($279/month)
Jungle Scout is an all-in-one platform for Amazon sellers, providing powerful insights and automation to assist with every stage of the selling process.
For new sellers, Jungle Scout makes launching a business straightforward.
Their suite of beginner-friendly resources, like the Product Opportunity Score, guides you through finding a profitable, in-demand product to sell.
Existing sellers can use Jungle Scout's business management tools to scale efficiently. Features like Promotions and Review Automation drive more sales while you focus on growth.
The Launch My Product feature provides a step-by-step guide to a strong product launch using data-backed decisions.
Similarly, Leverage My Amazon Data feature unlocks insights to make fast, informed choices.
With Optimize My Product Listing, you can create listings that convert browsers into buyers.
And that's not even the best part!
The Jungle Scout Extension validates ideas and forecasts sales right from the Amazon page.
Lastly, they offer Opportunity Finder, which identifies potential opportunities using keyword data. Their Product Database sorts through over 500 million items to reveal profitable niches.
Jungle Scout Features
Chrome extension to validate and estimate sales for product ideas
Opportunity Finder to Identify potential winning products
Sort through 500+ million Amazon products to reveal opportunities
AccuSalesTM Algorithm for accurate sales estimates
Product Tracker to track product ideas over time
Advanced keyword research with Keyword Scout
Pricing
Jungle Scout has a 7-day free trial. The Basic plan costs $49/month, the Suite costs $69/month and at last, the Professional plan costs $129/month (all when billed monthly).
AMZScout makes product research effortless with its robust suite of tools designed for your Amazon selling needs.
The AMZScout PRO Chrome Extension delivers real-time analytics while you browse, helping uncover hidden gems with high-profit potential.
Dive into the extensive Product Database with over 500 million items to spark fresh ideas. You can filter by category, sales volume, rating and other factors to zero in on opportunities.
AMZScout also lets you optimize your product listings and advertising with keyword tools.
Craft targeted titles, descriptions, and PPC campaigns that rank in Amazon's search algorithm.
AMZScout Features
Product Database with 500+ million items
Competitor tracking and analysis
Filter by category, sales, ratings
Optimization for product listings
Profitability analysis
Sales projections and calculations
Pricing
AMZScout's monthly subscription costs $49.99/month.
SellerApp is the ultimate product research tool to uncover winning opportunities in Amazon's marketplace.
With SellerApp, you can generate high-potential product ideas, confirm demand, assess competition, and calculate revenue potential.
The AI-powered Opportunity Score rates products based on critical factors so you can instantly identify winners.
SellerApp grants access to a massive repository of 100+ million Amazon product records. Customizable filters let you slice and dice the data to reveal prime opportunities.
With SellerApp, you can research rival products to analyze pricing, promotions, and keywords and discover winning strategies.
The Product Tracker lets you monitor shortlisted items over time to inform strategic pivots.
SellerApp grants access to 16 Amazon marketplaces worldwide from the US, Canada, and Mexico to the UK, Germany, France, Italy, Spain, India and more.
Now you can estimate demand and validate product-market fit across geographies.
SellerApp Features
Massive Data Repository with 100M+ product records and 1B+ data points
Product Idea Generation to brainstorm new opportunities
Opportunity Score to instantly vet ideas with AI
Category Best-Sellers Identification to reveal trends
Custom Filters to focus searches on relevant products
Product Tracking to monitor performance over time
Pricing
SellerApp has a freemium which is apparently free to use, allowing you to track up to 2 products and 10 product/keyword researches per day. The Pro Lite plan costs $49/month while the Professional plan costs $99/month.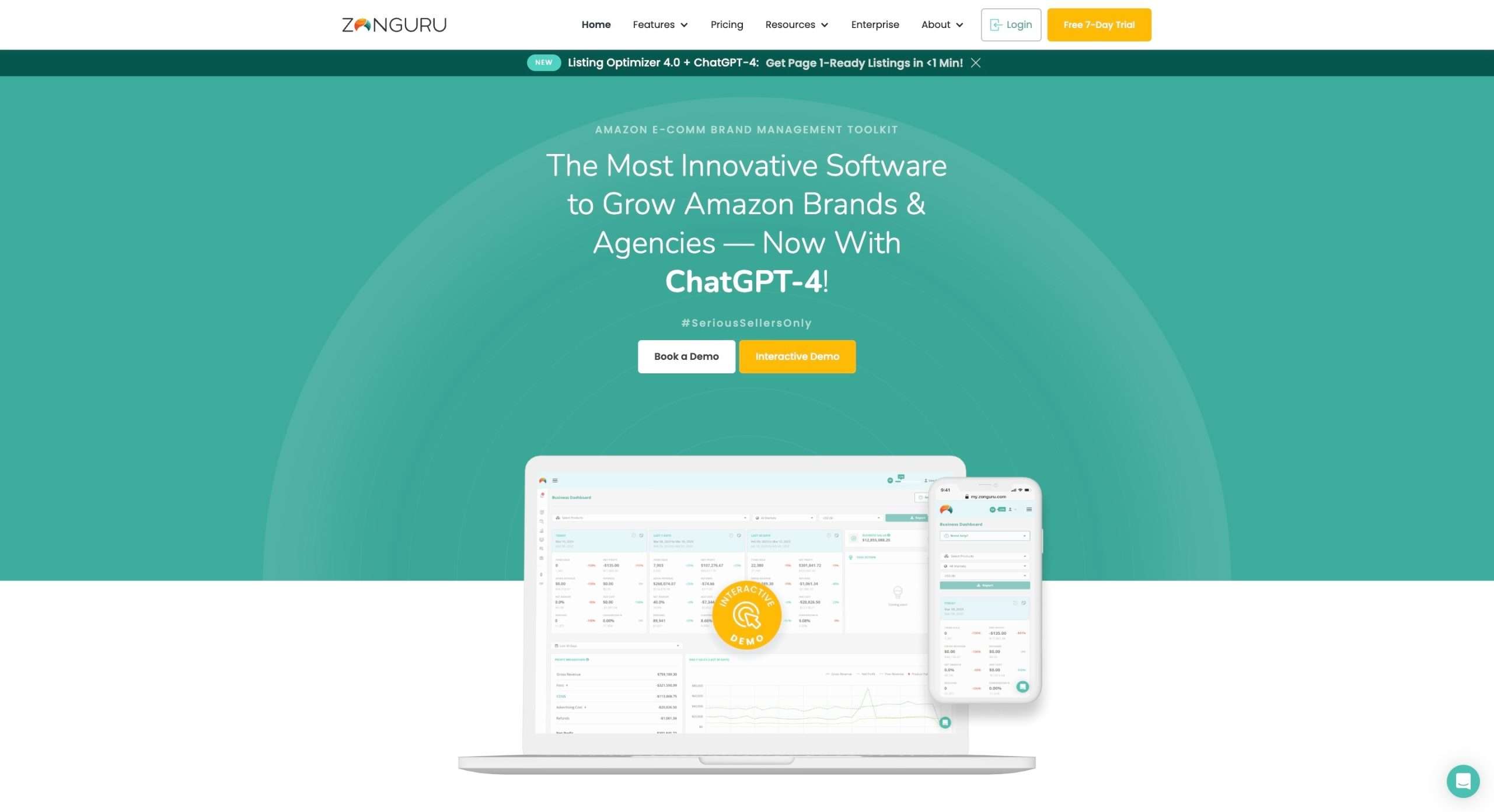 ZonGuru is the all-in-one tool for your FBA business with GPT-4 capabilities.
It offers a complete suite of solutions that take you from finding winning product ideas all the way to engaging customers and everything in between.
When it comes to product research, ZonGuru has you covered with powerful tools like Niche Finder that generate targeted, data-backed product suggestions instantly.
The slick Chrome Extension lets you research products while browsing Amazon to validate demand.
And as weird as the name goes, the Love-Hate feature reviews product feedback, so you can assess strengths and weaknesses before investing.
The Business Dashboard gives you an eagle-eye view of all your key metrics in one place.
ZonGuru Features
Instantly generate product ideas with Niche Finder
Sales Spy to Track monthly sales data of Amazon products
Identify product strengths and weaknesses with Love-Hate
Keywords on Fire to uncover effective buyer keywords
Monitor your listing's ranking for buyer keywords daily
Get instant notifications for reviews and listing hijacks
Pricing
ZonGuru provides a 7-day free trial with two paid plan options:
Researcher ($49/month)
Seller ($79/month)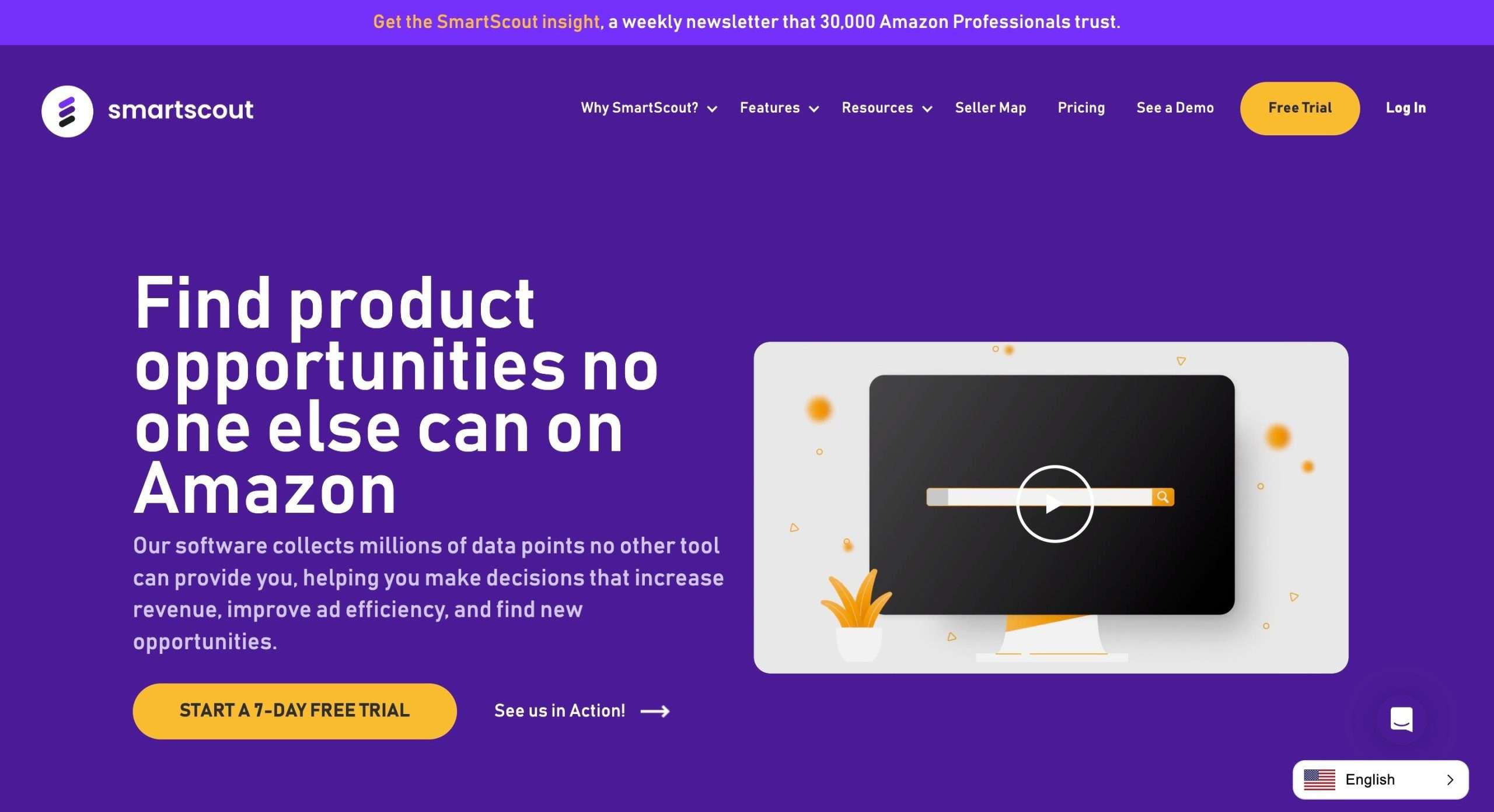 SmartScout is a powerful and versatile Amazon product research tool that helps you find profitable niche products. It provides access to a database of over 20 million ASINs.
One of SmartScout's standout features is its comprehensive filtering capabilities.
You can utilize over 15 different filters to narrow your product search, including category, Amazon stock rate, revenue range, review count, seller number, buy box price, and more.
This is the best: you can even filter products by Amazon's in-stock rate to avoid fierce competition with Amazon itself.
SmartScout makes exploring thousands of products simple through its efficient layout. View up to 5,000 products on a single page for quick scanning.
And hover over thumbnails to enlarge images without losing your place or clicking through to Amazon.
As you check products, SmartScout's unique Product Page Score rates each ASIN's content quality from 1-10, helping you eliminate low-quality listings.
Smart Scout Features
Comprehensive filtering with 15+ criteria to refine searches
Database of 20M+ profitable ASINs
View up to 5,000 products on a single page
Filter by Amazon in-stock rate to avoid competition
Product Page Score rates content quality from 1-10
Pricing
Smart Scout comes with a 7-day free trial. The Basic plan (which includes complete product research functionalities) starts at $29/month.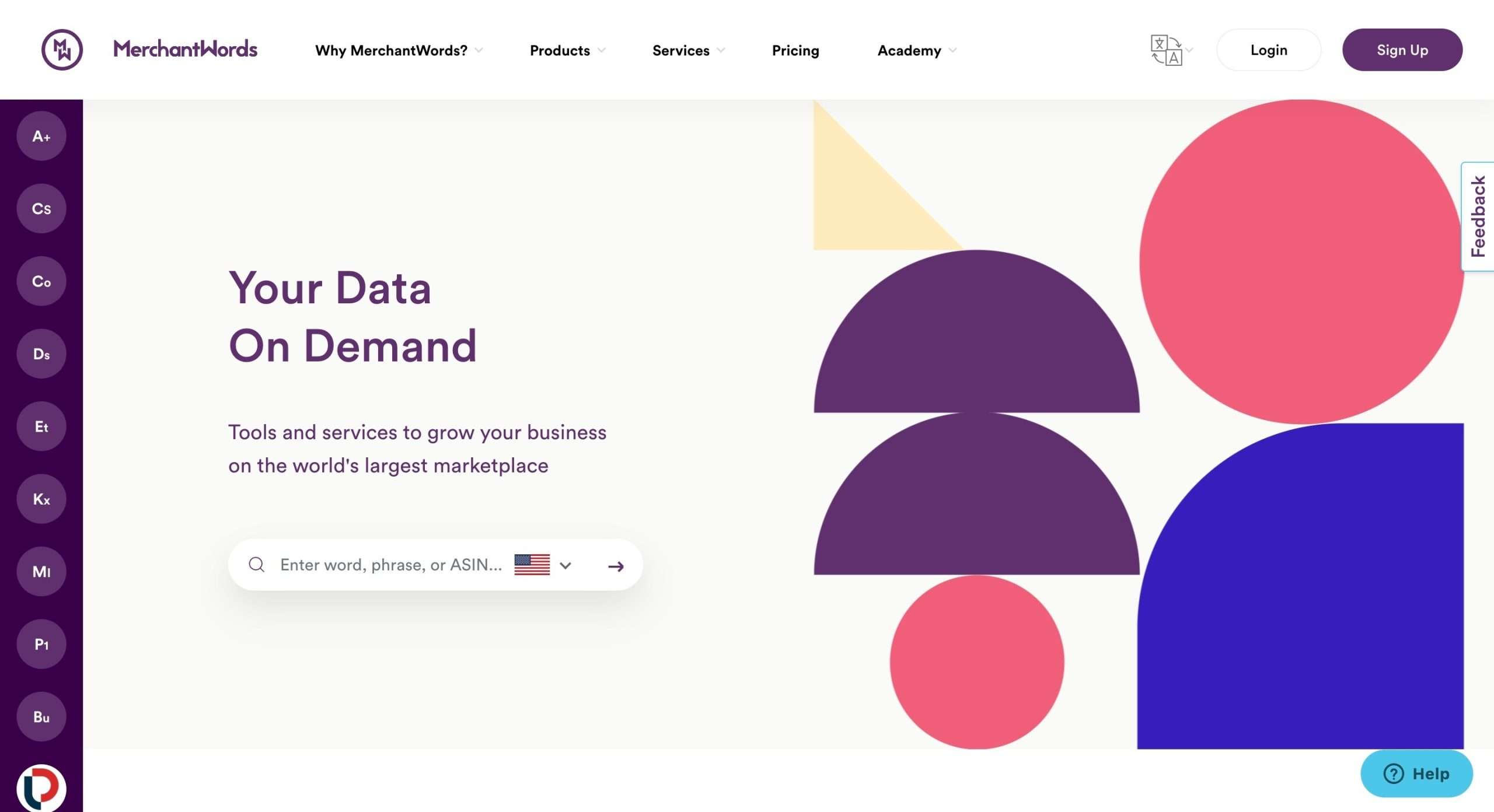 With MerchantWords, you gain an edge with exclusive access to billions of keywords tracked since 2012.
This allows you to uncover high-demand search terms, identify product potential and hone your strategy.
Competitive analysis is a breeze with tools to find and track keywords ranked by rivals. You can even pinpoint emerging trends before others, getting a first-mover advantage.
Beyond powerful keyword research, MerchantWords equips you with digital shelf insights to optimize listings for more clicks and sales.
The ASIN lookup shows keyword performance over time, so you can make data-backed decisions.
MerchantWords Features
Access billions of keywords with performance metrics
Find top search terms and analyze competitor rankings
Uncover new niches and opportunities
Optimize listings and beat competitors
Reverse ASIN lookup to inform decisions
Pricing
MerchantWords offers four Amazon Data Tools plans to choose from, depending on your needs:
Silver ($35/month) – 500 monthly searches.
Gold ($79/month) – 1000 monthly searches.
Platinum ($149/month) – Unlimited monthly searches.
Enterprise ($749/month) – Unlimited monthly searches.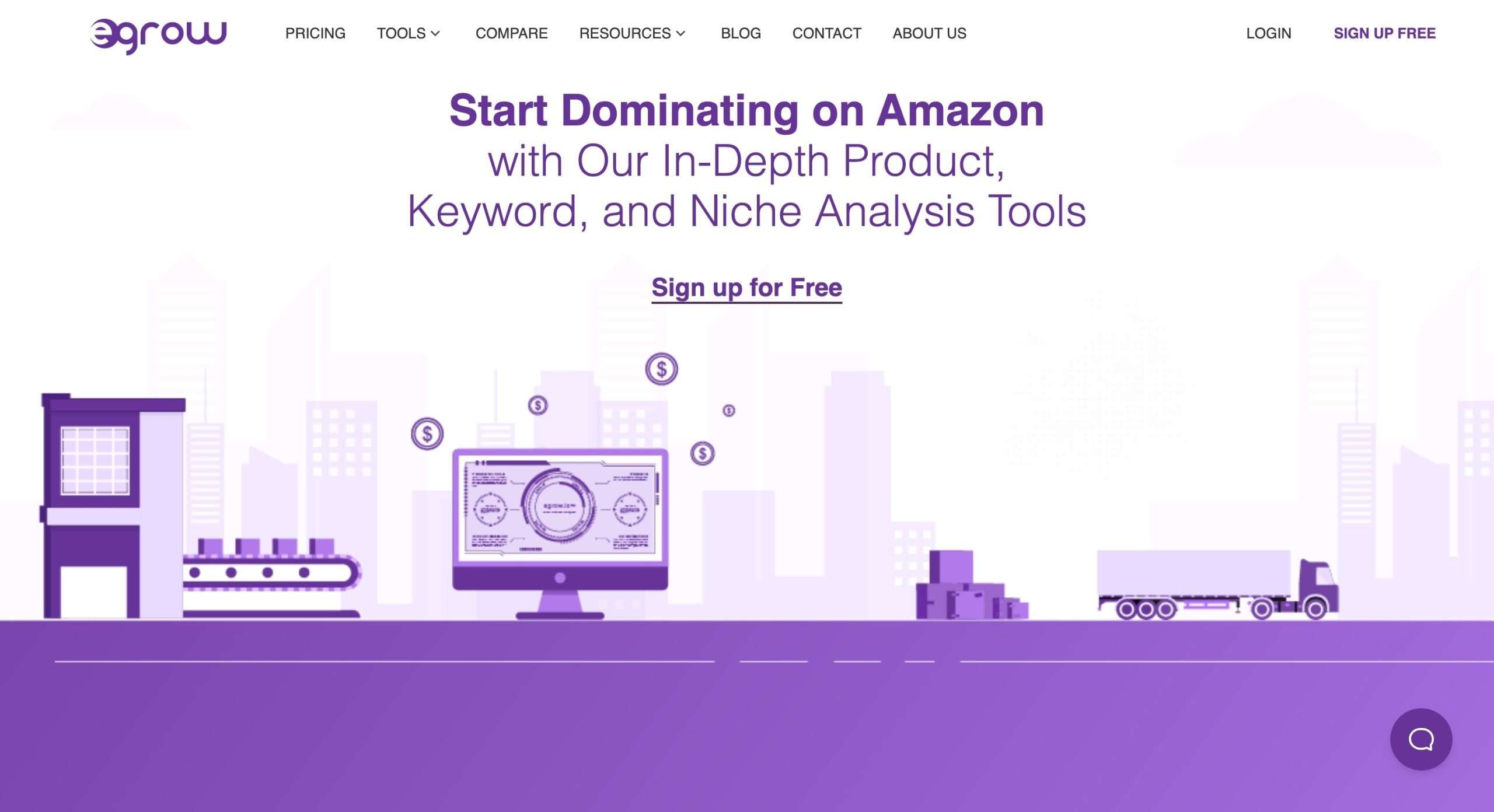 Egrow makes the entire process of Amazon product research incredibly simple by analyzing mountains of data, so you can focus on finding profitable niches and launching products that sell.
The best part?
Egrow offers a crazy amount of useful tools, all located in one place. We're talking about detailed product analysis, real-time keyword tracking, competitor tracking, and more.
For starters, Egrow scans millions of products and keywords every single day.
So you can easily see which niches and products are hot, allowing you to jump on opportunities as they emerge.
What's more, Egrow also does competitor tracking for you, so you can spy on what's working for other sellers.
Their keyword tracker shows rising trends and opportunities in real-time. And if you are on the fly, Egrow also comes with a handy Chrome extension for your help.
Egrow Features
Daily analysis of millions of Amazon products
Real-time keyword tracking and research
Rank tracking to monitor competitors' top keywords
Sales comparison across product groups
Support for 16 Amazon marketplaces globally
Pricing
Egrow's Basic plan is free to use. In it, you get 5 ASIN searches per day for 9 Amazon markets. The Standard plan costs $20/month, the Plus plan costs $25/month and the Premium plan costs $35/month.
Developed by Perpetua, Sonar helps Amazon sellers research and identify relevant, high-performing keywords to enhance product visibility and organic ranking on Amazon search.
With its extensive database of 180+ million keywords pulled from actual Amazon buyer searches, Sonar gives you a wealth of keyword options to explore.
One of Sonar's key features is its continuously updated database that draws 'product/keyword' combinations from Amazon's catalog, focusing on keywords driving products to rank on the first page.
This ensures the suggested keywords have proven successful in boosting product visibility.
Sonar also estimates the monthly search volume for each keyword using its proprietary prediction algorithm.
This allows you to measure potential traffic for keyword optimization and PPC ad campaigns.
When it comes to ranking on Amazon search, their A9 algorithm considers both keywords and overall product performance.
Sonar Features
Provides 180+ million keywords from real Amazon searches in multiple languages
Predicts monthly keyword search volume on Amazon via algorithm
Allows competitor keyword research through reverse ASIN lookup
Supports PPC campaign optimization via efficient keywords
Pricing
Sonar is free to use.
AmazeOwl is an intuitive software that empowers you to thoroughly research products and make informed selling decisions.
AmazeOwl enables you to search across 11 Amazon marketplaces to uncover lucrative niches and products.
You can easily scroll through and analyze Amazon's entire product range to discover potential opportunities. It evaluates each product using key metrics like demand, ease of entry, and profit potential.
AmazeOwl takes the manual workout of filtering through products by automatically flagging high-potential opportunities.
You'll see promising products marked with a star along with plain English explanations of their potential.
With AmazeOwl, you also gain access to an extensive and regularly updated database of product ideas beyond Amazon's catalog.
The ever-growing database contains over 1 million additional opportunities curated from top sellers and industry experts.
AmazeOwl Features
Comprehensive Product Search across 11 Amazon marketplaces
High Potential Product Detection Using AI
Daily Updated Product Database with 1M+ products
5-star Product Ranking for Market Understanding
Competitor Tracking with alerts on changes
Pricing
AmazeOwl's Starter plan is free to use. It allows you to track 1 niche and monitor 3 keywords. The Growth plan costs $19.99/month and the Established plan costs $29.95/month.
CashCowPro is a software packed with features to empower your Amazon business and unlock smarter product research and decision-making.
With CashCowPro, you can track keywords and monitor rankings across all your important search terms. This visibility enables you to optimize listings for better visibility.
CashCowPro removes the guesswork from product research.
The easy-to-use dashboard delivers actionable data and insights you can leverage to pick winning products, monitor performance and continuously improve results.
Today is the day you stop relying on limited Amazon reports.
CashCowPro hooks into your seller account to deliver customized reporting with in-depth analysis of your sales, profits, inventory levels, promotions and more.
You can track revenues, identify fast and slow-moving products, and compare performance to competitors.
With these real-time insights, you can set prices, manage inventory and run promotions to maximize sales.
CashCowPro even allows you to monitor your product's keyword rankings across up to 100 terms per listing.
Last but not least, it also suggests additional keywords to target based on your product's performance and competition.
CashCowPro Features
Real-time sales and profit analytics
Keyword tracking and ranking insights
Competitive analysis tools
20+ million Amazon product database
Chrome extension for product research
AB split testing for listing optimization
Pricing
CashCowPro has a 10-day free trial. Its monthly subscription costs $49.97.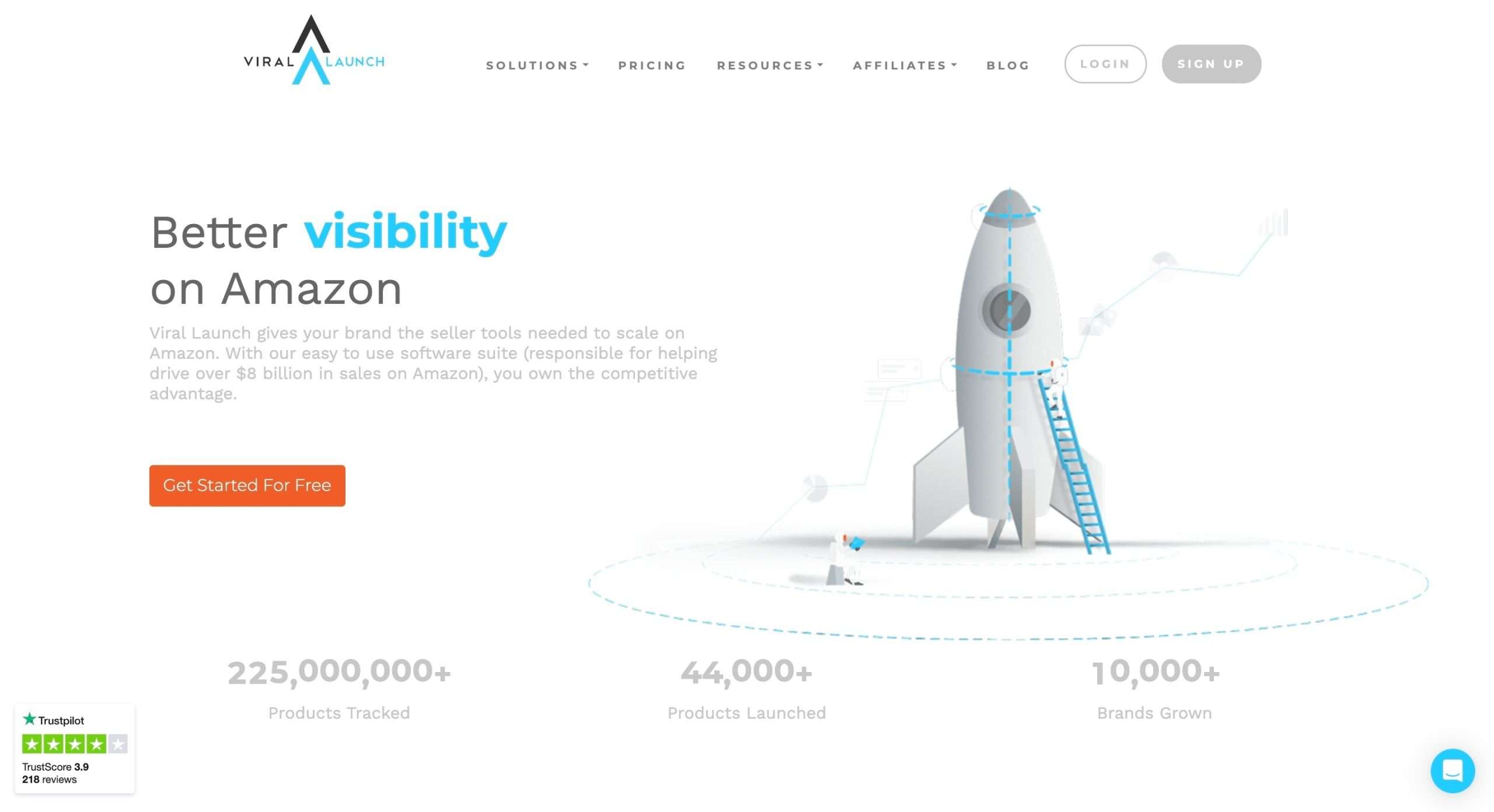 Viral Launch is a trusty Amazon product research companion equipped with tools to turn your complex task of finding products to sell into a breeze.
One of their star features is the Product Discovery tool. It connects you with ideas that are shining with potential. You'll get insights into profitable products, keywords that matter, successful brands, and the categories that are thriving.
But it doesn't stop there.
Furthermore, Viral Launch's Market Intelligence tool gives you the upper hand by helping you understand your chosen niche right from the start.
It minimizes the risk of stumbling by providing you with accurate sales estimates, market trends, competition levels, and more.
Moreover, Viral Launch allows you to track a top seller's moves, letting you gauge your potential in that market.
You'll get insights into their SEO and advertising strategies, even receiving email notifications to stay in the loop.
Viral Launch Features
Product finder tool
Top seller tracking
Database of 200+ million Amazon products
Product reviews data
Product discovery filtering
Pricing
Viral Launch has a 14-day free trial. Their paid plan starts at $69/month and can go up to as high as $199/month based on the plan you choose.
Find Profitable Amazon Product Opportunities
I will be very straight with you for a moment now: if you use the right research tools, your odds of launching a successful private label brand skyrocket.
The product research tools discussed above put game-changing insights within reach.
By leveraging product databases, keyword tracking, sales estimates, and competitive intelligence, you gain the power to:
Validate ideas
Avoid pitfalls
And invest in high-potential products.
Imagine having a data-backed superpower to see into the future and predict which opportunities will flourish.
Don't leave your Amazon success story to chance.
Oh captain, my captain—use the Amazon product research tool that's right for you and seize all the lucrative keywords that matter to your business.
Carpe Diem!