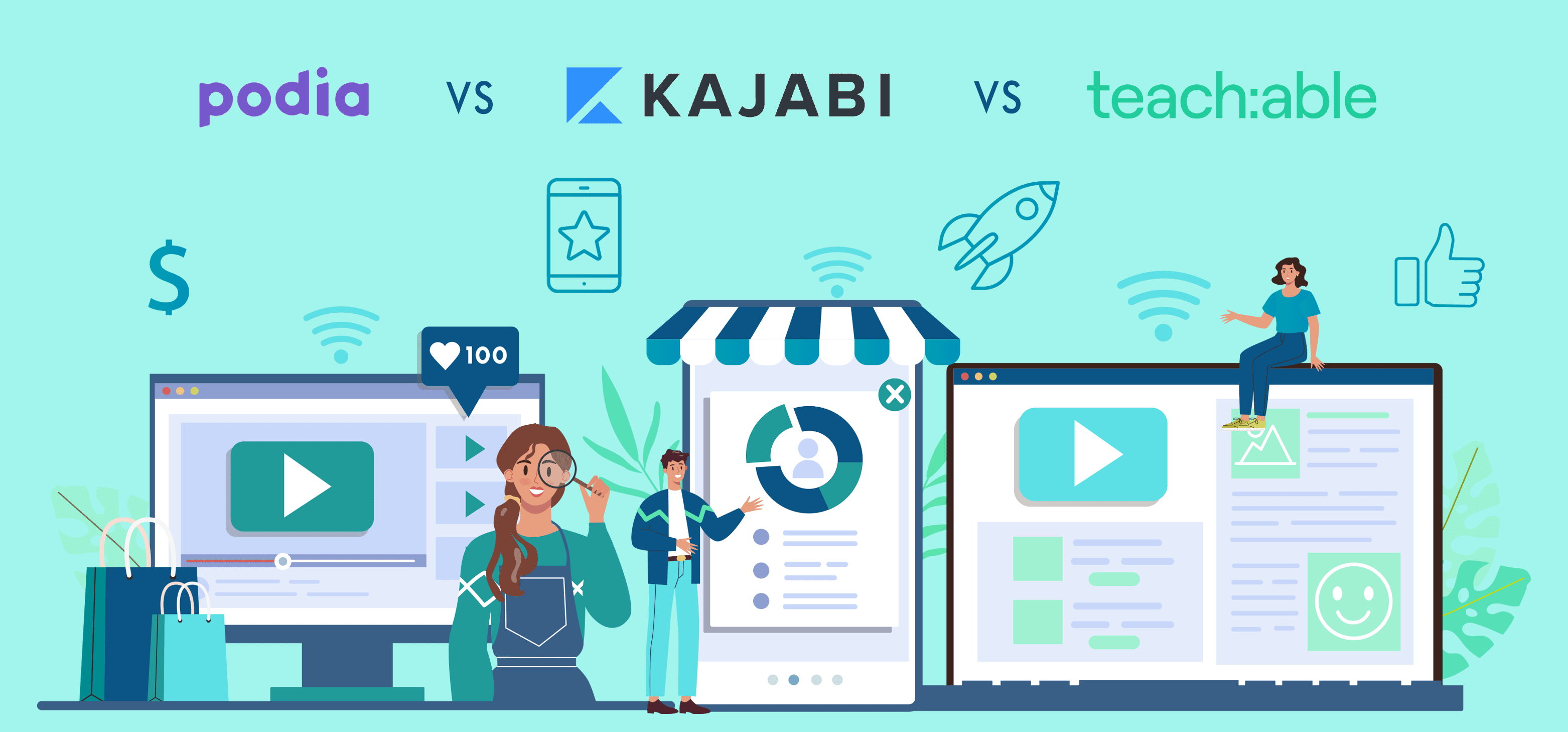 All three platforms – Podia, Kajabi, and Teachable – get used in selling courses online.
They are a good source to share knowledge and generate a passive income.
But which platform suits you the best?
Selecting one of them can get confusing for you.
In this article, I have compared the platforms on various parameters.
With that, you can decide whether as a creator, or an entrepreneur, which works best for you.
1. Introduction
Spencer Fry (Founder and CEO) started Podia in the year 2014. It is a private entity, headquartered in New York City.
Their commitment is to build the most creator-friendly tool and follows the value of keeping the creators first.
It has got everything to take your business to a new height.
You can use Podia for website building, selling digital products, and creating a community for free.
Not only do they provide a platform to sell your course, but they help you market your business through email marketing.
You can also enable an affiliate program for your course.
Once the students share their affiliate link or code with their friends to enroll in your course, they will earn a commission (you can customize it). On the other hand, your course gets promoted and word-of-mouth gets you more credibility.
So, it is a win-win situation.
Also, there's a reporting section where you get the data of total sales, campaign performance, students engagement, etc.
We will talk more about its features in detail in the coming section.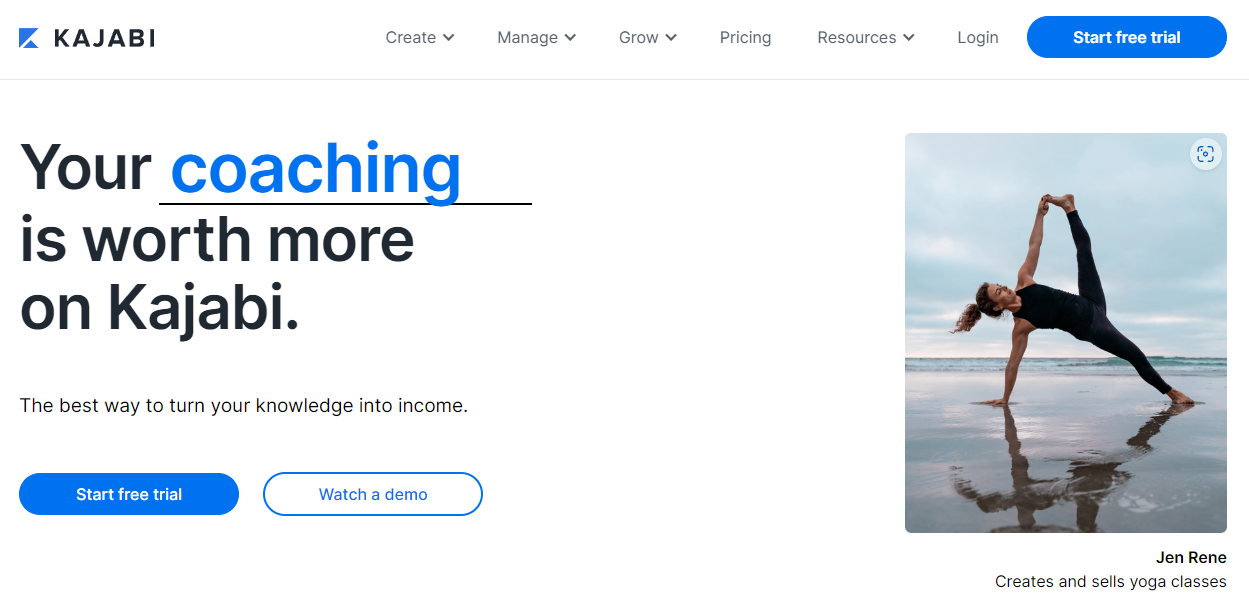 Kajabi is a SaaS company headquartered in California.
It got incorporated in 2010 by founder Kenny Rueter. Its CEO as of September 2022 is Ahad Khan.
Kajabi is an alternative to Podia and Teachable.

It is a paid tool with a 14-day free trial.
You can create websites, courses, podcasts, and communities.
Kajabi, like Podia, helps you market your product through email campaigns and affiliate programs. Side-by-side, you get the reports and analytics of how campaigns are performing.
You can also check certain reports like sales, individual student assessments, email campaign performance, etc. They provide a wide range of metrics that will help you measure course performance and improve it.
The platform price is on the higher side compared to Podia and Teachable.
Kajabi is more apt for established authors, teachers, and businesses to train their employees.
Teachable got started by Ankur Nagpal (the founder) back in 2013.
In the beginning, 'Teachable' was not 'Teachable'. It was called Fedora.
After two years, when the business started running in profitability, the team thought to give it a new name. And hence, 'Teachable' came into being.
Like Podia, you can avail the benefit of Teachable for free.
To get started with the platform, all you need is a domain.
Once you buy it, log in to the dashboard, connect the domain, create a website, upload the content, and you are all set to sell your course.
When it comes to marketing, Teachable does not have the option of running email campaigns. You got to integrate the third-party platform to avail the promotion benefit. However, they do have an affiliate program option to promote your product.
Teachable's community concept is different. They do not give you the option to create a community for your students.
Rather, they have formed a community for the creators. As a creator, you can join the community to build a network and learn from other creators. You get to know and implement their strategies into your business to grow.
So, overall, it is a basic and easy-to-use platform but lacks a wide range of features like Kajabi and Podia.
If you are a starter, then you can consider Teachable as a go-to platform.
2. Product and Features
Podia
Website
To create your website in Podia, you need not be a developer.
With clicks, you can create a website to sell your course, webinar, e-books, build a community, etc.
Which types of websites can you build?
Single page to sell any e-books or PDFs

For generating leads through email marketing

A website with many pages
On the web pages, you get the option to attach videos, audio, files, etc., to share with the users.
Products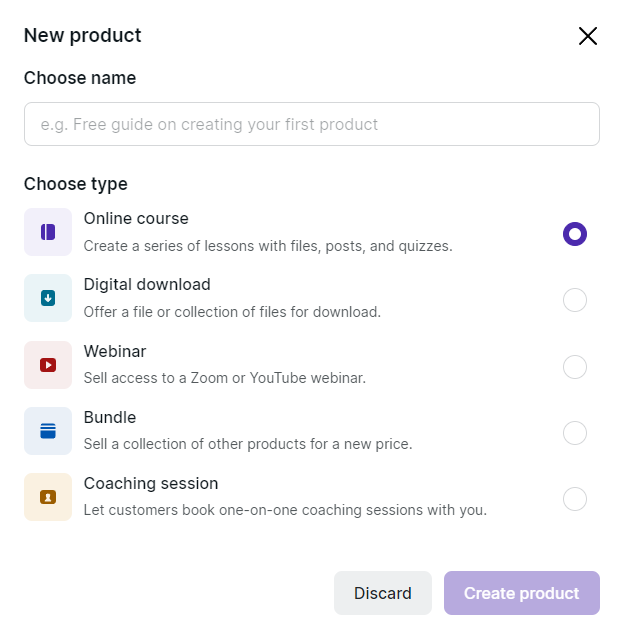 In Podia, you can sell five types of products.
Digital downloads –

Select any of the options from e-books, templates, PDFs, or any study material. If you want users to only download your offering, they go with 'Digital downloads.

Online course –

Create and upload your course videos along with files, and other study materials.

Webinar –

If you want to generate leads for your course, conducting a webinar is a good option. Plan a date and conduct a webinar, either for free or for a fee. You can either conduct it on Zoom or YouTube.

Bundle –

Bundle selling means if you sell many courses, then you can create a new offering. For example, combine two courses and sell them at a single price.

Coaching –

It is where you take a one-on-one session with your student. Create a calendar and book the classes on specific dates and times.
Community
Many coaches or creators make a community for their students.
It becomes a place where learners share their knowledge with other members.
So, if you have any idea to build a community for your students, Podia offers that platform.
You can either create a single community or a different one for separate batches.
Email
In the email section, you get two options:
Broadcast –

Create a simple email for your students or subscribers. You can send them updates, new course launches, offers, etc. In the free version, you can send up to 100 emails only.

Campaigns –

Run email campaigns to promote your course. For example, when you get leads through webinars or e-book selling, nurture them through email campaigns. Here, you can send emails in bulk.
Sales
Offers –

You can run an offer or discount in your course to attract more learners. For example, 10% off, 2 courses at 25% discount, etc.

Coupon –

It is where you generate a code and attach it to a course you want to sell at a lower percentage. For example, you sell a graphic design course. So, your coupon can be like GD2022. Now, these features are not available in the free version. You got to upgrade the account to avail the coupon benefit.

Affiliate –

Here,

 learners promote your course themselves. Affiliate marketing is a great source of promotion. When people get suggestions from their friends or a known person, they trust them. So, to take the advantage of it, set up the affiliate program for your course.
Keep a certain percentage as a commission so that students take the initiative to share your course. Once, someone buys your product through that affiliate link, your student gets the commission.
Isn't that great?
But make sure that your content is also helpful, such that it brings change to the learner's career.
Podia also provides a partner program for its creators. In the same way, you can also earn a commission by promoting the platform.
If any creator signs up to Podia to sell their course through your affiliate link, you get the commission.
Kajabi
Website
Same as Podia, Kajabi gives you the platform to create a website.
Here also, you can create a website without any coding knowledge.
Kajabi offers a range of templates to choose from. But if you want to design the website from scratch, go for it.
Then attach videos, audio, study materials, offerings, etc., all the information that a user needs to buy your course.
Products
Kajabi offers you a wide range of options when it comes to creating your course.
Here are seven types you can select from.
Mini Course – If you have any course that will get completed quickly, then this is the best option. When you select a mini-course and fill in the required details like title, description, etc., the system generates a blueprint of how you can structure the course.
Online Course – Here, you create a certain length of content and distribute it into several parts. These are not too short, nor too long. Upload the pre-recorded videos along with other resources and assessments.
Drip Course – If your course is long enough to stretch for several weeks, create a drip course for detailed class creation.
Coaching Program – It is where you create one-on-one or many people sessions. It makes the class more interactive as you take it live.
Membership – You can offer people to sign-up for your membership. They can access all your content for a set period. Membership is a good way to generate engagement in your course.
Blank – Select black when you do not want a pre-designed template, but structure your course from scratch.
Podcast – In Kajabi, you can also start your podcast. So, instead of a video format, share your knowledge in audio form.
Community
Like Podia, you can create a community in Kajabi as well.
There is not much difference between them.
Both platforms are the same when it comes to community creation.
Sales
Offers – You can sell many products at a single offer, or add many offers to a single product. Kajabi gives you two options. Either you sell for free or keep different pricing plans. Also, here you get the option to upsell.
Coupons – Create single or bulk coupons. Set the price off in percentage or amount, decide the time for coupon availability, and you are all set to launch.
Affiliates – It is the same as Podia. Set the affiliate commission percentage and add it to different courses. Kajabi also has a partner program for its creators.
Marketing
Emails –

Like Podia, you can send either a select broadcast or email sequences. It helps you stay connected with your audience and capture more leads. They give you different email templates to set up the email campaign.

Pipelines –

It gets used to create a funnel. Kajabi offers various templates based on your goal and autogenerates a pipeline. You only need to edit the information and upload the files.

Teachable
Website
Teachable also provides you with the features to build your website.
But they do not have template options.
They have a default template set for every type of page for an idea to get started.
You can edit them as per the desired layout. Only drag and drop the elements, and your webpage will be ready.
Products
Course –

Create the course of as much duration as you want. Pre-record the content and upload the videos along with the add-on materials. You can also attach the assessment form.

Coaching –

Take one-on-one or group coaching live.

Digital Downloads –

If your course contains any PDF, files, images, etc., then attach them. Students will download them for further learning and practice.

Bundle –

Teachable also provides you with the feature of product bundling. Group more than one product and sell them at a single price. It helps increase user engagement and generate leads.
Community
The Teachable community is different from Podia and Kajabi.
On the latter platform, you create a community of your learners. They can share knowledge, doubts, and experiences during the course.
But on Teachable, the platform has created a community of creators.
So, if you are a creator, then you get access to this community to meet other creators.
You share your experience and learn from others on how to grow the business. Teachable conducts webinars and events time and again for value addition to the creators.
Email
In Teachable, you can only send broadcast emails to your students.
Unlike Podia and Kajabi, you need to integrate ESP (Email Service Provider) to run an email campaign for your Teachable course.
So, this is one place where Teachable lacks an in-built feature.
But, still, it gives you an integration option. So, there should not be a point of non-consideration.
Sales
Coupon –

Create many coupons and apply them to the courses to give discounts. This feature is available only in the paid version.

Affiliate –

You can also attach affiliate links to your course for promotion. Also, you have the option to join the Teachable partner program.
Conclusion – Of the three platforms, Kajabi has more features that will help you in every step of creating, promoting, and growing your business.
Then comes Podia. It almost has the same features except for one or two.
Lastly, Teachable because it is a kind of basic tool. If you are a beginner, you can consider Teachable to start with.
3. Device Supported
Podia
Podia does not have its own app. It only supports the desktop version.
It is a negative point because we cannot carry our laptops everywhere.
The web version can get accessed through mobile but the app makes the platform easy to use.
Kajabi
Kajabi supports desktop versions as well as apps.
The desktop version fits both mac and windows. Also, the Kajabi app runs on both iOS and Android.
So, they have not left any stone unturned to miss any opportunity.
Anything to grow your and their business.
Teachable
Teachable apps get supported only on iOS. Android users do not have the option to use their app.
They got to use the web to access their course.
Conclusion – Kajabi wins the game because it covers all the devices to make their presence and capture the market.
Then comes Teachable, which has the app but is only supported on iOS.
Podia stays behind in this case because they do not have their app.
4. Analytics and Reports
Podia
Sales – Check how many sales, revenue, and pending orders you generated. You can also view all the invoices in this section.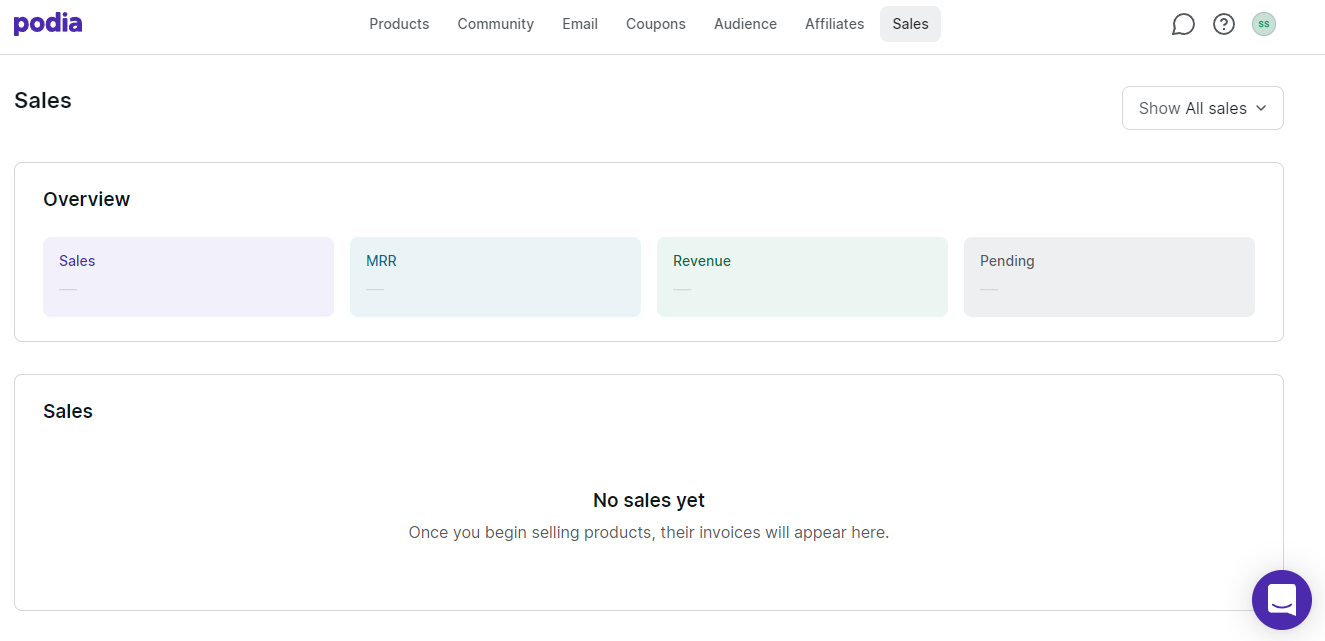 Audience – Here you can track your learners. For example, their performance, assignment score, engagement rate, etc. First, you got to import the audience by placing their email. Then you can manage them.
Email campaign and broadcasts – Track how your email campaigns and broadcasts are performing. Check the metrics like total email sent, clicks, open rate, bounce rate, unsubscribers, and sales generated.
Kajabi
In Kajabi, you get all the analytics under the 'People' section.
Whatever data you want to check, go to the 'People' tab and filter out with the required metrics.
You can track the following metrics:
Learner's activities

Email campaign and broadcast performance

Assessment performance

Coupons sold and revenue generated

Scheduled events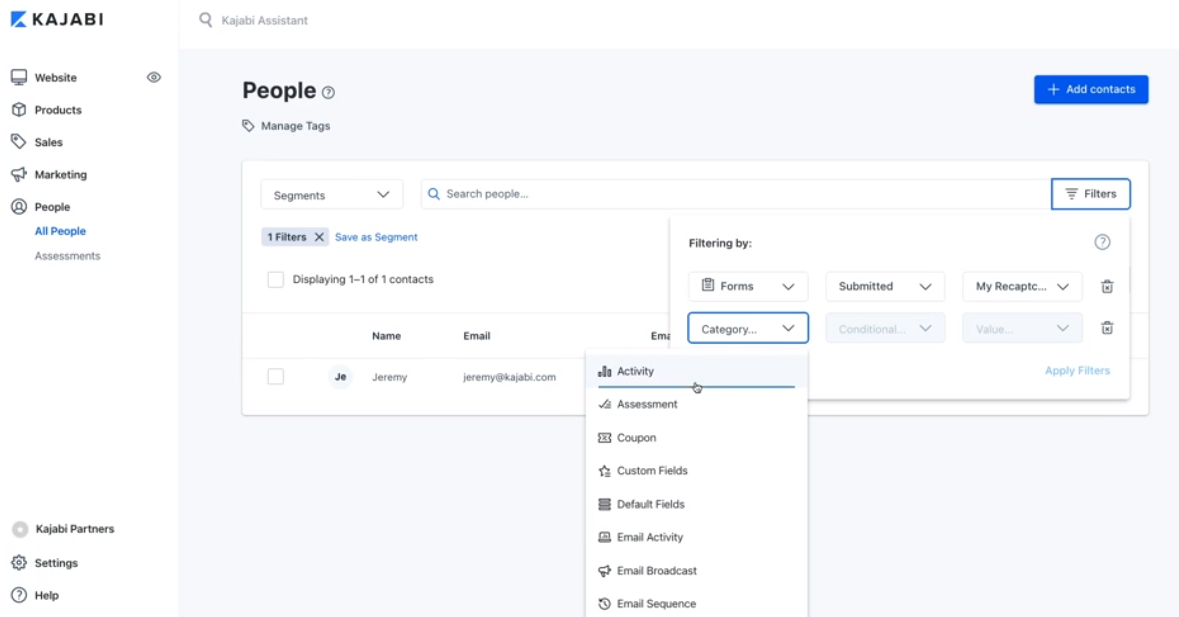 Teachable
Users – Under user analytics, you can track all the learners. You get an overview of all the activities of the learners. Also, you can track individual users like how they are performing.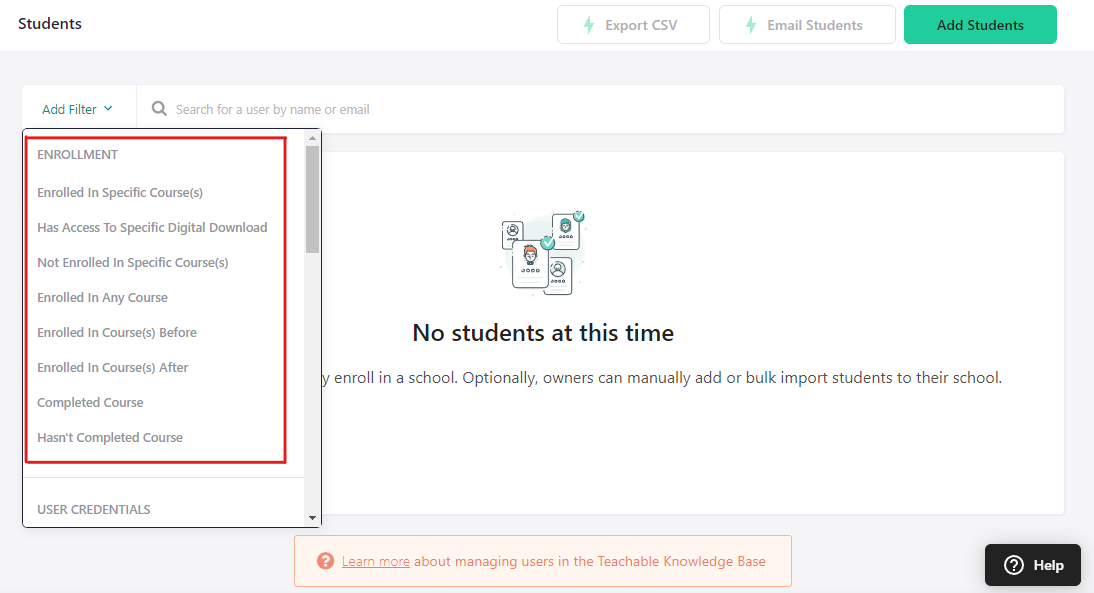 Sales – Total sales, revenue, top-performing course, etc., all these metrics are available in the 'sales' section.
Emails – Check how your email campaigns are performing, how many opened, subscribed, took action, etc.
Conclusion – In Teachable, you get more metrics to track all the activities.
Then comes Kajabi because you can filter out different options and generate a customized report.
Finally, it's Podia because their analytics part is very simple.
5. Commission
Podia
Podia does not charge any transaction fee on paid plans.
You get charged 2.9% as the standard Stripe merchant processing fee and 30 cents per transaction.
If you use their free plan, then you get charged 8% as the transaction fee.
Kajabi
If you use their built-in payment system, they do not charge any transaction fee.
Kajabi also charges the same as Podia.
It does not have any free plans. So, you only have paid plans and get charged 2.9% + 30 cents per transaction fee if you use Stripe.
Teachable
Teachable charges a per-transaction fee in the initial two plans.
For the last two plans, no transaction fees get charged.
Here is the commission plans Teachable offers.
| | |
| --- | --- |
| Plans | Commission (per sale) |
| Free | $1 + 10% |
| Basic | 5% |
| Pro | 0% |
| Business | 0% |
Conclusion – Podia, and Kajabi are on the same level in the case of commission. Both do not charge a transaction fee in the paid version.
But Teachable charges till the basic plan. For Pro and Business plans, they do not charge the transaction fee.
6. Integration
Podia
Podia integrates with 25+ tools. Using Zapier, you can connect more software that Podia does not connect with.
What are these types of tools?
ESP (Email Service Provider)

Payment

Analytics

Video conferencing

Scheduling

Ad platforms

Embedding tools
Kajabi
Kajabi integrates with 16 tools. You can integrate more using Zapier.
These integration tools include categories like marketing, sales and conversion, consumer experience, analytics, and meeting schedules.
Teachable
Teachable supports 8 tools as an integration.
Apart from those, use Zapier to connect other software to manage your workflow with ease.
Other than that, you get the option of an API token. Using the API, connect to all the other platforms that you use for your organization.
Conclusion – Here, Teachable somewhere wins the battle. Why because apart from the direct integration tools, it provides the API option as well.
In case, you miss out on any tool, you can connect it using the API token.
Then comes the Podia with 25+ integrating solutions and finally the Kajabi with 16+ tools.
7. Payment Gateways
All three platforms support Stripe and PayPal as payment gateway options.
So, you can try either one out to collect your course fee from the users.
You can also integrate a third-party payment gateway other than the mentioned above using Zapier or Webhook.
Hence, Podia, Kajabi, and Teachable offer the same payment gateway solutions.
8. Support Service
Support service is the same for all three platforms – Podia, Kajabi, and Teachable.
You get support from live chat, events, and webinars.
Apart from these, there are blogs, downloads, communities, videos, tools, and podcasts.
The resources are accessible to you 24/7.
But for live chat and face-to-face problem-solving assistance, you have got to upgrade your plans. On all three platforms, you do not get the benefit of live chats on their basic plans.
9. Platform Pricing
Podia
Following are the Podia pricing plans :
| | | |
| --- | --- | --- |
| Plans | Price (Monthly) | Price (Annually)(Per month) (Save 17%) |
| Free | $0 | $0 |
| Mover | $39 | $33 |
| Shaker | $89 | $75 |
| Earthquaker | $199 | $166 |
Kajabi
Following are the Kajabi pricing plans :
| | | |
| --- | --- | --- |
| Plans | Price (Monthly) | Price (Annually)(Per month) (Save 20%) |
| Basic | $149 | $119 |
| Growth (Most popular plan) | $199 | $159 |
| Pro | $399 | $319 |
Teachable
Following are the Teachable pricing plans :
| | | |
| --- | --- | --- |
| Plans | Price (Monthly) | Price (Annually)(Per month)(Save 25%) |
| Free | $0 | $0 |
| Basic | $39 | $29 |
| Professional | $119 | $99 |
| Business | $299 | $249 |
Conclusion – Podia charges the lowest among the three platforms.
So, if you are looking for a low charging platform, you can go with Podia.
Then comes the Teachable.
Kajabi charges the highest. But it is worth spending because they provide a wide range of features that Podia and Teachable do not.
Conclusion
That was all with the platform comparison.
If I have to rate them overall, then Kajabi is the best one.
If you have a large budget, it is worth investing in Kajabi. They provide all the features you need to ace your market.
In case you got less budget but want almost the same feature, go with Podia. They have enough features to grow your business, compromising in some areas when compared to Kajabi.
Lastly, if you are an absolute beginner and want to test your course, Teachable is the best choice. They have comparatively fewer features, but you get the basic ones at the acceptable pricing plan.