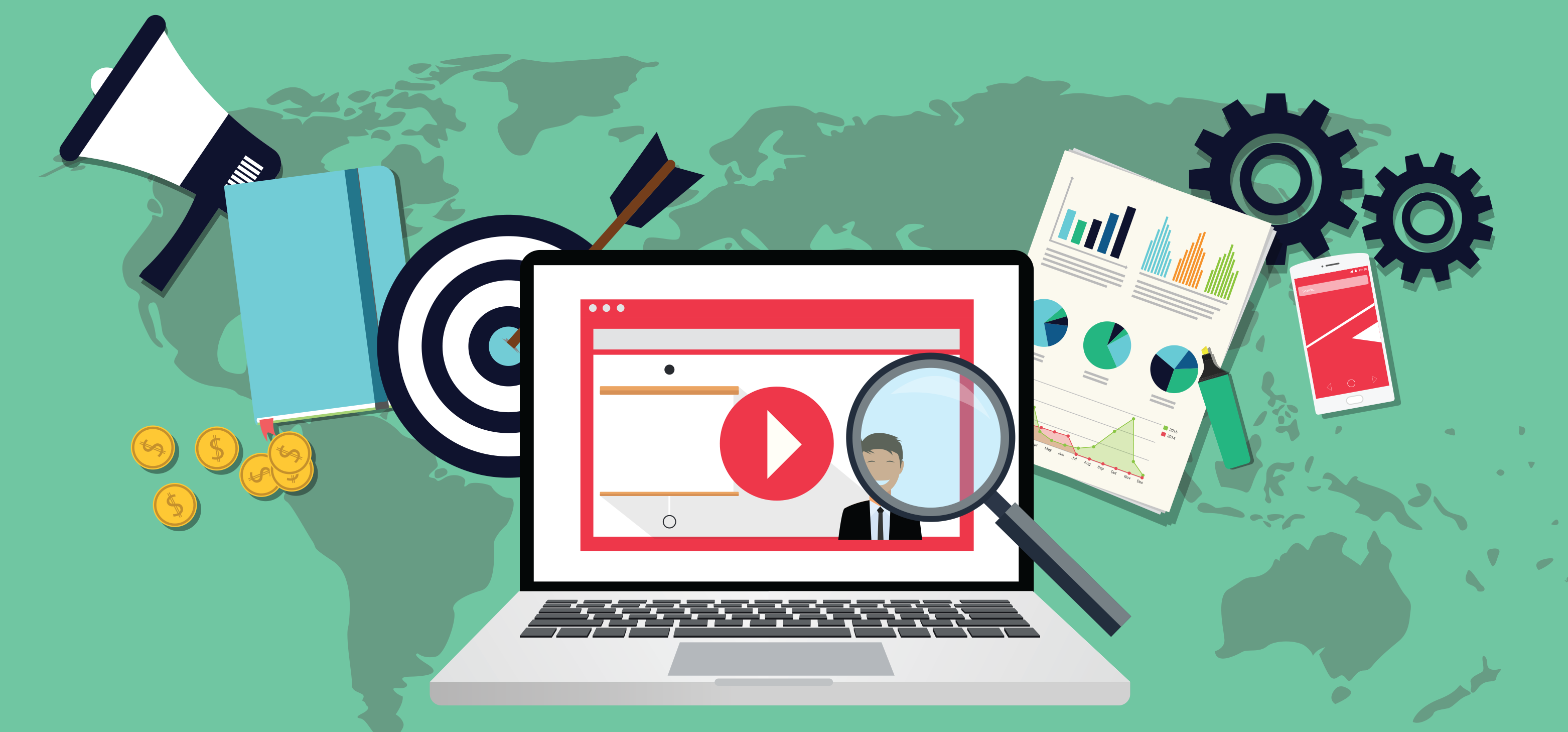 YouTube is truly universal. It is one of the most powerful video streaming platforms, all thanks to its association with the world's biggest search engine Google.
But along with being the most popular video streaming platform in the world, YouTube is a growing business platform, too.
YouTube is one way to share your content globally. Content creators and production houses around the globe are using this free-to-use platform to reach previously untapped audiences.
Not only that, but marketers are also using YouTube to display their ads to targeted audiences.
But most of all, YouTube is the content creator's best friend. Not only does it allow you to share your videos with a global audience without any costs, but it is also a fantastic source of earnings for channel owners.
However, you can only earn or hit enough views on your videos if you're producing unique quality content.
Although that is the primary requirement for being famous on YouTube, it is not the only one. Choosing the right channel name is almost as important.
Your channel name is your identity on YouTube, and you must choose it wisely so people can find you. And if they do find you, your channel name should be impressive enough that visitors are enticed to subscribe.
Without further ado, let's discuss the 15 ways to choose a good YouTube channel name – including the strategies and name generator tools to use.
1. Predetermine the name category
Before you dig into the vast array of potential channel names, it is a good idea to pre-determine what kind of name you are looking for. There are four primary channel name categories. If you can shortlist one or two categories you like, you will significantly narrow down your search for your channel name.
The four common categories are:
Name (Eg. Morgan Freeman)
Brand (Eg. Squeeze Growth, PRADA)
Category (Eg. Growing Tomatoes)
Descriptive (Eg. Plant Propagation Tips)
Using your personal name might be the most straightforward way to name your channel, and it works particularly well if you want a bit of publicity for yourself.
On the other hand, if you are creating a channel for your business, then you might not even have to decide. Your brand name should ideally be your channel name. But if the first two categories are not for you, you are in for a bit of thinking.
Choosing a category or descriptive channel name can be quite rewarding if done right. You can easily attract views and subscribers by selecting a channel name that viewers will find interesting, entertaining, and helpful.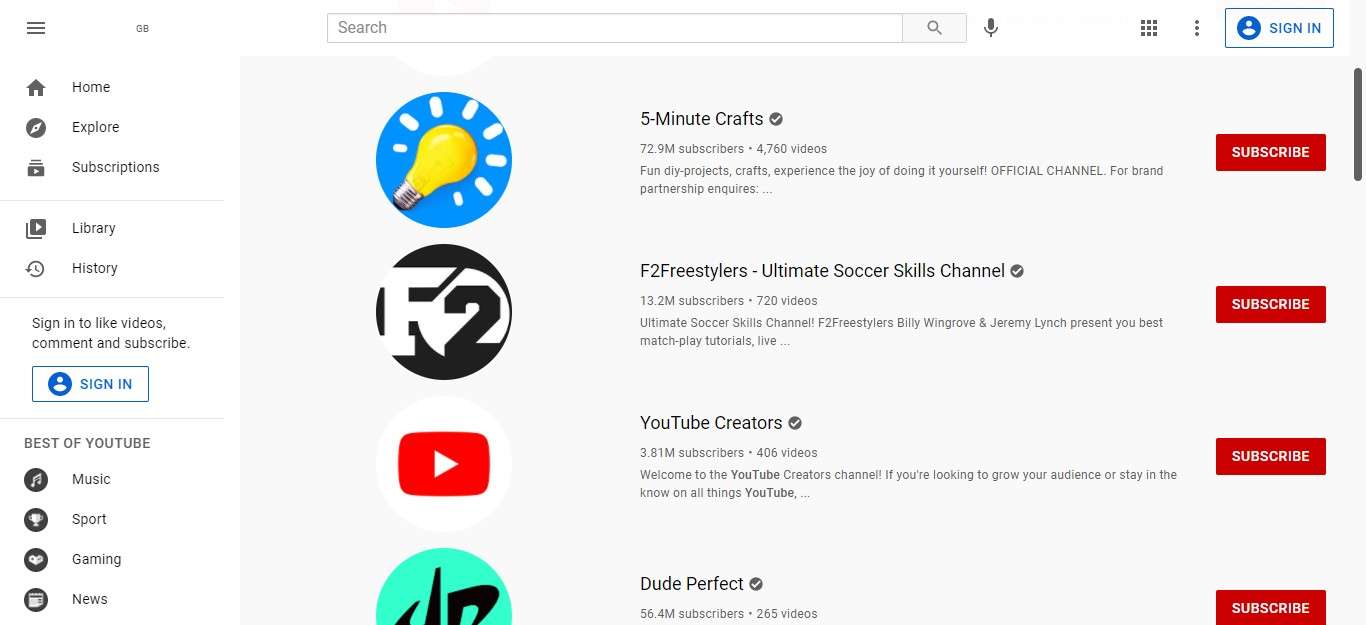 2. Pick a channel name that reflects your work
Choosing a name that has no relation to who you are or what sort of videos you make is not a good choice at all. You should ideally opt for a channel name that reflects your work, the central theme of your videos, or your mission.
A name that describes your work well boosts your viewership and subscribers in many ways. Firstly, when viewers search for a particular type of video, similar videos are presented by the search engine. If the content a viewer is looking for closely matches the title of your page, they will automatically be interested in visiting.
This does not mean you choose a plain name that simply tells what your videos are about. For instance, don't name your channel "Videos for Programmers" or "Videos for Tomato Farmers." You need to add a bit of creativity too. "Programmer Central" or "Tomato Planet" are better alternatives.
3. The channel name should be unique
One of the most critical factors on YouTube's  road to success is choosing a unique name. Not only does your content need to be unique and creative, but your channel name must also be like no other.
There are around 37 million channels on YouTube, and seeing this huge number, you might think choosing a unique name will be quite a task. Well, it can be, specifically when your channel topic is a popular one. But no need to worry because we have solutions for you.
The name you choose for your channel must also not closely replicate another popular channel's name because this can make your image look deceitful. For instance, selecting a channel name such as "TED-Ed Videos" is not a good idea because "Ted-Ed" is already a well-known channel, and this might be seen as a freeride attempt.
4. The channel name needs to be catchy
With this criterion of choosing a good YouTube channel name, things can get a bit tricky.
Being unique and descriptive aren't the only two requirements that need to be met. Your channel name should also be catchy and should stick to the heads of every viewer that comes across your channel.
Your channel name should be easy to spell and pronounce. Unusually long names with numbers and symbols are an outright no. Catchy names are typically short and sweet, with fewer characters and more meaning.
A name that is catchy for one person can indeed be relatively unremarkable for another, and this depends on personal interests and preferences. Choose a name that stands out to your targeted audience – surely, we can't please everyone.
5. The channel name should adhere to YouTube regulations
You need to consider the fact that YouTube is a global platform, and people of all ages, nationalities, and genders use it. You must not use any name that contains profanity or vulgar elements.
Try to be as professional and inclusive as you can with your channel name. Opting for funnier or cooler names might look amusing but can be detrimental to your channel's following in the long term.
Similarly, using inside jokes or anything that is considered derogatory against any individual, group, or community is not a good idea and can backfire in the long term.
6. Be careful of YouTube Channel Name vs. YouTube Username
Your YouTube channel name is not the same as your YouTube username, and knowing this slight difference is helpful. You already know what the channel name is; your YouTube username is the unique sequence of characters that appears on your channel's URL.
When you create a new channel, you are assigned a random combination of characters as your unique username. This combination is assigned automatically and is computer generated.
You can, however, change it to your unique username and have an optimized channel URL once you hit 100+ subscribers and your channel is older than 30 days.
7. Make sure that your name isn't already in use
You are advised to come up with a list of potential names because there are chances that the exact name you choose would already be under using a different person or organization.
The name you've come up for your YouTube channel might already exist on YouTube, so the first place you need to check for name availability is YouTube itself. Type the name you've come up with on the search bar and set the type filter to channel, so results only show channels.
This is the only first step. If no pages with a similar name exist, you must search on Google to make sure no other organization or website goes by the same name. This is not necessary but will help you in the future when you expand your online presence by creating your own website.
8. Think futuristic
If you've decided on the channel name, you might as well want to make your own website in the future.
And to make your website available, you will need the same domain as your channel name to be available.
Checking your domain name in advance and booking it is a good step if you want to avoid inconvenience in the future. Godaddy is one of the most well-known platforms to check and buy domains.
It is worth noting that the availability of a domain with your channel's name is not entirely necessary.
But in the long term, when your channel grows, you wouldn't want anyone else owning a website with your channel's name.
9. Align the channel name to your social media handles
Everyone knows that a social media presence extends to not only one website or platform, but a range of platforms such as Facebook, Instagram, Twitter, etc.
To make the most out of your content and have it viewed by the largest number of viewers as possible, you will need to make social media handles ideally with the same name as your YouTube channel.
Along with your channel name availability on YouTube and domain name availability, you can also check whether the name is available to be taken on the major social media platforms.
Namecheckr is an excellent platform to check for username availability across the major social media platforms.
10. Use Shopify business name generator
Shopify is a well-known website development platform that you can use to come up with a fantastic YouTube channel name. Although it functions to help individuals find unique business names, you can find your channel's name in the same way.
This tool allows you to find hundreds of unique names based on a keyword you provide it with. It is pretty simple and easy to use; moreover, the name generator is free.
You could additionally book the domain of your choice for your Youtube channel from the same platform .
Key features:
The algorithm gets great name results
Option to check for domain name availability
Pricing: Free
11. Head to YouTube Name Generator for creative ideas
When nothing seems to click when deciding on your YouTube channel name, using name generators can prove fruitful. The YouTube Name Generator is an efficient tool to find creative YouTube channel names.
With this tool, you have the option to select either the prefix, the suffix, or both for your channel name. This feature allows for greater control when looking for unique channel names.
Just add the prefix and/or suffix, click on the generate button, and you'll have a list of names to choose from.
Key features:
Flexibility to choose prefix and suffix
Pricing: Free
12. Use Kparser for SEO
If your focus is on SEO for your YouTube channel so that your channel name tops the search results whenever someone searches for something similar, then Kparser should be your go-to name generator.
This tool searches out and displays the top-ranked SEO channel names for you to choose from. Other than that, Kparser is a fantastic tool for keyword research, and you can use it for your video titles.
This tool offers advanced features and the option to search for multiple keywords simultaneously.
Key features:
Pricing:
Paid plans starting from $25/mo
13. Check out SpinXo for personalized name ideas
SpinXo is one of the most comprehensive and elaborate tools to find just the channel name you need. Not only is it fast and easy to use, but it offers a wide range of different criteria for you to set.
There are six different criteria boxes you can choose to fill in, and the name generator will consider all six to find a unique channel name for you.
Apart from coming up with names, SpinXo also displays their availability on social media platforms.
Key features:
Social media availability check
Pricing: Free
14. Try Best Username Generator if you're completely out of ideas
This channel name generator is just like any other name generator; it takes the keyword or keywords of your choice and displays a list of names for you to choose from.
One notable thing about Best Username Generator is that it allows you to select the length of the channel name. You can decide the number of characters in the channel name, so you don't get results that are too long.
This free-to-use name generator can spin up some incredibly good results when you're completely out of ideas.
Key features:
Ability to choose multiple keywords
Ability to select the length of your channel name
Pricing: Free
15. Change your YouTube channel name if it's not good enough
Your YouTube channel name is not a matter of finality. It can be changed upon your request. If you think your YouTube channel lacks something or isn't just working, you can change it in a few steps.
Click on the account icon in the top right corner of YouTube
Choose the settings icon
Click on your channel
Click "Edit on Google"
Update your name and click OK
Your channel's name is an important part of your YouTube career and you must not stress yourself too much about it. Genuine and quality content creation is still the first requirement for YouTube success.
Conclusion
Now that you know the ways to find a YouTube channel name, take care not to rush into choosing one.
This name will be as important as the content you share because it will directly be associated with everything your channel is about.
Getting it right the first time is key because even though you can change your YouTube name further down the line, your audience would have associated you with the first name you published, and might struggle with finding you when you change your name, especially after committing your initial name to memory.
Skip the hassle, spare your audience any confusion, and do your engagement statistics a huge favor by taking the time to perfect your choice of name for your YouTube channel, once and for all.