YouTube channel art is a little tricky from your average social media banner.
Unless you hire a designer for the job, try as you might, any image you incorporate would likely end up looking awkward.
To a hobbyist, a clumsily cropped header image will probably not matter much. But to an entrepreneur, it could prove disastrous.
If you're struggling to set aside a budget for a designer, explore the best 15 YouTube channel art makers I have collected for you to design a free banner.
[By the way, if you're unfamiliar with YouTube terminologies, channel art, banners, and header images are essentially the same thing.]
Being one of the commonly favored designer software, Canva is the first tool I would recommend for your YouTube channel art.
The platform has over 55 million monthly active users, and for good reason.
Canva makes designing banners easy for non-designers. It has helpful customization features, awesome graphics, uncountable background images, and several free animations.
It is also incredibly generous with its free templates and has a separate section for YouTube channel art where you can get templates for almost every niche.
If you can't find a suitable one, no worries, you can alter the entire template using the drag-and-drop action.
Try Canva before anything to create professional channel art.
This tool is ideal for those who find Adobe Photoshop terribly complex.
Most of Adobe Spark's features are similar to Canva, but they offer different values.
Canva focuses on graphics design while Adobe Spark encourages storytelling. It provides visually appealing backgrounds, animation, assets, and templates, allowing you to craft a story on your YouTube channel art.
Check out the below screenshot.
I selected the Pixabay photo, picked a pastel green background template from the right-side panel, added a text template, and picked the plant from the design assets.
While my choice of image and text is, obviously, random, I meant only to show you can tell a story using multiple actions.
Adobe Spark may require a bit of a learning curve, but overall, it has an intuitive UI.
While brands typically use Stencil for social media images, you can easily design your YouTube banner with this tool.
Stencil has an inbuilt YouTube channel art size allowing you to create your banner within the safe zone. Its image stock is by far the largest, comparatively, and its icon collection is positively rich.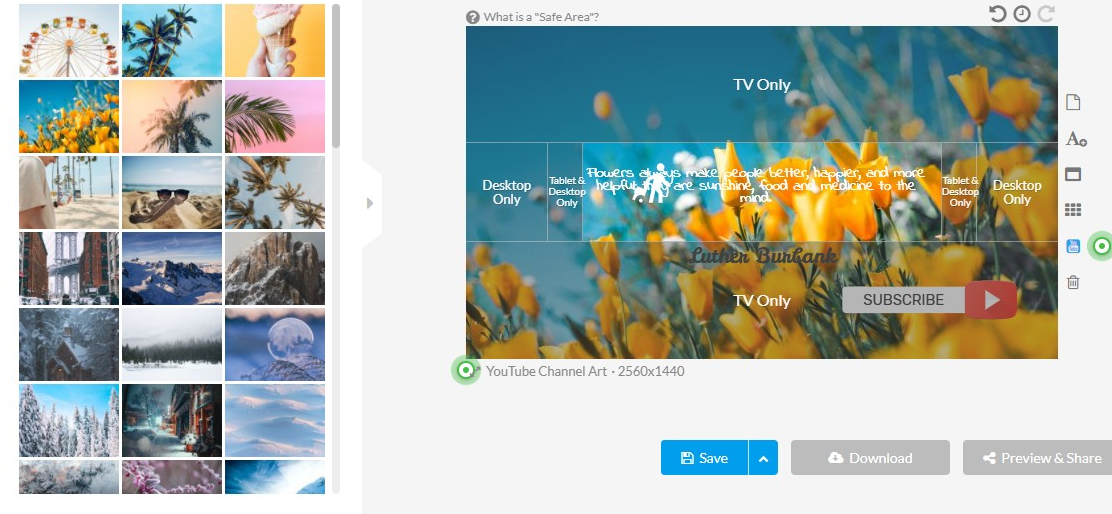 Stencil also offers some distinct features I didn't see in the above apps.
For instance, you'll find preset quotes in the library. You can also preview your images before downloading them. I further noticed an eye-dropping action that will allow you to change colors quickly.
Suffice to say, the tool is incredibly efficient.
Take a tour of Stencil to learn more about it.
Ranked among the top tools, Snappa is a design app that's built to save your time. It offers thousands of high-resolution free images, graphics, and customizable templates.
Even if you start from scratch, you can quickly create outstanding YouTube channel art.
Its preset dimensions are particularly noteworthy.
At the top panel, there is a safe zone overlay button that will allow you to adjust your banner size right on your dashboard. Just lower the opacity of the size frame during the designing process to fit your banner within YouTube's recommended dimensions.
Snappa further provides editing options to incorporate your brand theme. For instance, you can alter your background color to match your brand shade with a color overlay.
You can also use shapes to accentuate your background.
Streakingly speaking, if you're looking for a user-friendly but purely graphic designing tool, go for Snappa.
If you're looking for an all-purpose graphic design tool, explore Crello.
The app offers customization features to edit photos, design banners, and create videos. You'll have tons of templates and over 200m stock images at your convenience.
Crello provides a filter option to color grade your image, elements to improve your banner quality, and a brand kit to match your logo color palette.
You can also add animation to make your banner stand out. While YouTube channel arts are usually static, there's no limit to creativity.
In the above photo, I have applied the blur filter using the action mentioned at the top panel to highlight the text and picked a yellow theme to represent the brand.
A worthy alternative to Canva, Visme provides a comprehensive collection of templates, graphics, and fonts. You can use illustrations, characters, icons, and background images to design professional-quality channel art.
It has a vast store of eye-catching presets, from professional headers, characters to call to action.
What, specifically, gives Visme an edge is its infographics section. In the Basics tab, there is an option by the name of States & figures. It keeps a selection of icons you ordinarily see on infographics.
These charts can save you a tremendous amount of time you'd have otherwise spent creating infographics from scratch.
That said, Visme does come with certain limitations.
I urge you to avail the free version to familiarize yourself with the software. If suits you, buy a standard plan. The subscription is only $15 a month.
Those who prefer a minimalist app will surely like Fotor.
The platform is relatively straightforward, with no distracting bells and whistles to hinder your navigation.
As you log into your account, the Design label at the top of the dashboard will lead you to YouTube channel art templates. You can alternatively pick and edit your chosen template directly from the site, as well.
Fotor offers photo enhancer filters to pop up your image, appealing topography to highlight your banner text, and free shapes to design stunning channel art.
You can additionally scale your image to any size you want.
While some of Fotor's features, like background removal, require an upgrade, you'll have access to enough actions to create a professional YouTube banner.
If you need a tool for a quick job without the hassle of registering, Try Fotojet. The app has some powerful photo effects, including color adjustment, grayscale, and opacity.
You can apply custom sizes, upload your images, add playful clip art, and change the background. Most of its collection leans toward a funky theme, so if you like playful YouTube channel art, go for Fotojet.
Besides photo editing and graphic designing, Fotojet also offers collages. While I believe the collage feature of Fotojet might be useless considering its unbending square size, you'll still find it highly productive as you begin posting content on your channel.
Comparatively, Fotojet is similar to Fotor in some aspects, but it's relatively easier to navigate. However, if you're planning to use it for the long term, I would recommend Fotor.
Like I mentioned above, Fotojet is best for minor projects. Try it for a one-time task.
This is what I would call a pure AD design tool.
Almost every feature on Creatopy is constructed with branding in mind and carries an extensive range of actions to create your personalized YouTube channel art.
You'll find professional presets to design your choice of channel art and stunning topography to embellish the image.
Resizing action contains every social media banner size. There's even a button option on the left panel to add hyperlinked CTA.
Like I said, explicitly, branding tool.
Set up your brand kit to be used on your images, get access to free and paid icons, and start designing your YouTube channel art.
You might face a learning curve, though.
Despite that, I encourage exploring the app. Creatopy supports a team of up to three members and provides essential sharing options.
Those searching for a collage maker that supports sizes other than the standard square should definitely try Photovisi.
It is exclusively a collage tool offering countless templates for YouTube channel art.
Chose a photo arrangement you like, click on the editor and start importing images.
For learning, I picked a random template, changed the background color, added whatever image I could quickly grab, and embedded a few shapes.
It took me a couple of minutes to create the banner, and Voila! I have a new channel art for my YouTube channel.
The tool is extremely user-friendly.
Offering over 15 products, Picmaker lets you create free cover photos, banners, cards, and logos. Its Youtube channel art maker is completely free with a few limitations that you'll probably face in any decent design software.
You can use more than 50 free templates and several backgrounds.
When I noticed Picmaker's gorgeous gradients and illustration collection, I couldn't help myself and started experimenting.
Here's the result of my indulgence.
Pickmaker is also user-friendly. Let's say you want to change the background. Click on your selected image, and Pickmaker will automatically replace the template image.
You can also remove the background using actions on the right-side panel as you click on your photo.
There's one drawback to Picmaker, though. You might find fewer free stock photos in the library.
I suppose you can simply upload the images. One has to compromise somewhere.
For a free tool, Picsart offers surprisingly diverse functions.
You will get access to millions of free images, free stickers, font styles, shapes, and all the relevant elements to create your banner. Its templates are entirely customizable.
Picsart also provides a search option to filter out paid images to save time.
The most remarkable feature of Picsart is its photo editing capabilities. The free plan may say you're allowed to only basic editing, but the filters are anything but basic.
Click on any layer, and a panel will appear at the top carrying color adjustments, effects, and blending options.
You might have to watch some tutorials on its Photoshop-inspired blending option, but the effects are super easy to operate.
There's one more action I found incredibly useful. You can reduce your file size at the time of image export.
Check it out to discover Picsart's exciting features.
This is another free tool that provides a rich collection of images, elements, and editing options.
The image search option is divided into the premium and creative commons categories to ease your research.
Its drag-and-drop function allows you to switch the templates, add elements and photos. If you want to edit any particular layer of your template, click on it, and the adjustment panel on the right side will display relevant actions.
The tool supports three basic formats and is free to download. You may have to create an account to access it, through.
Wondershare Pixstudio additionally offers other free products if you're interested.
The watermark removal product isn't the most wonderful, but you'll like its background-removing feature.
Befunky is a photo editing, collage making, and designing tool with self-explanatory features to navigate easily.
You can scour immeasurable stock images and free graphics with a search bar to create a masterpiece without putting much effort into it.
The gridlines button at the left end corrects your text alignment, and separate layers allow you to edit your template smoothly—though you don't have to use the latter if you're not comfortable with it.
There's also a history button at the right end to revert your settings, should you want to see your previous edits.
While its premium version naturally unlocks many interesting actions, the free account offers enough features to design stunning YouTube channel art.
If you are seeking a simple editor, try Befunky.
This hidden gem was buried beneath the pile of design tools, and I almost missed it in my research. Good thing I didn't. Designcap offers some of the amazing illustrations you might not find in other free apps.
Its primary collection revolves around charts and graphical representations.
For example, check the below image. Do you see the map blended in the background?
It's not a generic world atlas but a Mongolia map I found in Designcap Library.
Designcap additionally provides decent background, font templates, and elements. You can upload your image, resize it to the banner size, and get basic edits.
If your niche is related to finance, you'll love this tool.
I suggest picking one that will make your life easier and creating Youtube thumbnails, banners and other arts fun!
Something like Canva or Snappa should work for most of the time.