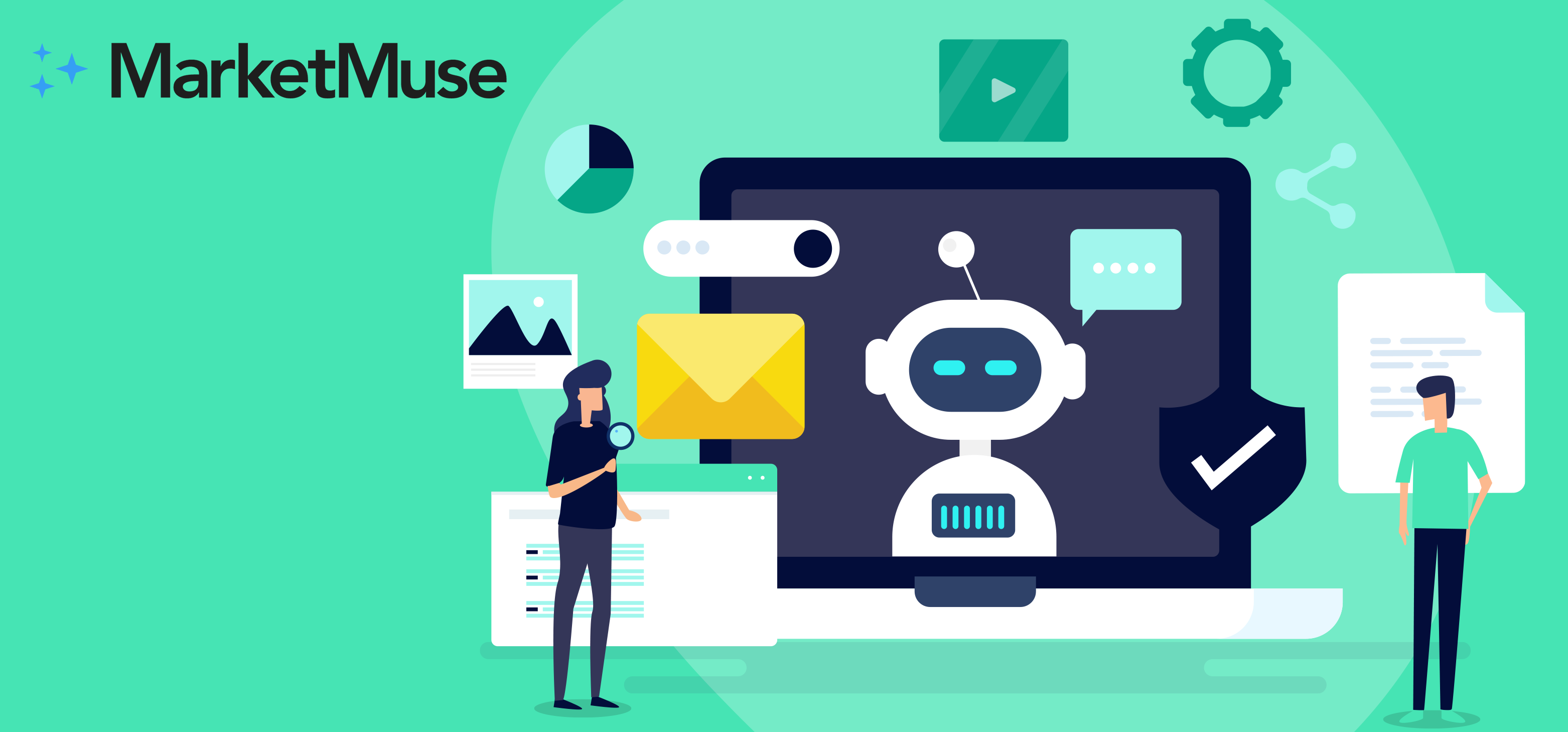 MarketMuse is a compact SEO tool for bloggers who want to rank their articles on Google but aren't sure how to go about it.
With it, you can find out what topics are trending, discover keywords that would bring in more traffic, and draft blogs that meet Google standards.
In this review, I have shared a brief overview, listed down its core features, and covered the steps to create your free account.
Let's dive into MarketMuse specifics to learn more about it.
What Is MarketMuse?
MarketMuse is a web-based SEO content strategy platform that offers insight into how to generate top-ranking content.
It uses artificial intelligence to compile topics that have the potential to perform well and share suggestions on improving your content quality.
As you know, Google is one of the largest digital marketing channels that brings in almost 55% of your site traffic. While getting your page indexed isn't that difficult, making sure your blog ranks well is the most challenging part.
To cut through the competition and grow your organic presence, you need a tool that can help you plan an effective SEO strategy.
With MarketMuse, you can get relevant data to discover keywords opportunities, devise a plan for your marketing campaign, and measure your success with SEO metrics.
It is an amazing tool that can help you find what content people would love to read and how to make it easily accessible to your target audience.
How Does MarketMuse Work?
MarketMuse navigation menu consists of four main sections where you'll create your strategy and streamline your content workflow.
Dashboard
The inventory
Projects
Applications
1. Dashboard
The app's dashboard shares a comprehensive report, showing key metrics that can help you make informed decisions. You'll get insight into your site's health, the volume of your traffic, and the average score of your content, among other things.
Through dashboard views, you can discover top-ranking topics, find growth opportunities, and identify existing content that requires upgrading.
In other words, the dashboard gives you a quick glimpse of your activities to extract relevant information or brainstorm your SEO strategy.
2. Inventory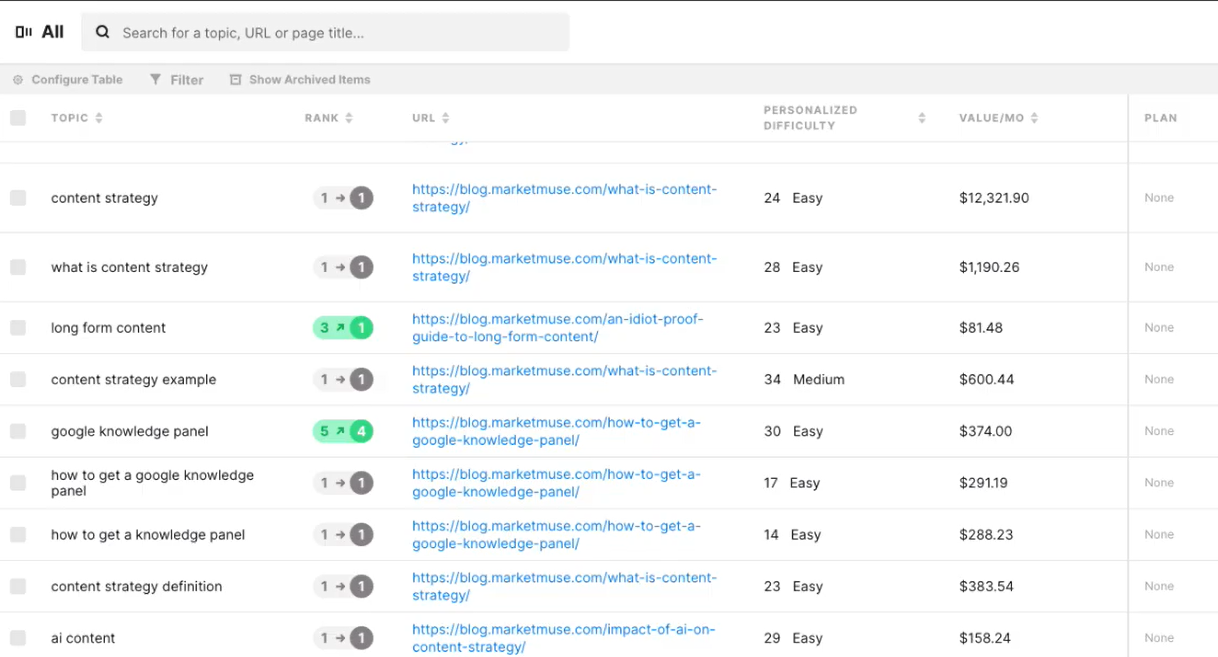 The inventory section analyzes your site pages and uncovers areas for improvement. It tracks holes in your site content and suggests phrases that can help you increase your site visibility.
Each page displayed in the inventory shares valuable insight to let you know your content's worth. With this information, you can conduct your preliminary research and estimate the success of blogs individually.
This feature is available to premium users only.
3. Projects
MarketMuse's project tab offers you space to set up your workspace and collaborate with your team.
Here, you'll create plans, assign them to your members, and place deadlines. Each project features an overview of your planning stage and the current status of your content. With this function, you can make sure your strategy is on track.
If you go for an enterprise subscription, you'll also receive additional features to develop briefs and quick content.
The Content Brief outlines your entire plan into a list so you don't miss out on anything, and the First Draft feature inside MarketMuse provides AI-generated content to give you ready data to draft blogs in bulk.
Both add-ons save you time and accelerate your content marketing strategy.
4. Applications
MarketMuse applications section is where the real work begins.
The application menu is broken down into five functions to optimize your blogs systematically. These tools offer you a step-by-step guide to research keywords, draft outlines, analyze your content rank, and increase site authority.
To help you understand the applications better, I am going to share a sample example to give a real-time demonstration of the content optimization process.
Let's start with the research tool.
Research
MarketMuse's research tool analyzes Google pages related to your seed keyword and generates a comprehensive list of potential topics.
The app uses AI technology to sift through thousands of pages and extract high-value phrases for you.
With a research function, you can find your seed keyword's variances/LSI and get suggestions on how often you should mention this word in your content.
You can use this data to fix the SEO of your existing blog as well as save them for your new plan.
I wanted to develop a strategy to promote the subject of Reflexology.
In the above screenshot, I typed Reflexology as my focus topic to find out what more I could write about this niche.
The result generated a list of keywords based on their popularity level and showed what LSI words I could embed in my content to make it more relevant.
If I had included my blog URL in the search box, the app would've also displayed the "Dist" column to show the current distribution of the keywords in my blog.
Compete
The Compete tool offers you a list of your top competitors and a heatmap of the keywords your rivals have mentioned in their blog.
The heatmap helps you find topics your competitors have yet to cover and use them to increase your site ranking. You can additionally view the number of words other bloggers have written on the same topic and scale your blog to outshine others.
I used the same Reflexology focus word to search low-volume topics and weed out highly saturated keywords.
The results showed a list of words, and I found my competitors had not uncovered much on pressure points. I can use this untapped keyword to drive traffic to my site. Now I have discovered another topic I can add to my Reflexology campaign.
With Compete tool, you can identify opportunities, extract keywords for your new plan, and even compare your existing blogs to identify content gaps to improve your page SEO.
Question
The question section lists down real-time queries people type on Google when they're looking for something. These phrases can help you better understand what your audience is interested in and generate content around it to make your blog precise.
You can use this question to create sub-headings as well as turn them into the entire blog. Both increase your chances of attracting attention and boost your page rank.
Coming to my reflexology topic, my target market wants to know the abovementioned solution regarding reflexology. I picked a few phrases from the list and added them to my blog. Based on the questions alone, I created a rough outline for my blog.
If I want, I can also turn one phrase into a focus keyword and restart the process.
Optimize
The Optimize tool is an editor that offers a set of functions to help you polish your blog. It gives you a measurable target to show what number you need to reach to improve your content score.
Every time you replace, add or remove text, the content score changes to let you know you're on the right track. You'll additionally receive notification in the feed column to warn you when you've under or over-mentioned the keywords.
If the content you're writing is long, it also shares a list of relative keywords to give you quick access to your research.
The image in the screenshot is an existing blog on reflexology I wanted to optimize. I entered my blog URL and pressed run to fetch the data.
It highlighted related keywords and informed me that my content score was 24, and I needed to make it to 43 to compete.
Connect
The Connect tool generates a list of inbound and outbound links to help you boost your site's authority. Internal and external linking is an SEO technique to increase user experience and reduce bounce rate.
The app internal link column contains all suggested blog links to your site that can be interlinked together with your current topic.
The external link column, on the other hand, consists of third-party blogs that, while not directly connected to your seed topic, have the potential to increase your content score.
My site doesn't have any content related to reflexology, so the app results showed only external links. I can hyperlink this suggestion to my existing content and upgrade my blog.
MarketMuse Benefits
From what I have gathered, people love MarketMuse, particularly for its convenience. It provides all SEO functions, which makes it a handy software for bulk outlines.
Let me highlight the functions of MarketMuse in a few points to show what benefits you can get.
It offers clear guidelines on how to optimize your content, which is a great help to non-experts who aren't aware of the SEO process.
You receive quick access to your keywords at almost every step, making it easy to create optimized blog outlines without going back and forth to your research page.
The premium feature allows you to produce a computer-generated blog, saving you time from manually drafting the entire blog.
It shares collaboration features to let you work together with your team on your SEO campaign.
Lastly, it is a freemium tool, which means you can explore it fully before deciding to purchase it.
MarketMuse Drawbacks
Now, while MarketMuse offers useful functions, there are a few areas that have room for improvement.
For one, it has a long loading time. It isn't a big deal, but it can put off some who are used to time-effective apps.
Second, it has a learning curve.
While the main dashboard shows clear CTAs, it takes a while to get familiar with the app interface. It does offer an auto-guide; however, it would've been more effective if each action came with a brief tooltip.
If you don't mind slight setbacks like these, go for it.
Who Should Use MarketMuse?
If you're a blogger, influencer, trainer, or part of a company that often publishes lead-generating content, this is excellent for you.
That said, as it is expensive, MarketMuse is best suited for only well-established brands who are already generating revenues and want to boost their search engine presence.
If you're just starting, there's a possibility you may not find it budget-friendly.
How to Get Started with MarketMuse
Now that you have a general idea of how MarketMuse works, create your account following the below four steps.
1. Go to MarketMuse.
2. Sign up for your MarketMuse account. It by default only shows US search results, but you can change the selected country in the account creation form.
3. Once your account is created, MarketMuse will share a list of topics as a demo to get you started and show you how the app works.
4. Pick out any topic and start using MarketMuse.
Pricing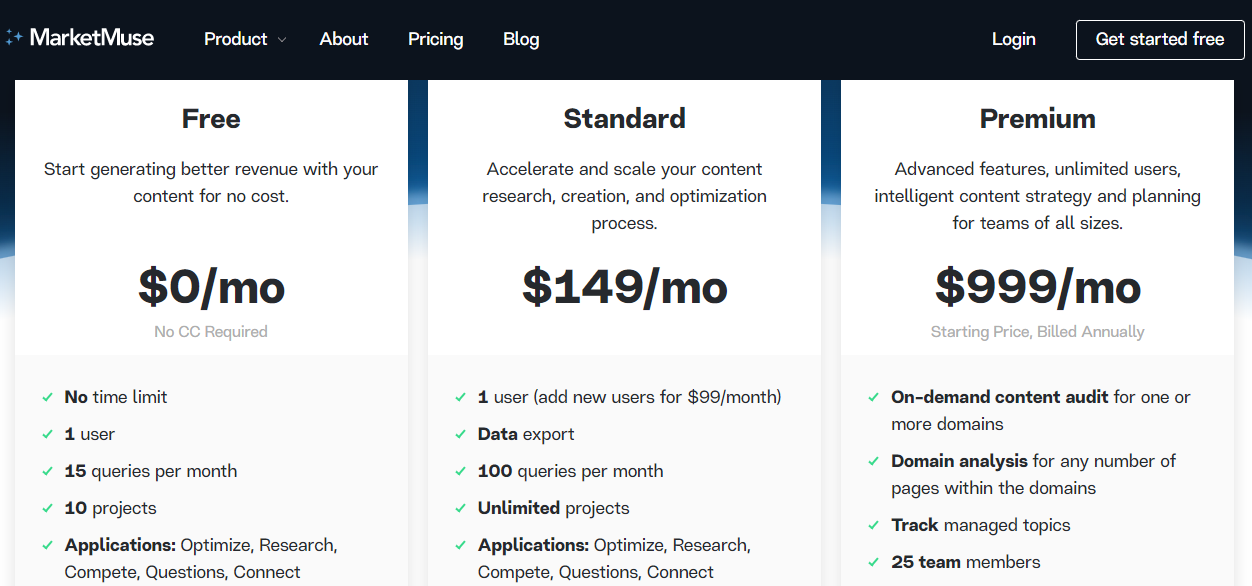 MarketMuse shares a free basic account to let you explore the app without fully committing.
If you think it is right for your business, you can later upgrade the plan to standard for $149, and premium for $999 if you have got a team.
The standard plan allows one user only, but it unlocks 100 queries and data export. The premium plan, on the other hand, provides a diverse range of functions, including content audit, domain analysis, team collaboration, and special add-ons.
I suggest creating a free account first, so you get the gist of the whole platform.
Conclusion: Why Should You Go for MarketMuse?
Google algorithm uses over 200 factors to check the authenticity of your site and content. Most parameters are unknown and change too often to take them into account, let alone follow them.
But optimized content can still significantly increase your traffic volume and boost your page ranking.
With MarketMuse, you can easily find topics people are searching for, and draft optimized blog outlines to generate super-targeted content.
We recommend using MarketMuse to create your SEO content strategy more effectively, using data and not guesswork.