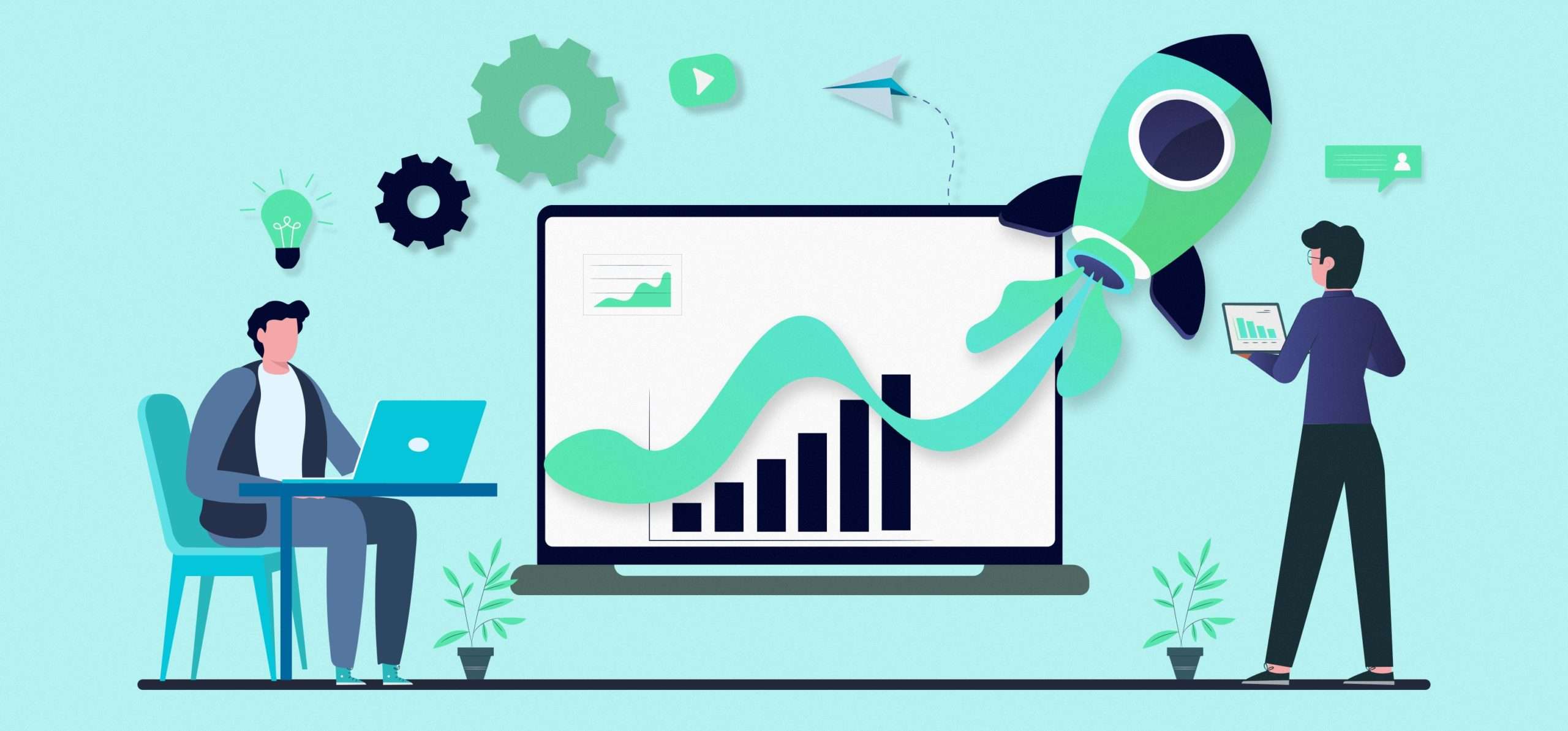 Marketing plays an indispensable role in your business' growth. It is the bridge that connects your products or services to your customers. 
Capturing your potential customer's attention, giving them reasons to buy, helping them make the buying decisions, and nurturing relationships – all are the job of marketing. Thus, from research to execution, your marketing efforts will involve numerous activities. 
Not to mention, marketing is an ever-going process and it impacts all other business functions. 
Moreover, an unplanned marketing effort can result in lost opportunities, unnecessary expenditures, and overall business setbacks.
Hence, having visibility on all aspects of your marketing is crucial to make your business stand out. Writing a marketing plan helps you do just that.
What is a marketing plan?
A marketing plan is documentation of your business' marketing efforts backed by necessary data points and information for planning and execution.
Typically, marketing plans include:
An overview of your business mission, its goals, and current market position
Descriptions of your business' target market and target customers
The outline of your marketing strategy including tasks, timelines, and KPIs
Other specifications such as budget, responsibilities, tracking, and review methods
A robust marketing plan is key to maximizing the outcomes of your marketing efforts. It helps you make informed decisions and focus your resources towards achieving your business goals.
Things you need to do before writing your marketing plan
Before you jump into writing your marketing plan, you need to gather some important information. This information is necessary to shape and optimize the marketing plan. 
Identify your market and target customers  
The fundamental purpose of marketing is to satisfy your customers' needs in an effective manner. 
Who your potential customers are and where you'll find them significantly directs your marketing efforts. Hence, clarity on your target market and target customers is critical to building an effective marketing plan.
To collect initial data, you can study your existing customers' demographics, psychographics, and their overall interaction with your business. Analytics of your website, customer reviews, and your business' social media pages can help you peek into these data points.
Tools like Google Analytics, Hotjar, Hubspot, Survey Monkey, Survey Sparrow, Question Pro, UserReport are some tools that can help you in your customer research. 
Further, you can expand your research by conducting surveys and interviewing potential customers. 
To determine market size, you can investigate your competitors, talk to industry experts, and take cues from market intelligence data from sources such as Gartner, Statista, Google Trends, Similar Web, or Alexa.
Once you have gathered relevant data, you should create customer profiles or user personas that will be a part of your marketing plan document. 
A user persona accounts for all the relevant demographic (age, location, gender, income, etc.) and psychographics (goals, frustrations, lifestyle, interests, etc.) factors and eventually helps in targeting.
Determine where your business stands currently
An honest assessment of your business' current market position is vital for strategizing your marketing efforts in the right direction and out-performing your competitors.
Two necessary exercises to conduct for determining your business' market position are competitor analysis and SWOT analysis .
Studying your competitors regarding their positioning, customers' perception and the areas they excel or lack in can help you gain better insights into your business. Moreover, it can add to your SWOT analysis. 
SWOT-analysis helps you determine your business' Strengths , Weaknesses , Threats , and O pportunities. The strengths and weaknesses are primarily internal business factors such as quality of your product or service, customer service, price, staff, funds, etc.
The strengths of your business can be better quality, faster delivery, lower prices, higher accessibility, and so on. Weaknesses may include bad customer reviews, lack of resources, or an inexperienced team. 
Analyzing your business' strengths and weaknesses can help you play on your strengths, communicate your USPs, and improve the weaknesses. 
On the other hand, threats and opportunities are the external factors that may impact your business, such as competitors' strategies, market demand, trends, shifts in technology, etc.
Determining the threat areas can help you mold your marketing strategy to combat the threats better. Similarly, visibility into areas of opportunity can help you exploit them to your advantage.
Set clear marketing goals 
What do you want to achieve from your marketing plan is a crucial question to ask. 
Are you looking for more sales? Do you wish to improve your brand reputation? Are you aiming to increase word-of-mouth?
Setting specific and measurable goals and targets will help you define the activities and plan your resources well.
Moreover, clear long-term and short-term goals can help you stay on track and track the results constructively. Not to forget, these goals must be realistic and attainable. 
All the research that you've done related to your target customers, competitors, and your SWOT analysis can help you set effective marketing goals. 
Create marketing roadmap and establish resource requirements
Once you know where your business stands and what you want to achieve through marketing, you are well on your way to elaborate on the marketing plan. 
You can now decide the activities and medium for achieving your goals. It can include content marketing strategy, social media strategy, sales tactics, advertising, and so on.
Additionally, you'll now be in a good position to visualize the resources you'll need to execute your marketing plan including the workforce, budget, workflows, tools, and software.
Outline of a marketing plan document (with example)
Let's now move towards the execution part. We'll take a look at how your marketing plan will look (broadly).
You can write your marketing plan simply in a Word Doc. If you want it to be more interactive and visually rich, you can use suitable templates from tools like Venngage, Infogram, Canva, or Visually. 
The example here I am taking is of a business that sells skincare products made from organic natural ingredients. Let's call it Org care. 
Table of Contents
Start with laying out the structure of the document. Writing the table of contents will help you outline the rest of the document smoothly.
Executive Summary
Writing an executive summary helps you set your marketing plan in perspective. It consists of a brief overview of your business, including your goals, high-level metrics, important milestones, brand strengths, and other contextual information.
Setting the right context is necessary so that the readers of your marketing plan can take away the right information. 
Note that the executive summary should be concise and fit within a page. Avoid writing the summary beyond two to four paragraphs. 
And, most importantly, write the summary once you're done with the rest of the sections to capture the context effectively.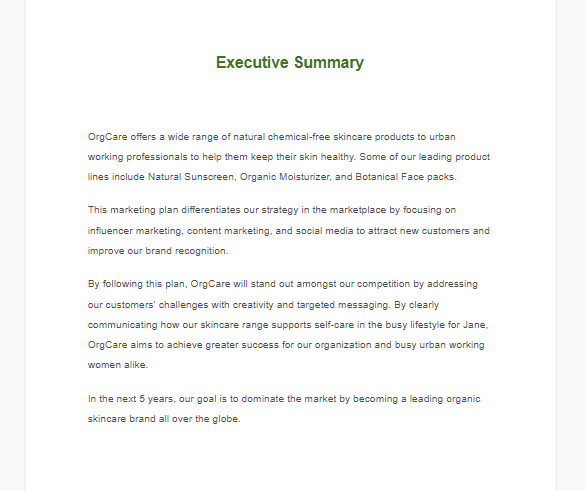 Business Overview
The next thing to add to your marketing plan is the overview of your business to highlight its mission, goals, products or services, and the findings of the SWOT analysis.
Make sure your goals are data-driven, realistic, specific, and measurable.
Market Overview
After the business overview section, you can move to highlight your target market, customer persona, and a few details about your competitors.
Note that the number of customer personas can be more depending on your business. But, try to stick to only the most relevant personas. If you go for too many, it may drive you away from the very purpose of creating personas, i.e., targeted communication.
Marketing Strategy
This section is the soul of your marketing plan. It gives a bird's-eye view of how you are going to achieve business goals through marketing.
Include the objective of your marketing strategy, the tactics and activities you will undertake, and what will be success metrics for the same. 
Also, add the schedule or timeline related to review or tracking and the budget of these initiatives. 
Supporting Documents 
Lastly, don't forget to add the links to supporting documents. You should link the documents that have contributed to the marketing plan as well as will take the plan further to execution.
Adding these links will help you or any reader of your document easily access the details of each aspect of the plan.
Key Takeaway 
Writing a marketing plan is essential to support your business growth. The marketing plan helps you visualize, organize, and focus your marketing efforts to achieve your business goals.
Some of the important components of the marketing plan are:
Market research
Customer persona
Competitors research
SWOT analysis of your business
Business and marketing goals
Marketing strategy
However, keep in mind that the example layout I have given is not something set in stone. Ideally, you should include all the above-mentioned components, but their order and information package can be modified.

As long as the information you write is logical and comprehensible, you can customize your marketing plan most suitable to your business.
If you're on your way to writing a marketing plan, share this article with your team to start collaborating. Don't forget to subscribe to the Squeeze Growth newsletter for more useful business knowledge.