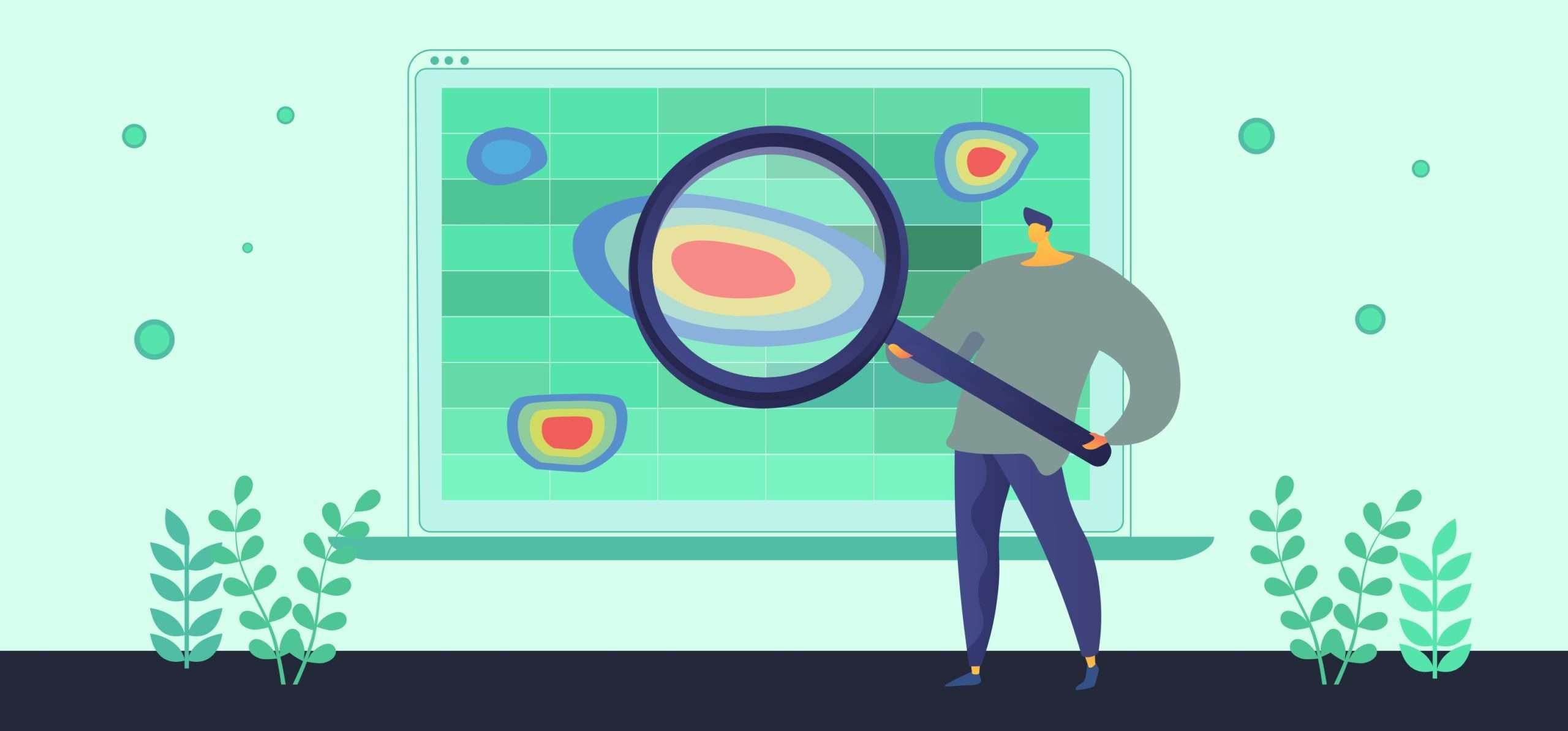 If we are to succeed as UX Optimization analysts and strategists, we must realize that generating utility for the user is the ultimate goal of all UX activities.
However, generating value isn't as easy as it might sound—it's a fairly scientific process that requires excellent analytic ability and the right tools to create a user experience unparalleled across the internet.
You need data sets that indicate underperforming pages, user activity patterns, and even specific sections of your web pages that leave the user wanting
How else are you to recognize the ways in which your web pages are lacking?
How would you decide what needs to change if there is no indicator or metric that can identify under-performing web page sections?
If we all recognize that a dearth of data is a major barrier to effective user experience optimization, which ultimately compromises UX, CRO (Conversion Rate Optimization), and SEO goals, then we must find the tools that can fill this gap.
This is where heatmaps come into play.
What Is A Heatmap?
Speaking simply, a heatmap is a kind of data visualization that differentiates between high-activity sections and low-activity sections through color codes. Warm color tones indicate high activity, while cool tones indicate low activity—an indication of what needs to change on your web pages.
You might wonder what kind of activity a heatmap measures. That depends on which heatmap tool you're using. Generally, though, you can find tools that produce:
Scroll maps—These show how far, on average, each user scrolls down your page.
Confetti reports— Highly detailed heat maps that show individual clicks on your pages.
Move maps—These depict where on your webpage users hover over their cursors.
Attention maps— This measures which sections receive the most amount of attention on any given webpages.
This isn't an exhaustive list of the capabilities a tool can offer, but we'll go through the best heatmap tools of the bunch so you know which is best for you. In any case, whichever heatmap tool you pick, will give you crucial data on user activity that you can use to generate more value for your users.
There is no singular Heatmap tool that works for everyone–different tools offer unique advantages suited for specific purposes.
It's up to you to see which tool is best for your needs. So, let's go through some of the best heatmap tools in the market:
Mouseflow is easily the leader on this list.
Mouseflow actually takes heatmaps to the next level; it's a dynamic tool that analyzes your website's performance at both macro and micro levels.
Not only does Mouseflow offer different heatmaps related to your website, and it also creates geographical heatmaps that can be broken down into location-specific heatmaps.
This heatmap breakdown allows you to analyze how people in specific locations interact with your website in real-time to take website customization to the next level. This extra geographical dimension to the heatmaps makes your conversion rate optimization strategy much more precise.
The functionalities on Mouseflow include:
Click maps
Scroll maps
Attention maps—This highlights exactly which part of your content receives the most amount of attention from users.
Movement maps
Geographical heatmaps—Which geographical regions your user base originates in.
The price range goes from $0 to $299 with increasing amounts of data for multiple websites as you go up the price.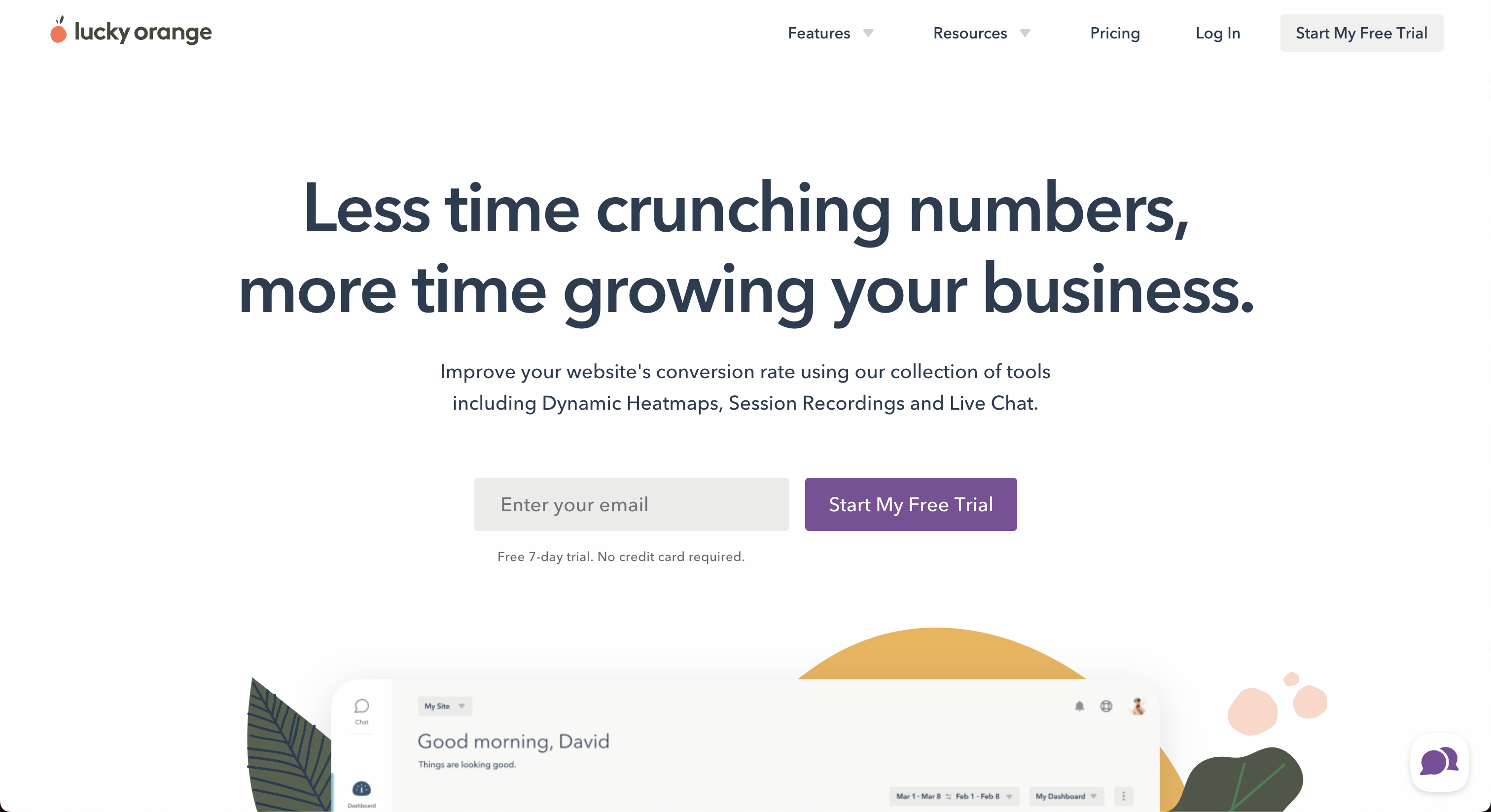 Lucky Orange differentiates itself from other tools by including some built-in data analytics tools to organize your heatmaps in easily read numerical forms.
Each heatmap is updated in real-time and is also broken down into user segments like country of origin, device, and web browser to help you understand the user better.
Additionally, Lucky Orange also has a great element analytics heatmap that provides an in-depth analysis of how each website element performs. You'll find the following heatmaps at Lucky Orange:
Click maps
Mouse tracking
Scroll depth tracking
Pricing: The basic Lucky Orange package starts at $10/mo with the same tools across the board at each price point. However, as you move up the price range they let you run analytics and heatmaps for an increasing number of websites, using an increasing number of page views for better accuracy.
Plerdy offers a massive range of heatmap tools and great value for money to boot.
As you move higher across the price range, you get access to an increasing timeline of data to compare—but if you're looking for a heatmap tool for SEO audits, Plerdy is definitely the tool to consider.
The tool has the following functionalities:
Hot segments—identify which parts of the webpage with the highest click-through rates.
Scroll maps—identifies how far users on average scroll down the page; this might also indicate which parts of your webpage get more attention than others.
Mouse movement tracking—identifies which parts of a webpage the user hovers over the most; indicative of areas with high CTR generating potentials.
Click maps—This shows which areas a user clicks across the time period spent using the website. This can be used in combination with mouse movement tracking to help you improve CTRs.
Event tracking— Tracks the hovers and clicks on specific elements of web pages.
Selected text tracking—Tracks which text blocks get the most attention by users.
Automatic integration with Google Analytics
Pricing: The basic Plerdy package is free, but it restricts your data ranges to a singular day and produces 3 heatmap reports a day. As you move up the price scales, you can get data from ranges up to 6 months, so you can track the performance of your pages as you alter them in light of the data you receive.
The pricing levels are $23/mo, $47/mo, and $79/mo.
Crazyegg offers a greater range of integrations directly for eCommerce platforms. If you're optimizing conversion rate, UX, or SEO for WordPress, Shopify, Wix, or AWeber-based websites—you can integrate Crazyegg to generate heatmaps across your entire platforms.
Compared to Plerdy, Crazyegg offers unique features like A/B testing and customer session recordings for a deeper analysis of their online activities. The functionalities offered are:
Heatmaps
Scroll maps
Confetti report—indicating which elements get the most number of clicks.
Overlay reports—this breaks down what percentage of your clickable elements have been interacted with to identify popular CTAs.
List reports—numeric summaries of the different actions taken by users on your website.
User activity recordings
A/B testing
Pricing: So, no version of Crazyegg is free, and the basic package starts at $24/mo. You'll get access to an increasing range of data storage and historical data.
SessionCam is also a frontrunner in the list of heatmaps, but the tool differs from the rest owing to its emphasis on recordings and built-in comparison functionalities. The great thing about SessionCam is that it's built with these minor functionalities that make improving the website experience a lot easier than with other tools.
These functions include:
SessionCam—allows you to view real-time heatmaps of user activity to consider whether the user interacts in ways that were intended.
Mouse movement maps— tracks mouse movements to see which areas of the webpage the user hovers on or interacts with the most.
Side-by-side Analysis— You can even compare two different heatmaps to ascertain which webpage performs better than the others. This includes cross-platform and cross-device heatmaps as well.
You should also know that the SessionCam tool comes with a vast range of SEO and UX analytics tools that can be used to create brilliant user experiences. When you sign up for their solution, you get their entire range of analytics tools of which heatmaps are one part.
Pricing: They haven't made their pricing public, and you'll need to get in touch with their customer support to get a subscription.
HotJar is this really nifty and "compact" kind of solution that doesn't throw a lot of data at you. It's great for basic user behavior analyses and presents you with all the heatmaps in one place, as well as summaries of the different kinds of heatmaps generated.
The basic package gives you heatmaps based on 500 different sessions' worth of data, while the scale package continuously updates heatmaps and the resulting summaries. The different heatmaps on HotJar include:
Click and Hover heat maps
Scroll maps
A/B testing
Conversion report
If you're looking for a simple layout that makes analysis easier and provides data in neatly arranged categories without going all over the place HotJar is for you.
Pricing: It's a little on the pricey side, however, with the basic package priced at $99/mo and the scale package priced at $389/mo.
Inspectlet gets most of its popularity from the fact that it offers eye-tracking vis-à-vis its mouse-tracking functionalities.
The analytic reports basically tell you which areas on your web pages catch the user's eye, while also presenting click maps and scroll maps.
Combined with the rest of the tools in their analytics package, there's a lot you can get out of the visitor behavioral data generated on InspectLet.
Key Features of Inspectlet:
Dynamic Heatmaps
Form analytics
Powerful heatmap
Error Logging
Pricing: Additionally, the pricing is great, too, which is why in-house CRO and UX teams can generate great value for money with InspectLet.
Compared to the other heatmap tools in our list, the InspectLet tool generates far more data at significantly lower prices.
Seevolution makes analysis far easier than any other tool on this list.
This heatmap tool presents breakdowns of each individual heatmap that include details about the kind of interactions users have with your webpage. While the list of heatmaps isn't as extensive as many of the others, Seevolution's organization of data is unparalleled across this group.
The heatmaps you'll find on Seevolution include:
Click maps
Movement maps
Backstage views—detailed breakdowns of user activity, including location, CTRs, new/old visitors.
Attention maps.
Pricing: There's a free version of Seevolution that you can try out if you're okay with basic heatmap analytics for your websites. You'll have to pay extra if you want to use the tool on more than one domain, starting from $79/mo. Ranging to $499/mo.
Heatmap.me might not be the most sophisticated of the tools we've listed so far, but it definitely gets the job done.
The tool will offer:
Click maps
Scroll maps
Movement maps
Pricing: The amount of data heatmap.me lets you collect is incredible. It even breaks down data into segments for easier analysis.
The first premium plan starts with 100 million page views for $100/mo.
Conclusion
Using heatmaps is a great way to improve user experience and create digital marketing strategies that help you achieve your website goals.
These visualizations can be used in various contexts; marketing, UI/UX design, SEO, and many others to generate more value for your visitors.
As you consistently improve your websites, these heatmaps will help you rank higher across SERPs and establish your website's authority to drive more traffic and conversions.