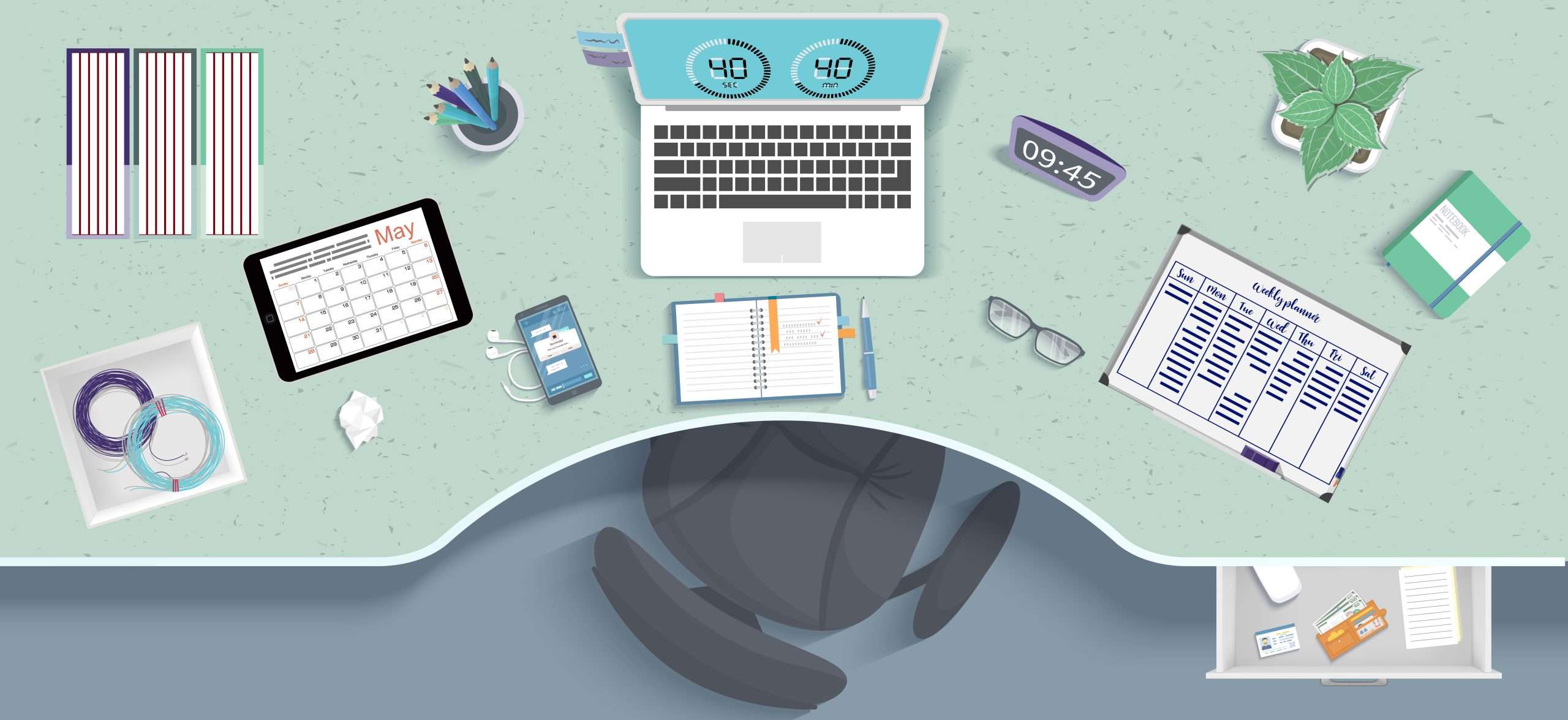 According to the symptoms listed by Mayo Clinic, I have ADHD.
And my inability to focus and not being able to go into the flow state tops the list of ADHD symptoms I have.
This makes staying organized difficult for me. I'm easily distracted, have trouble prioritizing, and struggle with time blindness.
Even simple tasks like folding blankets or filling out forms can become overwhelming.
I wanted to change that (spoiler alert: I did).
Fast-forward to two years and countless testing of ADHD-friendly tools and software, I found the ones that helped me stop forgetting things and finally get organized.
In this post, I'm sharing the 12 best organization tools for managing ADHD. I am certain they can help you too.
Let's dive in!
Daily Planning
All-in-one productivity workspace for notes, tasks, and more
Notion is an all-in-one workspace that brings together your notes, tasks, wikis, and databases into one flexible platform.
Notion helps you organize your work and life. It gives you the building blocks to create your own customized workflow.
The drag-and-drop interface helps you make pages, sites, docs, wikis, boards, calendars, and more.
You can write notes, collaborate on projects, plan tasks, track habits—and even chat!
One of the standout features of Notion is its powerful databases. You can filter, sort, and visualize tasks, projects, and content.
Notion also includes a handy table view for managing projects and schedules. You can arrange information in a way that makes sense to you.
With Notion, you get customizable templates. You can choose templates for habit trackers, editorial calendars, company wikis, vacation planners, product roadmaps, and many other things.
Or start from scratch and build your own solutions.
Notion Features
Drag-and-drop interface
Build pages, sites, docs, wikis, boards, calendars
Filter, sort, and visualize tasks and projects
Switch between table, board, timeline, and calendar views
Sync across devices
Countless customizable templates
Pricing
Notion offers a free plan. It is designed for individuals looking to organize their work and personal tasks seamlessly.
The Plus Plan is geared towards small groups and offers an upgraded experience beyond the Free Plan. It costs $8 per user per month billed annually (or $10 billed monthly).
Lastly, we have the Business Plan aimed at companies seeking to connect multiple teams and tools under one platform. It is priced at $15 per user per month billed annually (or $18 billed monthly).
Notion also offers an optional add-on known as Notion AI. For an additional cost of $10 per month, you can tap into the power of AI to work more efficiently.
Daily Planner With Great UI
Ellie is an intuitive day-planning app that helps you organize your thoughts and manage your time.
Ellie enables you to visualize your day by dragging tasks directly from its Kanban-style board into your calendar.
Integrations with Google and Apple Calendar provide added convenience.
Additionally, the brain dump feature allows you to free up mental bandwidth by offloading ideas and tasks.
Recurring tasks make it simple to establish morning, evening, and other regular rituals.
You can see how you spend your time with analytics, and the time tracker boosts productivity.
On iOS, you can quickly jot down thoughts using the beautifully designed app. And integration with Apple Calendar and Siri brings Ellie right to your iPhone or iPad for enhanced usability.
Ellie Features
Drag and drop calendar
Time tracking analytics
Kanban-style task board
Built-in time tracker
Available on the web, Mac, iOS, Windows
Pricng
Ellie has a free plan where you can create unlimited tasks and access Ellie as a web app and on iOS. Ellie Pro costs $4.99/month. As of writing this, they also have a lifetime plan that costs $149.99.
Email organization and scheduling
Clean Email is the ultimate ADHD-friendly tool for getting your inbox under control.
With Clean Email's Clean and Organize feature, you can manage thousands of emails at once. Just select the emails you want to delete or archive, and Clean Email will handle the cleanup for you.
Clean Email also has a Quick Clean option that saves you even more time. It lets you select categories like Social Notifications or Emails Older Than 3 Years and delete or archive them all at the same time.
Here's another great feature: Smart Views.
These are custom filters that automatically group similar emails together. For instance, you could have a Smart View for newsletters, a view for friends and family, one for work projects, and so on.
Here's another cool feature: Clean Email can distinguish between emails from actual people and ones from automated systems.
This helps cut down on unnecessary distractions, so you can better focus on real conversations.
Clean Email Features
Clean and Organize for bulk email deletion and archiving
Quick Clean to remove emails by category in one click
Smart Views to automatically group similar emails
Unsubscriber and sender blocking
Auto-Clean feature to apply automated rules
Regular summaries of cleaning activities
Pricing
Advanced daily planner & overall productivity tool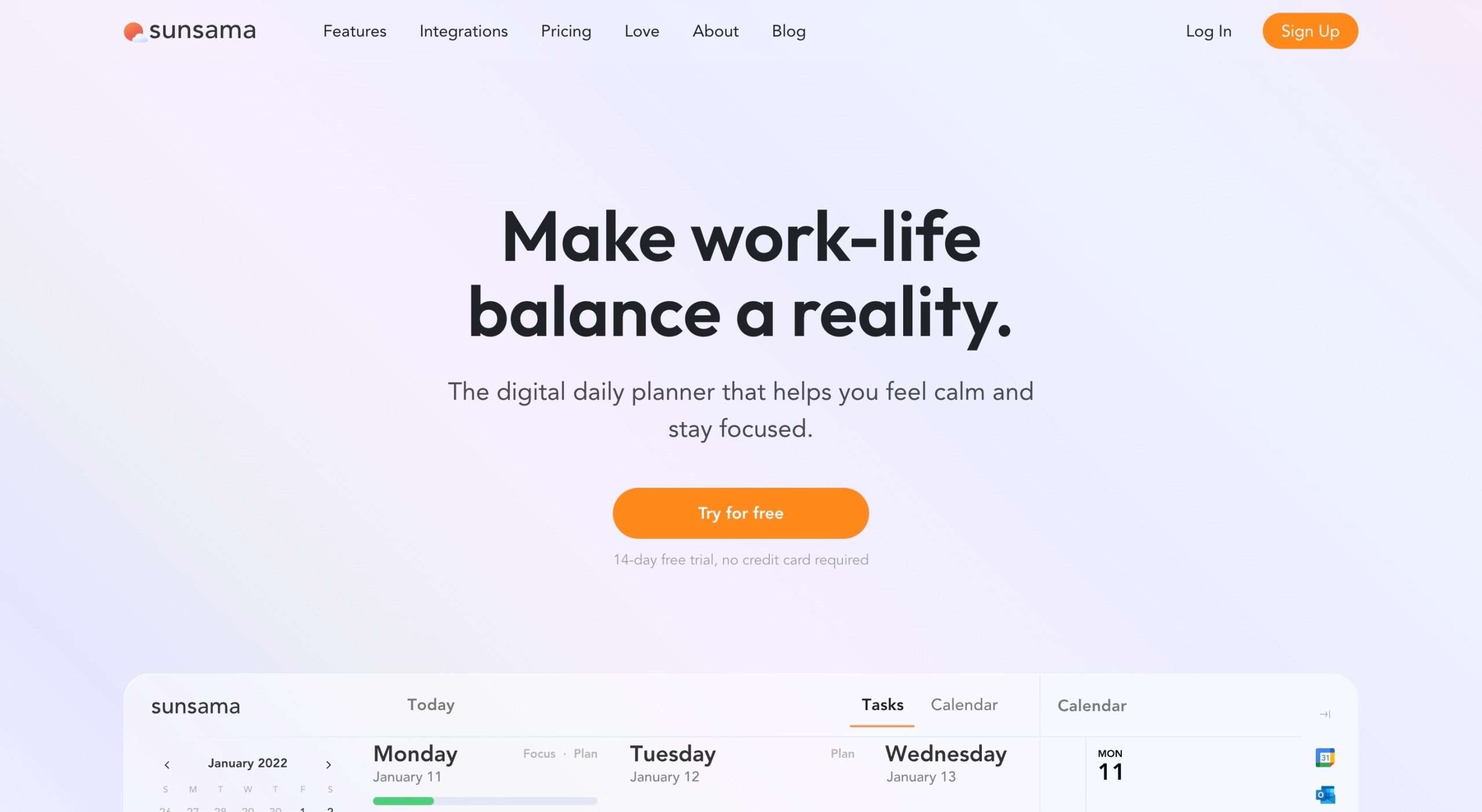 Clean Email's free plan allows you to delete 1000 emails. The premium plan for one individual costs $9.99/month.
Sunsama is the ultimate digital daily planner to help you achieve work-life balance and stay focused each day.
As a guided daily planning app, Sunsama takes the stress out of time management by leading you through an intentional morning routine.
Sunsama provides a unified daily view of your schedule by integrating tasks from project tools like Asana and Trello, emails from Gmail and Outlook, and calendar meetings into one dashboard.
Sunsama's timeboxing feature then schedules tasks to your calendar to ensure your plan gets completed each day.
With Sunsama, you can quickly drag and drop task import from project management tools like Asana, ClickUp, Trello, and more.
Moreover, the Slack integration lets you turn Slack messages into tasks for follow-up.
Sunsama Features
Step-by-step routine for intentional time management

Task integration from various tools into one dashboard

Scheduling tasks to the calendar to ensure their completion

Seamless importing tasks from other tools

Creating tasks from Slack messages
Pricing
Sunsama offers a 14-day free trial. The monthly subscription costs $20/month (or $16/month) on annual billing.
Task and Project Management
Organized tasks and calendar unified
Twos is a versatile calendar and task management tool that helps you stay organized and boost productivity.
It is easy to use on many devices: web, iOS, Android, Windows, Mac, Linux, and Chrome.
With Twos, capturing and organizing information is effortless. Its speedy interface allows users to quickly jot down tasks, events, notes, and more in daily lists.
You can categorize and move items between lists because everything is neatly organized with tags.
Seamless calendar integration is another key feature.
Twos works smoothly with Google Calendar, Apple Calendar, and Outlook to sync events and set reminders. You can easily push and pull events between Twos and your primary calendar.
Automatic reminders and to-do carryover ensure no task gets left behind.
Twos makes managing to-do lists simple too.
Its intuitive system lets users create multiple lists for different areas of life and move tasks between them. Sublists allow further organization. Features like due dates and reminders help you complete tasks on time.
Twos Features
Speedy interface for quick tasks capture
Daily lists for neatly organizing information
Use tags to categorize items across days and lists
Move items seamlessly between different lists
Syncs with Google, Apple, and Outlook calendars
Generate shareable universal links to collaborate with others
Useful Chrome extension for saving content while browsing
Pricing
Twos app is free and can be used on iOS, Android, Windows, Mac, Linux, and Chrome. It has in-app purchases starting at $1.99.
Team task management with chat & generative AI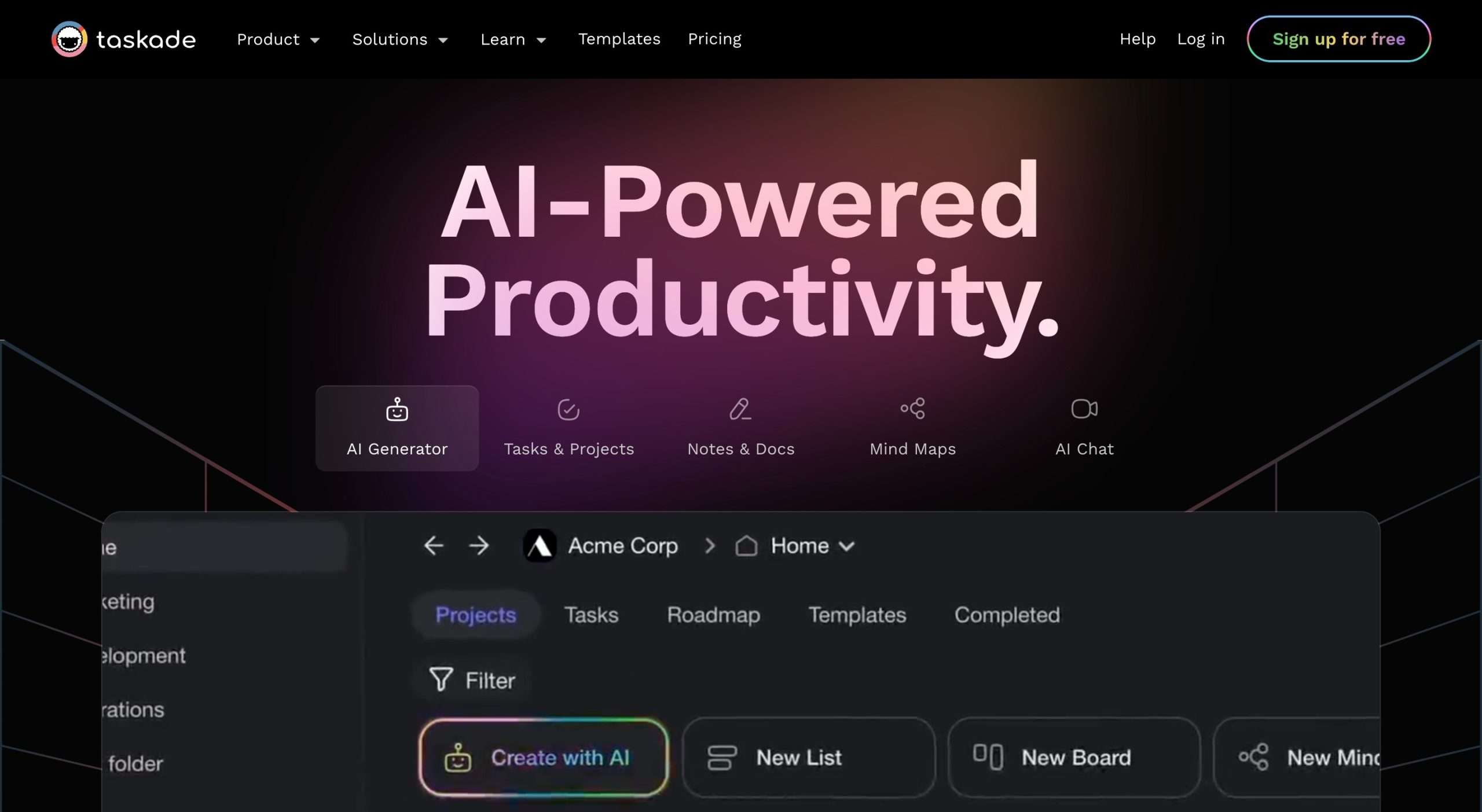 Taskade is an AI-powered productivity platform that helps teams and individuals maximize efficiency and stay organized.
With Taskade, you can create structured workflows, collaborate in real time, automate repetitive tasks, and also generate dynamic content.
Taskade comes with a powerful AI assistant. It understands commands, takes notes, creates mind maps, and even holds conversations to ideate and brainstorm.
The AI also automates over 700 repetitive business tasks like scheduling meetings, generating reports, and data entry.
A key benefit of Taskade is its versatility across devices.
The unified workspace means projects and tasks stay in sync across desktop, mobile, tablet, and web.
When collaborating with others, Taskade cuts down back-and-forth communication with built-in video chat and real-time co-editing. You can @mention others, comment directly on projects, and share links for fast feedback.
Taskade helps people with ADHD by providing structure for open-ended tasks. You can break down goals into checklists and action items.
Taskade Features
Collaborate with others in real time with built-in chat and video
Brainstorm ideas with AI
Schedule and view tasks on a calendar
Add custom data and properties to tasks
Gain insights into team productivity and work patterns
Pricing
Taskade's Personal Plan is free. It gives you 1000 AI credits per month along with 1 workspace and 250 MB of storage.
The Starter plan costs $4/month (or $8 on monthly billing) for up to 3 users. The Plus plan costs $8/month ($16 on monthly billing) for up to 5 users. The paid plan for a team of 10 starts at $39/month.
AII in one AI-powered project & meeting management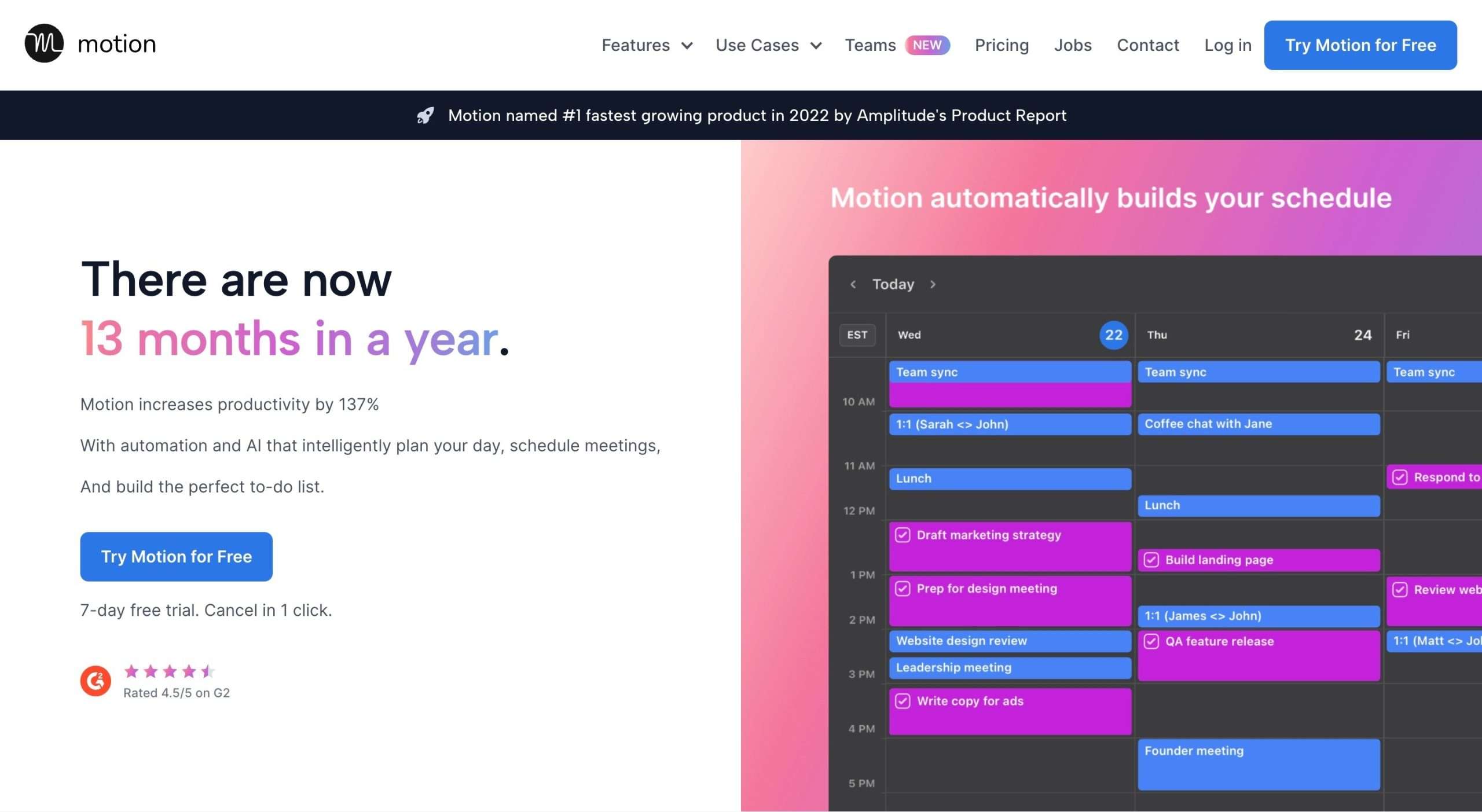 Motion is an all-in-one productivity app to help individuals with ADHD optimize their workflow and focus.
Motion simplifies and automates the planning process.
Its AI-powered Happiness Algorithm studies your work patterns and personal preferences to generate suggested schedules.
Motion takes the stress of handling many projects with its intuitive Kanban-style task manager.
One-click task creation, recurring reminders, and visual progress tracking help keep you on top of deadlines.
And for teams, Motion assigns personalized schedules to each member while providing transparency into workloads.
Motion's meeting scheduler lets you share availability through a customized link. It even suggests optimal times based on your needs, like avoiding early morning meetings.
With customizable recurrence and templates, setting up routines is a breeze.
Motion Features
Automated Scheduling with AI
Intelligent Task Prioritization
Reschedules Incomplete Tasks
Kanban and List Task Views
Meeting Scheduler with Availability Sharing
Recurring Meeting Templates
Pricing
Motion has a 7-day free trial. The Individual plan costs $34 per month (or $19 per month billing annually). The Team plan costs $20 per member per month (or $12 per month when billed annually).
Mindfulness & Mental Health
All-in-one Journal and mental health app
stoic. is a comprehensive mental health and productivity tool available for Mac and iOS users. It helps you improve your well-being through journaling.
With stoic, you can track sleep, moods, and habits to learn about your behaviors and emotions.
One important feature is the Daily Planner. It helps you plan your days ahead, so you're not caught off guard and can be more productive.
For journaling, stoic. offers guided prompts on diverse wellness topics that ease thoughtful self-reflection. You can journal by writing, voice, or adding visuals.
We also have templates for specific needs, such as therapy preparation and dream analysis.
To aid stress relief, stoic. provides meditation sessions, breathing exercises, and focus features like the "Stoic Shield."
Sleep improvement tools like dream journals and lessons from experts are also available.
stoic. Features
Sleep, mood & habit tracker
Personalized daily planner
Guided journals and prompts
Mental health tools like meditation and breathing
Uplifting quotes & affirmations
Pricing
stoic. is a free app with optional in-app purchases starting at $6.99.
Guided meditation and mindfulness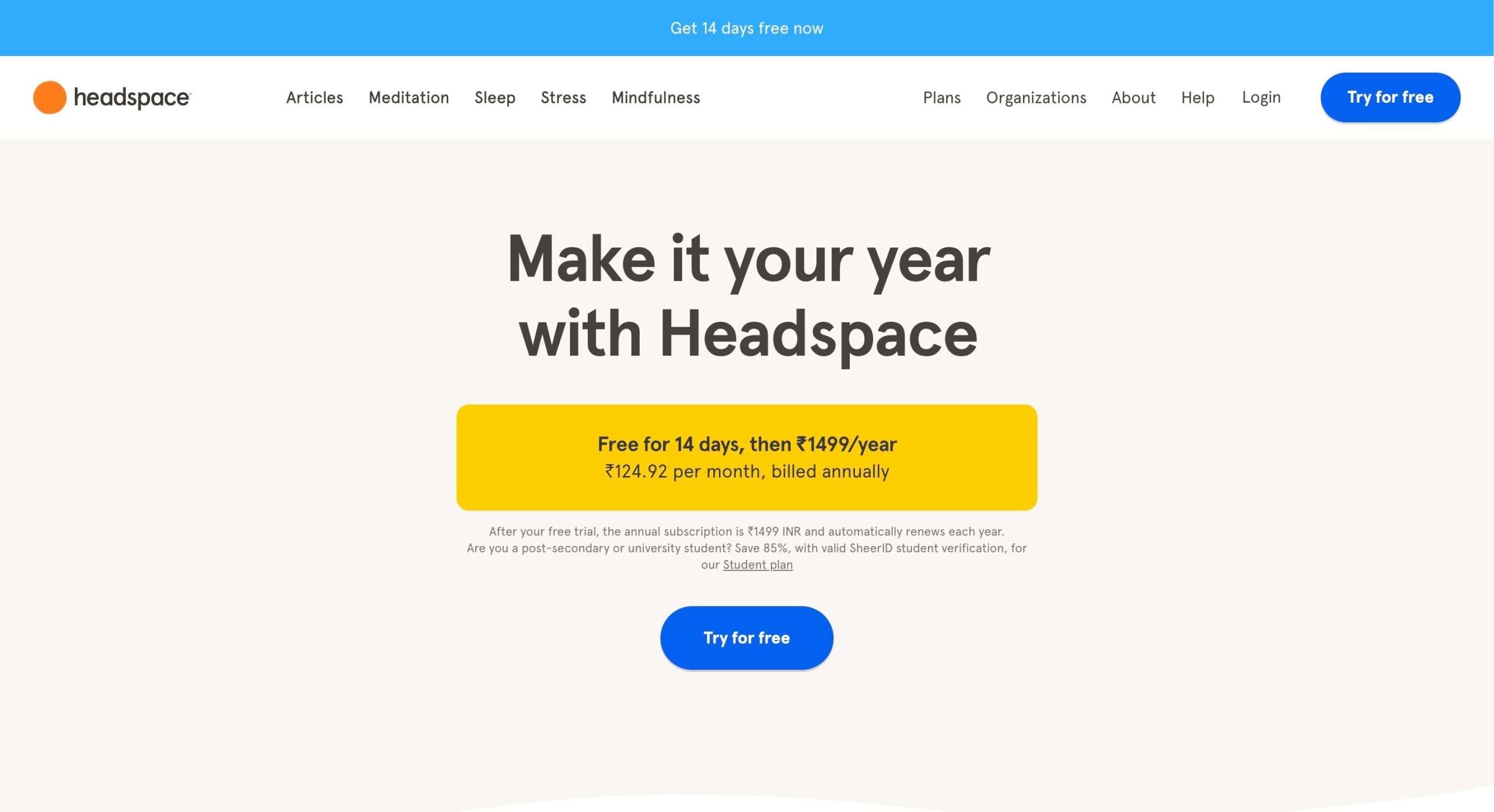 Headspace is a meditation and mindfulness app that helps you live a healthier, happier, and more well-rested life.
With Headspace, you gain access to a diverse library of content on topics like meditation, sleep, stress, and mindfulness.
Even articles that explore these subjects in-depth. After learning, you can practice with meditation sessions, sleep exercises, and mindfulness techniques.
The best part?
You can tailor your experience by choosing content that fits your needs.
Struggling with stress? Headspace has tools to cope with anxiety effectively.
Want better sleep? It can help you improve sleep quality and establish healthy sleep routines.
Headspace makes meditation and mindfulness fun and easy to stick to.
Headspace Features
Meditations to help manage stress
Focus on music to enhance concentration
Sleep sounds and exercises for better rest
Workouts and yoga for mood-boosting
Mindfulness techniques for the presence
Pricing
Headspace offers a 7-day free trial on its monthly plan which costs $12.99/month. And a 14-day trial on the annual plan that costs $69.99/year (or $5.83/month).
Music designed for focus, meditation, relaxation
Brain.fm provides functional music developed to boost focus, relaxation, and sleep quality. It uses brainwave optimization science, with audio tracks that improve cognitive performance.
Brain.fm's music is made using the latest neuroscience research.
It includes rhythmic pulses and layered melodies that stimulate the brain in specific ways. The result is music that can aid concentration, productivity, and mental acuity when you need it most.
A key benefit of Brain.fm is that it allows you to summon enhanced focus and productivity on demand.
The music provides a soothing yet energizing background that supports sustained attention while blocking out distracting ambient noise.
And the gentle beats send brain waves into states optimal for intense concentration, helping you achieve more while exerting less mental effort.
Brain.fm Features
Music scientifically proven to increase focus
Blends into the background, promoting distraction-free work
Incorporates gentle rhythmic pulses to stimulate brain activity
Distinct from regular music that may hinder concentration
Pricing
Brain.fm offers a 3-day free trial. The paid plan costs $6.99/month.
Time Tracking & Management
Intuitive to-do and task management across devices
Any.do is a user-friendly to-do list app that can help you stay organized and conquer clutter.
Some of the core capabilities that make Any.do stand out are as follows:
Task Management: Easily create to-do lists, set reminders, priorities, and due dates to stay on top of tasks. It breaks down bigger projects into actionable steps.
Project Management: Any.do helps to visually map out projects into boards and lists. This provides an at-a-glance view of project status.
Collaboration: Share tasks and projects with others for seamless teamwork. Comments and chat features aid communication.
Daily Planner: Structure each day effectively by planning tasks, events, and goals in the Daily Planner. Time blocks provide focus.
Any.do Workspace helps teams collaborate by combining conversations, documents, tasks, and projects in one place. This streamlines collaboration across departments like marketing, design, HR, and more.
Powerful integrations with tools like Zoom, Slack, Gmail and WhatsApp simplify work. Additionally, Any.do unlocks hundreds more integrations through Zapier.
Finally, migrating existing tasks or projects into Any.do is easy, with minimal switching costs.
Any.do Features
Task and project management
Daily planner
Cross-platform integration
Powerful integrations with tools like Zoom, Slack, Gmail
Easy migration from other tools
Pricing
Any.do has a free plan to get started. The Premium plan costs $3 per month and the Teams plan costs $5 per member per month, on annual billing.
Smart automatic time tracker
Rize is a smart app that helps you track time and improve productivity and work habits. It captures computer activity, eliminating the need for manual start and stop timers.
You get detailed reports in emails that show how you spend your time at work. With Rize, you can make a personalized schedule and track your time throughout the day.
For optimized tracking, Rize integrates with Google and Outlook calendars, categorizing meetings using keywords.
It evaluates focus quality, detecting distractions from websites or apps that hamper deep work.
Projects and tasks can be tagged to segment time blocks accurately. A session timer mimics the Pomodoro technique for intermittent intense focus periods.
Rize Features
Automatic time tracking
Daily and weekly time reports
Customizable time-tracking categories
Break and overworking alerts
Google and Outlook calendar integration
Pricing
Rize has a free plan. The paid plan costs $14.99/month ($9.99 on annual billing) after a free 7-day trial.
Conclusive Thoughts
Managing ADHD can feel like an uphill battle at times. But with the right tools, you can turn the odds in your favor.
The 12 organization apps covered in this post support neurodiverse minds. They provide the structure, focus, and flexibility needed to overcome common ADHD challenges.
While no single app is a silver bullet, together they form a powerful toolkit.
One that enables you to plan your days effectively, manage distractions, collaborate with others, and care for your well-being.
The tools exist to help you optimize your workflow and reach your full potential, one step at a time.