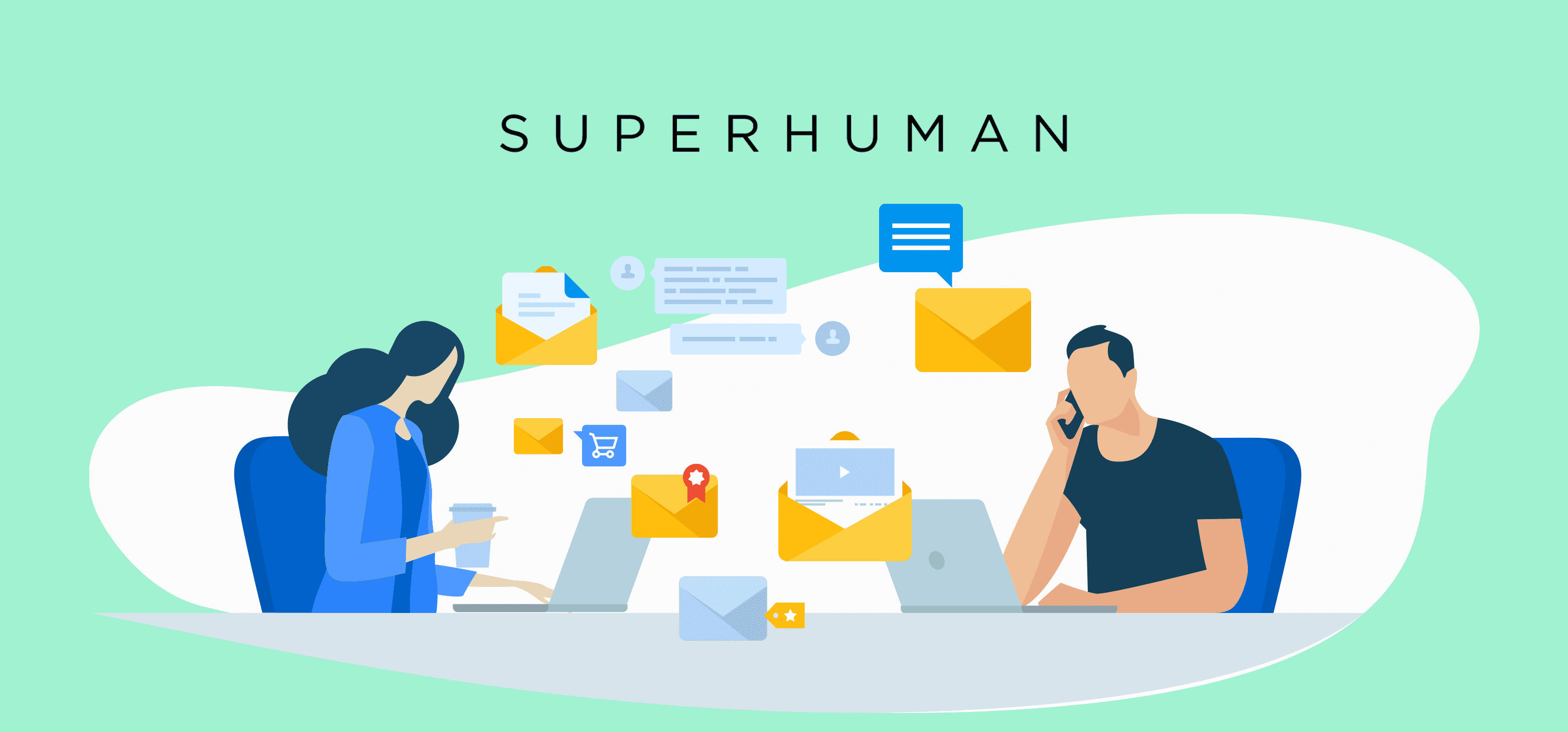 Superhuman is not only faster and more personalized than any other email program, but it's also smarter thanks to AI.
Think about how much time you waste every day checking your inbox.
Now imagine being able to get through your email in a fraction of the time. Superhuman makes that possible.
How?
By giving you more information upfront, so you can make decisions faster. It also prioritizes what's important, so you can focus on what matters most.
And finally, Superhuman saves you time by automating common tasks, like sending follow-ups, scheduling meetings, keyboard shortcuts, and more.
In this Superhuman review, we'll take a look at all the features that make Superhuman one of the most powerful email apps on the market.
In A Hurry? Read Through This Quick TL;DR Summary
Superhuman is the fastest, most personalized, and smartest email app available.
Superhuman saves you time by letting you take care of your email quickly and efficiently, while also providing features like keyboard shortcuts, AI triage, and automated tasks that make your email experience more enjoyable.
Superhuman makes managing your inbox easy with its simple interface, and by automating many of the tedious tasks that come with the email.
Superhuman Reviews & Ratings
4.4/5-Stars by G2
5/5-Stars by Capterra
What Is Superhuman, and What Does It Do?
Superhuman is an email app that has taken the internet by storm.
The app is designed to help users manage their inboxes more efficiently and get through their email faster.
In addition to standard features like Mailbox mode and Snooze, Superhuman also offers several unique productivity-boosting features, such as Send Later and Read Receipts.
Superhuman's Snooze feature is incredibly useful, allowing users to temporarily postpone emails to a later, specified time or date.
Another great feature of Superhuman is its Send Later function. This allows users to compose an email and schedule it to be sent at a later time.
This is perfect for emails that need to be sent outside of normal work hours.
Superhuman's Read Receipts feature is also extremely handy, allowing users to see when an email has been read by the recipient.
It is not your average email app. It's a powerful productivity tool that can help you take control of your inbox and get through your email faster.
Who Uses Superhuman?
Superhuman is best suited, but not limited, to busy professionals who need to manage a large volume of email daily.
Its goal is to help users get through their email faster and more efficiently, and it does this by providing a host of features designed to streamline the email management process.
Anyone who needs help staying organized and keeping on top of their email will find Superhuman to be a valuable asset.
Superhuman is also great for salespeople and customer service reps who need to quickly respond to a large volume of email inquiries.
Its speed and efficiency can help users get through their email inboxes much faster, which is a huge benefit when time is of the essence.
Superhuman in the Real-World – Use Cases and Examples
Now that we've taken a look at Superhuman's features and who the app is best suited for, let's take a look at some real-world Superhuman use cases and examples.
Example 1:
You're a busy professional who gets a lot of emails. Superhuman speed and efficiency help you get through your inbox quickly so you can get back to work.
Example 2:
You're a salesperson who needs to respond to customer inquiries quickly. Superhuman's quick search and filtering features help you find the right email quickly so you can get a response out as soon as possible.
Example 3:
You're a busy mom who needs to stay on top of email for both work and personal reasons. Superhuman's interface is simple and efficient, so you can quickly get through your inbox and move on to the next thing on your to-do list.
Superhuman's Features
1. User interface
Once you sign up for Superhuman, you will be asked to install their Chrome extension.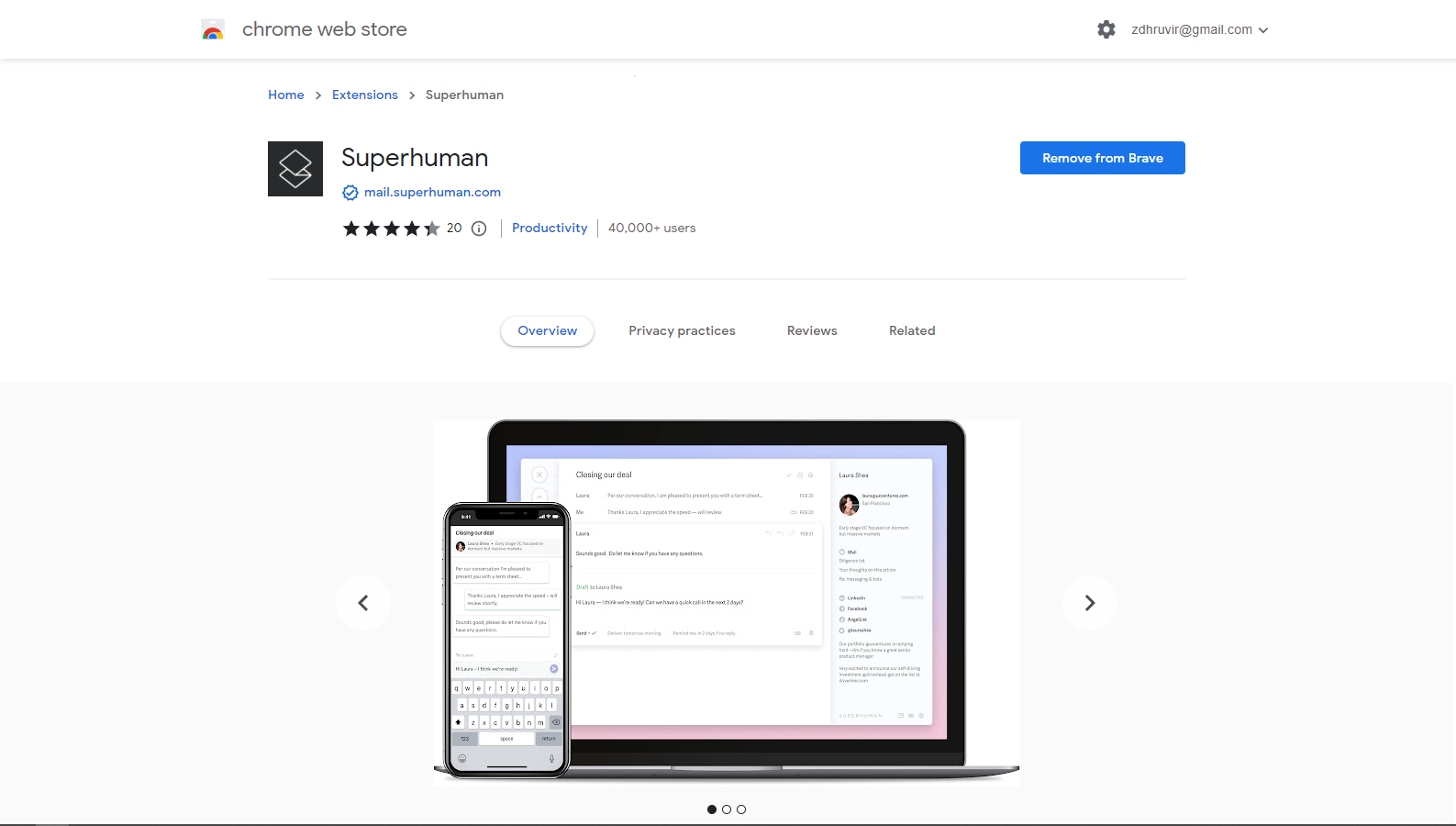 Superhuman's Chrome extension inserts its accessibility button at the bottom of your email provider's interface.
You can directly open Superhuman from the Chrome extension bar or from your Gmail app. The Superhuman user interface is very minimalistic and sleek. It's easy to use and navigate, so you'll be able to get through your inbox quickly.
The left menu controls the inbox:
And the right menu uncovers additional information about the specific email you select – like their social data, description, and so on (more on that later).
To me and many other Superhuman audiences, its clean user interface is one of the main reasons for its high speed and efficiency.
2. Email automation
Superhuman provides many features to automate email tasks.
For example, Superhuman can save time by automatically scheduling email sending times, follow-up actions, and reminders. Superhuman can also automatically add tracking pixels to outgoing emails to track when the recipient opens the email and clicks on links.
This data can be used to segment contacts and create targeted follow-up campaigns.
3. Artificial Intelligence assistance
Superhuman has a built-in feature that uses artificial intelligence to prioritize emails in your inbox.
It will analyze your past behavior and email patterns to prioritize emails that are most likely to be important to you.
This is a great feature for busy professionals who need to quickly get through their inboxes and find the most important emails.
Superhuman will do the heavy lifting for you and surface the most important emails at the top of your inbox.
4. Superhuman commands
One of the most useful features of Superhuman is its email commands.
With email commands, you can quickly accomplish tasks without ever leaving your keyboard.
Email Commands are an incredibly powerful tool that can help you save time and be more productive. And best of all, they're easy to use.
Simply type "/" followed by the type through which you want to search specific email.
Superhuman makes it easy to get more out of your inbox. With email commands, you can power through your inbox in record time.
To perform tasks, press cmd (ctrl) + k on your keyboard to open Superhuman's email commands panel.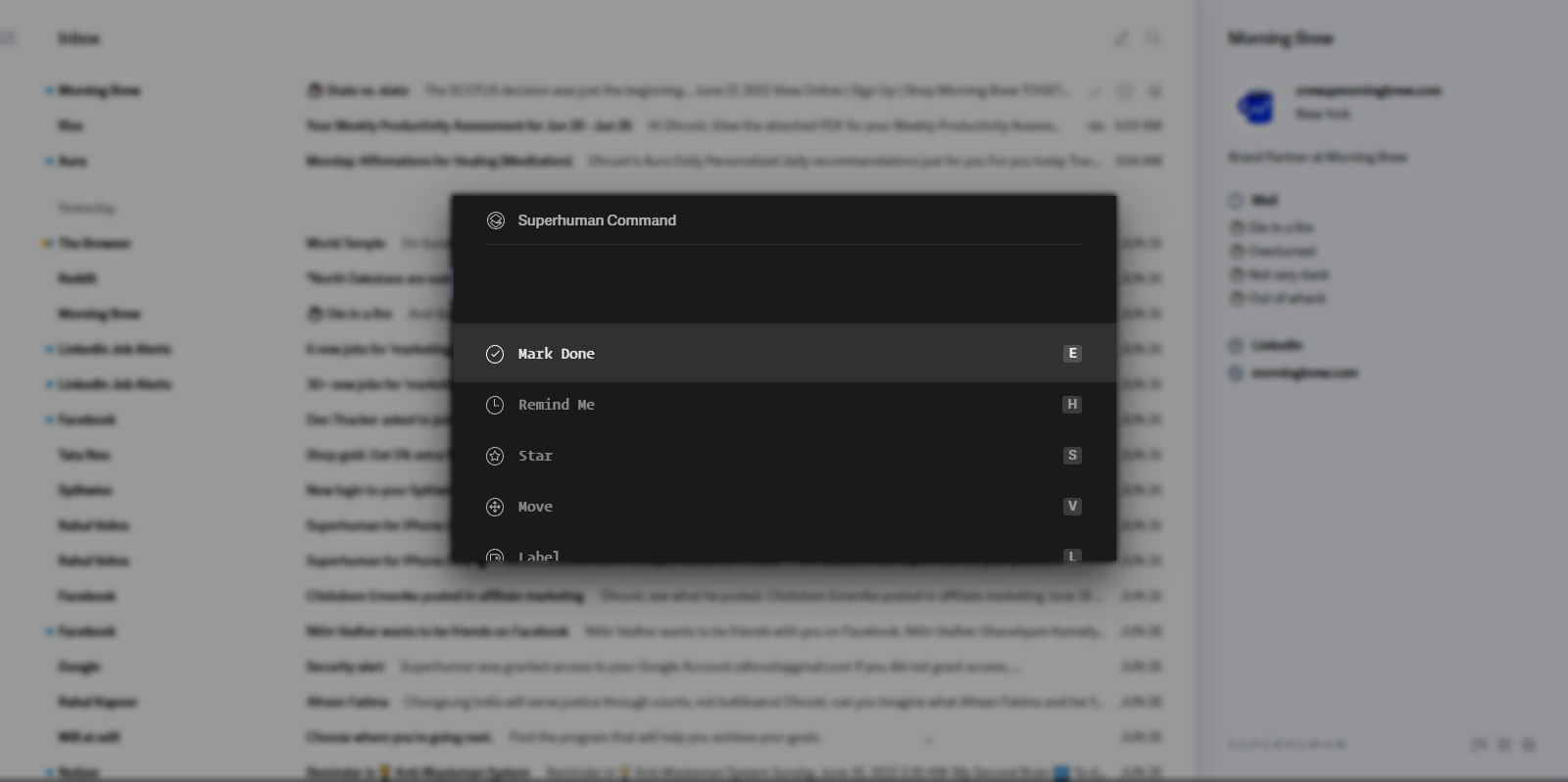 Now, you can compose an email, search through millions of them, filter conversations, and more, all within a few taps on your keyboard.
Very convenient, right?
5. Scheduling follow-ups and reminders
If you need to follow up with someone or be reminded of an email later, Superhuman has you covered.
You can easily schedule follow-ups and reminders directly from Superhuman.
To schedule a follow-up, simply hover over an email in your inbox and click the clock icon.
Then, select when you want to be reminded. You can choose to be reminded for 1 day, 3 days, 1 week, 2 weeks, or 1 month.
You can also schedule a custom reminder date. Superhuman will automatically add the follow-up to your to-do list.
6. Read receipts
Superhuman's read receipts feature lets you know when your email has been read.
To turn on Read Receipts, go to Superhuman's settings and enable the "read statuses" tab.
Superhuman will then send you a notification whenever your email is opened.
Superhuman's read receipts are a great way to know if your email has been seen and acknowledged.
7. Sender social data
Superhuman's sender social data feature gives you valuable information about the person you're emailing or about the email you receive from someone.
Superhuman pulls data from LinkedIn, Twitter, and Facebook to give you a complete picture of the person you're emailing.
This data can be seen on the right side every time you open or hover over a specific email that you receive.
This information can be useful in many situations, such as networking, sales, and recruitment.
Superhuman's sender social data is a great way to get to know someone before you even meet them.
8. Undo send
Superhuman undo send feature gives you the ability to cancel an email after you've already sent it.
To enable undo send, go to Superhuman's settings and click the 'Z' key.
It's as simple as that.
Superhuman gives you up to 10 seconds to undo an email after you've sent it.
This feature is very useful and a huge time saver if you've made a mistake in your email or if you've sent an email to the wrong person.
9. Templates
Superhuman email templates are a great way to save time when you're sending emails.
Superhuman also allows you to create your own custom templates.
To create a custom template, press cmd (CTRL +k) and simply click on the "create snippet" button.

Now, add all the content you need to create a fully customized template that you can use anytime to send repetitive emails without wasting any time.
Superhuman email templates are a great way to save time and be more efficient with your emailing.
10. Integrations
Superhuman's integration feature allows you to connect your email account to other popular productivity apps, making it easier to manage your workflow.
For example, you can connect your Superhuman account to your Google Calendar, so you can see your upcoming meetings and deadlines in one place, just like Sunsama.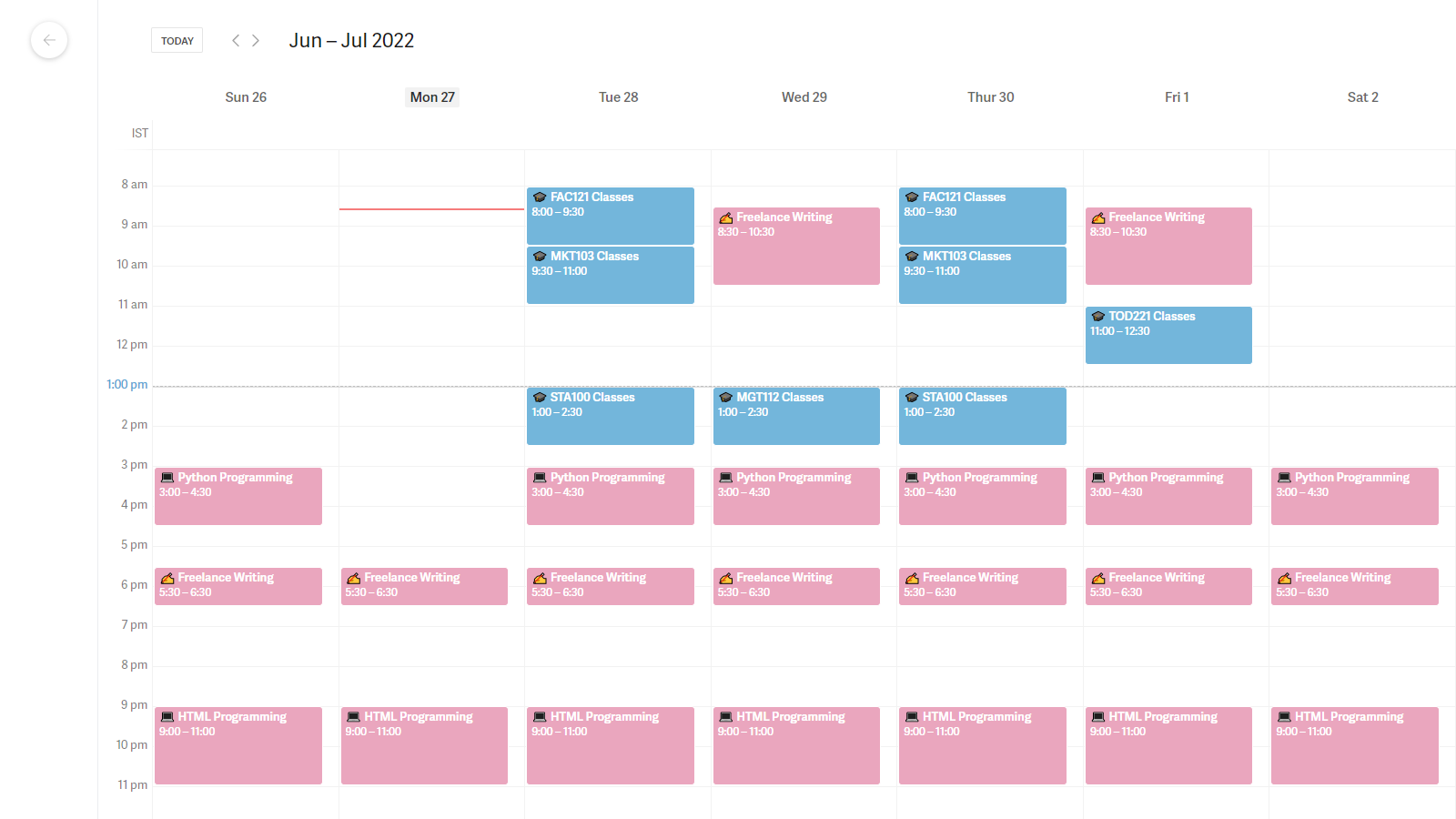 You can also connect to Slack, so you can easily share emails with colleagues.
This is not even the best part.
Superhuman will automatically add the meeting (from Zoom and Google Meet) to your Google Calendar and will also send you reminders before the meeting starts.
This saves you time and ensures that you are always up-to-date.
11. Keyboard shortcuts
Superhuman has a wide range of keyboard shortcuts that make emailing faster and easier.
You can view and download all the keyboard shortcuts from here:
Superhuman has a keyword shortcut for almost every small action. So much so that you will never feel a need to get off your hands from the keyboard.
With keyboard shortcuts, you can quickly perform common actions such as composing a new email or replying to messages.
This can save a lot of time, especially for users who manage a large volume of emails daily.
In addition, keyboard shortcuts can be customized to meet the needs of individual users.
What I Like/Dislike About Superhuman
Like
Superhuman's ability to show you when your email has been read
Superhuman's sender social data feature
Undo send feature
Email templates
Integration with other productivity apps
Keyboard shortcuts
Dislike
Superhuman Pricing
Superhuman does not offer any free trial or free plan. It's a premium product that costs $30/month.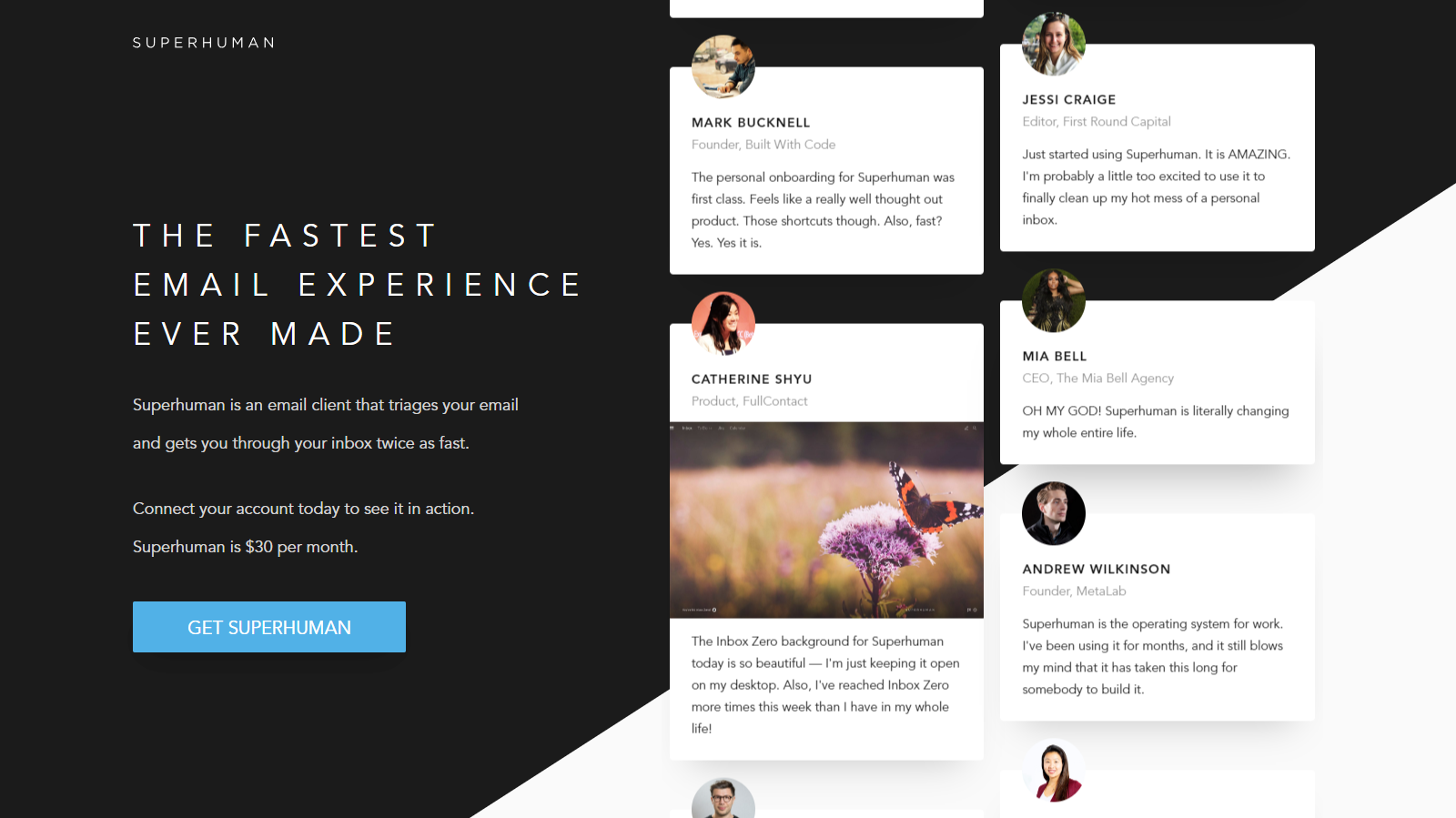 Concluding Superhuman Review – Is This the Future of Email?
Superhuman is an outstanding email client with numerous features that can save you time and make you more productive.
The only downside is the price.
Superhuman is not a cheap email client and it doesn't offer any free plan.
But if you can afford it, Superhuman is definitely worth the price.