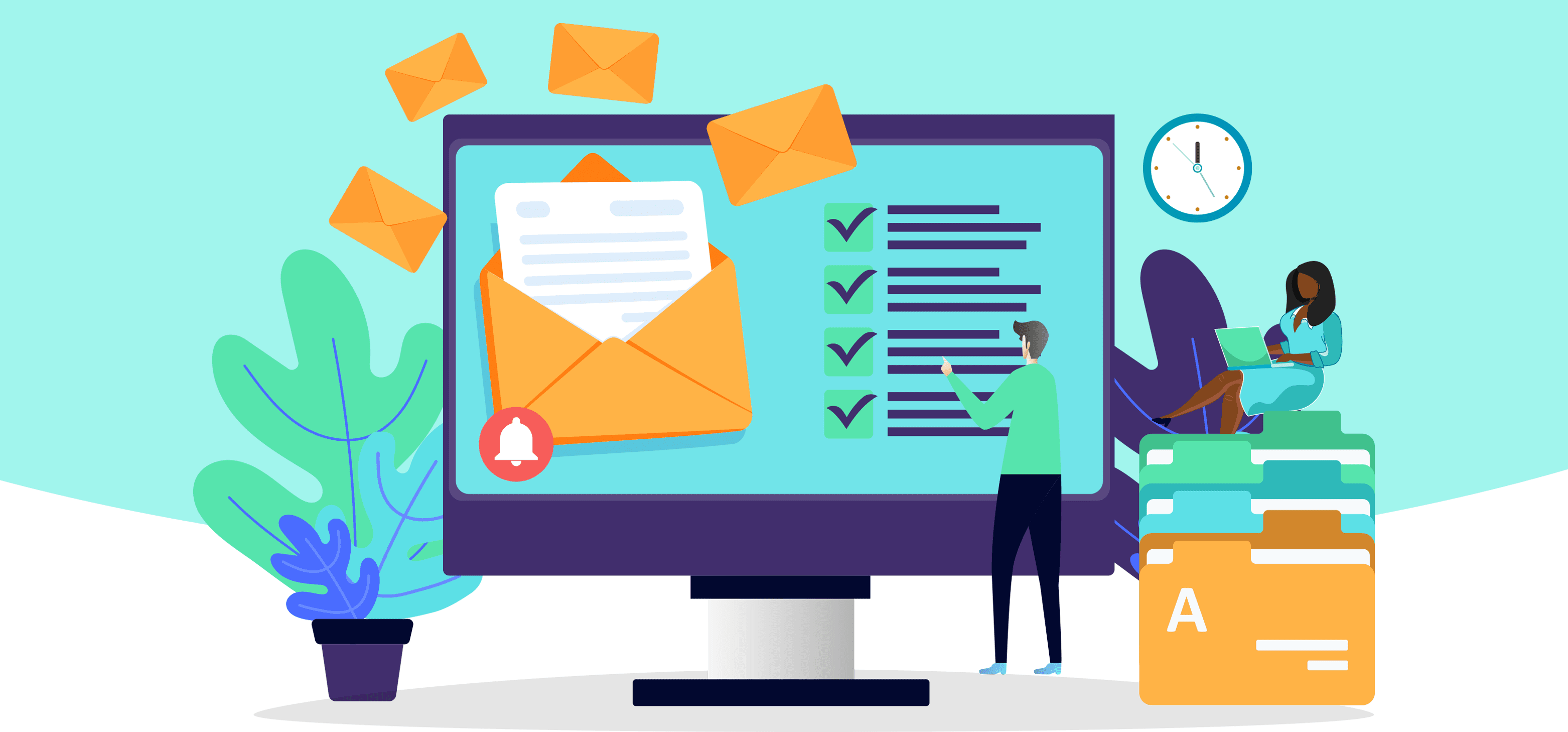 Are you tired of drowning in a sea of emails?
Do you find yourself constantly scrolling through your inbox, searching for that one important message?
Well, amigo, you're not alone.
Email overload is a real thing, and it's time to take control of your inbox once and for all.
Explore our list of the 12 best email management software, tools, and apps.
They will revolutionize the way you handle your email, leaving you with a clean, organized inbox and a newfound sense of peace.
It's time to take control of your inbox and make email work for you, not the other way around.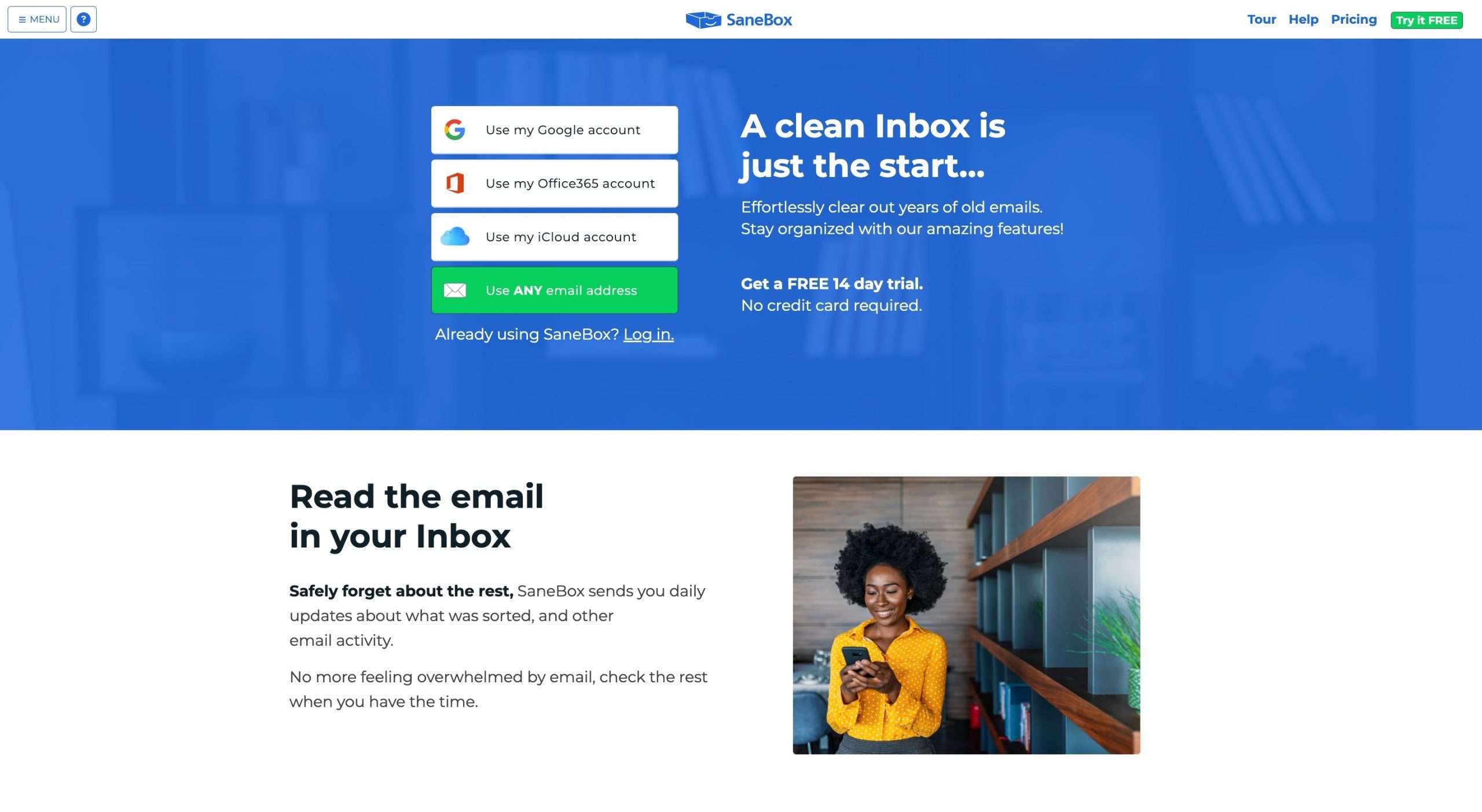 SaneBox is an email management tool that helps you achieve a clean inbox and stay organized with its powerful AI features.
With SaneBox, you can easily clear out years of old emails and focus on what matters most.
The tool's AI filters unimportant emails out of your inbox and sends you daily updates about what was sorted, so you never feel overwhelmed by email again.
SaneBox offers several features to help you manage your email, including a folder for distractions, a folder for newsletters, and a folder for CC'd emails.
Additionally, you can use SaneBox's snooze feature to move non-urgent emails into folders for later.
SaneBox also offers a number of built-in organizational tools, such as the ability to create custom folders, automatically forward certain emails to receipt trackers or Evernote, and keep your email attachments in the cloud.
Key Features of SaneBox
Powerful AI filters to unimportant emails out of your inbox
Daily updates about sorted emails
Snooze feature to move non-urgent emails into folders
Cloud storage for email attachments
Schedule breaks from email notifications
A folder for ignored emails
Pricing
SaneBox offers a 14-day free trial. Pricing for SaneBox starts at $3.49/month for the Snack plan, $5.99/month for the Lunch plan, and $16.99/month for the Dinner plan.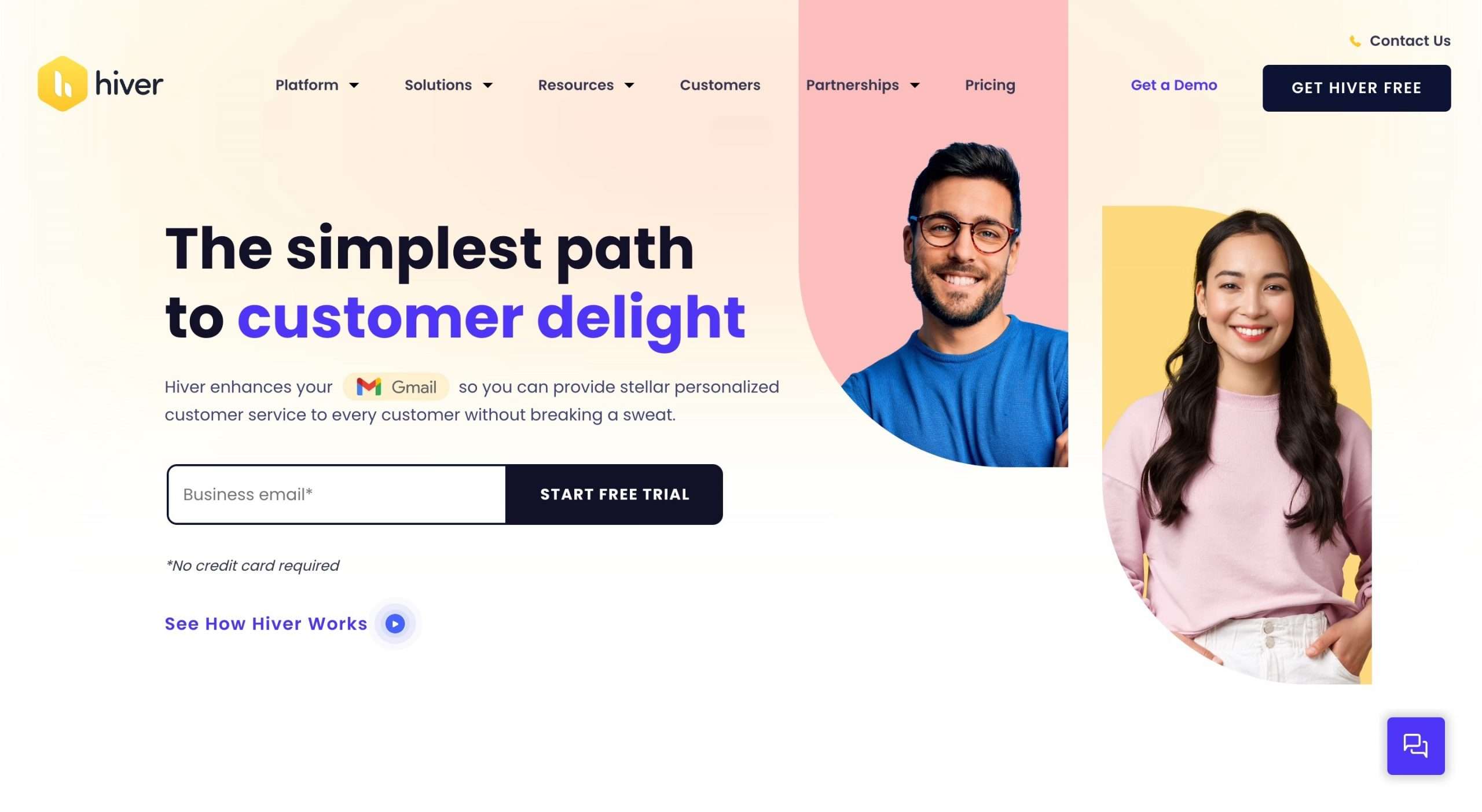 Hiver enables you to easily run customer support right inside your Gmail inbox, and handle email and chat support with ease.
Not only that, It allows you to delegate incoming emails with a single click and track key metrics and team performance, so you can improve your customer service.
One of the key features of Hiver is its shared inbox management, which allows you to manage customer conversations at scale.
You can assign emails with a single click, track which emails are open, pending, or closed, collaborate with colleagues using notes, and categorize emails through tags, all inside your Gmail inbox.
Another great feature of Hiver is its reporting. You can build custom reports to measure metrics specific to your business and identify areas of improvement.
Hiver also offers automated workflows, which help you to remove the grunt work out of customer service by automating repetitive tasks.
Hiver integrates with your favorite apps for a seamless experience, so you can spend more time getting work done and less time bouncing between screens.
Key Features of Hiver
Run customer support from inside Gmail
Delegate incoming emails with a single click
Handle email and chat support right inside Gmail
Track key metrics and team performance
Write notes to team members to add context
Integrations
Pricing
Hiver offers a 7-day free trial and pricing plans include the Lite plan ($13.5/month), Pro plan ($34.5/month), and Elite plan costing around $49/month.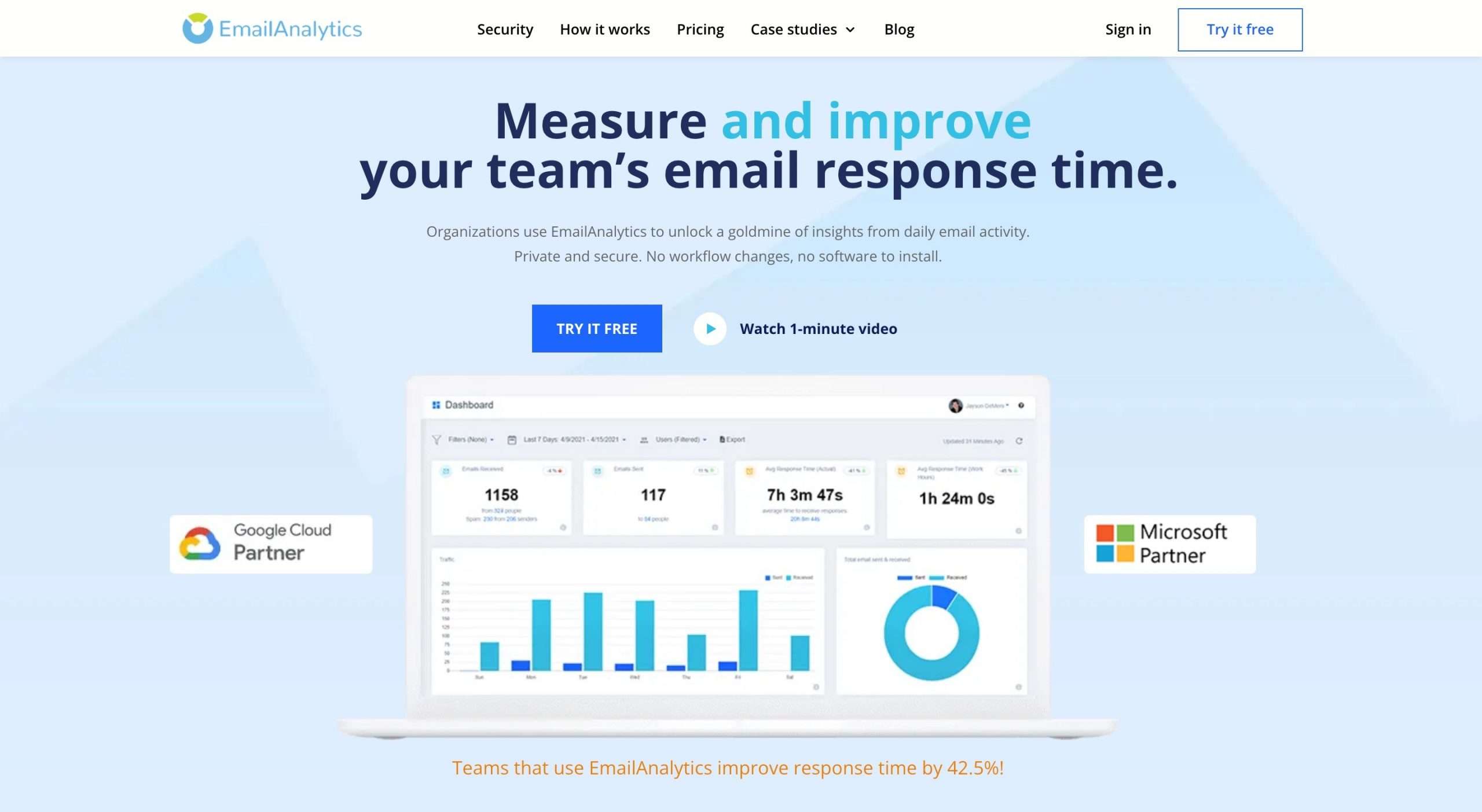 EmailAnalytics is a powerful email management tool that helps organizations unlock valuable insights from their daily email activity.
With EmailAnalytics, you can measure and improve your team's email response time, and visualize your sales team's email activity with your own analytics dashboard.
One of the key features of EmailAnalytics is the ability to see how many emails your team sends and receives every day, as well as the number of people your team corresponds with and the number of spam emails they receive.
Another great feature is the ability to see email traffic by day of the week, which can help you identify your busiest days and adjust your team's responsibilities accordingly.
EmailAnalytics also has a team management feature, which allows you to add your team's email accounts and compare email activity.
You can see the average email response time for each team member, emails sent, emails received, and more at a glance in a team table.
Key Features of EmailAnalytics
Measure and improve your team's email response time
Visualize your sales team's email
Email analytics dashboard
See email traffic by day of the week to identify the busiest days
See top senders and recipients
See email response time, actual and work hours response time
Team management
Pricing
EmailAnalytics offers a 14-day free trial and after that, the Pro plan costs $15/ inbox per month.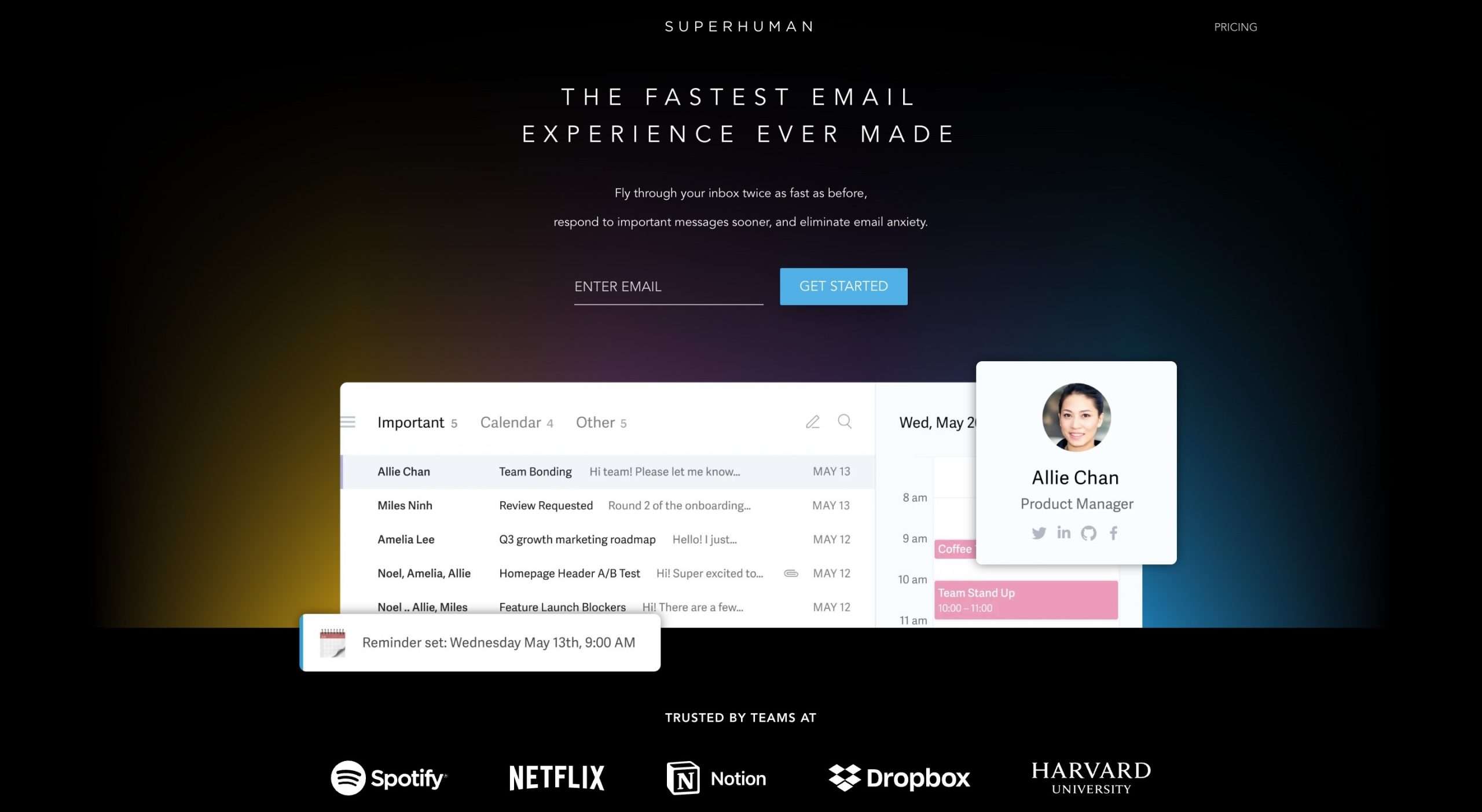 Superhuman is an email management software that promises to revolutionize the way you handle your inbox.
With a focus on speed, design, and functionality, Superhuman promises to make you twice as fast at handling email, while also eliminating email anxiety.
One of the key features of Superhuman is its visually stunning design. Every aspect of the software has been crafted to be subtle, minimal, and gorgeous, making it a pleasure to use.
Superhuman also integrates social media insights, giving you information on people's locations, professions, and social profiles, helping you to make more personal connections.
Additionally, Superhuman has a built-in undo-send feature that lets you undo any email you sent by mistake.
Superhuman also has read statuses built-in, so you can see when people read your emails, allowing you to respond at just the right time.
Lastly, it allows you to set reminders for follow-ups and schedule emails to be sent at a specific time, ensuring your message is at the top of the recipient's inbox.
Key Features of Superhuman
Visually stunning and minimal design
Integration of social media insights
Built-in undo send feature
Highlight the most important messages
Read statuses built-in
Reminders for follow-ups and scheduling emails
Snooze feature that temporarily removes emails from your inbox
Pricing
Superhuman costs $30 per month per member.
Spike is a powerful and innovative email management software that is designed to help teams of all sizes connect, create and collaborate.
Its conversational email feature removes confusing threads and replaces them with natural, flowing dialogue, making it as easy to use as a chat app.
Additionally, Spike's intelligent Priority Inbox removes distractions, helping you stay focused on important messages and low-priority messages are moved to the side for later.
One of the standout features of Spike is the ability to create, edit, collaborate and share dynamic notes without ever leaving your inbox.
They also have a live collaboration feature that saves you time and stress by creating and editing notes as a team, in real time.
Spike also includes a task management feature that allows you to organize and prioritize your tasks, projects, and even your grocery list.
You can also schedule reminders to stay on track and organized, and there is a built-in team chat feature that eliminates the need for multiple tabs and apps.
In addition, Spike also includes a calendar feature that allows you to view and manage your time on a single screen, consolidating all your calendars and appointments in one place.
You can also start or join a video meeting or audio call seamlessly, without ever leaving Spike.
Key Features of Spike
Conversational email that removes formalities
Intelligent Priority Inbox to remove distractions
Dynamic Notes creation, editing, and sharing
Live collaboration feature for real-time editing and commenting
Task management with reminder scheduling
Calendar feature to view and manage time
Video and audio meetings seamlessly
Pricing
Pricing for Spike is available on a subscription basis, with plans starting at $8/month and the Business plan costing $16/month/member. They also offer a free plan.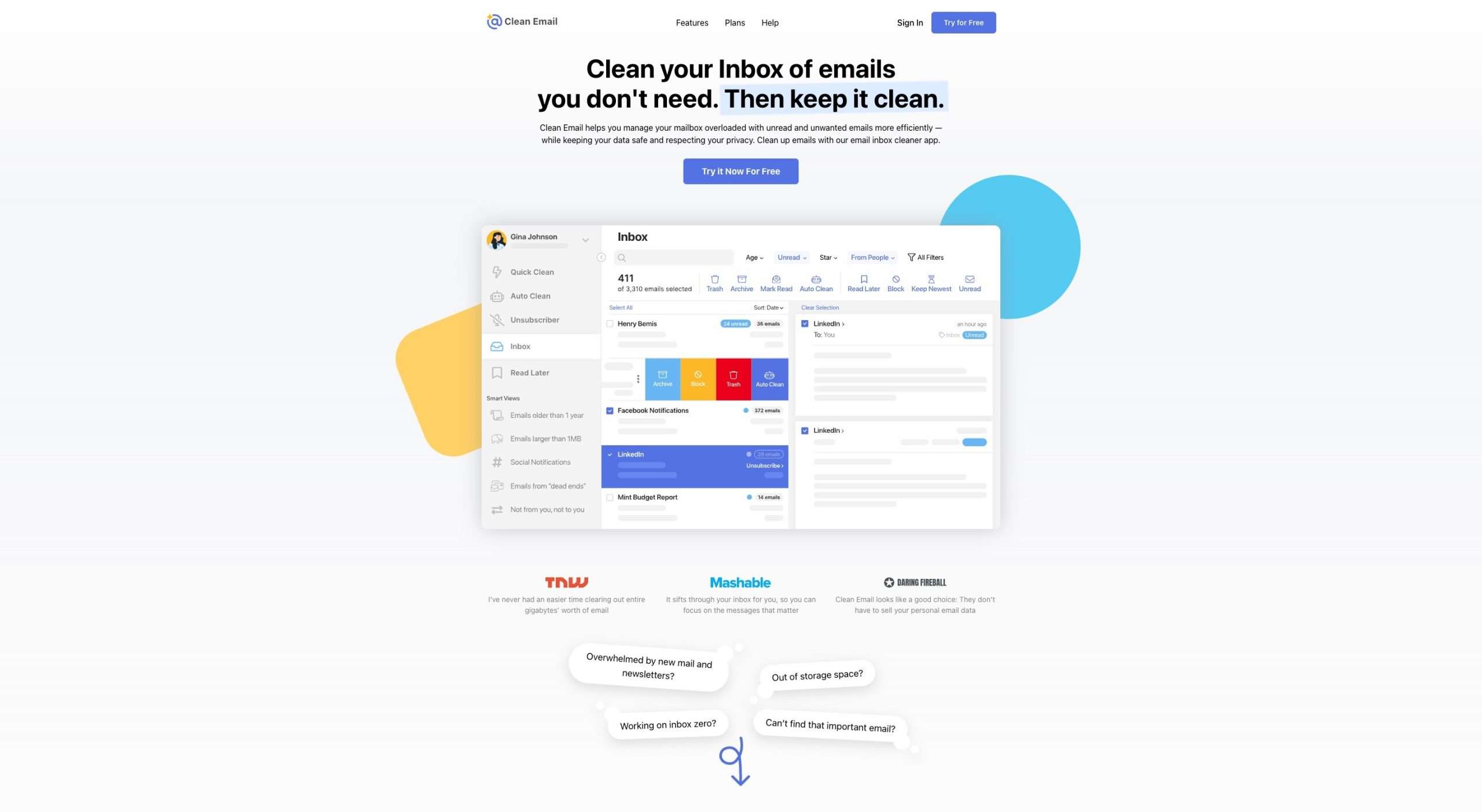 With Clean Email, you can easily organize your inbox and delete thousands of unwanted emails at once.
It uses smart views, rules, and filters to group similar types of emails together, making it easy to go through all your emails in minutes, sort, and clean emails you don't need, or even delete all emails from your mailbox.
One of the key features of Clean Email is the ability to work with groups of emails based on things like sender, email address, subject, label, date, recipient, or size.
Additionally, Clean Email offers various email filters like "Status" (Read or Unread), search by keywords, and sorting emails by age, sender, or size, which helps you find and clean emails you no longer need.
Clean Email offers a guaranteed way to unsubscribe from emails from that sender, and it will keep mail away from your Inbox even if the sender does not offer or does not respect unsubscribe requests.
Also, Clean Email offers an Auto Clean feature that automates your email cleaning routine and helps you keep your inbox clean going forward.
Key Features of Clean Email
Clean and Organize
Smart Views
Email Groups
Filters and Sorting
Unsubscribe and Block
Pause, Read Later, and Keep Newest
Automate tasks with Auto Clean
Privacy Guard
Pricing
Clean Email's free plan allows cleaning and managing up to 1000 emails. The paid plan starts at around $9/month.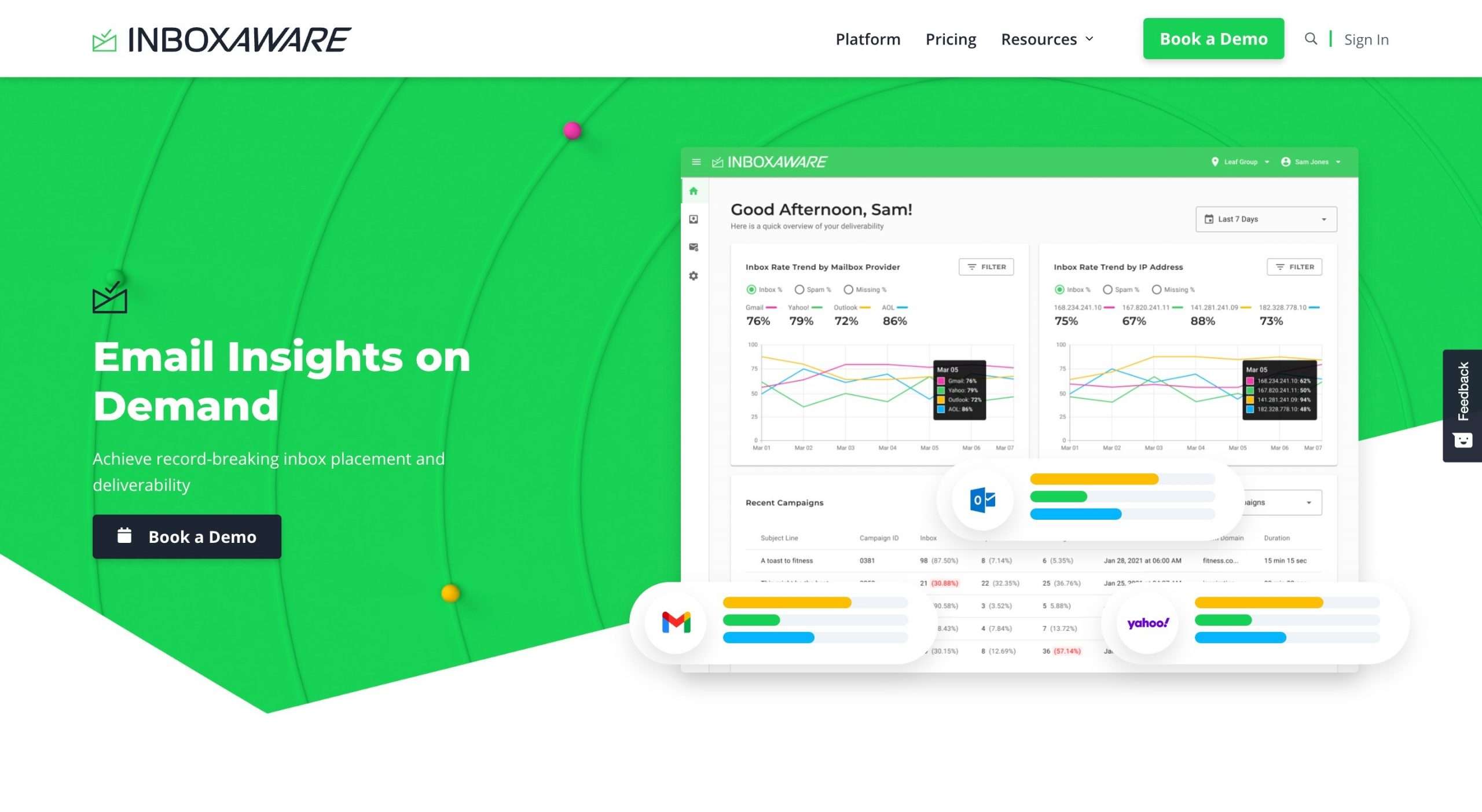 With InboxAware, you'll have access to analytics that cover all angles, giving you both a holistic overview of your emails' performance and advanced analytics that allow you to deep-dive into each factor that impacts your email performance and inbox placement.
One of the core features of InboxAware is its ability to protect your sending reputation with automated alerts and threshold monitoring.
This ensures that you are always aware of the status of your email deliverability and can take action quickly if something looks off.
Additionally, you can track your email performance progress with custom dashboards that allow you to easily digestible data in one view.
Another great feature of InboxAware is its expert seed list testing.
This allows you to target the inbox with accuracy by identifying and overcoming authentication filters and spam traps that can halt your emails before you hit send.
Key Features of InboxAware
Email insights on demand
A holistic overview of email performance and advanced analytics
Automated alerts and threshold monitoring for email deliverability excellence
Seed list testing for targeting the inbox with accuracy
Custom dashboards with real-time reporting
24-hour email reputation monitoring
Advanced segmentation and filtering
Pricing
In terms of pricing, InboxAware offers a demo option, as well as three different plans: Essential ($450/month), Professional ($1216/month), and Enterprise ($2250/month).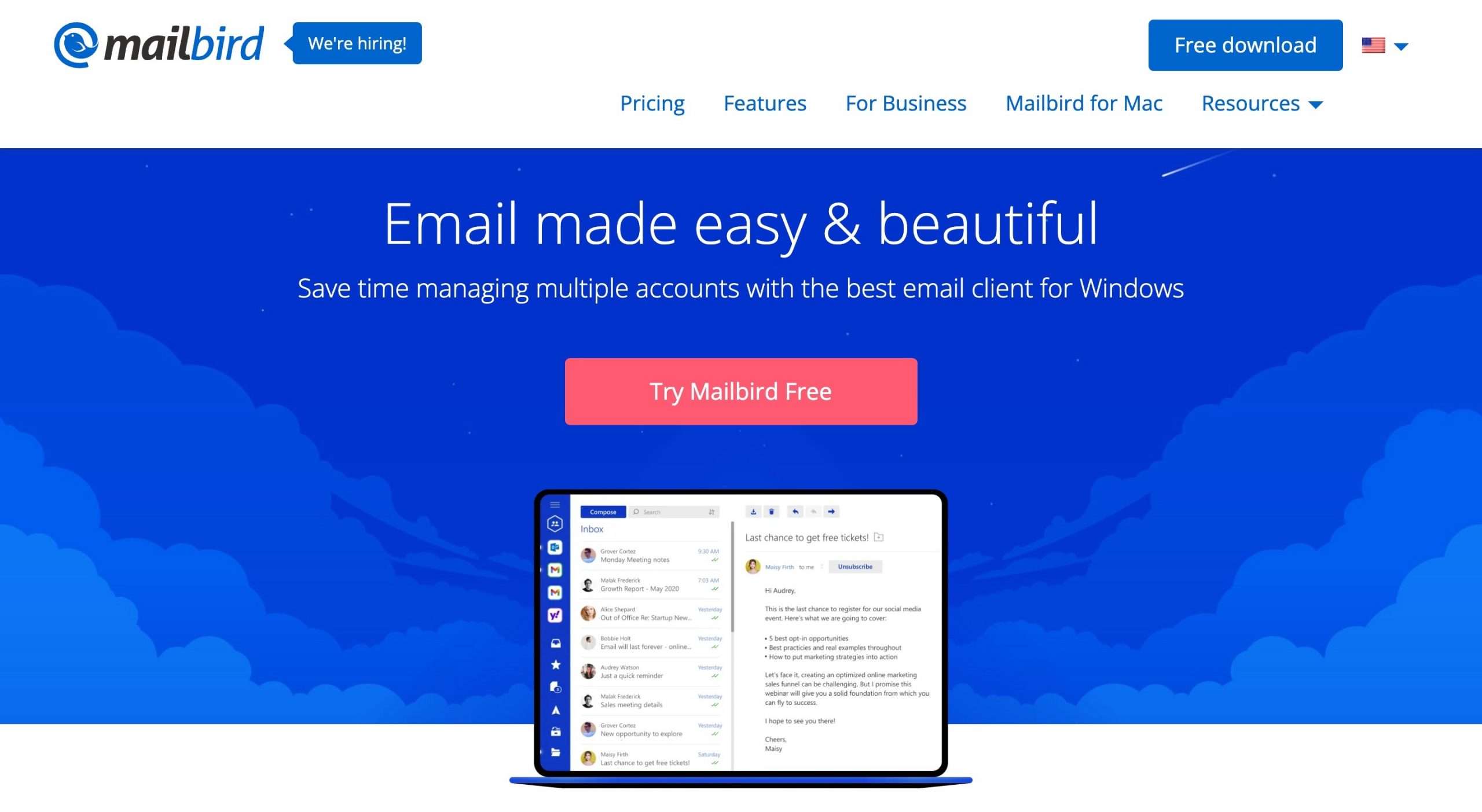 Mailbird is an email client for Windows that makes managing multiple accounts a breeze.
With its unified inbox feature, you can easily manage all your emails and contacts from multiple accounts in one place.
Its sleek and customizable layout allows you to personalize the look and feel of your email client, with tons of free color themes to choose from.
One of the amazing features of Mailbird is its extensive app integrations.
Built-in apps like Facebook, Twitter, WhatsApp, Dropbox, Google Calendar, Asana, Todoist, and many more make it easy to connect all your favorite email, calendar, task, and messaging apps into one.
It also includes a snooze feature, allowing you to snooze messages for later, so you can focus on the emails that are most important to you at the moment.
Mailbird also comes with a speed reader feature, which makes flying through your emails a breeze.
Key Features of Mailbird
Manages multiple accounts in one unified inbox
Customizable layout with tons of free color themes
Snooze feature for delaying emails
Speed reader for quickly going through emails
Customizable notification sounds
LinkedIn lookup feature for connecting with contacts
Keyboard shortcuts for various actions
Pricing
Mailbird offers a 14-day free trial. The Personal plan starts at $3.07/month and the Business plan starts at $5.63/month.

With Mailbutler, you can track your emails to see when, how often, where, and on which device your emails were opened, and your links were clicked.
The Smart Send Later feature allows you to schedule your emails to send at a different time or even lets Mailbutler optimize the sending time for you.
Creating professional email signatures has never been easier with Mailbutler's signature feature, or using their templates to save time.
The undo send feature allows you to recall a sent email before it's been delivered and correct any errors you may have made.
Never forget anything you need to remember by adding automated tasks and informative notes to your emails and contacts.
Additionally, you can create your own email message templates and insert them into your email in just a few clicks.
With Mailbutler, you can also get detailed insights into your contacts and manage them effectively to improve your customer relationships.
Key Features of Mailbutler
Smart Send Later
Email Signatures
Undo Send
Add automated tasks to emails
Email Templates
Get detailed insights into your contacts
Collaborate with team members
Pricing
Mailbutler comes with different pricing plans, the Essential plan is free, the Professional plan is $7.95/month, the Professional+ plan is $12.95/month and the Business plan is $29.95/month.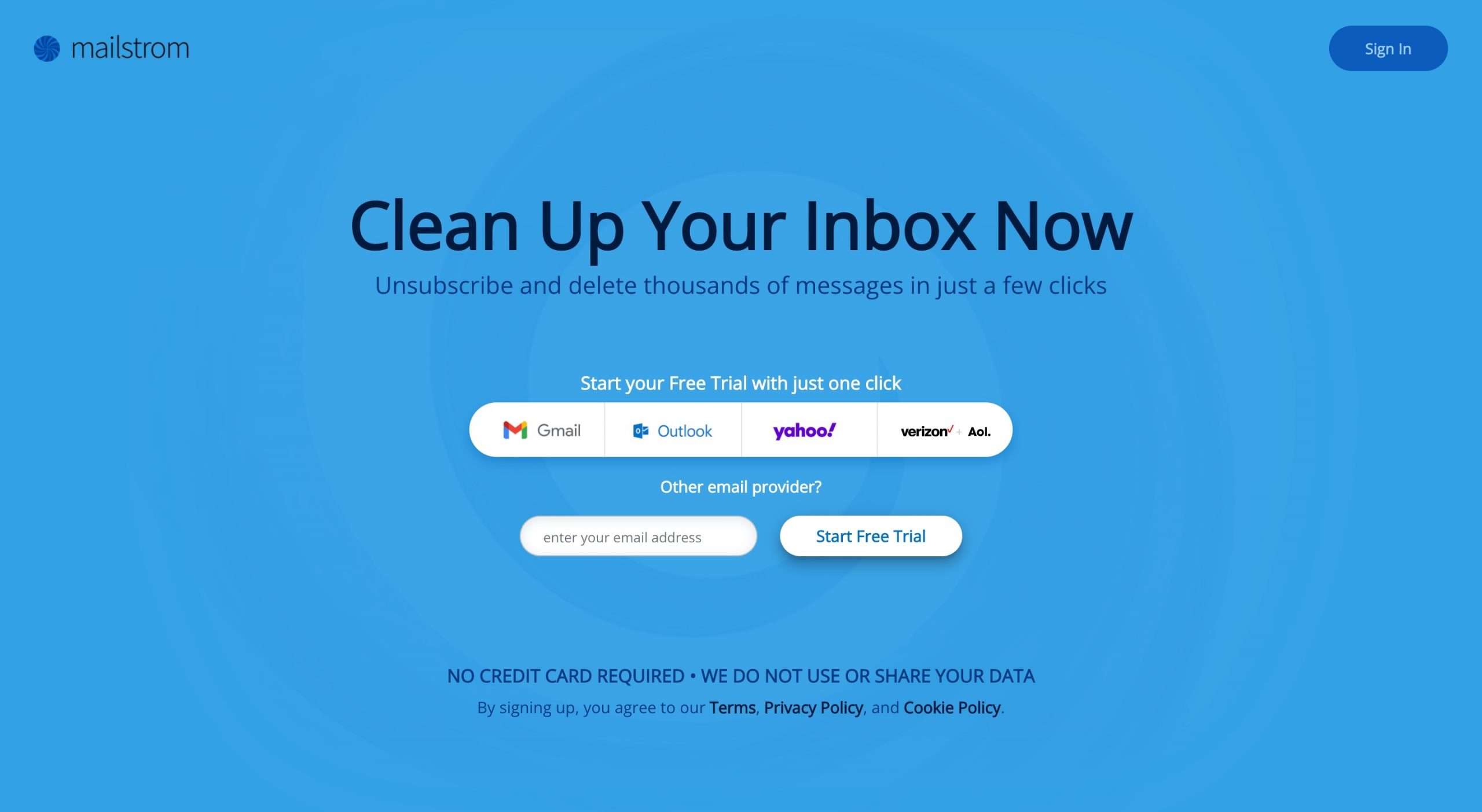 Mailstrom is a web-based email management app that allows you to take control of your inbox by making it easy to unsubscribe and delete thousands of messages in just a few clicks.
With Mailstrom, you can slice through tens, hundreds, or thousands of emails at once, and find the email hacks that work for you.
One of the key features of Mailstrom is its extra level of SPAM protection.
You can use it's one-click Block function to stop any unwanted senders or subjects from cluttering up your inbox in the future.
Additionally, it makes it easy to unsubscribe from mailing lists with its Unsubscribe feature, which allows you to get off old or unwanted mailing lists with just one click.
Mailstrom also offers a range of other features, such as the Archive button, which removes the selected messages from your inbox and stores them safely in an Archive folder and many more.
Key Features of Mailstrom
Easy unsubscribing

Identifying bundles of related mail and grouping them

Extra level of SPAM protection with one-click Block function

The delete button removes selected messages from the inbox

The move button moves selected messages from the inbox to any other folder

Create rules for the recurring moves and unsubscribe
Pricing
Mailstrom has a free trial that allows you to load up to 5000 emails. Pricing for Mailstrom's Basic plan starts at $9 per month with the Plus plan costing $14/per month and the Pro plan costing $29.95/per month.
Drag is a tool that simplifies teamwork and collaboration within Gmail.
With Drag, you can easily organize your work from your inbox, manage to-do's, schedule deadlines, and add notes on top of the email, making your day more organized and freeing up time in your day.
With Drag, you no longer have to navigate between different tools, or forward or cc emails between internal teams.
Drag turns Gmail into a centralized workspace for your team to manage support, run operations and close off tricky sales pipelines.
Another great feature of Drag is the shared inbox feature. With Drag, you can manage and reply to emails from across your company, wherever they're happening.
Drag also offers a variety of other features such as boards, aliases, assignments, @mentions, team chat, and shared drafts, to name but just a few.
Key Features of Drag
Collaborate and manage teamwork within Gmail
Organize work and schedule deadlines from your inbox
Create boards and workflows to manage your tasks
Shared inbox feature to manage emails across your company
Shared labels and shared boards to organize your tasks
Automate repetitive tasks and email follow-ups
Pricing
The pricing for Drag starts at $10 per user per month. It also offers a 14-day free trial, so you can try it out before committing.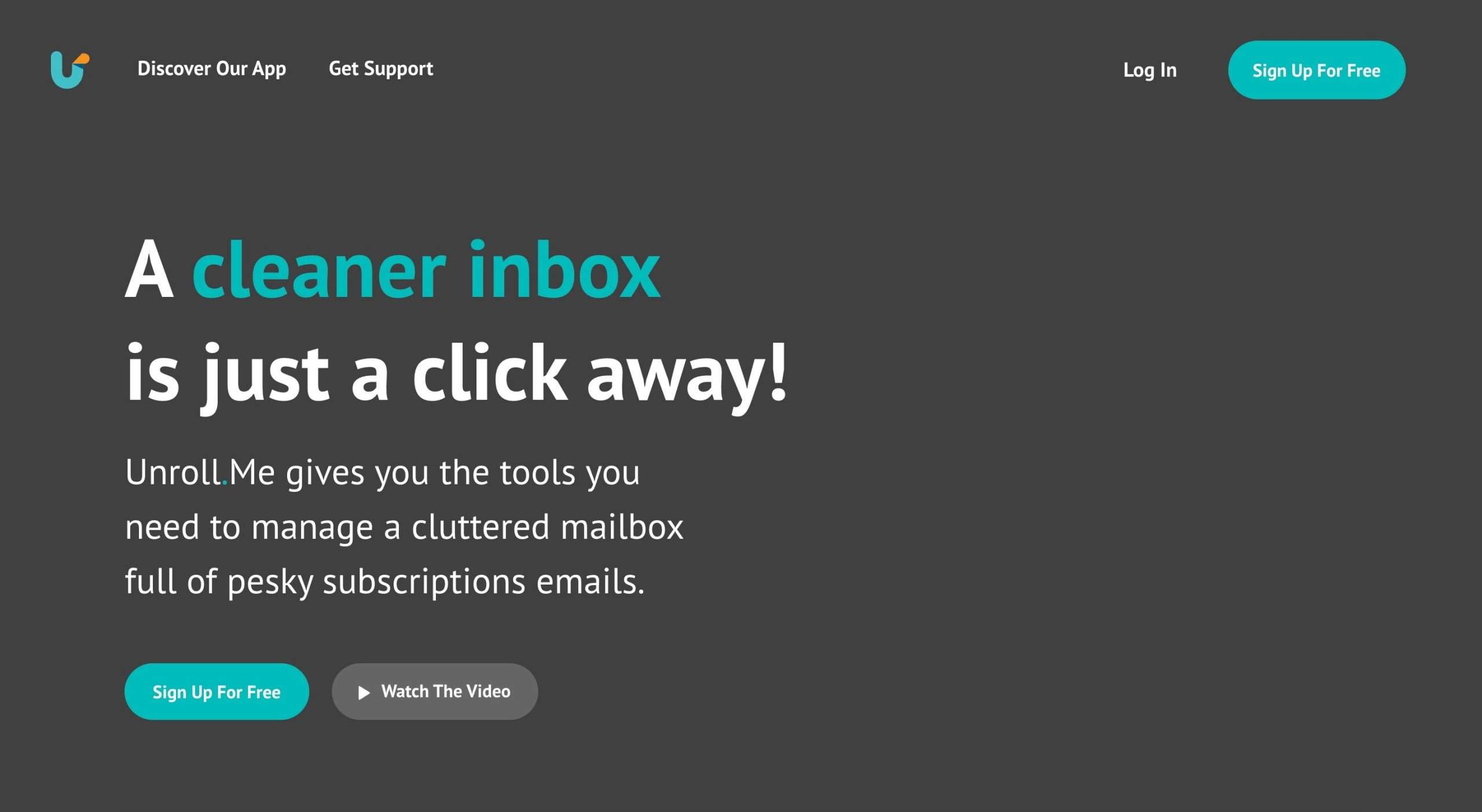 Unroll Me helps you declutter your inbox and take control of your subscription emails.
With its new List View feature, you can easily view all of your subscriptions in one place and search and act on them as you see fit.
One of the best things about Unroll Me is its ability to unsubscribe in bulk. This feature allows you to select multiple or even all subscriptions and unsubscribe, keep, or roll up all of them at once.
Another great feature is the Rollup Revamped feature. It allows you to keep subscriptions without them cluttering up your inbox.
Instead, Unroll Me will notify you whenever you have new emails in your rollup, so you can check them at your convenience.
Unroll Me also allows you to edit your subscriptions with ease. If you unsubscribed from something but then changed your mind, you can easily go back and keep it.
Key Features of Unroll Me
New List View

Unsubscribe in Bulk

Rollup Revamped

Edit Subscriptions

Rich Text Emails
Pricing
Unroll Me is available on Android and iOS for free.
Conclusion
Effective email management can make a huge difference in your productivity and efficiency.
The tools and software we've discussed today offer a wide range of features and capabilities to help you take control of your inbox and streamline your communications.
No more wasting hours sifting through irrelevant emails, no more missing important messages, and no more feeling like you're stuck in a never-ending cycle of email hell.
Whether you're a busy professional, a small business owner, or a team leader, there's a tool out there that will suit your needs and help you take charge of your inbox.
So, don't be a sucker and let your inbox control your day any longer. Take the first step towards better email management and try one of these tools today. You won't regret it, trust me.
Why not start by trying one of these amazing tools right now?