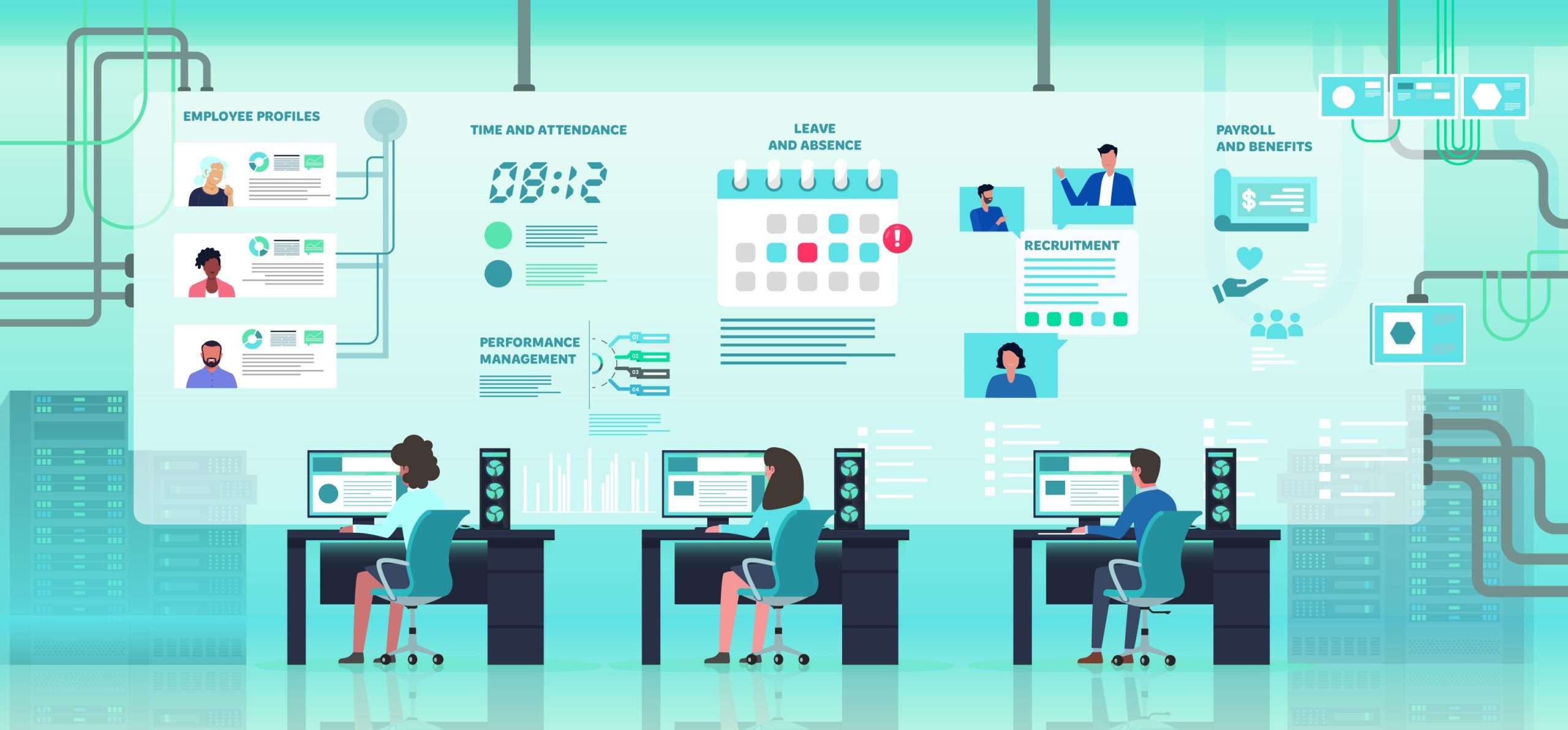 HRMS software provides internal HR operations and workforce management support.
It helps you digitalize routine jobs and centralize company data to make HR processes simple and efficient.
With automation, customization, and integrations, you can easily streamline your workflows and make better strategic decisions.
Let's explore the HRMS software products and review their features and pricing.
What is HRMS Software and Which App is Best for You?
Human Resource Management System (HRMS) is a software product that automates day-to-day routine HR operations for you and delivers people management tools.
By implementing HRMS into your organization, you can improve the quality of your HR processes and get actionable data on your staff work activities to manage them better.
Top Features of HRMS Software are;
HR administration and automation.
Core functions such as onboarding and attendance.
Performance review system.
Training and development.
Analytics and reporting.
HRMS platforms also provide several other functions, like recruitment and background checking, but the above modules typically make up their core features.
Below, I have shared a list of the 12 best HRMS software products. Compare their features and prices to make your purchase decision.
ZOHO HRMS allows you to manage your HR functions from one place.
You can use it to digitalize several core HR operations including attendance, leave, performance appraisals, and skill reviews.
The software is easy to use and provides integration with third-party applications. With its centralized system, you can easily maintain your employee database online and streamline your workflows.
There are plenty of admin control options as well. You can set up an approval system, customize your workflows, and automate processes.
If you want to implement learning and development, you can build courses and conduct virtual training via ZOHO. This feature is available in the enterprise package.
Core Features
Schedule, attendance, and leave management.
Performance and goals tracking.
Appraisals and feedback.
360° feedback.
Learning and development.
Customization and automation.
Reporting.
Multilingual.
Integration.
Price
ZOHO per-user prices start from $2.
You can take a 30-day free trial.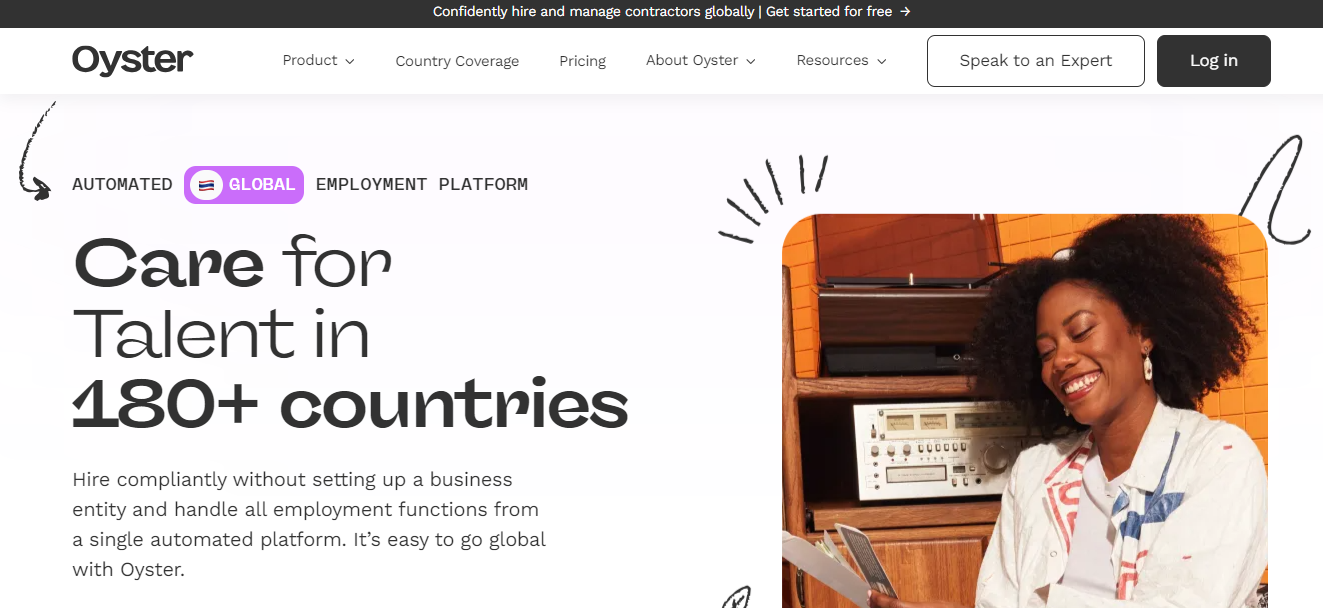 Oyster is a global HR platform. It provides access to international recruitment and payment tools, allowing you to hire and manage overseas employees legally.
Core services offered by Oyster are Employer of Record (EOR), multi-country payroll, and benefits administration. You'll get a cloud platform to onboard people, run day-to-day operations, and store employee documents.
Through Oyster's built-in compliance and approval workflows, you can reduce complexities and oversee payments with ease.
Overall, Oyster is an ideal solution for companies that typically work with freelancers or remote teams. The platform has a presence in over 180 countries and supports multi-currency conversion for international transactions.
Core Features
International recruitment.
Global payroll.
Contractor hiring.
Compliance management.
Legal agreement generation.
Benefits administration.
Expense and leave management.
Integrations.
Reports.
Price
Oyster charges $29 for contractors and $599 for permanent employees.
You can ask for custom packages.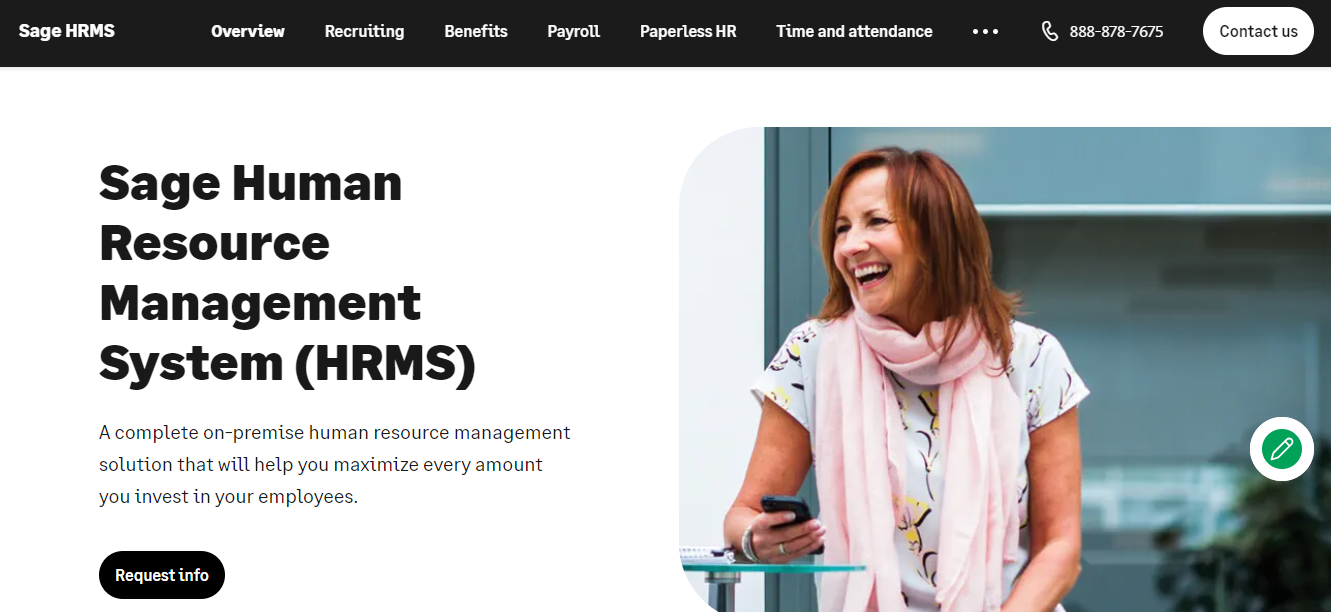 Sage HRMS is an on-premise HR system for mid-size companies. You can use it to handle HR administration work and manage the employee cycle.
The software covers talent management, time and attendance, benefits administration, and compliance. You'll receive a self-service portal to handle forms and requests, and a document manager for file storage.
With Sage's tracking tools, you can keep an eye on your staff for training opportunities and monitor top performers for promotions and benefits.
There are several workflow automation options as well. For instance, you can automatically collect labor data and update employee information.
Core Features
Recruiting and onboarding.
Talent management.
Document storage.
Time and attendance.
Payroll and taxes.
Benefits administration.
Compliance management.
Automation and customization.
Analytics and reporting.
Self-service portal.
Price
Sage shares prices on request. Contact sales to know more.
NetChex is an HR and payroll software. It helps you manage your staff efficiently and simplifies salaries and taxation workflows.
There are several interesting features included in the subscription package. You can automate your recruitment process, record working hours and attendance, monitor staff performance, and run training courses.
With the NetChex analytics tool, you can generate customizable reports and pull specific data to make internal decisions.
You'll receive separate packages for payroll, compliance management, and recruitment, so you don't have to purchase every tool. Self-service portals are also available for managers to handle tasks from their smartphones.
Core Features
Recruitment and onboarding.
Payroll and taxes.
Benefits administration.
Employee verification.
Compliance management.
Self-service portal for managers and employees.
Automation and customization.
Training and development.
Performance measurement.
Analytics and reporting.
Mobile friendly.
Price
NetChex shares prices on request. Contact sales for the quotes.
Bambee is built for US-based companies. Small businesses can use it to digitalize policies and handle routine HR operations.
Here, you'll receive a custom plan suited to your company's needs and a dedicated manager for assistance. You can connect with your manager anytime during business hours and get their help with HR policies and compliance matters.
Other things included in the premium package are document storage, training certification, and automation. You can set up mandatory workplace training for new employees and put basic functions on autopilot.
For employees, Bambee has a feedback system. Your staff can share their opinion about their workplace culture, team interaction, and productivity.
While Bambee is ideal for small businesses, you can purchase subscriptions for large user volumes.
Core Features
HR audit.
Policy implementation.
Workflow automation.
Document storage and e-signatures.
Employee feedback.
Dedicated HR manager.
Customization.
Payroll integration.
Mobile friendly.
Price
Bambee prices start at $99.
There may be a one-time setup fee.
Hooray helps you centralize and automate workflows.
Core capabilities of Hooray include onboarding, absence and leave recording, performance tracking, and skill development.
You will get the tools to build a digital profile of your organization and keep track of your employees' work schedules.
With a self-service portal and third-party integration, you can sync your data and handle daily operations from anywhere.
Any current, pending, and upcoming HR tasks on your agenda are displayed on the main dashboard, making it easier to manage your work.
You can create as many workflows as you want on Hooray and set them as templates for reuse. The software also comes with pre-defined templates for a quick setup.
Core Features
Onboarding.
Workflow builder.
Automation.
Leave and absence management.
Document storage.
Asset tracking.
Analytics.
Integrations.
Mobile app.
Price
Hooray per-user price is €5.00.
You can take a free trial.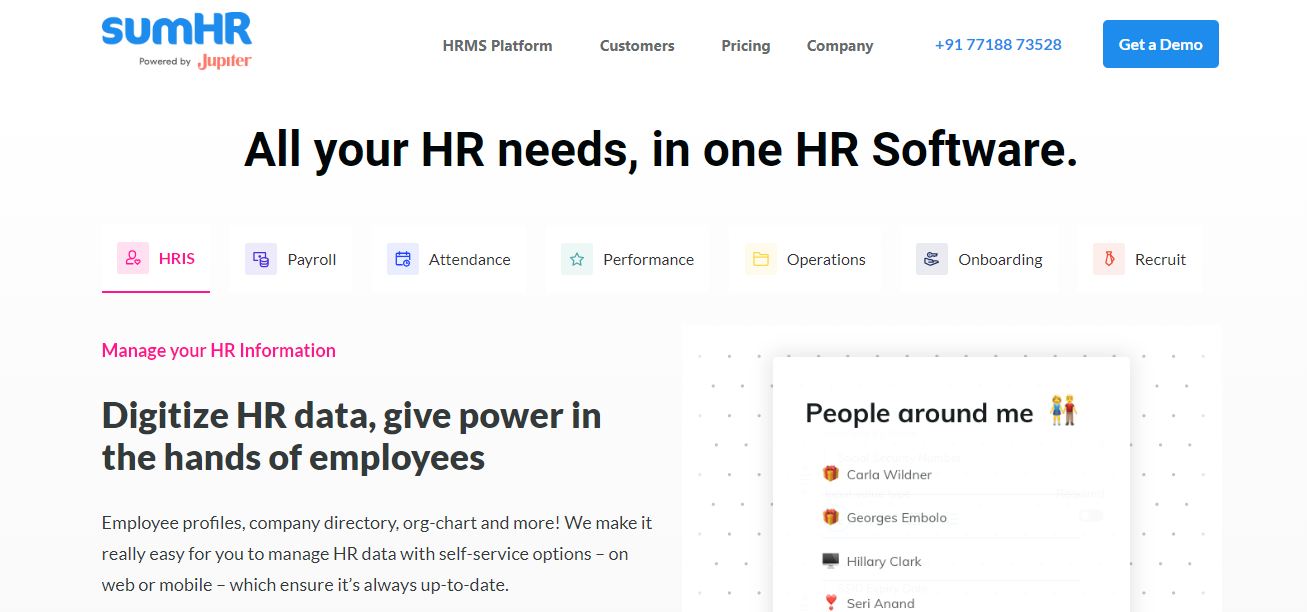 SumHR is a software product for India-based companies. It supports essential HRMS functions and provides workflow automation.
You can set up an employee database and a policy center to digitize paperwork and create an approval hierarchy to control information access. 
Via the self-service portal, you can perform various HR functions including recruitment, onboarding, payroll, and performance reviews. You'll receive editable templates in the package for official letters, and some automation tools to set deliveries on autopilot.
What I love most about SumHR is its helpdesk feature. You can launch department-wise helpdesks to resolve internal queries and assign them to the relevant parties.
One other notable feature of SumHR is its payroll software. It's a highly customizable tool and provides attractive features for Jupiter salary account holders.
Core Features
Recruitment and onboarding.

Core HR operations and letter templates.

Employee database.

Payroll.

Performance reviews and goal tracking.

Manager-employee conversations.

Automation and customization.

Helpdesk.

Finance tools.

Reporting.

Mobile app.
Price
SumHR prices range between ₹ 49 and ₹ 119.
Orange is an open-source HRMS software product. It delivers a diverse range of HR features and provides both cloud and on-premise solutions.
Some of its notable functions include recruitment and onboarding, people management, performance appraisals, and training programs. You can also manage core HR functions such as time tracking, leave administration, and payroll.
For administration, Orange has several customization and tracking options.
For instance, you can set up rules and policies to communicate the company's values, or you can set up a system to track your company's assets.
There's even a module for the helpdesk. You can add it to your HRMS for employees' queries.
Core Features
HR administration.
Recruitment and onboarding.
Time and attendance.
Payroll.
Performance management.
Learning and development.
Helpdesk.
Workflow automation.
Reporting and analytics.
On-premise and cloud software.
Mobile app.
Price
Orange starter plan is free.
For the advance package prices, contact sales.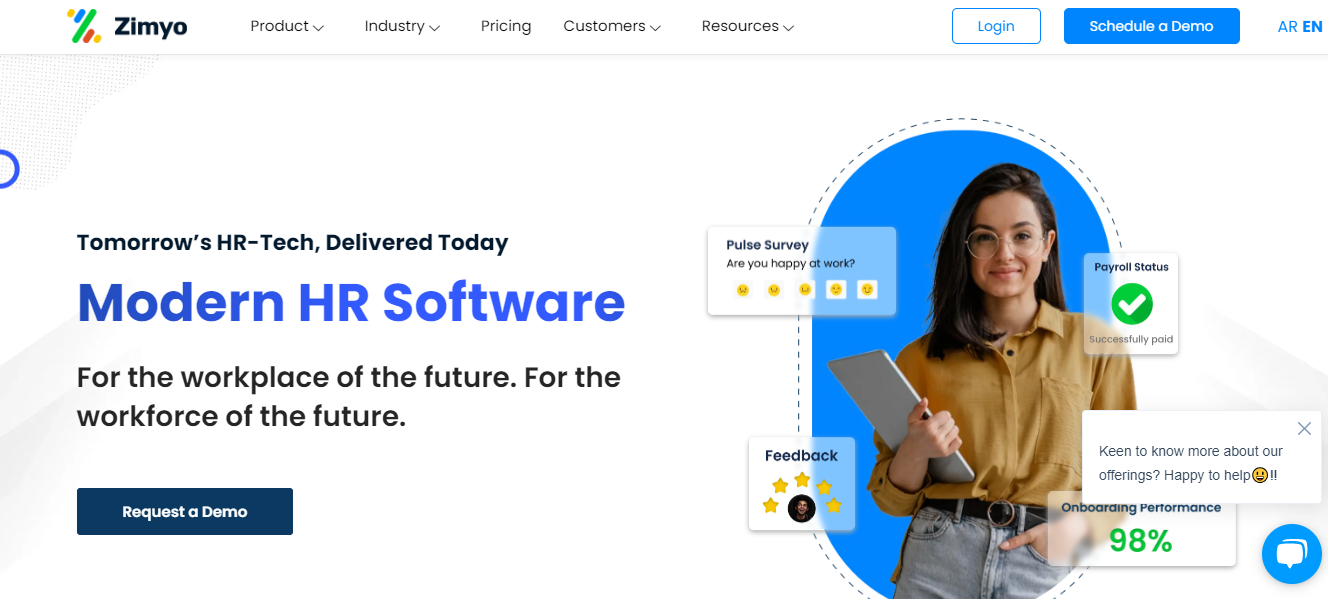 Zimyo offers HR administration, employee engagement tools, recruitment and onboarding features, and multi-country payroll.
Here, you can set up workflows for core operations like employee onboarding and attendance and digitalize complex HR functions such as transfer and probation.
To manage staff and resolve internal issues, you can create a centralized database and periodically run feedback surveys.
With its engagement software, you can build social communities and stay connected to your employees.
Zimyo provides global workforce management support for remote teams and shares some add-ons to extend the software functions.
Core Features
Document and policy management.
Employee database.
Recruitment and onboarding.
Time and attendance.
Advanced HR functions.
Global payroll.
Benefits administration.
Pulse surveys and reviews.
Team communication.
Performance management.
Workflow automation.
Mobile app.
Price
Zimyo has three monthly packages ranging between $4 to $8 per user.
You can take a 14-day free trial.
Cezanne is a robust HR platform. It has around ten HR modules and global resource management software to support international teams.
You can use Cezanne to digitalize your entire HR processes. It has a document manager for file storage, cloud portals for operation handling, mobile apps for easy access, and third-party integrations for data syncing.
You can create onboarding portals specifically for new hires, track working hours and absences, manage time-off requests, and run appraisals online.
Plenty of strategic tools are also available on Cezanne. For instance, you can make budgeting for your global workforce and set up a visual vigilance board to identify potential managers.
Core Features
Recruitment and onboarding.
Time and attendance.
Absence management.
HR portals.
Pulse surveys.
Performance reviews.
Training and development.
Multi-level approval.
Global coverage.
Payroll.
Integration and API.
Mobile app.
Price
Cezanne provides custom quotes. Book a demo to know more.
Zenefits offers HR, payroll, and people management modules. With this tool, you can conduct routine work and build strong connections with your employees.
Core functions you can perform via Zenefits are onboarding, data centralization, work scheduling, and performance reviews.
Add-ons you can purchase with the package include payroll, benefits administration, and recruitment.
Zenefits' best feature is the people hub. You can create a social community for your employees and use that to improve your retention rate.
Core Features
Recruitment and onboarding.
Employee directory.
Document storage
Work scheduling.
Leave management.
Payroll and benefits administration.
Performance measurement.
People analytics.
A social hub for collaboration and announcements.
Integrations.
Mobile app.
Price
Zenefits charges $10 to $33 for its core packages and $6 to $62 for the add-ons.
You need at least five employees to fully utilize this software.
Arcoro is built for construction businesses. It enables you to hire, manage, and nurture your employees.
You'll get almost every essential HRMS module here. It provides an applicant tracking system for hiring and onboarding, a core platform for daily operations, and an LMS module for training and development.
With its performance management module, you can periodically monitor your staff and get reviews on workplace experience to improve the company culture.
Other top features of Arcoro are drug screening, compliance management, and succession planning. You can vet each potential employee, maintain workforce diversity to stay compliant, and track your staff performance for promotions and salary adjustments.
Core Features
Recruitment and onboarding.
Background checks.
Workflow management.
Automation and customization.
Time and attendance.
Performance management.
Surveys.
Training and development.
Succession planning.
Compliance.
Integrations.
Price
Arcoro delivers custom quotes. Contact sales for the pricing.
Conclusion
HRMS are versatile platforms. They provide almost all essential modules in one place to make people management easier for you.
However, each HRMS software comes with its own unique features. For instance, ZOHO's bestselling feature is its customization, while Oyster's core strength is global coverage.
To pick the best app for your company, shortlist your preferred features and purchase the most-suited software product. Good luck!