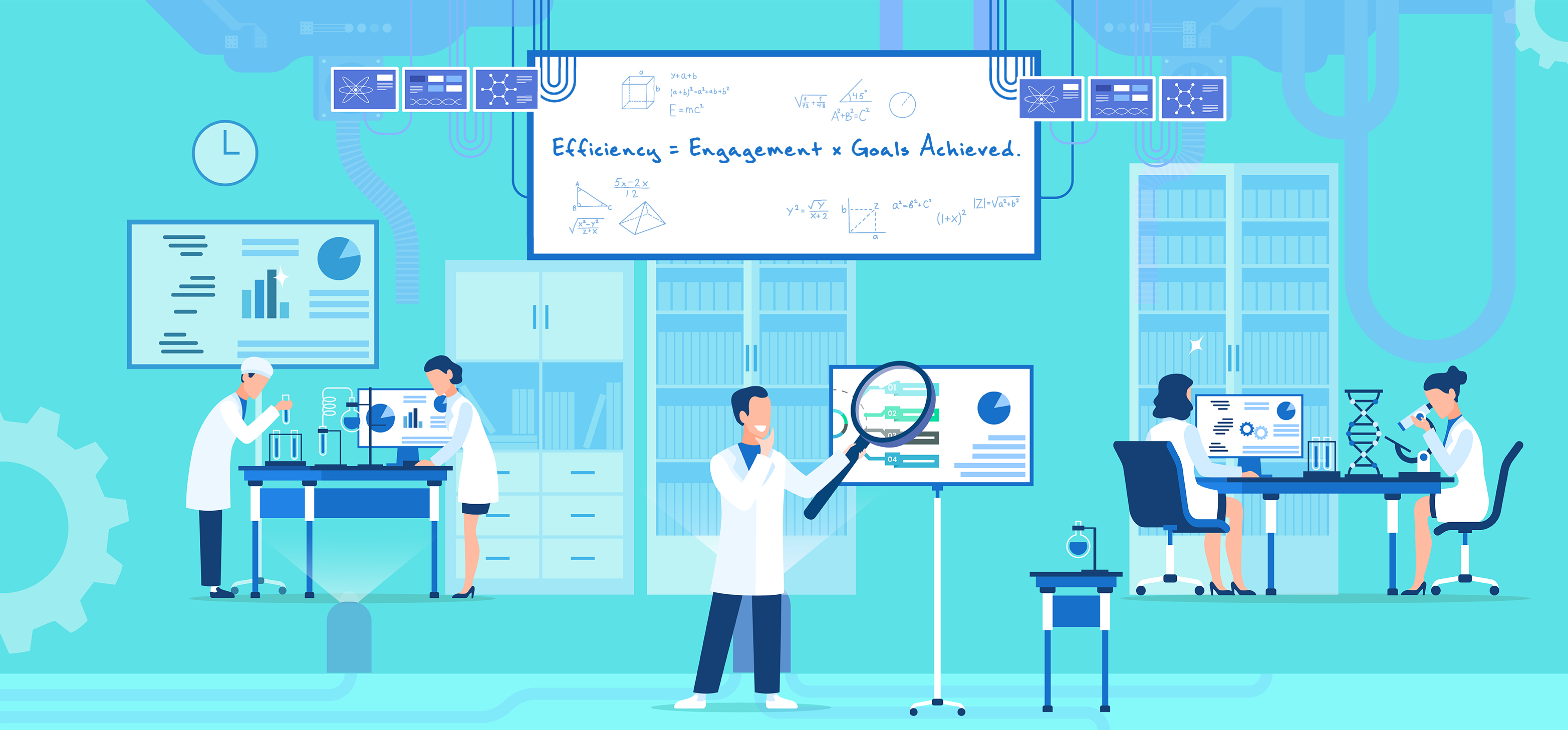 For employees to thrive and be productive, performance management is vital.
An effective system aligns people to business goals and helps individuals continuously develop.
But traditional, manual performance reviews often miss the mark.
Luckily, today's performance management software transforms clunky annual reviews into seamless, everyday experiences.
These tools can lift engagement, productivity, and communication company-wide.
This blog covers 12 top-rated performance management software on the market.
Why Do You Need A Performance Management Software For Your Employees?
Performance management software helps increase transparency, alignment, and engagement—leading to more productive and successful employees.
Performance management software can help manage employees. Here are a few reasons why it's useful:
It provides a structured process for setting goals, providing feedback, and evaluating performance.
It records and stores performance information in one centralized place. Instead of using spreadsheets or paper files, all performance data is securely stored in the cloud.
It eliminates recency bias in reviews. Managers can give balanced feedback based on performance records, covering the entire review period.
It facilitates better communication between managers and employees.
It automates administrative tasks like scheduling reviews, sending reminders, and managing workflows. This saves HR teams time and hassle.
Now that you know why performance management software is useful, let's get into the 12 best performance management software.
ClearCompany is a top-rated performance management system that helps organizations maximize employee potential.
It helps customize review cycles for each company, saving managers time with easy-to-use features.
ClearCompany works with performance management experts to give best practices and templates for different kinds of reviews, like annual and self-reviews.
The design aims for a smooth user experience on all devices. It includes goal tracking, peer recognition, and engagement features.
Ongoing feedback and communication are encouraged to complement formal reviews. In addition, ClearCompany gives leaders useful data through ready-made reports and interactive visualizations.
ClearCompany even improves the experience with customizable cycles, templates, seamless software, and data-driven insights.
This empowers people managers to focus on employee growth and alignment with organizational objectives.
ClearCompany Features
Mobile-friendly, user-friendly interface
Customizable review cycles
Pre-built templates and best practices
Goal tracking and alignment tools
Real-time feedback and communication
Robust analytics and data visualizations
HiBob is an all-in-one performance management solution designed to empower employees to grow and succeed. HiBob offers a centralized hub for managing the entire employee performance journey.
All aspects of goal setting, reviewing, and feedback are in one easy-to-use platform. HiBob makes it easy to complete performance reviews from start to finish.
Managers can create personalized schedules, select review methods, and set up automatic reminders. Even remote teams can be evaluated through the same structured workflows.
With HiBob, teams don't just complete performance reviews, they use them to actively set clear, actionable goals.
HiBob even makes it simple to define OKRs and track progress through interactive tools.
Real-time analytics provide managers with the data they need to identify issues early and course correct.
Teams can also customize reports to suit their specific needs and priorities.
HiBob Features
Centralized hub for goals, reviews, feedback
Flexible and customizable review cycles
Interactive goal setting with OKRs
Real-time analytics and insights
360-degree feedback capabilities
Peer reviews and 1-on-1 support
Netchex Performance Management Software is a powerful yet user-friendly system designed to streamline and improve employee performance reviews.
Netchex is user-friendly and lets managers assign, track, and analyze performance evaluations easily.
One of the key features of Netchex is its flexible review templates.
Managers can create their own evaluations with different rating scales, unlimited questions and comment fields, and customized sections to meet their organization's needs.
Admins can use it to standardize review procedures and still have the flexibility to analyze employee performance.
Evaluators can choose from pre-built templates or create fully customized reviews from scratch.
Netchex also enables managers to schedule and assign reviews with just a few clicks. Automated reminders keep the process moving forward smoothly.
Netchex Features
Customizable performance review templates with variable rating scales
Ability to build fully customized evaluations from scratch
Intuitive interface for assigning and scheduling reviews
Automated reminders to keep process moving forward
Centralized dashboard to analyze results and spot trends
Sage helps manage performance by setting goals, giving feedback, and doing structured reviews. With Sage, managers can define goals and track progress through the year.
For real-time feedback, Sage provides multiple review options besides the annual appraisal. Managers can conduct regular check-ins and pulse surveys to collect feedback frequently.
Employees can also request feedback from managers and peers at any time.
Sage also streamlines the annual review process through automated workflows. Managers can access performance data seamlessly and provide fair, unbiased evaluations.
Employees receive a transparent assessment of achievements and areas for improvement.
You can also customize review forms and include multi-rater feedback for a complete view.
Sage goes beyond reviews by linking performance to learning.
Managers can even recommend training programs mapped to development areas in appraisal forms. It tracks training completion rates and allows employees to share what they learned.
Sage Features
Continuous feedback through check-ins and surveys
Automated annual review workflows with custom forms
360-degree feedback from managers and peers
Development planning integrated with appraisal process
Tracking of training completion and impact
Real-time performance analytics and reports
BambooHR helps employees improve by giving regular feedback and evaluations, instead of just once a year.
BambooHR recognizes employee contributions and strengths while fostering open dialogue. It offers unmatched flexibility to tailor evaluations to your organization's specific needs.
You can do up to four official performance evaluations each year with BambooHR. Additionally, you can also have informal reviews whenever necessary.
Never miss an evaluation again with BambooHR's automated reminders for upcoming reviews. Notifications on the intuitive dashboard make tracking a breeze for managers and HR.
You can clearly define and monitor individual and team goals over time.
BambooHR centralizes goal progression tracking and completion status for streamlined performance optimization. Executives can run Goal Status reports to check progress across the organization.
Finally, you can even visualize employee performance trends through BambooHR's reporting. You can compare performance and engagement over time or across departments.
BambooHR Features
Streamlined performance reviews
Real-time feedback
Flexible review cycles
Custom assessments
Automated reminders
Employee satisfaction surveys
Namely is a platform that helps you manage your workforce. Namely connects with your employees, engages them, and helps develop their skills. It also provides HR tools to boost morale and drive success.
Namely brings all your HR needs under one roof. They make it easy to attract talent with online job postings.
They also help track applicants, automate tasks, perform background checks, and extend offer letters.
Performance management is where Namely really shines.
You can engage your people through goal tracking that aligns with company objectives, continuous feedback, and detailed performance reviews.
The interactive newsfeed facilitates sharing achievements, events, and appreciation. With Slack integration, communication flows freely across platforms.
Employees receive ongoing feedback and align individual goals to company strategy through the performance tools.
Namely Features
Employee engagement through goal tracking aligned to company strategy
Interactive social newsfeed for sharing achievements, events, and peer appreciation
Seamless integration with Slack for efficient communication
Continuous performance feedback and detailed reviews
Individual goal setting tied to company objectives
Paycor's Talent Development is a modern software for managing performance. It turns yearly reviews into ongoing coaching and development.
With Talent Development, you can schedule continuous 1-on-1 meetings with your employees to set expectations, provide real-time feedback, and nurture professional growth.
Paycor has ready-made templates to simplify coaching conversations and customize them for each team.
Talent Development automates data compilation and report generation, so leaders don't need to do messy administrative tasks.
Paycor seamlessly compiles performance data, development plans, and feedback into user-friendly reports.
With continuous feedback loops, Talent Development promotes a culture of real-time communication. It also informs compensation, promotion, and succession planning decisions.
Paycor Features
Continuous performance management through ongoing coaching and feedback
Customizable templates for streamlined 1-on-1 meetings
Automated data compilation and report generation
Real-time communication and feedback loops
Pre-built libraries of competencies and goal templates
Configurable review forms and automated reminders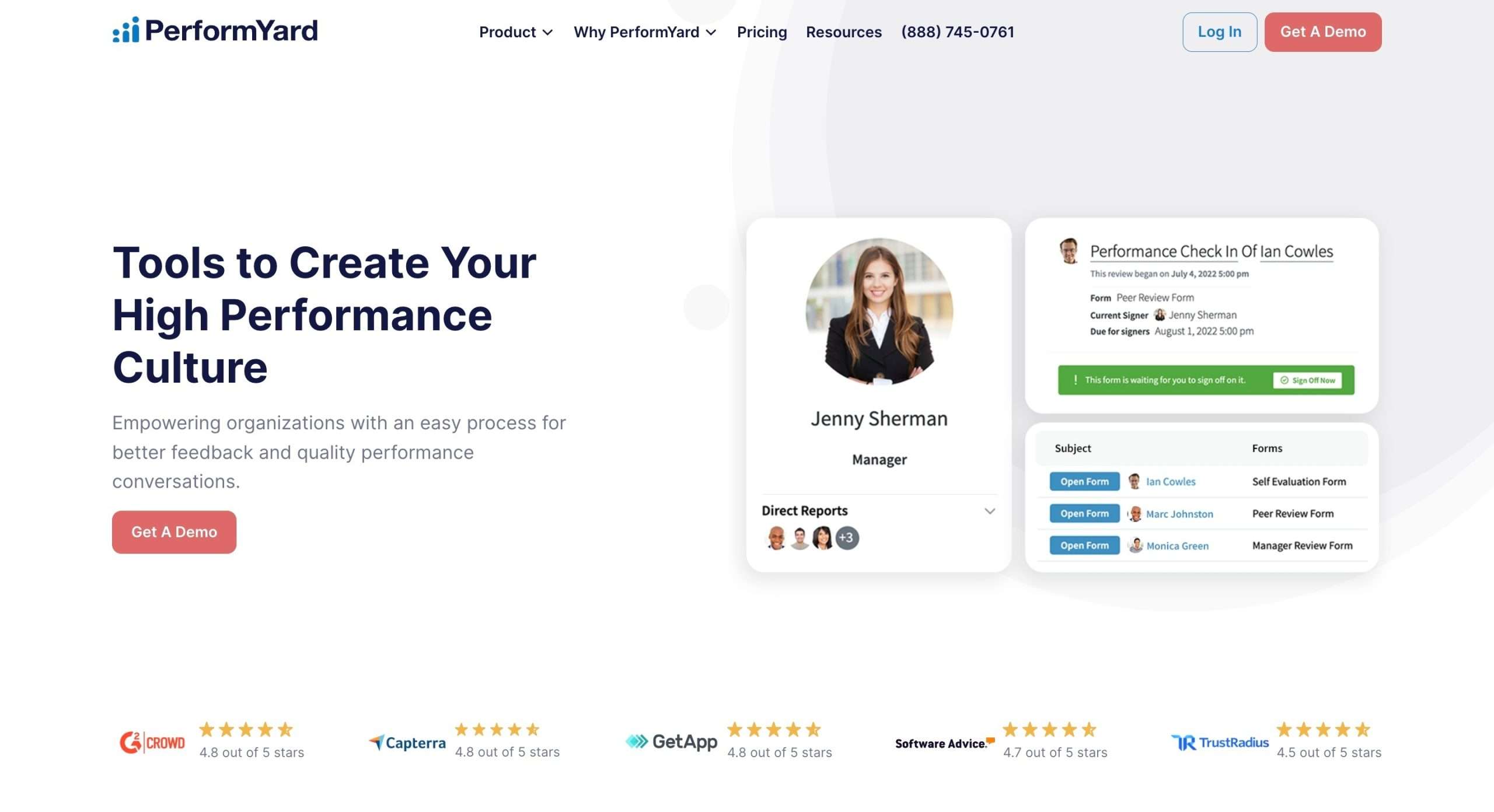 PerformYard is an industry-leading solution designed to streamline and optimize employee performance management.
PerformYard is very flexible for conducting employee reviews, which is one of its key strengths.
It supports custom review cycles and questions tailored to your organization's needs.
Options include quarterly check-ins, project reviews, 360-degree feedback, anniversary date cycles, and more.
You can easily manage review processes from beginning to end using automated notifications and sign-off workflows.
PerformYard also shines when it comes to goal management.
Employees can set goals that align with the company's objectives, and managers can then share these goals with their teams.
Progress reporting and interactive checklists enable transparent tracking, while scoring and discussions foster employee development.
In addition, options such as individual feedback, team feedback, tagging, and requesting feedback foster a coaching culture.
PerformYard Features
Custom performance review cycles and questions
Quarterly check-ins for continuous feedback
Project-based reviews to evaluate work
360-degree feedback from multiple sources
Anniversary date review cycles
Real-time engagement tracking
Workday is a cloud-based software platform designed for enterprise-level HCM needs. It combines many HR tasks into one, such as HR management, talent, planning, compensation, and absence.
Workday is unique because it focuses on developing and empowering employees' skills.
It lets you record the special skills of each employee and match them to changing business needs.
Moreover, Workday has advanced HCM features that help engage employees and boost productivity.
For instance, continuous two-way communication between managers and employees is facilitated through Workday.
Furthermore, Workday is designed to help you optimize talent mobility. As business needs shift, Workday equips you to understand your workforce's skills and quickly move talent into critical roles.
Workday Features
Skills management to assess and utilize employee skills
Career development planning tools for employee growth
Goal management for setting and tracking performance
Performance enablement to boost employee performance
Talent visibility for workforce insights
Skills-based approach for workforce optimization
Engagedly is a powerful yet simple employee performance management software that simplifies performance reviews, goal alignment, and talent analytics into one seamless experience.
Engagedly's People Success Model connects people management and business execution with three pillars.
The first pillar is called Execute Performance. It makes performance evaluations easier and connects employee goals to organizational objectives. This is done using OKRs and talent analytics.
The second pillar, Enable Development, helps people keep growing by offering small lessons, mentorship, and training.
Finally, the Engage People pillar powers exceptional employee experiences through pulse surveys, peer recognition, and rewards.
Engagedly Features
Performance reviews
OKR and goal alignment
Talent analytics
Employee surveys
Continuous feedback
Trakstar is a new kind of employee performance management software. It goes beyond traditional HR solutions to develop talent.
It connects employee lifecycle stages to streamline daily responsibilities and improve performance.
Trakstar integrates four best-in-class products into one seamless solution. This gets rid of manual work and repetitive tasks, so HR teams can focus on important goals.
Trakstar makes hiring easier by helping teams work together, finding good candidates, and creating talent pools for quick staffing.
Once on board, it enables faster employee productivity through streamlined onboarding and training.
Ongoing performance management is enabled through Trakstar's performance module. This identifies areas for improvement and additional training to better engage employees.
Trakstar Features
Unlimited performance reviews
360-degree feedback
Goal setting and tracking
Calibration tools
Real-time feedback
Competency management
Culture Amp is a user-friendly platform for managing employee performance. It uses proven methods to create successful and diverse teams.
It centralizes performance management and makes the process simple for all stakeholders. Administrators can easily set up agile review cycles using the user-friendly interface.
A unique aspect of Culture Amp is its focus on continuous employee development through ongoing conversations.
Instead of yearly performance reviews, managers and employees regularly discuss progress, challenges, and growth opportunities.
This development-focused approach empowers teams to unlock their full potential.
Additionally, Culture Amp promotes inclusivity with bias interrupters and expert guidance for fair employee reviews.
Culture Amp creates a smooth employee experience by combining surveys, analytics, and performance management. With simple goal-tracking and real-time progress monitoring, teams stay aligned and productive.
Culture Amp Features
Science-backed review templates and bias interrupters for fair evaluations
Development-focused conversations
Upward feedback to give employees a voice in the process
Real-time progress monitoring on OKRs and goals
Insights into company-wide performance and areas for improvement
Integration with engagement surveys and people analytics
Concluding The Best Employee Performance Management Software
Performance management is essential for aligning employee goals with business objectives and fostering professional growth.
As this blog post shows, there are many software options to streamline the process.
Whether you need customizable review cycles, continuous feedback tools, or advanced analytics, solutions exist to meet your unique needs.
To find the right platform, look for one that encourages open communication, clear goal-setting, and ongoing development.
By using effective performance management software, you can create a strong team and increase employee involvement throughout the company.
Talk to your HR team about implementing one of these tools, or request demos to find the best fit.
Finally, prioritize continuous feedback over annual evaluations.