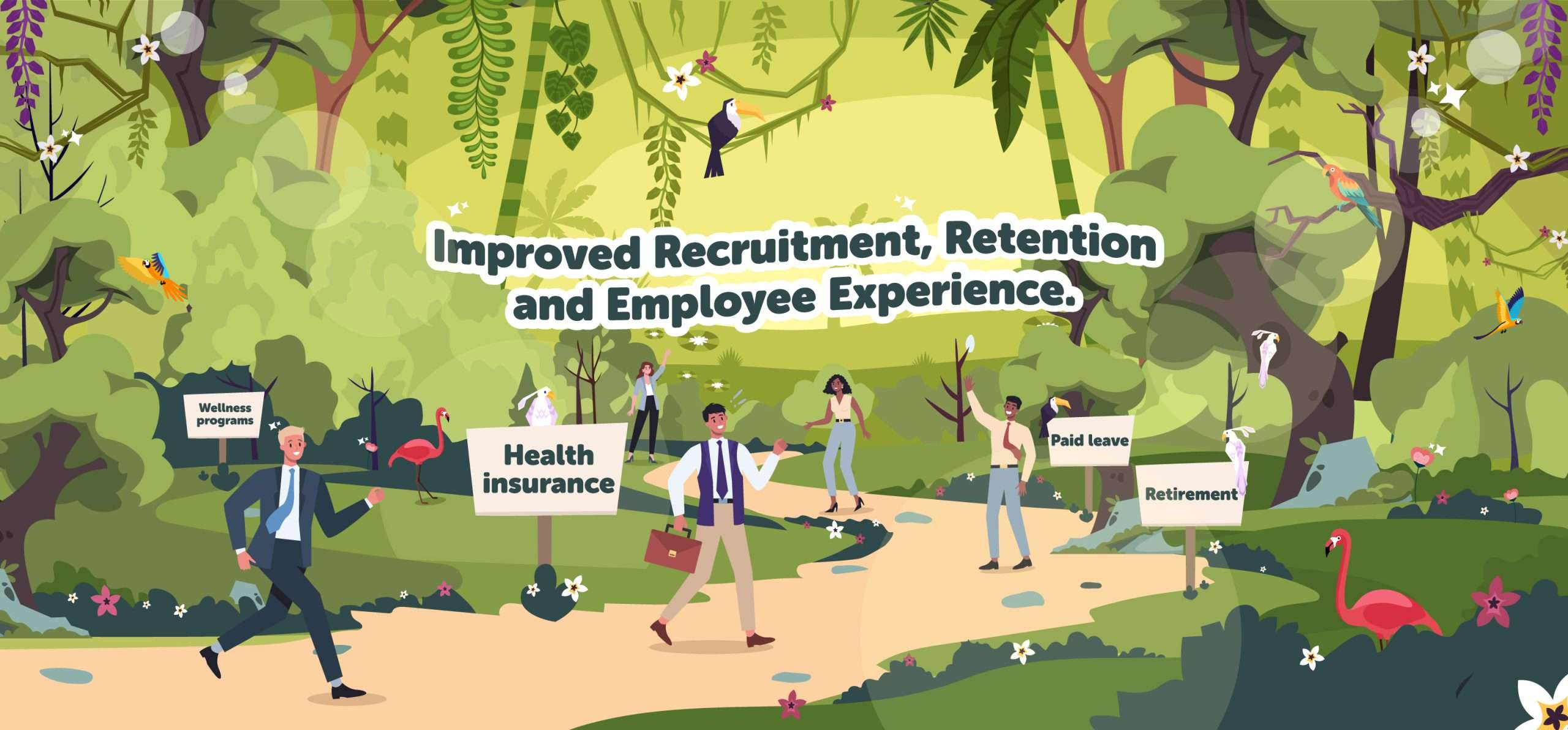 Employee benefits software platforms help you manage perks and allowances from one place.
They give you access to a wide range of incentives for the staff and offer customization to let you create tailored programs most suited to your company's culture.
Below, you'll find some of the top employee benefits software products. I have reviewed their core functions and prices to make the feature comparison easier.
What is Employee Benefits Software and What Apps Are Best for You?
Employee benefits software is an umbrella term that covers several tools, including perks management apps, spending account providers (for lifestyle and fitness perks), and recognition platforms.
Companies can use these apps to design monthly, annual, and performance-based reward programs for the staff, and run peer-to-peer engagement activities.
Top Features to Look for In an Employee Benefits Software;
Monetary and non-monetary perks.
Recognition and rewards.
Access to gift vouchers.
Analytics to track activity.
Let's check out the 12 best employee benefits software products and explore their features.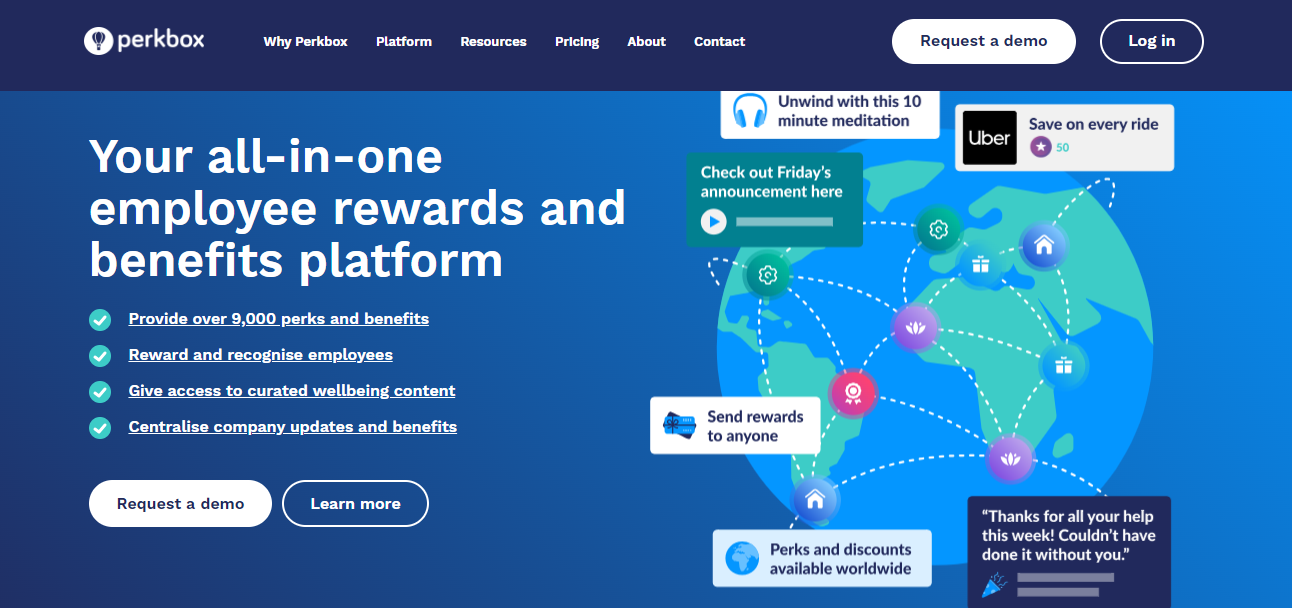 Perkbox offers a wide range of global employee benefits.
The app has over 9,000+ options, peer-to-peer recognition features, a system for employee rewards, and a well-being platform.
You will have the flexibility to deliver discount vouchers of various brands or assign an allowance to let your staff choose their own gifts.
Managers can also send acknowledgment and issue reward points to the top performers. The same applies to team members. They can award credit points to each other to show appreciation.
Through the Perkbox culture hub, you can engage your employees and publish the company's announcements and updates regarding bonuses, perks, and benefits.
If you have a presence in multiple countries or states, you can build regions to control content access.
Core Features
9000+ perks and benefits.
Employee rewards.
Peer-to-Peer recognition.
Communication hub for team engagement.
Well-being platform.
Admin control and customization.
Global presence.
Mobile friendly.
Third-party integrations.
Price
Perkbox delivers custom quotes. Contact sales for the demo and prices.
Vantage Circle is a global employee engagement platform. It provides a suite of benefits products and services in 70+ countries and automation tools to run reward programs.
One of its add-on products is a software called Vantage Perks that gives you access to 1000+ brands for corporate discount vouchers. With this tool, you can create seasonal employee benefits programs to boost your team's morale.
Top perks you can offer through Vantage include cashback, gift cards, and exclusive deals. You can also launch an inside trading channel to let your employees buy and sell appliances.
With analytics, you can see which reward program garners the most engagement and adjust your perks accordingly.
Core Features
Corporate discount vouchers.
1000+ brand deals.
Redemption points.
Classified ads for buy and sell.
Recognition and reward.
AI-powered tools.
Analytics.
Branding.
Multicurrency support.
Price
Vantage Circle shares three packages with Perks software and an add-on product.
Contact sales to get the prices.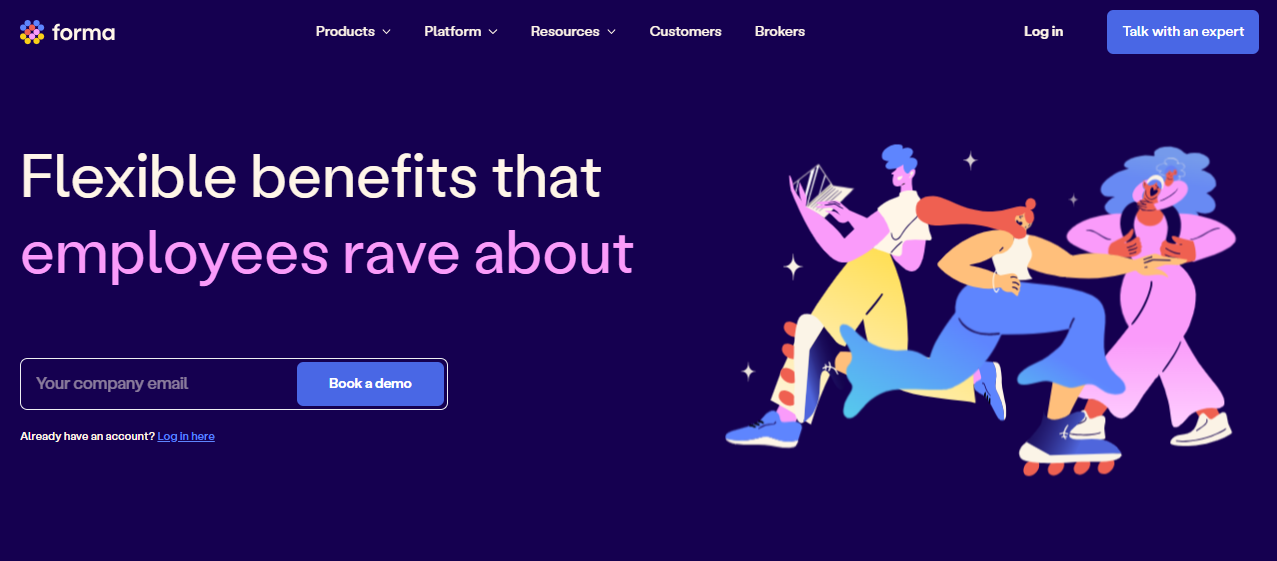 Forma covers traditional and optional employee benefits. Via this digital platform, you can handle multiple perks and offer flexible benefits.
Top features of Forma are spending accounts, health reimbursements, and computer benefits. With iOS and Android apps, your staff can log in to the Forma and submit claims for reimbursement.
The best thing about Forma is its usability. The app is specifically built for employees, giving you the tools to boost your retention rate.
For instance, you can issue VISA debit cards to let your staff use their allowance as they see fit.
There's also an in-house Forma shop for gifts.
Core Features
Debit card.
Pre-tax accounts.
Claim management.
Forma shop.
Global reach.
Compliance.
Customization.
Analytics.
Mobile app.
Price
Forma shares prices on request. Reach out to the salesperson to know more.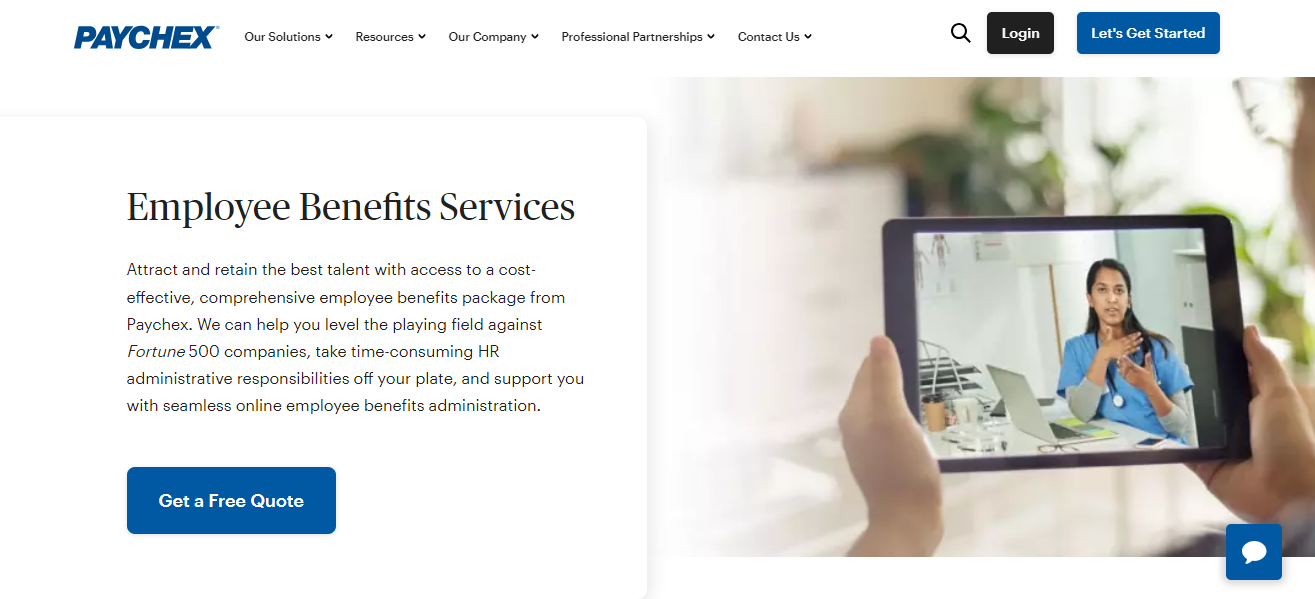 PayChex provides several employee benefits options with the payroll software. With this tool, businesses can automate salaries, taxes, and employee benefits, allowing them to manage everything from one place.
Top employee benefits you can handle through PayChex include Health Insurance, Dental and Vision Insurance, Retirement package, and ancillary Benefits.
You'll receive health savings accounts to pay allowance with pretax funds and an integrated platform to keep track of enrollments.
If you need assistance with benefits administration, you can engage PayChex PEO services. You'll be connected to professional experts to devise action plans and get legal help.
Core Features
US-based software product.
Group Health Insurance.
Dental and Vision coverage.
Retirement plan.
Ancillary benefits
Spending account.
Workflow automation.
Options for your own broker.
Mobile-friendly software.
Integrations.
PEO service.
Price
Employee Benefits is an add-on service that can be purchased with any of the PayChex plans.
Contact sales to get details.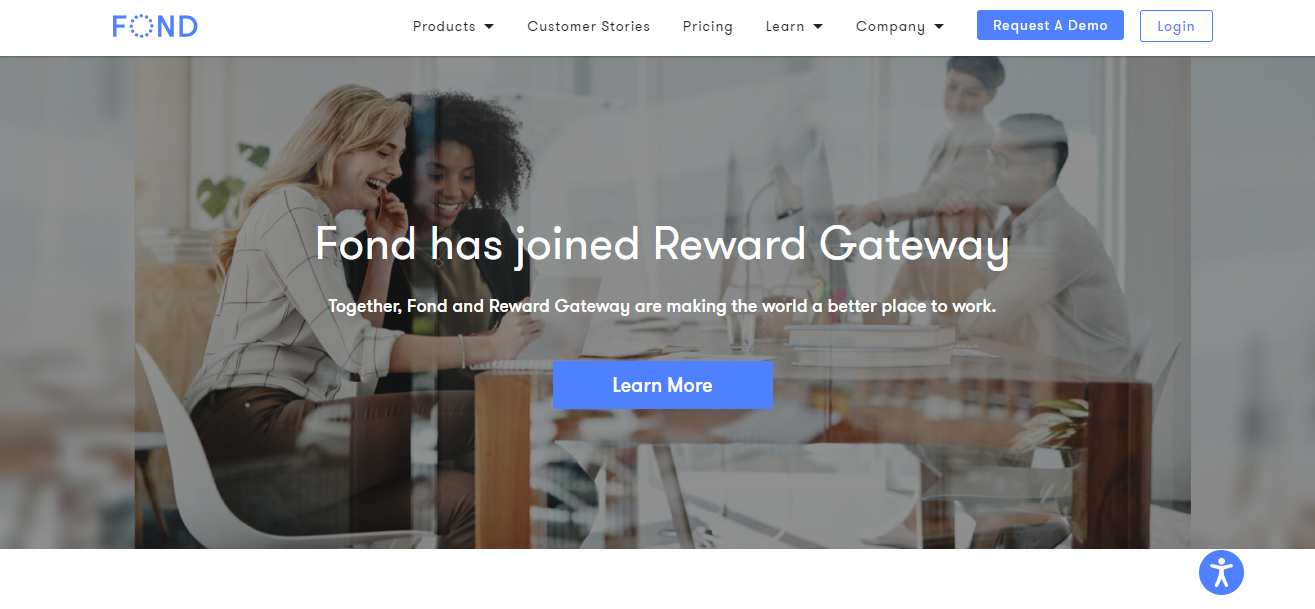 Fond offers a global platform for employee benefits programs. You can use it both as a peer-to-peer recognition social channel and a centralized place to manage perks.
The platform is fully customizable and can be personalized for the global workforce. You can buy discount vouchers for your staff or let them choose their own products as corporate gifts.
Through analytics, you can gain more visibility into your reward program and keep an eye on your expense budget.
You can integrate Fond with HRIS applications and access it via your smartphone.
Core Features
Global support.
Gift cards and discount vouchers.
Reward points.
Social channel for peer-to-peer recognition.
Customization.
Analytics.
Third-party integrations and API.
Mobile friendly.
Price
Fond delivers quotes on request. Contact sales for the demo and prices.
Fringe is ideal for US-based businesses.
It offers 100+ lifestyle benefits choices and delivers toolkits and templates to help you pick the best programs for your company.
The platform has its own marketplace for perks and benefits, hosting over 130 services like grocery shopping, child care, and loan payment.
You, as an employer, can request Fringe to add your choice of vendor to provide particular benefits to your staff.
If you have an international team, Fringe offers selected services for overseas employees as well. While international services are a little restricted, you can still access around 300 global vendors and convert transactions into 60 currencies.
Core Features
US and global perks.
Lifestyle spending account.
Goals to tailor the programs.
Peer-to-Peer recognition.
Insights.
Marketplace.
Customization and automation.
Price
Fringe charges about $5 per employee with a base fee of $200. You can take a free trial to explore the app.
Compt is an employee expense management platform. It helps you with benefits, allowances, bonuses, and entertainment expenses.
The software is easy to set up and gives you the flexibility to create custom incentive programs. You can also integrate with your payroll to deliver allowance with the monthly salaries.
Through Compt's built-in compliance and multi-currency option, you can comfortably run benefits programs for both local and international remote teams.
You can use Compt with your Slack for better communication.
Core Features
Employee stipend perks.
Bonuses and rewards.
Expense management.
Peer-to-Peer recognition.
Payroll and Slack integration.
Built-in compliance.
Customization and approval system.
Multicurrency.
Reporting.
Price
Compt shares prices on request.
Schedule a demo to explore the platform.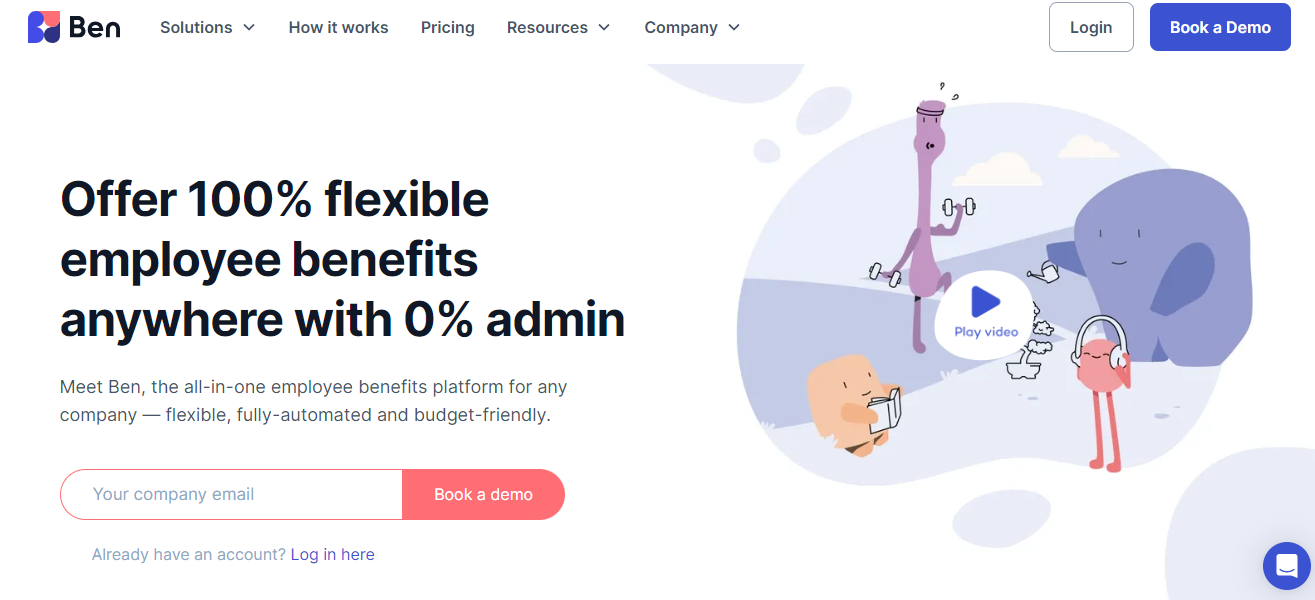 Ben covers fringe benefits and allowances.
You can use it to find suitable packages for health, home, and travel insurance and get your employees enrolled online. If you have your broker, you can also add your existing benefits to your Ben account.
For bonus perks, you can create custom programs and allow your employees to choose the benefits they want. Via Ben's card, they can access their company's approved budget and utilize their allowance on anything.
You can connect your business tools with Ben and automate your workflows to save time. You can also control your budget and track your employee's wallets to see where they typically spend their allowance.
Core Features
Insurance.
Allowance for optional perks.
Virtual and physical master cards.
Recognition and rewards.
Customization and automation.
White labeling.
Self-serve enrollment.
Analytics.
Advisory service on pension and taxes.
Third-party integrations.
Price
Ben charges $6 per employee. You might need at least 150 users to purchase the subscriptions.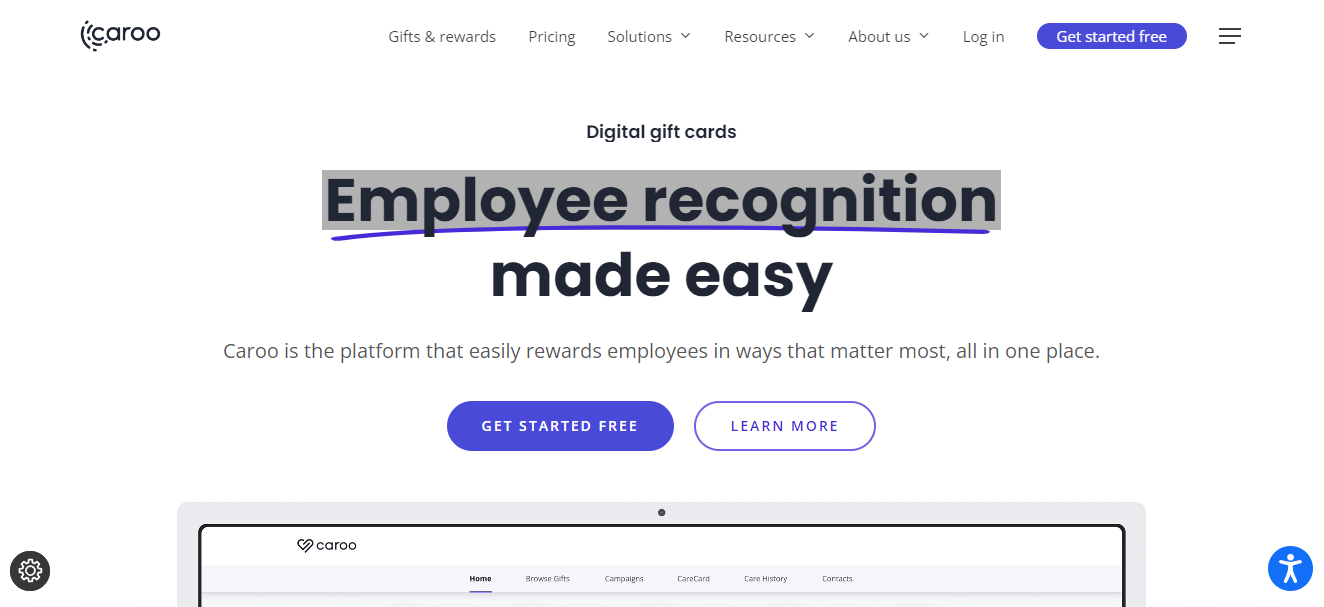 Caroo is a recognition platform. It enables you to assess your employee's preferences and offer them the best matching monetary and non-monetary rewards.
It's a useful app specifically for small teams or companies with a clan culture. You can periodically deliver small perks to keep your team happy and award vouchers to celebrate special events like milestone achievements.
For birthdays, anniversaries, and events, you can create campaigns and automatically set ecards or personalized messages.
You can easily send gifts in a group via Caroo or set a budget so your team pick their own gifts. Caroo has an international shipment option, which makes it ideal for small companies with remote teams.
Core Features
Rewards and recognition.
Physical and digital gifts.
Automated birthdays and anniversaries.
US and global shipments.
Branding.
Employee assessment.
HRIS integration.
Analytics.
Price
You can get started on Caroo for free. It charges $46 to $110 per month for its premium plans.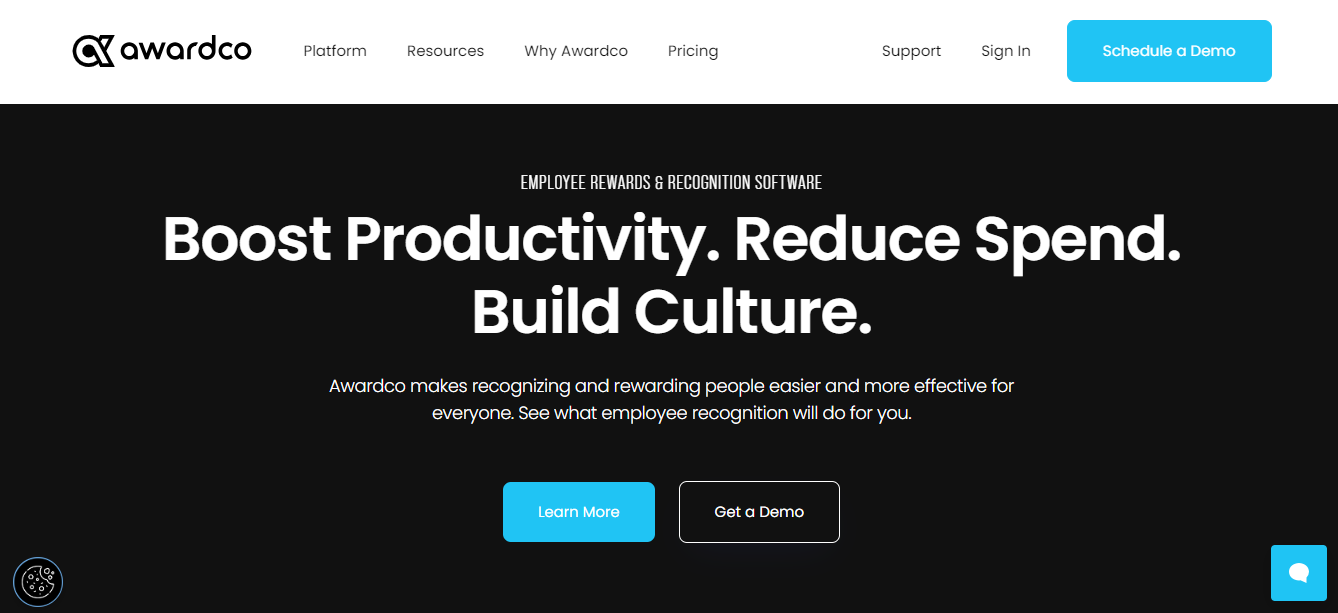 Awardco gives you access to the Amazon market for corporate rewards. It has an official partnership with Amazon business, which enables it to offer millions of affordable gift options and attractive shipping discounts.
You can manage several programs through Awardco.
For instance, you can set up incentives for training courses to encourage participation, create service rewards for team members, and assign recurring allowances for merchandise and services.
You can also launch recognition programs to acknowledge your team's work efforts on public forums. Awardco has both online and offline methods to share points and can be connected to your Slack for easy messaging.
Core Features
Access to the global Amazon market.
Gift vouchers.
Peer-to-peer recognition.
Online and offline reward points sharing.
Workflow automation.
Budget control.
Slack and Microsoft team integration.
Analytics.
Price
Awardco's subscription charges are between $2500 and $4000 per year.
You can ask for the enterprise plan.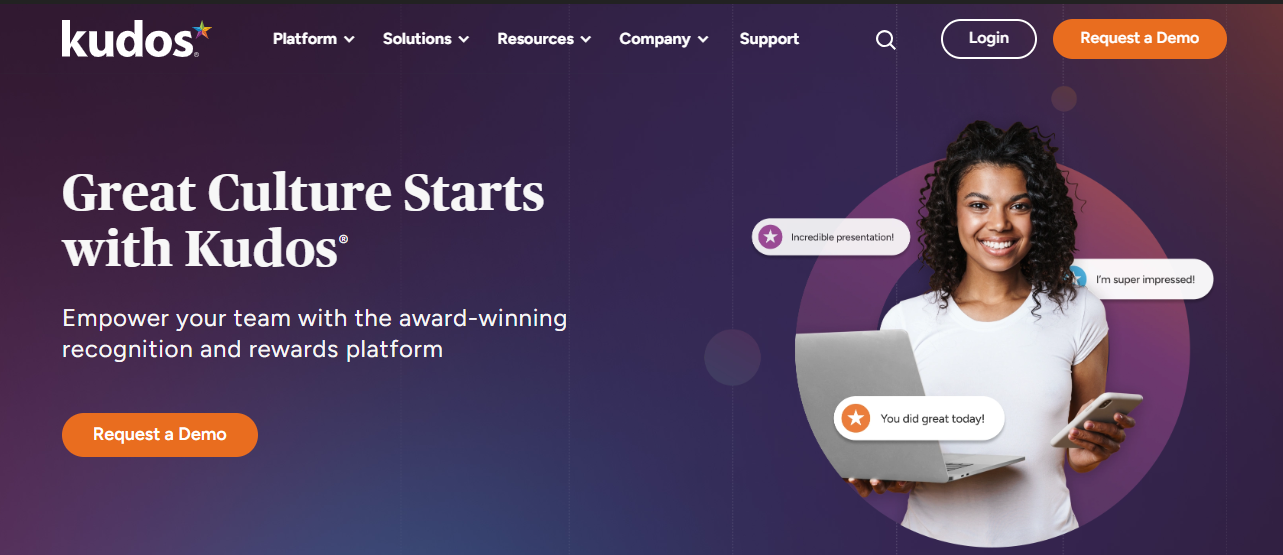 Kudos is another good recognition platform for employee benefits. With this tool, you can manage several monetary perks and non-monetary rewards, including gift vouchers, credit points, nominations, and birthday wishes.
You can design custom awards to celebrate goal achievements, set up milestone awards to celebrate anniversaries and build a gallery to collect media content for your team.
To boost connections and engagement, you can publish messages on the kudos public wall.
With sentiment surveys, you can monitor your employee satisfaction level and devise incentive programs to keep them motivated.
Core Features
Gift vouchers.
Credit points to purchase monetary and non-monetary perks.
Social wall for awards and acknowledgment.
Birthday and anniversaries messages.
Peer-to-peer recognition.
Content gallery.
Customization.
Sentiment surveys and analytics.
Integrations.
Price
Kudos shares prices on request. Book a demo to explore it.
Bucketlist is a versatile platform. It covers almost everything from monetary and non-monetary perks to employee engagement and peer-to-peer recognition.
Here, you can set up both generic and targeted reward campaigns, create tailored employee perks, and run incentive-based team activities. You can even create events like pizza day or team lunch and offer vacations as rewards.
With the peer-to-peer recognition feature, your colleagues can award points to each other, and leaders can build connections with their teams.
The software is easy to use and comes with third-party integrations to connect business tools like Slack and Gmail.
Core Features
Cash and gift cards.
Reward programs.
Credit points.
Automation and customization.
Peer-to-peer recognition.
Messages and awards.
Reporting and analytics.
Events creation.
Mobile app.
Third-party integration.
Price
Bucketlist provides custom prices. You can take a 14-day free trial to test the software or request a demo.
Conclusion
Employee benefits software is an incredibly valuable tool.
With a good perks app, you can easily streamline your workflows and measure the impact of programs on the employee retention rate.
Some applications also come with expense management dashboards to help you track and control your budget.
If this is something you think your company might need, you should look for monetary benefits apps like Compt and Circula.
Explore all the tools I have mentioned above to find the best option for employee benefits management. Good luck!