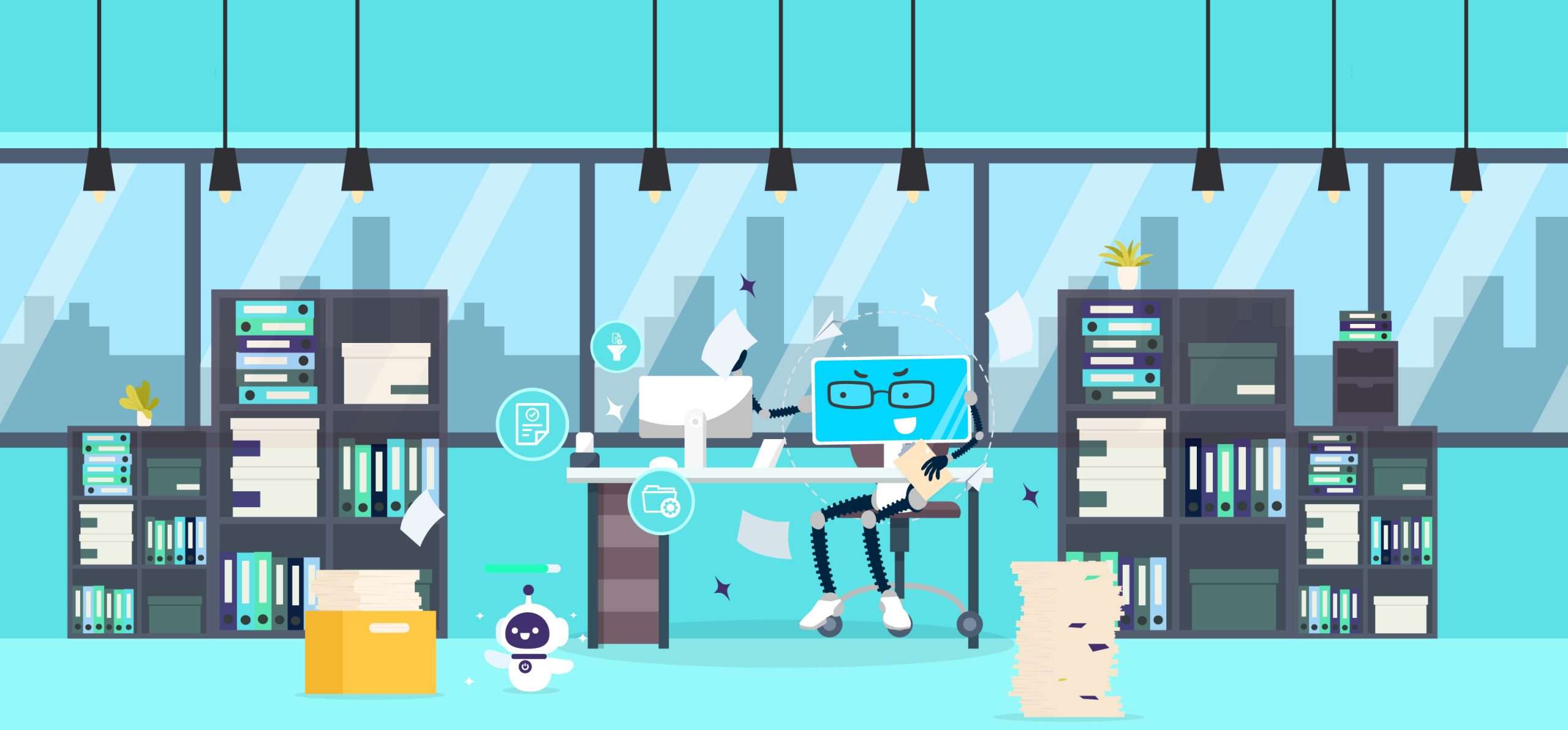 HRIS software is designed to centralize your company information and HR processes.
It provides you with the necessary tools to reduce your administrative work and make information easily accessible to both managers and employees.
In this article, I have compiled a list of top trending HRIS software products and reviewed their features.
Compare the tools and their prices to find the best solution for your company.
What is HRIS and What Features to Look For?
Human Resource Information System (HRIS) is typically a cloud platform that stores your company's internal data and builds workflows of your core HR functions.
With an HRIS app, you can execute various HR tasks online and automate repetitive jobs to make your processes efficient and time-saving.
Top Features to Look for In HRIS;
A document manager to store contracts and files.
Workflow builder to automate tasks.
Self-service portal to handle day-to-day operations.
Reporting and analytics to monitor employee performance.
Payroll integration.
Listed below are the 12 best HRIS systems and software for small, medium, and large organizations.
Let's explore them one by one to see what they offer.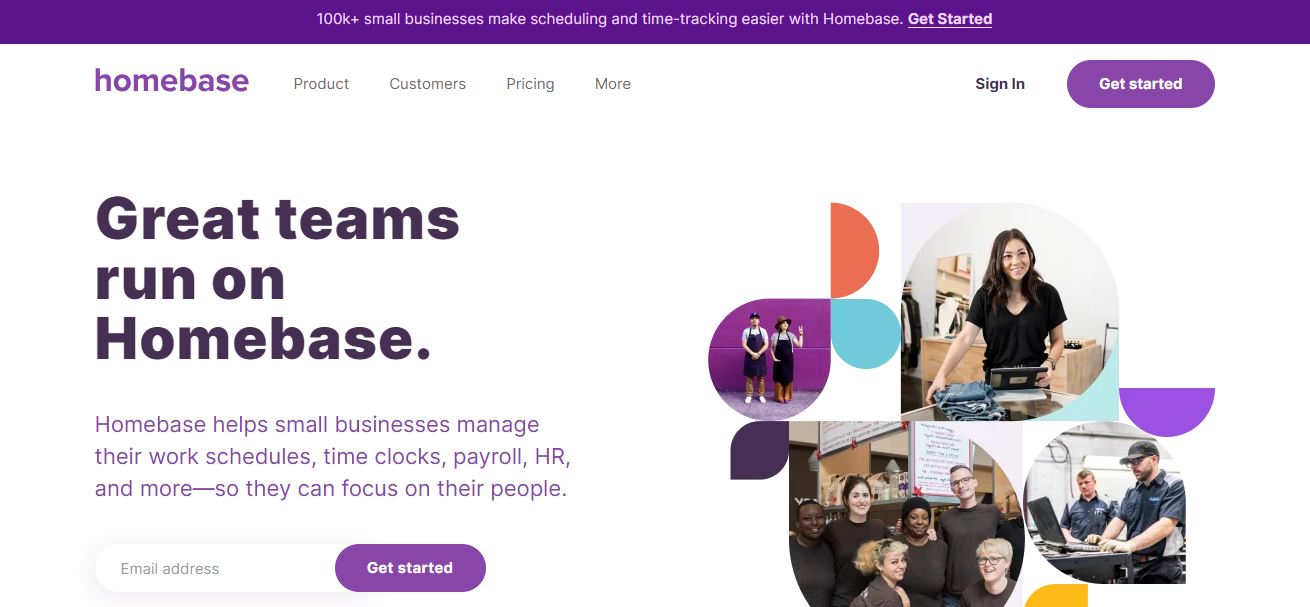 Homebase is ideal for small service-based businesses. It provides workforce management with core HR functions, delivering a hassle-free system to handle shifts and HR functions together.
You can run recruitment campaigns, onboard new employees, build shift schedules, and track billable hours. You can add work policies to the software and set employee schedules on autopilot to reduce supervision time while maintaining accurate timesheets.
With records and alerts, you can keep track of company certificates and employee contracts to ensure documentation remains up-to-date.
If you get stuck on any compliance matter, you can always connect with Homebase experts for guidance.
Core Features
Recruitment and onboarding.
Employee database.
Shift scheduling.
Team communication and engagement.
Policies and compliance.
Reporting and analytics.
Payroll add-on.
Price
You can get started on Homebase for free. Its premium subscriptions range between $25 and $100.
Additional charges may apply for payroll integration.
Nexchex has all the essential features to manage core human resource functions online.
You can recruit and onboard people, maintain your employees' profiles, record time and attendance, and run payroll. Netchex fully supports payroll and tax management, allowing you to pay your employees via different methods.
Apart from core HR functions, Netchex has a learning management system. You will receive a content library to get started and can create your own training material for onboarding and skill development.
With analytics and reporting, you can gain insights into your employees' performance and export reports to PDFs to share results.
Core Features
Employee profiles.
Recruiting and onboarding.
Time and attendance.
Benefits administration.
Payroll and taxes.
Compliance.
Workflow automation.
Analytics and reporting.
Self-service portal.
Price
Netchex delivers four packages. Contact sales to get prices.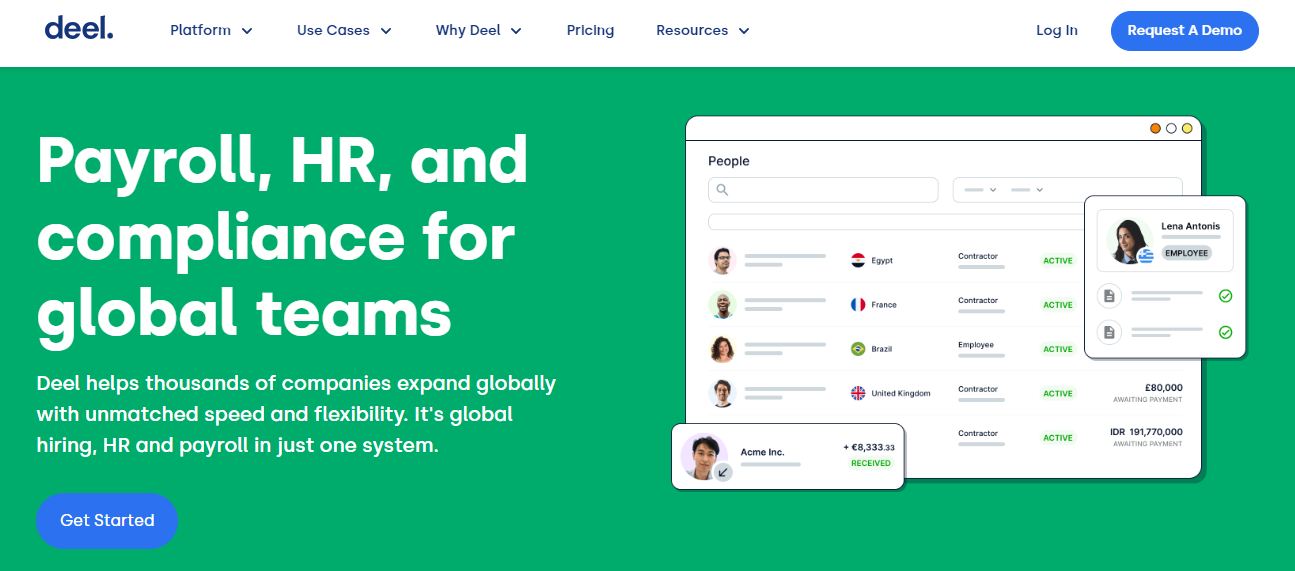 Deel enables you to manage overseas employees and pay them in their local currencies.
Via its digital platform, you can recruit and onboard new employees, run background checks, collect and store official documents, and automate global payroll. In addition, you can requisition office equipment for remote employees and handle PTO and expense requests to generate accurate timesheets.
There are also add-on features available for employee benefits. For instance, you can offer health insurance to your team and provide shared workspaces.
Deel comes with a Slack plugin to simplify communication and delivers an API for customization.
Core Features
International recruitment.
Global payroll.
Benefits administration.
Time and attendance.
Background checks.
PTO and expense handling.
Compliance management.
Reporting.
Slack plugin.
Integrations.
Immigration services.
Price
Deel's prices start at $50. You can sign up to its digital platform for free.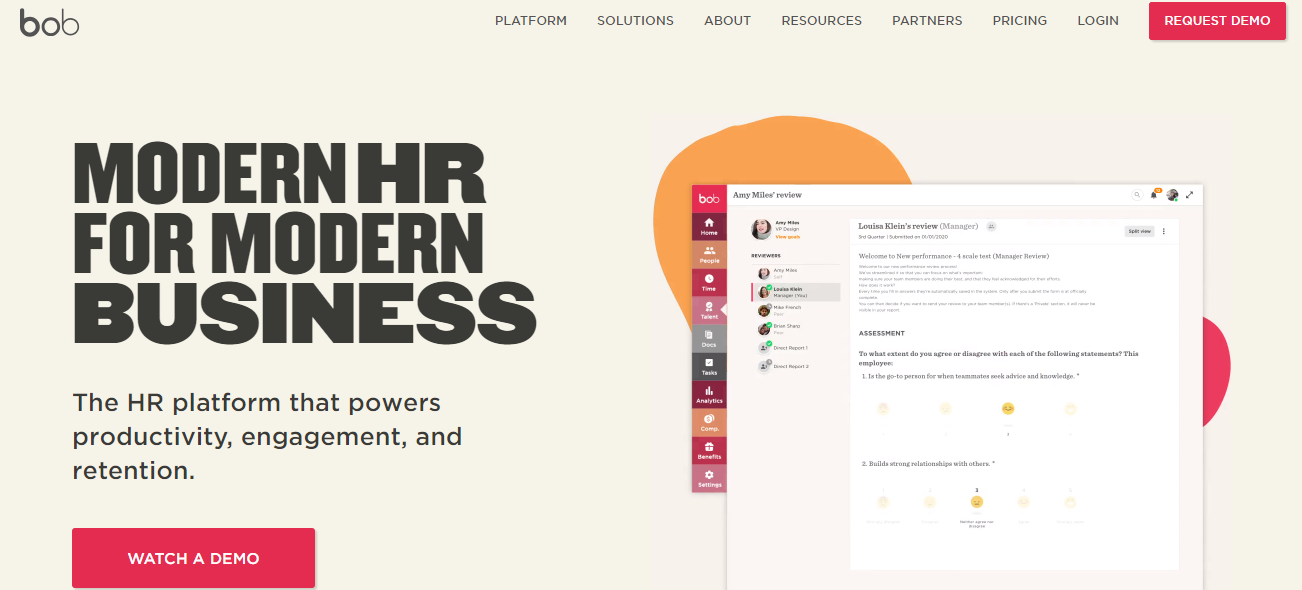 Hibob delivers HR and analytics tools. You can use it to digitalize your processes and increase data visibility.
Core capabilities of Hibob include onboarding, time & attendance, payroll, and performance reviews. One other feature you'll find interesting is workforce planning. With this tool, you can predict your human resource needs for new branches and joint projects.
You can store your documents on Hibob for easy access and automate your workflows to save time. You will receive a testing space to experiment with new processes to optimize them before implementing them in the company.
Core Features
Onboarding.
Compensation and payroll.
Time and attendance.
Leave management.
Performance reviews.
Analytics and reporting.
Feedback and complaint center.
Workforce planning.
Sandbox.
Price
Hibob shares prices on request. Contact sales to get the quotes.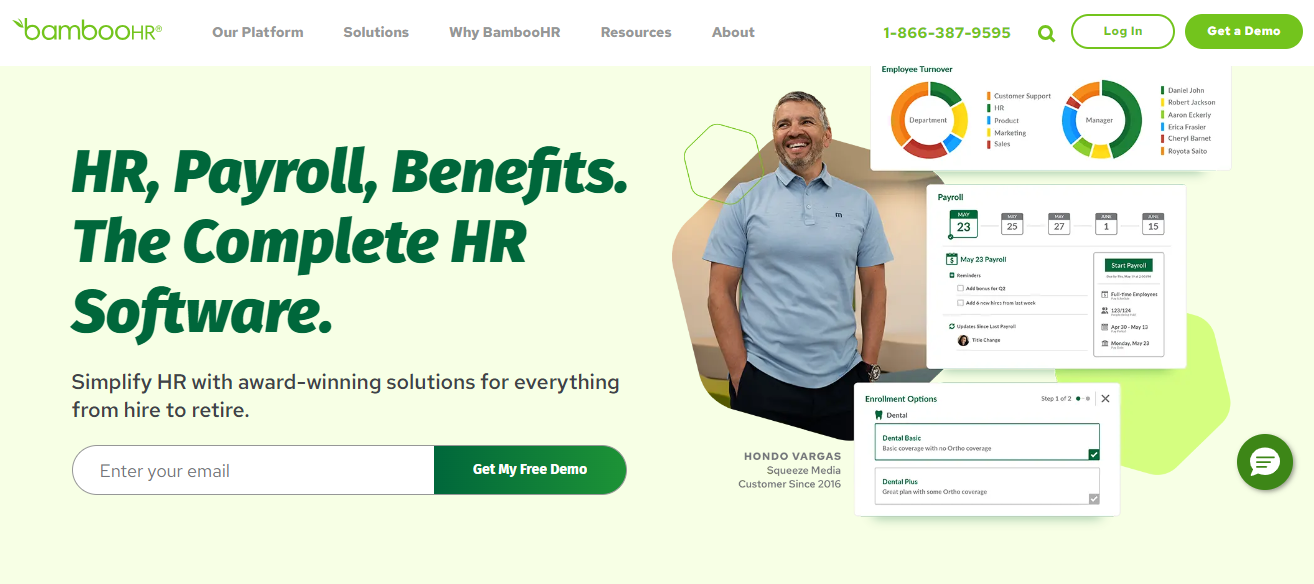 BambooHR allows you to manage a wide range of human resource functions from one place.
You can easily hire and onboard new employees, catalog your staff record, measure your team's performance, and generate custom reports. The subscription gives you access to several add-ons as well, like time tracking and payroll.
To reduce your workload, BambooHR delivers a mobile-friendly self-service portal. That means you don't need to personally track every team member for paperwork; your employees can see and make changes online from anywhere.
You can optimize your HR processes further with BambooHR workflows. The tool enables you to create custom sequences to automate tasks and distribute the approval authority.
Core Features
Employee database.
Onboarding and offboarding.
Payroll and time tracking.
Benefits administration.
Performance management.
Reporting and analytics.
Self-service portal.
Mobile app.
Integrations.
Price
BambooHR's rates are fixed for companies with less than 20 employees. If your employee number is over 20, you may have to pay per-user charges.
Contact sales for details.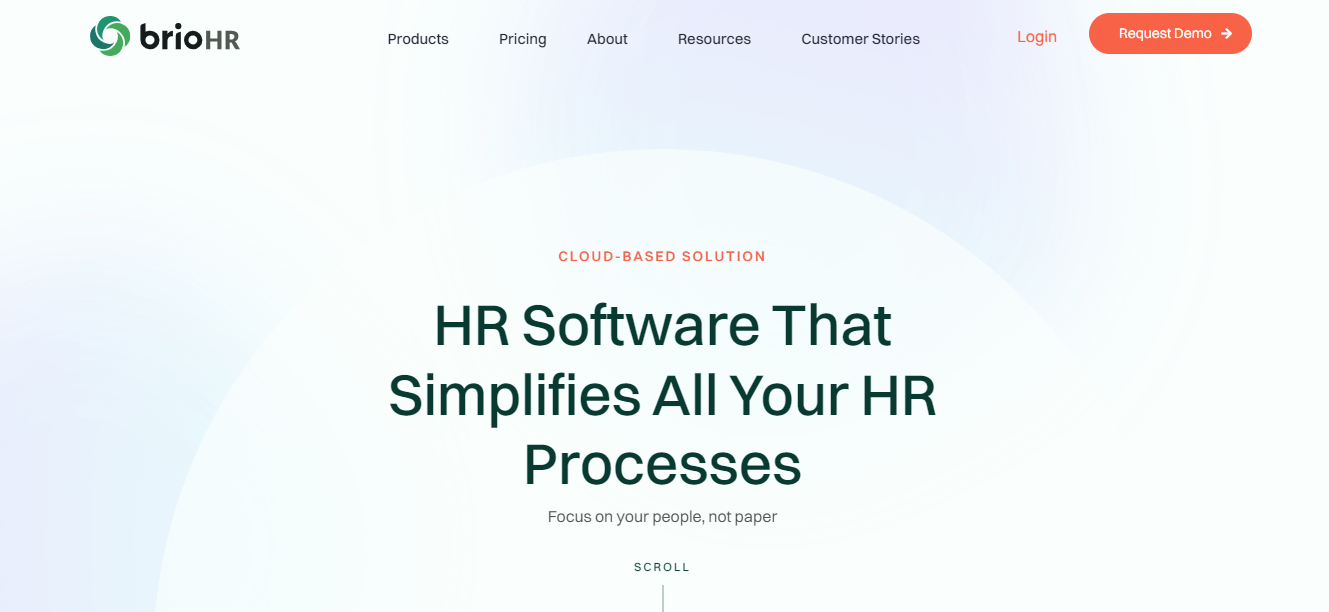 BrioHR is an incredibly flexible HRIS platform. Here, you'll get each module as a separate product, allowing you to skip unnecessary tools and pay only for those that your company currently needs.
The software has a self-service portal for administrative work, a digital database for employees' information, and approval workflows for leave and expense management.
You can track the working hours and holidays of each member, assign milestones to measure team performance and generate reports to evaluate employee data.
With the talent management module, you can get feedback from your staff and create custom appraisals for promotions.
Overall, BrioHR is a user-friendly platform and can be scaled to match your requirements.
Core Features
Recruitment and applicant tracking system.
Onboarding.
Employee database.
Leave, expense, and timesheets.
Payroll.
Surveys and performance reviews.
Approval workflows.
Self-service portal.
Reporting and analytics.
Mobile app.
Price
BrioHR's prices start at $2. You can purchase bundle packs at discounted rates.
Customization is also available for large-scale companies.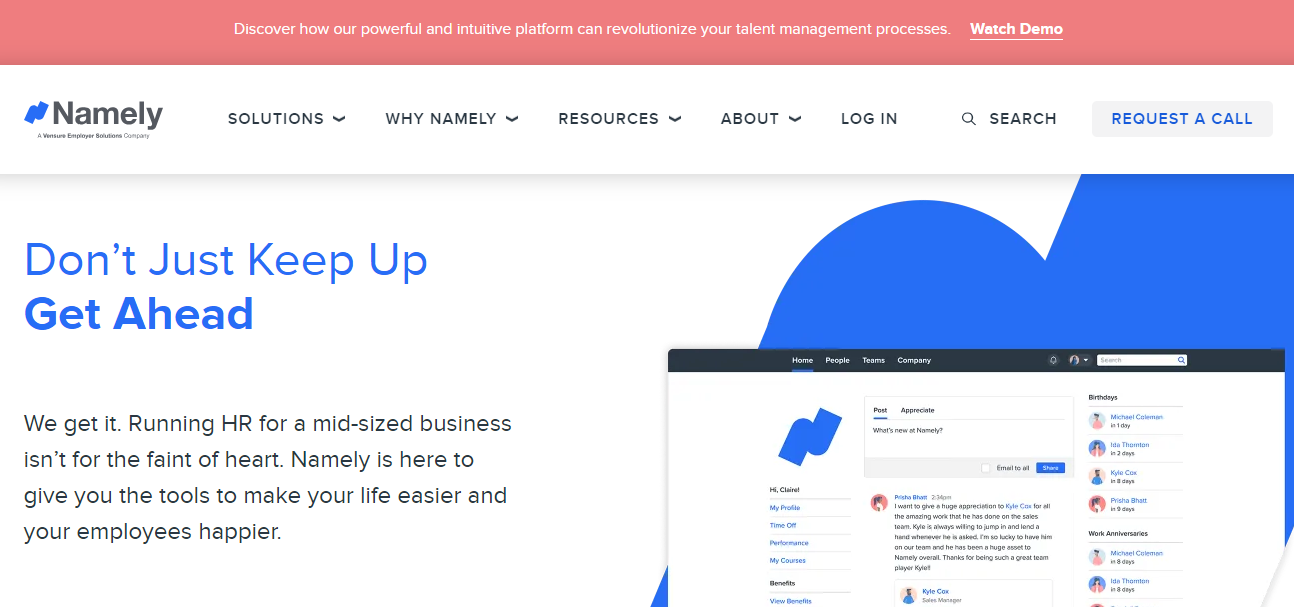 Namely offers both software and services to mid-size companies.
Via its core HR platform, you can process recruitment, record time & attendance, run payroll, and manage benefits administration. You'll have the space to maintain an employee directory and get the tools to create custom workflows.
If you want to outsource payroll, you can hire the Namely team to handle salaries, taxes, and benefits administration on your behalf. This is an add-on service that is available with the software product.
For processes and communication, Namely provides a self-service portal. You can use it to do administrative work, receive PTO requests, publish announcements online, and much more.
Core Features
Recruitment and onboarding.
Employee directory and org chart.
Payroll and benefits administration.
Compliance management.
Time & attendance.
Reporting and analytics.
Self-service portal.
Integration.
Managed services.
Price
Namely delivers custom rates. Contact sales for prices.
ADP Now is an advanced HR platform. It provides everything from onboarding and record keeping to workforce management and payroll.
You'll get templates for administrative work and automation tools to set repetitive tasks on autopilot. Using its mobile-friendly self-service portal, you can run proper onboarding processes and manage your employees' schedules.
With ADP, you can easily create a centralized employee database and streamline your HR processes.
The amazing thing about ADP is its payroll flexibility. You can run both local and global payrolls via this platform. It supports multiple countries and has built-in compliance for international payroll.
Overall, it's ideal for mid to large-size organizations.
Core Features
Recruitment and onboarding.
Workforce management.
Employee database.
Workflows and automation.
Global payroll.
Benefits administration.
Reporting and analytics.
Digital portal.
Integrations.
Professional services.
Price
ADP offers three packages. Contact sales to get prices.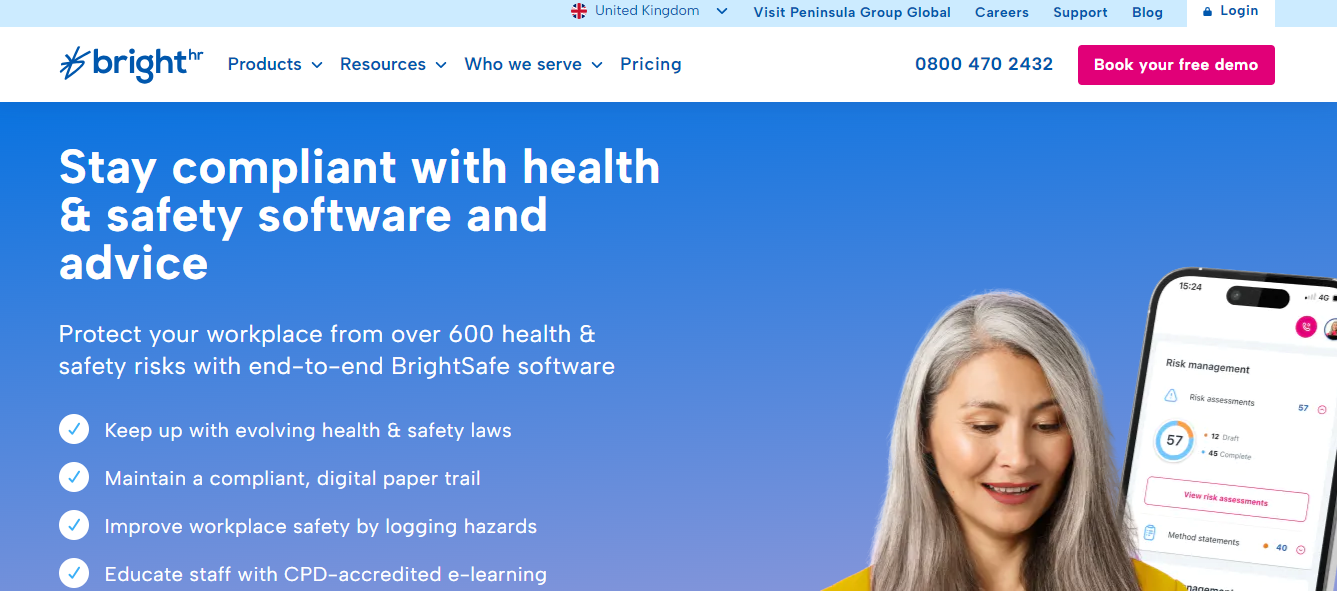 BrightHR is built for UK and Canada-based small businesses.
The software helps you organize documents, record clock ins and outs, maintain shift schedules, and track leaves and time off.
You'll additionally get a tool called BrightSafe to train your staff on safety procedures.
If you ever need guidance on local regulations, you can approach BrightHR's experts anytime. The team is available to assist you with both HR and legal matters, making it easier to manage unexpected events.
BrightHR also shares an AI platform for quick answers. It's a free bot that can give you answers to over 8,000 standard HR questions.
Core Features
Recruitment.
Document storage.
Employee scheduling.
Time and attendance.
Leave, absence, and holiday recording.
Payroll report.
Redundancy guides to stay compliant.
Employee recognition and wellbeing.
Health and safety training.
Mobile app.
Price
BrightHR shares prices on request. Reach out to sales for the quotes.
GoCO offers core HR functions and workflow automation. You can use it to set onboarding on autopilot, digitalize paperwork, track working hours, and handle payroll and benefits administration.
Some of the automation workflows you can create via GoCo include orientation, performance reviews, surveys, and termination. You will also get the option to build custom workflows.
With its task assignment and approval systems, you can easily oversee daily operations and distribute responsibilities.
One of GoCo's best HRIS features is the magic document. You can create fillable document templates for reuse and automatically populate repetitive fields to save time.
Core Features
Onboarding and offboarding.
Employee database and document storage.
Time and PTO tracking.
Payroll and benefits administration.
Performance management.
Built-in compliance.
Team communication.
Workflow automation.
Third-party integrations.
Expert advice.
Price
GoCo per-user prices start from $5. Take a product tour to know more.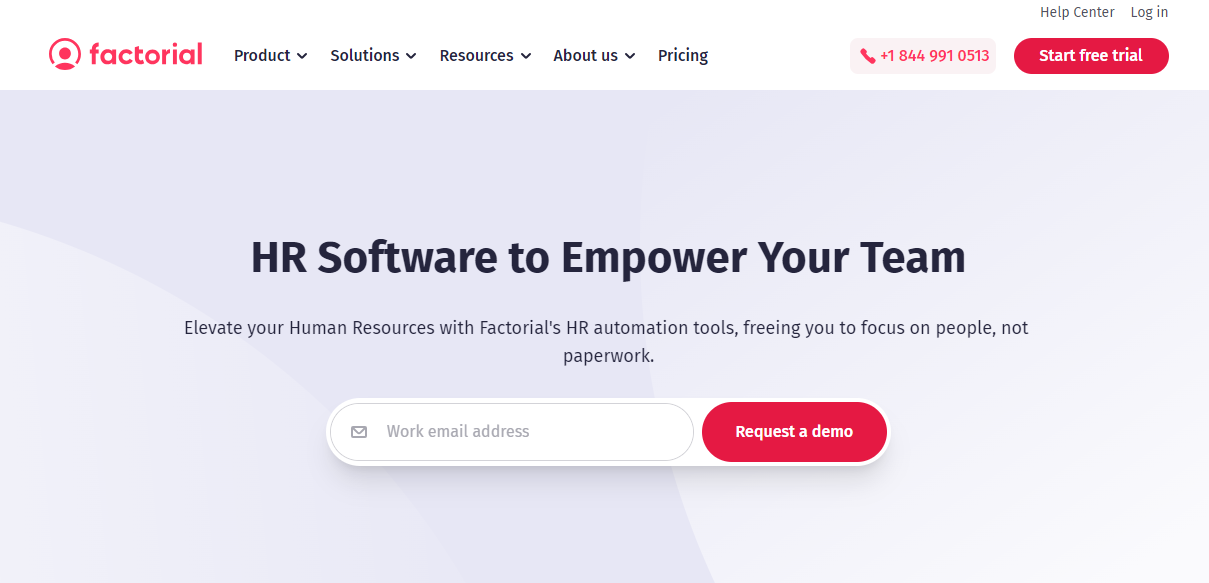 Factorial is an all-in-one HRIS software.
It has a document manager to digitalize paperwork, hiring workflows to onboard new staff, time tracking tools to generate payroll, and feedback structure for performance reviews.
You can raise a company database to build a reporting hierarchy and set up permission levels to delegate authority. For announcements, news, and complaints, you can create communities and public forums.
With custom automation, you can design several workflows for orientation, leaves, performance reviews, and team communication.
Plenty of other templates, customization, and automation tools are available on Factorial to simplify your HR processes. I recommend checking out their pricing page to explore more functions.
Core Features
Recruitment and onboarding.

Company structure and document storage.

Time and attendance.

Payroll.

Shift scheduling.

Performance review.

Communications and public forums.

Permissions and multi-level approval systems.

Employee portal.

Reporting.

Third-party integrations.
Price
Factorial prices begin at $11. You may have to buy at least ten seats to use the software.
WebHR offers a global HRIS solution to small and mid-size companies.
Here, you'll get self-service portals for managers and employees, a multilanguage option to personalize the content, and a mobile app to run basic operations remotely.
You can create departments to set up a company structure and designate teams to the relevant areas to assign responsibilities.
For recruitment and work schedules, you'll get access to an ATS system and tracking features. Via these tools, you can run hiring processes and log clock-ins and breaks.
With its global payroll, you can calculate accurate salaries and schedule payment disbursement.
Over 28,000 companies use WebHR to automate their HR processes.
Core Features
Recruitment and onboarding.
Document management and e-signatures.
Company structure.
Time and attendance.
Performance management.
Global payroll.
Benefits administration.
Forms, letters, and templates.
Workflow automation.
Mobile app.
Price
WebHR charges $2 per employee for core HR functions and extra for other modules.
Conclusion
HRIS apps generally have versatile functions. They help you streamline your workflows, automate repetitive processes, and uncover opportunities for training and development.
But at its core, HRIS software is a central hub of data. Its primary function is to gather employee data and organize it to make relevant information easy to extract.
Keep that point in mind while choosing the best platform for your company. Good luck!