Most organizations that plan to expand their business often hire overseas workers to gain local industry knowledge and diversify their talent pool. They offer a significant advantage to a company, giving it a competitive edge to grab new opportunities and grow its business.
But while the global workforce has its financial and economic advantages, it comes with its own set of cross-border hurdles. Those legal complexities make recruiting and paying international teams somewhat challenging and costly.
That's where platforms like Horizons come in. They act as a go-between to you, your prospect candidate, and local governments, taking legal responsibilities for your overseas employment so you won't have to.
In this article, I have shared an in-depth review of Horizons, which covers its core features, pricing, and the demo. It'll give you a general idea about the platform and how best it can help you with global hiring.
Let's go over the basics first.
What is Horizons?
Horizons is a global PEO services provider that offers you international recruitment and payroll management solutions.
It primarily provides Employer of Record (EOR) services, which cover the compliance, tax, and payroll responsibilities of your international employees. Additionally, you receive access to a centralized digital platform to monitor onboarding and manage daily operations. (We will be discussing PEO and EOR later in the feature section.)
You can use Horizons to build your remote team, hire contractors across 150 countries and streamline your payments.
It hosts an in-house team and a large network of local partners to take care of any ensuing legal and compliance matters.
Why Should you go for Global PEO platforms like Horizons?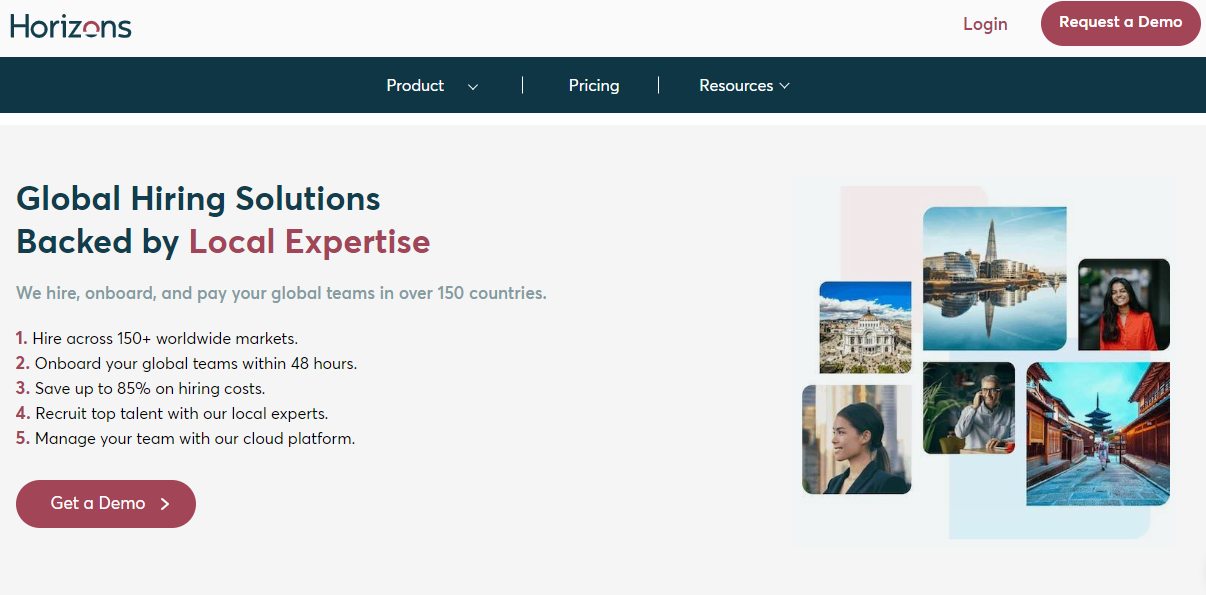 There're plenty of reasons for choosing Horizons over handling the recruitment yourself — the main being costs, logistics, and legalities.
Hiring international employees itself isn't that complicated anymore. Globalization has now made it incredibly easy to engage overseas talent. 
But like I said at the start, cross-border recruitment comes with legal and compliance complications.
Each country's hiring and payroll laws differ from another. Unless you have an established business center in that region, you'd have to source local expertise to avoid legal mishaps. While it's not a bad option, it may become economically unsound and risky later when you'd have to engage a different agent every time you plan to explore a new market.
Horizons delivers a simple and cost-effective path to recruiting foreign workers, allowing you to expand your reach without opening a subsidiary in every country. It acts as your extension in the selected region, taking care of the administrative tasks on your behalf.
With its help, you can reduce the risk factor and save up to 85% of your HR costs.
You can, of course, approach a staffing agency for HR assistance as well. But unlike global PEOs, agencies typically enter into a co-employment agreement, which doesn't cover the legal responsibilities of onboarding and payroll. It's what makes Horizons an appealing option to organizations.
Let's go over the list of the services it provides to its clients.
Horizons Features
Horizons mainly offers two products.
Employer of Record
Contractor management.
But you can include add-ons in your plan to get custom services.
Here, I've listed both its core and additional features to share the areas Horizons typically covers.
We'll start with its basic products.
1. Global PEO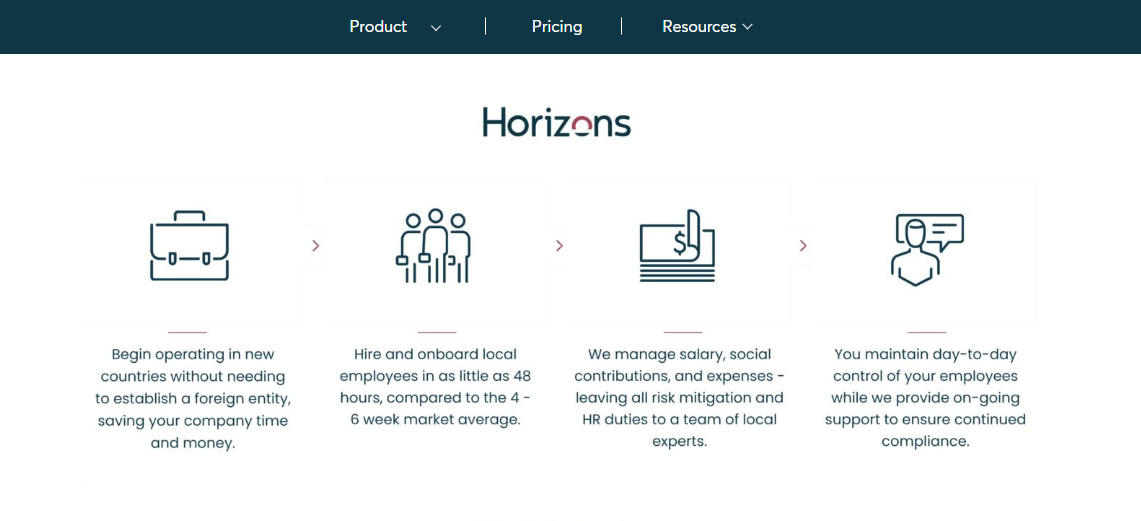 Global PEO product delivers EOR, onboarding, documentation, salary disbursement, and a SaaS platform.
Before I explain it further, let me briefly describe the Employer of Record first.
EOR is a term used for platforms that serve as a legal employer on your behalf. They manage the compliance and taxes matters like contract generation, statutory benefits, and other employer burdens.
They essentially provide a flexible outsourcing solution to those who lack the resources to fully understand local regulations and need a third party to handle that part.
Coming back to its main product, Horizons Global PEO team, apart from EOR also takes care of support HR functions from onboarding to termination. You'll be assigned a dedicated team for the entire period who will provide assistance to help you manage your employees.
You'll additionally receive a digital app to post recruitment requests, approve leaves, deliver bonuses and submit additional expenses. (Scroll down to the Demo section to learn how it works.)
2. Contractor Outsourcing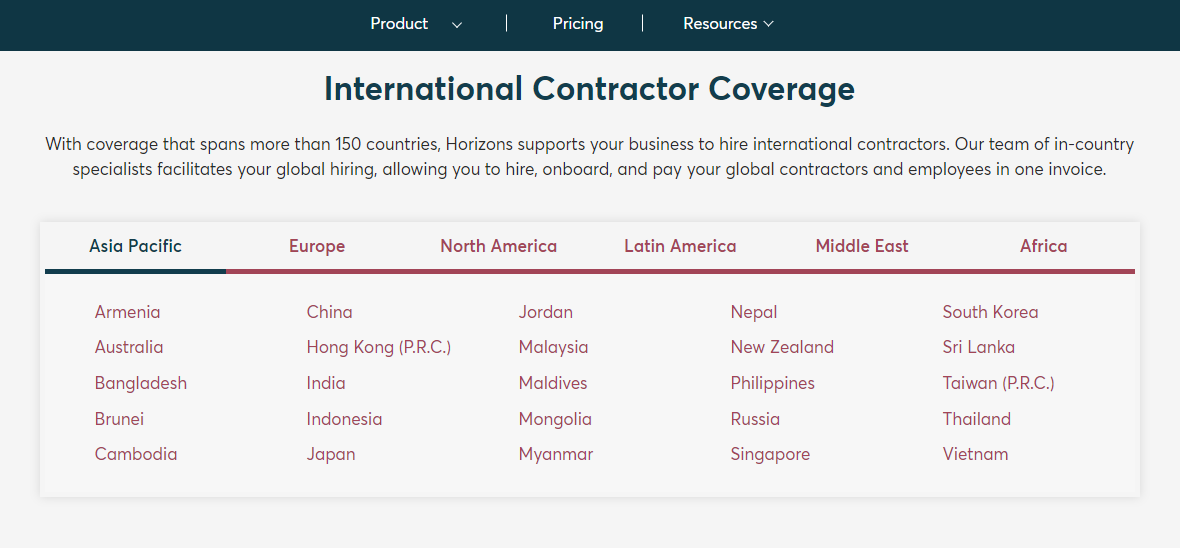 Contractor outsourcing is a cost-effective alternative to employee recruitment. It gives you the flexibility to hire employees without taking on the tax burdens.
The product covers hiring, onboarding, and paying freelancers and other independent contractors.
It works similarly to permanent recruitment, where you engage contractors via your digital app and let the Horizons team send payments to the individual accounts. Through it, you can hire people from all over the world and automate payment disbursement to ensure they're always delivered on time.
You can also offer insurance benefits to contractors that employees typically receive. It's an incredibly effective incentive that can help you capture top talent.
This product is ideal for organizations that are in the business expansion testing phase and wants to hire a temporary workforce to explore new markets or save costs.
3. International Recruitment
International recruitment is a head-hunting add-on service you can buy with your Global PEO plan. It gives you access to talent acquisition experts who connect with local partners to find senior-level positions for you.
Talent acquisition is a lengthy and complex process. You need to consider local market conditions, Industry practices, and employee expectations to identify the ideal candidate.
You can probably do it on your own, but it may take a considerable amount of time and resources.
With Horizons' add-on service, you can achieve the same results at a fair market rate. Its in-house team follows an extensive recruitment method to make sure you get the candidate that best matches your requirements.
They also guide you through the hiring process and provide after-recruitment support.
4. Global Mobility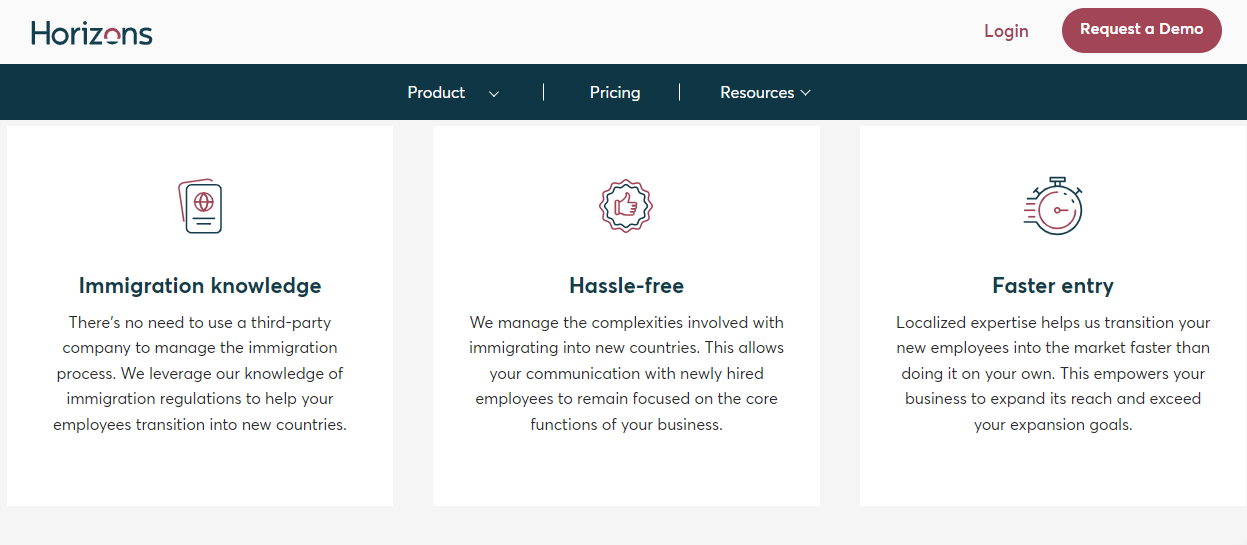 Global Mobility is another time-saving add-on service Horizons provides for visa assistance.
Employee relocation and immigration is a common business expansion practice among mid-to-large organizations. Some companies frequently transfer their in-house managers to other locations and some hire new talent through employee sponsorships.
With Global Mobility, you can move a new or existing team member across borders without any unnecessary hassle. It delivers a single point of contact who remain in touch with you and your employee and oversee visa application, legal compliance, and documentation.
You'll also get related administrative support in the package to ensure a smooth transition.
5. Health Insurance
Horizon Health's add-on service allows you to award insurance to your remote team.
You can buy the basic plan with your PEO plan, which will include travel insurance in around 180 countries and emergency claims.
You can also extend the package to add other benefits, such as dependable coverage and vaccination. It delivers several global healthcare facilities and provides you with a list of insurance costs applicable to different age brackets.
I do want to mention that Horizons doesn't cover every country listed in its PEO services. It could be due to some states' travel restrictions or any local regulations. 
Check out the FAQ section to see the list of regions it doesn't support. 
6. Custom Services
Horizons gives you the flexibility to request a custom proposal.
It knows every industry has its own set of workforce management requirements, and every business expansion demands a different approach. Perhaps, you want to wind up your current branch and want to transition to remote working. Or maybe you need help with recruitment strategy and expansion strategy.
Whatever the case might be, you can tailor your plan to include custom requirements that might not be available in the standard package.
It also delivers free consultations to potential clients to help them make informed decisions.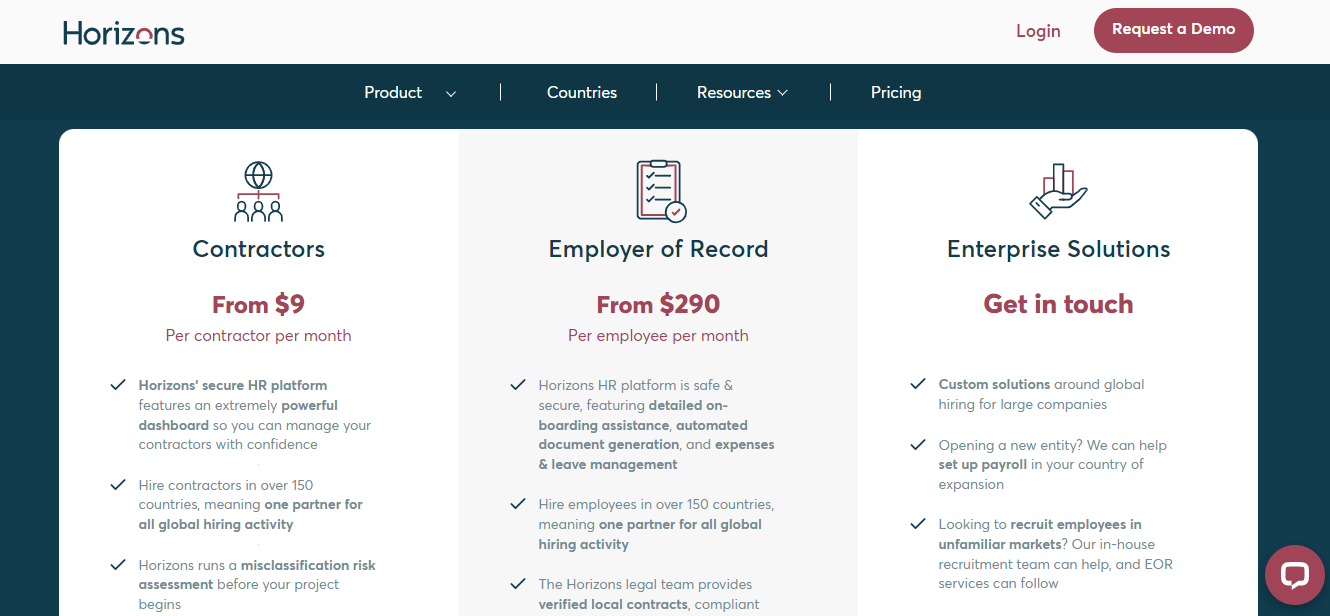 Horizons shares three types of monthly plans.
Contractors—Starting from $9.

Employer of Record—Starting from $290.

Enterprise Solution—Custom plan.
If you're looking for a distributed team structure or temporary workforce, the first one is ideal for you.
If you, however, are planning a business expansion or want to bring in professionals from overseas to your company, go for Employer of Record services. It delivers everything from onboarding and compliance to payroll.
Enterprise Solution, on the other hand, is designed for organizations that need custom services on a large scale.
Horizons also charge separately for its add-on services. Its Health insurance package starts from $80 a month while others provide custom quotes based on your requirements. 
Click here to explore its additional features.
SaaS Platform for the Employer and Employee (DEMO)
If you recall, I mentioned a digital platform Horizons provides as a part of the services.
Below is the demo of that SaaS platform, which lets you manage the recruitment and payroll operational side.
It comes with both the PEO and contractor package, delivering separate portals for employers and employees so you can maintain a direct and seamless connection with your remote team.
I've written the review from the employer and employee perspective to show what functions you and your team can perform within a specific role.
Let's start with the employer profile first.
1. Admin Portal
Admin account gives you the ultimate authority over recruitment and employees' requests. You can also invite other users from your company, as well as assign roles to employees to share some of the responsibilities.
This is the landing page from where you can log in to your main dashboard.
Once inside, the dashboard will display the number of onboarding in progress, leave requests your employees have submitted, and pending expense invoices.
You can view any transaction via your dashboard by clicking on the selected request. It'll take you directly to the targeted page.
If you need an in-detail report of any section, you can access them through the buttons displayed on the left side panel.
Let me walk you through the dashboard panel to explain each function.
Currently, I am using a demo account, so you'll probably not see any onboarding requests.
But, suppose if I had sent the request for a new hire, the onboarding process would've appeared like this on your dashboard.
This is the page where you submit all the necessary prerequisites to move forward with the onboarding procedure. On the right side, you'll find the step-by-step process to check where your recruitment has reached.
If you overlook any field, the app will turn the icon orange to highlight the error.
Next up, we have the employee section. It's where you can view every person actively working for your company.
The list summarizes each person's job, where they're currently based, and when they joined your company. The app's database also keeps personal and professional details of each employee for your convenience.
Let's suppose you want to see Alex's file.
The above is the screenshot of the page that opened immediately after I clicked on the name. It shows his complete contact information, current job requirements, and payroll details.
The purpose of this section is to collect your employee data in one place for quick access.
The expense section features the list of invoices your team has delivered to the department for payment. It highlights who submitted the receipt, when they sent the request, what amount you owe them, and when you have to pay it.
If you click on the transaction, you can further check the nature of the expense and the vendor from where the item has been purchased.
The expense section doesn't necessarily show the physical assets of the company. It could be any expense incurred during the course of the job.
You'll have the choice to approve and reject the reports on the spots, and write comments to notify the reason for refusal. (You can also hand over this authority to your managers.)
This section exhibits all the pending leave requests that need approval. The list features the number of time-off days your staff has asked for and the exact period of leave they want to avail.
If you click on the request, a card will appear displaying fields for the leaves and the CTA to approve and reject it. You'll find a drop-down menu, listing the type of leave requests you can apply for, but there's an additional comment section as well to mention your reason for time-off.
You'll also get access to the local calendar to monitor the general holidays of any selected region and the upcoming leaves in the current month.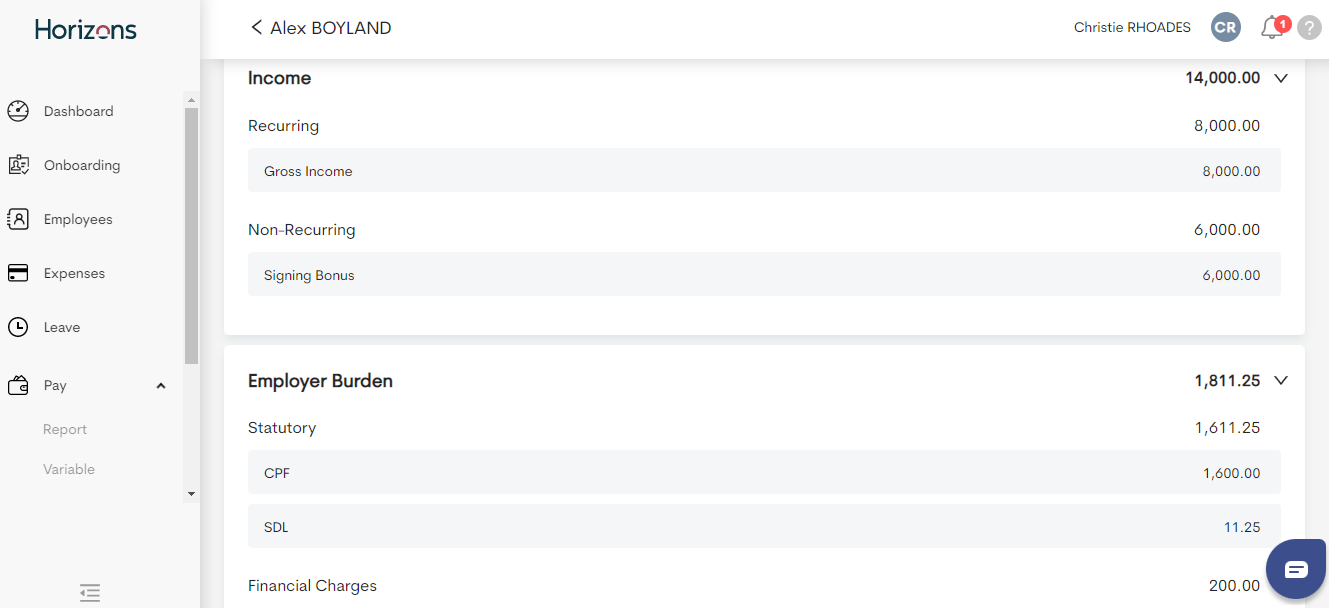 Under the pay section, you'll find two subsections. One exhibits the reports on your employees, and the other offers the section for variable payments.
The reporting page showcases the income details of individual members and the financial benefits you're obliged to pay them.
You can check the gross income, provident funds, assigned insurance amount, and other statutory benefits here.
You also view the local currency and USD figures to see your liabilities in dollars.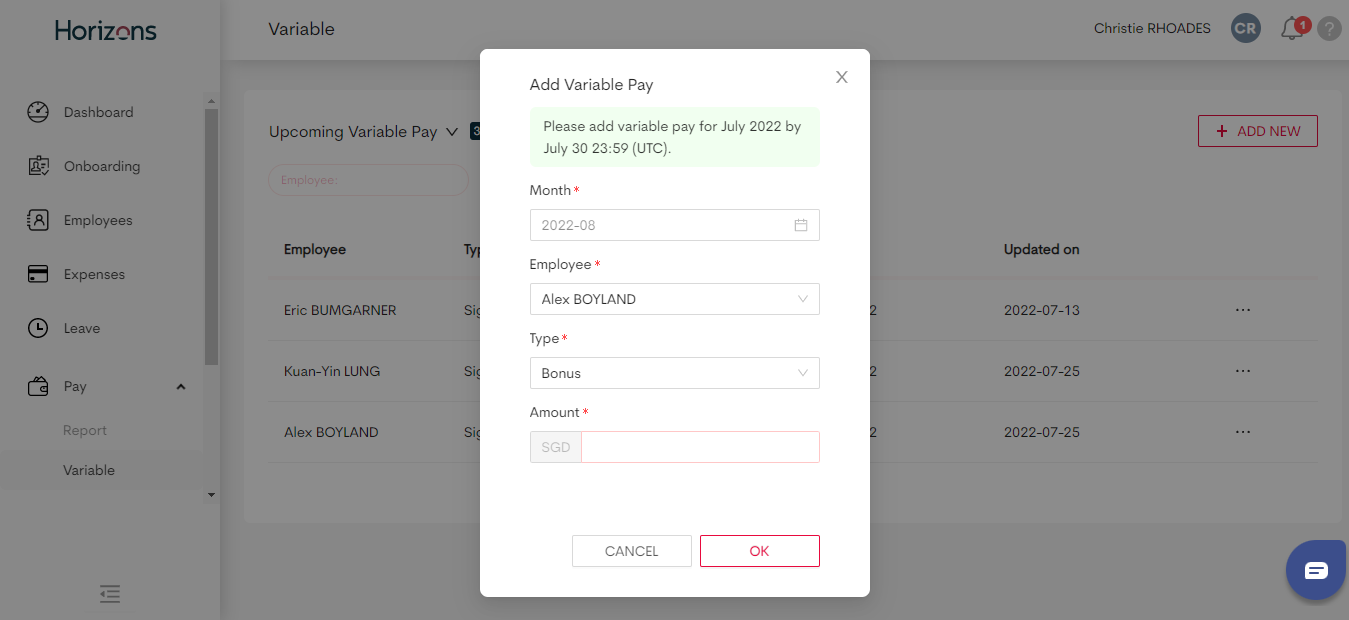 The variable section allows you to award financial benefits that don't fall into any standard account.
For instance, if you want to provide a signing bonus or a commission for tasks done outside the scope of the job description, you can generate a variable transaction and pay it to the selected person.
I have taken a screenshot to demonstrate the voucher generation. It shows Alex is to receive certain Singapore dollars as a signing bonus.
You'll have the option to add the expense type and the month of the issue. In addition, you can extract the archived transaction for review as well.
The file section does exactly what it says. It stores all the legal documents you've received from Horizons and your employees.
Here, you'll find agreements you've signed for EOR services, project documents specifying fees, and payroll bills from Horizon.
You can also view the employment contracts of your remote teams and their payslips.
Other functions you can perform include searching any employee's files by name, extracting documents from past months, and downloading agreements for later review.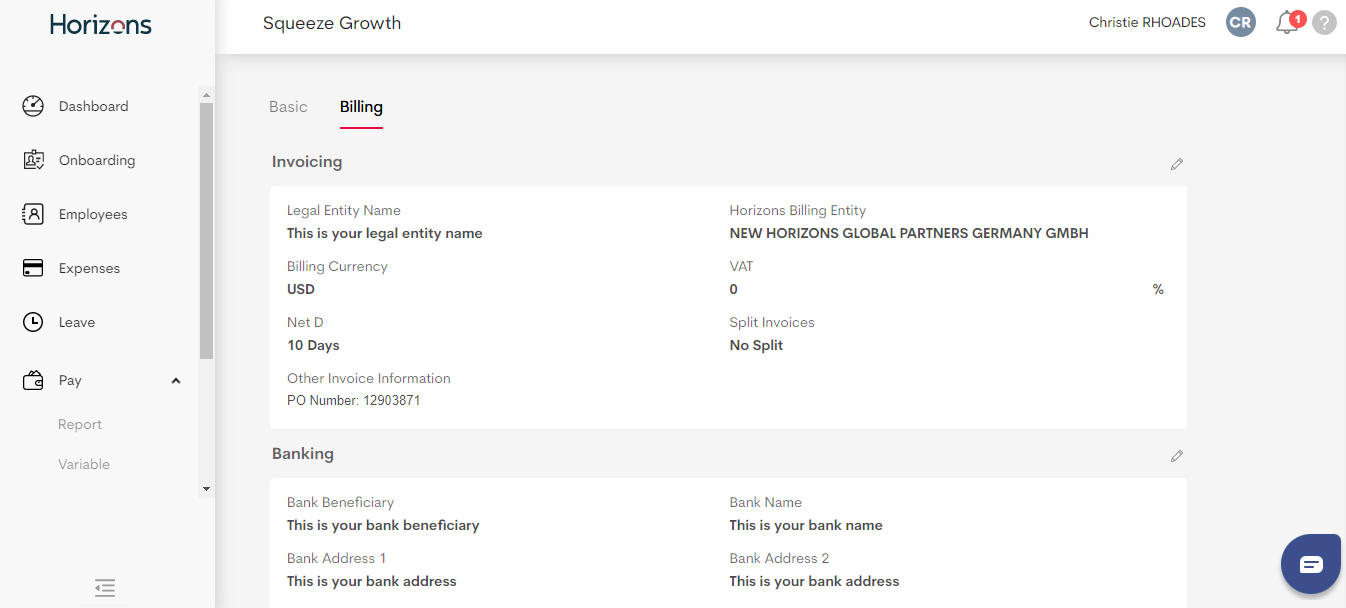 This section holds your company's profile and the list of users you've given access to your account.
Inside the profile tab, you'll find basic information about your business and the billing details connected to your contract with Horizons. This is where you can view the invoice summary, your bank information, and the person who handles your financials.
The second tab, "Users" stores the details about your management team. Here, you can view the list of people you've given access to your account.
Last is the notification feature. A bell icon in the top right corner of your dashboard shares the news Horizons occasionally send to users.
It's also where you'll get a reminder when your payroll date is near.
Every time your payment cycle approaches, Horizons will notify you here so you can process any pending expenses and bonuses before disbursing salaries.
2. Employee Portal
The employee portal's dashboard view is similar to the admin account's. But what distinguishes it from the latter is the amount of access to certain features.
While your remote team receives nearly the same functionalities, they can only perform limited actions depending upon their place in the hierarchy.
Let's go over each feature from the employee's perspective for better clarity.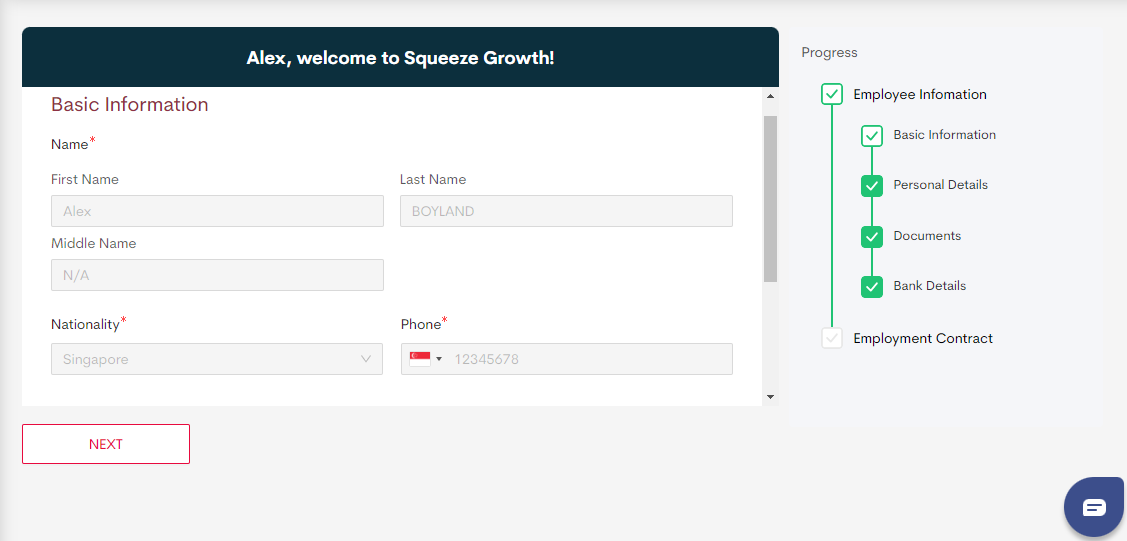 Do you recall the onboarding progress image I showed above in the Admin Demo? This is how the recruitment process appears from the employee's side.
You'll receive an email invitation and assistance from the Horizons Manager to guide you through the recruitment process. But the app also has a user-friendly interface that's designed to make your hiring experience as smooth as possible.
Once your account is activated, you can log in to the app and access the dashboard.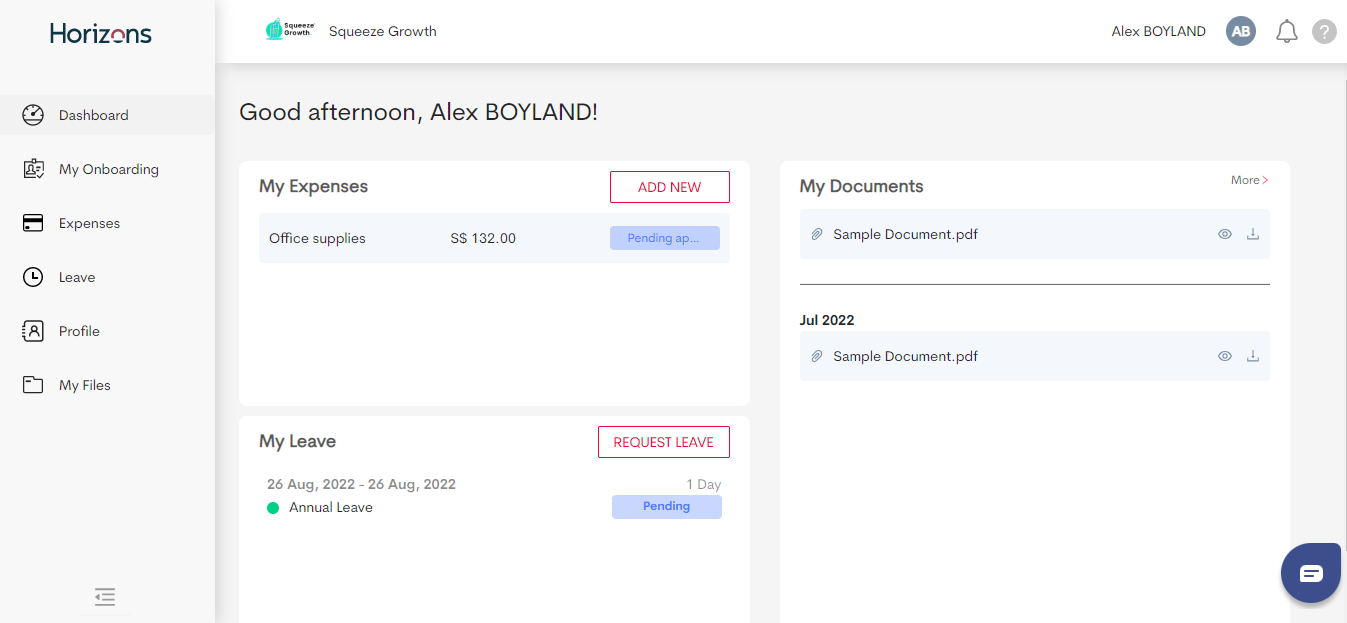 The dashboard's main page displays your pending requests, while the side panel exhibits the core functions.
Here, you can view the current status of your requests and can generate new requisitions.
Apart from leaves and invoices, your dashboard also features your official documents. The widget acts as a reminder, highlighting all the files you've delivered this month.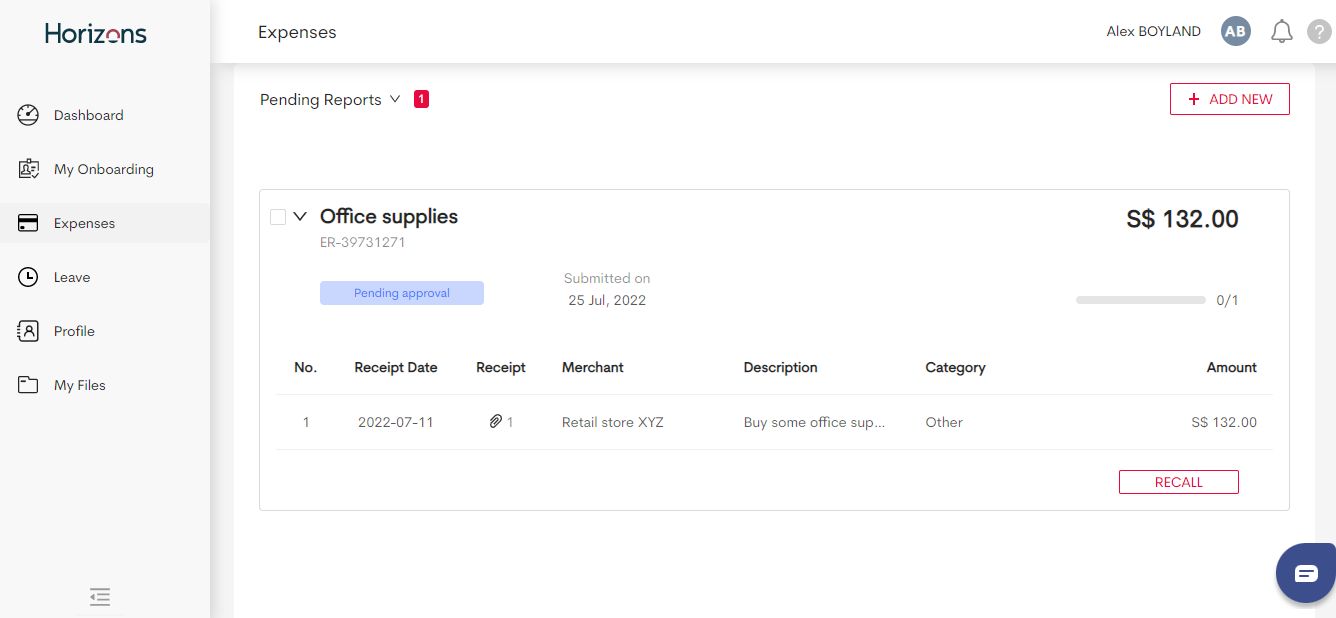 Once you're officially a part of the company and permitted to make purchases on an official account, you can raise expense requisitions from this section.
Horizons provides proper fields to add essential data and attach relevant documents. It also features a bar beside each pending requisition to show progress.
The bar function is devised with a hierarchy approval system in mind. If your expense requests require multiple approvals, the bar will turn red as your requisition move forward.
You'll also have the authority to recall your request in case of error.
This section shows a visual representation of your leaves.
Here, you can view the historical record of your time-offs, the remaining days available in your annual leaves, and the pending requests you've submitted.
In addition, it delivers multiple methods to generate your request. You can click on the visible CTA on the right top or directly pick any day of the calendar.
You'll also find a separate calendar tab, which displays leaves requests from other members of the team.
Inside the profile section, you can get a quick glimpse of your professional and personal details.
The professional details include your job description, work location, working hours, and compensation package. It also shows if you've approving authority over leaves and expenses and whether you're entitled to reimbursements.
The personal profile, on the other hand, shows only the contact details you submitted at the time of recruitment. You can edit any field to renew the information if needed.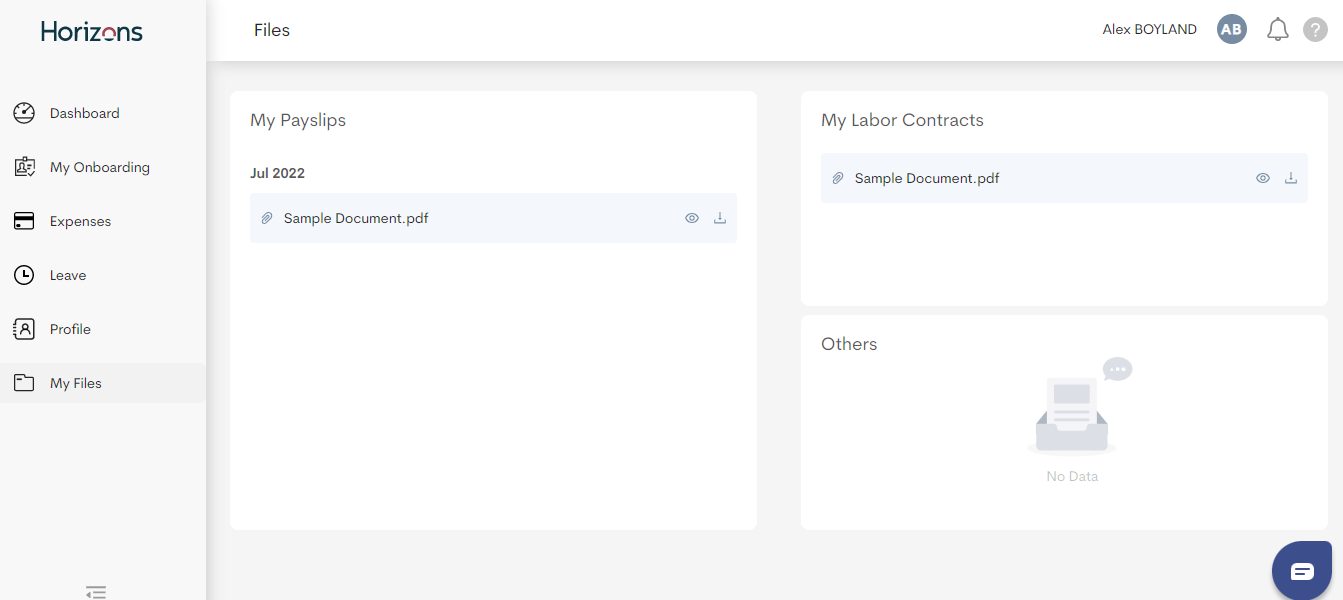 My files is the last section in the panel that store three types of official documents. Your payslips, employment contract, and any other official document you've received on the job.
You'll also find an eye and download icon beside each file that will allow you to view and export the pages for your review.
That's about covers the employee's dashboard.
Apart from the basics, your remote team also receives the same notifications, giving them the warning to quickly submit their leaves and expenses requests before the payroll is processed.
Conclusion
I am wrapping up the article by summarizing Horizon's features to give a quick recap of its core services.
Here's a breakdown of what you'll receive should you choose to avail yourself of its services
Global PEO

—It offers EOR, overseas recruitment, statutory benefits, health insurance, salary disbursements, and tax submissions.

Contractor Management

—It comprises hiring, onboarding, and paying international contractors. 

Global Mobility

—It includes any administrative support related to immigration and relocation, such as visa assistance, documentation, and concierge service.

Side Support

covers custom requirements to help you with business expansion, such as HR assistance with merger and acquisition, transition to PEO, and consultation.



You can contact its sales person for more details here. Horizons' customer service team is trained to entertain every query from potential and existing clients.