Looking for the best ways to handle payroll for a UK-based company?
Payroll is a critical part of any business operation, and an effective salary disbursement system can save you a lot of headaches and compliance challenges.
With the right software, you can digitalize your processes and manage payroll and government liabilities with ease.
In this guide, I have reviewed some of the best platforms in the UK for payroll processing. Explore the reviews and compare their features to make your purchase decision.
What is Payroll Software and What Features to Look For?
Payroll software products are desktop and online applications that centralize and calculate salaries for you. With these tools, organizations can reduce their data entry and manage their staff payments, taxes, and benefits from one place.
Some payroll platforms also offer managed services for companies with limited human resources. It's a cost-effective and hassle-free way to process payroll.
Top Features to Look for in a Payroll Software;
Time and attendance.
Salary and taxes calculation.
Payroll tracking.
Automatic compliance updates or alerts.
Third-party integrations.
In-house services, if needed.
In the below list, you'll find the 12 best payroll software products that are ideal for UK-based businesses. I have included a few international platforms in the list for companies with distributed teams.
Pento delivers Payroll automation.
It's user-friendly software that enables you to digitalize manual processes and set payroll on autopilot.
Key capabilities of Pento are; scheduling, payments to employees and HMRC, pension management, and payslip generation. If you have your own system for payment transfer, you can manage it via Pento.
The software is flexible enough to allow adjustments before payday and delivers an approval system to reduce human error. For instance, you can implement company policies and tailor your pay schedule accordingly. Or you can alter your payday to send salaries early.
Pento can be integrated with your HRIS system to streamline workflows and creates logs.
Core Features
Payroll automation software.
Salary calculation and scheduling.
Customization.
Taxes, benefits, and pension management.
Integration with HRIS and accounting platforms.
Reporting.
Security.
Customer support and expert advice.
Price
Pento prices start at £5. Companies with more than 500 employees can customize their packages.
Sage is ideal for small and growing businesses. The software is user-friendly, accessible, and scalable enough to support up to 100 employees.
You can set up weekly and monthly payrolls to create flexible pay schedules, manage your staff's taxes and benefits, and set up pensions for employees. Through tracking and reports, you can check historical records of your payments and supervise activities.
With its self-service portal, your employees can easily view and get their payslips online.
You can integrate the payroll with Sage's accounting software and collaborate with your accountant to oversee the process.
Core Features
Flexible payroll schedules.
Statutory payments.
Pension management.
Payslip generation.
Reports.
Self-Service portal.
Mobile friendly.
Integrations.
Accountant invitation.
Price
Sage charges £8 to £106 depending on your employee number. You can take a one-month free trial to explore it.
Deel delivers international payroll services for distributed teams.
If your residency is in the UK, but you work with people from all around the world, you can use Deel to hire contractors and pay them in local currencies.
Here, everything from talent acquisition and legal contracts to payroll processing and taxes is managed by Deel's team. You'll get access to a self-service portal to onboard people, store documents, and manage leaves.
You can send payments to 100+ countries via Deel and offer local salary benefits to your employees. Furthermore, you can perform some HR and admin functions such as background checks and equipment shipment.
Core Features
Global payroll.
Background check.
Onboarding and offboarding.
Self-service portal.
Document collection.
Time and attendance.
Leave management.
Visa support.
Third-party integration.
Price
Deel has four packages ranging between $49 and $599. You can get started for free and purchase exclusive payroll services.
Multiplier helps you recruit and pay your global workforce.
You can onboard both permanent employees and contractors, track their attendance, allow contractors to send invoices, and process secure payments in local currency.
You can also run salaries and contractor payments together to save time. The platform calculates and processes all payments with a single click.
Your team will get a self-service portal to receive offer letters and access their payslips. Through cloud access, you can easily manage documents, leaves, and attendance.
In addition to recruitment and salary disbursements, Multiplier delivers benefit administration, global compliance, and expense management. Every payment processed via multiplier will comply with UK laws.
Core Features
Global payroll.
Employee recruitment.
Contractor payment.
Attendance.
Benefit administration.
Expense and leaves.
Legal contracts.
Self-service portal.
Price
Multiplier charges a minimum of $20 for its global payroll product. Its EOR and Contractor services start from $40.
Rippling is an all-in-one international automation platform. It provides not only HR services but also IT and Finance support.
Its top payroll features are; workforce management, time and attendance, benefits administration, and global payroll.
You can perform other versatile functions as well, such as onboarding, approval workflows, expense handling, and strategic planning like compensation costing.
Rippling has also recently added the UK to its client base. Companies with headquarters in the United Kingdom can now process both local and global payroll via Rippling.
Please note, the platform previously offered local payroll for US-based companies only. It has just announced its expansion to the UK, so it's still in its early stage.
Core Features
Local and global payroll.
Onboarding and offboarding.
Workforce management.
Time and attendance.
Benefit administration.
Automation and customization.
IT and Finance.
Reporting.
Price
Rippling provides HR, IT, and Finance cloud as separate products with a base platform. You can purchase all of them together or tailor your plan. The subscription prices start at $8.
Papaya is a global workforce management platform. It offers Employer of Record services, contractor management, employee benefits, and international payroll.
The platform supports around 160 countries, including the United Kingdom, and provides compliance management to ensure accurate salary payments. You can purchase its full-service package to get all features or choose selected services to integrate Papaya into your current company's HR system.
Some of the functions you can perform through this software include approvals, auto-payments, payslip generation, and reporting. You'll get a Papaya wallet to process all your payments from one place and run secure transactions in local currency.
Core Features
Employer of Record services.
Contractor management.
UK and international payroll.
Compliance.
Employee benefits.
Cloud software for workflow automation.
Payslip generations.
Reporting.
Third-party integrations.
Price
Papaya shares multiple packages. Its full-service Payroll subscriptions start at $12, and the platform usage costs $3 per employee.
For international recruitment, the EOR services start at $650. You can also purchase its subscriptions to pay contractors only.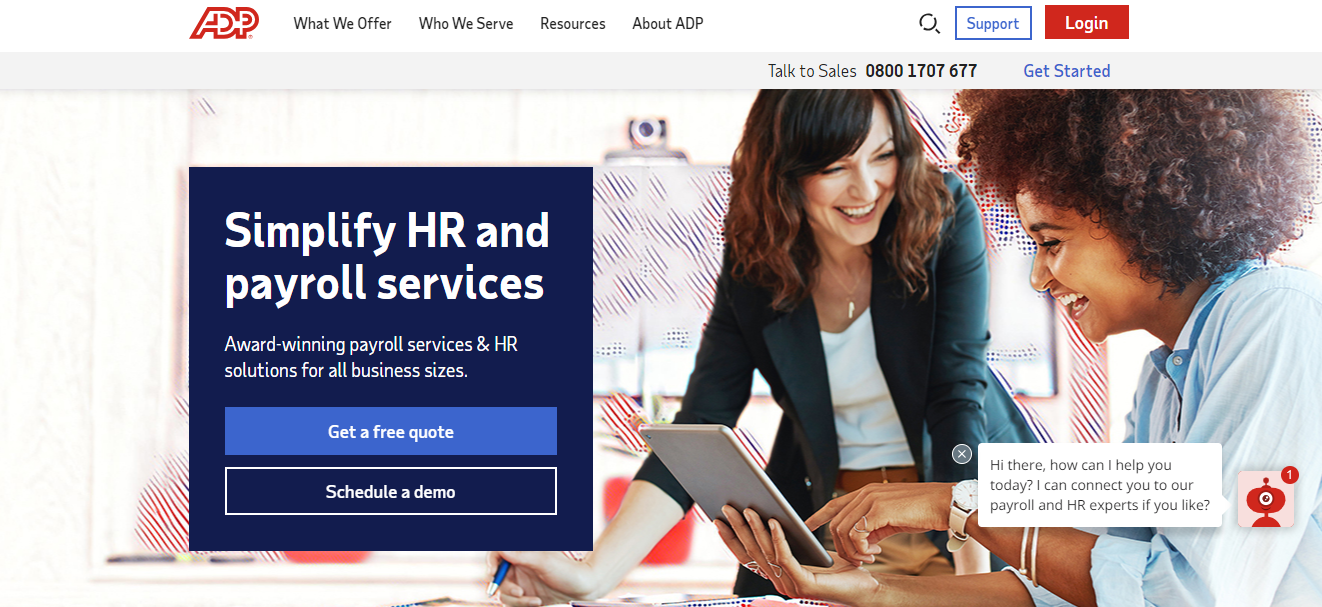 ADP provides a payroll and human capital management cloud platform.
Businesses of any size can implement it in their offices to manage recruitment, attendance, salaries, and employee benefits. With the app's auto-updates and real-time insights, they can easily keep an eye on payments and stay compliant.
If your company uses a particular HR system, you can connect ADP with it to streamline workflows. It supports popular third-party software like Oracle and Workday, but you can also ask for custom integrations.
ADP, by the way, is recognized by Bankers' Automated Clearing System and HMRC, and offers data security to keep employees' information well-protected.
Core Features
Recruitment.
Human capital management.
Time and attendance.
Payroll.
HR Insights.
Automation.
Self-service portal.
Third-party integrations.
Managed services.
Price
ADP shares prices on request. Take a demo to know more.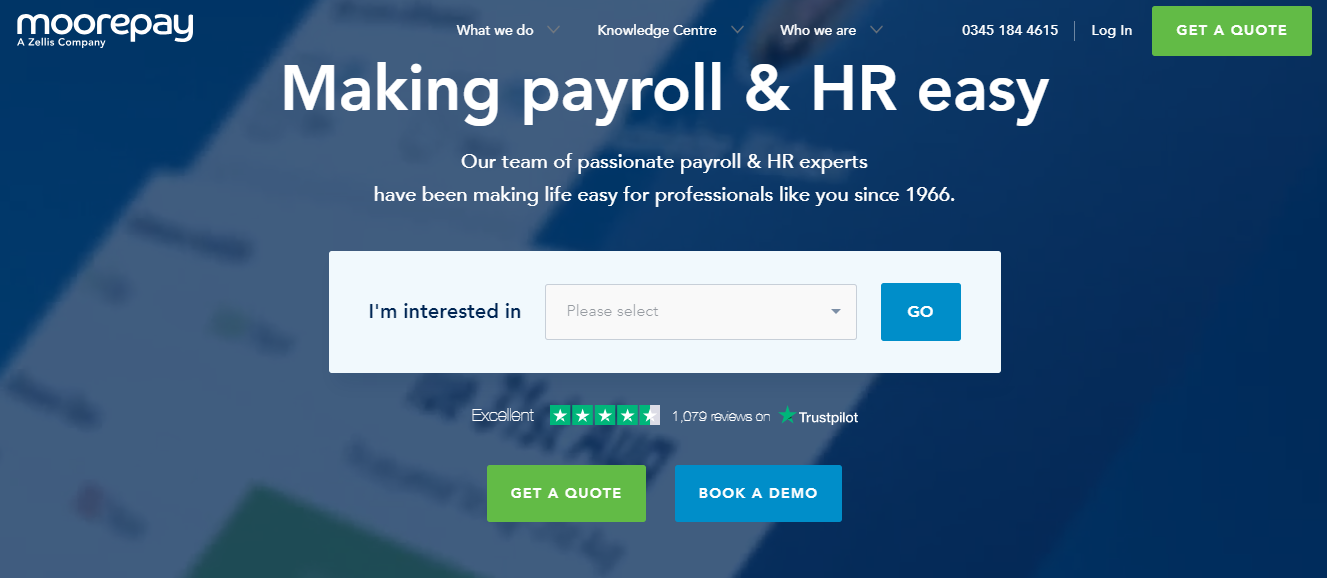 Moorepay is a UK-based payroll company that provides a cloud platform and payroll outsourcing services. Its core software features are; time and attendance, automation, reporting, and integrations.
The app automatically calculates salaries and applies necessary PTO rates to generate accurate numbers. Its centralized dashboard summarizes the main activities to make it easier to monitor payroll, see any upcoming tasks, and get holiday alerts.
Your employees can access Moorepay from their mobile phones to view payslips, submit leaves, and make requests.
If you need tech support, you can opt for its managed services. Moorepay's in-house team handles the payroll on the client's behalf.
Core Features
Payroll software.
Managed services.
Time and attendance.
PTO and expense.
UK compliance management.
Employee benefits.
Reporting.
Third-party integrations.
Mobile app.
Price
Moorepay shares prices on request. Book a demo to explore the platform.
Quickbooks offers a variety of accounting functions to small businesses and independent professionals. One of those functions includes a payroll tool that allows you to process salaries and generate payslips.
The software is recognized by HMRC and automatically calculates benefits and statutory payments to help you stay compliant. You can also manage temporary contractors' payments via Quickbooks.
To process payroll, you can set up multiple schedules for different teams, run weekly or monthly payments, and auto-enroll people for pension. Additionally, you can perform other HR functions such as timesheets, leave management, and expense recording.
The app is easy to set up and provides a self-service portal for employees.
Core Features
Payroll.
Statutory payments and pension.
Payslip generation.
Multiple schedules.
Automation.
Timesheets, leaves, and expense management.
Self-service portal.
Reporting.
Integration.
Price
Quickbooks delivers payroll as an add-on service. Its monthly subscriptions range between £3 and £18.
Moneysoft is another best platform for small businesses. It delivers desktop software that has all the essential features for payroll processing.
You can add multiple companies, invite up to 250 employees per account, add contractor payments, and create flexible schedules.
The software has separate features for agents and accountants and shares a storage and data backup facility. You'll get built-in tax rates and HMRC forms for easy submission. You'll also receive options for expenses, holidays, leaves, and company benefits.
With several payment features, you can automate manual tasks and seamlessly process staff salaries.
Overall, it's a good option to consider for payroll.
Core Features
Desktop app.
Payroll.
Taxes and deductions.
Expense and benefits.
Payslips.
Online filing.
Leave and holiday calendar.
Contractor management.
Automation.
Reporting.
Price
Moneysoft payroll manager's subscription prices range between £82 and £246.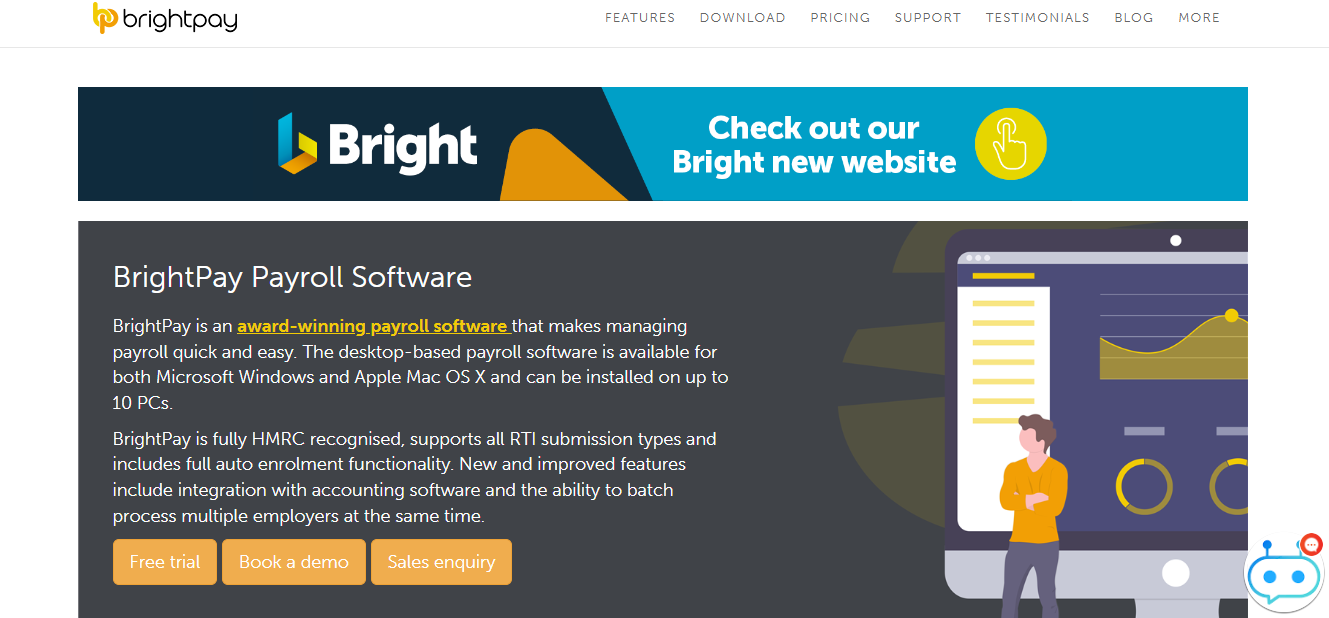 BrightPay delivers both on-premises and cloud solutions.
With its desktop software, you can set up banking details, calculate benefits and deductions, build multiple pay schedules, and process payroll.
If any salary calculation goes below the minimum wage sanctioned by the UK government, you'll get alerts to adjust your payment amounts.
Other notable features of BrightPay include employee calendars, leave management, payslip generation, and auto-enrollment.
If you want an online system, you can purchase its Connect product as an add-on to store everything on the cloud. The app comes with a self-service portal and can support up to 1000 employees.
Core Features
Payroll.
Taxes and deductions.
Leave and file management.
Payslips.
Employee calendar.
Auto-enrollment.
Analysis.
Journal posting.
Cloud storage and self-service portal.
Price
BrightPay desktop software prices start at £69, while its Connect product cost is £0.69 per employee.
Onfolk is an HMRC-recognized HR and Payroll software.
You can use it to create a staff database, onboard and offboard employees, build a leave calendar, and process salaries. Its workflow automation and tax code updates make managing and running payroll incredibly hassle-free.
You can make changes any time before payday and get alerts for leave and claims.
To expedite payments, you can integrate WISE with Onfolk and disburse salaries with a few clicks.
The entire app is designed to make payroll processing simple.
Core Features
Onboarding and offboarding.
Payroll automation.
Taxes and pension.
Payslips.
Leave calendar.
Employee database.
Reporting.
Self-service portal for employees.
Integrations with accounting software.
Price
Onfolk's prices start at £8. You can book a demo to learn more about the platform.
Conclusion
As a UK-based business owner, you have plenty of options to simplify payroll.
You can purchase local automation tools to cut down the workload, hire global experts to handle salaries on your behalf, or buy subscriptions for software and services.
I suggest looking for features that can help you solve your payroll challenges. Once you have a list, you can take the demos before committing to any one of them.