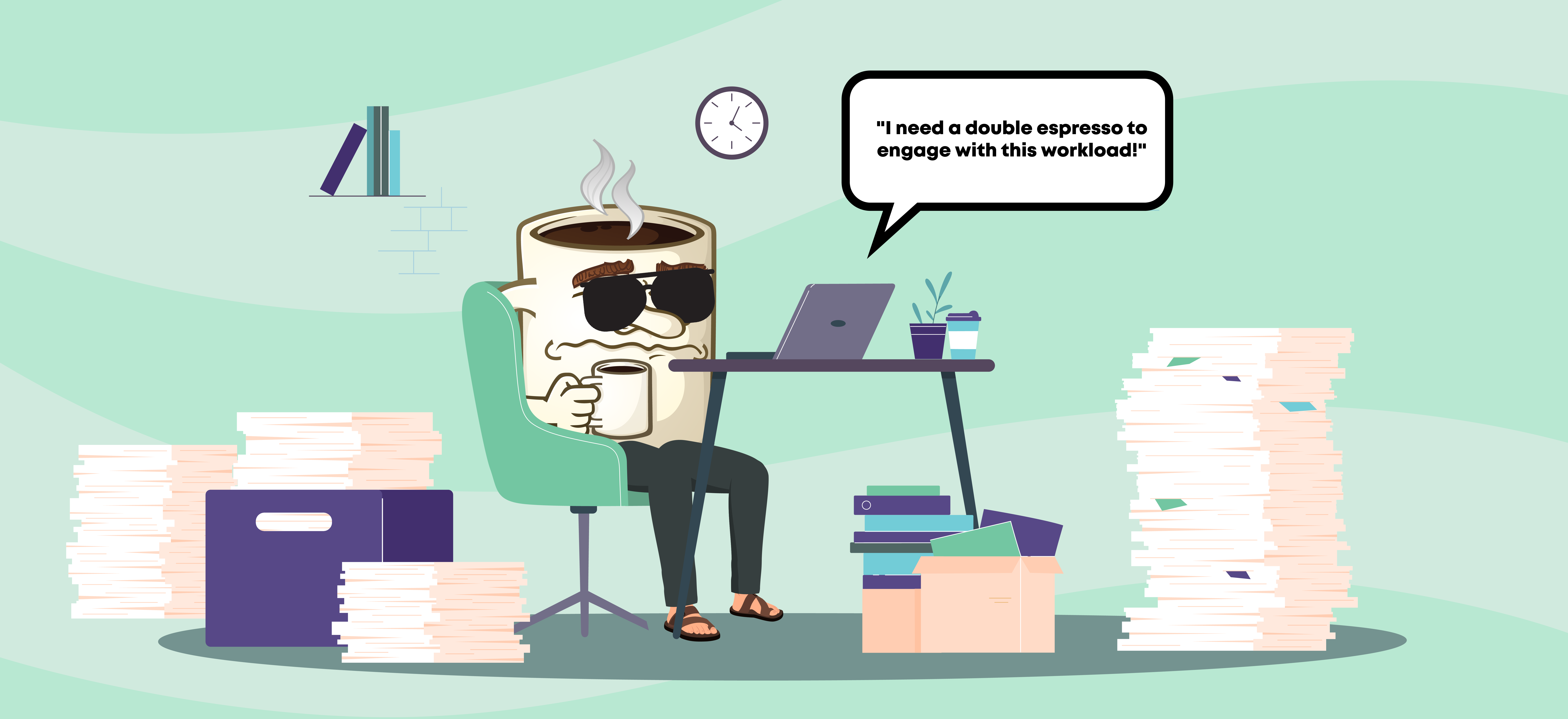 Employee engagement software offers you better ways to measure your team's performance.
You can find out what your employees feel about their workplace experience and launch engagement activities to strengthen connections.
Below, I have reviewed the 12 best software products that deliver employee engagement tools. I have also mentioned some common features for comparison.
What is Engagement Software and What Tools Are Best for You
Employee engagement apps are HR platforms that help managers listen to their employees and gain insights into their workplace experience.
Organizations can use these apps to detect internal problems and design targeted engagement campaigns to reduce employee turnover.
Top Features to Look for In Employee Engagement Software
Anonymous and targeted surveys to collect feedback.
Sentiment analysis.
Performance and engagement reviews.
Campaigns to boost precipitation and morale.
Let's explore some of the top engagement software products and review their features and prices. The list covers several relevant apps, including employee recognition and performance management platforms.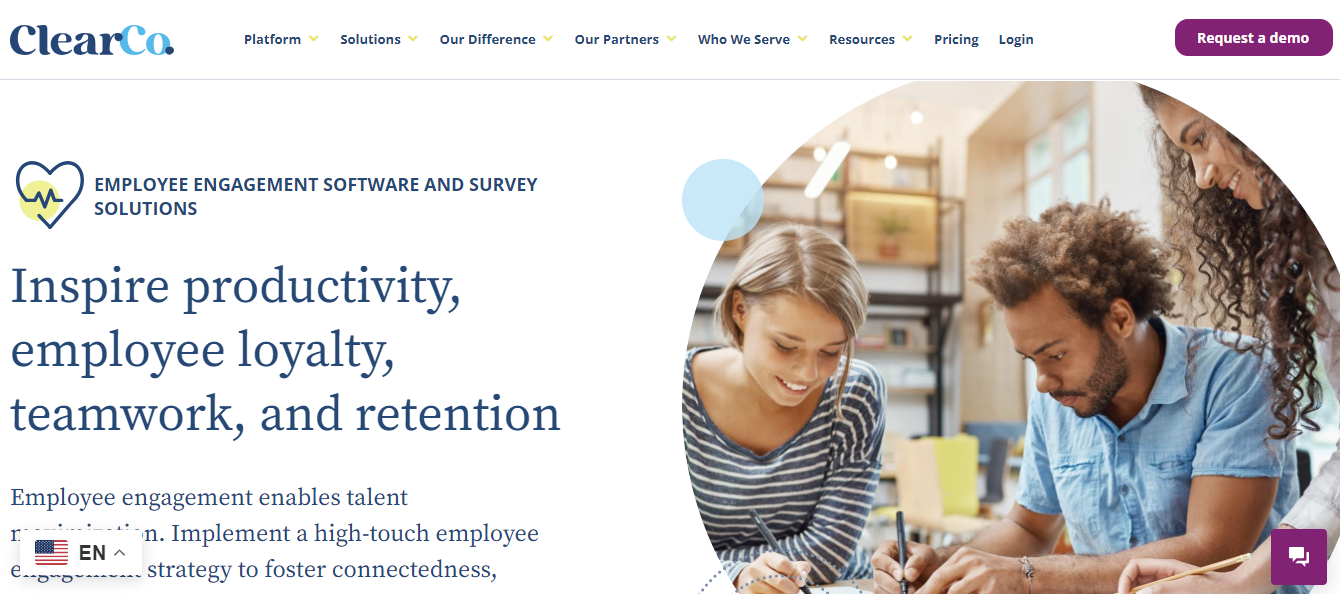 Clear Company is a talent management platform. Via this app, you can find new employees, engage your team, and measure your staff's work performance.
With survey and feedback features, you can assess your employees' behavior and discover the level of support each employee receives from the company management.
Using peer-to-peer recognition tools and milestone celebrations, you can improve internal interaction and improve workplace experience. You can also arrange 1:1 meetings to strengthen the working relationship between managers and employees.
For performance measurement, you can set up a review workflow using pre-built templates and run multiple review cycles. Clear Company shares several templates to get you started.
Core Features
Recruitment and onboarding.
Surveys and feedback workflows.
Peer-to-peer recognition.
Performance management.
Appraisals and manager-employee meetings.
Template library.
Analytics and reporting.
Integration.
Mobile app.
Price
Clear Company provides prices on request. You can purchase all the features or buy specific modules.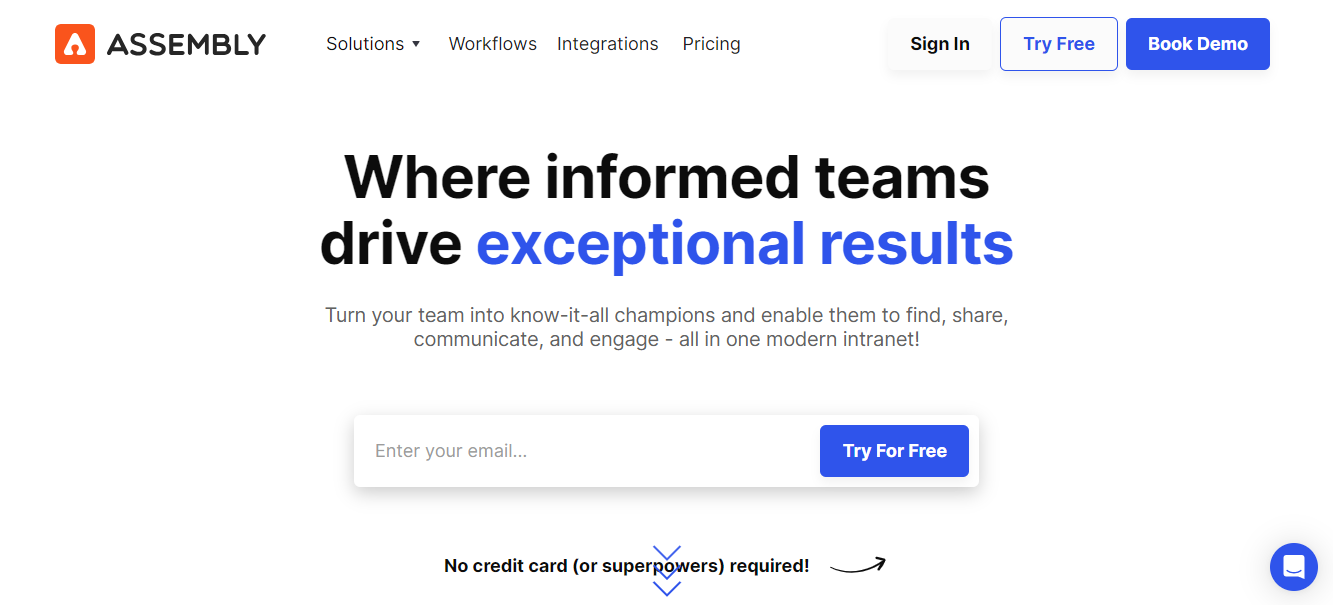 Assembly provides a digital platform for knowledge management and team engagement.
It comes with an activity feed and recognition features that enable you to share news and announcements with your team and encourage participation.
With various flow templates and collaboration tools, you can easily gather feedback and communicate your goals and priorities.
The best feature of Assembly is the workspace search. It's a browser extension that connects with your business tools and centralizes the files and page history. Meaning, anytime you need particular information, you can type your keyword and get a list of all the relevant pages and documents.
While this feature isn't directly relevant to employee engagement, its usage is versatile and helpful.
Core Features
Activity feed.
Announcements and news.
Recognition and awards.
Icebreaker questions and feedback.
Anonymous suggestions.
Participation insights.
Collaboration and communication.
Information management.
Flow templates.
Advanced search filter.
Automation.
Price
Assembly charges $4 to $6 per user.
You can try it for free and get an enterprise package.
Motivosity is an employee experience platform. It helps you understand, recognize, and engage your staff and develop a positive culture in the company.
Core product of Motivosity is a social community platform. Companies with a hybrid culture can use it to develop a central hub for conversations, announcements, and peer-to-peer recognition posts.
The additional advantage of having a Motivosity community is that you can gather insights into your employees' motivations and design strategies to improve the work culture.
For in-depth analysis, Motivosity delivers an advanced survey add-on product. With this tool, you can create custom surveys and generate sentiment analysis.
One other product you'll find interesting is the manager development. The HR team can use it to assess team leads and measure their relationships with subordinates.
Core Features
Social community for the staff.
Surveys and feedback.
Peer-to-peer recognition.
Employee rewards.
Analytics and reporting.
Manager development tools.
Customization and automation.
Mobile app.
Integrations.
Price
Motivosity's core platform costs $2, and add-ons cost $2+ each.
The packages have a 6-month money-back guarantee.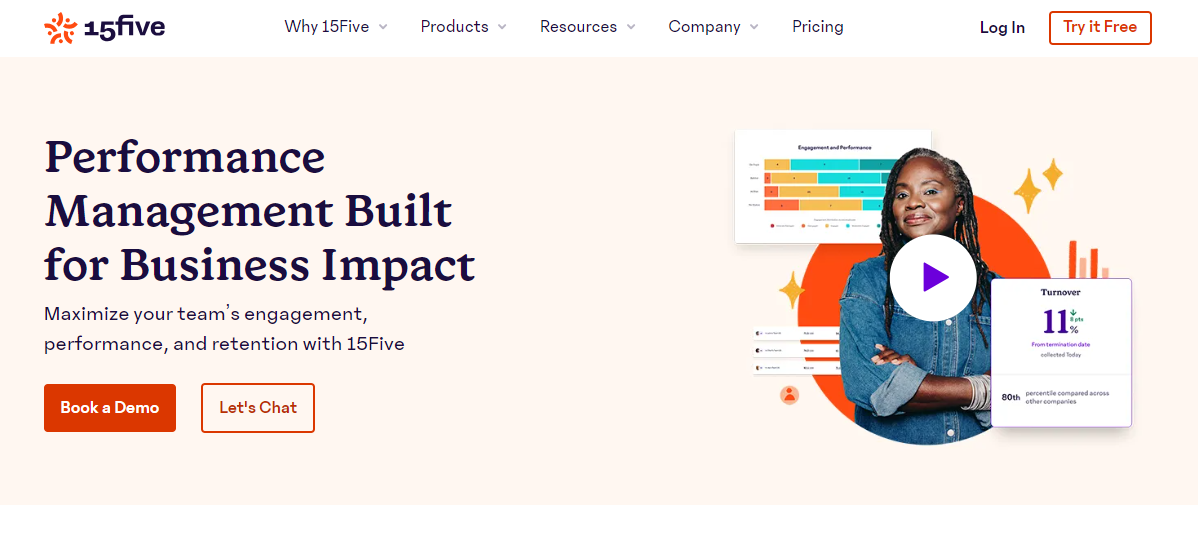 15five boosts team performance. The app delivers survey and measurement tools to give insights into your team morale and help you identify areas for improvement.
The surveys are easy to distribute and generate data on departmental levels. You can deploy surveys to each member of your staff or target a specific group.
Via performance reviews, you can rate your employees and shortlist people with growth potential.
One of 15five's notable features is the Transform product. It's a managed service designed for managers, which provides coaching and micro-learning opportunities to polish their skills.
If you are on the lookout for a software product to assess both employees and team lead, go for 15five.
Core Features
Engagement surveys.
Performance reviews.
Tailored assessments and feedback.
Analytics and reporting.
Benchmarking.
OKR and goal management.
Recognition.
Manager coaching and training.
HRIS integration.
Mobile app.
Price
15five charges $5 for the survey package and $16 for the other products.
You can explore it for free.
Engagedly is ideal for established organizations.
The software offers a suite of engagement and performance measurement tools with an AI assistant to collect feedback.
Top actions you can do via Engagedly include performance reviews, pulse surveys, and recognition and appreciation badges. You can also boost your team morale with gift cards and custom rewards like lunches and tours.
If your company frequently conducts personal development programs, you can manage the courses through Engagedly. The software has L&M add-ons with automation tools to simplify your workflows.
I recommend scheduling a demo to explore all of Engagedly's functions.
Core Features
Surveys and feedback.
Performance reviews.
Recognition and rewards.
Gamification.
1:1 check-ins.
Mentoring programs.
AI-assistant.
Analytics.
Consultancy service.
Price
Engagedly annual packages start from $5000.
Achievers allows you to collect feedback from your employees and build reward campaigns based on that feedback.
You can deploy the Achievers bot for regular check-ins, polls, quizzes, and surveys to collect data on your employees. With the recognition software, you can deliver both monetary and non-monetary rewards and give your staff access to a gift marketplace.
With an automation tool, you can get anniversary alerts, so you can send personalized cards to relevant parties.
Achievers is also a good tool for building connections. You can arrange virtual meetings between colleges or managers and use icebreaker questions as conversation starters.
Core Features
Surveys, polls, quizzes.
Communication and collaboration.
Icebreaker questions.
Recognition and rewards.
Credit points.
Celebration cards.
Analytics.
Integrations.
Mobile friendly.
Price
Achievers shares prices on request. Reach out to sales for the quotes.
CultureBot is ideal for Slack users. It helps you engage your team on Slack through online activities, conversations, and recognition.
The bot is pretty basic but has all the essential features for team engagement. You can celebrate birthdays, arrange company events, give shout-outs to top performers, and even start water cooler conversations.
With custom surveys, you can gather feedback and keep an eye on employee sentiment levels.
While most of CultureBot's features target team morale, it's also a good tool for improving manager-employee relationships.
CultureBot is completely free for up to 24 employees and offers bulk prices on premium subscriptions.
Core Features 
Slack plugin.
Employee recognition.
Celebration posts.
Surveys and forms.
Automation.
Water cooler conversations.
Trivia.
Health tips posts.
API.
Price
CultureBot charges between $99 and $500, depending on user volume. You can add up to 500 employees to your account.
There's also an option for more users. Contact sales to get details.
Empuls provides communication and reward features to improve employee engagement.
Here, you can run surveys to get feedback, give rewards to acknowledge hard work, and launch a social forum for announcements and conversations. With the combination of these tools, you can streamline communication and make sure every employee feels valued.
Empuls also has a marketplace for employee benefits. You can buy discount vouchers and gifts for staff birthdays, events, and departmental perks. The benefits package comes with a wallet for purchases and prepaid cards for meals, fuel, and other allowances.
Empuls works perfectly on smartphones and supports multiple languages.
Core Features
Pulse surveys.
Sentiment analysis.
Recognition and rewards.
Gamification.
Benchmarking.
Social intranet.
Perks and benefits.
Automation and customization.
Multi-language.
Integrations.
Mobile app.
Price
Empuls charges $1 to $3 for its products. You can take a 14-day free trial and ask for the enterprise solution.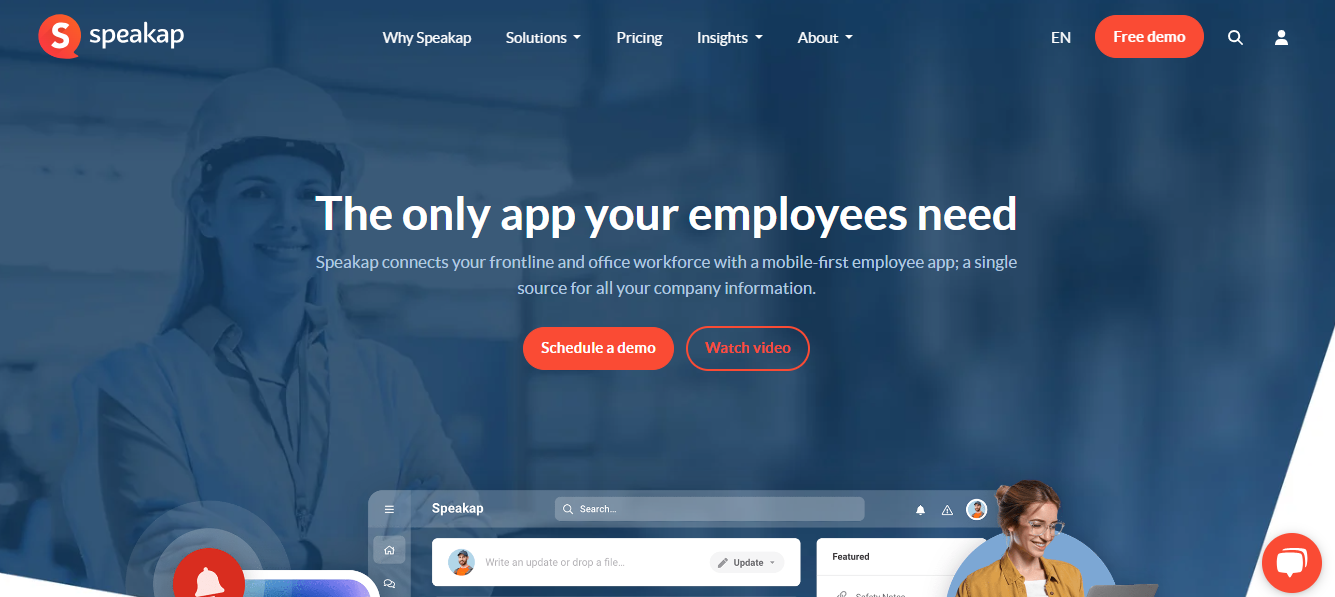 Speakap is specifically designed for the frontline workforce. Any business that runs shifts or works on-site can use this software to create a central hub for communication and employee engagement.
Some of the things you can do with Speakap include surveys, event announcements, personalized content, and news. You can optimize your employees' experience with a branded app and build profiles of each member to make them reachable.
The software also acts as a social intranet, displaying timelines, chatroom, and engagement features. You can connect your business tools to synchronize data and use Google Translator inside the app to convert texts.
With Speakap analytics, you can get a full picture of your employee engagement and compare the results of each department to detect interaction issues.
Core Features
Social intranet.
Surveys, polls, and quizzes.
Timelines and communication tools.
Profiles.
File repository and content management.
Analytics.
Integrations.
Mobile app.
Price
Speakap has three packages. Contact sales to get the quotes and request a free demo to see Speakap in action.
StaffCircle delivers employee engagement, performance management, and skill development packages.
Its engagement module contains news feeds, feedback surveys, in-app communication tools, and recognition features. It also displays measurable data on team engagement to help you understand their behavior and focus on strategies that work for your team.
For performance management, StaffCircle provides review and feedback tools. You can occasionally arrange meetings with your staff and run quarterly reviews.
StaffCircle's skill development is an add-on product. It offers personal development reviews, allowing you to collect data on your employee's work experience and identify skill gaps.
Core Features
Social intranet.
Surveys and feedback.
News and communication.
Recognition.
People insights.
Performance reviews.
Check-ins.
OKR.
Skill development.
Price
StaffCircle charges annual subscription fees. Its prices start from $12,744.
You need at least 50 to 60 users to fully utilize this software. Request a demo to know more.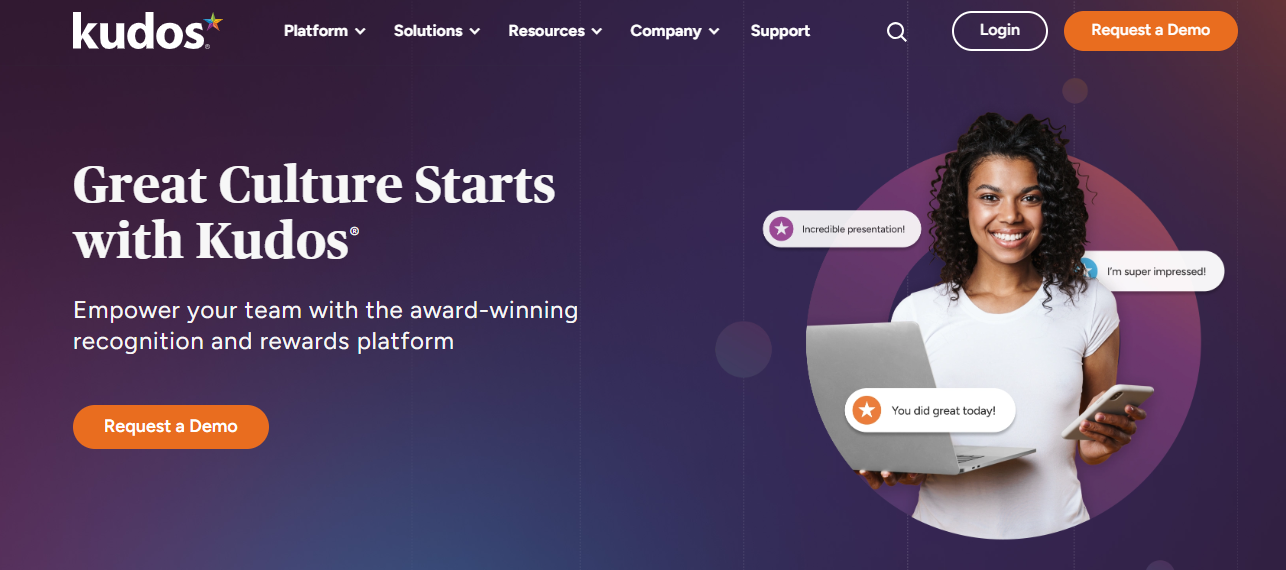 Kudos focus on recognition and rewards. It provides incentives and non-monetary perks to help you improve employee retention.
Through Kudos's sentiment surveys, you can monitor staff work satisfaction levels and create tailored reward campaigns to improve them.
You can also measure your employees' interactions and performance via activity reports. The charts offer actionable insights into inter-department communication and highlight top performers.
With peer-to-peer recognition, you can encourage team participation and build departmental relationships.
Kudos can be integrated with Slack, Outlook, and Google Workspace.
Core Features
Sentiment analysis.
Peer-to-peer recognition.
Monetary rewards.
Acknowledgements.
Content management.
People analytics.
Integrations.
Price
Kudos shares prices on request. Schedule a demo to learn more.
Culture Amp evaluates your employees' performance and provides personal development plans. You'll receive around 30+ survey templates and optimized action plans to analyze your staff sentiments and create relevant strategies.
You can use Culture Amp to run pulse surveys, generate retention analyses, track employee goals, and review individual performance.
With benchmarking, you can compare your engagement data with other companies within your industry and note differences.
For engagement and personal development, you can arrange 1:1 meetings, give shout-outs to top performers, and offer learning opportunities.
Core Features
Surveys and feedback.
Performance reviews.
Retention insights.
Action plans.
Templates.
Benchmarking.
Recognition.
Learning workflows.
Multilingual.
HRIS integration.
Price
Culture Amp has separate packages for engagement, performance reviews, and personal development.
Contact sales for the prices.
Conclusion
There are plenty of software products that can improve employee engagement.
For instance. If you feel a lack of interactions and participation is the reason for low engagement, CultureBot is best for you. If something is impacting your employees' work performance, an experience platform like Motivosity may offer the ideal solution.
Look for tools that can target your particular issue and implement them in your company to generate the desired results. Good luck!