Do you struggle with managing your time and staying focused?
If you're anything like me and have ADHD, the answer is a resounding yes.
The endless to-do lists, post-it notes, and phone alarms rarely help for more than a day or two before I'm right back to my distracted self.
I used to think I was helpless and would just have to struggle this way forever.
But it doesn't have to be like this.
The good news is, there are now some amazing apps available that are total game changers for ADHD time management and focus.
These brilliant apps help you optimize each day, crush procrastination, and finally feel in control.
Keep reading to discover the top 12 apps that could completely transform your productivity and focus if you have ADHD like me.
What Are The Best Timer Apps For ADHD?
TL;DR:

1. Clockify: Intuitive time tracker for productivity.

2. Sunsama: Digital planner with focus mode and task time limits.

3. Rize: Automatic time tracking with productivity reports.

4. Taskade: Built-in timers and recurring task reminders.

5. TickTick: Voice task capture and location reminders.

6. Time Doctor: Time tracking and distraction alerts.

7. BeforeSunset: AI daily planning and time analytics.

8. RescueTime: Tracks time on apps and sets focus goals.

9. Focused Work: Customizable Pomodoro timer.

10. Tiimo: Visual schedule and checklists for neurodiverse thinkers.

11. Be Focused: Breaks tasks into timed intervals.

12. Focus Keeper: Pomodoro timer with task management.
Clockify is a helpful tool for people with ADHD to track time and manage projects. It has an easy-to-use interface that helps you track tasks and see how productive you are.
Clockify is versatile as it works on Chrome, Firefox, iOS, Android, Mac, Windows, and Linux.
Clockify stands out because it works with over 50 project management tools, including Asana, Trello, JIRA, and Basecamp.
You can easily track time on these platforms with Clockify's browser extensions, eliminating the need to switch between apps.
With just one click, the timer begins to track your work hours for different tasks and projects.
Creating an organized task list is a breeze with Clockify. You can structure projects, assign tasks, set due dates, and add descriptions for each task.
As you work, Clockify shows you productivity levels and forecasts project progress in a clear way. For those with ADHD, this can help identify time sinks and enhance focus.
You can easily find unproductive habits with personalized calendar views and detailed time reports.
Key Features
Intuitive interface for easy startup and usage
Accessible on desktop, mobile, web, and browser extensions
50+ integrations with project management tools
One-click timer to track time across projects
Calendar view of tracked hours and task visualization
Detailed analytics through reports on work hours
Identify productivity levels and forecast project timelines
Pricing
Clockify has a free plan with time tracking, calendar, pomodoro, reminders, and integrations. The basic plan costs $4.99 per month.
Additionally, there is a Standard plan (ideal for time sheeting and billing) that costs $6.99 per month. The Pro plan and the Enterprise plan cost $9.99 per month and $14.99 per month, respectively.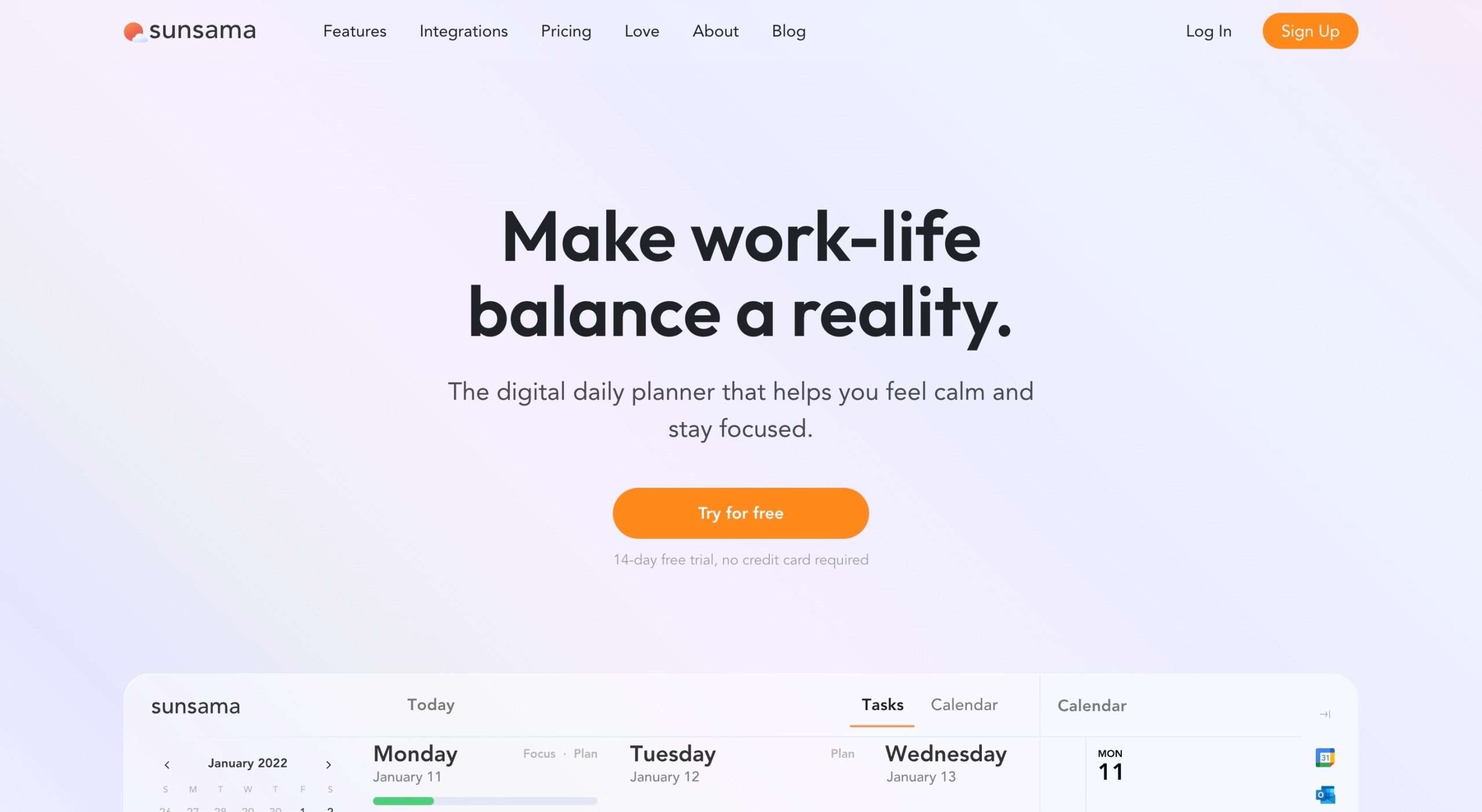 Sunsama is an awesome digital planner that totally gets the ADHD brain and makes it super simple to plan out your days and actually stick to your schedule.
One of the best parts of Sunsama is that you can pull in all your tasks, emails, meetings, and projects from other apps you already use like Trello, Asana, Gmail – pretty much everything.
That way, you have an all-in-one daily view to see what you need to get done that day.
Sunsama encourages you to map out an intentional day, step-by-step. You can break bigger projects down into smaller tasks, set time limits for each one, and schedule them right into your calendar.
The time limits help keep you on track and prevent time blindness.
You can also drag-and-drop to re-order tasks and set priorities.
I don't know about you, but I love crossing things off my to-do list, so being able to pick the quick wins that I can check off first thing is super motivating.
One of my personal favorite features is Focus Mode – it lets you zero in on just one important task without distractions from other apps or notifications.
Key Features
Guided daily planning
Realistic daily goal setting
Timeboxing
Drag-and-drop task organization
Focus Mode
Pricing
Sunsama has a 14-day free trial. You can then choose to upgrade to their paid plan that costs $20/month (or $16/month on annual billing).
Rize automatically tracks how you spend your time, with no need to start and stop timers yourself.
The profound part is that Rize sends you daily and weekly email reports to show you exactly where your time went.
You can make custom categories, so the reports give you personalized insights about your work habits.
Rize will even nudge you when it's time for a break to help avoid burnout. And if you're overworking past your scheduled hours, it gives you an alert.
For focusing, Rize analyzes your focus time and shows you what apps or sites are your biggest distractions.
You can tag work sessions to see the time spent per project. It integrates with your calendar to categorize meetings.
You can still do manual timer sessions Pomodoro-style if you want. And there's a desktop widget to check your daily work hours at a glance.
Key Features
To-do lists to break down projects
Focus timer to time productive work sessions
Dashboard to visualize progress and productivity
Reports on time usage and trends
Customizable interface with themes
Third-party app integration (e.g. Google, Slack)
Pricing
Rize offers a free basic plan, but premium plans start at $14.99/month (or $9.99/month on annual billing) if you want the full reporting and tracking experience.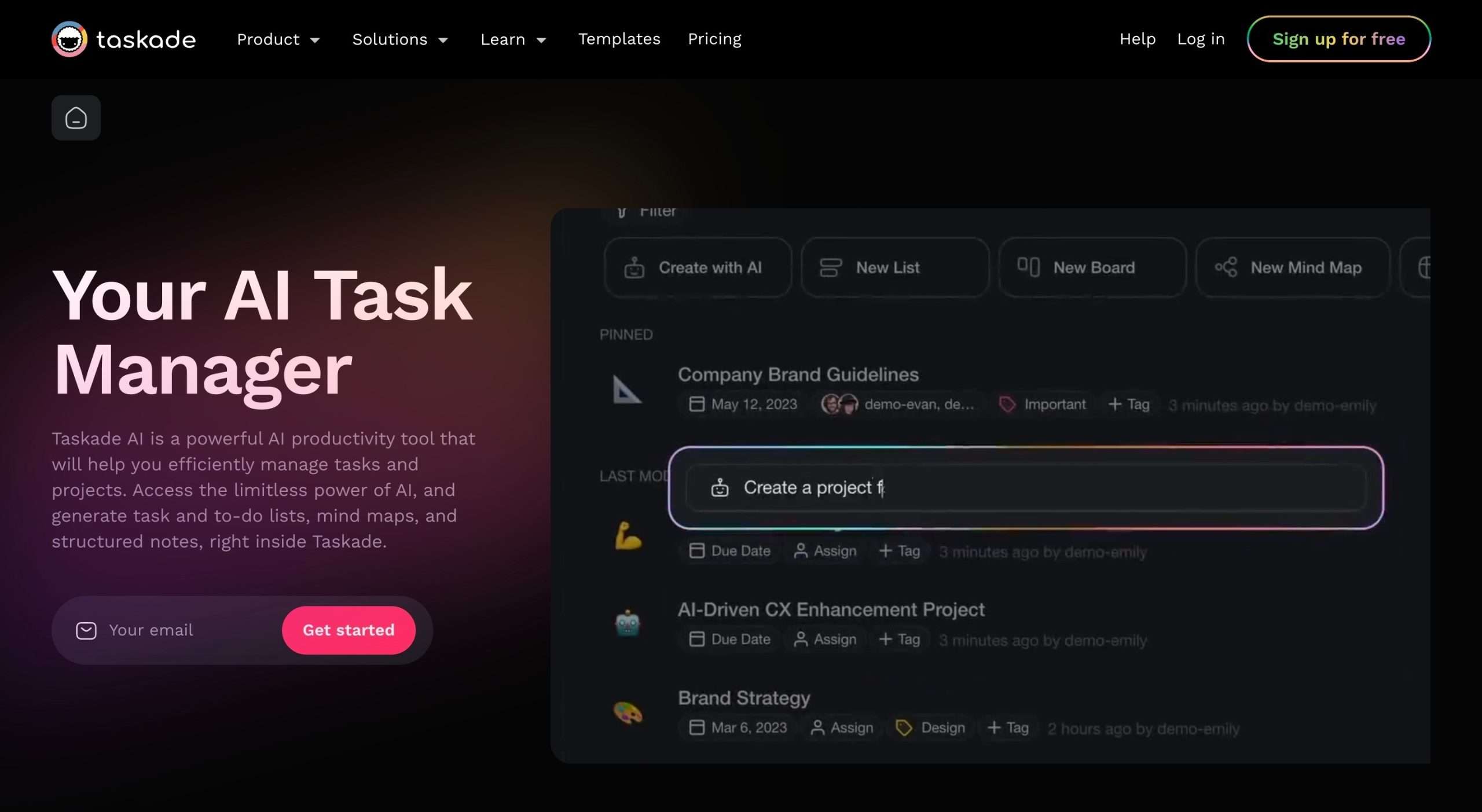 Taskade is an all-in-one AI-powered productivity app that offers built-in timers that can help keep you on track.
You can set a timer for each task right within your project. When the timer goes off, it reminds you to switch gears or take a break.
The timers sync across devices, too.
So if you start a timer on your phone, it will alert you on your computer when the time's up. Super helpful for us (ADHDers) who bounce between devices constantly.
You can also use Taskade's recurring task feature to schedule reminders for tasks you need to do regularly.
Set it and forget it – the app will nudge you when it's time to do that task again.
You can customize the timers and reminders to suit your work style. Longer Pomodoro-style timers or quick 5-minute bursts—whatever works for you.
And because Taskade makes it easy to break down big tasks into smaller steps, you can set a timer for each sub-task.
Key Features
Built-in task timers to stay on track
Timers sync across devices for seamless transitions
Recurring task feature for scheduling reminders
Customizable timers and reminders to suit individual work style
Flexibility in breaking down big tasks into smaller steps
Pricing
Besides a completely free plan, Taskade offers two different personal plans to use their productivity and collaboration tools.
Starter Plan: $8/month (up to 3 members)
Plus Plan: $16/month (up to 5 members)
The Teams and Business plan comes with three pricing options:
Pro ($39/month)
Business ($99/month)
Ultimate ($199/month)
TickTick is your personal productivity assistant that helps you capture ideas and tackle your to-do list.
One of the coolest parts of TickTick is that you can use your voice to add tasks – just press and hold the plus button and speak your task.
TickTick will also turn your emails into tasks automatically, which is perfect for transforming all those important emails into action items.
To help you actually get stuff done on time, TickTick lets you set reminders, due dates, and even annoying alerts to bug you until you mark a task complete.
You can also set location-based reminders, so if you need to stop at the pharmacy on your way home, TickTick will remind you when you're near.
To stay on track day-to-day, TickTick offers calendar views ranging from daily to monthly. You can also use the Pomodoro timer for focused work sessions.
It even gamifies things and gives you an achievement score for completing tasks on time. Plus, you can review statistics on your productivity.
Key Features
Voice task creation
Automatic email-to-task conversion
Location-based reminders
Recurring tasks and checklists
Pomodoro timer for focused work sessions
Productivity statistics tracking
Pricing
TickTick is available on Mac, Android, iOS, Apple Watch, Windows, Linux, Web (Accessible from any browser), and Chrome Extension among other devices/platforms.
Its premium plan costs $27.99/year.
Be Focused is a focus timer app available exclusively on the App Store for iPhone, iPad, and Apple Watch.
It lets you break down big tasks into short, manageable chunks. You set a timer for each chunk, like 25 minutes of work, followed by a 5-minute break.
Be Focused keeps you on track with reminders when it's time to switch between work and rest.
The best part is you can customize the settings to match your needs. You can set the timer intervals, break lengths, and daily goals, however, works for you.
It also has handy tools to estimate how long tasks will take and track your progress.
So you can see if you're meeting your productivity goals each day. It even lets you paste tasks from other apps, so everything is in one place.
To keep you engaged, Be Focused has a bunch of alarm sounds to choose from. You can pick a gentle chime or an energetic song to alert you when it's time to switch gears.
It even alarms when the app is in the background, so you won't miss a beat.
Key Features
Breaks down tasks into timed intervals with short breaks
Customizable timer settings for work, breaks, and daily goals
Imports tasks from other apps
Customizable alarm sounds and volumes
Apple Watch support
Pricing
Be Focused is free to use with in-app purchases costing $4.99.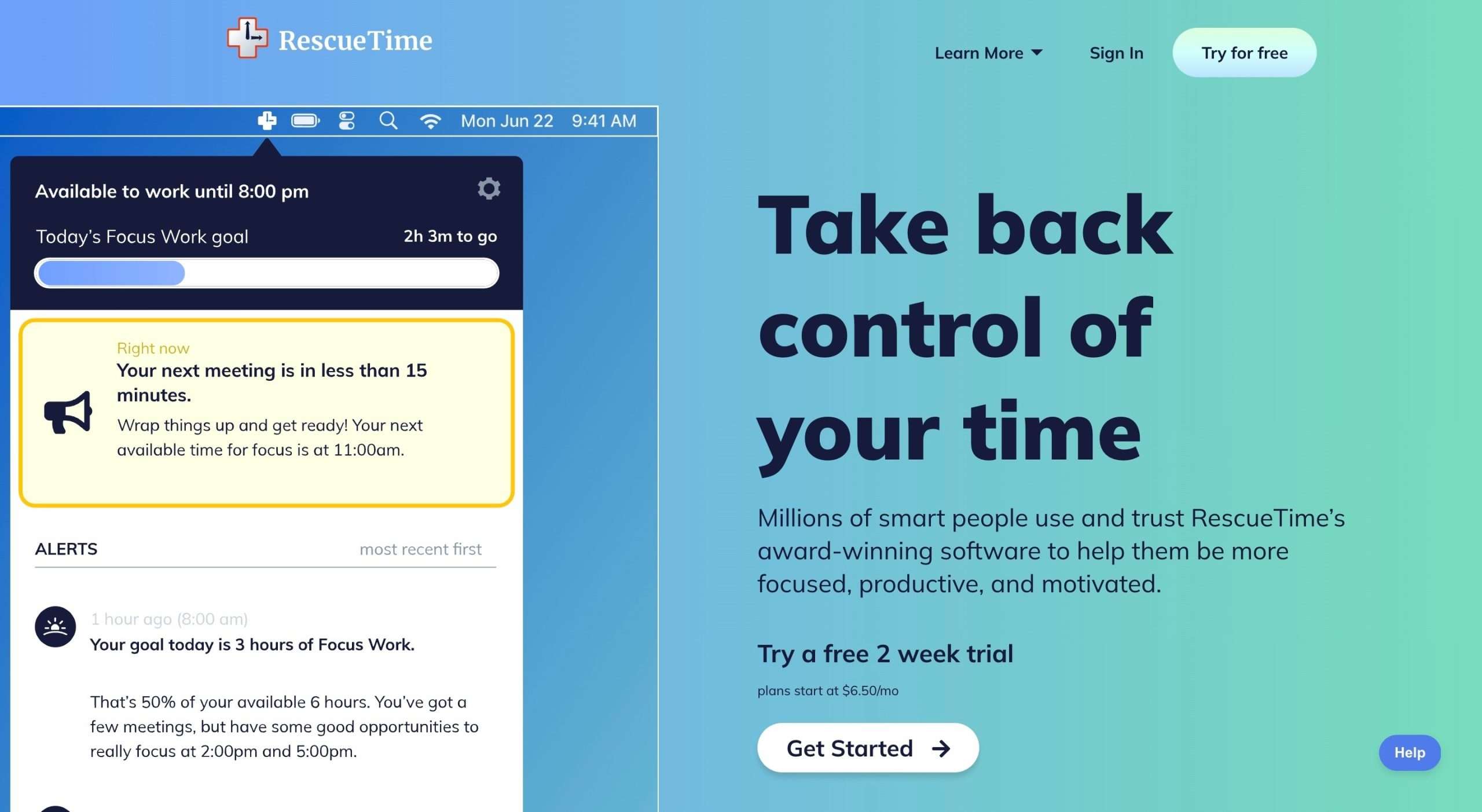 RescueTime is a time-tracking and productivity software designed to help you take control of your time and improve focus, productivity, and motivation.
RescueTime keeps track of how much time you spend on different apps and websites, so you can see where your time goes each day.
Then, it gives you a daily focus goal based on your work habits—kind of like a fitness tracker for your productivity.
Whenever you need to buckle down and concentrate, you can start a Focus Session.
RescueTime will block distracting sites to help you avoid going down rabbit holes. After your session, you can see how you did compare to your usual focus time.
I think one of the best parts about RescueTime is that it really understands what steals your focus.
The reporting shows you exactly how much time you spent on work, communication, and distractions.
Key Features
Time tracking for apps and websites
Daily focus goal based on work habits
Focus Sessions with distraction-blocking
Comparison of focus time to the usual performance
Detailed reporting on work, communication, and distractions
Pricing
Rescuetime's got a 14-day free trial with a paid plan starting at $6.5/month. RescueTime works on web and has an Android and iOS app as well as Mac and Windows.
Time Doctor offers a suite of productivity and time management tools. With its time management capabilities, all you have to do is hit one button to start tracking your time for a task or project.
It runs quietly in the background, monitoring how you spend your time on your computer and mobile devices.
The cool part is that Time Doctor generates awesome reports showing exactly how your time was spent – down to the minute.
You can view daily, weekly, and monthly summaries of time spent on clients, projects, tasks, apps, and websites.
It even takes optional screenshots, so you can visually see where you were spending time.
For those of us with ADHD, having visibility into how we use our time is game-changing.
Time Doctor makes it easy to spot unproductive patterns and distractions. You can even set up custom alerts to keep you on track if you veer off course.
Key Features
Easy to set up and use
Time tracking with one-click start
Activity and productivity reports
Track time across clients, projects, and tasks
Distraction and idle computer alerts
Pricing
TimeDoctor offers a 14-day free trial. It has three paid plan options:
Basic: ($7/month)
Standard: ($10/month)
Premium: ($20/month)

BeforeSunset AI is a beautiful AI productivity assistant that helps you manage your time and focus.
The amazing thing is it uses AI to create the perfect schedule for you each day.
All you have to do is tell it your tasks and commitments, and it will break them down into a step-by-step plan.
BeforeSunset will actually split big projects into smaller pieces too. Breaking it down, it makes them feel way more doable.
Another neat feature is time tracking.
You can see how long tasks actually take versus how long you planned them to take. This helps you identify where you might be wasting time without realizing it.
BeforeSunset also has built-in note-taking, so you don't have to flip between apps. And there's a sunrise and sunset routine to encourage you to take breaks and reflect.
This is so key to avoiding burnout!
Key Features
AI-Powered daily planning
Breaks down tasks into manageable subtasks
Tracks time spent on tasks
Built-In note-taking
Sunrise & sunset routine for reflection
Drag & drop task scheduling
Pricing
BeforeSunset offers a completely free plan and a premium plan.
The free plan gives you access to features like unlimited to-dos and subtasks, tagging, note-taking, break and work time tracking, calendar integration, mood tracking, and time blocking.
The Pro plan comes with a cost of $12.99/month.
With this plan, you'll enjoy all the other features including weekly analytics to gain deeper insights into your productivity patterns. Moreover, you get unlimited AI assistant credits, meaning you can use the power of AI to optimize your daily planning.

Focused Work is a powerful timer app designed to help you have productive days by improving focus and time management using the Pomodoro technique.
Focused Work lets you set a timer for 25-minute "focus sessions" where you laser in on a single task without distractions.
Then, it gives you a 5-minute break before starting another session.
Focused Work makes it super simple to get started—just open it up and hit the play button!
I like that you can customize the durations too. Feeling overwhelmed? Shorten those work sprints.
Dragging? Lengthen the breaks. You set the rules.
There are also reminders so you don't forget when a new session starts, which is great if you struggle with time blindness.
To maximize focus, Focused Work lets you block distracting apps and websites during sessions.
It also integrates with iOS and macOS features like Focus Mode, so you can silence non-urgent notifications.
At the end of each work/break cycle, it prompts you to jot down quick progress notes.
Key Features
Simple Timer to start focus sessions
Customizable session durations for work, break, and planning
Reflection prompts after each session
Daily Goals and Streaks for forming habits
Distraction blocking during sessions
Time tracking integration with Toggl
Pricing
Focused Work is a free app with in-app purchases starting at $4.99/month.
The cool thing about Tiimo is that it uses visuals to map out your day. You'll see timelines, icons, and widgets that make your tasks super easy to recognize.
Tiimo breaks down bigger goals into step-by-step checklists, so you don't feel overwhelmed.
With Tiimo you can customize your own universe of icons and colors to match your personal style.
Use it to dump thoughts and turn brainstorms into actions with one click.
Tiimo is made for all kinds of thinkers—ADHD, dyslexia, autism, or just thinking differently. It's all about creating a world built for every brain!
Key Features
Visual daily planner with color-coded timeline and recognizable icons
Widgets act as planning coaches to keep you aware of tasks
AI-powered checklists break down big tasks into manageable chunks
Focus timers and reminders useful for ADHD
Customizable with 3000+ color shades and designed icons
Pricing
Tiimo offers a free plan and a 7-day free trial on the premium plan. The paid plan starts at $2.49/month with a lifetime plan costing $69.99.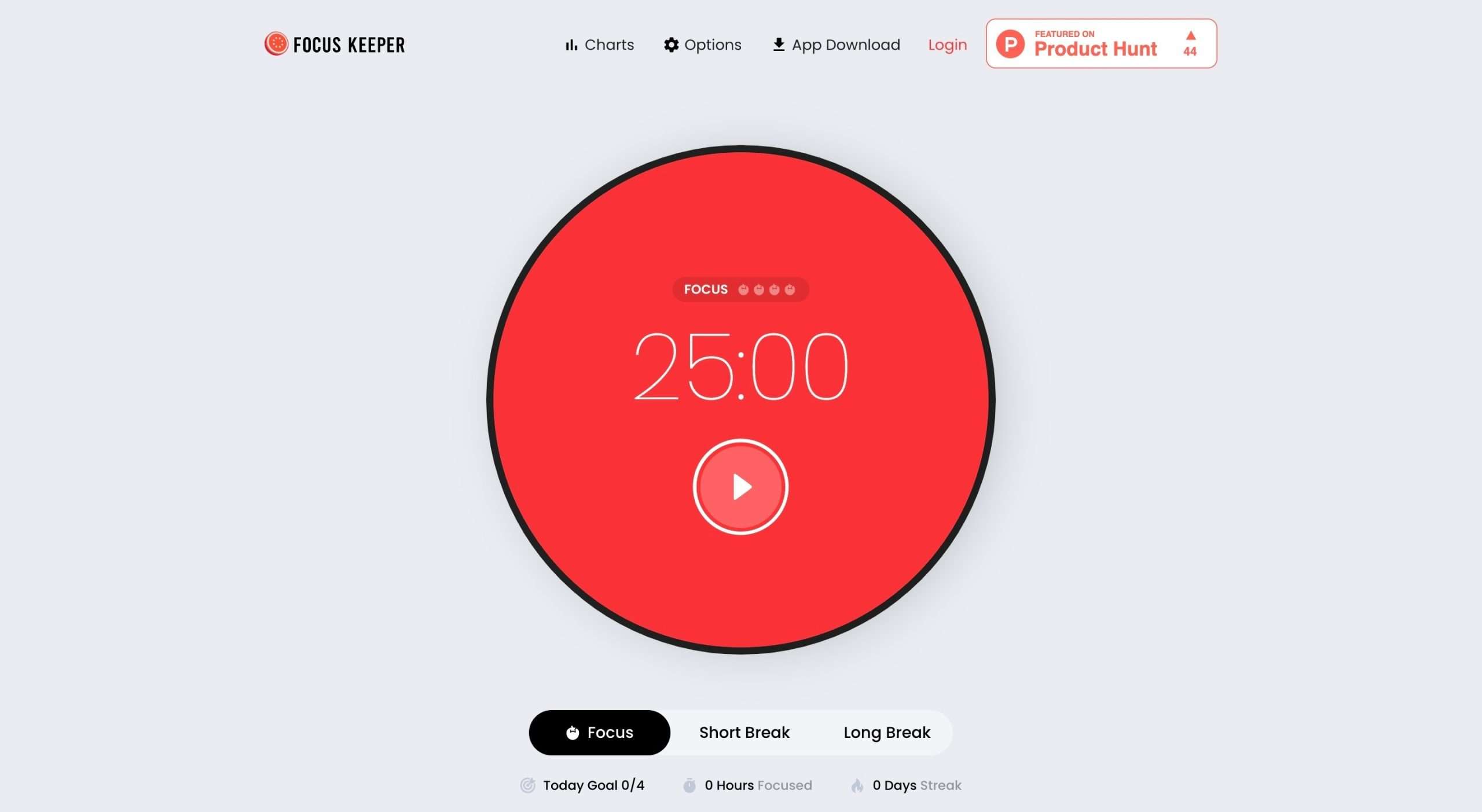 Focus Keeper is a customizable Pomodoro timer with task management capabilities.
Focus Keeper is an utterly simple app based on the popular Pomodoro technique, where you break up blocks of focused work with short breaks.
After four of these 25-minute work sprints, Focus Keeper steps in again and reminds you to take a longer 15-30 minute break to recharge.
Then it's back to the 25-minute work blocks. This whole work/break cycle really maximizes productivity while avoiding burnout.
In addition to the timed Pomodoro technique, Focus Keeper also lets you make customized to-do lists so you can keep track of tasks.
You can even estimate how many 25-minute blocks each task will take.
Key Features
Minimalist and intuitive interface
Customizable work and break session durations
Tracks the number of Pomodoro completed in a day
Android and iOS app versions are available
To-do list and task estimation features
Charts and statistics to visualize productivity over time
Pricing
Focus Keeper is a free-to-use app. It does come with monthly in-app purchases starting at $0.99.
Final Words
Whether you have ADHD or just struggle with time management, incorporating one or more of these amazing apps could be a total game changer.
With intuitive time tracking, goal setting, and focus features, you'll finally be equipped to optimize your days, master your schedule, and accomplish your most meaningful work.
Don't wait another day to feel overwhelmed.
Pick one of these brilliant apps now and see your productivity reach new heights this week!