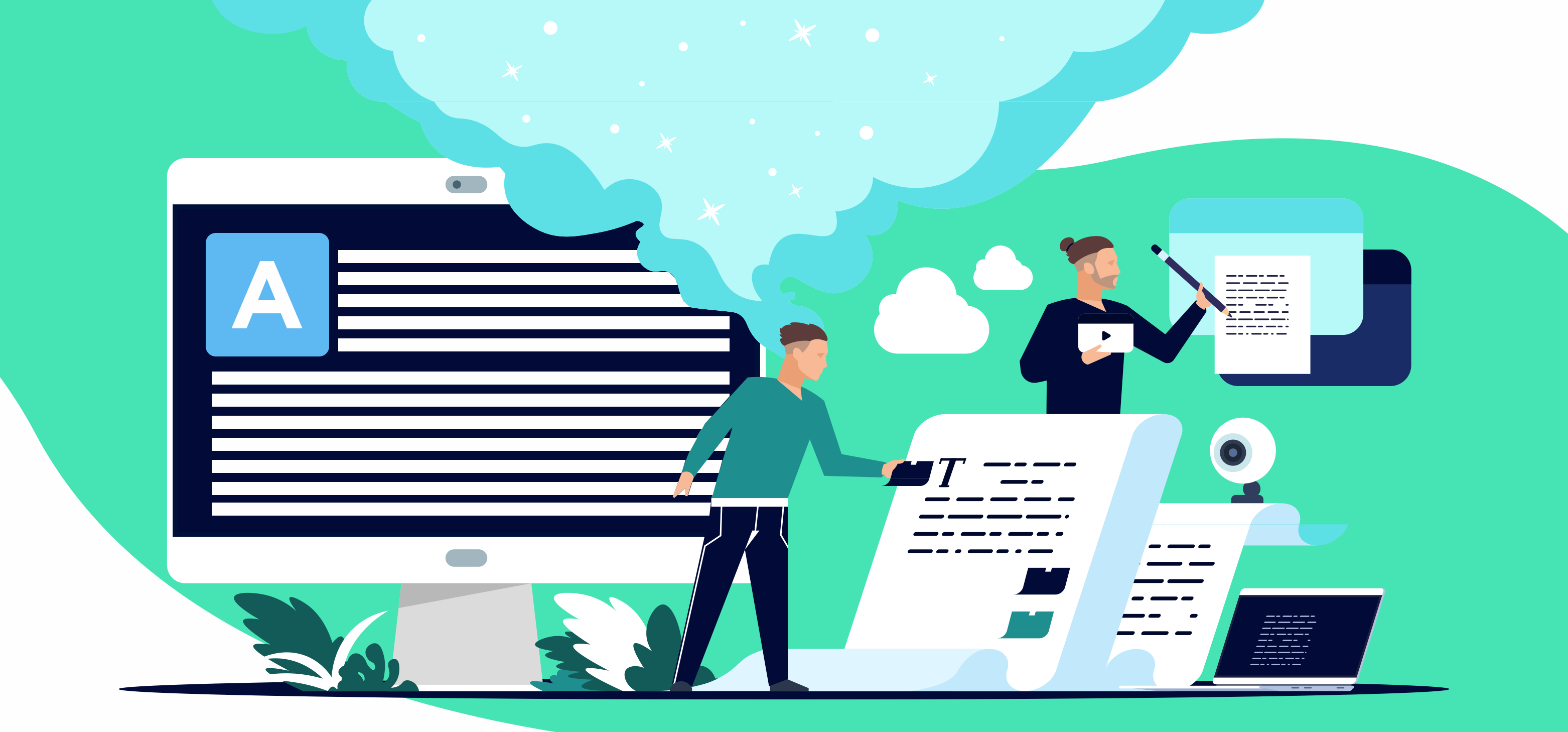 Struggling with your sales copy?
Copywriting typically follows a standard structure to drive maximum results.
You grab your lead's attention with attractive headers, interest them with a value proposition, build desire by offering a solution, and share CTAs to encourage action. Simple.
But while it may sound simple in theory, you might need a little more than a template to create a converting copy.
To help you brainstorm ideas for your project, I have listed down the 20 copywriting examples for inspiration.
Each will give you insights into the different elements that make up effective sales copies.
Let's dive right in.
Language learning brand Toucan offers a chrome extension that translates foreign words you come across while browsing any site. It makes it easier for people to learn new phrases without setting aside extra time for it.
Toucan is well aware of these pain points and takes full advantage of them in its advertisements.
In the above Facebook Ad, you'll notice it has specifically highlighted the second section to aim at its prospective customer's impatient nature. It instantly catches your eyes and makes you curious enough to explore it.
Takeaway
Toucan copy is a classic example of how to leverage your customer's desires. By pinpointing its target market's preference, it builds the urge to click on the Ad.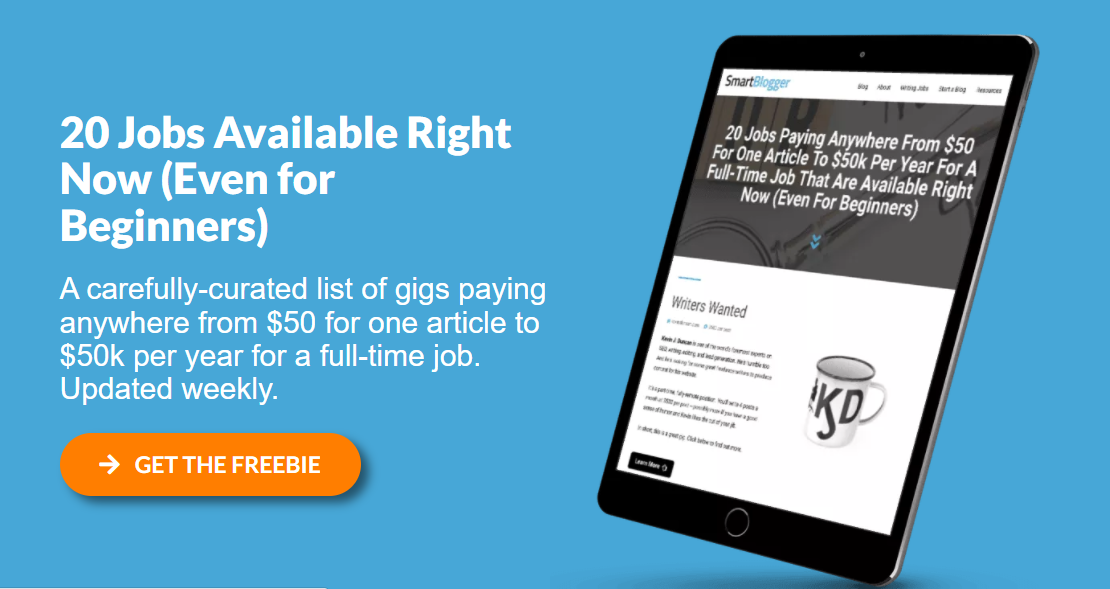 SmartBlogger generally employs several trigger phrases to lure its target market toward its product page.
But what makes it copywriting compelling are the specifications.
In the above Ad, SmartBlogger has quantified its product value and provided a clear picture of the deliverable.
The numbers in the headline give assurity, while the $50 to $50k statement creates a desire to learn more about it.
Takeaway
Numbers make your copy more authentic because they offer measurable value to your products and services.
If your potential customer can get a definite idea of what benefit they will receive, they're more likely to click on your Ad.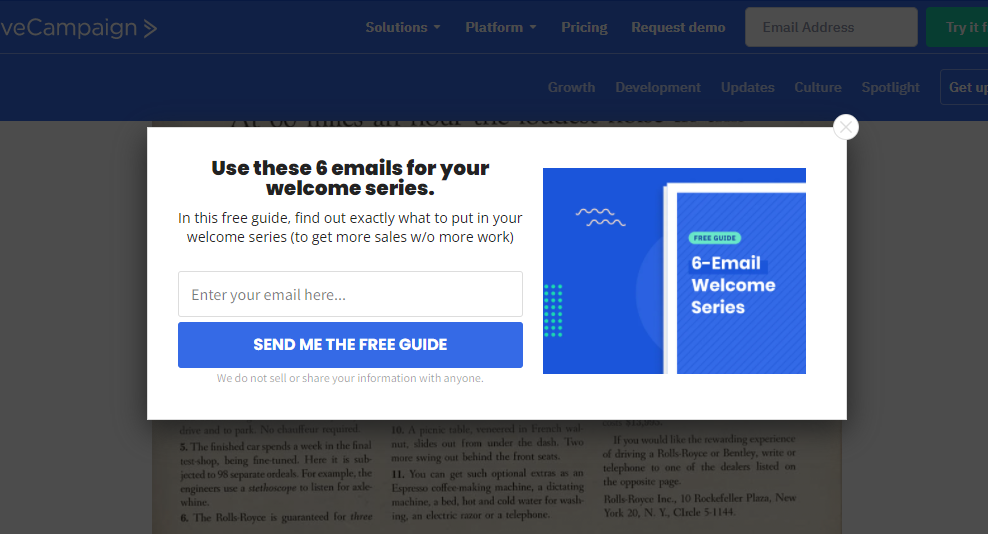 ActiveCampaign uses clarity and conciseness in its copywriting to convert leads.
As a B2B automation tool, most of its features fall under the technical category. While its target market generally is familiar with automation, not all are tech-savvy individuals.
To overcome the challenge, ActiveCampaign simplifies its copy by sharing exactly what it offers and what it will deliver.
If you notice, the above example clearly says you'll receive the "six emails" which will be enough to generate more sales.
Takeaway
ActiveCampaign copywriting offers a simple way to persuade your target market. It shows one can make their Ads equally effective by revealing the exact benefits.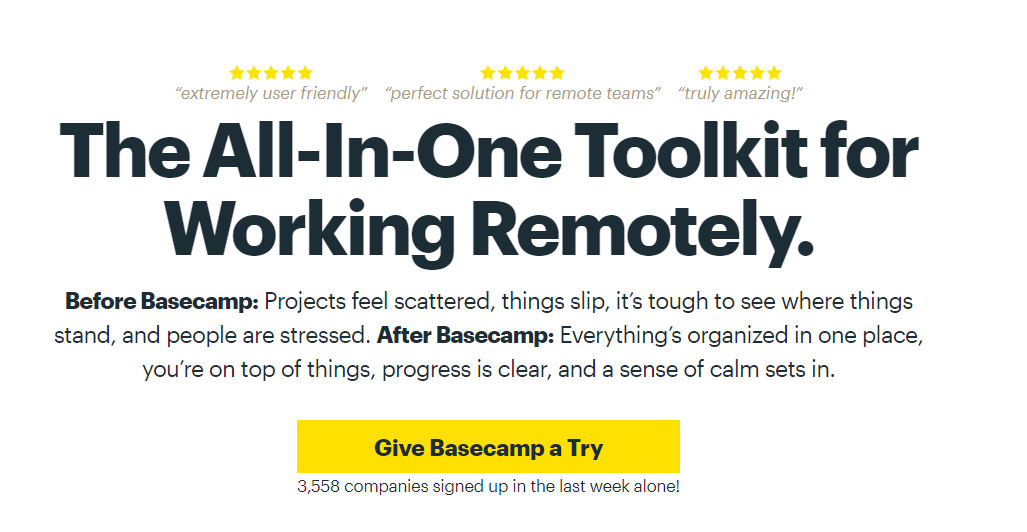 Basecamp's sales copies are popular for their colloquial and descriptive language. It uses a candid tone in its content to connect with its audience on a deeper level.
Check out its landing page above.
It has picked casual and descriptive sentences to let its target audience know it "understand" their struggle and can make their workspace more organized.
Its copy starts with triggered words people typically associate with challenges, followed by a CTA to offer relief.
Takeaway
Colloquial language comparatively, makes your copy more approachable. People respond better to informal content and are less likely to skim it.
Linkedin pursues multiple channels to promote its products and services, but one of its methods that I found most effective is interactive cold messaging.
Look at the screenshot of the direct message I received in my inbox.
It pitches its certification courses through a series of casual questions designed to lead me to its product page.
I would've ignored it if not for the urge it created to respond to the query.
Takeaway
Interactive copywriting is the best way to engage your audience without going through a sequence of emails. It's a time-saving tactic almost 50% of marketers employ to increase their customer retention.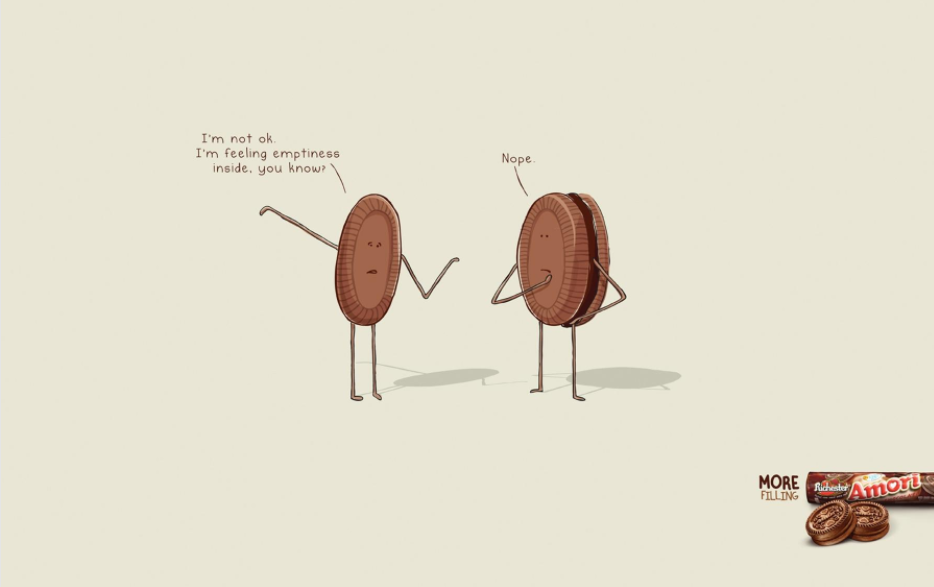 Amori chocolate, a few years ago, released a campaign called "more filling" to announce the addition of extra content to its biscuits.
It employed a mix of storytelling and humor to publish a series of static Ads that both drew chuckles and educated people on the upgrade.
It is a clever advertising technique nearly 30% of brands adopt to promote their products.
Takeaway
Humor typically holds a high risk of failure, but it's also one of the most powerful forms of copywriting.
It makes your content stand out and generates maximum engagement.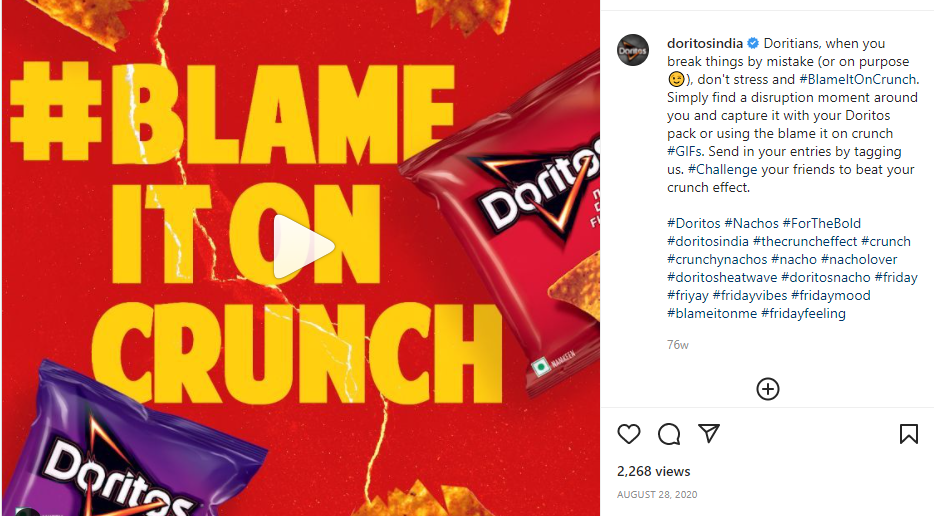 Snacks giant, Frito-Lay frequently takes advantage of sensory marketing to make its products more appealing.
It purposely uses descriptive words to trigger the sense of taste and invoke a response.
Dorito's product copy is a classic example of it.
The "flaming hot" and "spicy-sweet chili" flavors envision a specific taste in your mind. If you dive further into its sister brands, you'll find similar stimulating phrases in their campaigns as well.
Takeaway
Sensory words can transform your copy from plain text into a memorable experience. It targets the emotional side of your brand and stirs up the urge for impulse shopping.
5 Start, a subsidiary product of Cadbury, is well known for producing hilarious advertisements.
It has published some of the most memorable commercials that to date have driven thousands of views.
Do you know what makes its campaign successful?
The witty script.
Check out the above commercial.
It has molded Valentine's struggles into a humorous Ad to connect with its audience. The video was recently released, and it has already received twenty-nine million views.
Takeaway
Commercial scripting writing typically revolves around a story concept. You tell a story and offer a takeaway.
But how you deliver it is what makes it an effective script.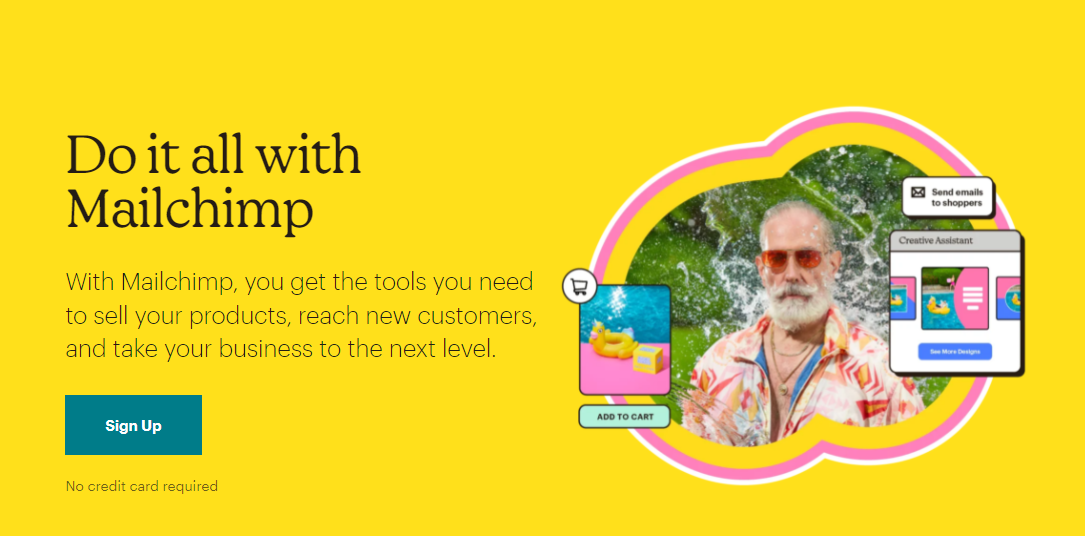 Mailchimp is a widely popular email marketing company, and much of its success is attributed to its in-depth understanding of customers' psychology.
As a small business owner, its founder had first-hand experience of how entrepreneurs think, and they leveraged that relevancy to build trust.
If you look at its website, most of the content comprises candid jargon solopreneurs typically use. It further backs it up with an affirmative tone and influential words to drive leads towards its product page.
Combined, they inspire confidence in its service and encourage action.
Takeaway
Industry terms leave a powerful impact on your audience's minds. It gives the impression you know what you're talking about, adding an extra boost of credibility to your copy.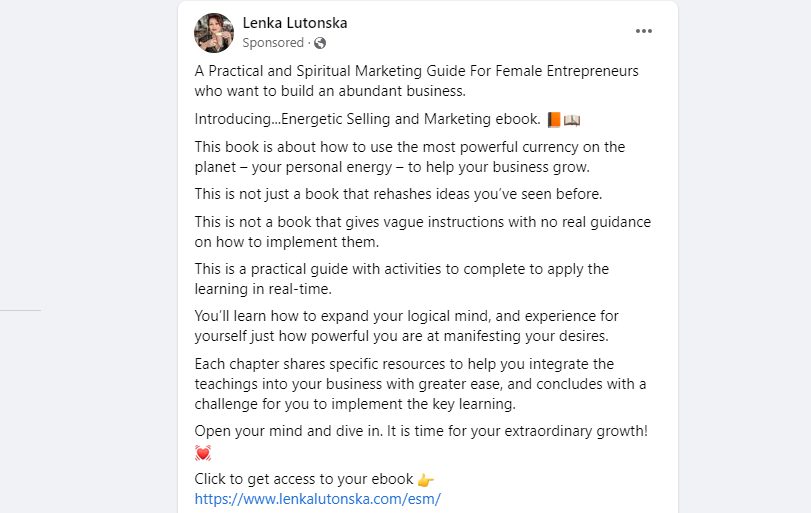 Lenka Lutonska is a personal development coach that offers marketing expertise to help women grow their businesses.
She generates high volume traffic on her Ads because of her super-targeted content.
The above image is one of her sponsored Facebook posts.
You'll notice it contains specific keywords to capture only struggling women entrepreneurs who wouldn't mind exploring a spiritual path to improve their business health.
The Ad alone brought Lenka Lutonska 3000 likes and 400 leads.
Takeaway
Targeted copies generally produce less traffic than those aimed at a large market. But they filter out irrelevant traffic and send more qualified leads down your sales funnel.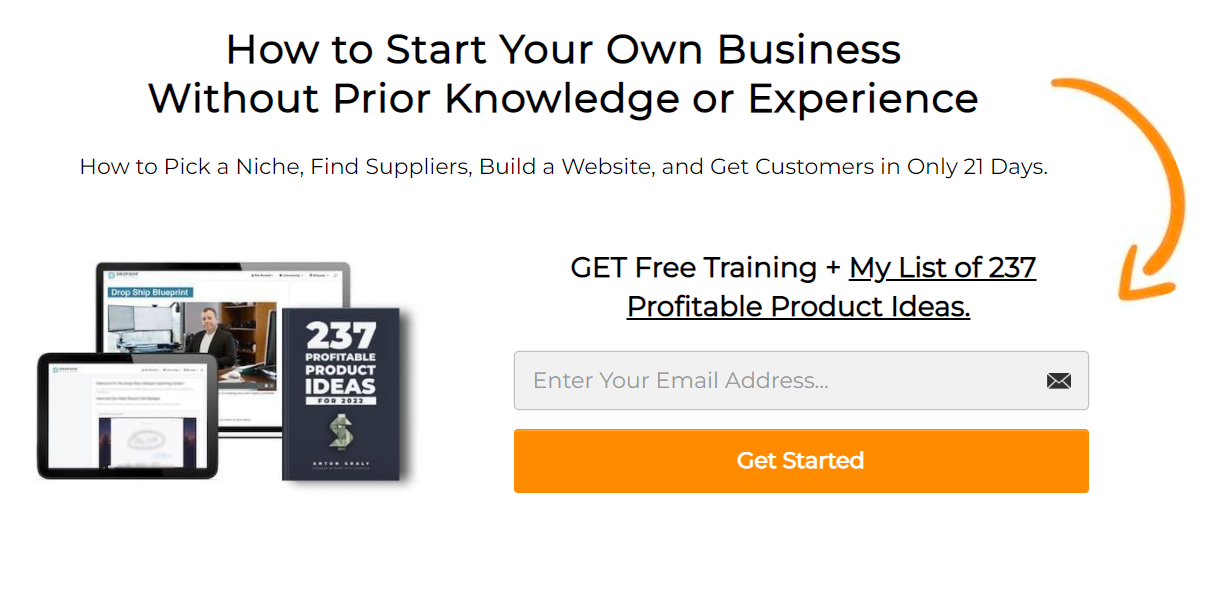 Dropship Lifestyle also trains emerging entrepreneurs on building a successful dropshipping business.
But unlike Lenka Lutonska, its copy is not super-targeted. Instead, it employs classic SEO copywriting to attract both organic and paid traffic.
Look at the sentences it has used on its squeeze page.
"How to start your own business" is a long-tail keyword that generates around 12k monthly searches. The "profitable products" bear a CPC of $2.73, and "Build a website" has a search volume of 90k.
The entire page is filled with phrases people frequently search for on Google.
Takeaway
SEO copywriting makes it easy for people to discover your business online. It's a highly effective advertising method that almost 85% of retailers practice to attract new leads.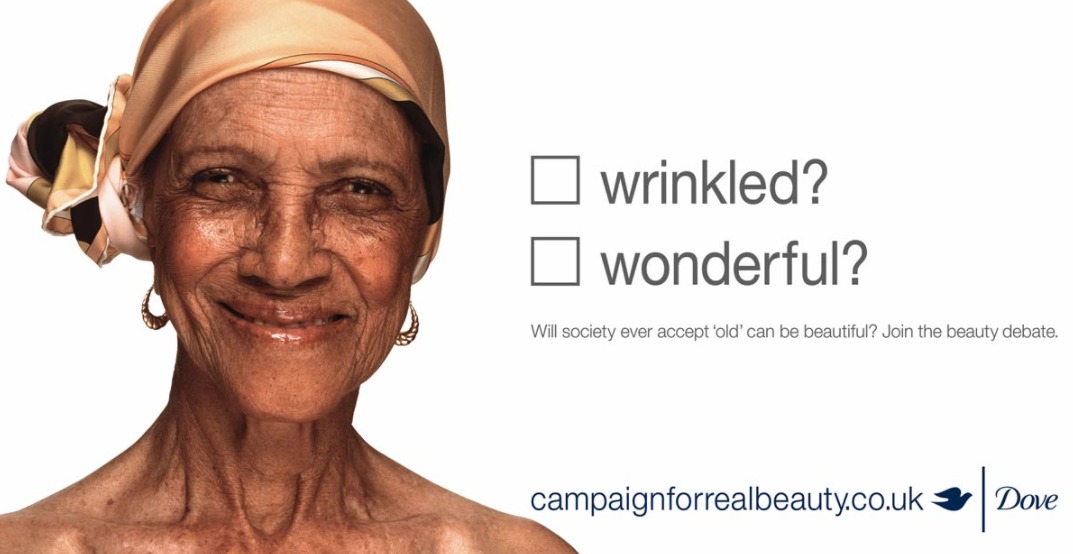 Dove is an ideal example of how manipulating a few words can create an entirely different image of your brand.
Since its inception, it has associated itself with purity and playfulness, using specific phrases like "creams your skin while you bath" to promote its soaps.
But in early 2000, it took a slight turn and changed its advertisement copy from "oh darling, I am head over heal in pink dove" to "old can be beautiful." With this one sentence alone, it broadened its target market to women of all age groups.
Its products are still the same, but the taglines have now altered its brand values.
Takeaway
Dove content strategy offers a glimpse into the impact of power words.
Most of its campaigns display a white background and minimalist themes, yet the choice of words garners massive attention.
Nike is legendary for stirring extreme reactions with its politically inclined advertisements.
It deliberately uses words that incite righteous anger to provoke its viewers to take immediate action.
The above campaign is one example.
The Ad caused massive controversy and brought a ton of negative comments on social media, but it ultimately delivered the results Nike expected—publicity.
Takeaway
Emotional marketing performs better than rational advertising and significantly affects your buyer's purchase decision.
It gets you more clicks on your post and increases your Ad's probability of going viral by 38%.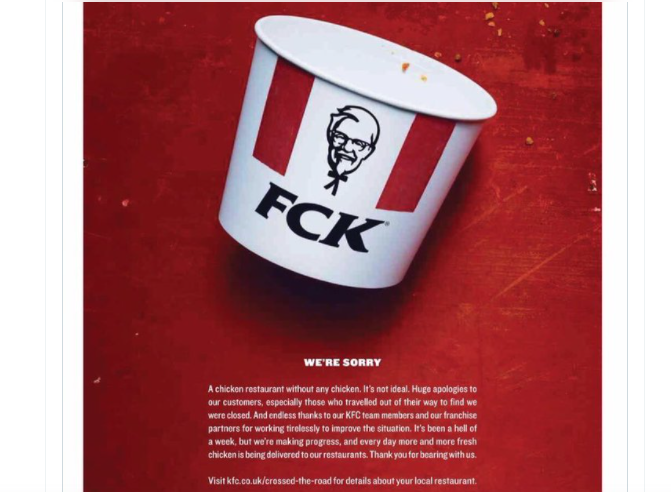 As a fast-food giant that faces periodical operations, mishaps and frontal rival attacks, KFC has become remarkably good at damage control. Its recent chicken crisis management is an excellent example of how it turns a disaster to your advantage.
The image is an apology KFC published in response to the chicken shortage event. It publicly admitted its mistake in a lighthearted manner promising to do better in the future.
The witty content coupled with acknowledgment reduced the intensity of the crisis and generated a positive response.
Takeaway
Transparency in the advertisement is a useful tactic that helps you improve your brand image.
It gains your audience's trust and works incredibly well in covering up the occasional mishaps.
Slacks' copywriting contains all the elements one needs to produce a persuasive Ad. It follows the 4Cs method to create clear, concise, compelling, and credible content.
Take a look at its landing page.
Its headline is super-precise, consolidating its core features into two words "Digital Headquarters." It is followed by paragraphs written in everyday language for clarity and enclosed with persuasive CTAs to incite action.
Takeaway
The principle of 4Cs offers a definite framework that turns vague content into professional sales copy. It's a common technique that is widely used specifically in the SaaS industry.
Eco-friendly outdoor brand Patagonia, in 2013, ran an Ad in New York Times to create awareness of its sustainability campaign.
The poster displays a blue jacket coupled with a page full of text detailing its initiative to reduce carbon print.
While the print Ad was pretty conventional, it was the headline that drew people's attention.
Patagonia used reverse psychology to generate curiosity in its audience. It's bold move boosted its sales by 30% that year.
Takeaway
Reverse psychology is a marketing strategy that influences customers to take the opposite action. It not only gets the desired results but makes your advertisement stand out.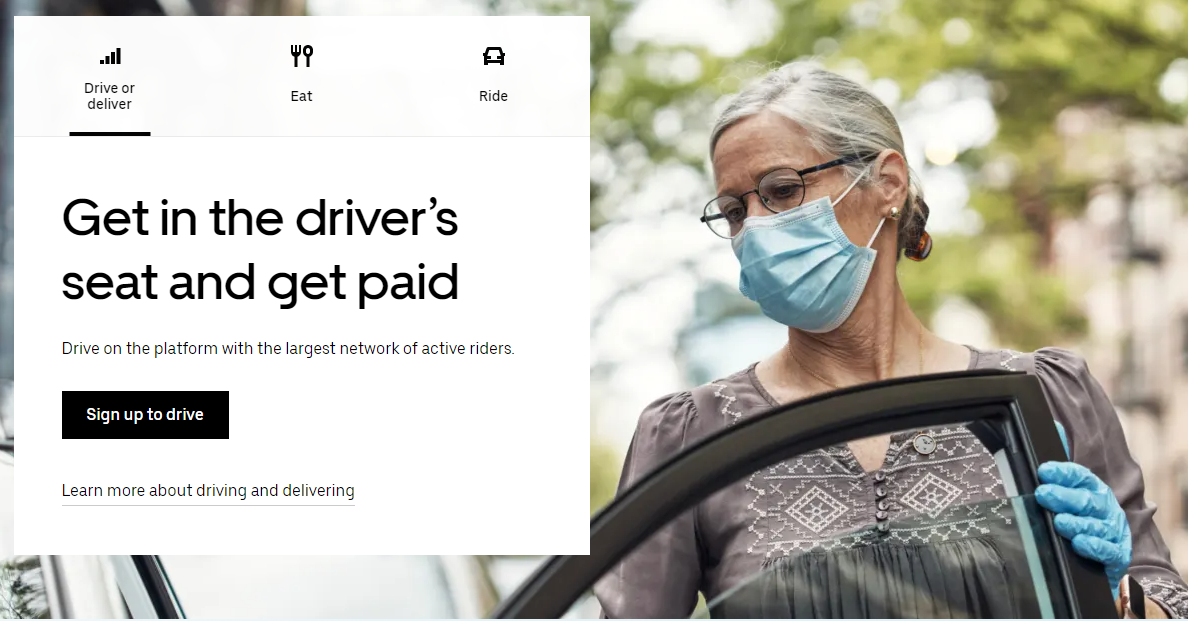 Uber follows a value proposition copywriting formula to generate traffic and convert that traffic into customers. It targets people's frustration and fear in its content to highlight its core values.
The above image is a screenshot of its homepage.
The headline is written in a way that makes the hiring process sound incredibly easy. The second line provides social proof, while the colloquial tone conveys a clear message.
The entire homepage copy revolves around Uber's value proposition, which is convenience and safety.
Takeaway
Value proposition gives you an edge over your competitors. It makes your Ads unique and helps you build a positive perception of your brand in your customers' minds.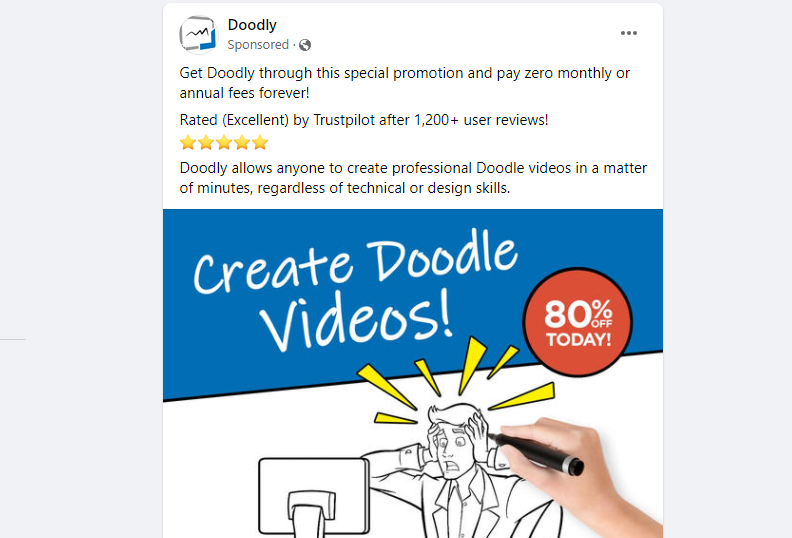 Whiteboard animation tool Doodly, generally gets high traffic because it powers them up with social proof and persuasive words.
In this advertisement, it has leveraged Trustpilot's ratings and influential phrases like "pay zero" to lure its target market, while capturing people's interest with a "free forever" hook.
If you explore its landing page, you'll see a similar structure in its applied on its website. The moment you click on the page, the first thing you'll notice is "over 1000,000 videos created."
Takeaway
Social proof is a psychological tactic to stir up people's subconscious desire to follow the crowd.
It has proven well for tons of brands and has the potential to increase your conversion by 270%.
Pepsi has a long history of employing competitive marketing to take a hit at its biggest rival, Coca-Cola. It makes its Ads highly entertaining and drives more comments and mentions on its posts.
Remarkably enough, the ensuing counterattack by its competitor gains Pepsi even more publicity.
The twitter image above displays a poster Pepsi published in 2013 and an equally hilarious retaliation from Coca-Cola. That Halloween campaign spread through social media-like fire and reached millions of people worldwide.
Takeaway
Competitive marketing is a traditional awareness strategy that helps you increase your brand visibility.
With it, you can highlight features that present you as a better option and distinguish yourself from their competitors.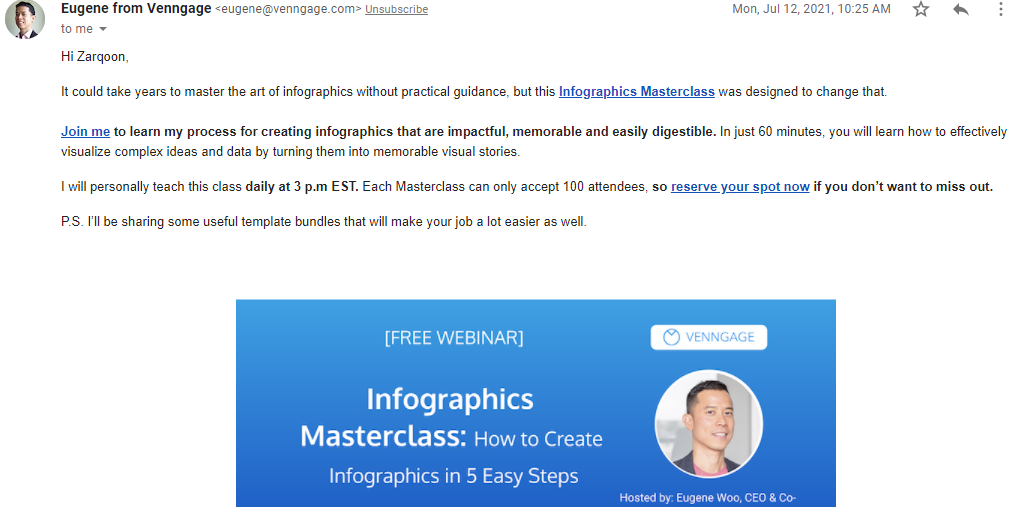 Venngage produces one of the best customer-centric email copies to convert leads. They are short, easy to read, and personalized to make you feel special.
This screenshot shows an email I received after a short tour of their infographic products.
The subject line starts with a question to incite curiosity. The email body triggers your desire for shortcuts, while the last line and a flattering CEO signature are designed to boost your self-worth.
Takeaway
Personalization helps you better nurture your leads and build a strong connection with your existing customer. Marketers who use targeted email campaigns get an impressive 760% boost in their overall sales.
Final Word
Before you begin your first draft, be mindful of the words you use in your copy.
Every phrase, you add, can both positively and negatively influence your prospect customer's decision. Even insignificant conjunction like "because" can increase your click-through rate by 34%.
Learn from the above brands and start producing copies that convert. Good luck!