Dropshipping is one of the best online businesses to start. Just think about it, you won't have to buy inventory, and the whole world is your market!
That means you can launch your online store in a matter of days with little to no budget. And if you do it correctly, in a few years, you'll make a 6-figure income.
However, if you wish to get to this level, you'll need to know a few statistics. That will help you understand what you're doing wrong and what to avoid when starting your first online business.
So if you'd like to know these 17 dropshipping statistics, keep on reading.
Statistic #1 – 6.3 Trillion Dollars by the End of 2023
Let's start with a statistic that shows you the opportunity at your hands. According to Statista, there will be a mind-blowing 4.89 trillion dollars worth of goods sold by eCommerce stores.
Quite crazy, isn't it?
Just think if you could get a fraction of this pie? Even 0.00001% would make you millions of dollars.
And that's not all. It's expected to continue growing by 21.9% next year.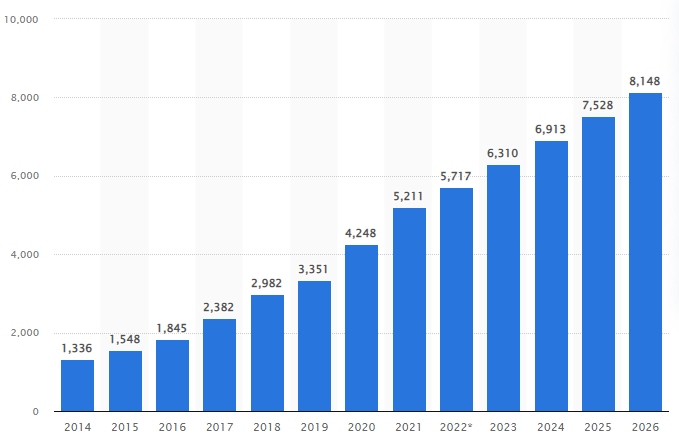 Statistic #2 – Average Sales Conversion Rate is 1%-2%
Now that you understand the massive opportunity you have, let's talk about the most important statistic – the conversion rate.
Think of this as a grade of your eCommerce site. The more significant the percentage, the better business you have.
On average, eCommerce sites have a 1-2% conversion rate. So when you have a conversion rate above, you'll already have a great store.
But if it's below or matches, you'll have to start finding your problem areas and start solving them.
Statistic #3 – Your Funnel Conversion Rate Will Drop 50% at Each Step
Confused? Let me explain.
When I mean that your conversion rate drops 50%, I mean that with each step, you should expect to lose half of the people.
Let's say that you get 100 visitors. Then with a great store, this is how your sales funnel should look:
From the 100 visitors, you should expect only 50 of them to add a product to your cart.
Then only 25 of them will get to the checkout.
And only 12-13 will become your customers.
So when looking at your conversion, keep that in mind. So, for example, if you see that you have 100 visitors, but only ten add-to-carts, you know where to look for problems.
Statistic #4 – POAS
As most dropshipping stores get their sales from advertisements, having a great POAS is extremely important!
But what is it, exactly?
Well, it is an acronym for Profit On Ad Spend. It's a statistic that shows how much profit you made per 1 dollar spent on ads.
That statistic is usually confused by ROAS (also known as Return On Ad Spend). Here are the key differences between them:
ROAS – This metric will show you how much revenue you've made. So when you've spent $20 on ads and got $100 in sales, your ROAS is 400%
POAS – This metric, however, shows you how much profit you've made. That means it will also consider product costs, shipping, and other expenses.
Statistic #5 – Facebook Ad Frequency
Another ad-related statistic you want to know is your Facebook Ad frequency. It's a metric that is extremely important and heavily undervalued. But what are these statistics?
Well, statistics will tell you how many times a person has seen your ad. That will help you understand when to stop your ad campaign so you won't waste money on audiences that aren't interested anymore.
Just think about it, when you've seen an ad a couple of times, you don't stop and look at it, right? Instead, you skip it and continue scrolling through your feed.
So at what frequency should you stop your Facebook ads? That depends on your audience, but as a general rule of thumb, your metrics should be:
For Colder Audiences: Frequency of 2-2.5
For Warmer Audiences (Retargeting ads): Frequency of 5-7
Statistic #6 – Urgency, Scarcity Should Double Your Conversions
Scarcity and urgency are the best motivators for closing a sale. That's because of FOMO (also known as Fear Of Missing Out).
If you've created an offer that lasts for 24 hours only or you're selling a certain quantity, your potential customers cannot delay their purchase.
Instead, they'll choose at the spot if they'll buy or miss out on a great deal.
So thanks to this effect, your sales should double. If they don't, it could mean two things:
Your offer might suck
Or the product isn't appealing to your target market
Here's how Sephora, a popular beauty brand, creates urgency ("Selling Fast") and scarcity ("limited edition", "only at Sephora").
Statistic #6 – Free Delivery is the #1 Reason Why People Shop Online
So why do people buy online instead of going to your local mall and getting it that way? That's because it isn't as convenient as buying off the internet.
The biggest reason why people buy stuff online is free delivery.
That means you should always have a free delivery option. That way, you'll make sure that most people won't abandon their carts!
Statistic #7 – 66% Buy From People With More Shipping Options
As mentioned in the previous statistic, most people shop online due to free delivery. However, that doesn't mean that you should just offer free shipping and be done with it.
According to Dropship Lifestyle, a considerable 66% of people buy from stores that offer multiple shipping options. So adding a second premium shipping option could be beneficial.
However, make sure that the price isn't something crazy like $70.
Statistic #8 – You Only Have 15 Seconds to Grab the Attention of Your Visitors
Unfortunately, people's attention span is lower than it has ever been. And that's for a good reason!
Every day thousands of ads try to grab your attention, so it's difficult for anybody to give their entire focus to something.
That is why it's so important to have an excellent online store. So let's say your visitors land on a product page. Here are a few things your website should have:
A Professional Design – If you want to make sales, you need to look professional! So make sure the colors, font choice, and theme work for your niche.
A Lot of Visuals – Having visuals is vital. These will make your store look more authentic and help the audience imagine owning your product. Bonus points if you make some GIFs or videos as well!
High Readability – When writing your product description, make sure that it's effortless to read. If it's not, your customers won't read the pitch in it. Use Hemingway Editor to make sure.
Check out The North Face's website for an example of simple yet eye-catching website design.
Statistic #9 – Customers Trust Product Reviews More than Product Descriptions
If there's one statistic I want every beginning dropshipper to know, is this:
"81% of customers trust product reviews more than your description."
That's because this makes it look less like a scam, as others have bought it and enjoyed it.
So your first goal is to get as many 5-star reviews on your store as possible. Then it will become more effortless to sell. You can boost this by importing Aliexpress reviews with apps like AliReviews (Shopify).
Statistic #10 – 96% of People Stop Buying Because of Bad Customer Experience
Returning customers are where the most money is made in an eCommerce store.
That's because you don't have to sell that hard with them anymore; they already bought and liked your products!
So it's crucial to keep them happy. That's because if you fail to give a great experience, 96% of your customers will stop buying from you.
So make sure your experience is up to your customer's expectations.
Statistic #12 – Easy Way to Contact Builds a Trust
Another way to build trust is to make it easy to contact you. Not only does it make you look more professional and trustworthy, but it can also help you boost sales.
So make sure not to hide your emails and phone numbers.
Also, if you can, be sure to add a messenger chatbot. This way, they can always contact you, no matter what problems they face.
Here's an example from an Indian organic beauty products brand, Mamaearth. The live chat on their website makes it easy to get answers to any queries you might have.
Statistic #13 – 80% of Shopping Carts are Abandoned
As we said above, the conversion rate will drop 50% after every step, and that statistic proves this point. But that doesn't mean all shopping carts are abandoned.
While it's true that most abandoned due to shipping being too expensive, it's not all of them.
For example, something might have gotten up, and your buyers just forgot. So instead of giving up, be sure to send them a cart abandonment email.
According to Oberlo statistics, the open rate of these emails is comparatively high. So make sure to send them!
Statistic #14 – 45% of US eCommerce Sales are Made on Mobile
It should come as no surprise that a significant number of sales come from mobile. According to Business Insider, this is as high as 45% and continues to grow over the next few years.
That means you need to optimize the experience for mobile users. But unfortunately, most beginners don't do that. They just design Shopify stores on their computer until it looks good on their screen and won't bother testing it out with their phone.
So if you want to continue getting impressive sales, you must make sure it looks as good on mobile as it does on PC.
Statistic #15 – 80% of Consumers Say Sustainability is Important
In a recent study, IBM found out that, for millennials, the sustainability of your product is a major deciding factor for purchasing.
That means if you're selling sustainable products, you can add this as a benefit to your product description.
However, please don't lie about it! You'll be just ruining your reputation for a quick buck. So instead, ask the supplier about the product's sustainability.
If they mention any eco-friendly things like recyclable packaging, be sure to mention it on your product page. You might see a slight increase in conversions.
Statistic #16 – 65% of Online Consumers Prefer Localized Languages
One of the most underrated ways to find new clients is by making your page multilingual. According to statistics, 65% of people prefer to buy on sites in localized languages.
So, if you can, try to translate your site into multiple languages. That is both beneficial for sales and SEO. With it, you'll be targeting less competitive keywords!
NB! I don't recommend you to have languages that you don't know!
That's because if you use these languages, potential clients expect you to help them in their language. And Google Translate won't help you there!
Statistic #17 – Online Stores with a Social Media Presence Have Up to 32% More Sales
And lastly, let's talk about the power of a social media presence for your dropshipping store. Bigcommerce found out that social media channels tend to boost sales by 32%.
Not bad, huh?
So when you're starting, be sure to create at least one social media page. But before you go, let me warn you about one thing. You probably won't get any sales.
The fact is, social media isn't a marketplace for you to sell. That's why you have an online store in the first place!
But what social media is for is to convert strangers into acquaintances. That could later lead to an interested buyer.
So focus on that by taking pictures and videos of your product and making it look as attractive as possible.
Conclusion
And those were the 17 statistics that every beginning dropshipper needs to know about! I hope you found this article helpful and with the newly-acquired knowledge, you'll find success.
Just think about it. With this knowledge, you'll be able to do so many things:
Identify the problems with your ad campaigns.
How to build trust and authority.
Trends of the current market.
And so on.
So act, and soon you'll find yourself flooded with sales.
Read to get started with Dropshipping? Check out our list of 15 best Dropshipping platforms for beginners.