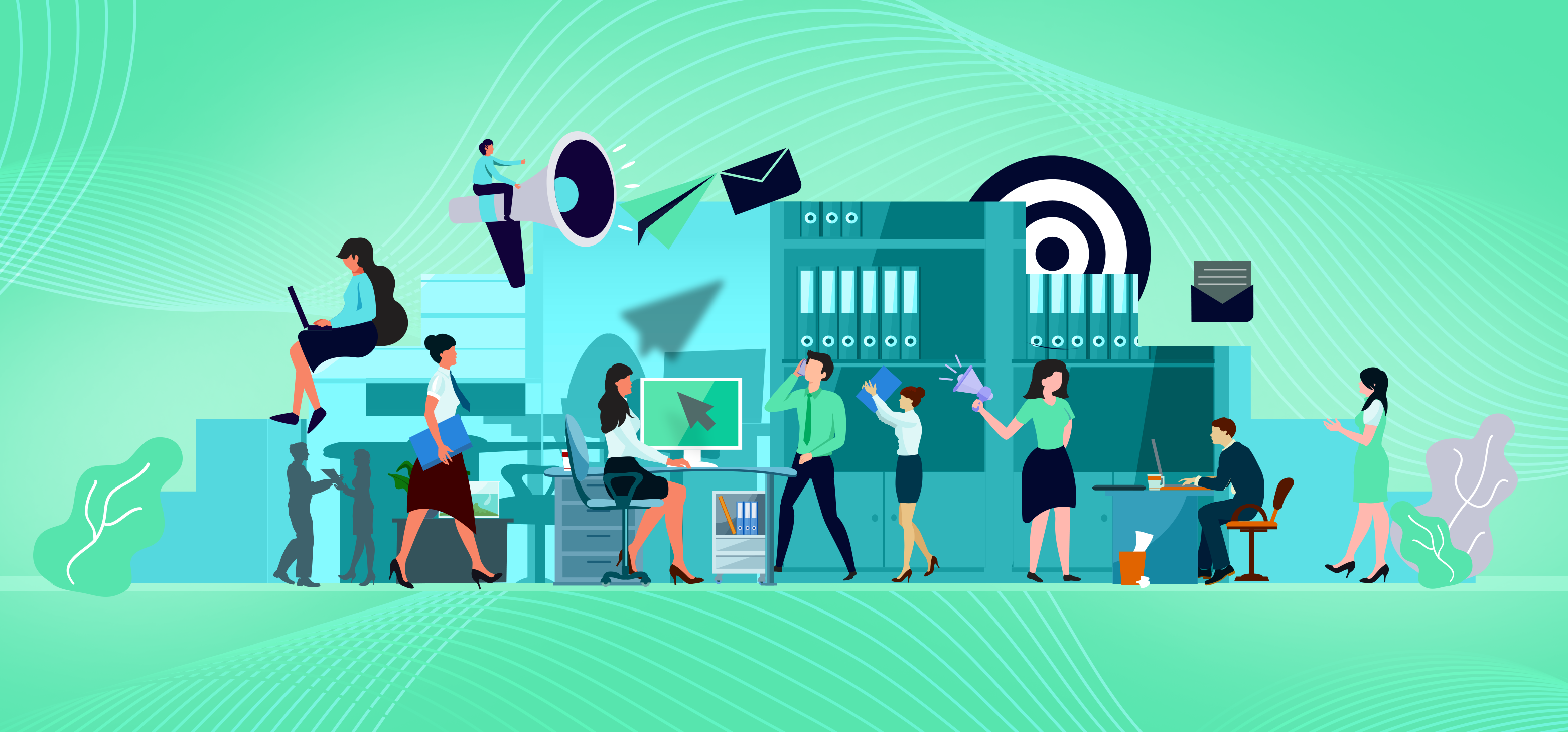 Entrepreneurs have a lot on their plates.
Whether they're looking to expand their businesses, launch a new product line, or simply keep track of their current clients and employees, they have a lot going on at any given time.
Falling behind is the last thing an entrepreneur wants – so what's the best way to stay organized?
Luckily, there are a ton of apps out there that business owners can utilize to help them stay focused and on top of all their projects.
From apps that help you stay organized to apps that simply remind you to take breaks, entrepreneurs, and hustlers of all types will find these apps useful.
Did you forget about that book or that article the moment you read it?
One of the reasons is that you didn't take notes. If done the right way, note-taking can do wonders for you.
Obsidian can be of help. It is a great knowledge management tool for entrepreneurs.
It allows you to capture all of your thoughts and ideas in one place, making it easy to access them when you need them.
Obsidian can act as your second brain that you can carry wherever you go.
After adding your notes, Obsidian organizes it for you in different views like graph view and helps you be creative with your notes by mixing relevant ideas and coming up with something epic.
Additionally, Obsidian includes features such as page preview on hover, table of contents, site navigation, quick search, themes and more to speed up your productivity.
Obsidian Features
Page Preview
Table of Contents
Customizable Themes
Organized knowledge management
Obsidian Pricing
Obsidian is free to use for individual users and for personal use. Their premium version (they call it Catalyst) costs around $25 at a one-time fee.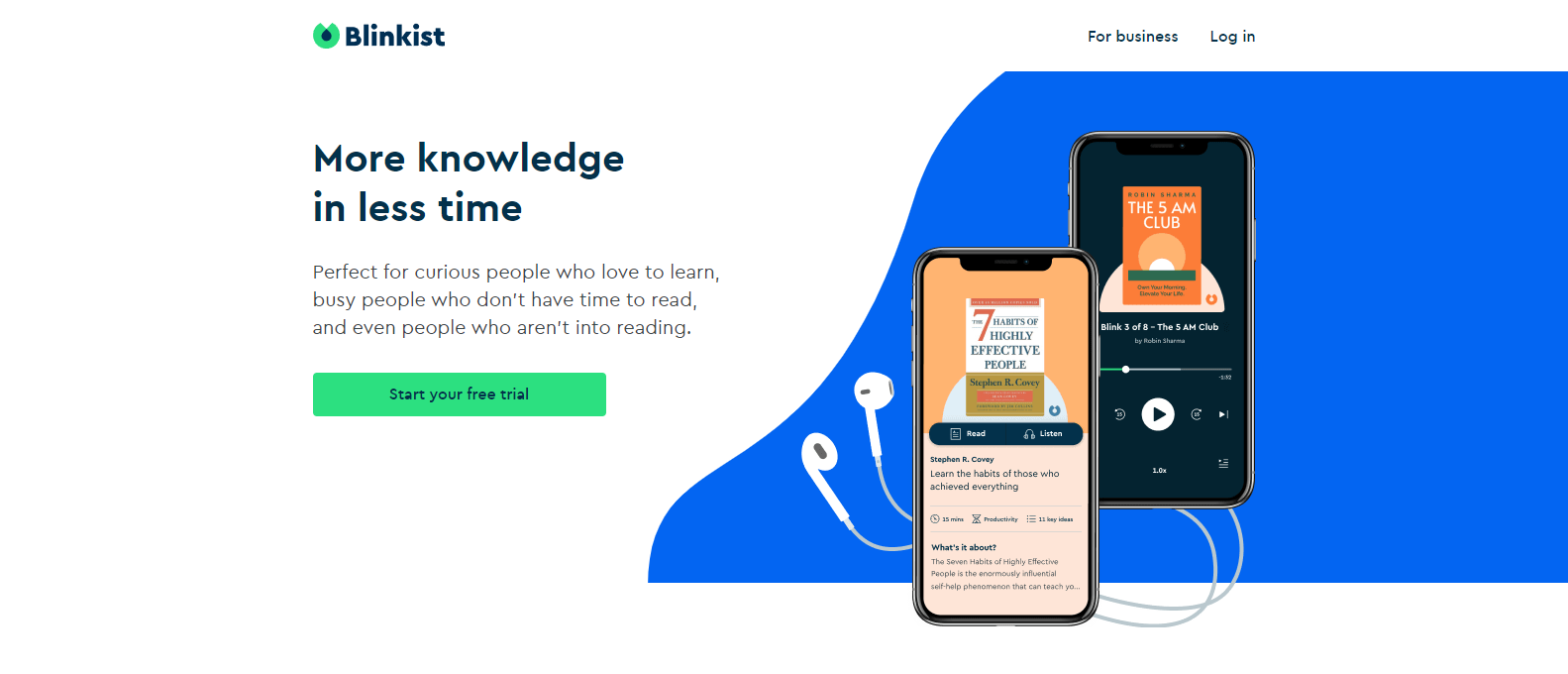 When you read something, do you ever find yourself thinking:
"I don't have time to read this right now.  Can I come back to it?"
Blinkist is here to help you out – it offers an extensive collection of nonfiction books that are condensed down so you can read them in 15 minutes.
Best of all, the app syncs automatically so you can read on your smartphone or tablet as well.
You can either read or listen to the podcast version of the book, making it flexible to use while attending errands and even gyms.
If you are running out of time but can use a few minutes, then their Shortcasts feature can be of great help.
It quickly provides key insights about any podcast/book that you want to attend.
As an entrepreneur, one thing that you should constantly do is to learn new stuff, and Blinkist helps you do that.
Blinkist Features
Extensive nonfiction books library
Sync across all your devices
15-minute summary of each book
Bookmark your favorite insights, passages, and ideas
Blinkist Pricing
Blinkist offers a 7-day free trial. Their monthly premium plan starts at $6.69.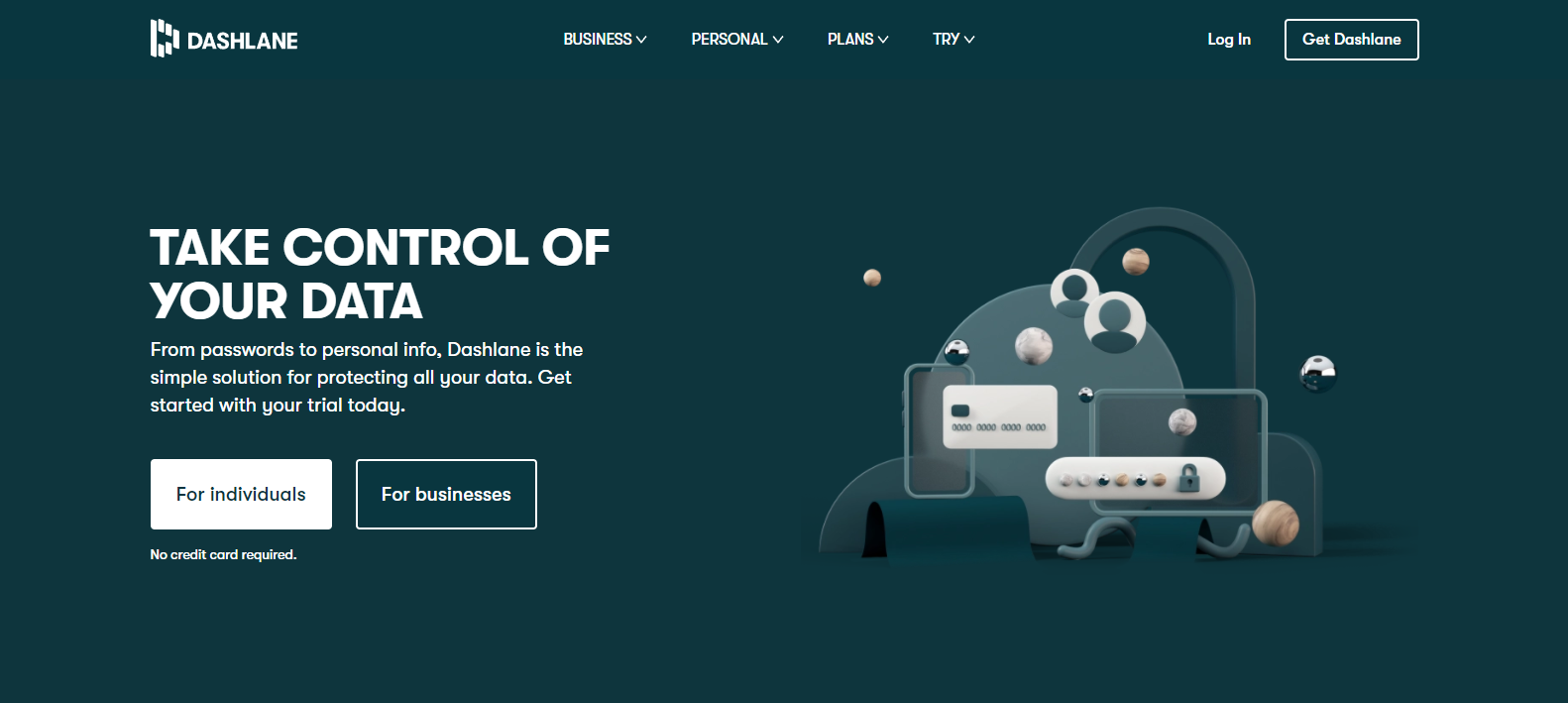 Dashlane is another smart app that can help entrepreneurs do their best at work.
It has reliable encrypted technology to store passwords, credit cards, personal information, and more.
It keeps your data encrypted so you can feel safe knowing your digital life is secure. Best of all, it syncs across devices so you never have to type in a password again.
Dashlane also has an award-winning security team that continuously scans the app for vulnerabilities.
As an entrepreneur, one thing you shouldn't have to worry about is the security of your data, so Dashlane can help provide you with peace of mind.
Even sharing of passwords among apps is highly secured thanks to Dashlane.
Dashlane Features
Keeps all your data safe with secure encryption
Syncs across devices
Shared password security
Password health score
Dashlane Pricing
Dashlane has a free version that stores up to 50 passwords and the Premium plan which allows you to store an unlimited number of passwords for $3.99/month. The Family Plan costs $5.99/month and allows you to share up to 6 family members as well as store an unlimited number of passwords for them.
As a busy business professional, you don't always have time to worry about organizing tasks and checking them off your list.
That's where Freedcamp can help by providing you with an easy online project management tool that is suitable for businesses of any size.
It is an intelligent project management tool that not only helps you create tasks but also assists in completing them.
Within the Freedcamp, you can share passwords among your team, securely, bill your clients (with in-built time tracking), store your customer's contacts and even integrate with other useful productivity apps like Google Calendar.
The best part is that it has its own calendar where you can easily see due items and other milestones.
Freedcamp Features
An easy-to-use task manager
Time tracking with in-built reports
Client billing integrated
Additional features like Gantt Chart and Issue Tracker
Freedcamp Pricing
Freedcamp has a free plan that includes unlimited projects, users and storage along with other essential features. Their Pro plan costs $2.49/month and the Business plan costs $8.99/month.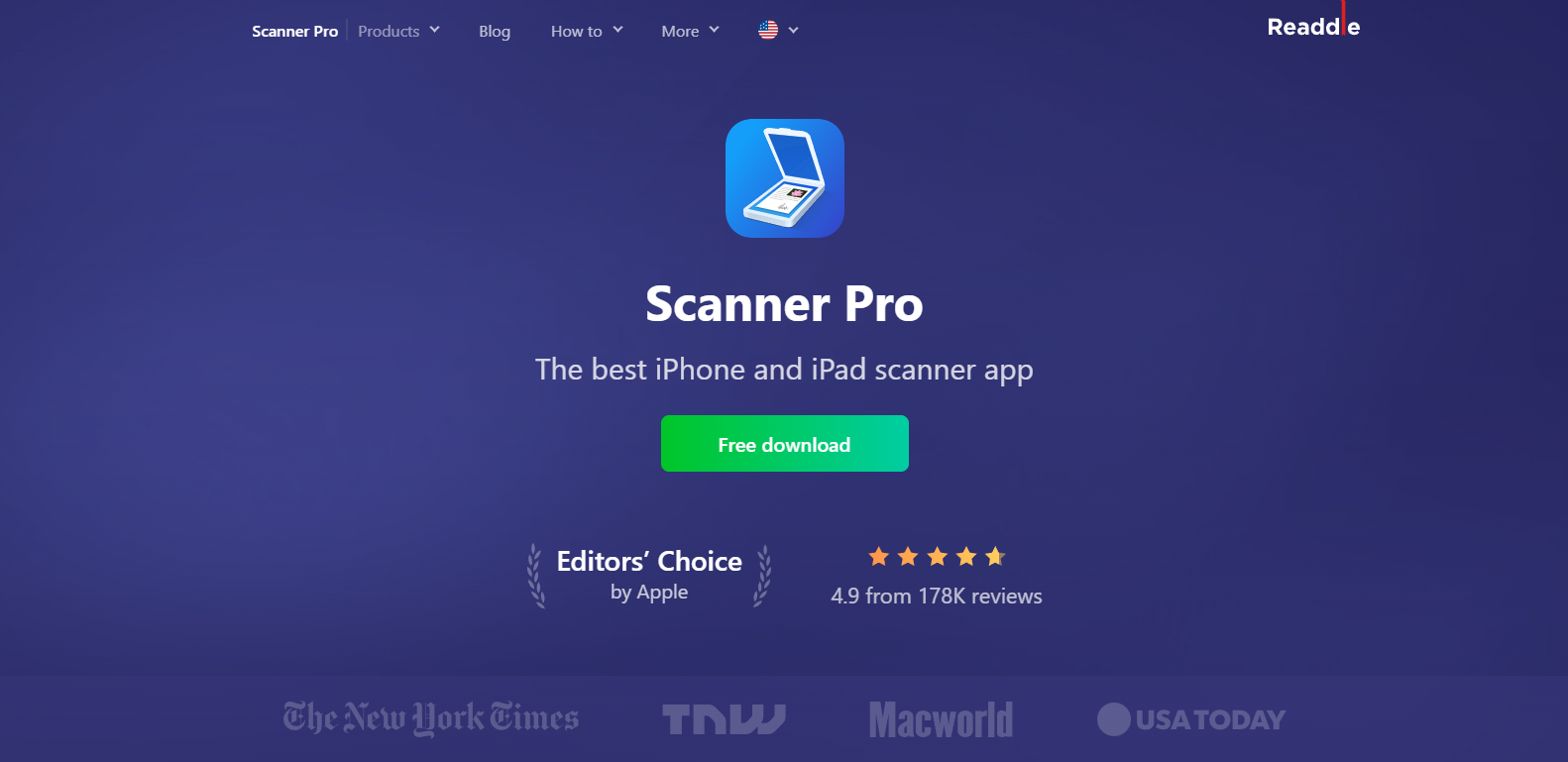 As a business professional, you need to be able to scan and store important documents quickly.
With Scanner Pro on your device, you can take a picture of any document and save it as a high-quality PDF file.
Best of all, it also has OCR (Optical Character Recognition) that allows you to search within the document and save it as a searchable PDF file.
There is also an option to store filed documents in the Cloud for easy access anytime and anywhere.
Scanner Pro allows you to sync across devices so you can create and edit files from your iPhone, iPad or Mac computer using iCloud Drive.
Scanner Pro Features
Create high-quality PDFs
Optical Character Recognition (OCR)
Filed documents in the Cloud
PDF annotation capabilities
Scanner Pro Pricing
There is a free version of Scanner Pro, which includes limited features and storage after conversion. Their Pro version costs $19.99/year as the in-app purchases.
QuickBooks is a must-have for any entrepreneur who wishes to manage their business finances on the go.
This app keeps track of business expenses and sales, keeps your accounting in check, and makes tax time easier. You can also import financial data from multiple apps and bank accounts into your QuickBooks account.
It automatically tracks mileage driven with the help of your phone's GPS system (perfect for Uber drivers) and helps you easily categorize all receipts. 
You can also use their built-in annual profit/loss statement to quickly see if you are making more or less money than usual.
Lastly, they have a dedicated support team to help you out if ever you encounter any issues with their app.
QuickBooks Features
In-app accounting
Accountant mode
Instant balance updates
Live bookkeeping
QuickBooks Pricing
QuickBooks offers a 30-day free trial. They have one plan for the self-employed that costs $15/month and has 4 plans for small businesses:
Simple Start ($25/month)
Essentials ($50/month)
Plus ($80/month)
Advanced ($180/month)
Clean.email is a smarter email management app that lets you declutter your inbox in order to save time and reduce stress.
Its Auto Clean rules assistant automatically manages your emails for you, giving you the opportunity to focus on what matters most.
Clean.email detects any important emails among the unimportant ones and notifies you via a daily digest or push notification so that nothing gets missed out.
You can even customize these notifications and choose when and how often they show up.
Their dashboard is easy to use and lets you take control over your emails. From the dashboard itself, you can move selected emails to trash, start auto-cleaning, read later, and more.
Lastly, you can create filters, group similar emails together, and mute emails from the app itself.
Clean.email Features
Conversation view
Priority filters
Emails sorting
Daily email digest
Clean.email Pricing
Clean.email allows you to clean up to 1000 emails for free. Their premium plan for one user costs around $10/month with unlimited access to all the features.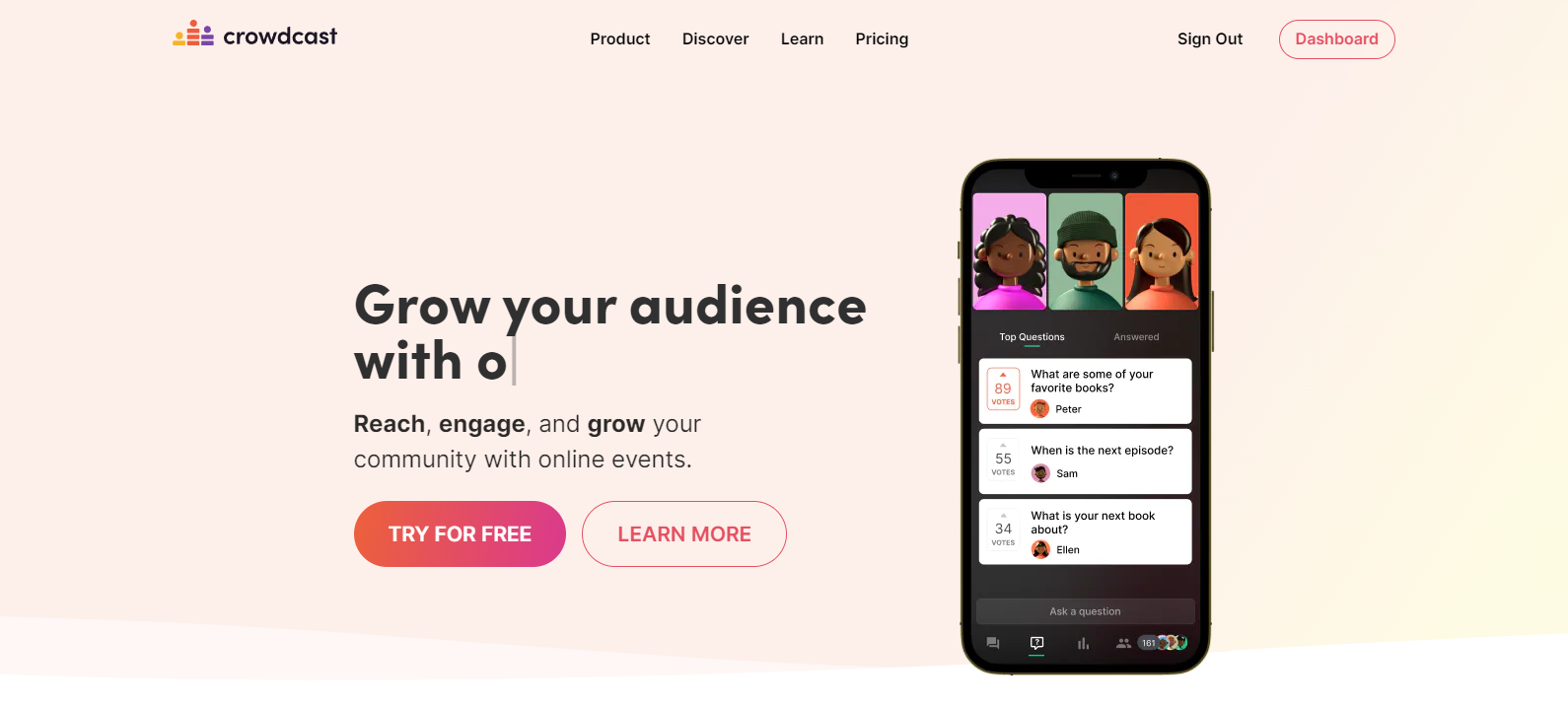 Crowdcast is a live-streaming video app that lets you share your ideas, thoughts and what's happening at the moment with your audience.
It helps you build stronger relationships with your clients or customers by providing real-time updates across all devices.
You can also create detailed reports around specific events to better understand your audience.
Crowdcast integrates with a wide range of third-party apps like MailChimp, Zapier or Slack to help you communicate with your audience effectively.
Unlike other webinar platforms that do not have generic specializations, Crowdcast not only helps you start seamless live streaming but also allows you to conduct webinars, meetings, and presentations.
Crowdcast Features
Live-streaming capabilities
Video conferencing options
Event reporting tools
Question polls feature
Crowdcast Pricing
Crowdcast offers a 14-day free trial. Then you can select between their four plans: Starter ($29/month), Lite ($49/month), Pro ($89/month), Business ($195/month).
Unroll.me is an intuitive email management app that helps you unsubscribe to irrelevant newsletters, track what your friends are subscribing to, and manage other subscriptions in one place.
It also helps you manage your email address book and get rid of any duplicate or invalid entries.
Unroll.me allows you to create separate folders for subscriptions like Promotions, Social media updates; Updates from favorite websites, etc.
With Unroll.me, you can easily unsubscribe to all newsletters at once with just one click.
With their intuitive category feature, you can group similar emails together and with its smart intelligence, Unroll.me does that for you automatically.
Unroll.me Features
Comprehensive email organizer
Email unsubscriber
Personalized dashboard
Categorize emails specifically
Unroll.me Pricing
Unroll.me is freely available on Google Play as well as on App Store.
Streaks is a productivity app for Apple users that supports them in forming healthy habits that stick forever.
As the name suggests, it allows you to track your habits and routines daily with their to-do list, and whenever you complete your task, your streak gets extended.
Once you start a habit, Streaks will create a new row every day to achieve it.
The good thing is that it tracks both the streaks as well as your progress in one place. So if you miss a day while pursuing your goals, your streak breaks and resets to zero days.
You can easily measure your daily, weekly and monthly performance with the help of their interactive charts.
Streaks Features
Intuitive habit tracker
Scheduled reminder option
Friendly reporting graphs
Minimalistic design
Streaks Pricing
Streaks costs $4.99 at a one-time fee for lifetime access on almost all Apple devices (including the iWatch).
Zokri is a Key Performance Indicator tool that helps you create a solid strategy for your plans with the help of globally recognized frameworks such as Strategic Pillars, OKR, Balanced Scorecards, and more.
With Zokri, you can easily allocate your time for different initiatives, measure their performance and compare them against each other.
It offers various business templates so you don't have to create the framework from scratch, which makes it easier for you to track your company's performance with minimal effort.
The main aim of this app is to make sure that your whole organization is focused on achieving your goals.
Creating Mission, Vision and Purpose of your company has never been easier.
You can even automate the strategies once certain goals are accomplished.
Zokri Features
Comprehensive business templates
Mission, vision and purpose creation
Goal and strategy automation
Strategy customization
Zokri Pricing
You can avail a demo of Zokri before you make the final purchase. Their monthly premium plan costs between $5 to $20.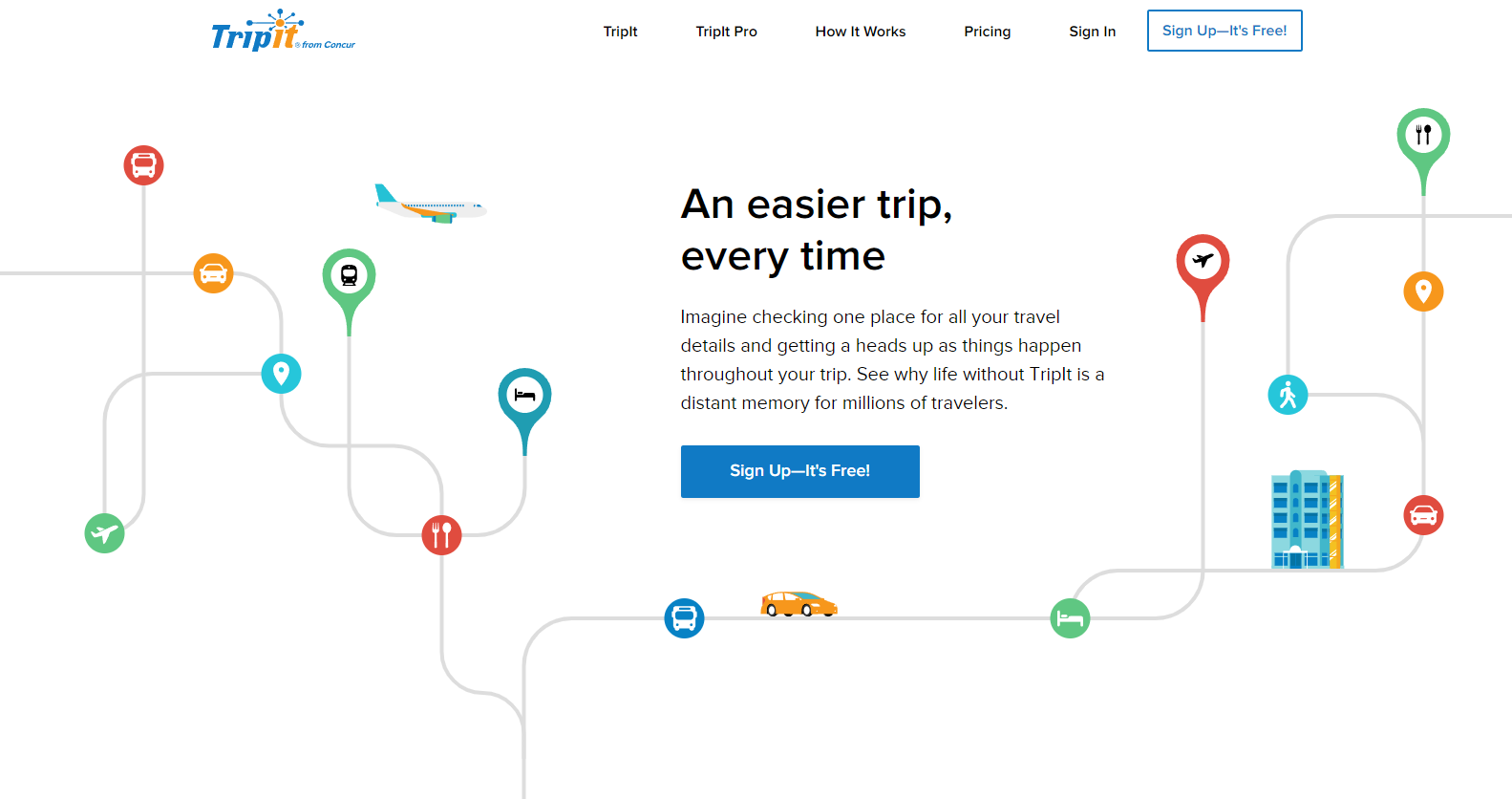 TripIt is a travel organizer that simplifies your trip planning with all the information you need to have for a hassle-free journey.
With TripIt, you can effortlessly create a single itinerary from all your reservations at different locations and stay organized on the go.
Their intelligent engine automatically detects details of your upcoming flights, rental cars, hotel bookings, restaurant tables and more.
Also, you can sync all your travel confirmations automatically to their app so you don't have to enter them manually every time.
If you are an entrepreneur who has to travel a lot for business, then this is the tool to include in your list.
TripIt Features
Intelligent trip planner
Automatic itinerary creation
Sleek UI/UX design
One-touch reservations import
TripIt Pricing
TripIt's free plan will do all the basic job done. Their premium plan unlocks features like real-time flight alerts and much more and costs $49/year.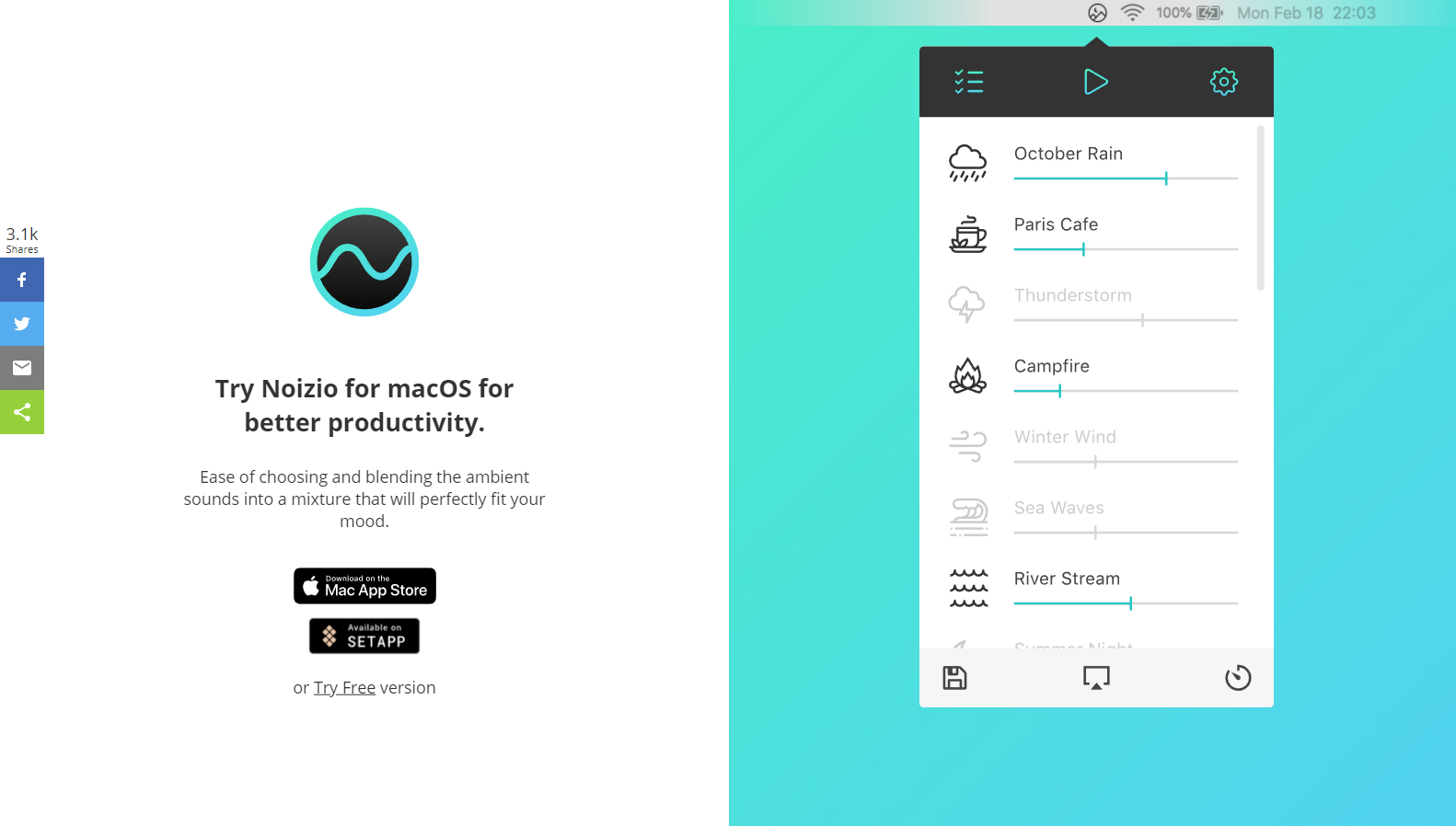 Noizio is a productivity app that helps you improve your focus and concentration with the help of ambient background sounds.
In case you are wondering, "ambient noise" is any sound that finds its way into our daily environment without us necessarily noticing it consciously.
Whether you're a social media marketer, a graphic designer, or the CEO of a company, this app is perfect for you as it blocks all those unwanted noises from your surroundings and makes sure that you're fully committed to what you're doing.
You can choose from their wide variety of sounds, including natural and electronic, as well as a range of different timers.
Noizio Features
Incredibly simple UI
Live background sounds
Adjustable noise filters
Wide range of audio tracks
Noizio Pricing
Noizio is freely available on Android as well as iOS devices.

Spark is an email inbox decluttering tool that helps you keep your inbox clean by smartly removing unnecessary emails.
With their Natural Language Processing (NLP) technology, you can search for any specific email, easily snooze your emails, schedule them to be delivered later, or delete them forever for good.
In addition to that, Spark also allows you to block emails from specific senders so they never bother you again.
One of the most surprising benefits of using Spark Mail is that you can, as a team, comment on emails.
Additionally, you can create pre-written templates to save time, email scheduling, email signatures, email delegation, and much more.
Spark Mail Features
Emails scheduling
Unlimited folders and subfolders
Team email collaboration
Pre-written email templates
Spark Mail Pricing
Spark is available for free and offers a 5 GB team file storage. The premium plan costs $7.99/month/user.
Hemingway Editor is a writing app that helps you to edit your articles like a professional editor.
It can be daunting to write something up with perfection, especially if you're planning on publishing it online.
But Hemingway makes sure that all your efforts are not in vain by making it easy to revise and correct your texts so they meet the standards of top publications.
Their app highlights adverbs, confusing phrases, verbose sentences, passive voices and other elements that lower the quality of your content.
It even analyzes the complexity of your text at various levels so you know what you need to fix or keep it as is.
Hemingway Editor Features
Text analyzer
Writing style suggestions
Word and character count
Readability grade metric
Hemingway Editor Pricing
Hemingway is available for free. The premium plan costs $19.99 for lifetime access.
Calendar.com is a great calendar app for busy entrepreneurs who are always on the go.
Since it offers you a cloud-based platform, you can access your calendar from anywhere at any time and set reminders so nothing gets missed.
Also, this online calendar lets you schedule appointments with business partners or clients, share your agenda with coworkers or team members to stay up-to-date about upcoming events, etc.
The best part?
They use machine learning and artificial intelligence to analyze your calendars, meaning the more you use your calendar, the smarter it becomes.
Calander.com helps you find free time, meeting time, etc, with the help of records and looping patterns.
Their Analytics dashboard shows how well you are utilizing your time.
Calendar.com Features
Team collaboration
Reminders and alerts
Smart analytics
Meeting scheduling
Calendar.com Pricing
Calendar.com has a forever-free plan. They offer two premium plans that are Standard ($8/month/user) and Pro ($10/month/user).
Doodle is an all-in-one meeting scheduler that can help you reduce your wasted time in trying to find a meeting time for all the people involved.
Doodle keeps everyone on the same page, so you will never have to deal with back-and-forth emails any longer.
When creating a poll through Doodle, it automatically suggests time slots based on user availability.
Whichever time the majority of people choose, that will be chosen as the meeting time.
To make things even easier, Doodle automatically reschedules meetings when any of the participants cancel.
Be it a one-to-one meeting or a group discussion; Doodle makes sure that everyone gets the chance to participate without any hassle.
Doodle Features
Meeting scheduling
Time zone support
Custom poll questions
Doodle Pricing
Doodle offers a 14-day free trial. Their Pro plan for individuals costs $6.95/month while their Team plan for up to 5 people costs $8.95/month/user.
Udemy is the best place to learn a new skill on your own time and at a fraction of the cost.
You can choose from over 180,000 courses in various categories including business, technology, design, arts & humanities and more.
This app lets you discover top-rated courses from world-renowned experts and curated collections that suit your taste and help you master a skill quickly.
As an entrepreneur, for example, you can learn how to write an effective business plan, enhance your presentation skills, or get a crash course in digital marketing.
Similarly, you can access any course by searching on their search bar and then learning more about it.
Udemy Features
Courses for all levels
Curated learning playlists
Skill assessment
Offline learning mode
Udemy Pricing
Udemy has free as well as paid courses, and the price of premium courses differs from one another.
Conclusion
As an entrepreneur, you know that time is precious.
And to make the most of your time, you need the right tools.
That's why we've compiled a list of the best apps – so that you can stay productive and focused on what matters most.
If you've been looking for a way to reduce stress, save time and money, or just want more control over your business finances, look no further than this list of the top 18 best apps for entrepreneurs.
These apps are designed to do all the heavy-lifting so you can focus on building your business empire.
So what are you waiting for?
Start downloading and get started on your journey to entrepreneurship success!