Being an online business owner or a community event organizer, have you ever had that feeling that although there are many online webinar tools out there, very few of them work the way you want them to work.
Let's face it.
You haven't found a webinar tool that fulfills all your expectations.
However, Crowdcast maybe that one tool to solve most of the problems you face while hosting live events and webinars.
Crowdcast is more than an online webinar tool and tends to be a perfect substitute for any specific webinar app you might want to replace right now.
With the help of Crowdcast, you can do things like:
Attend and host live events/virtual gatherings from any browser.
One link shared by you will work for all (registration, attending the event, watching the replay, etc.)
Send push notifications and emails to your attendees whenever you want with one click.
And much more.
It can help you set up webinars and events the right way, plus it comes with tons of other powerful features you'll enjoy.
Here's our detailed review of Crowdcast.
In a Hurry? Read Through This Quick TL;DR Summary
If you are looking for a full fledged tool that allows you to host live events from any device, charge for it the way you want, create coupons, send emails to your audience, and aware your social media followers by directly posting about the live events there and much more, then give Crowdcast a try today.
I gave it a try and here's a quick snapshot of what I think about Crowdcast.
| | |
| --- | --- |
| The Features | 5/5 |
| Ease of Use | 4.9/5 |
| Customer Support | 4.6/5 |
| Pricing | 4.4/5 |
| Overall | 4.8/5 |
The ratings that I gave above are based on my personal experience after exploring the platform in all respects.
I want to remain unbiased here. So, have a look at the reviews given by other users of Crowdcast on different review sites.
| | |
| --- | --- |
| G2 | 4.5/5 |
| Capterra | 4.7/5 |
| Software Advice | 4.5/5 |
Enough with the numbers and ratings. Let's get into the real deal.
Unlike all the basic live-streaming tools out there, Crowdcast is positively distinct in its features.
Besides live-streaming, Crowdcast is your all-in-one answer to conduct engaging webinars, online summits, workshops, etc; with all the live-chat, polls and QnA features that you require to engage your audience.
This isn't all of it.
One of the best things about Crowdcast is that it runs on a cloud-based server, meaning that you don't need to install any app or a plugin to access it.
You can easily use Crowdcast from the comfort of your devices in any web browser (Google Chrome, Bing, Brave, etc.).
But if there are countless tools for live-streaming on the market, what makes Crowdcast so special?
Why Use Crowdcast?
First things first.
Many people have a notion about why they should pay for software like Crowdcast for live-streaming when they can easily do so in freemium apps like Zoom or Google Meet?
Well, here's an obvious answer. Those tools aren't specifically built keeping in mind the needs and wants of their targeted audience.
Did you ever feel being missed out on Zoom in a meeting, even if you knew your input could make the meeting more valuable?
Crowdcast helps you avoid those situations by giving every participant an equal chance to contribute to the meeting in one way or the other.
Zoom is great in its place, but it is a general virtual meeting app that lacks a lot of functionality regarding conducting paid seminars, live-streaming, events, etc. in the most efficient manner possible.
Besides that, Crowdcast is one of the fastest growing live-streaming platforms with over 1.6 million monthly active users as of now, according to Similarweb.
It helps you host/conduct live seminars and events like a pro. You can share the joining links with your users with a click of a button.
Unlike other webinar platforms, it has a lot more features at the most competitive price possible.
So, with all these benefits combined, and more, you can never go wrong with Crowdcast.
With that out of the way, let's dive into some of the best features and benefits of Crowdcast that separate it from the rest.
Features
Crowdcast has countless features ranging from coordinating meetings to a one-click joining system and arranging live QnA's. Let's discuss every great Crowdcast feature one by one.
1. Easy to use
Despite being capable of solving your multiple pain points through a single platform, Crowdcast is very simple to use unlike many specific webinar apps.
In a nutshell, Crowdcast helps you conduct:
Live shows
Workshops & webinars
Teaching
Online festivals and conferences
Patreon events
Casual events (social hangouts, vibing, etc)
Doing any of the above in a single dashboard has never been easier than today with Crowdcast.
There is little to no learning curve regarding the app usage. You can get started and get a good edge on the tool within a day, if not hours.
In fact, the ease of using Crowdcast and its easily accessible features is one of the main reasons I prefer it over other similar apps.
2. Browser-based tool
One of the best things about Crowdcast is that you do not need to download any app, extension or plugin to start using it.
As it is a browser-based app, you can easily access it within seconds from anywhere.
Let's say you want to attend a webinar and you are running out of time. In fact, you have only 2 minutes to attend.
In this case, Crowdcast will take care of all your worries.
No time to open your laptop or pc to attend the live event?
No worries, you can do just that with Crowdcast from your mobile phone's browser. This is how much easier it is to use this multi-streaming platform.
3. Share meeting links faster than ever
Did you ever feel frustrated after looking at your inbox only to find out that the webinar registration link that you received via email was suddenly lost amid thousands of unanswered emails?
If you can relate to this, you are definitely not alone, pal.
Besides you and me, Crowdcast also noticed this problem and it turns out, they were successful in finding the solution for the same.
With Crowdcast, you will never find any of the meetings links to be cluttered.
One link will be effective at all places.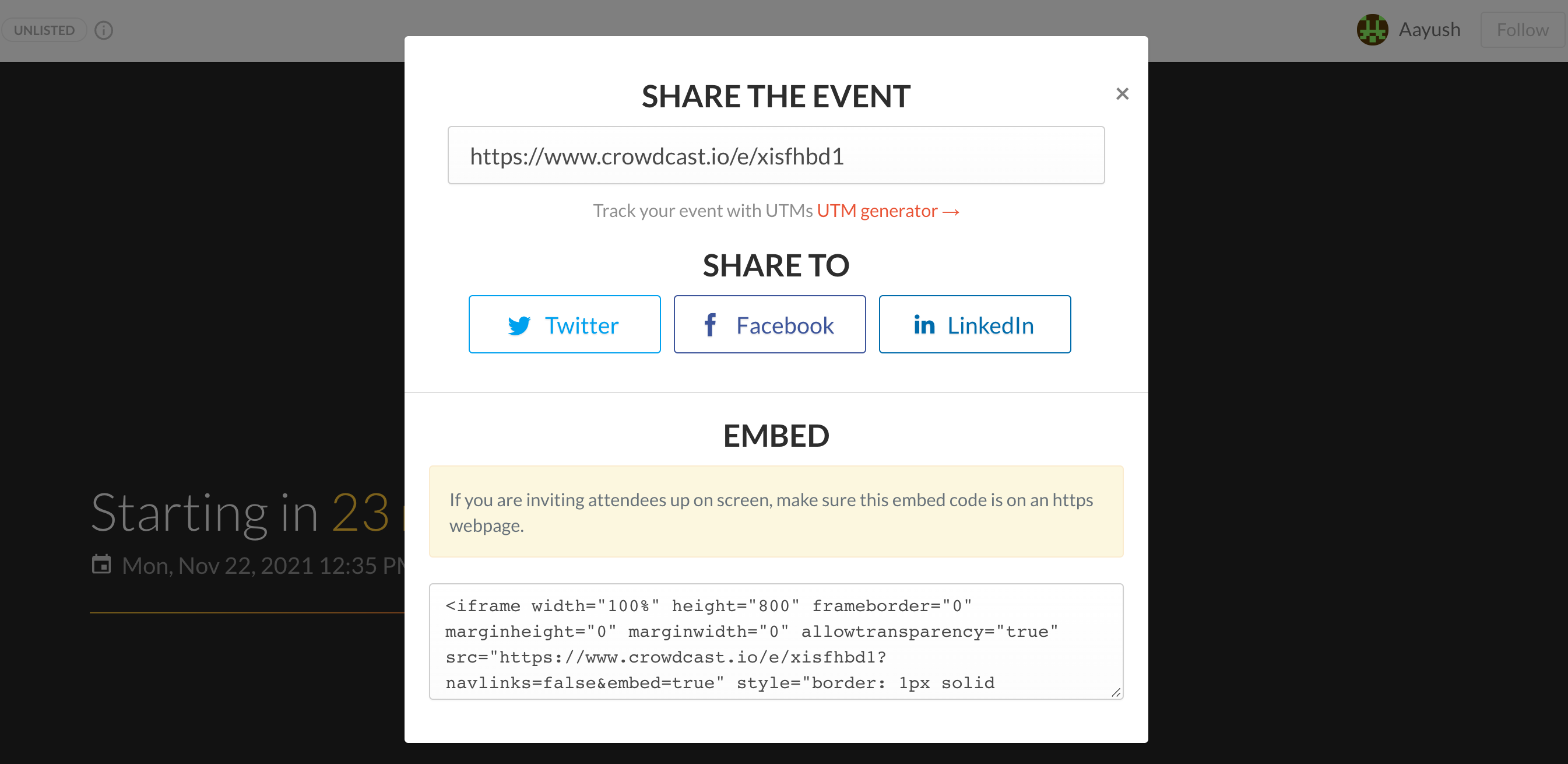 You will never find it difficult to share it with your audience as Crowdcast allows countless integrations that make the link-sharing process even smoother (more on that later).
Note: The link for the live event as well as the recorded version of it is the same. This creates all the good differences.
4. Pre-built landing pages
This is a big one.
With Crowdcast, you will never feel the need to create a website from scratch thanks to their ready-to-use and highly converting landing pages.
With the different landing pages to choose from, you can not only create a website but also alter the URL as per your brand, add any custom media files, add your links and do everything it takes to generate leads and eventually sales for your business.
After creating a landing page for your live event, you can directly send the link to that landing page to your followers and they will be able to register for the event with a single click.
Although being a multi-functional webinar tool, Crowdcast is one of the few apps that allow this landing page functionality embedded into the internal system of their platform.
It saves a lot of time and money.
5. Phenomenal notification system
Once you go live, you can send push notifications as well as email notifications to notify your audience that your event is about to start.
This is very helpful, especially for those in your audience who don't want to take the pain of finding your old emails in the inbox.
Many of them will directly join through the push notification and the new email that you send.
This helps increase conversions and eventually your business growth.
You don't even have to send notifications at the moment manually, you can schedule the emails and push notifications (as per your needs) and they will automatically be sent at your desired time.
6. Multi-streaming facilities
Have you got your audience on YouTube, Facebook, Twitch, etc?
If yes, then there's more good news from Crowdcast.
With Crowdcast, you can automatically broadcast your virtual show to all of the other social platforms where your audience is present.
And all of this can happen with one click effortlessly.
In this way, you will be able to cater to your existing audience from emails but also from other social media channels.
In short, Crowdcast assists you in going omnichannel in a decluttered way.
7. Allows more than one host
Unlike platforms like Zoom where there can only be one host, Crowdcast allows multiple hosts.
How is this helpful?
The power to control the meeting can be delegated between multiple hosts. You can easily invite anyone on the stage of your live stream.
In this way, if one person loses the connection and leaves the meeting abruptly, other people (hosts) can easily take over without any disturbances.
8. Virtual presentation made easy
I am not saying that the "emoji" provided by Zoom and other webinar tools are not helpful.
They are good, but the only complaint that I have about them is that – they could have been better.
Luckily, it is better with Crowdcast.
There are many useful presentation features that make it so much easier and efficient to present it with Crowdcast.
From sharing videos to sharing a powerful presentation, Crowdcast has got you all covered.
9. Advanced analytics
This is from where the thick line is drawn between other live-streaming tools and Crowdcast.
The analytics system provided is very much useful and similar to that of Google analytics.
You can track things like:
Demographics of your audience.
Total participants per session.
Engagement rate.
How many people visit a specific page (e.g. landing page).
And much more.
It then helps you do much better the next time with all the smart data.
Keeping track of your audience and their interest is very much important. This helps you to know what your audience truly needs.
This is where the advanced analytics features offered by Crowdcast help.
10. Paid events
Once upon a time, a great person said that if you are good at something, never do it for free.
This is why Crowdcast introduced the paid event feature where you can get paid for your hard work and the value you deliver.
You can, with Crowdcast, accept payments in the form of a donation, charge a fixed price per session, or change it as per your desire.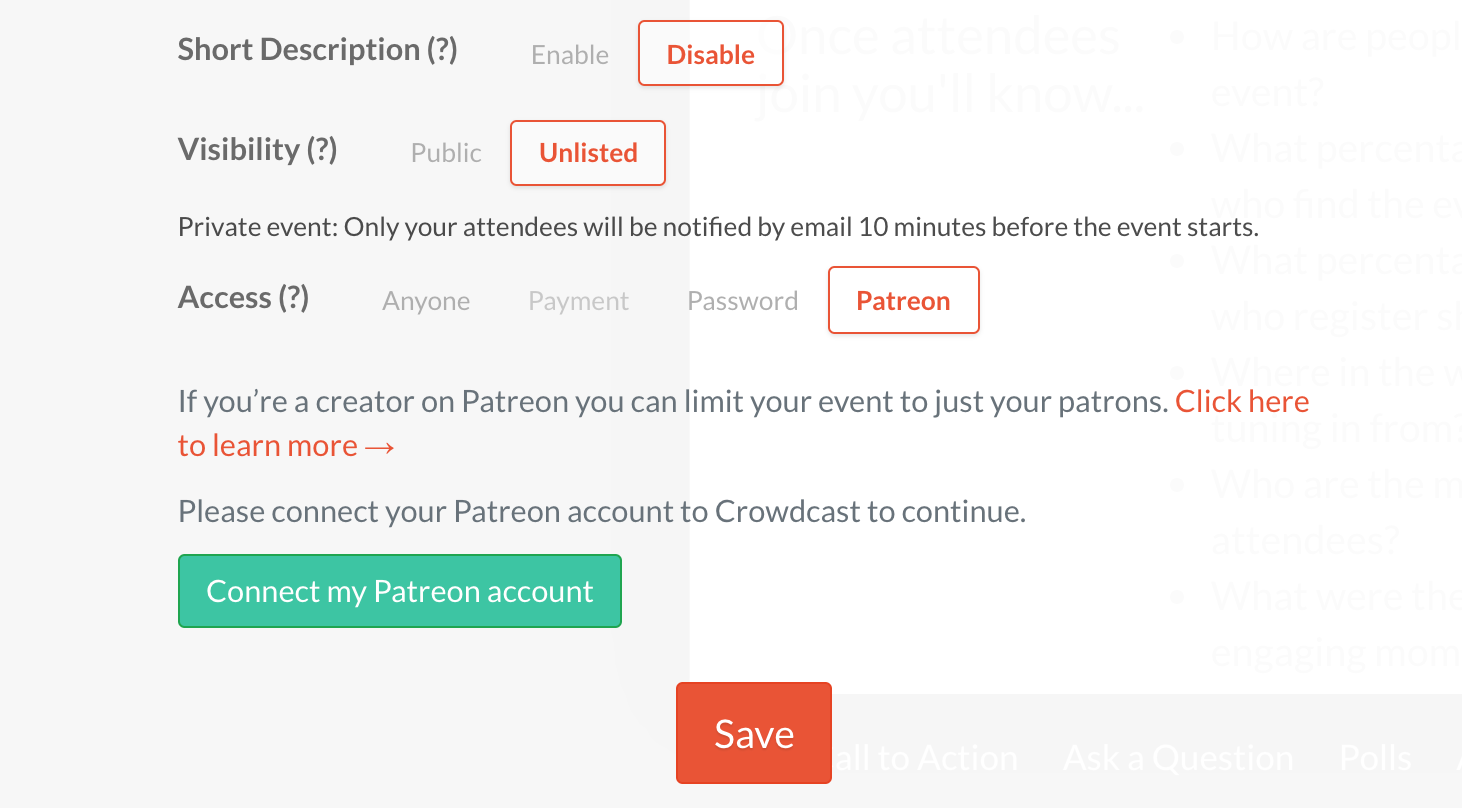 In a paid event, users will only be able to join your live show after paying the amount upfront.
You can then withdraw that amount by connecting the Crowdcast account to Stripe.
A word of caution: While withdrawing, Crowdcast may cut a small percentage of the amount as a transaction fee (a minimum of 5%) depending on the plans you choose to go with.
11. Other cool addons
Besides all the cool features that Crowdcast has to offer, it doesn't stop with just that.
There's more to it.
I will briefly discuss some extra Crowdcast addons that will make your life easier.
Chat, polls and live QnAs – The chat and polls by Crowdcast are one of the best because you can also make them timestamped. Even before the session starts, your audience can start interacting with the chats and polls, if any.
Powerful call-to-action – While presenting any virtual event, you can send your participant to an external link where they can perform some action (e.g subscribing to your newsletter, trying a freebie, etc) thanks to the CTA buttons provided by Crowdcast.
Integrations – It can't be completed without this. Crowdcast allows you to connect with third-party apps such as ConvertKit (email marketing tool), Patreon and other 750+ apps. Not bad.
Data portability – Your audience can easily export the chats, QnAs, questions, etc, with a click of a button.
This was all about the Crowdcast features and benefits that it provides. After using the app for a while, you will come to know that there is much more you can do with it.
And although there are countless useful features in a single interface, you will notice that nothing is complicated to access.
Pros and Cons of Crowdcast
| | |
| --- | --- |
| Pros | Cons |
| Easy to use with less learning curve. | Ability to customize landing pages in detail can be enabled. |
| Offers more features than any other webinar tool. | Some people still find it pricey. |
| Competitively priced than other apps. | A feature to make your video private should be provided. |
| Utterly focused on engaging your audience and increasing your business/brand. | Customizing the emails can be somewhat initially difficult. |
| Seamlessly integrates with other apps. | Does not offer a lifetime free plan. |
| No additional download required (browser-based app). | – |
Customer Support
For every company product/service that I have ever used, the customer service of almost every product/service was not up to the mark.
And they are not alone. Even profound companies such as Comfort Class Transport had customer service to be the major bottleneck for the company.
But luckily, Crowdcast seems to excel at this too.
They are unique in this too.
If you want to organize a complex live event where countless people would show up, then you can hire a team of Crowdcast experts who will help you from start to finish.
Crowdcast provides customer services in the form of the following mediums:
Crowdcast documentation (similar to forum)
Live chat and email support
Live technical support
Crowdcast blog
Crowdcast Facebook community
Should you have any query regarding the app, these mediums will aid you in solving your issue.
Overall, Crowdcast customer support is decent and they reply within 2 hours.
Pricing
If you are an attendee or a participant, it's free to sign up for the event.
However, if you want to use Crowdcast to host different live shows and webinars, then you will have to invest in a premium plan after using their free trial for 14 days.
In the free trial, you will get unlimited access to all the premium features except the live sessions and live attendees. You can do 30 live sessions with 10 live attendees with a 14 day free trial.
And after using it for 14 days, you can choose to invest in any of the premium plans that suit you.
Crowdcast offers 4 different options for premium users:
Starter ($20/month when billed annually).
Lite($34/ month when billed annually).
Pro($62/month when billed annually).
Business($136/month when billed annually).
As per the plans you choose, here are the features that you are open to access:

Also, another great part about Crowdcast is that they allow you to change plans anytime if you want to.
Pro-Tip: The starter plan costs $20/month only if you bill it annually. If you choose to pay every month, you will have to incur $29/month. So, choose wisely.
Concluding My Crowdcast Review
That's all about Crowdcast. Now you know you need this one tool to rock your webinars.
I will admit that Crowdcast is a much better option if you are serious about growing your business through live-shows, webinars, events, or even virtual seminars.
Hopefully, you learned something new from this review guide.
Now, it's your turn.