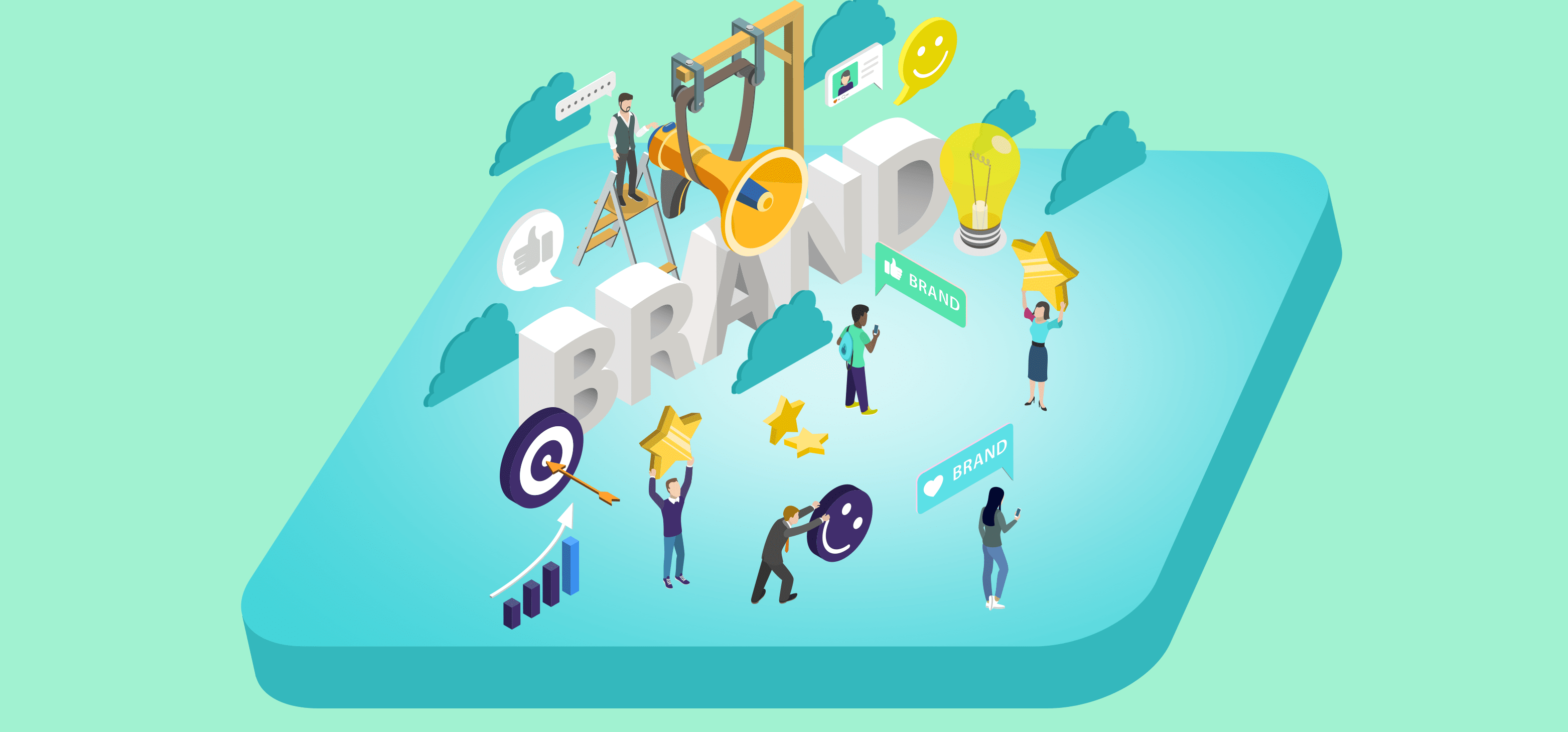 Branding is a set of actions and assets that give an identity to a brand.
All those tangible and intangible things that define a brand come under branding.
Let us understand thoroughly.
Suppose your name is Alex. You have a personality, do some work, and live in a particular location.
Now imagine I am going somewhere. On my way, a random person comes up and asks where does Alex live?
I ask, "Who Alex? There 3 Alex living in this area."
Then she says, "The one who is thin, tall, and has curly hairs."
I again ask, "2 of the 3 Alex are thin, tall, and have curly hairs. Can you define more about the person?"
She says, "She is a dancer."
Then I got to know which Alex she was asking about. Finally, I give her the exact location of the correct Alex (You).
(Hope you both met.)
In the same way, every brand has some values, ethics, personality, look, feel, and assets, that help distinguish it from its competitors.
So, branding is vital for startups because it helps:
Distinguish yourself from competitors
Build the self-image for better recognition in the market
Develop trust in consumers
Gain customer loyalty
Product and market expansion
Attract investors and employees
Now that you know the importance of branding, let us see the 20 best branding strategies for startups.
1. Brand Purpose
Brand purpose tells your audience why you exist. What's the purpose of incorporating the startup?
We know that all companies exist to make money in the end. But apart from that, a brand purpose is a strong reason for your target customer to buy from you.
As per Forbes, consumers are 4-6 times more likely to buy, support, protect, and promote, purpose-driven brands.
It also helps differentiate you from your competitors. So, startups must have a purpose for their existence.
Example – SpaceX and Tesla CEO Elon Musk is building Starlink's satellite internet constellation. His purpose is to provide high-speed internet access across the globe to places where there is no internet.
2. Brand Vision
Brand vision means where you want to reach.
When you started your business, you must have thought about where you wanted to go and what you wanted to become.
Brand vision has nothing to do with customer attraction. The brand purpose does that work. The brand vision is to give direction to the team and derive actions towards achieving them.
It does not let you deviate from your purpose.
Example – IKEA is a furniture brand. Their vision is to create a better everyday life for millions across the globe. They promise to offer well-designed, durable, affordable, functional, and sustainable furnishing solutions. (IKEA Marketing Strategies Explained)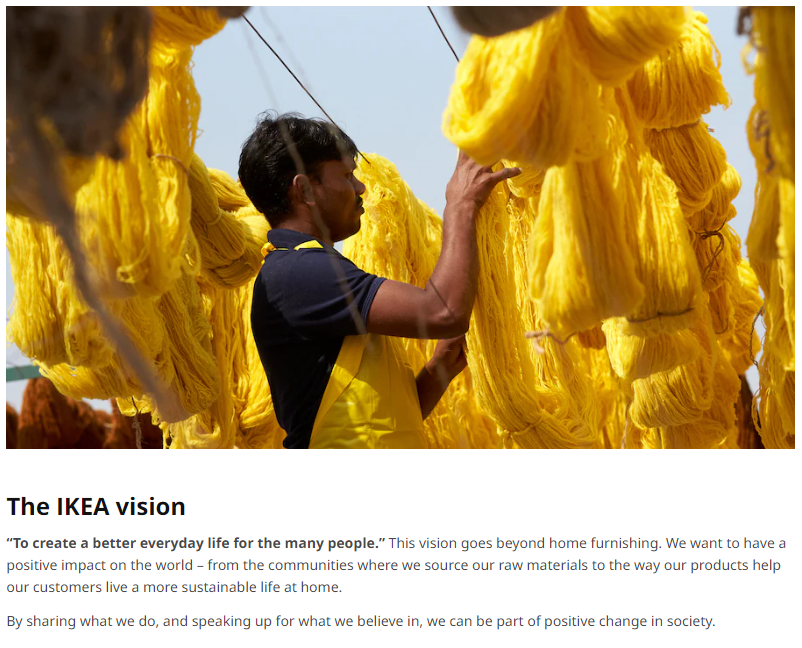 3. Brand Mission
There is a slight difference between brand vision and mission.
Brand vision sets the direction for the future. Like, what you want to become in the long run.
But the brand mission is all about today. It chalks out all those small steps that you take today to reach your vision.
Again, this gives direction to the team and is vital to creating goal-driven strategies.
Both the brand vision and mission are internal working. It helps attract potential investors and employees for your startup to grow. They get inspired by the positive impact you want to create in the environment for better living. So, they prefer to choose to work with your company over others.
Example – Google's mission is crystal clear. They want to serve organized information that can be universally accessible and useful for every user. Every day they work on their technology to make it better, only to serve it with the right and useful info.

Watch the below video to know how the Google team works every day to improve user search results.
4. Brand Value
Brand values define the code of conduct within the organization.
It sets a culture that directs their actions inside and outside the company.
Brand values help you separate yourself from your competitors due to the ethics your brand follows. Those codes of conduct should be meaningful and actionable.
Some examples are trustworthy, honest, bold, fun, passionate, responsible, etc. There are many such that you can choose among. It also makes people inside the organization responsible for their actions. They get tied to values that stop them from crossing or breaking.
So, having a purposeful brand value can attract the best stakeholders to your startup. Make sure the values you select should line up with your brand. Also, do not create for the sake of creating, but make sure your organization stands by it and follows it.
Example – Prada is an Italian fashion brand specialized in making fashion accessories. Their purpose is to be the drivers of change for people, the planet, and culture. The brand values they follow are:
Re-think the rules
Innovative tradition
Spirit of excellence
Uniqueness of talents
Beyond boundaries
Sustainable paths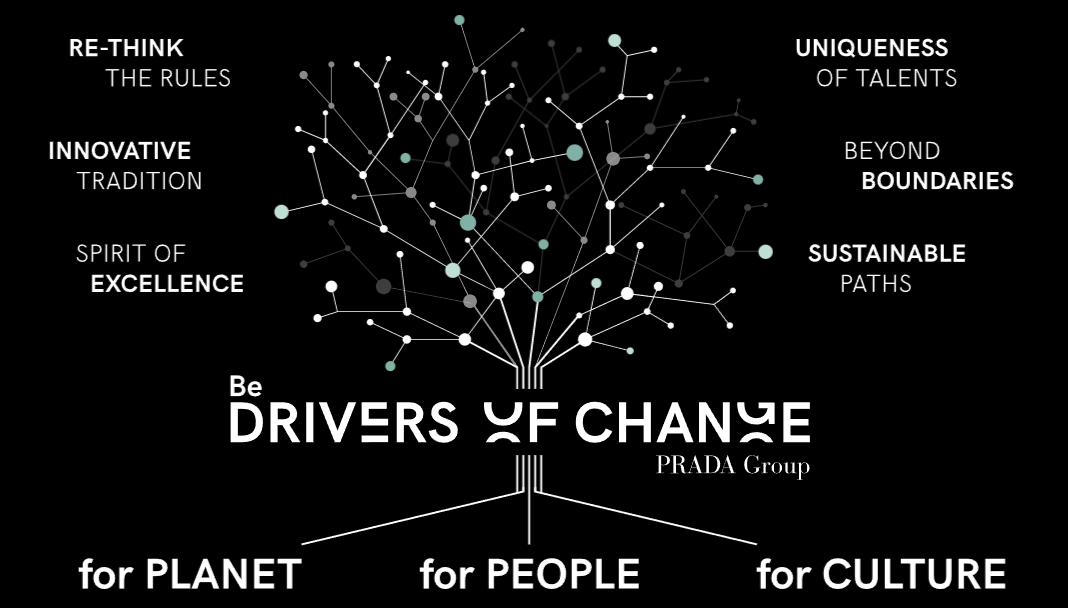 5. Brand Positioning
Many of us think that brand positioning means how to position yourself in the market.
But that's not true. You should focus on positioning your brand in the consumer's mind. It helps you differentiate yourself from the competitors present in the market.
All companies are fighting to create an impression on consumers in their niche. So that, whenever people think of buying the product, first, they should remember their brand.
Because of this reason, you should position your brand uniquely. First, think about what makes your startup unique. What emotions, feelings, and experiences will your audience get by using your product? Then, spread awareness about your product and attract consumers.
Example – We cannot question the loyalty of consumers toward Apple Inc. It has a separate fan base because Apple serves what it commits to.
So, when it comes to buying tech products, Apple gets considered irrespective of whether people are able to buy them or not. They have positioned their brand as innovative, secure, luxurious, and classy with an exceptional experience. (Apple's Marketing Strategy Explained)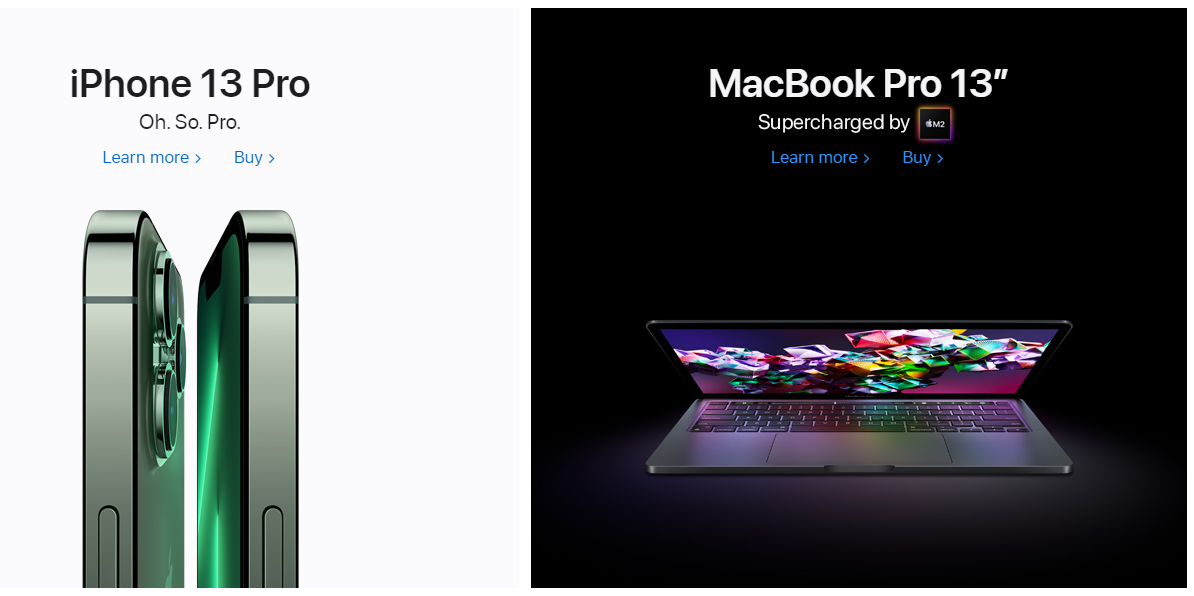 6. Brand Name
The brand name is also a type of branding strategy.
It gives an identity to an organization.
Whenever we go to the market to buy any product, the first thing we see is the brand name. If it's a branded product, then it increases the trust of consumers.
So, a brand name plays a major role in developing and marketing the product and services.
The name should be short, meaningful, and easy to remember. Complex and long names do not get registered in the consumer's mind.
Since, the startup is the crucial stage to select the name, pay proper attention and take time. Also, make sure the name aligns with your product and the brand personality.
Example – Stayfree is an American brand that sells female hygiene products. Its personality is safe, protective, comfortable, and feminine. So, the brand name justifies the product and the target market. Also, you get that feeling of comfort when you hear the name 'Stayfree'.

7. Brand Personality
Like every person has a personality, brands too have it.
Too many brands tend to ignore this branding strategy. But in the long run, it helps create a unique personality of your brand in the consumer's mind.
Consider the brand as a human and shape its personality. How do you want your brand to get recognized? For example, soft, rough-n-tough, joy, caring, etc.
To give a personality to your brand, think about your target audience. Take their traits and assign the same to your brand. It helps connect your audience with the brand. Because they feel like, "It's my type."
Example – Dove is a famous brand owned by Unilever. Its personality is loving, caring, beautiful, innocent, hopeful, simple, and pure. They have visualized it in many of their campaigns. Based on their personality, they have given the look and feel to their website.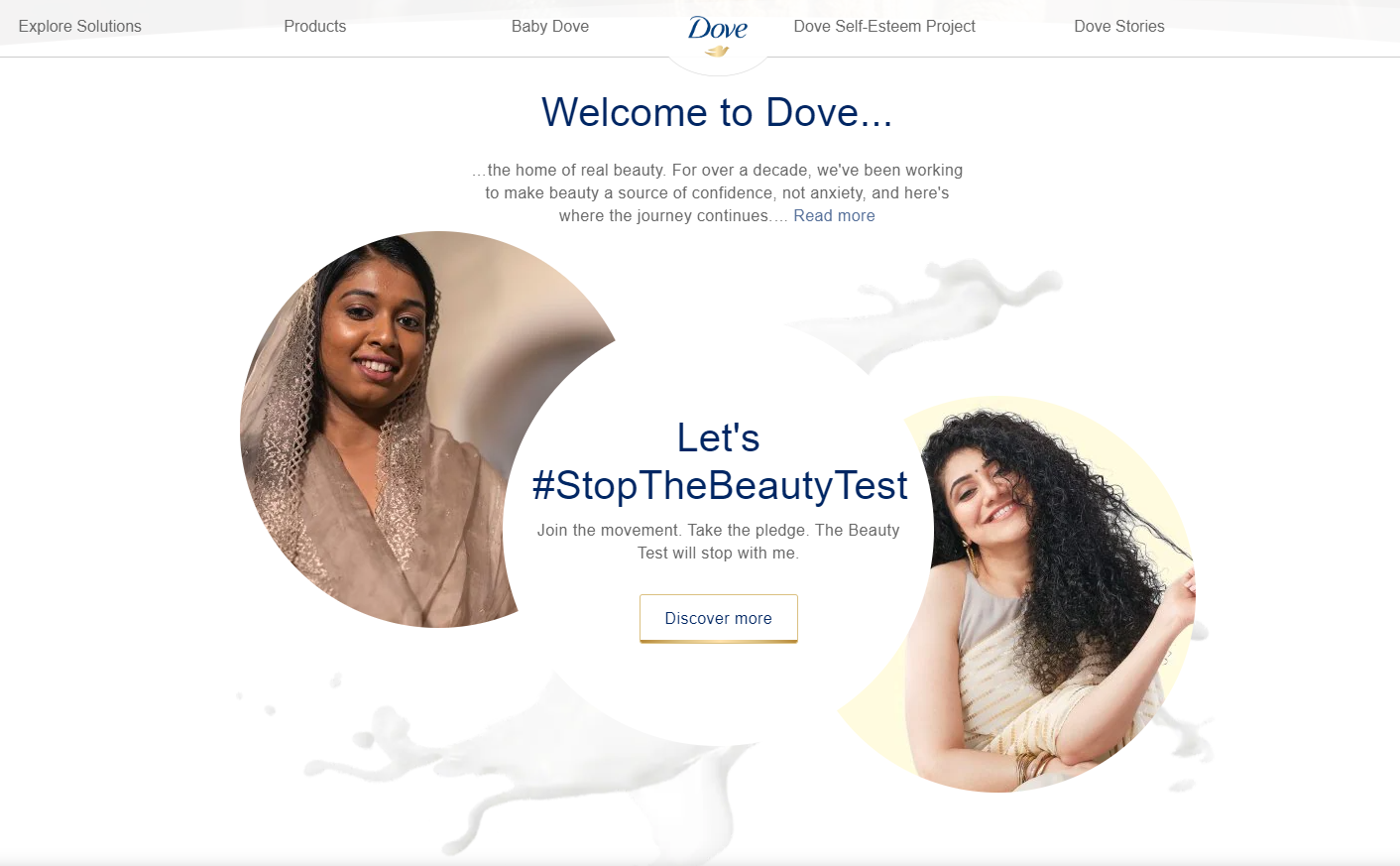 8. Brand Tagline
The brand tagline supports the brand positioning in the mind of the audience.
There is a slight difference between a slogan and a tagline.
A slogan gets written for a marketing campaign. It changes with new campaigns getting launched. But the tagline is for a brand. It does not change.
Tagline helps create a recall value in your consumer's mind. Your brand will strike their head when they go to buy your category of product. So, it increases the chance of your sale.
A strong tagline can help build confidence among your consumers to buy your product. So, make sure it aligns with your brand and the product or service offered.
Example – McDonald's, the famous American fast food brand. Their tagline, "I'm Lovin' It" is so famous that even if we are eating in some other restaurant and like the food, we use their tagline to express it. Somewhere, it has become a part of our conversation. And, of course, cheers to Ronal McDonald, the clown character used as a mascot of the brand.
This is how they became successful in creating a recall value in our minds. So, the brand gets considered when people are out, having fun, and want to have some fast food. (McDonald's Marketing Strategy Explained)
Here's one of their commercials.
9. Brand Voice
Brand voice is an extended part of brand personality.
It tells about how your brand sounds to your audience. The brand voice is visible in the message delivery by your brand.
The word choice in the campaigns and posts sets the brand tone. From that, people recognize your brand's personality.
So, first, decide the personality. Based on that select the brand tone. For example, if your brand personality is rough, then select words like strong, unbreakable, hard, rebellion, etc.
Example – Harley Davidson is a popular American motorcycle manufacturer. Mark the words they use in their captions. Words like enthusiasts, chase, riders, and passionate are some that set their brand voice and depict their personality.
10. Brand Story
Not to mention that we all love stories. It makes us emotional and arouses our feelings.
So, not only do humans have stories, but the brand also has its own.
Brand stories help people connect with them. It touches their emotions and feelings that pull consumers to buy from them.
Tell people how your brand got incorporated. What made you give birth to that brand? What were the journey, experience, and fascinating story behind it? The audience wants to know.
Gone are the days when companies applied a push strategy to sell their products. But now that they know the importance of storytelling, they use it to connect with their consumers.
It is so powerful, that even if your product is not superior, people might buy from you. Because they will get attracted to your story and could connect with it.
Even Robert McKee, the world's well-known and respected lecturer on screenwriting, agrees with it. In a conversation with HBR (Harvard Business Review) on why CEOs or managers should pay attention to screenwriting, he said to persuade people there are two ways.
Through PowerPoint presentation, which is an intellectual and old method where there are some facts and statistics.
Storytelling is very powerful that unites ideas with emotion.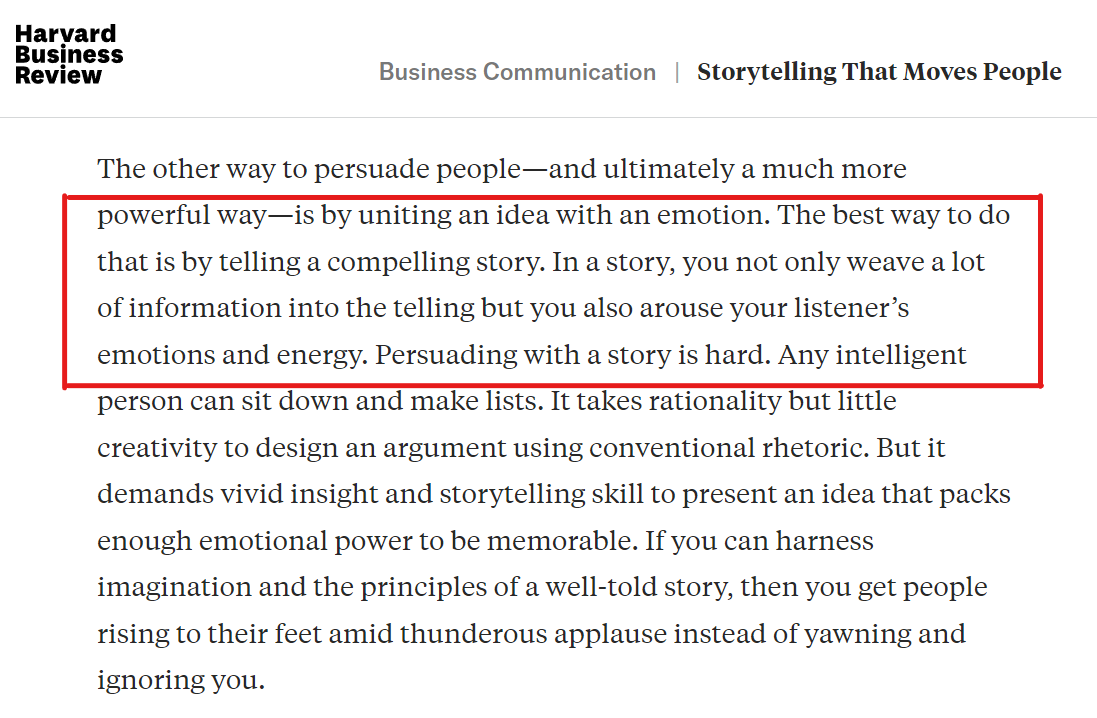 Example – PayPal is an American Fintech company. It got incorporated in the year 1998. During those days only paper money and coins were the means of transaction. But PayPal founders felt the need for paperless money.
So, they launched a digital payment platform that will make transactions better, easier, and faster. It helped people get over the wallet and solved many other problems.
11. Brand Logo
Another branding strategy for startups is to focus on the logo.
The brand logo acts as a signature on the products manufactured. You display it along with the brand name.
Initially, it is essential to show the brand name and logo together. Because now your business is at the early stage. People need time to get aware of your brand and get used to the product. Later, when your startup gets enough awareness, then you can shift to only using the logo in the marketing campaigns.
Make sure the logo is not too complex. It should always be simple so that it can get printed in any size of the package. Also, your audience will remember the brand logo. So, go with simple graphics and no shades. Pick solid colors which make it easy to print.
Many brands keep their name typography as a logo. In that case, select the typography as per the brand name, personality, and target audience. Do not select a font style that is nonrecognizable and difficult to read.
If you look at the leading brands in any industry, they all have simple logos.
Imagine Twitter with the following logo: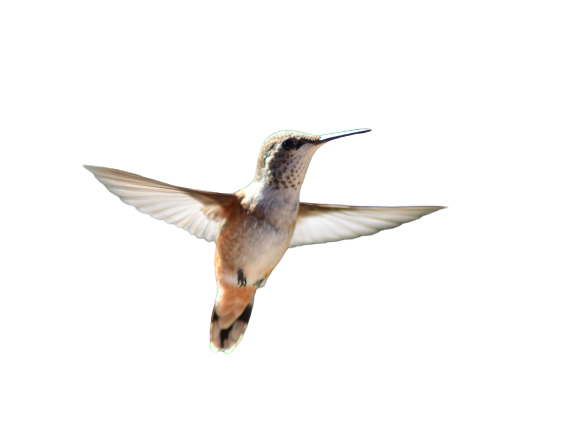 Example – Here are some famous brand logo examples that are standard and simple.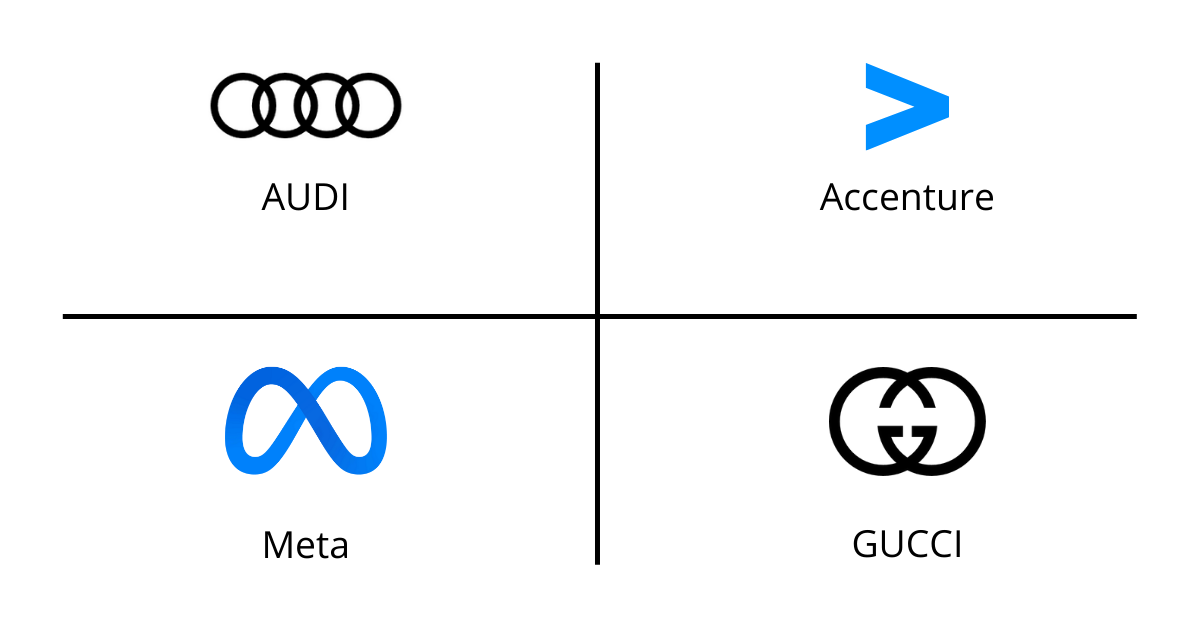 12. Brand Color
Brand color also plays a major role in branding strategy.
I will let the established brands tell you the importance of brand color.
The following brand name strikes my mind when I see these colors:
Blue – Meta (earlier Facebook)
Red – YouTube
White – Apple
Orange – Fanta
Yellow – McDonald's
Green – Starbucks
Which brand name did you remember?
I hope you get the point.
But, do not select any color because you have to give it a color. Know the color psychology, as every color triggers some emotions. For example,
Red – Excitement, bold, and danger
White – Pure, calm, and balanced
Green – Harmony, growth, and kindness
Blue – Wisdom, trust, and freedom
Likewise, other colors also trigger some other emotions. So, select the color that fits your brand product and target audience.
13. Authenticity and Transparency
People believe only those brands that are transparent in delivering information and offer authentic products.
When you do grading and labeling of the products in the package, make sure you provide all the information in it. For example, usage direction, ingredients, date of manufacture and expiration, side effects if any, manufacturer name and location, batch number, and license by authorized organizations.
It helps build trust in your consumers which leads to brand loyalty. It also gives an edge over competitors who are not transparent with their product information.
Example – Decathlon is a French sports goods retailer. Take a look at their protein powder. They have provided all the information the user needs to know before using the product.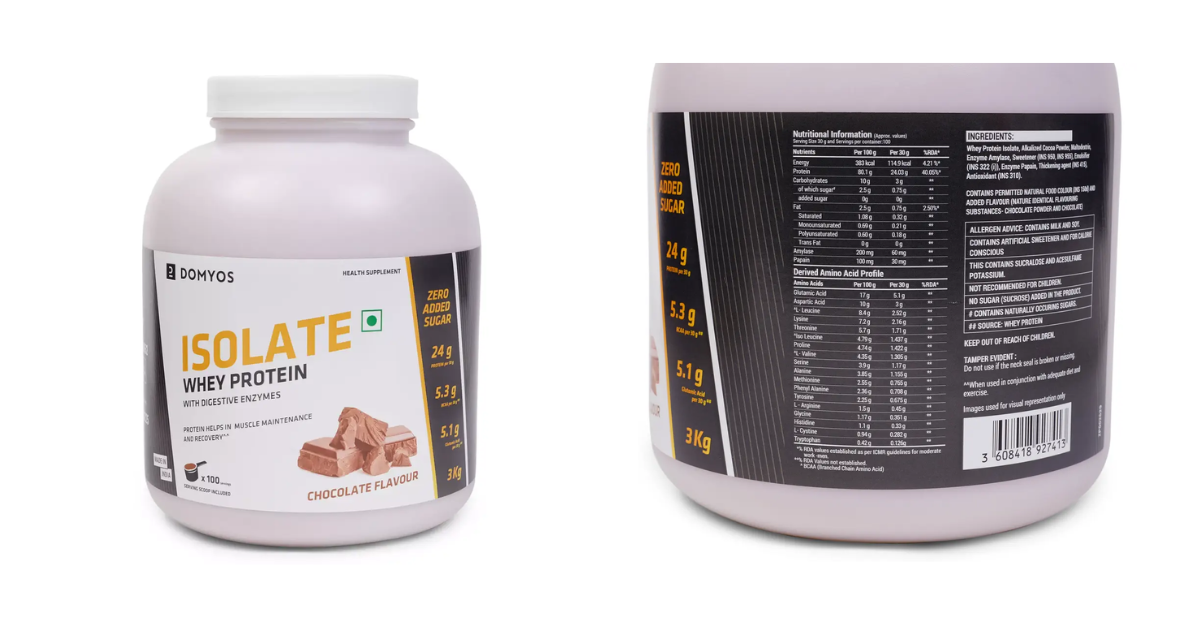 14. Brand Sponsorship
It means a brand sponsoring any event. Your startup can take part in any sponsorship opportunity. It helps showcase your brand and increase its visibility.
As a startup, it becomes vital to sponsor any cause as it becomes a way to promote your brand. Pay attention to what cause you are taking a stand for. It should be relevant to your business.
Now, if you incorporated a fintech company and sponsored an environmental cause event, it will not make any sense. Because people will not pay attention to your promotion. They participated with a different mindset.
On the other hand, if you have a sports brand and sponsor a sports event, even players will pay attention. They will take an interest in knowing more about your product.
Example – Nike, a leading sports brand, did the same when it was in its growing stage. They sponsored a sports event to promote their product. Not only people but even players bought their shoes. From there, Nike got a great boost in branding. (Nike Marketing Strategies Explained)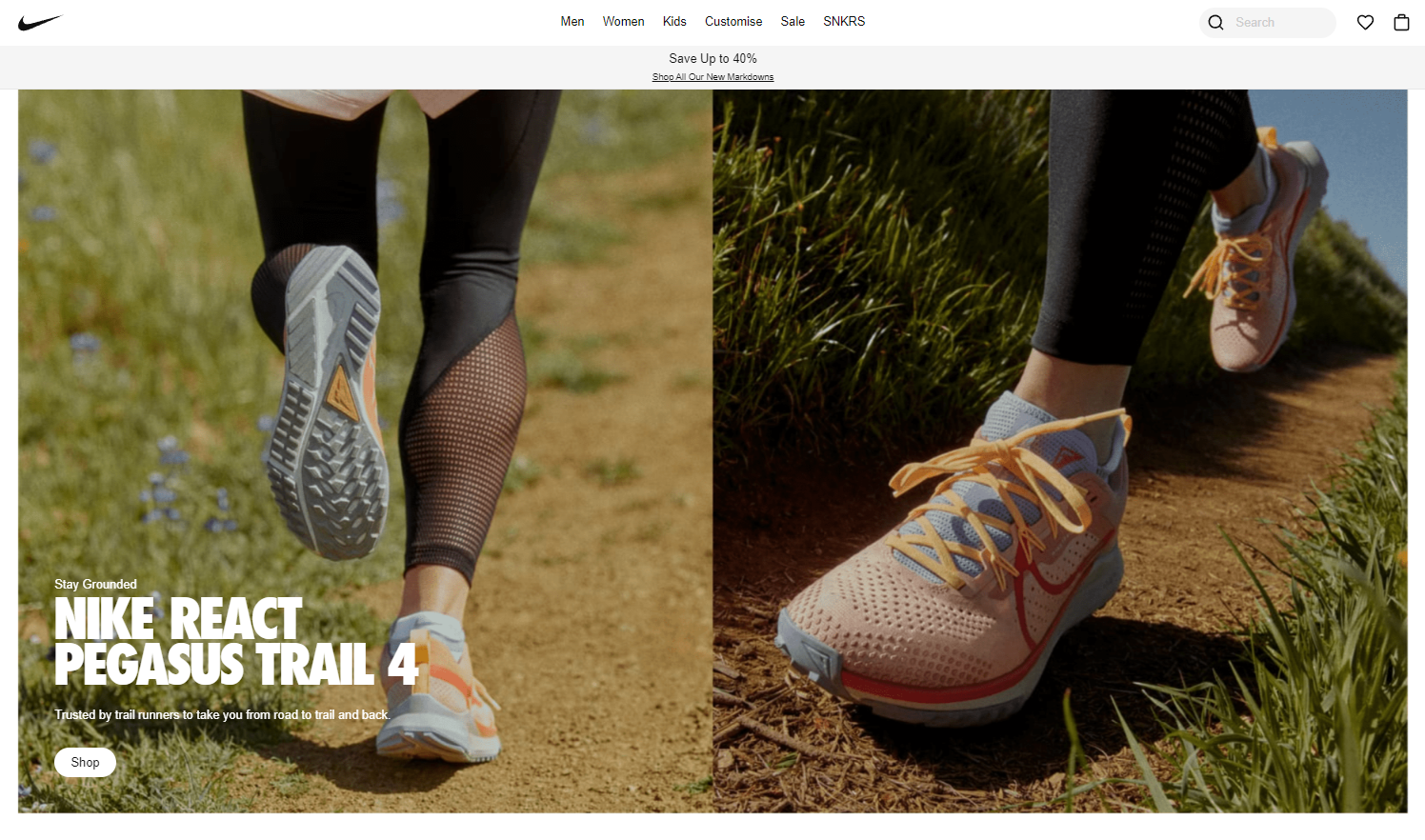 15. Co-Branding
Co-branding means when two or more brands come together to promote a single product.
In a co-branding strategy, the product gets exposure to the audience of both parties. So, you get the chance to attract untapped customers.
While opting for co-branding, ensure that you select well-known and reputed brands. It creates an impression on the audience that your startup has the potential to tie up with established companies.
If you collab with brands whose reputation is not good in the market, your brand name will also go down. So, avoid those who got into the news as scammers, cheaters, or fraudsters.
Example – Enough of companies as an example. Let's take people who established themselves as a brand. Dua Lipa is a popular British singer who sings in English. On the other hand, BlackPink is a famous South Korean singer group consisting of four girls. Both Dua Lipa and BlackPink have their fan base worldwide.
They once collaborated to produce a song back in October 2018 titled "Kiss and Make Up". It's like the western meeting the eastern hemisphere of the earth. With this collab, both the parties got exposure to the untapped fans.
BlackPink fans will listen to this song and ultimately know Dua Lipa. So, those who do not know her will get to know her through this collab. If they like her voice, they will follow her. Similarly, Dua Lipa fans will know about BlackPink.
16. Consistency
How would you feel if I used this font?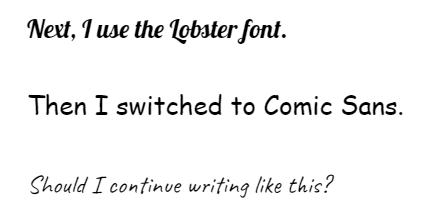 No, right! Three things will happen if I continue this way.
You will leave this page.
Comment down, "Shruti, please stop it!"
SqueezGrowth will throw me out.
I will lose my readers. The point is that be consistent in delivering the content. Not only with the font style, but there are other aspects.
For example, brand color, post design, look, package style, etc.
Avoid changing the design style for different social media and different posts. It breaks consistency and creates a bad impression on viewers. They might leave following you.
Example – Visit 'Forbes' Instagram account. You will see consistency in the content presentation. There is consistency in style, font, color, and content. Also, mark the logo placement. They have placed it right below the corner in every post.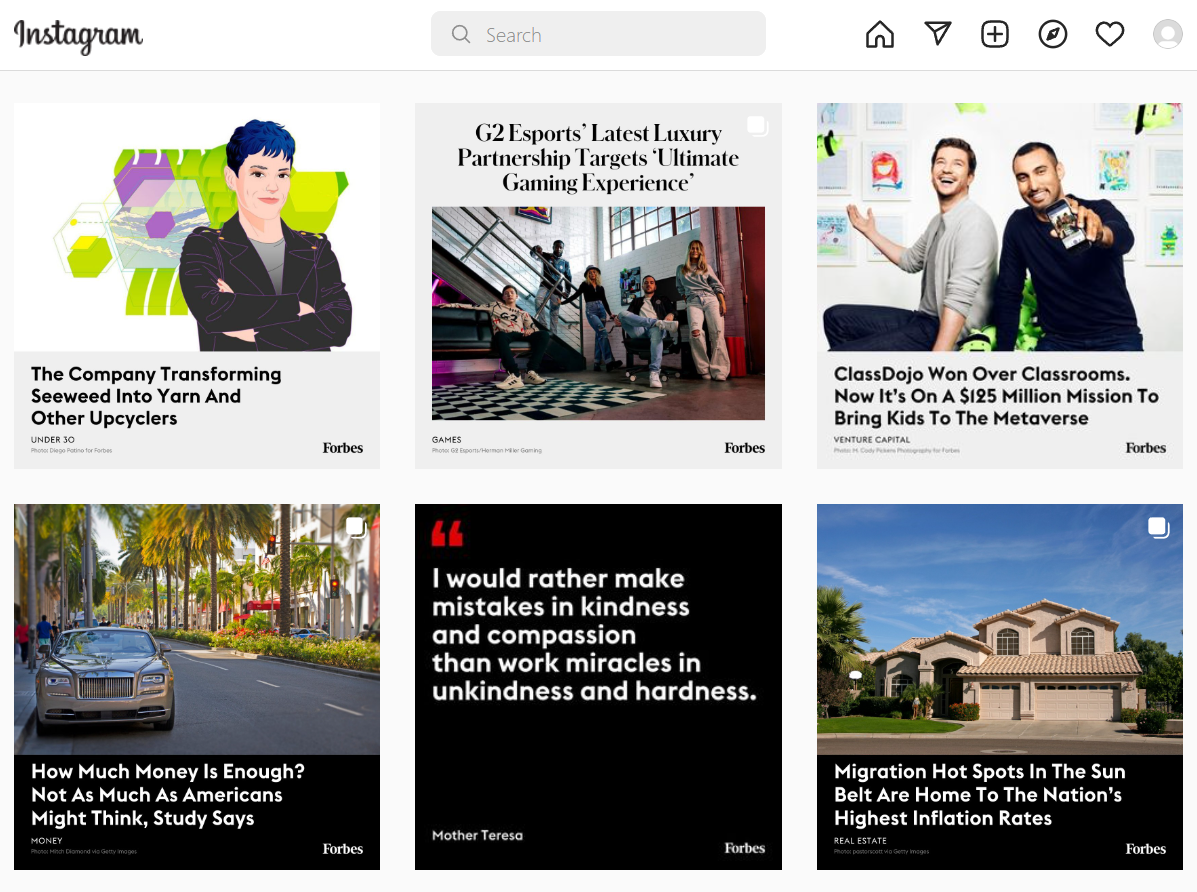 17. Social Service
Social service is also one of the effective branding strategies.
Does your startup work for any cause? Do you serve any social group or work towards the betterment of the environment?
People get attracted when they find that the brand gives some part of their earnings back to society.
It can be educating the backward society, donating to an NGO, planting trees, saving water, protecting animals, etc
.
So, if possible, and if your earnings allow, then try to donate some as a social service.
Example –
Ford does many social activities that make society a better place to live in.
For example, health safety for employees, reducing air pollution, planting trees, education, and women empowerment
. In short, they support a sustainable, happy, and healthy life.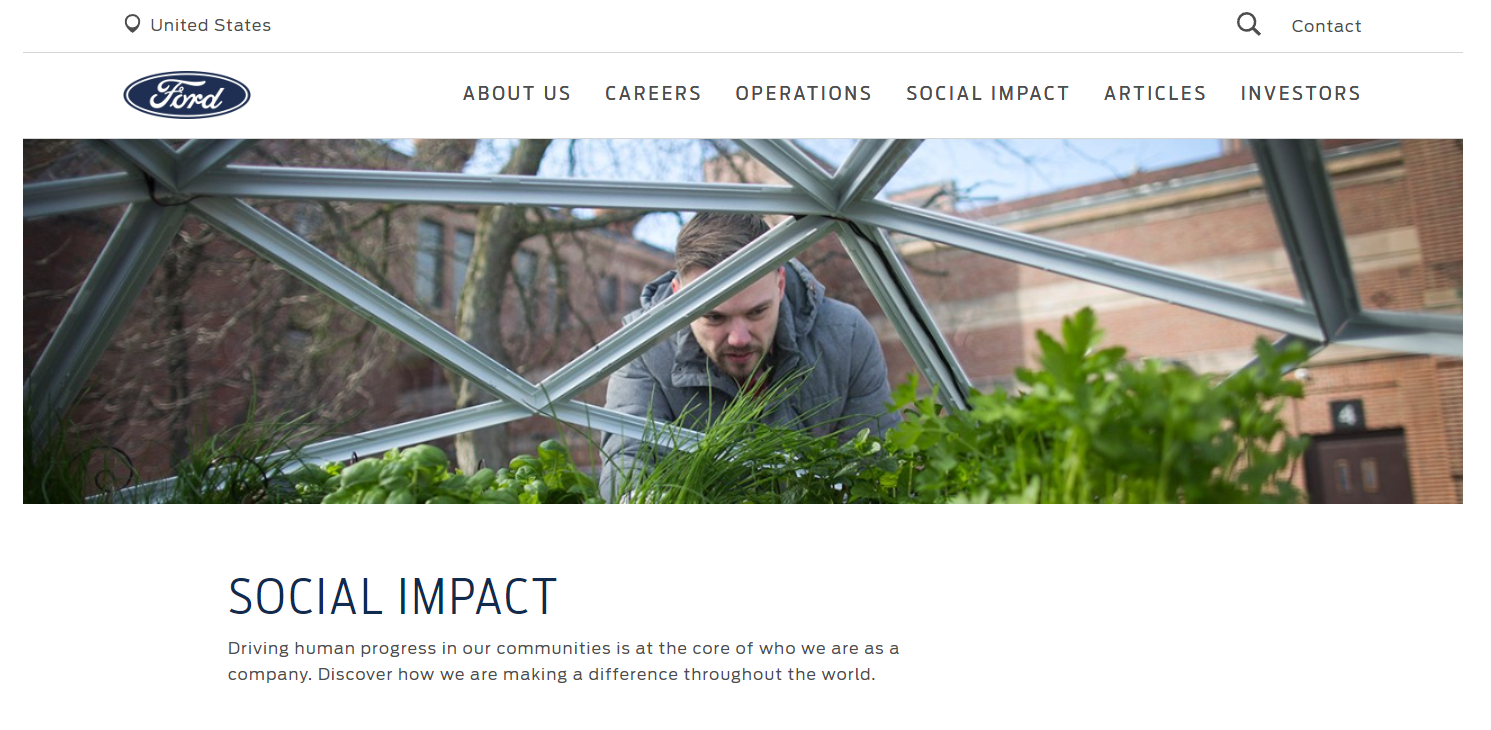 18. USP (Unique Selling Proposition)
The USP defines the unique features of your product or service.
It is the answer to why people should buy from you. So, highlight those features that will attract consumers.
Do not include any feature only to differentiate your product from your competitors. It should also benefit them. There are many startups that fail even after offering something new and unique to the market. Because people did not feel the need for it.
It is not necessary to have any extra functionality in your offering. The level of quality and finishing can also become your USP. Some type of guarantee also is your USP. So, decide what is the one thing that makes your product a hero in its category.
Example – MAC Cosmetics is an American cosmetic manufacturer. Their products are widely used. Their USP is that their cosmetics are smudge-free and waterproof, which is what every woman wants. It keeps the makeup fixed in its place and avoids messing up the look.
19. Consumer Service
Consumer service also plays a major role in the branding of your startup.
How well you serve your customer, pre- and post-selling, tells what values your brand follows
.
The way of product delivery, talking, solving an issue, response, and serving time, all affects the quality of consumer service
.
So, do not think that product gets sold and you
are done
with your job.
Some post-selling customer support service gets required in case the product does not work
.
Example –
Pizza Hut promises to deliver the pizza within 30 mins. If they fail, they will give it to you for free. That's the commitment Pizza Hut took to serve its consumers. There are certain terms and conditions applied. But Pizza Hut keeps its customer service a priority.
20. Consumer Delight
Consumer delight is the extended part of consumer service.
It is that extra mile that you take to make your consumer happy. The basic service is fine. Every brand does it. But what else are you trying to do that makes your customer choose your brand every time over your competitors?
There comes a point where consumers value every brand equally. When they do not find that extra benefit, they switch from one brand to another. Hence, you start losing their loyalty. To maintain it, go for consumer delight. Give them the excuse to always buy for you.
Example – Taj Mahal Palace in Mumbai is a reputed hotel brand in India. Their customer service is exceptional. The staff gets trained to put in that extra effort to delight every customer. Even to those who come to stay for one day.
They memorize the dishes their customers ate before, celebrate their birthdays, take care of their stuff, give a tour of the Hotel Taj, etc. And that's what makes them stand apart from the competitors.
Conclusion
Branding strategies help your brand get value and identity in the market. As a startup, it is vital to pay attention to all the above-mentioned strategies.
Right now, your startup is at the growth stage. It will take time to get registered in the consumer's mind. So, these branding strategies for startups will help them win over competitors.
Take inspiration from the leading brands and try to apply them to branding your startup.