IKEA has employed some of the best marketing techniques to carve its place in the competitive industry and create a unique identity to set itself apart.
The Swedish brand is popular for its modern designs and has over the years built its business through clever advertising, affordable prices, and an unparallel shopping experience.
Today, when someone plans to shop for furniture, IKEA is the first name that comes to mind. That's how strong its presence is in the market.
If you're exploring ideas to create awareness of your brand, IKEA is an ideal case study in powerful marketing strategies.
Here, I have listed down seven of its techniques that are behind its major achievements.
1. Innovative Product Designs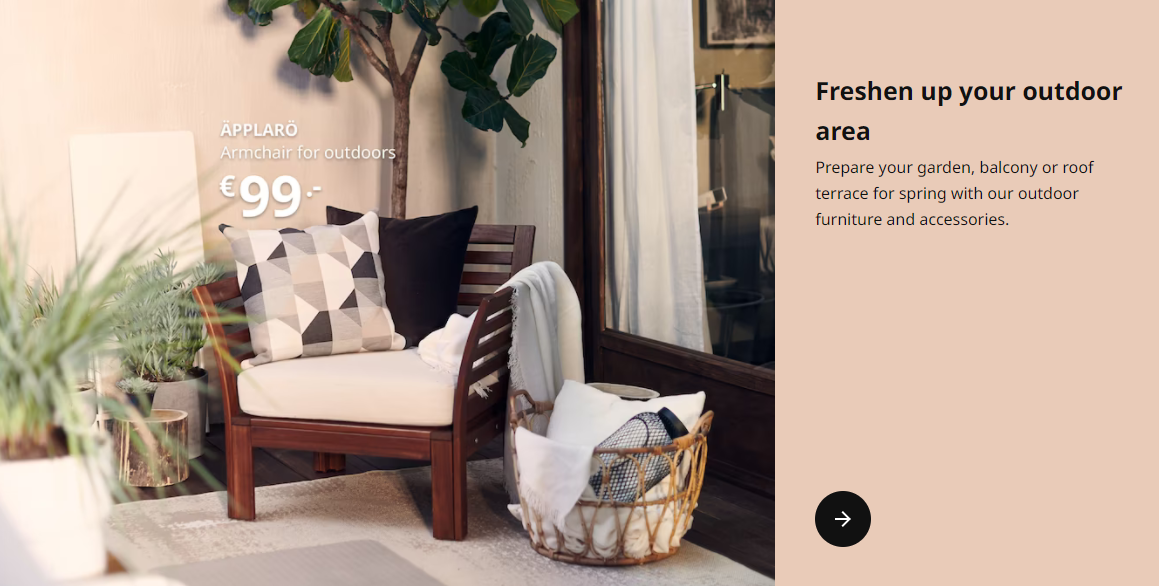 IKEA'S product design is at the core of its business success.
It uses a Democratic model and native Nordic aesthetic to create well-thought-out, minimalistic, and most of all, functional products. As a result, its homeware is not just visually appealing but designed to solve its target market needs and desires.
"Design has been at the core of IKEA product development from the early years, and we are proud of our Swedish heritage, where function and beauty work in harmony in every product."

— Design manager, Eva Lilja Löwenhielm.
There's, of course, another reason its products always appear distinctive.
IKEA has a large resource at hand to brainstorm ideas.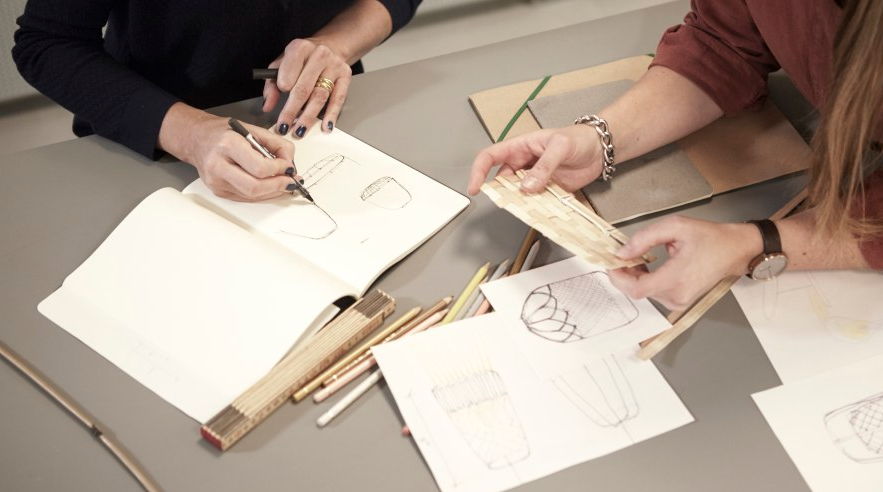 Currently, it entertains 18 in-house designers and works with third-party experts to conceive innovative ideas and continuously bring out fresh pieces.
But for the most part, it's the Scandinavian touch and smart features that make them noticeable.
TakeAway
A good product design has the right amount of aesthetical appeal and utility. It should satisfy your customer's expectations and deliver the value it promises.
People love IKEA furniture because of its attractive designs and personalization. They easily fit into a small apartment and make your room look spacious and modern.
2. Deep Customer Insights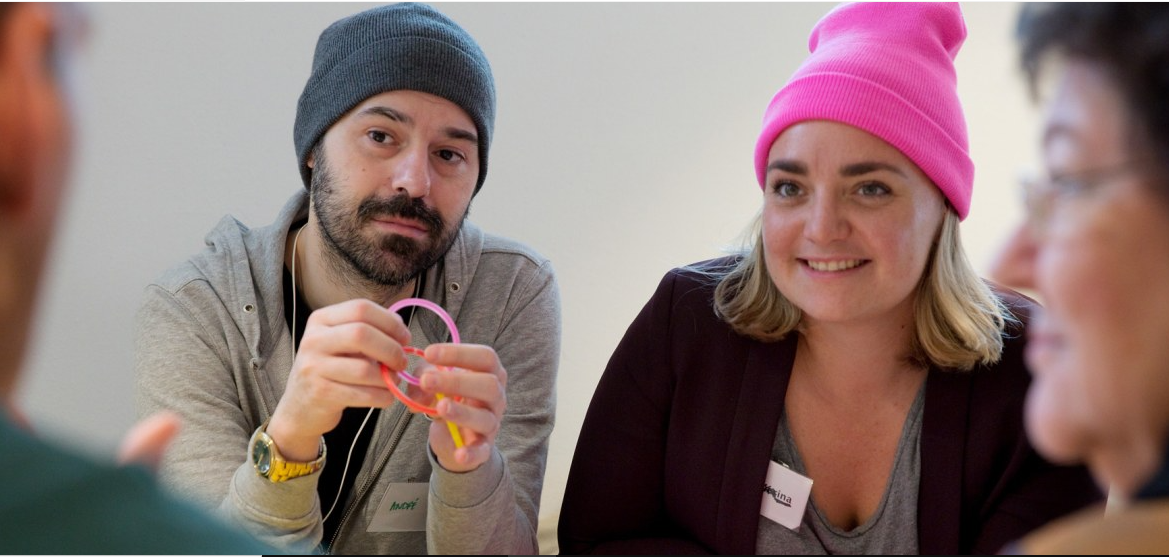 IKEA has changed the way we conduct market research on our customers.
Where brands use chatbots to engage the audience, IKEA leverages them to get the inside scoop on its customers. Where the research team publishes bland surveys for data collection, it shares entertaining questionnaires to make its audience experience enjoyable.
It takes full advantage of visuals and customer interactions to gather real-time data on its target audience.
The One Shared House 2030 survey is a classic example of its smart market research approach.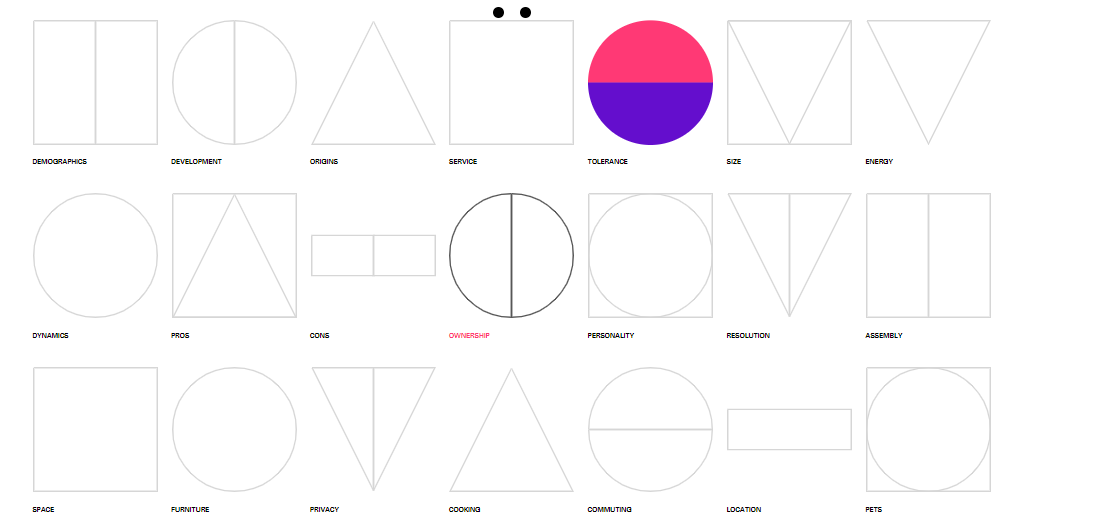 It's an interactive survey, IKEA published to discover people's interest in shared living décor. It not only received a massive response, but learned that nearly one in three people living in cities would probably go for co-living by 2030.
IKEA employs digital media, smart tools, and direct interactions to understand its buyer's needs on a deeper level to improve its products.
TakeAway
Your preliminary research creates a foundation for your marketing strategy. It helps you understand your prospect's needs and build a data-driven plan of action.
While traditional surveys do collect good results, IKEA has shown us there's a different and more efficient way to discover our customer's pinpoints.
Its product development team even visits people's houses so they can accurately pinpoint the features that would attract its audience the most.
You'll get a far better response by engaging your audience through fun activities and casual conversations. The more people are interested in your survey method, the more information they will provide.
3. Clever Packaging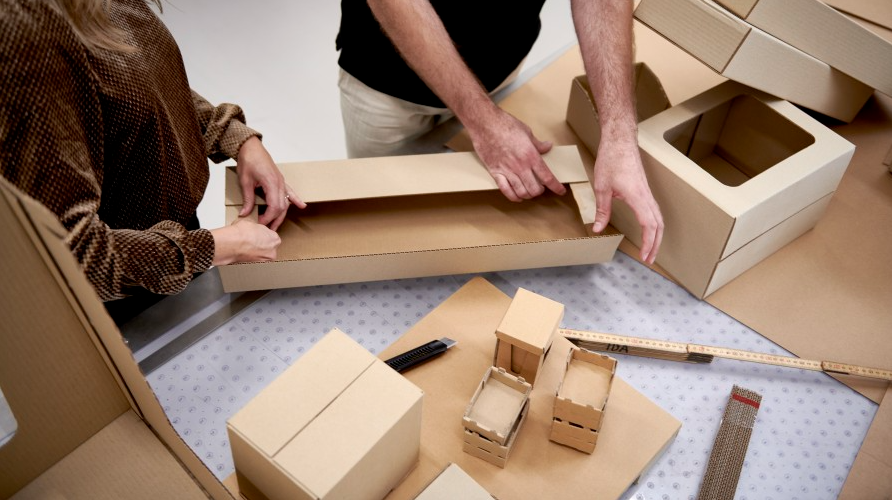 If you've ever shopped from IKEA, you'd notice it has created its pricing model to cater to a diverse income group.
Whether you're from the upper-middle class, a first-time homeowner, or a student, you can always get a good deal at the store and bring home furniture that generally lasts for years.
How do you think IKEA maintains its quality and still sells products at comparatively cheaper rates?
It cuts its costs through its flat packaging.
The company saves nearly $175,000 in raw material and $133,000 in transportation expenses yearly because of it.
Not only that, but it also allows IKEA to exclude a portion of delivery changes from its prices by offering customers to assemble the furniture themselves.
"One centimeter there could maybe mean 10 euros in the end on each and every product."

—IKEA Design manager. 
The flat packaging also serves a dual purpose.
The reduced overhead costs, lower per-item prices, and the packaging design make its products recognizable.
TakeAway
Product packaging might be a small part of your business operations, but it can have a powerful impact on both your profits and brand image. You can cut your expenses, promote your brand, and increase sales, all through your packaging style.
Just like IKEA.
The company initially introduced flat packaging to save space and costs, but later it became its signature style. It's now planning to add more sustainable options to decrease 50% expense further and, at the same time, uplift its image.
4. Excellent In-Store Experience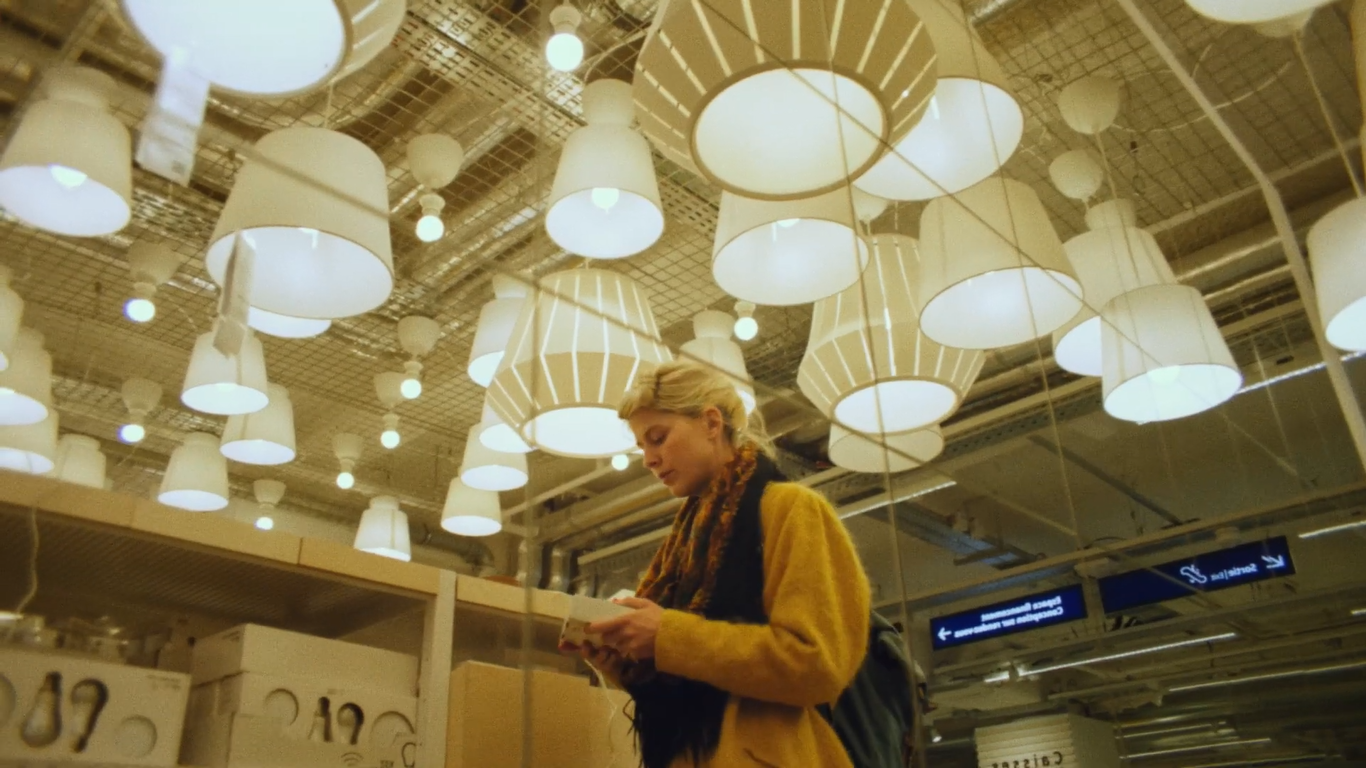 IKEA is brilliant at product displays and knows how to showcase them in the best light to generate more sales.
It strategically places best-matched items in mock rooms to inspire decoration ideas and encourage impulse purchase.
With visually appealing decorations and excellent customer service, it provides a memorable experience to its visitors, inciting them to come back for more.
Its store design is another reason its location is always crowded.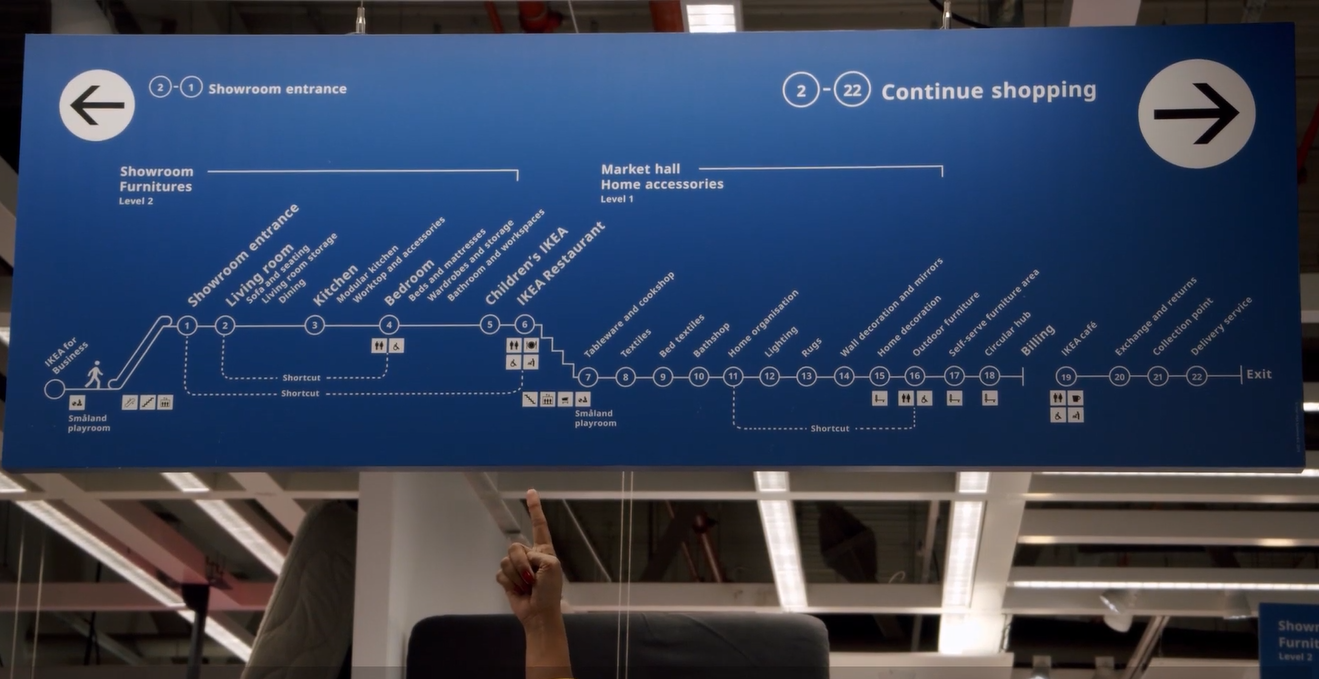 Unlike regular stores, IKEA's structure features a single path layout that takes you on a step-by-step journey through its entire product line.
It also has a snack area established for people to take short breaks.
The design is deliberately formed in a maze to increase its product visibility and prolong its visitors' stay.
TakeAway
Product placement, color scheme, customer service, and the overall atmosphere can both boost and decline your daily sales.
People don't frequently visit IKEA stores because of its furniture. They come to get inspiration for their rooms and enjoy the unique shopping experience.
Invest in your in-store product display. Most still prefer retail shopping, and an attractive layout can increase your foot traffic.
5. Adapting to New Technology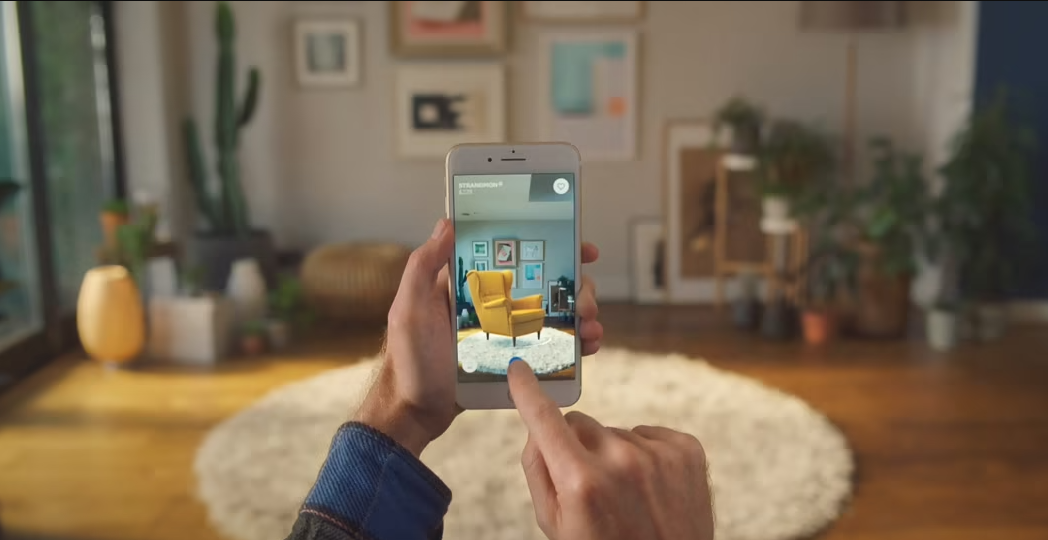 IKEA has come a long way from a humble Swedish store to a multinational brand by keeping up with trends and readily adopting new technologies.
Over the years, it has transformed the retail experience, digitalizing its operations to make its products more accessible to its audience.
Take its augmented reality app, for example.
People especially download its 3D modeling app just to envision their dream home. It's one of its most successful marketing moves that allows IKEA to upsell its low-demand items by creating a desire in its customers to revamp the room.
IKEA has also optimized its check-out process to make purchasing furniture easy for its customers. By employing cutting-edge interactive functions and offering multiple delivery options, it facilitates its users to encourage shopping.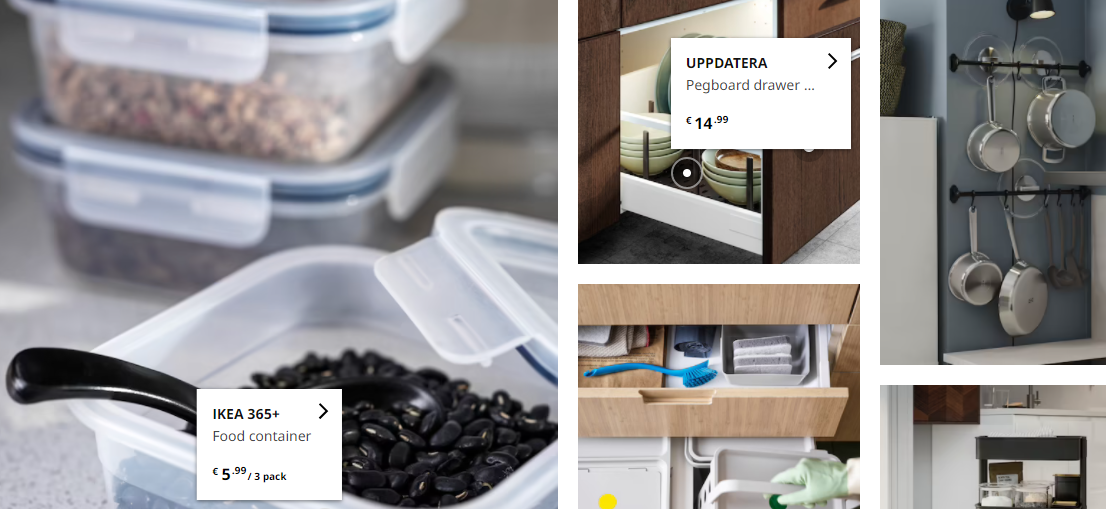 All its upgrades have been added to get more orders and ultimately boost its yearly revenues.
TakeAway
In this digital era, almost half of the world now uses the internet to discover and buy products. To keep pace with current demand, you'd have to adapt to the changes so you can thrive in a competitive environment.
With new tech features, you can successfully expand your outreach, drive more traffic to your store, and improve customer engagement.
6. Content Marketing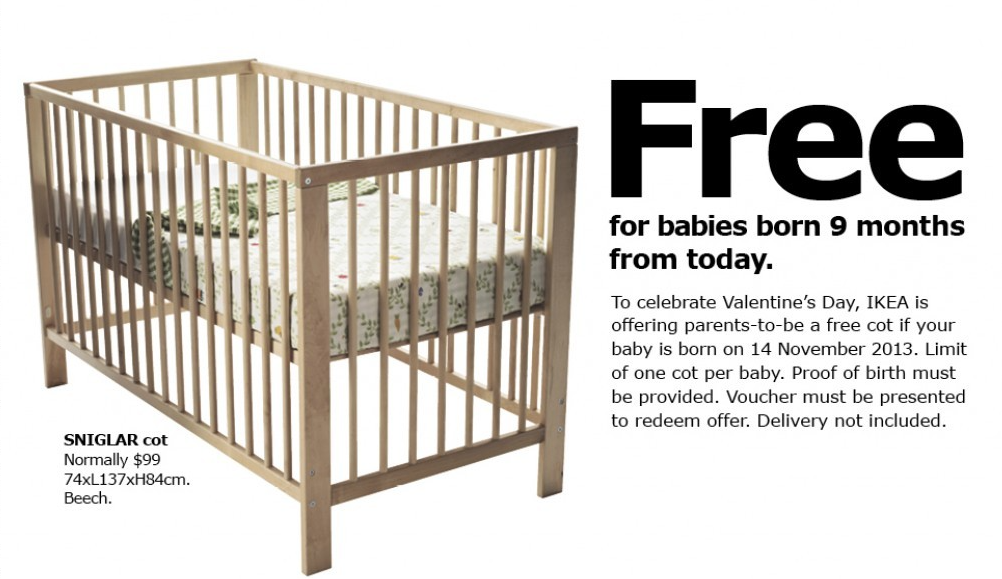 IKEA has always relied on its content marketing strategy to distinguish itself from other furniture brands.
Whether it's commercials, print ads, or social media, the one element that stands out in all of its advertisements is its attention-grabbing content.
It combines humor, innovation, and its brand core values to produce Ads that draw the eye and inspire people to buy its products.
Take a look at this commercial. It's its classic content marketing style.
The playful video is part of its #furnitureforall campaign IKEA launched after the USA released a video on unidentified object sightings. It took context from the trending news and turned it into a PR campaign that got a massive response from all around the world.
IKEA also invests heavily in direct marketing to promote its brand. One of its most preferred methods it has been using for 70 years with success is its product catalog.
You'd not believe it, but IKEA used to invest 70% of its budget on them, producing 200 million copies yearly worldwide before it went digital.
It's still its number one advertising tool and might be for the foreseeable future.
TakeAway
Generating content consistently, particularly humorous, is undoubtedly one of the most challenging aspects of marketing. But it also generates three times more responses than other advertising methods.
71% of people log in to their social networks especially to watch funny content, and almost half of them can recall what they've seen.
Focus on your content marketing. With it, you can boost your reach and make your Ads memorable.
7.  Brand Identity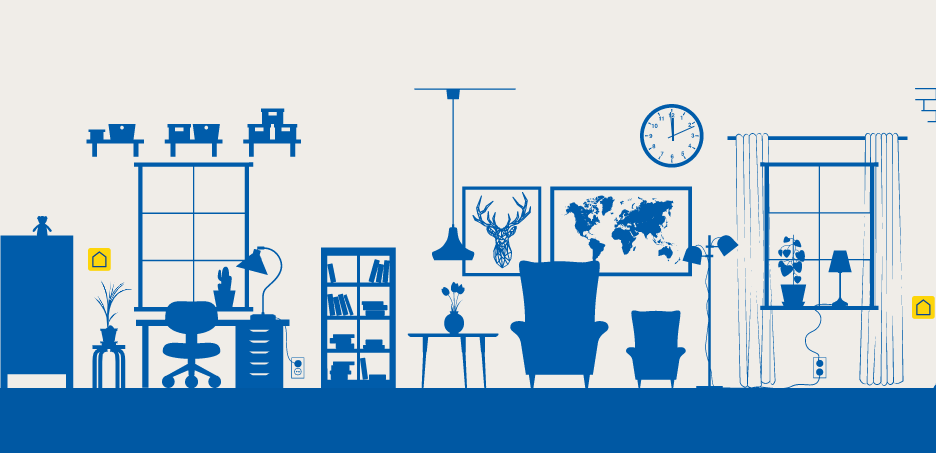 When you look at IKEA now, it's hard to imagine the furniture giant began its journey by selling pens and wallets. Sure, most start small, but not everyone can scale from a remote stationery store to a multinational brand.
Do you know how IKEA managed to build its identity?
By sticking to its original mission and remaining consistent.
Ingvar Kamprad created the company initially to produce high-quality furniture that anyone could afford.
Back then, people were frugal with homeware, and he wanted to inspire better living by offering smart home décor.
To this day, IKEA has remained true to its original mission and sells inexpensive products. Even its future planning for a circular economy revolves around its original mission, "to create a better everyday life for the many people."
The introduction of flat packaging also reflects its core brand values. It launched a unique design to make transportation easier, and it still uses it for the very same purpose.
IKEA's consistent branding is also why it's widely recognizable.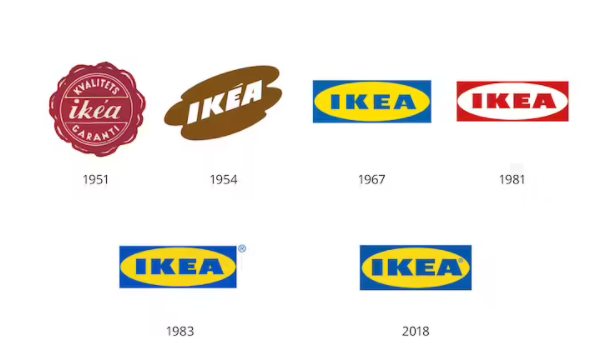 Do you know the blue and yellow color scheme we typically see in its logo and website?
It published the design in 1967 and kept the theme going throughout the years.  
TakeAway
Brand consistency helps you deliver a unified experience to your audience. It makes your products authentic, builds trust in your company, and sets you apart from your competitors.
IKEA is easily recognizable because of its consistent image. It has worked tirelessly to build its identity to become one of the largest furniture producers worldwide.
Today, its name is what attracts people in the first place before they explore the products.
Conclusion
IKEA has taught us how powerful marketing strategies can help you gain deep customer loyalty and earn an unbeatable place in the industry.
It has consistently exceeded its buyer's expectations with digital transformation, excellent user experience, and engaging campaigns.
Now, it operates 465 stores worldwide and receives over 650-million-foot traffic!
Every entrepreneur, whether doing business in the retail industry or software, can take inspiration from IKEA's proven marketing strategies.
We have a detailed guide on how to write a marketing strategy, which I recommend as further reading.
I also recommend reading other case studies we've conducted on Nestle, Apple, and Coca-Cola.
Good luck!