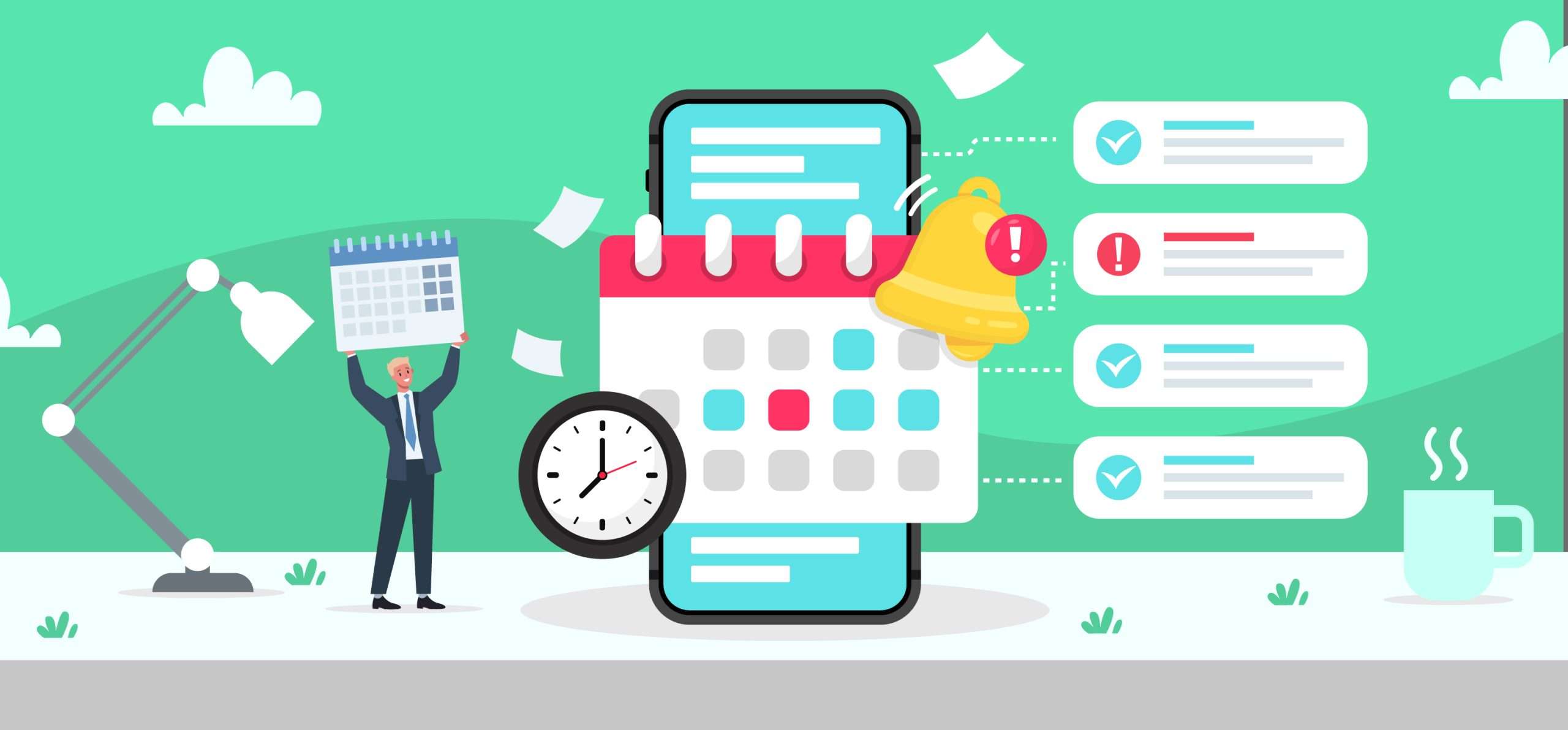 Schedule planners help you stay organized and on track.
They enable you to plan almost everything, from projects and team meetings to grocery shopping and doctor's appointments.
With a good scheduling tool, you can easily manage your personal and work life and get the most out of your day.
Let's explore the reviews to discover the top scheduling apps, tools, and software.
What is a Schedule Planner App and Which Software is Best for You?
Schedule Planner applications are online software products that provide you with tools to organize your days, weeks, months and even a year in advance.
Whether you want to build a work schedule or just need a tracking app to establish a proper routine, you can do both via a schedule planner.
Top Features to Look for in a Scheduler Planner;
Calendar integration.
To-do lists, checklists.
Reminders and alerts.
Check out the 12 best Schedule Planner software products for individuals and teams. I have included both basic and advanced tools to cover various features and prices.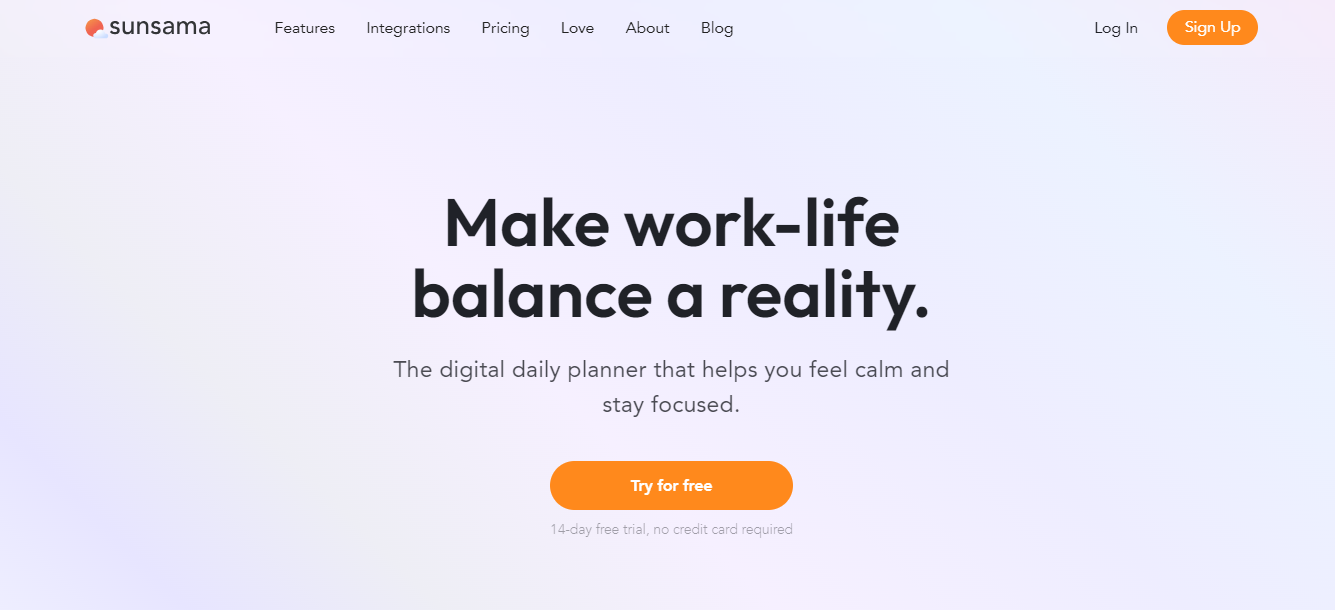 Sunsama is an intuitive planner. It delivers a unified dashboard to manage daily tasks, work schedules, and to-do lists.
With its drag-and-drop editor and time-boxing feature, you can quickly plan your day and reserve time for priority tasks. You can additionally sync your Google or Outlook with Sunsama to pull messages directly from your inbox and turn those messages into quick tasks.
If your company uses any project management app, you can also drag projects from there and drop them on the planner. Sunsama automatically synchronizes, tracks, and updates future changes to save you time.
You can purchase Sunsama for yourself and your team.
Core Features
Drag-and-drop interface.
Auto-scheduling.
Time boxing.
Gmail, Slack, and Outlook syncing.
Unified Calendar.
Focus mode.
Analytics.
Project management app integrations.
Price
Sunsama charges $20 per user.
You can take a 14-day trial to explore it.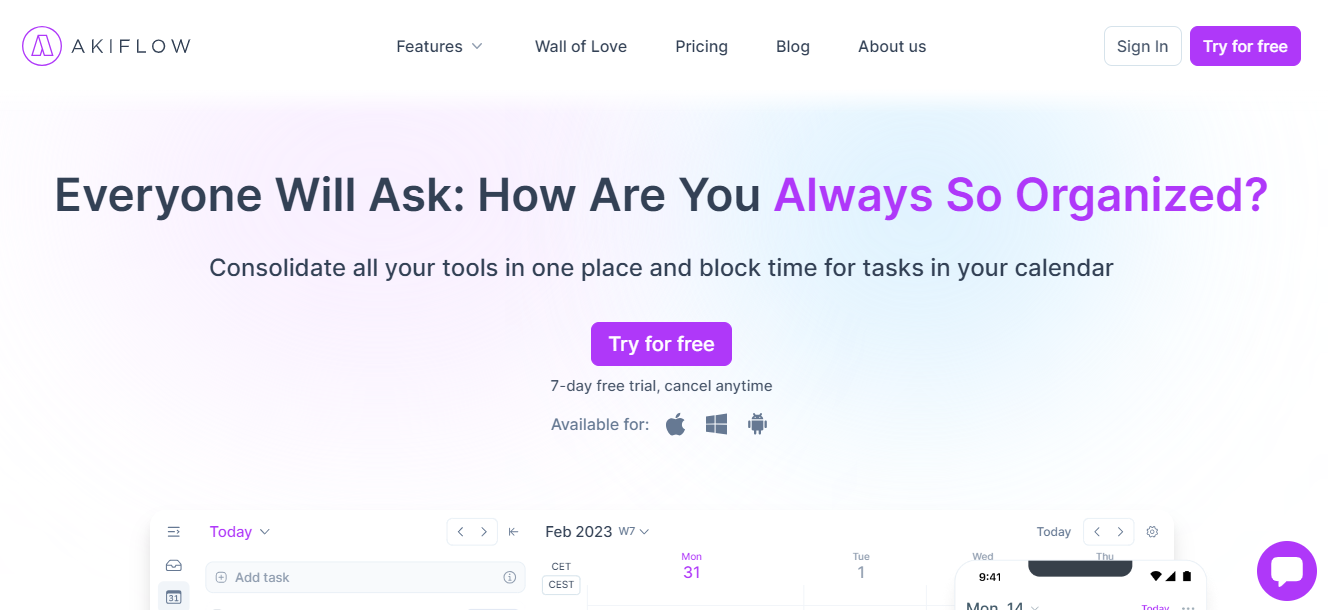 Akiflow's interface is similar to Sunsama.
You'll receive a unified platform to import tasks from your business tools and quickly convert them into tasks.
Some of the apps you can integrate with Akiflow include Google, Slack, Zoom, and Asana. You'll also get Zapier integration to connect with thousands of other software products.
One of Akiflow's most interesting features is a universal inbox. If you have some tasks that aren't on your priority list, you can store them in Akiflow's inbox to schedule them later.
The unified calendar is another feature you'll love. You can connect all your calendars to Akiflow and schedule tasks from there. This function is also available in Sunsama.
Core Features
Unified Calendar.
Universal Inbox.
Appointment setting.
Recurring tasks.
Email import.
Tags and labels.
Time blocking.
Focus mode.
Zoom and Zapier integrations.
Desktop and mobile version.
Price
Akiflow monthly package costs $15.
A 7-day trial is available.
Ellie provides a schedule planner for Windows and iOS.
It has a Kanban board for organizing and monitoring daily tasks, along with an inbox called Brain Dump to save future projects for later.
You can schedule subtasks and recurring jobs on the board, apply labels to categorize tasks, and add deadlines and estimated delivery periods to optimize your time. To sort upcoming jobs you can pull some tasks from your brain dump and convert them into lists.
If your email volume is high, you can forward priority emails to Ellie and schedule them as tasks.
Core Features
Windows and iOS apps.
Calendar integration.
Brain dump
Kanban board.
Recurring tasks and deadlines.
Emails into tasks.
Time boxing.
Labels.
Analytics.
Price
Ellie has both monthly and one-time payment options. Its subscription package costs $5 per month, and one-time charges are $150.
You can sign up to the platform for free.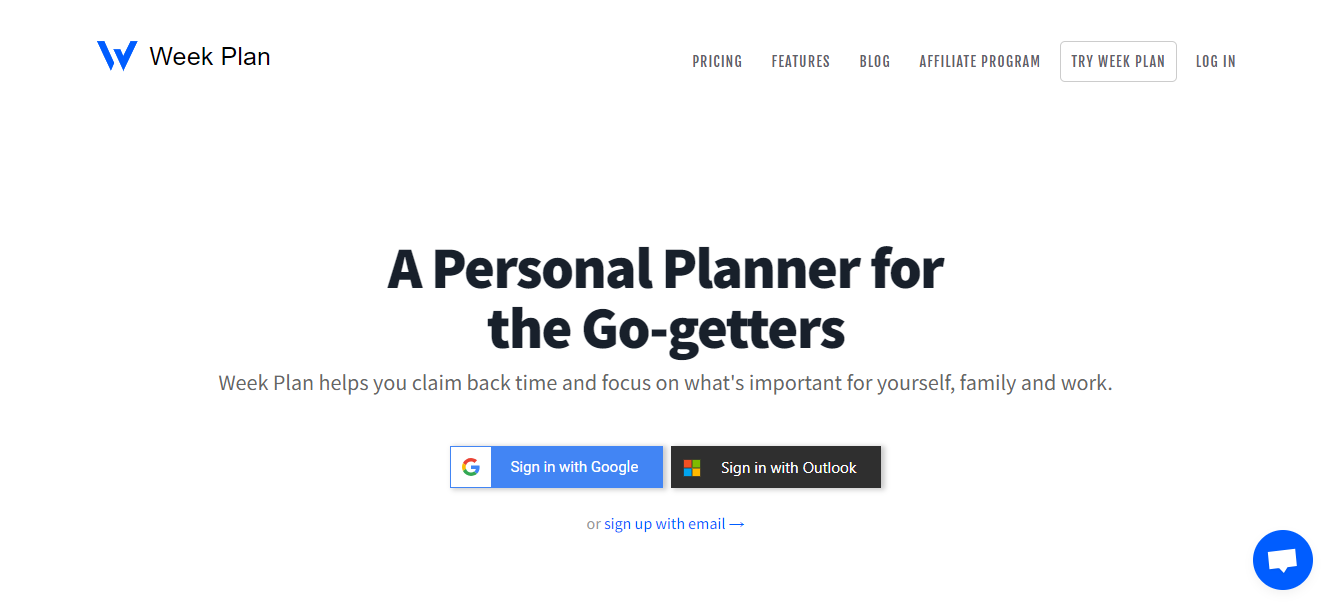 Weekplan is designed for independent entrepreneurs. It acts as a schedule planner and productivity app, allowing you to maintain a routine while keeping your work and life balanced.
You'll mainly get a kanban board and a calendar to make the schedule, but plenty of features are included in the package. For instance, you can set up professional and personal milestones to see how much you can achieve in a month and turn regular activities into recurring tasks to save time.
There's also an option for team management. You can create workspaces for your team and assign them tasks to supervise their work.
Weekplan integrates with third-party platforms and works well on both desktops and smartphones.
Core Features
Kanban board.
Calendar integration.
Task management.
Goal setting and priorities.
Recurring tasks.
Time tracking.
Week views.
Team invitation.
Desktop and mobile versions.
Price
Weekplan monthly subscriptions cost around $11.
You can take a 7-day trial.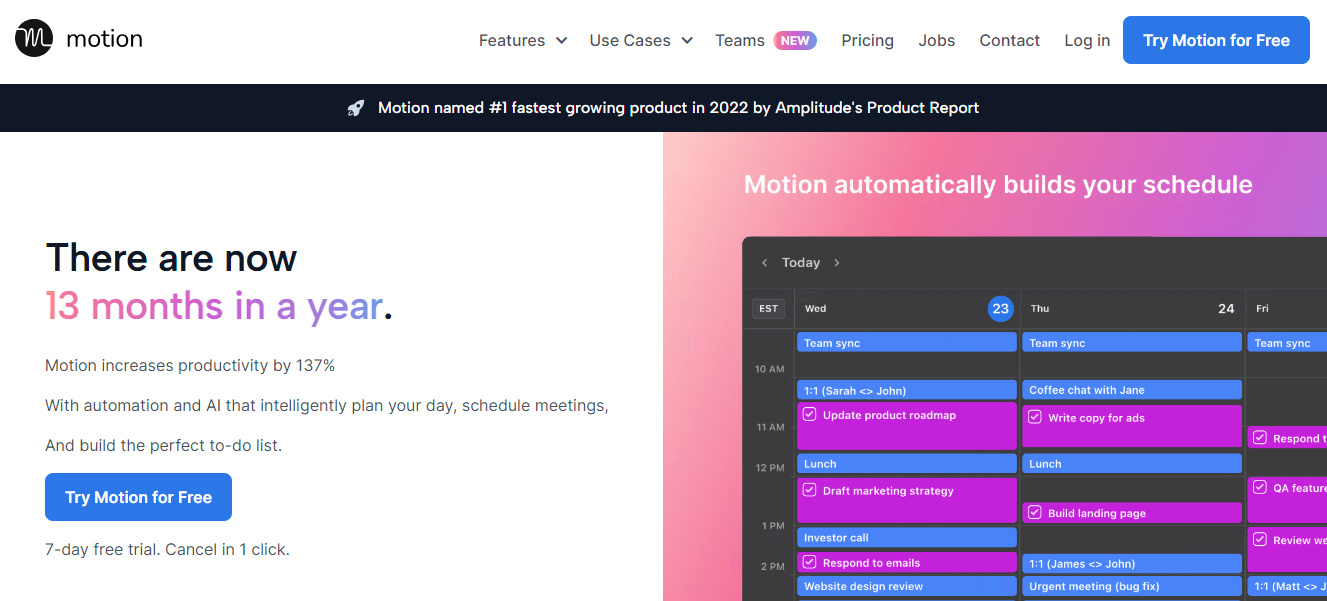 Motion is an incredibly time-saving app. It's an AI-powered schedule planner that automatically builds an optimized schedule based on your priorities.
What the app does is it takes your working hours and daily tasks and breaks them into realistic milestones so you can comfortably meet deadlines and complete every task on time.
You'll additionally receive an AI assistant to automatically reserve time for client meetings and other appointments.
If you work on joint projects, Motion can sync and plan your team calendars as well.
All in all, it's a good option to consider for both individual and team schedule planning.
Core Features
Auto-scheduling.
Time blocking.
AI assistant for appointments.
Project and task management.
Team invitation.
Alerts.
Calendar syncing.
Third-party integrations.
Desktop and mobile version.
Price
Motion's individual plan costs $19, and the Team plan costs $12 per user.
You can explore it for free.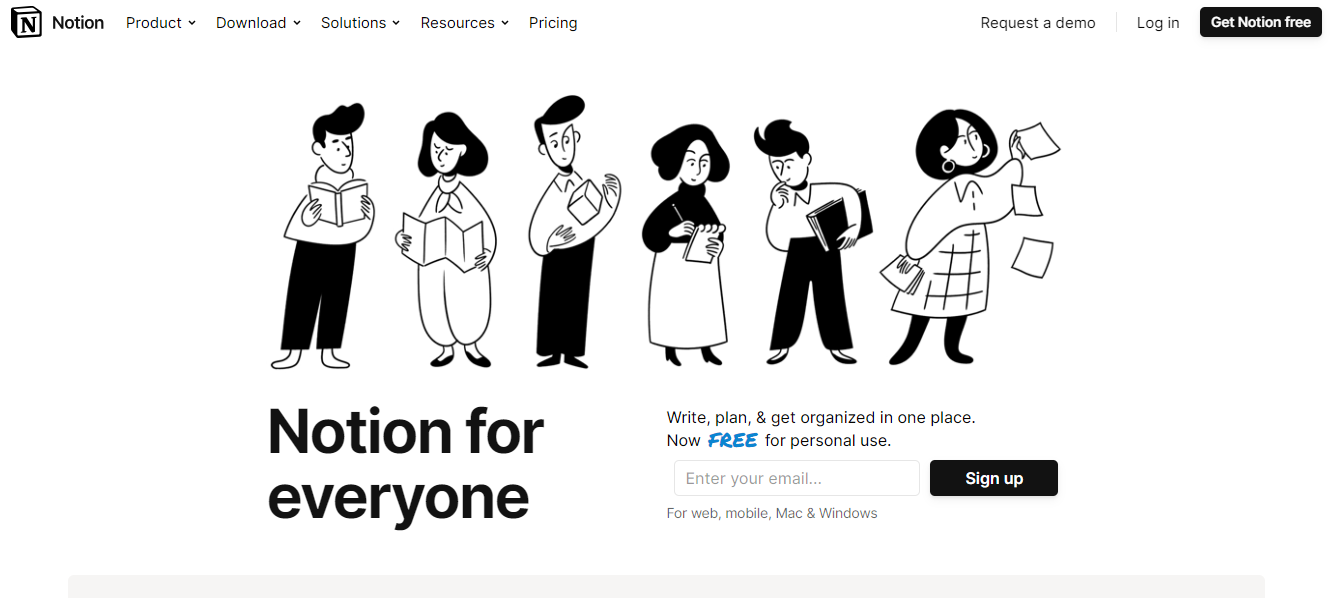 Notion is one of the best schedule planner apps. It provides workspaces for both individuals and teams, allowing leaders to manage personal and team schedules with ease.
Here, you can build monthly calendars, create custom tasks to keep track of activities, take notes to make to-do lists, and set up pages for events.
To manage your team, you can build a status board and assign tasks and deadlines to follow multiple projects. You can connect your Slack for communication and set up automation to stay informed of status changes.
There are a lot of such things you can organize through Notion, which saves you from using multiple apps for different tasks.
Core Features
Collaborative workspaces.
Calendar for personal and work.
Notes, to-do lists, tasks, deadlines, and tracking.
Kanban board for team management.
File uploads.
Event pages, writing spaces, and an AI assistant.
Templates for routines.
Integration.
Mobile friendly.
Price
Notion is free for individuals and charges $8 to $15 for business tools.
You can get the enterprise package as well.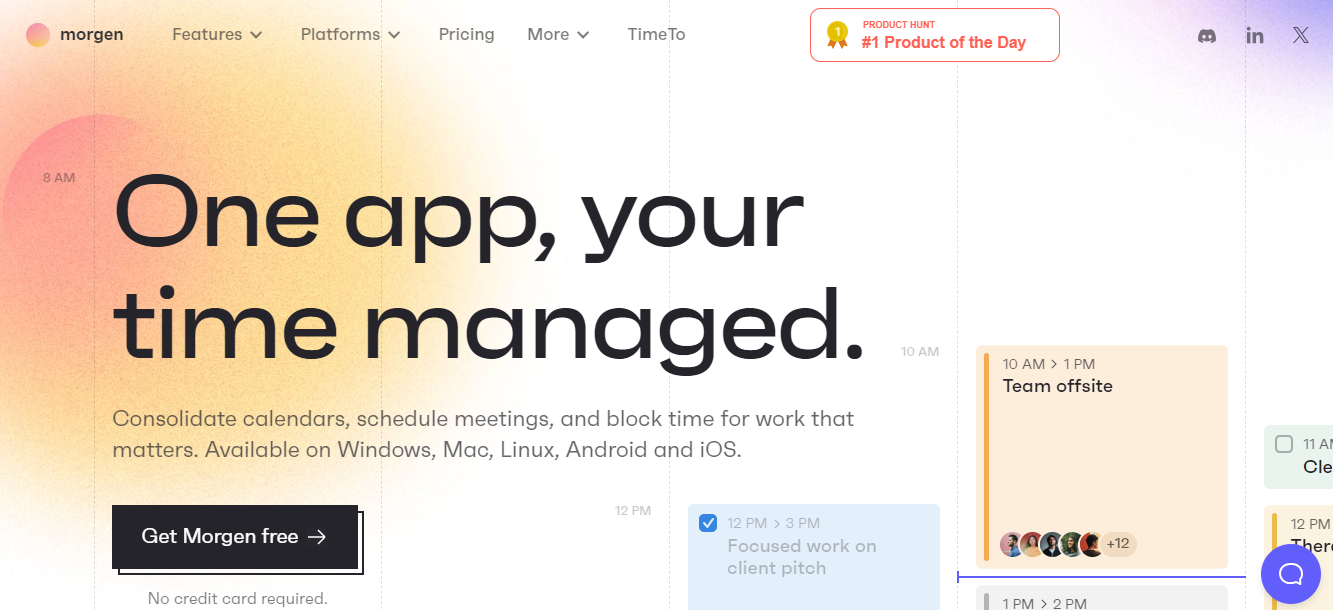 Morgen offers a comprehensive platform to manage your work schedule. You will get a unified calendar to centralize your events and a task manager to create consolidated checklists of future projects.
The top functions you can perform on Morgen include syncing all your calendars, creating and scheduling events, reserving time for priority tasks, and setting up recurring tasks.
You can also generate an empty task to show your availability.
One of Morgen's most notable features is its smart scheduler. Morgen can scan all your calendars and display available slots to the other party. This feature works best for those who frequently organize events and struggle with invitations.
Core Features
Unified Calendar.
Task manager.
Scheduling.
Time blocking.
Event management page.
Zoom connecting.
Third-party integrations.
While labeling.
Mobile app.
Price
Morgen's basic plan is free, and the premium packages range between $4 and $9. You can also try premium features for free.
Any.do is a to-do list and a planner app. Via this tool, you can create checklists of daily tasks and centralize your events.
You can use Any-do for personal purposes or purchase its collaborative space to manage team schedules. Its team management package covers a lot of things including project boards, communication channels, workflow templates, and approvals.
For individual needs, Any.do provides a day planner and calendar integration. You can organize your entire day and simultaneously match it with your calendar to reduce double entries.
You can add daily, weekly, and monthly reminders to make your schedule more efficient. You can also download Any.do on multiple devices to make your schedule accessible.
Core Features
To-do list.
Task and project management.
Daily planner.
Reminders and alerts.
Third-party integrations.
Data import.
Workflow templates.
Mobile app.
Price
Any.do is free for personal use. For work schedules, you can purchase its monthly premium packages for $3 to $5.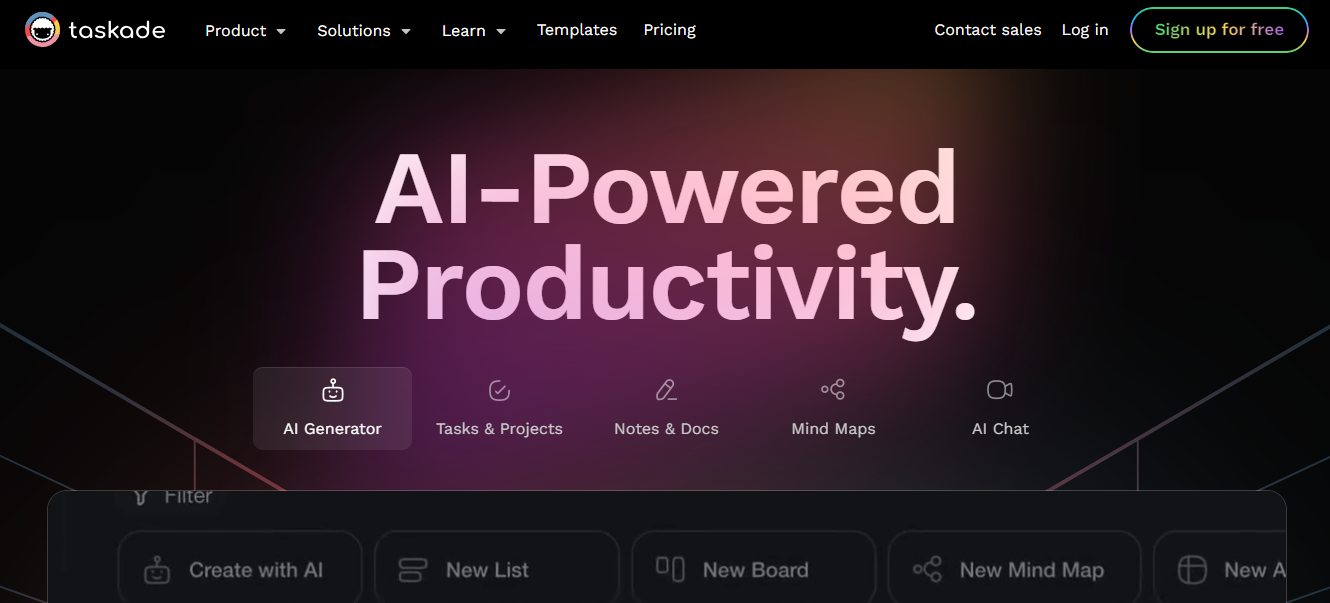 Taskade is an AI-powered planner. The software is specifically designed for small business owners, providing them with a centralized platform to manage work, life, and team schedules.
The app comes with a Kanban board, calendar view, to-do lists, and notes to help you optimize your schedule. Using collaborative workspaces, you can plan your project workflows and work with your team.
With built-in video and chat channels, you can share projects and join meetings right from Taskade.
The hero feature of Taskade is its AI assistant. You can use it to create workflows, organize tasks, and prioritize your projects.
Core Features
Scheduling.
Project management.
Status boards and calendars.
Collaboration tools.
Workflow templates.
AI-assistant.
Mobile widgets.
Custom branding.
Multilingual.
Integrations.
Price
You can try Taskade for free. Its personal use packages start from $4, while its business packages range between $19 and $99.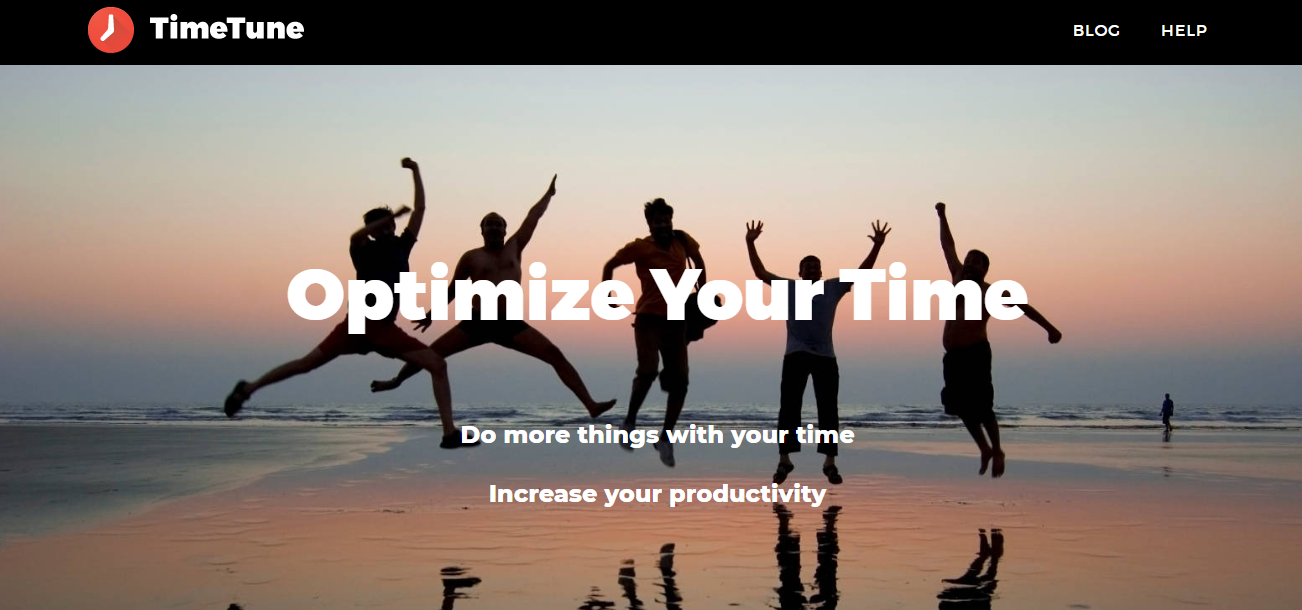 TimeTune helps you develop your routine. Launched in 2014, it has been downloaded more than 5M times for its simplistic yet incredibly useful functions.
The mobile app delivers pre-defined templates to get you started and a time-blocking tool to set up your schedule. You can add custom alerts to stay on track and periodically check analytics to evaluate your improvement. 
You can activate TimeTune as a screen widget for quick access and add labels to organize your tasks. 
Core Features
Scheduling.

Time blocking.

Templates for schedules and calendars.

Label.

Custom alerts.

Reminders.

Dark theme.

Statistics.

Android app.
Price
TimeTune is available for free on the Google Play Store. Click here to download the software.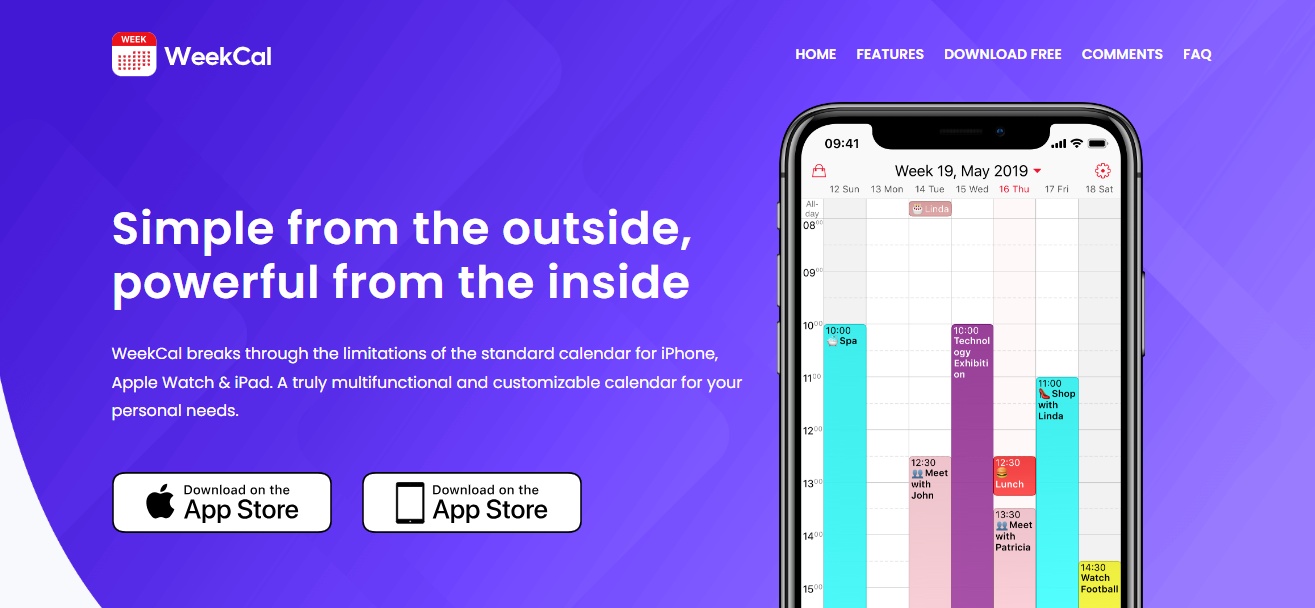 WeekCal is a planner app for iPad and iPhone users. It's a multipurpose platform you can use for both personal and work schedules.
A few things you can do with WeekCal include creating and sharing events, setting up recurring tasks, and duplicating events.
You can add labels to distinguish personal chores from business meetings and assign colors to identify priority tasks. You can also link Zoom and Google Meet to instantly join meetings.
WeekCal enables you to set daily, weekly, and monthly schedules. With its drag-and-drop interface, you can easily add, delete, and move events on the calendar.
Core Features
Mobile app.
Daily, weekly, and monthly schedules.
Drag-and-drop interface.
Emojis and labels.
Event sharing and attachments.
Zoom integration.
Multilingual.
Customization.
Dark mode.
Price
WeekCal is free to download and charges for the premium upgrades. The in-app purchases range between $3 to $20.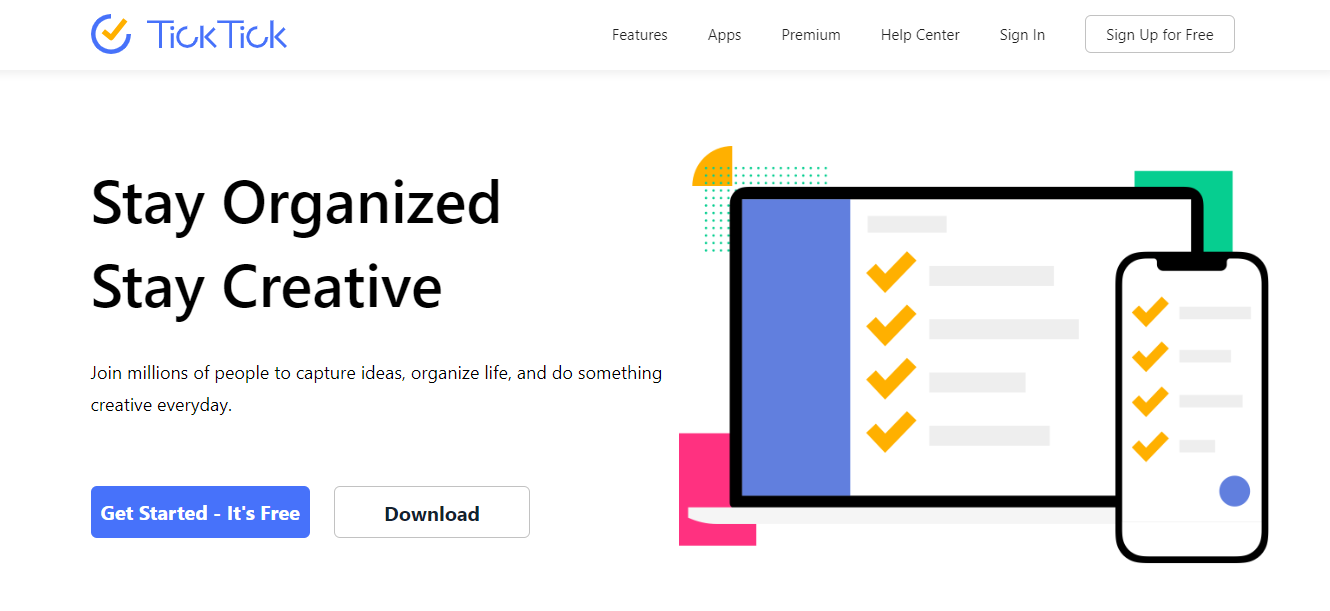 TickTick is a widely popular organizer.
It has multiple calendars to build daily and weekly schedules, alerts and reminders to monitor tasks and collaboration tools for team projects. What's more, it has a timer to track your work capacity and productivity.
You can create tasks and to-do lists, add priority levels to highlight urgent jobs and make recurring schedules for regular activities. With the quick task function, you can easily convert emails into projects and add a voice note for quick reminders.
If you schedule on-site visits, you can also create location-based reminders on TickTick to send alerts when you reach specific destinations. To get a quick view, you can set the app on your home screen.
Core Features
Calendar view.
Tasks and deadlines.
Priority tags.
To-do list.
Reminders and alerts.
Timer and white noise.
Screen widget.
Collaboration.
Statistics.
Mobile app.
Price
You can get started on TickTick for free. It charges around $3 per month for premium features.
Conclusion
A good schedule planner allows you to organize your days to generate maximum output without burning out.
While you can certainly manage your appointments and daily chores with a simple built-in calendar and a reminder, a schedule planner is a better option, especially if you face difficulty optimizing your time.
Explore the above software products and pick the best app for personal and work schedules. Good luck!