Staying on top of your workload is a damn hard thing to do, especially over a sustainable period.
Between crying infants, annoyed spouses, and infinite to-do's, you realize that it's not particularly a good place to be in.
Maybe, as Jordan Peterson would famously describe, you are looking for ORDER instead of CHAOS.
Productivity apps do a great job of doing all the things you would want to outsource, leaving out all the critical things for you to accomplish.
Yet with so many options, the question remains, "Where do I start?"
The good news is: you can start here!
In this post, we'll dive into the top productivity apps that will positively complement your work life.
Let's begin.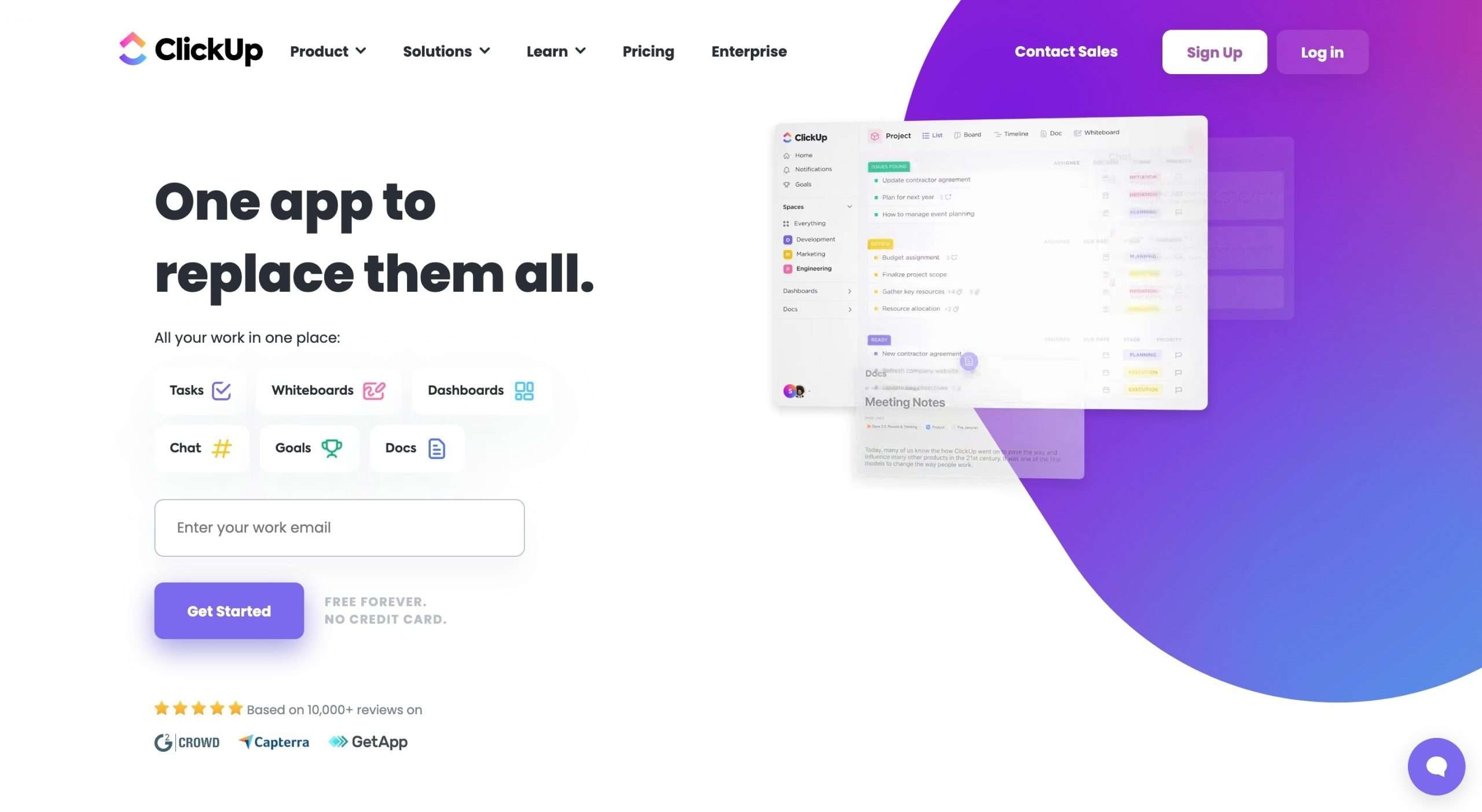 ClickUp is a powerful productivity app offering a wide range of features customizable for any work and a unique Hierarchy system that scales with your requirements.
It takes all your work needs—tasks, docs, spreadsheets, and more, and bundles them into one flexible platform.
With ClickUp, you can customize pretty much everything to match your work style.
Start by building a hierarchy that maps out your projects, teams, and goals. Before you know it, you'll have a bird's-eye view of your entire workload.
When it comes to tasks, you can add subtasks, checklists, and automation to streamline your workflow.
Custom tags and fields help you sort tasks your way. And with real-time comments and chat built in, collaboration is a breeze.
But ClickUp goes way beyond simple task management.
You can craft custom docs, spreadsheets, slides, you name it, without ever leaving its super intuitive interface.
Key Features
Hierarchy system to organize teams and projects
"Everything View" for tasks across all levels
Spaces, Folders, and Lists to group work
Customizable tasks with automation and custom fields
15+ powerful views to tackle work & 50+ automation recipes
Real-time collaboration features
Pricing
ClickUp has a completely free plan with 100 MB of storage. It also offers three paid plan choices:
Unlimited ($10/month)
Business ($19/month)
Business Plus ($29/month)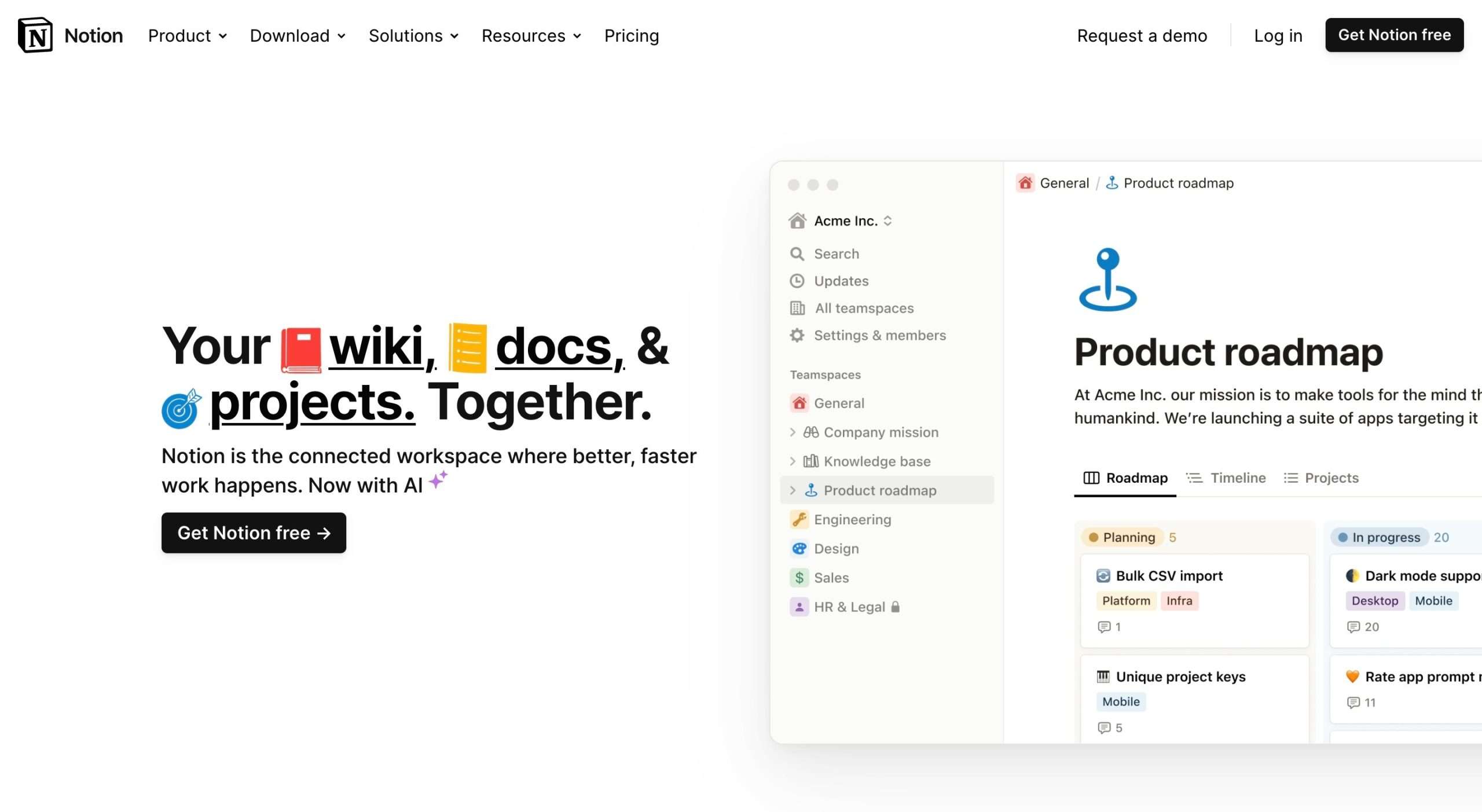 Notion is an all-in-one connected workspace that combines wiki, documentation, and project management tools in a single platform.
It lets you combine all your work in one place, including documents, wikis, spreadsheets, schedules, and more.
So it's perfect for staying organized and getting stuff done, whether you're working solo or with a team.
What's even better is that it's flexible to build anything you can imagine.
With Notion's building blocks, you can make pages however you want—add text, images, checkboxes, calendars, you dream it.
Think of it like LEGO or playing with blocks as a kid! You can drag and drop elements to design your own systems that suit your needs.
Notion takes stuff that's usually clunky or confusing, like wikis and databases, and makes them easy and intuitive.
The customization options let you tweak everything to match your personal style, which makes getting organized feel fun rather than frustrating.
Notion is great for both quick notes and long-term projects.
Key Features
Project management
Interactive, visual interface
Drag and drop functionality
Note-taking
Template galleries
Cross-platform compatibility
Pricing
Notion has a free plan to get started with. It allows you to invite up to 10 guests. The Plus plan costs $10/month ($8/month on annual billing) with the ability to invite 100 guests. The Business plan costs $18/month ($15/month) with the ability to invite 250 guests.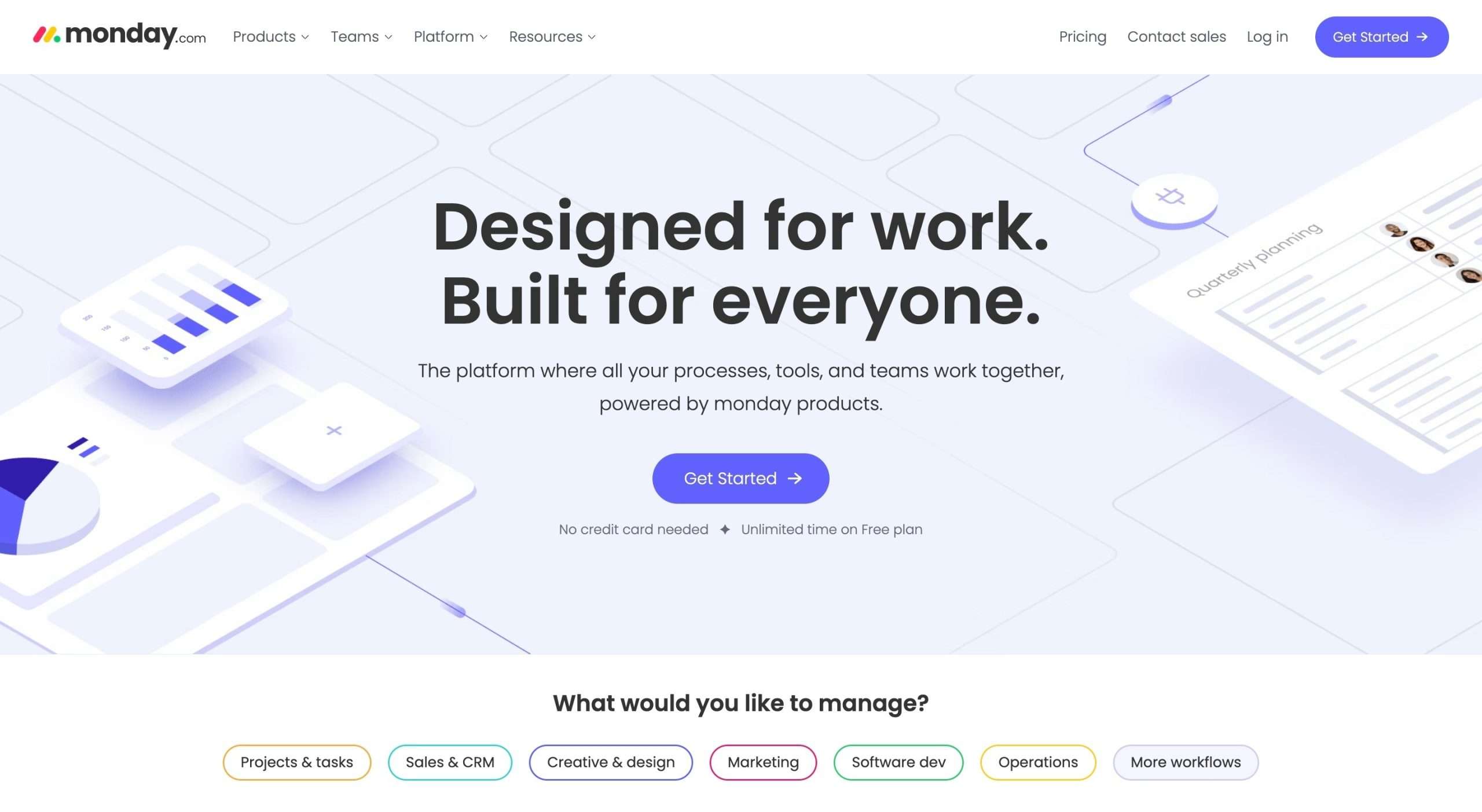 Monday.com is a comprehensive Work OS (Operating System) that enables you to manage projects, tasks, and workflows efficiently while customizing the platform to fit your specific needs.
With Monday, you can build workflows specific to your team's needs by combining boards, calendars, docs and more.
It brings everything together in one place: tasks, communication, files, so you have full visibility and stay aligned.
You can create a workflow that fits your team's unique process, whether it's agile software development, marketing campaign management, product launches or anything else.
One major benefit is how it improves team collaboration. Everyone has visibility into the big picture, can provide updates, chat in the context of different projects, and more.
It encourages teamwork and it's easy to customize views so each person sees what's most relevant to their role.
It also helps you spot potential issues and keep projects on track with automation and notifications.
For example, they set reminders for upcoming deadlines, automatically move tasks between stages or get notified when a team member completes their part.
Key Features
Customizable boards to manage projects and tasks
File storage to centralize documents
Team communication tools like group chat and comments
Automation to streamline repetitive work
Time tracking to analyze time spent on tasks
Integrations with popular software tools
Workload management to visualize team capacity
Pricing
Monday.com offers a range of pricing plans tailored to different team sizes and needs.
They have a Free plan, which is perfect for individuals looking to keep track of their work.
For teams that require more features and functionalities, there are paid plans available. The Basic plan is priced at $10 per seat per month, billed monthly, with a total of $30 per month for 3 seats.
Then there is the Standard plan, which costs $12 per seat per month, totaling $36 per month, billed monthly.
For teams with more complex workflows and requirements, the Pro plan is available at $24 per seat per month, totaling $72 per month, billed monthly.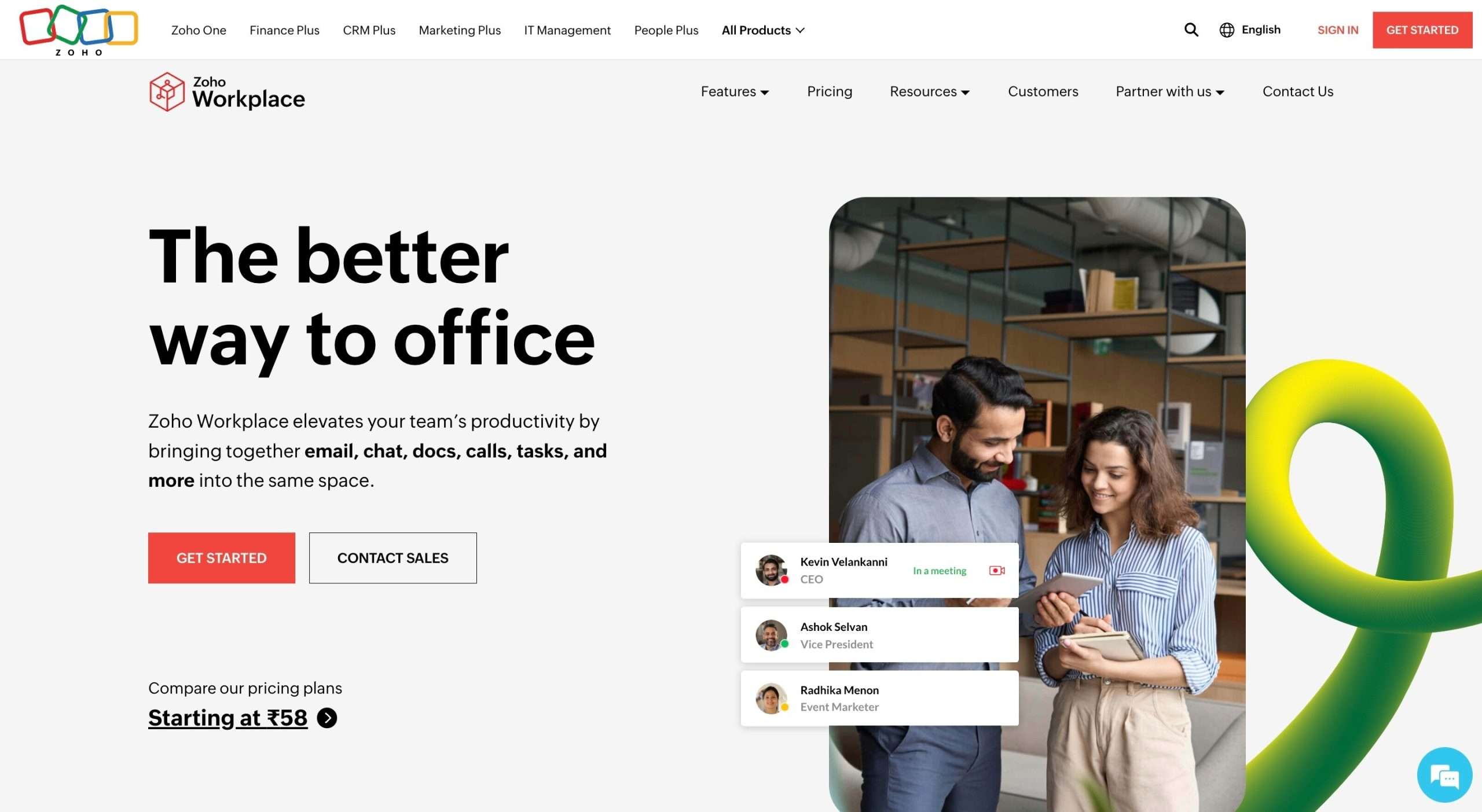 Zoho Workplace is an all-in-one productivity app designed for businesses to enhance collaboration and communication within teams.
It is an all-in-one productivity platform that brings together popular tools like email, chat, documents, calls, tasks, and more.
Zoho Workplace provides core features to cover your main work needs.
Email and messaging through Zoho Mail and Zoho Cliq, documents and cloud storage with Zoho Writer, Sheets, Show and WorkDrive, web meetings and webinars with Zoho Meeting, and so on.
The interface is clean and intuitive, making it easy to navigate between apps.
Migrating your team is made simpler, too. Zoho offers easy data migration from Google Workspace, Office 365, and more.
And your data stays private—Zoho has a strict no-ads policy, even for free users.
Key Features
Team chat and messaging through Zoho Cliq
Document creation and collaboration with Zoho Writer
Spreadsheets and data management with Zoho Sheet
Presentations and slides with Zoho Show
Cloud storage and file sharing through Zoho WorkDrive
Audio and video conferencing via Zoho Meeting
Pricing
Zoho Workspace offers a 15-day free trial. The Standard plan with 30 GB mail storage and 10 GM WorkDrive storage starts at around $1.5/month.
Additionally, the Professional plan with 100 GB mail storage and 100 GB WorkDrive storage costs around $6/month.
Coda is an all-in-one productivity app that replaces dozens of other tools by bringing together words, data, and teamwork into one powerful doc.
Coda mashes together documents, spreadsheets, databases, and team chat into one flexible workspace.
Instead of having a million tabs open, you can put everything into Coda docs.
Tables, charts, and other building blocks make it easy to organize projects just how you like.
Everyone can work together in real-time, chat right in the doc, and always be up-to-date.
You can even customize it however you want to. Since it's so flexible, Coda grows as your needs change.
Coda is also great for product and project management, especially with OKRs. There are templates to get you going fast.
Key Features
Flexible interface to build custom tools tailored to team needs
Connected data enables real-time collaboration and updating
Building blocks like tables and buttons to easily create solutions
Integrations with thousands of apps
Templates and inspiration in the Gallery to accelerate work
Real-time co-editing for smooth teamwork
Pricing
Coda has a free plan for getting started. The Pro and Team plan costs $12/month and $36/month, in that order.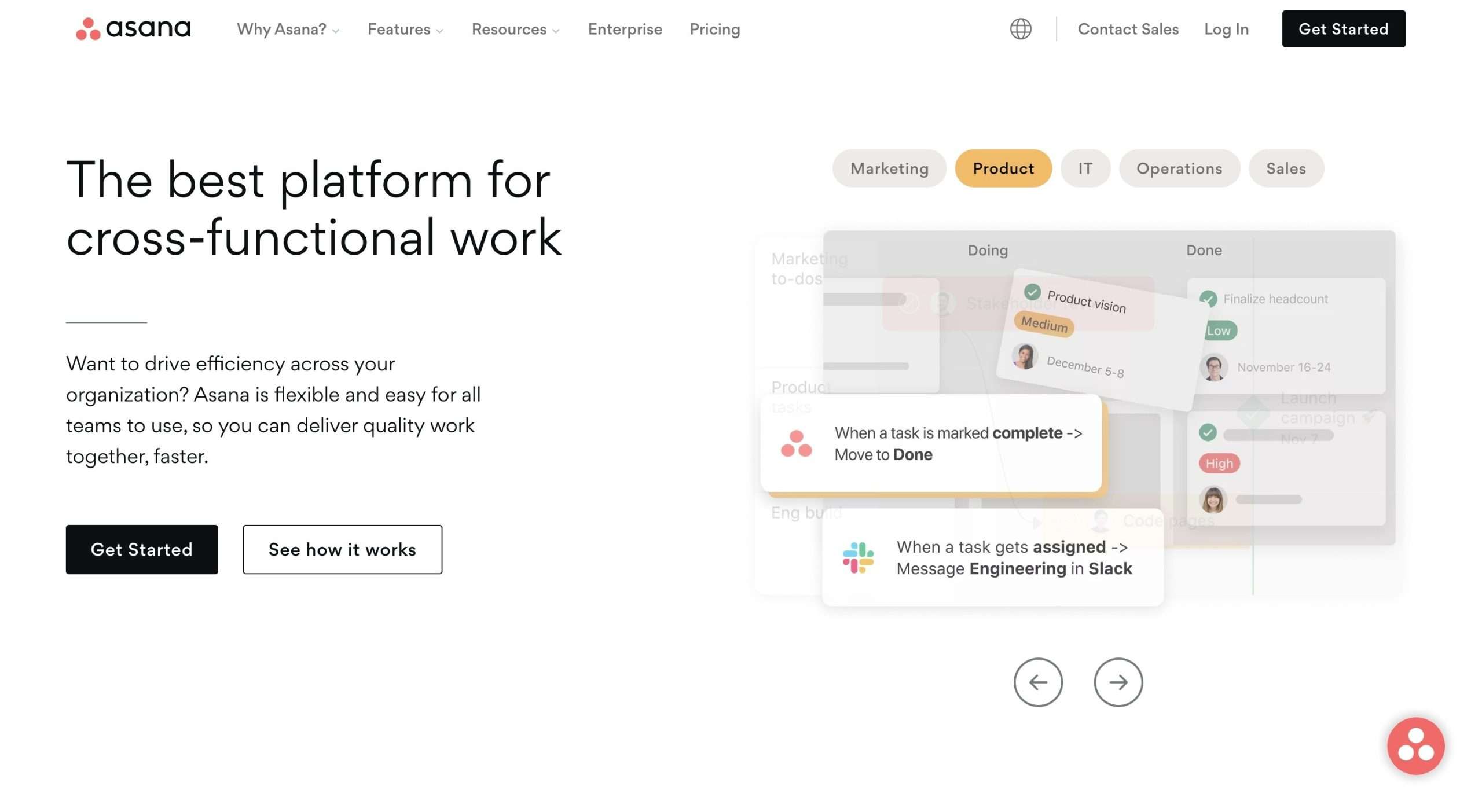 Asana is a comprehensive work-tracking and project-management tool that helps you organize, plan, and execute tasks.
Asana lets you assign tasks to others, set deadlines and track progress.
The best part is, Asana works for any kind of project—whether it's launching a new product at work or planning your next family vacation.
You can add info like task descriptions, attachments, comments, and custom fields to track anything you want.
Asana gives you a bird's eye view of everything going on, so you can spot potential delays before they happen.
Plus, it's easy to use.
You don't need to be a project management expert. Asana has a simple drag-and-drop interface that makes sense.
And they have mobile apps, so you can track progress even when you're on the go.
Key Features
Boards and Lists for task visualization
Milestones to track project progress
Task assignees for clear ownership
Custom fields to track anything
Time tracking for monitoring work
Reporting and dashboards
Pricing
Asana's free plan is free to use. The Premium plan costs $13.49/month and the Business plan costs $40.39/month.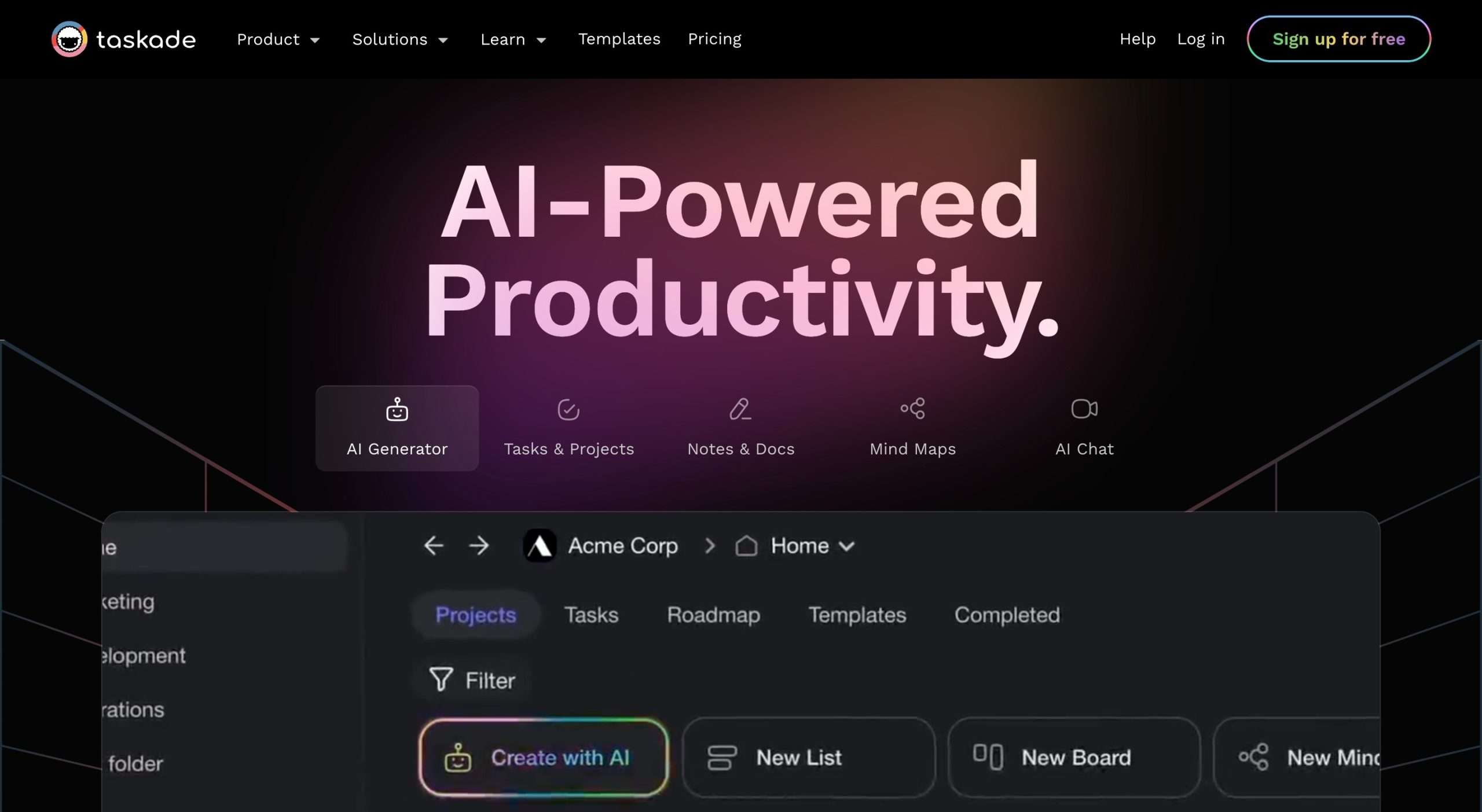 Taskade is an AI-powered productivity platform designed for teams, but not limited to them.
Taskade brings together a bunch of tools in one place—you've got task lists, notes, mind maps, and chat features all rolled into one.
The really cool part is the AI assistant.
It can generate outlines, flowcharts, and other templates to give you a head start on structuring your work.
I'm talking mind maps, spreadsheet trackers, presentation decks, the AI can whip it up. Just type in a prompt and you get an instant template.
You can view your projects in different layouts like a Kanban board or list view.
And automation cuts down on busy work, so you can focus on important tasks. Things don't slip through the cracks, either, since all communication lives in one place.
Key Features
AI assistant for generating outlines, flowcharts, and templates
Task lists, notes, mind maps, and chat features
Collaboration capabilities
Different project views, such as Kanban board or list view
Cross-device sync for seamless updates
Automation to increase focus on important tasks
Pricing
Besides to a free version, Taskade offers personal and team/business pricing plans to meet different needs. On the personal side, there is the Starter Plan for $8/month which supports up to 3 members, and the Plus Plan for $16/month supporting up to 5 members.
For larger teams and businesses, Taskade has Pro, Business, and Ultimate pricing tiers. The Pro plan starts at $39/month, Business is $99/month, and Ultimate is $199/month.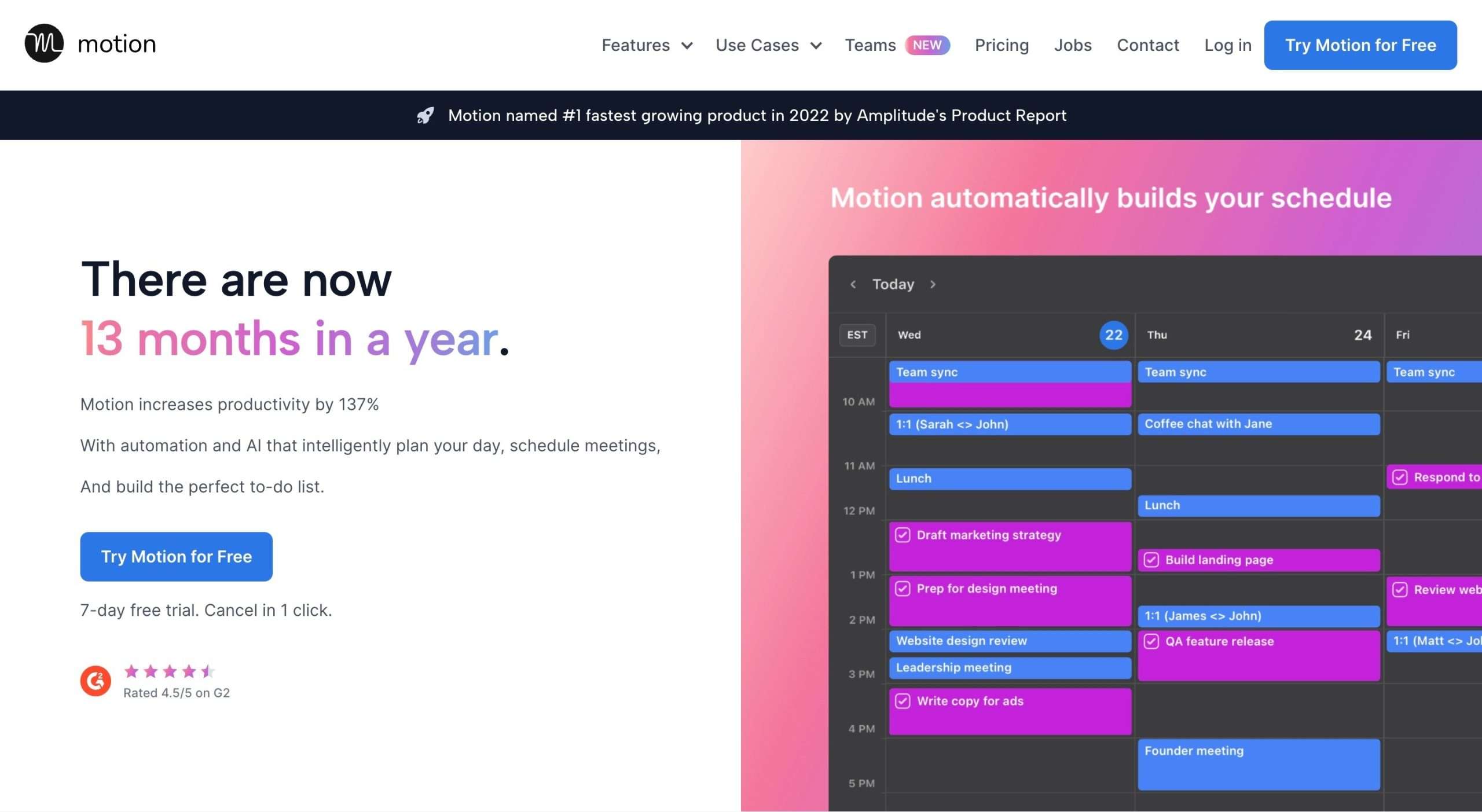 Motion (aka Usemotion) is an AI-powered smart task management, calendar, and meeting scheduling app to help you manage your time more efficiently and increase productivity.
Motion works like a superpowered calendar.
You can add tasks, set due dates, and schedule meetings, just like you would on your regular calendar.
But here's where it gets cool: it automatically syncs everything together. So when you schedule a meeting at 2 pm on Tuesday, Motion checks your task list and sees you have a project due at 3 pm.
It reminds you about the due date, so you don't book yourself into a time crunch.
You can use Motion on your phone or desktop, and it connects with tools you already use like Google Calendar.
The interface is clean and simple too. Motion makes it easy to drag and drop tasks into your schedule.
Oh, and the meeting scheduler is genius! You can configure booking links that let people reserve time on your calendar.
Key Features
All-in-one AI task and appointment manager
Integration with Google Calendar and other tools
Clean and simple interface for effortless navigation
Drag-and-drop task scheduling and priority reordering
Meeting scheduler with booking links
Pricing
Motion offers a 7-day free trial. The Individual plan costs $34/month and the Team plan costs $20/month/member.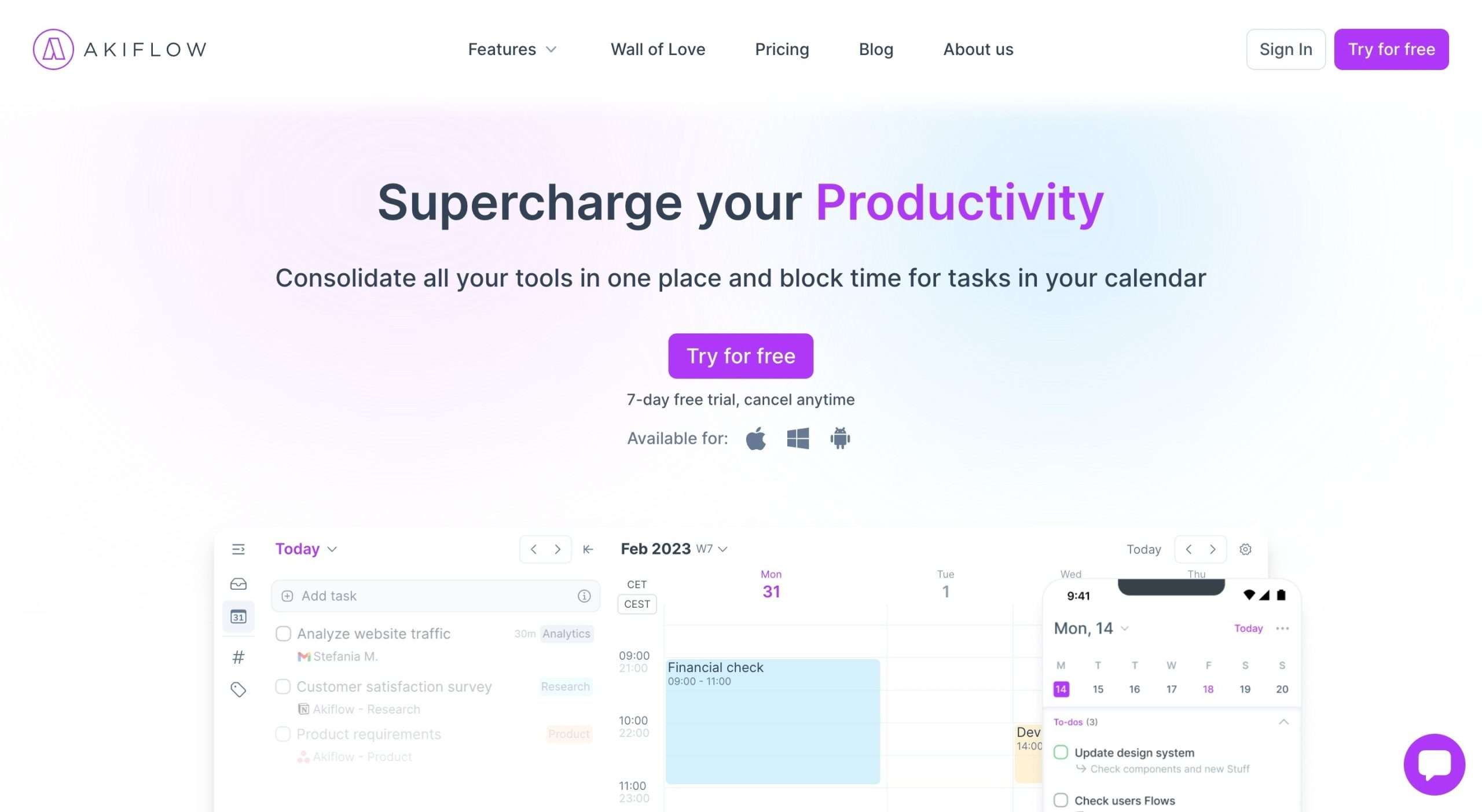 Akiflow is an all-in-one productivity app to help you centralize your schedule and boost productivity by consolidating tasks and appointments from various tools into one unified platform.
Akiflow takes all your tasks, appointments, notes, and anything you're trying to keep track of, and puts it together in one place.
It's like a command center for your productivity.
The awesome part is Akiflow works with tools you already use and love, like email, Slack, Asana, and more.
It just scoops up all those tasks and adds them to its Universal Inbox. Then you can see everything laid out and get right to work.
Akiflow makes it super simple to plan out your days, too. Just drag tasks right into your calendar to block off time. It's great for protecting your deep work time.
It'll even remind you of recurring tasks, sync time zones when you're working with teams worldwide, and let you tag projects with labels so you can filter tasks.
And you can create tasks in a flash using handy keyboard shortcuts.
Key Features
Universal Inbox to consolidate tasks from multiple apps
Time blocking on the calendar by dragging and dropping tasks
Support for recurring tasks with custom recurrence patterns
Time zone support for coordinating across global teams
Command Bar for quick task scheduling
User-friendly interface with keyboard shortcuts
Native task imports from tools like Notion and Asana
Pricing
Akiflow provides a 7-day free trial. The Premium plan costs $24.99/month (or $14.99/month on an annual billing).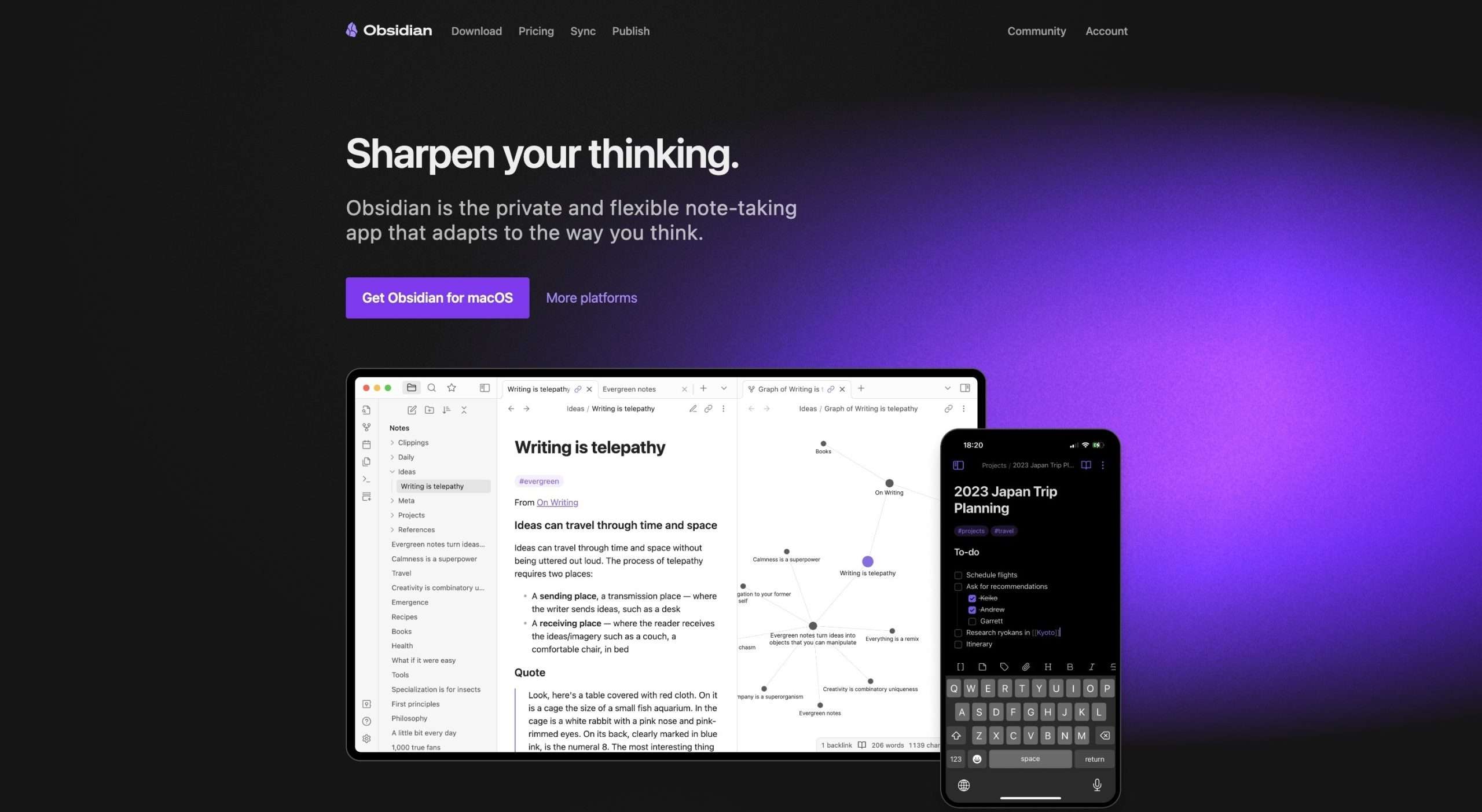 Obsidian is a personal and private digital second brain. It's a super flexible app that lets you take notes, organize ideas, and make connections between concepts the way you think best.
The coolest part of Obsidian is that it works offline, meaning your notes are stored only on your own devices, not on some company's server.
You can completely customize Obsidian to match your personal workflow.
With different themes and hundreds of plugins created by the community, you can build your dream productivity app.
Obsidian makes it easy to arrange your ideas the way your mind works.
One of Obsidian's phenomenal features is connecting notes. You can link ideas, people, places, books—anything!
Obsidian even helps visualize these connections with an interactive graph to map out your notes. This lets you easily spot patterns in your thinking you may have missed.
And with Obsidian's infinite Canvas, you have a huge digital space to diagram concepts, layout plans, and explore ideas without limits.
Key Features
Private markdown-based offline note-taking app
Link notes to visualize connections
Infinite canvas for diagramming and brainstorming
Interactive graph view of note relationships
Community plugins and themes for specialized workflows
Pricing
Obsidian has a free plan for personal use. The license for commercial use costs $50/year/member with a 14-day free trial. Additionally, the add-ons, namely Obsidian Sync and Obsidian Publish, cost $10/month each.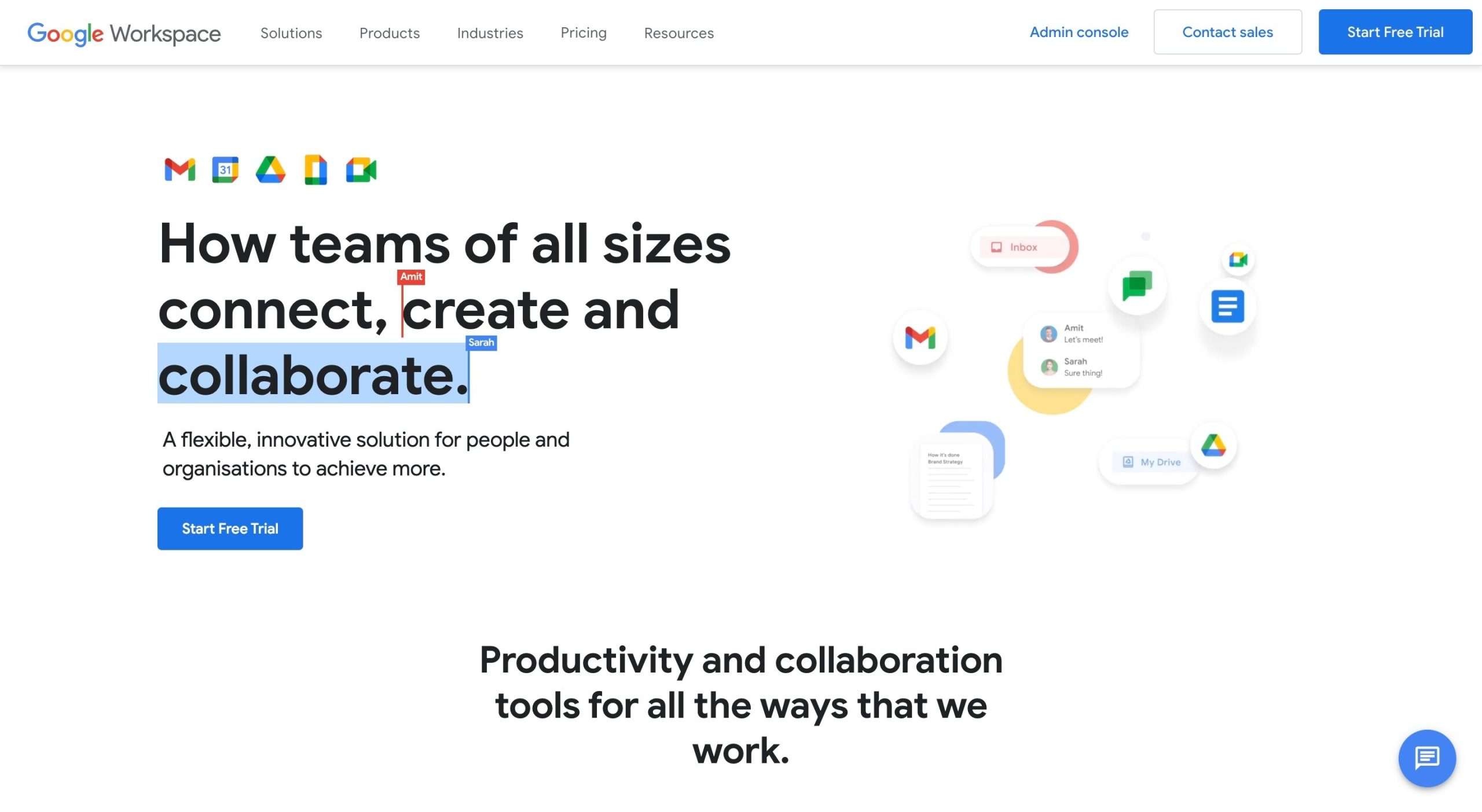 If you're looking for an all-in-one productivity solution to help streamline your work, Google Workspace may be a great option to consider.
At its core, Google Workspace revolves around Gmail—a powerful email service packed with advanced features like spam filtering and email delegation.
But it doesn't stop there.
Google Workspace includes a bunch of other handy tools, like Google Meet for video calls, Google Chat for instant messaging, Google Calendar to schedule meetings and share calendars, and Google Drive for secure cloud storage and file sharing.
One of the biggest benefits of Google Workspace is real-time collaboration.
Many people can work on the same Docs document or Sheet spreadsheet simultaneously and see changes in real time.
For brainstorming sessions, you can use Jamboard – a digital whiteboard where team members can add sticky notes, make drawings, and pull in images.
Everything is securely stored in the cloud, so you can access all your files and data from any device.
The interface is clean and intuitive. And you can easily implement automation with Apps Script to streamline repetitive tasks.
Key Features
Meet – Video conferencing for meetings and collaboration
Chat – Instant messaging and chat rooms
Calendar – Shareable calendars and automatic invites
Drive – Cloud storage to store, share, and access files
Docs – Collaborative word processing
Sheets – Spreadsheet software for analysis and data sharing
Slides – Presentation software to build and deliver slide decks
Forms – Build quizzes, surveys, and forms to collect data
Sites – Website builder to create internal sites and wikis
Keep – Note-taking app to capture ideas and lists
Pricing
Google Workspace offers a 14-day free trial. You can then choose from the three paid plan options:
Business Starter ($6/month) – 30 GB storage/member.
Business Standard ($12/month) – 2 TB storage/member.
Business Plus ($18/month) – 5 TB storage/member.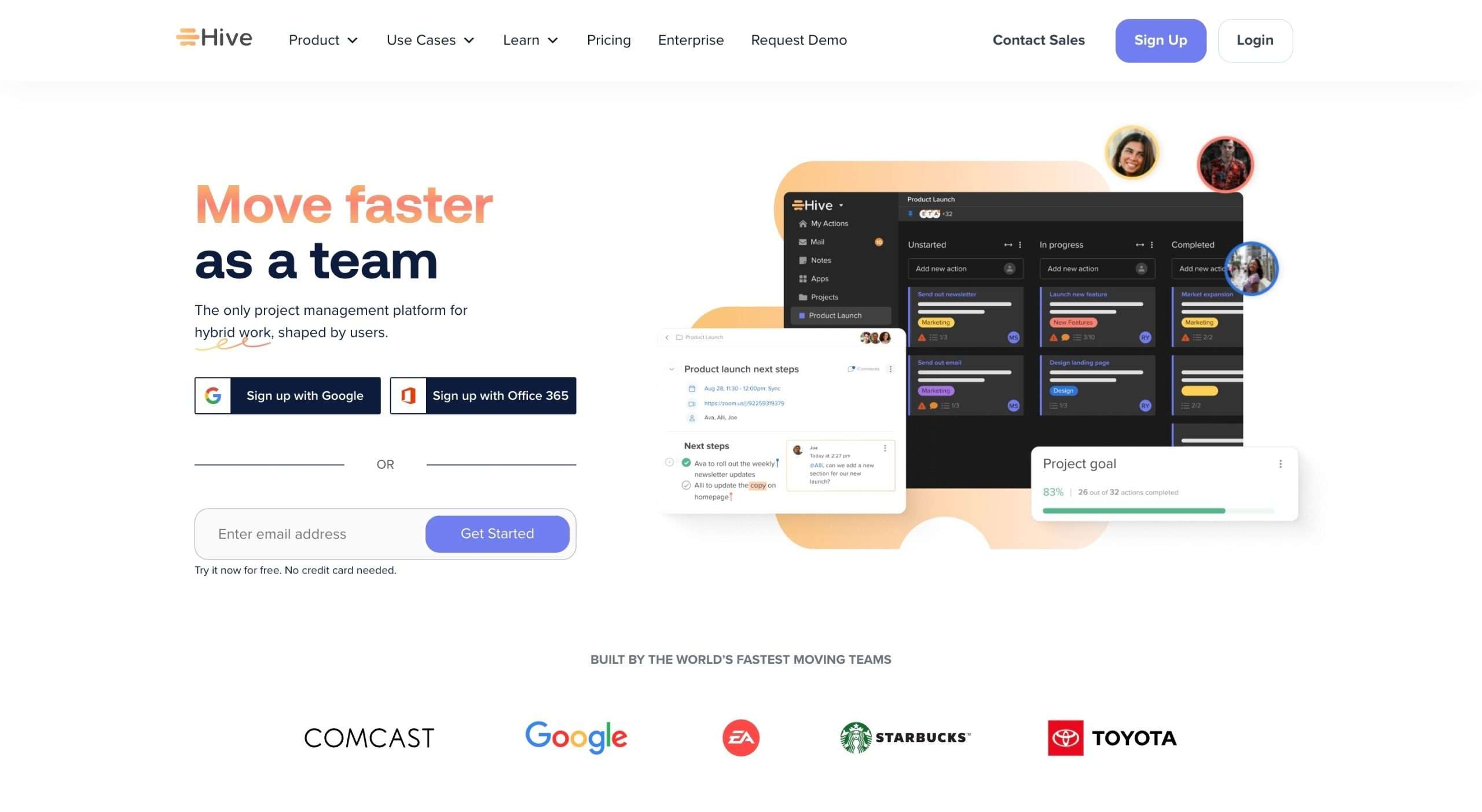 Hive is an all-in-one productivity app designed for project management and team collaboration.
Hive lets you view your projects in different ways—like a Kanban board, calendar, or even a Gantt chart to map things out.
You can assign tasks to your heart's content with Hive. Set due dates, assign team members, and attach files.
Hive even lets you visualize workflows and dependencies, so you can see how each task connects.
For teamwork, Hive brings people together. You can loop in external partners, collaborate on tasks, and keep the conversation going with comments.
This also makes Hive an excellent choice for agile teams.
Hive takes the busywork off your plate with its automation and AI-powered features. It can help kick-start projects, repeat tasks, and integrate with your other apps.
At the end of the day, the dashboards, reports, and analytics make it easy for you to monitor progress and performance.
Key Features
Multiple project views like Kanban, Gantt, Table, Calendar
AI-powered assistant HiveMind
Customizable templates and statuses
Powerful automation capabilities
Integration with 1,000+ apps
Dashboards, reports, and analytics
Pricing
Hive has a free plan in addition to a paid plan starting at $18/month (or $12/month, if billed annually). The paid plan comes with a 2-week trial.
Concluding Best All-In-One Productivity Apps
Boosting productivity is crucial for achieving your personal and professional goals faster.
Hopefully, this breakdown of the top productivity apps on the market gives you a headstart.
The key is identifying your must-have features.
Are you managing projects solo or with a distributed team?
Do you want an offline personal knowledge base or real-time collaboration?
Establish your priorities and match them to the app strengths outlined here.
Uncovering the right fit can transform how you get things done.