ZOHO is popular for its wide range of budget-friendly software products. It serves millions of users globally, including some well-known customers like Netflix and Levi's.
This India-based SaaS company is among the few brands that have been running successfully for decades without securing any venture capital funding. Last year, it reached a $1 billion revenue target, making it one of the most accomplished bootstrapped companies to date.
In this case study, we will talk about ZOHO to learn how the CEO and founder Sridhar Vembu raised a global corporation from a small apartment in Chennai.
Here, you'll discover ZOHO's beginning, its growth journey, and key components that contributed to its success.
What is ZOHO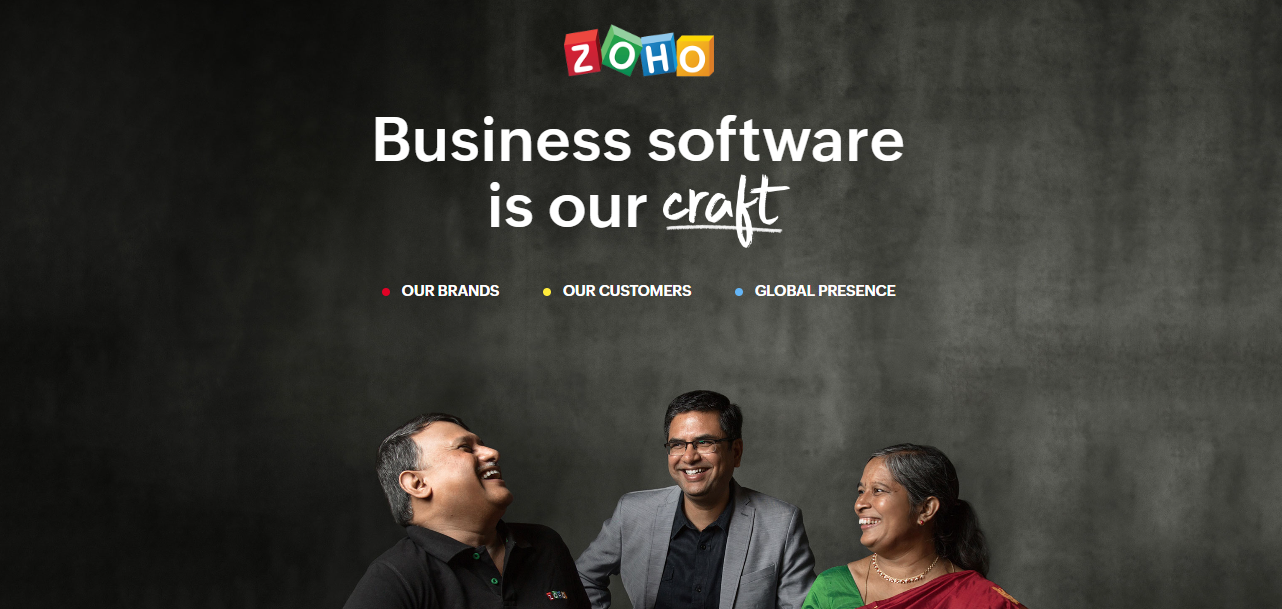 ZOHO is a private limited global tech corporation that builds SaaS products for B2B businesses.
It's based in Chennai, India, but has offices in major countries; including the USA, Canada, Saudi Arabia, and South Africa.
Businesses from all around the world use it to manage versatile operations like accounts, sales, marketing, HR, project management, and more. The company offers over 55 business, collaboration, and productivity applications and caters to small, growing, and established organizations.
Over the years, ZOHO has launched several subsidiary brands to diversify its portfolio. Some were merged into its cloud suite, but a few are still active as separate entities.
It has also invested in plenty of startups to support the tech industry while identifying market opportunities for its future products. At present though, ZOHO runs four separate divisions;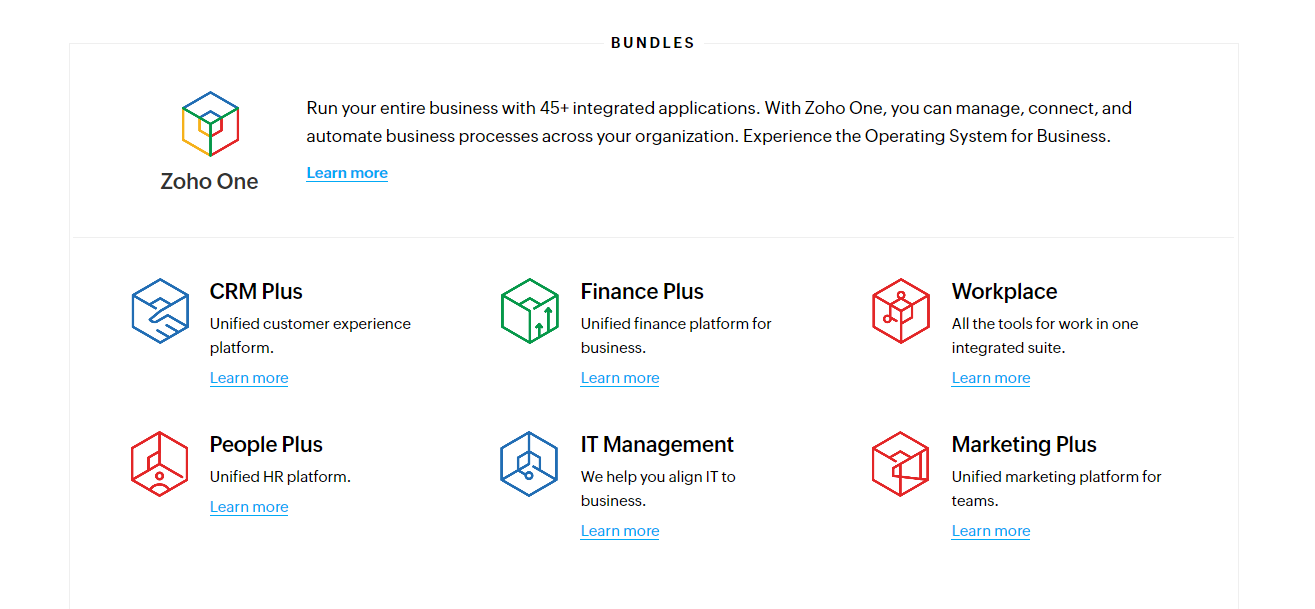 ZOHO cloud software sells CRM, a workplace suite, bundle packs, and extensions.
It's well-recognized for its all-in-one product ZOHO One and comparatively holds the largest customer base.
ZOHO cloud and the parent company have the same brand name because when ZOHO CRM was launched, the name gained comparatively more recognition, overshadowing the parent company, AdventNet.
Due to its popularity, AdventNet was renamed Zoho Corporation.
Manage Engine provides enterprise IT management solutions. It sells 60+ products in audit, support, cyber security, and related fields.
Manage Engine is ZOHO's earliest and second-largest division. It caters to 280k organizations globally and enjoys an autonomous position in the market.
While its user base is lower than the ZOHO Cloud, it's a major revenue contributor.
QNTRL is a workflow orchestration software.
Sound technical, I know, but it's essentially an automation tool that helps you centralize your processes, so you can easily manage your operations.
ZOHO sells this tool as a separate division to give customers the flexibility to add automation to their own systems without needing to buy other apps. Because of it, the brand attracts mid-size organizations with an employee volume of around 5000 or less.
Trainer Central is a course creation platform, designed for professional mentors, freelancers, and solopreneurs.
ZOHO introduced it to offer a centralized place where trainers can produce, market, and sell their services. It's an emerging brand of ZOHO and is still in the startup phase.
Some of its top features are; a course editor, website builder, Virtual classrooms, and a learner portal.
Besides the above four, ZOHO had also previously featured an IoT product by the name of WebNMS. It has now become a part of ZOHO Cloud.
The idea behind integrating IoT services with its CRM was to merge ZOHO's products under one umbrella to facilitate customers.
From a business point of view, it's a clever move to expand the target market of CRM while upgrading the IoT product. The company probably hopes to see the same results it got from its ZOHO One (bundle pack)
The revamped platform is in the initial stage, with an open invitation to early adopters.
ZOHO Journey
The Beginning
ZOHO began its journey in 1996 as a network management software startup in Chennai, India.
Sridhar Vembu—a wireless engineer, then—along with his working partner Tony Thomas and sibling, bootstrapped the company at a small apartment and named it, AdventNet.
While the first two years were nothing but a struggle, Sridhar, through trade shows and direct marketing, secures some low-margin contracts, kick-starting the growth of AdvenNet.
Remember, the IT industry was an emerging field in those days. So, it was the right time for anyone to invest in a software product. Sridhar Vembu took advantage of the market trends to grab opportunities and quickly build a substantial client base.
By 1998, the company was already generating around $1M in sales.
In 2000, AdventNet started attracting venture capitalists. Although the deals were lucrative, Sridhar turned them down in favor of keeping the company private.
When he was asked about his decision later, Sridhar Vembu said he didn't much believe in VC investments. "I have no interest in exit or liquidity. I am in business to run a business, not to run away from it."
Good thing that luck was on AdventNet's side because it had enough capital for expansion.
Turning Point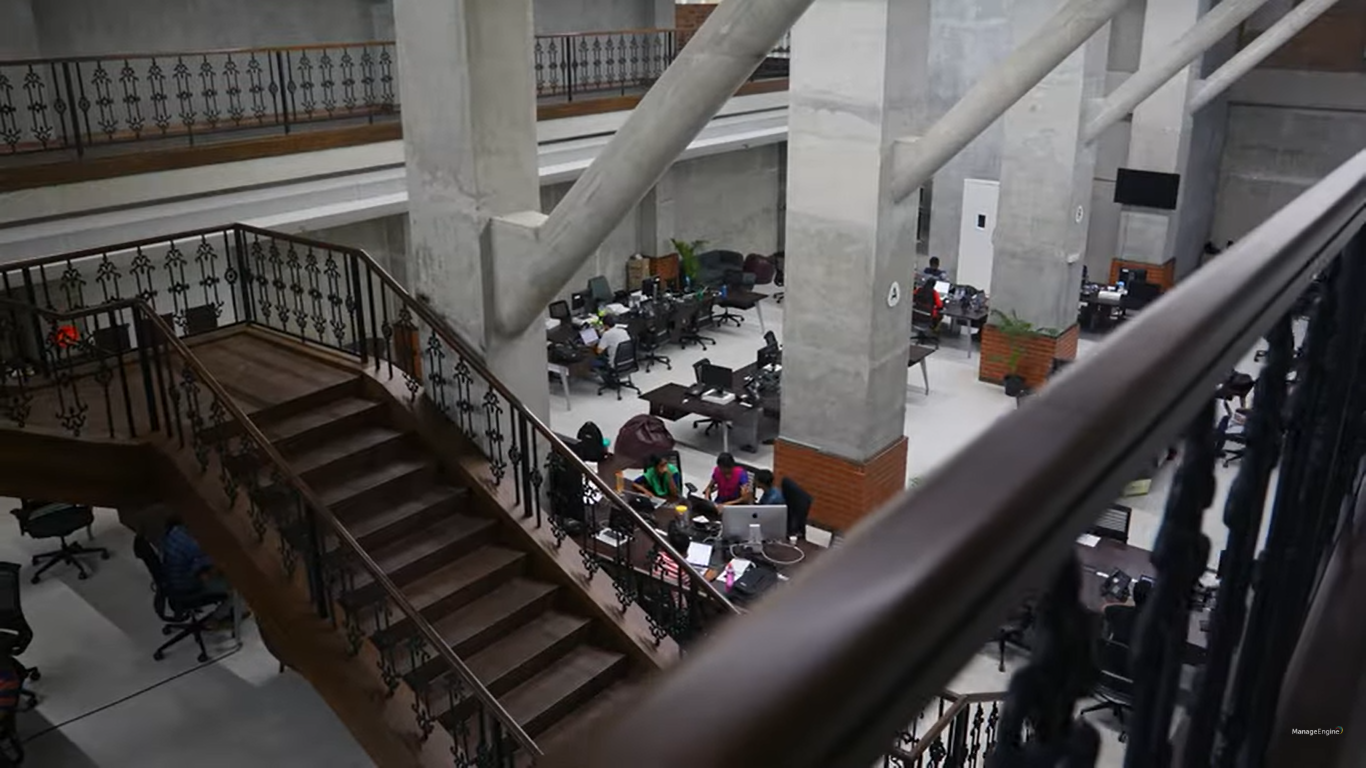 As every business cycle comprises ups and downs, AdventNet's downturn also came during the dot.com bubble. The company lost a major portion of its client base in the aftermath and suffered a great loss of revenue.
Now here's the interesting part. While many organizations were reeling from the financial blow, Sridhar turned the situation in his favor and upgraded the AdventNet products to the enterprise level.
See, after realizing the market condition, it soon became apparent that continuing the same product may not yield profits in the future. This brought the need for portfolio diversification and Sridhar started focusing on that area.
The one advantage AdventNet had over others was the low operating cost. At that time, most of its workforce was operating from India. The difference in economy reduced the runaway cash expense, and the lack of work allowed Sridhar to invest AdventNet's human resources in product development.
The efforts paid off and AdventNet successfully launched Manage Engine.
Growth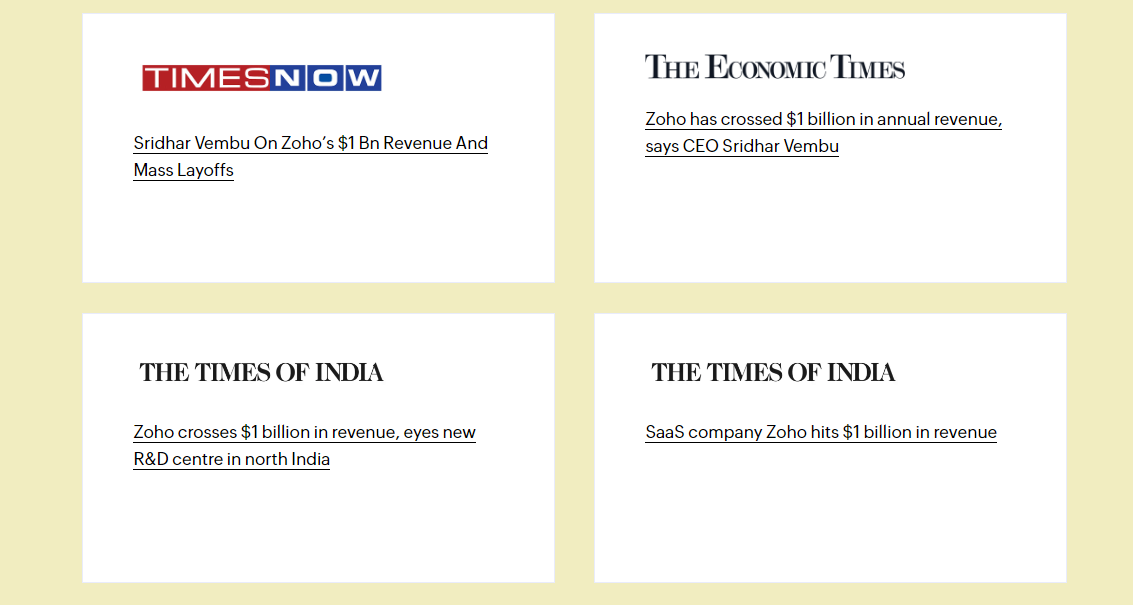 In 2005, when the demand for cloud services increased in the market, AdventNet introduced a new division of cloud-based business software, naming it ZOHO.
Following the favorable response, the company started periodically adding new applications to the suite. And after the user base grew to 1+ million, AdventNet was revamped as ZOHO.
In the next few years, ZOHO invested heavily in R&D, building multiple applications annually and upgrading current software. It recruited more than 700 engineers for product development and was making $100 million annually in revenues.
By that time, ZOHO had also gained enough clout to compete against some leading brands like Salesforce.
Beating Salesforce was an ambitious move, but it wasn't a reckless one. ZOHO's priority had always been business stability. So, it carefully maneuvered around its competitors to stay in the market.
The classic example is its interaction with Google. When Google introduced its Workspace, ZOHO could have fought for the market share, but it chose to retreat and divert its attention to other trending products.
"It was easier to compete with Salesforce than Google, so we built a CRM,"—Sridhar.
In 2017, the company launched ZOHO One (a bundle of 40+ apps), and within a year; it had earned over 30M users.
In 2022, ZOHO's revenues surpassed $1b, placing it on the list of the most successful bootstrapped companies. It is now a well-reputable brand with a user base of over 80 million.
Four Reasons Behind ZOHO's Success
When you look back at ZOHO's accomplishments, it may appear that the two decades of experience played a key part in its growth. While it is a long time for any brand to rise, fall, adjust, and scale, it's not the only reason for ZOHO's advancement.
ZOHO's success is majorly attributed to Sridhar's strategic approach. He raised his company by producing the right products, launching them at the right time, and selling it at the right price.
How did he do that? How did he do that? Some things you must have already guessed from ZOHO's journey. But let me break down them into measurable points to clarify them more.
There are four primary areas where ZOHO invested its time and resources to grow its business;
Business and Revenue Model.
R&D.
Marketing.
Human Recourse.
1. Business Model
ZOHO has built its business model around its vision. The primary goal of the company had always been to "create beautiful software to solve business problems," and it had met those milestones by developing a product ecosystem.
The core components of ZOHO's business model are; product diversity, freemium pricing plans, and vertical integration.
ZOHO has expanded its market size by producing a stack of connected apps and complementary services, covering 80% of its customer's operating system needs.
To attract users, ZOHO offers free and premium packages. With multiple plans, it targets small, medium, and large organizations.
For steady distribution of services, ZOHO uses a vertical integration model. The company creates everything in-house and runs most of its operations in rural areas to cut costs.
2. Product Development
I have mentioned product development several times, but I feel it should be given a separate space in this article for its role in ZOHO's success.
R&D is the secret receipt for ZOHO's growth. It's how ZOHO grabbed early customers, how it beat the major competition, and how it continues to be the leading SaaS platform in the market.
The company uses a sizable portion of its annual budget on product development to meet market demands. With in-house R&D capabilities, ZOHO maintains a large suite of products and sells its applications at affordable prices.
"We are able to compete with the best in the world due to our focus on R&D. This translates into better customer experience and in most markets, we are the biggest challengers to existing giants, whether it's Salesforce for CRM, Google, and Microsoft for collaboration and workspace management."—Sridhar Vembo.
R&D gives ZOHO an edge over its competitor. With a centralized development department, ZOHO adapts easily to market changes and captures business opportunities on time.
One of the best examples is recent QuickBooks's announcement to close down its cloud suite in India. Sridhar already plans to fill the vacuum QuickBooks will leave behind with its own products.
3. Marketing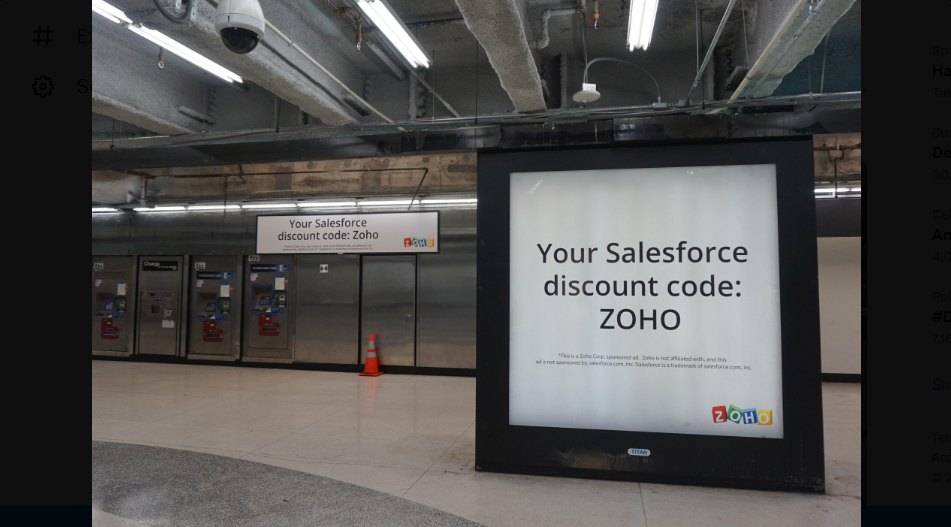 ZOHO leverages word of mouth to get more users. It has made its product and pricing so attractive; its existing customers willingly refer it to others.
But, of course, to reach the position where your customers would promote your products on your behalf without prompting, you'd have to invest in marketing in the first place.
ZOHO followed the same strategy.
In the early years, Sridhar relied on traditional advertising like trade shows, billboards, and TV commercials to create brand awareness. With the boom in digital marketing, ZOHO increased its marketing mediums, adding social media to its promotion strategy to gain more leads.
ZOHO also dabbles in competitive marketing.
One of its best promotion examples is the 2013 competitive advertising campaign it launched to promote its CRM product. ZOHO gatecrashed Salesforce's sponsored event to draw visitors to its CRM and used online social media channels to spread the word.
ZOHO still uses traditional and online mediums to introduce new products.
4. Company Culture and its Human Resource
Corporate culture usually doesn't rate high when we talk about business performance. But you'd be surprised how much influence a work culture has on a company's bottom line.
ZOHO's CEO, Sridhar Vembo, knows the value of positive culture and makes the most of it to boost work productivity.
The company promotes employee engagement, preservation of personal values, and team autonomy. Employees are encouraged to offer feedback and share ideas, and at the same time, everyone knows their role and limitations.
ZOHO has also built a School to give underprivileged members of society a chance to become a part of the team. While it is undoubtedly a strategic move to grab untapped talent, it has also improved its brand image.
This supportive work culture boosts ZOHO's employee morale and inspires loyalty, motivating people to give their best.
Final Words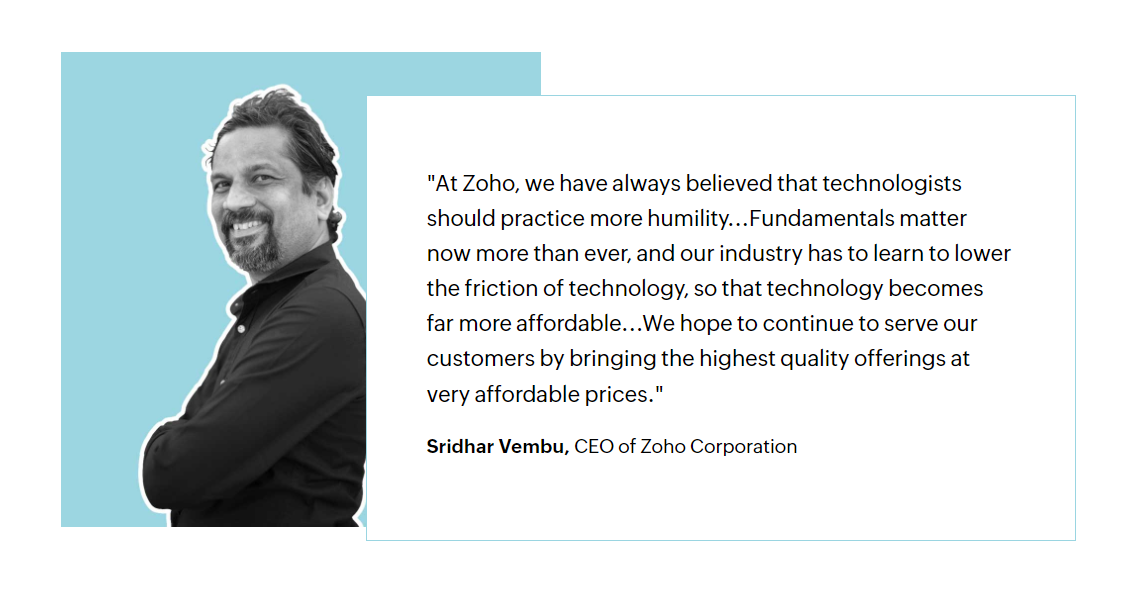 ZOHO has come a long way from a small startup to a multinational corporation.
It has faced financial struggles, fierce competition, internal company turmoil, and an economic downturn. But through strategic product launches, the right investments, and cost-effective business operations, ZOHO has carved a place for itself in the tech industry.
Sridhar Vembo, in one of its interviews, aptly summarized ZOHO's secret to success.
He said, "We built one product, a modest product and we got some modest profit. We invested in building more capabilities steadily. Even our own people would not have believed years ago that we could build all this. That is the journey of building steadily."
ZOHO now plans to invest more in artificial intelligence and increase its data centers in rural areas for more coverage.