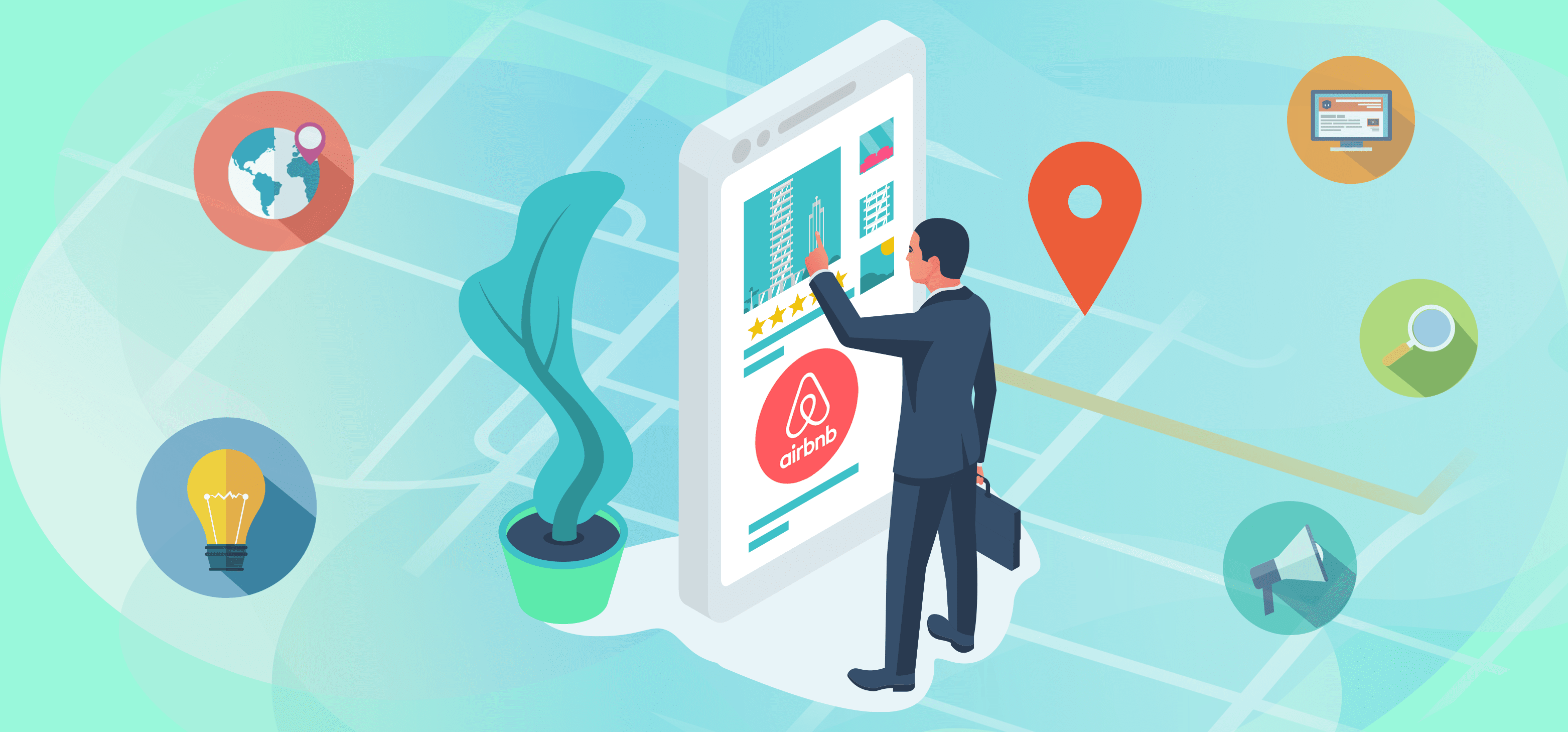 Airbnb's business journey shares a lot of valuable lessons for startups and growing companies.
Born from a vague idea and an unplanned model, Airbnb carved a place for itself in a competitive industry by identifying customers' pain points and using all the available resources.
Today, it's one of the largest online rental marketplaces that hosts millions of global visitors each year. Its success story shows that you don't need to think big to start a venture. What you need is a working idea, a solid strategy, and an aptitude for innovation.
In this case study, we'll talk about Airbnb's origin, the marketing approaches it employed to scale the platform, and the challenges it faced throughout the years.
What is Airbnb 
Airbnb — Air and Breakfast — is an online platform that connects house owners with travelers, allowing people to rent out their rooms for a short period of time.
Hosts can lend private rooms to individuals, Condos to families, and even portable carriages for camping. Anyone can put up their place for booking irrespective of their property size, type, and residential area.
Airbnb is also incredibly convenient for travelers.
They can reserve the type of place they want and customize their preference down to the amenities. In addition, they can avail themselves of extra premium services provided by third-party partners to make their stay more comfortable.
Business Model
Airbnb follows the shared economy business model similar to Uber and eBay, which comprises facilitating the renting process between two parties.
If you aren't familiar with the shared economy concept, it's a peer-to-peer system where buyers and sellers trade products using a third-party service. The latter takes a certain percentage of commission for offering its place as a business center.
Airbnb currently charges around 14 to 15% from guests and 3% from hosts for every reservation.
From an individual perspective, the profits may seem pretty little. After all, if someone is renting a cabin for $100 per day, the most Airbnb would earn would be $20 for each booking. But when you scale the number to 4 million rental places in over a hundred thousand cities, you can raise $133 billion worth of empire from this business model.
It's an extremely lucrative strategy that allows Airbnb to earn money from multiple parties without owning any assets and debt.
The shared economy model also gives you a significant advantage when it comes to business expansion. Since you technically don't provide the core services, you can branch out by collaborating with other partners.
Airbnb's business model initially involved only rental houses. Over the years, it reached out to government and private organizations and diversified its product line. It now operates worldwide, offering both indoor and outdoor accommodations.
How Did Airbnb Founders Come up With the Idea?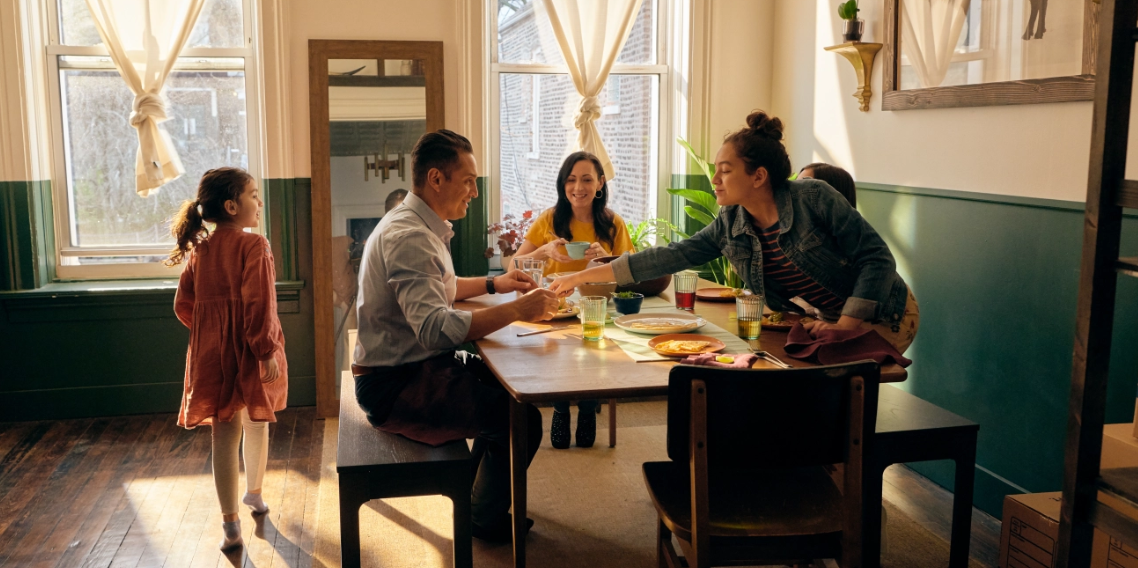 It all started with two financially strained roommates looking for ways to pay the rent.
Joe Gebbia and Brian Chesky met at RISD, Sans Francisco. After graduation, they moved together to save money, but unemployment and necessity forced them to find alternative means of income to raise funds.
When they heard about an upcoming conference by the Industrial Designers Society of America, they came up with an idea to run Homestays for the visitors. They set up a simple website, bought three air mattresses and got their first guest through their site link.
The accommodations weren't perfect by any means, but it was good enough for Amol Surve— a struggling designer—who needed a cheap place to stay for the conference.
"I was offered an air bed. Two other designers also slept on air bed mattresses in the living room. Joe also found time to show us San Francisco, which was the most amazing part," Amol Surve said in an interview.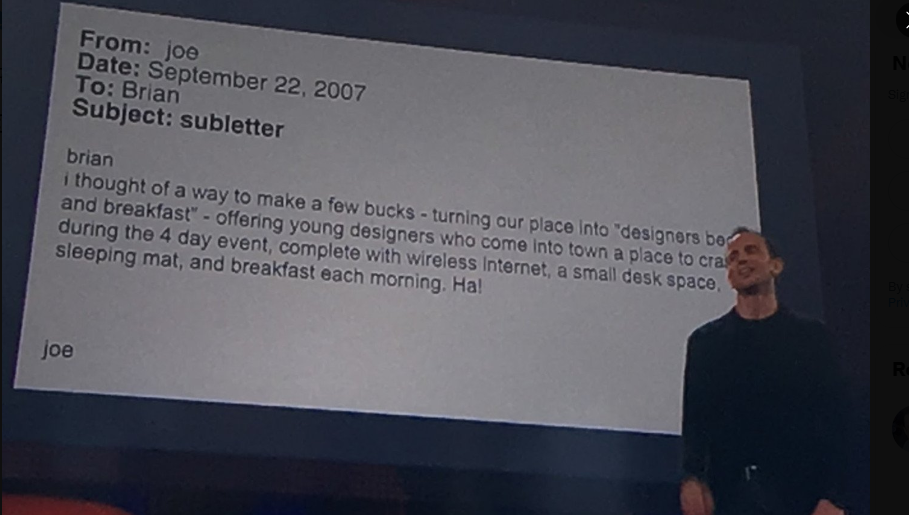 Later, when their plan started to take shape, they brought in their developer friend Nathan Biecharczyk to refine the business model.
Through trial and error, they finally kick-started "Air Bed and Breakfast" in 2008. Within a year, they managed to attract 10k users and 2500 properties for rent.
In the following years, Airbnb raised funding for acquisition and expansion and scaled the business to the international market.
Airbnb Marketing Strategy
Airbnb has always advertised itself as a centralized community for hosts and travelers.
To reach that position, it used several marketing methods to penetrate the competitive hospitality industry and build a reputable rental platform.
Some approaches worked in a specific economic environment only, while others generated long-term benefits for the company.
Here, I've covered the main areas Airbnb targeted in its marketing mix to establish a brand and create a sustainable business.
1. Product Strategy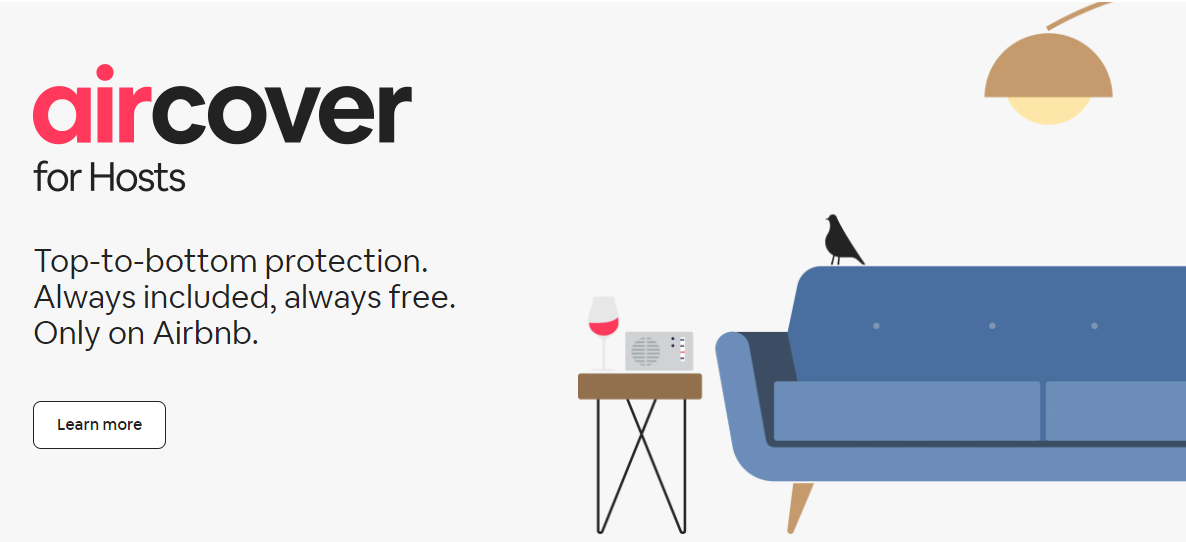 Airbnb's core services are its hosting and rentals.
Since it makes the most money from its accommodation services, its product strategy has been consistently focused on personalization to boost its product value.
By introducing versatile choices for guests, it aimed to provide the best traveling experience to guests. Property owners were allowed to list multiple rooms and include complementary services to make the homestay comfortable and more enjoyable.
Airbnb further encouraged hosts to provide additional traveling and entertainment for a small fee to generate more earning opportunities. To make their job easy, it connected hosts with third-party vendors to collaborate on side-services assistance.
Over the years, it also increased its target market to include business travel and luxury spots. With hotels and amnesties, it created premium categories, inspiring executives and entrepreneurs to book places for work.
Its Experience package, which comprises tour guides and entertainment with lodging, is currently its most profitable product.
2. Pricing Strategy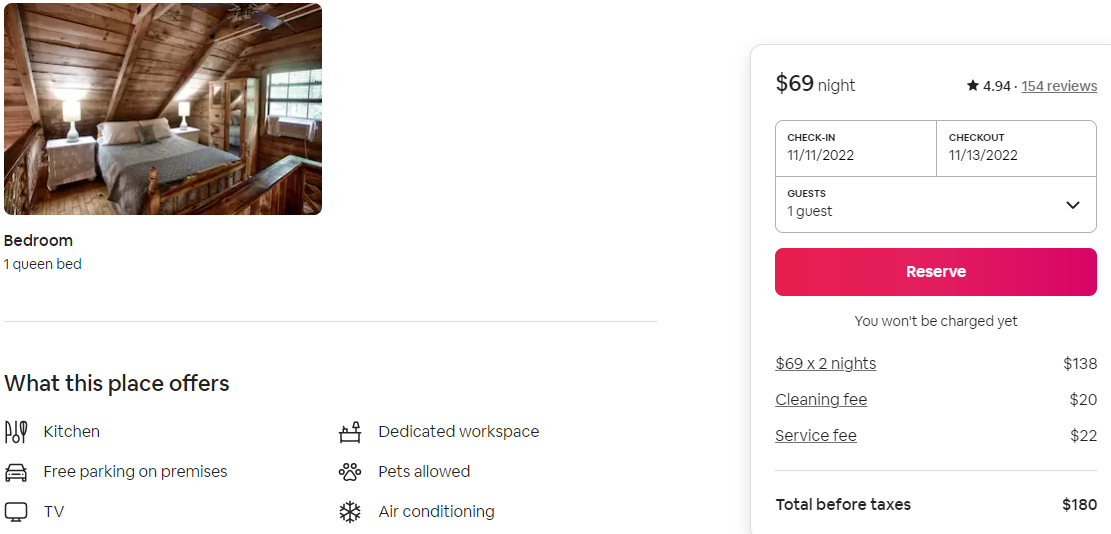 Pricing is the first thing Gebbia and Chesky targeted to successfully kick-start their business in 2007. The entire reason Airbnb managed to attract its first customer was by advertising as a more affordable alternative to hotels.
Later, as the company grew, its pricing policy naturally evolved, but affordability still remained the foundation of its business model.
Wonder how it maintains quality and affordability together?
Through flexible pricing methods.
As a third-party platform, Airbnb charges a certain fee from both its hosts and guests. But hosts also have the option to absorb the full costs and supplement it with additional entertainment and traveling amnesties. It makes their places more attractive to visitors and allows them to earn more from extra services.
Airbnb additionally lets guests tailor their search results to find places they can afford. They can customize the price range, opt for shared rooms, and reduce the amnesties to only pay for the services they want.
Take the above images for example.
It's a cabin house for a short retreat that allows pets and an outdoor grill, but doesn't offer an extra bed or a washer. The below cabin, on the other hand, provides both along with a security camera, but it's comparatively more expensive.
If you're a single traveler with a pet, the first would be an ideal choice for you, while the second is a better option for a family on vacation.
That's how Airbnb delivers quality products at affordable rates.
3. Distribution Strategy
Usability is the focal point of its distribution strategy.
As an online marketplace, its business depends entirely upon its site performance. To optimize the digital platform, Airbnb continuously upgrades its features, so property owners can easily list their houses and guests can quickly find the desired places for rent.
Some of the best tools it has delivered for hosts include smart pricing to calculate the rates per day, damage protection to ensure a safe stay, and custom scheduling.
Airbnb's app is also customer-centric. Throughout the years, it has refined its UX design to make browsing better, faster, and more efficient. What's more, it periodically introduces flexible features like split stays and Air Protection to offer tailored solutions.
With built-in chat, house reviews, and easy payment gateways, it has made the process incredibly easy for guests.
4. Promotion Strategy
Airbnb leverages both digital and traditional channels to communicate its brand message and attract traffic to its website. But it utilizes each venue for different purposes to achieve targeted results.
Let's look at the four core promotion tools Airbnb frequently employs for advertising and customer engagement.
Video is one of Airbnb's primary modes of advertising when it aims to reach its audience at scale. It has launched plenty of successful campaigns to accomplish versatile goals, from announcing new features and promoting the social cause to undermining its rivals.
One of its best campaign examples is Airbnb Adventures. It was an Ad sequence for YouTube to build awareness of its Experience product. The campaign resulted in 8 million impressions and 40 times higher conversions.
Another way Airbnb produces a large-scale response is by creating advertisements with user-generated content. People feel more connected to things they can easily relate to. Airbnb capitalizes on that factor to grab attention and engage its target audience.
Look up its "Made Possible" campaign as a sample.
After the Pandemic restriction and the ensuing struggle hosts faced over the cancellations, Airbnb launched a global campaign using real-time clips to re-target both hosts and guests.
The videos, unsurprisingly, received a massive response from around the world.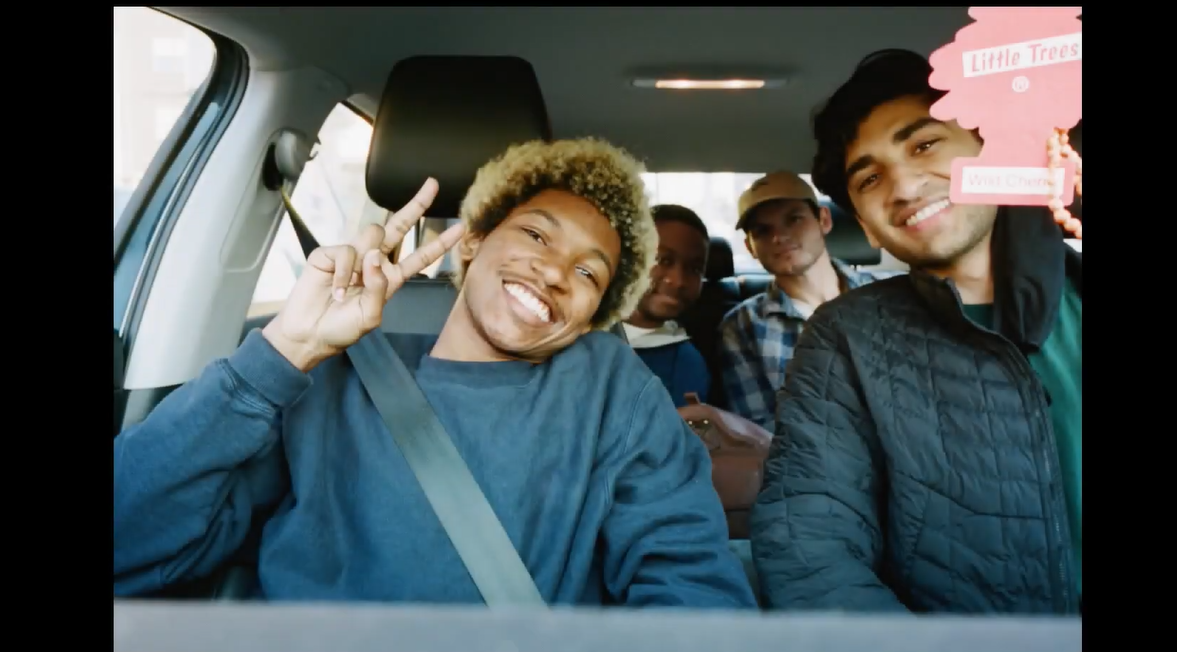 Airbnb runs active accounts on almost all the major social media channels to target various age groups and foster communities. To drive maximum engagement, it leverages each platform's core features to produce custom content for its fans.
Log in to Twitter now and check it for yourself.
You'd notice, its Twitter timeline mainly shows interesting news and interactive polls, while its Instagram displays stories to highlight travel destinations. Both channels' content is tailored to their users' interests.
Influencing Marketing and Referrals
The fourth promotional tool Airbnb generously uses is influencing marketing and referral.
It's no secret that celebrities have a powerful influence over their fans. By inviting them to talk about their experience, Airbnb inspires people to try out short-term stays.
Referral programs, on the other hand, help Airbnb spread the word through friends and families to get qualified leads.
With influencers and referral, Airbnb gains access to a large network and promote a positive perception of its brand.
Interestingly, Airbnb also indivertibly gets free publicity through its hosts' promotional strategies.
Millions of people list their properties on the digital platform, and most of them advertise their places via their personal channels. It's Airbnb's most powerful and cost-effective promotional method that brings in pure organic traffic for the platform without spending a penny.
Airbnb Challenges
Like any startup business, Airbnb encountered its fair share of challenges in the early years.
The struggle was perhaps greater because it was an experimental project born out of necessity and desperation. Gebbia and Chesky had to sell cereal to raise funds for their startup before they received their first investment.
Despite initial funding, they suffered multiple rejections from A-listed investors over their business model, operation substantiality, and even the air mattress.
One of the capitalists later admitted to missing out on the opportunity because he couldn't move past the air mattress idea to consider it a good venture.
"We couldn't wrap our heads around air mattresses on the living room floors as the next hotel room and did not chase the deal. We made the classic mistake that all investors make. We focused too much on what they were doing at the time and not enough on what they could do, would do, and did do."
It's a credit to the founders' tenacity, business acumen, and ingenuity that Airbnb sustained until it attracted major investment.
Following the years, the company faced periodical economical and operational hurdles. The steady competition made matters even worse. The shared economy model that gave it a distinct advantage also came with its own set of quality control issues. The pandemic and travel restrictions further caused significant losses.
But Airbnb bounced back from every challenge with strong marketing strategies and leveraging global brand recognition.
Conclusion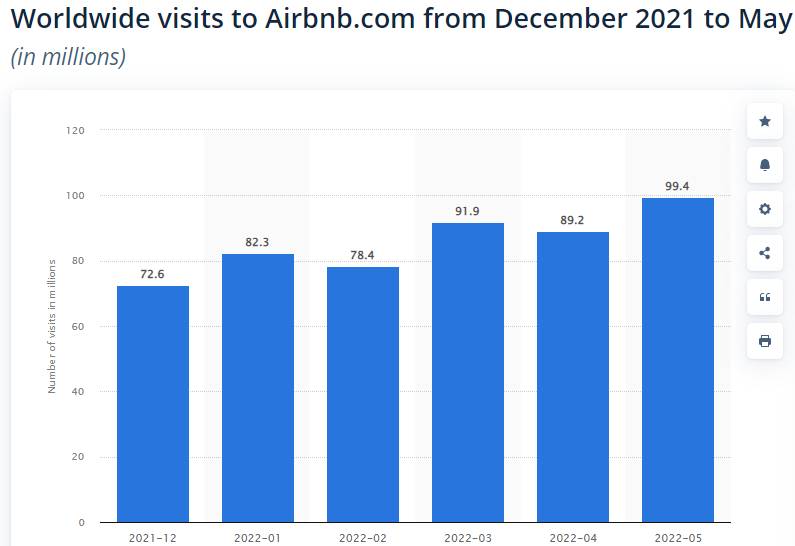 Airbnb's story is an inspiration for all those emerging startups that hope to bring their idea to fruition but feel reluctant to take the next step for fear of business failure.
The case study gives you insights into the marketing tactics companies can employ to maneuver around operational challenges and build a successful brand.
I am leaving you with a thought-provoking statement Brain Chesky made during a casual conversation with LinkedIn founder Reid Hoffman.
He said, "It's funny, but we didn't think Air bed and breakfast would be a big idea. We thought it might be able to pay the rent until we could think of the big idea. Many ideas come from solving your own problem, which are not life-changing problems — but these ideas could potentially become life-changing ideas."