Employee Screen Monitoring Software is an efficient productivity tool for companies with hybrid and remote workplace models.
Via this app, managers can supervise their in-office and remote employees' activities online and gain insights into their work habits to find productivity-boosting opportunities.
Let's explore the employee screen monitoring software and review some of the best available applications.
What is Employee Screen Monitoring Software and its Core Features?
Employee screen monitoring apps scan your staff's desktop activities and summarize them into actionable insights. Those activities could include a number of things such as web and software usage, internet consumption, work pattern, and unusual actions.
Many also come equipped with a time tracker and project management tools to help you calculate your team's billable hours and measure individual performance.
Top Features to Look for In an Employee Screen Monitoring Software;
Screen capturing tools.
Time tracking option.
Productivity summaries.
Active and idle time measurement.
In the below list, you'll find the 12 best employee screen monitoring software products. I have summarized the core functions and pricing under each review for clarity.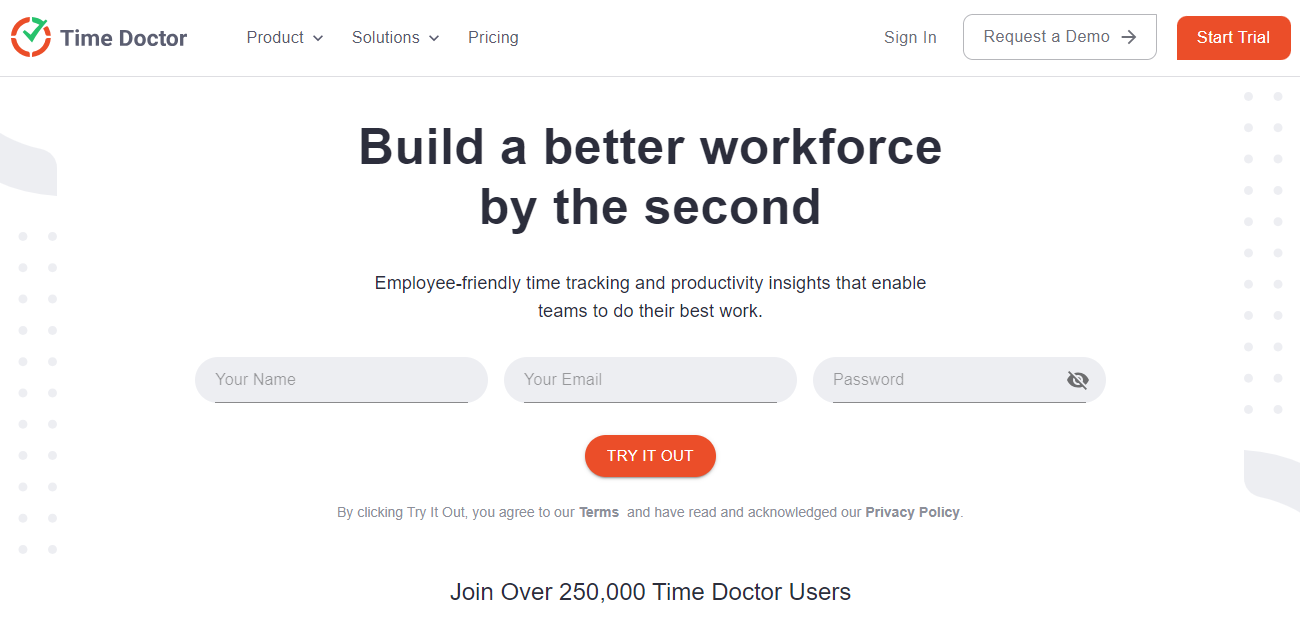 Time Doctor is an employee monitoring and productivity tracking app. You can use it to take screenshots or recordings of your staff desktop screens and track online and offline work hours.
Using its trigger email notifications and distraction alerts, you can supervise your employees without staying online all the time and keep their attention focused on the projects.
Through productivity reports, you can get a breakdown of your employee's web usage and spot activities that affect their work performance.
If you pay your staff by the hour, you can generate timesheets for payroll as well.
Time Doctor is compatible with all devices and can be connected to your business and accounting tools.
Core Features
Screen capture.
Distraction alerts.
Web activity logging.
Online and offline time tracking.
Productivity summary.
Integrations and API.
Multi-device support.
Timesheets and payroll.
Price
Time Doctor charges $6 to $17 per user.
You can take a 14-day free trial.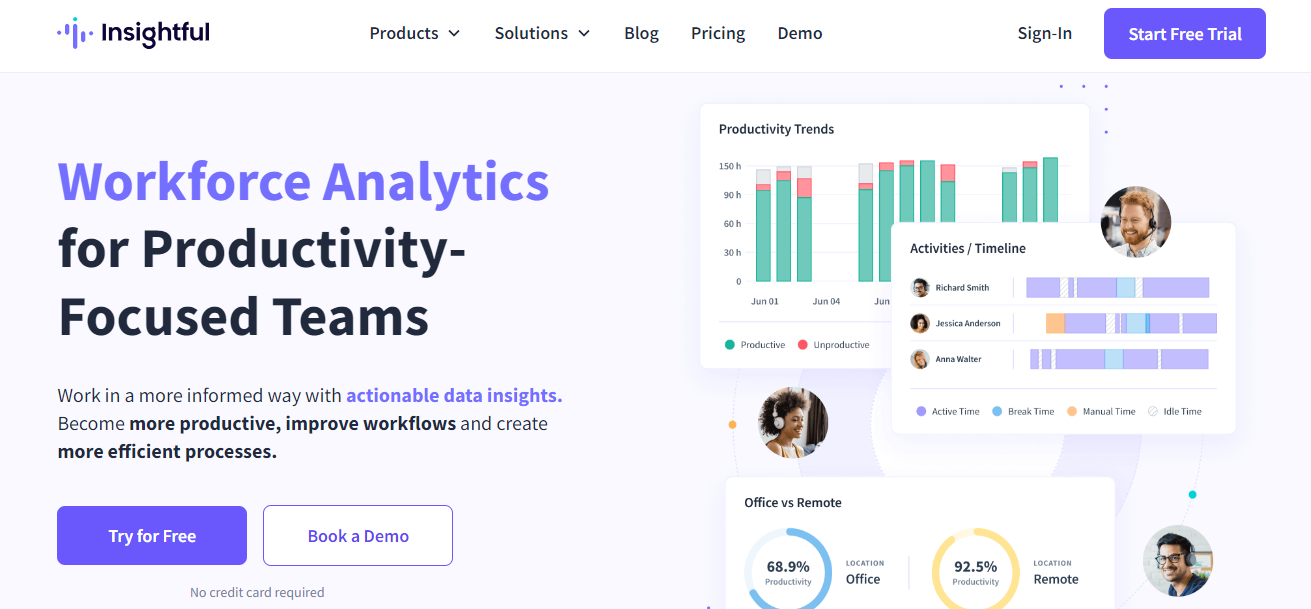 Insightful is an analytics app that provides actionable data on your employees' screen activities, productivity, and work hours.
Some of the activities you can monitor through Insightful include websites, work documents, and idle browsing.
The app comes with a stealth mode that enables you to discreetly keep an eye on your employee's screen and spot suspicious or unrelated activities. You can track your employees in real time and get a report on their work habits.
You can also purchase a mapping product to automatically allocate time to projects. With this tool, you can separate billable hours from unpaid time.
Insightful delivers both cloud and on-premise solutions.
Core Features
Screen monitoring and time tracking.
Stealth mode.
Manual screenshots.
Auto-allocation of time.
Attendance.
Audit logs.
Manager and employee login.
Integrations and API.
Remote and on-premise deployment.
Price
Insightful's monthly subscriptions range between $8 and $15.
You can get an enterprise plan on request.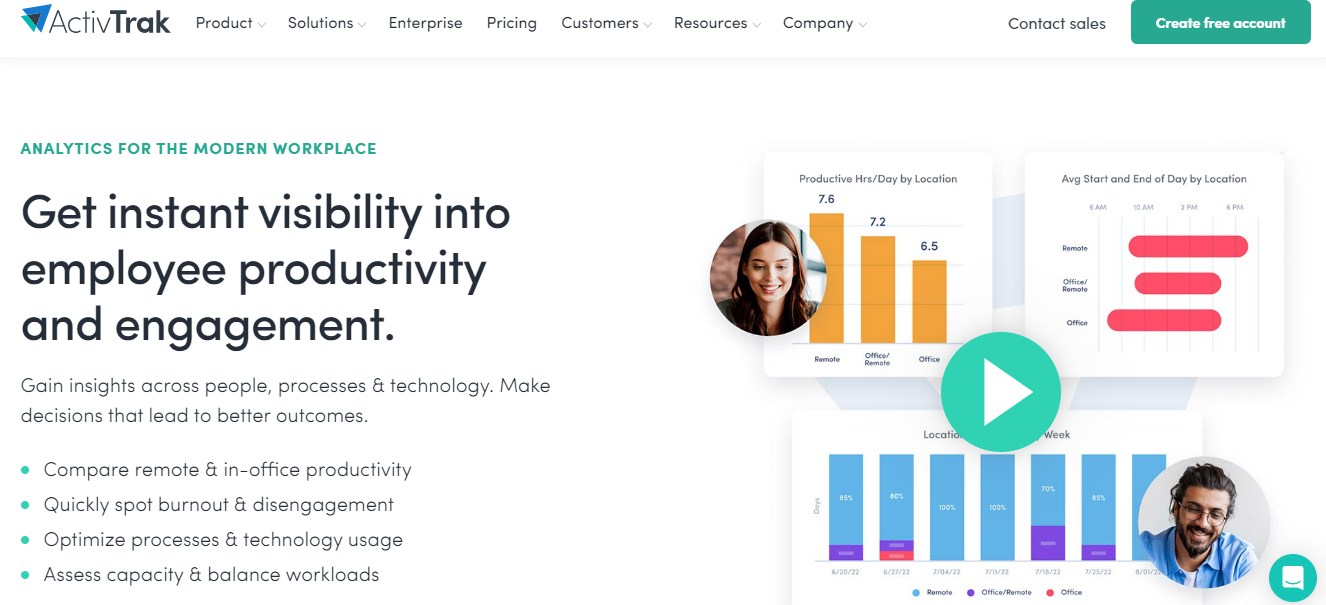 ActivTrak records on-screen keyboard and mouse movement and summarizes the activities into digestible reports.
With this app, you can monitor your employees' screen activities and improve their work efficiency.
Core insights you can gain through ActivTrak are; web and app usage, productivity reports, over and underutilization of skills, and change implementation impact.
You can also compare your employee's work patterns via ActivTrak's team benchmarks and productivity coaching and identify early burnouts and focus issues.
ActivTrak integrates with popular business apps like Google, Slack, and Salesforce.
To get more data on your staff's work habits, you can also purchase screenshots and screen view add-ons.
Core Features
Real-time monitoring.
Web and app tracking.
Productivity classification.
Alerts and notifications.
Team benchmarks.
Coaching opportunities.
Third-party integrations.
Screen view add-on.
Price
You can try ActivTrak for free. Its premium packages range between $10 and $17.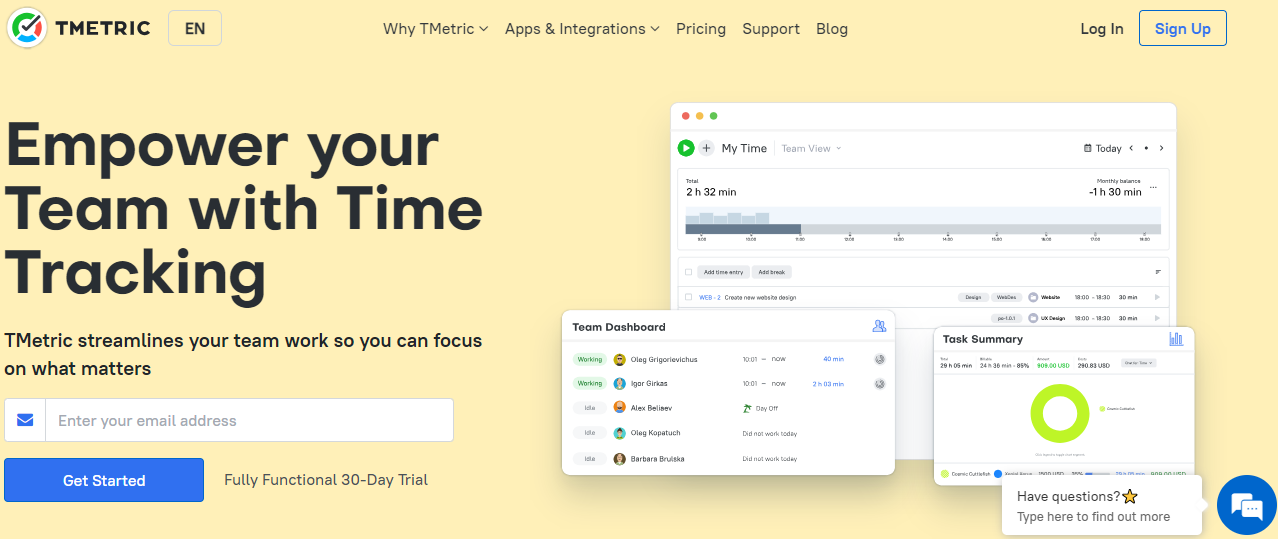 TMetric is well-suited for remote team management.
It provides time tracking, screen capturing, and reporting tools to help you monitor your employees with ease.
Here, you can create workspace and calendars for your team, set up hours and shifts, enable idle detection and reminders, and record individual members' activities.
If you work with independent contractors, you can either manage projects from TMetric or integrate its tracker with your project management software.
TMetric can be connected to 60+ third-party platforms, including Asana and ClickUp. It also has both desktop and mobile apps.
Core Features
Time tracking.
Screen capturing.
App and web usage reports.
Work calendar.
Billable hours, PTO, and idle time recording.
Payroll.
Browser extension and mobile app.
Integrations and API.
Price
TMetric's basic plan is free and its premium packages start from $5. You can add up to 200 members.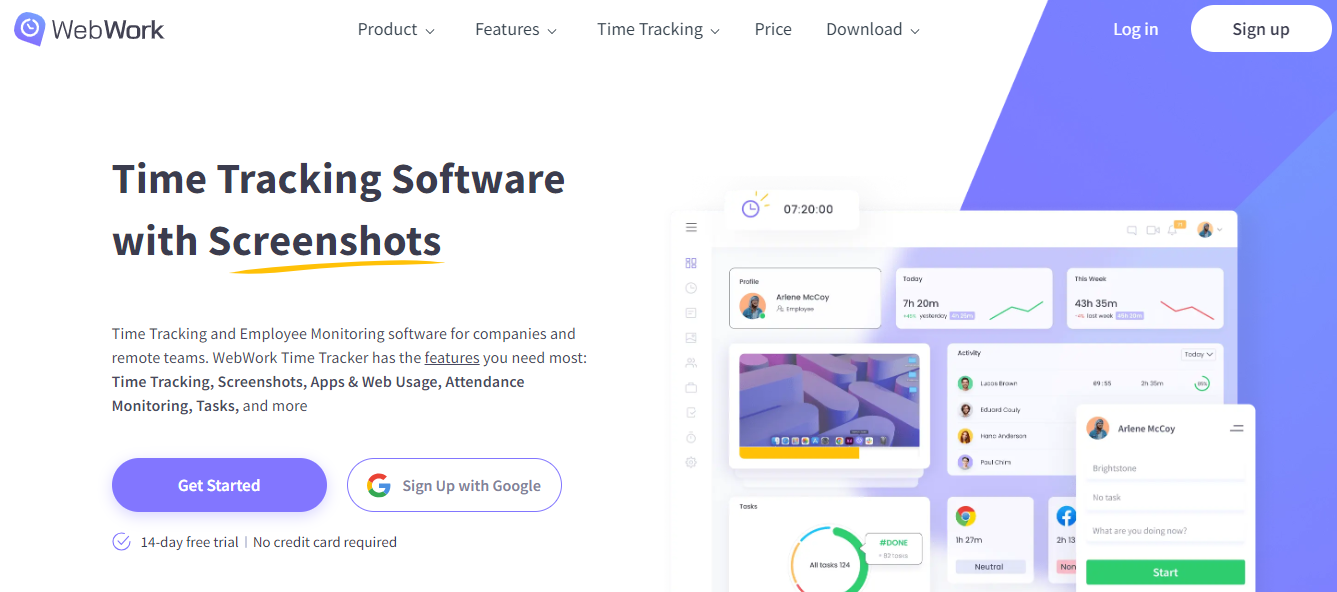 WebWork shares a suite of employee monitoring tools. You can take screenshots to track your team's work, manage attendance and late clock-ins, monitor browser activities, and oversee projects.
The app has a productivity feature that calculates your staff's keystrokes and mouse clicks to measure their work efficiency.
It also provides project management and team communication tools. With these two functions, you can easily monitor your projects and employees from one place and stay connected to your team.
WebWork works well on a browser, desktop, and smartphone.
Core Features
Screen and attendance monitoring.
Productivity summary
Time tracking.
Project management.
Team chat.
Third-party integrations.
Multi-device support.
Price
WebWork's starter plan is free and the premium plan costs $5 per user.
You can ask for custom quotes.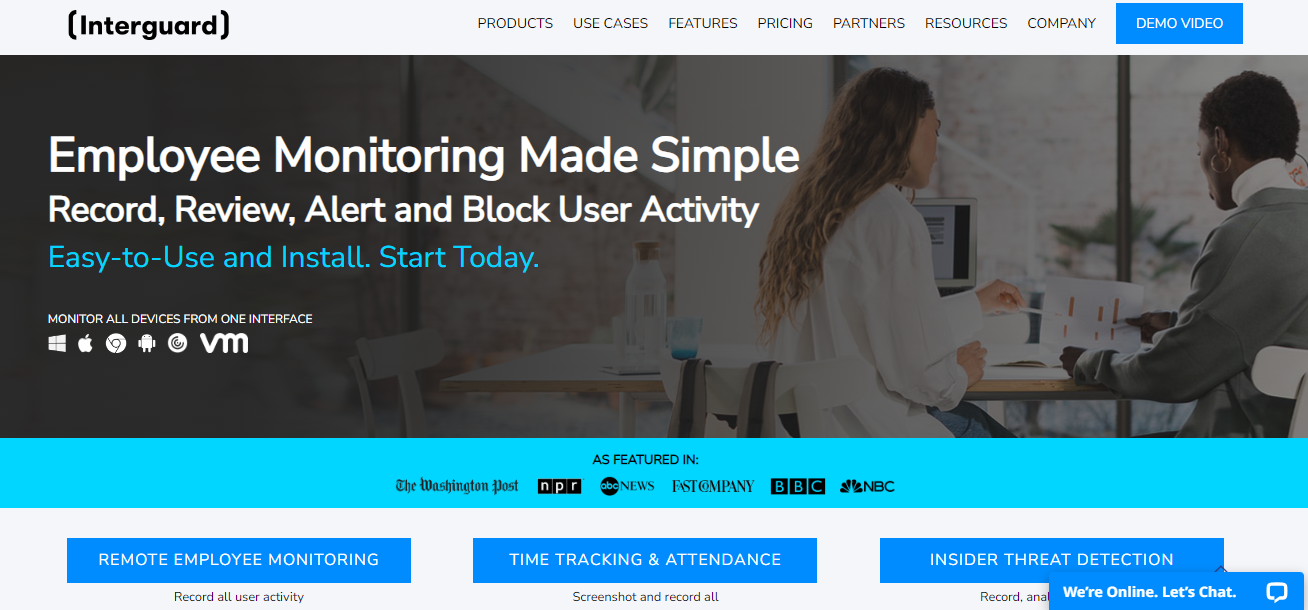 Interguard is an advanced monitoring software.
It takes videos and shots of the laptop screen, tracks keystrokes to measure work time, monitors emails and social media to detect distractions, and logs attendance.
In addition, it automatically supervises file movement and sends out an alert when someone uploads, sends, or modifies confidential files. You'll have the flexibility to create custom criteria to avoid receiving alerts on routine procedures.
If your employees primarily use smartphones, you can deploy Interguard on mobiles to track various activities like web usage, calls, text messages, and GPS location.
Interguard provides both SaaS and cloud hosting packages and runs on multiple devices.
Core Features
Browser, email, social media, and file monitoring.
Screenshots.
Keystrokes tracking.
Real-time alerts.
Automation and customization.
SaaS and self-hosting.
Desktop and mobile support.
Price
Interguard charges $25 per user.
You might need at least five members to purchase the subscription.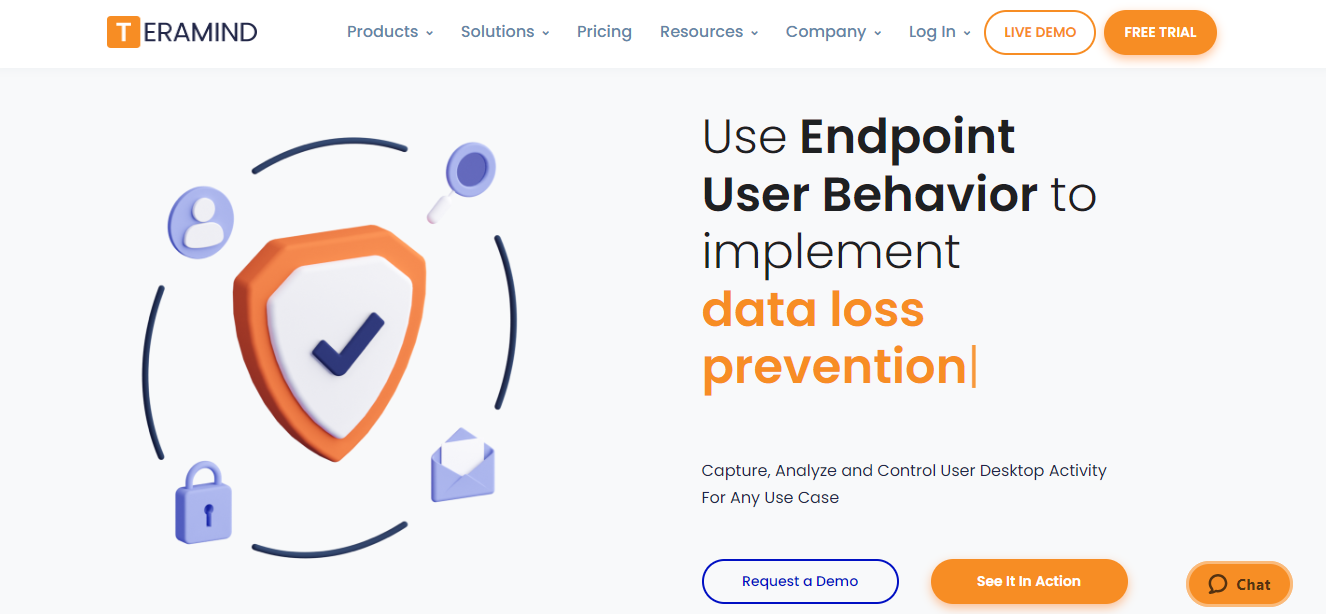 Teramind delivers several supervision tools to oversee employees and prevent anyone from misusing or losing the company's data.
Top functions you can perform include; screen capturing, keystroke logging, file tracking, and email monitoring. You can also set custom rules to automatically receive alerts of unusual activities and override desktop control anytime to stop unauthorized actions.
To improve work efficiency, you can label unproductive websites and send alerts when someone is distracted. You can monitor online meetings as well to measure team engagement.
Teramind offers both cloud and on-premise products.
Core Features
Employee screen and behavior monitoring.
Email and message scanning.
File transfer tracking.
Threat detection tools.
Remote desktop control.
Custom rules and automation.
Online meeting supervision.
Productivity measurements.
Malicious activity blocking.
SaaS and on-premise software.
Price
Teramind prices start from $10.
You can take a free trial.
Monitask helps you track, monitor, and measure employee performance.
You can automatically supervise web activities and randomly take screenshots to analyze your staff's work habits. For accurate attendance, you can set a limit on working hours and record clock-ins and outs.
Through idle detection, you can spot unproductive activities and delete unpaid time from your timesheet.
If you prefer subtle supervising, you can enable stealth mode and monitor the company's assigned devices. Monitask can be used on Windows, Mac, Android, and iOS systems.
Other notable features of Monitask are; task management, team analytics, and third-party integration.
Core Features
Screenshots.
App and web usage monitoring.
Idle time detection.
Time tracking.
Stealth mode.
Analytics and reporting.
Team management.
Integrations and API.
Multi-device support.
Price
Monitask's monthly subscription per user costs $6 to $8. You can buy add-ons and ask for an enterprise plan.
It has a free trial option as well.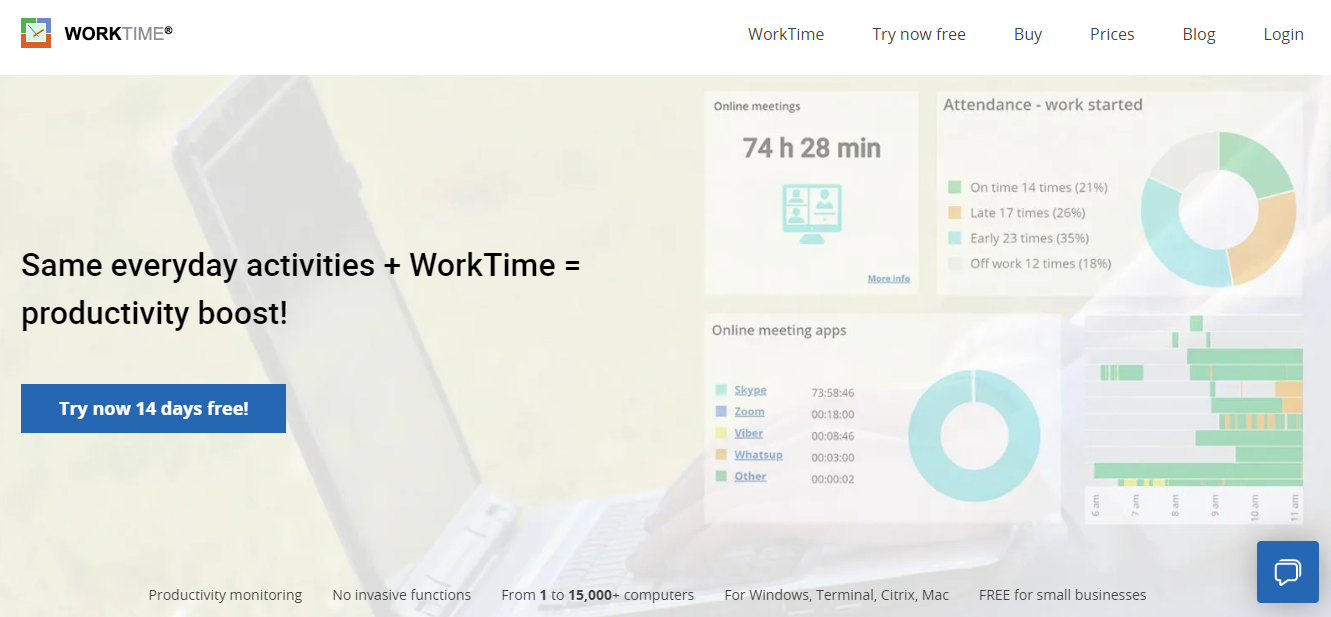 WorkTime is an exclusive monitoring software. It tracks areas that impact team productivity, such as browser activities, attendance, in-office and remote work, and online meetings.
You can use WorkTime to see who usually comes to the office late, how much time your employees spend on unproductivity tasks, and how many hours are typically consumed on online meetings.
Plenty of other interesting data can be gathered through this app as well.
For instance, you can measure the amount of time employees spend on breaks and how long their laptops stay online in offices after work. This gives you measurable data on your staff's active and idle time, enabling you to improve your office environment.
Core Features
Screen monitoring.
Active and idle time tracking.
Productivity reports.
Attendance and overtime recording.
Online meeting supervision.
Electricity consumption charts.
Leaderboards.
Cloud and on-premise software.
Price
You can create a free account on WorkTime. It charges $6 to $8 for premium features.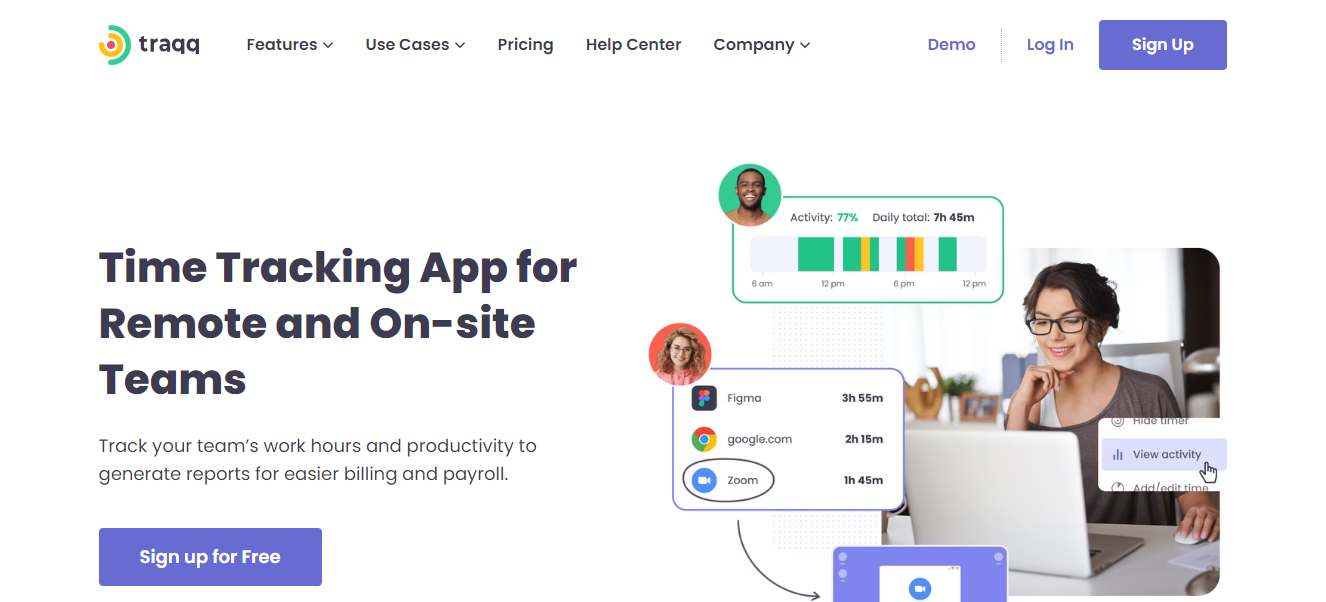 Traqq's key capabilities are website monitoring, mouse and keyboard detection, automatic screenshots, and screen recording.
The app helps you supervise your team's performance and track their working hours.
You'll get a breakdown of desktop activities in readable chart formats and get an accurate account of your staff's active and idle time.
To record billable hours, Traqq delivers an intuitive desktop tracker that logs the time when your employees get online and continue to run even when the internet connection breaks.
Via its time tracker, you can keep an eye on your team's attendance and note down late and early clock-ins.
Core Features
Screen monitoring.
Automatic screenshots.
Time tracker.
Team management.
Productivity reports.
Permission and roles.
Custom settings.
Smart alerts.
Report export.
Price
Traqq charges $7 per user. You can get started for free and ask for custom packages.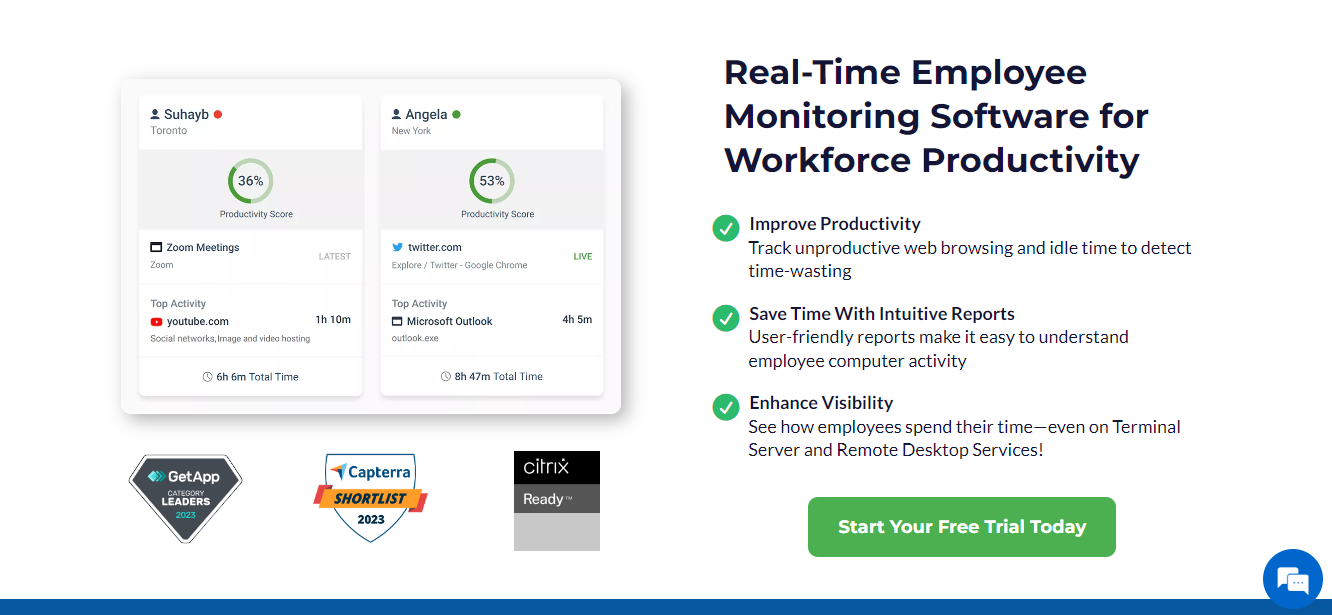 Browse Reporter gives you in-depth insights into your team's productivity. It automatically takes time-stamped screenshots of your employee laptop screen and generates reports on their work habits.
With its tool, you can track the time your staff spends on idle activities, apps they typically surf, and the amount of time they remain active.
What you'll love most is the accessibility to its sister apps.
As Browse Reporter is a product of CurrentWare, you can purchase other monitoring tools from the same vendor at reasonable rates.
For instance, if you need a widget to block access to unproductivity sites, you can buy its "Browse Control" package to control internet usage. CurrentWare allows you to purchase modules as separate products.
Core Features
Web and software usage monitoring.
Idle time detection.
Automatic screenshots.
Analytics and reporting.
Alerts and notifications.
Productivity measurement.
Multiple deployment options.
Price
CurrentWare charges $4 per month for its Browse Reporter product.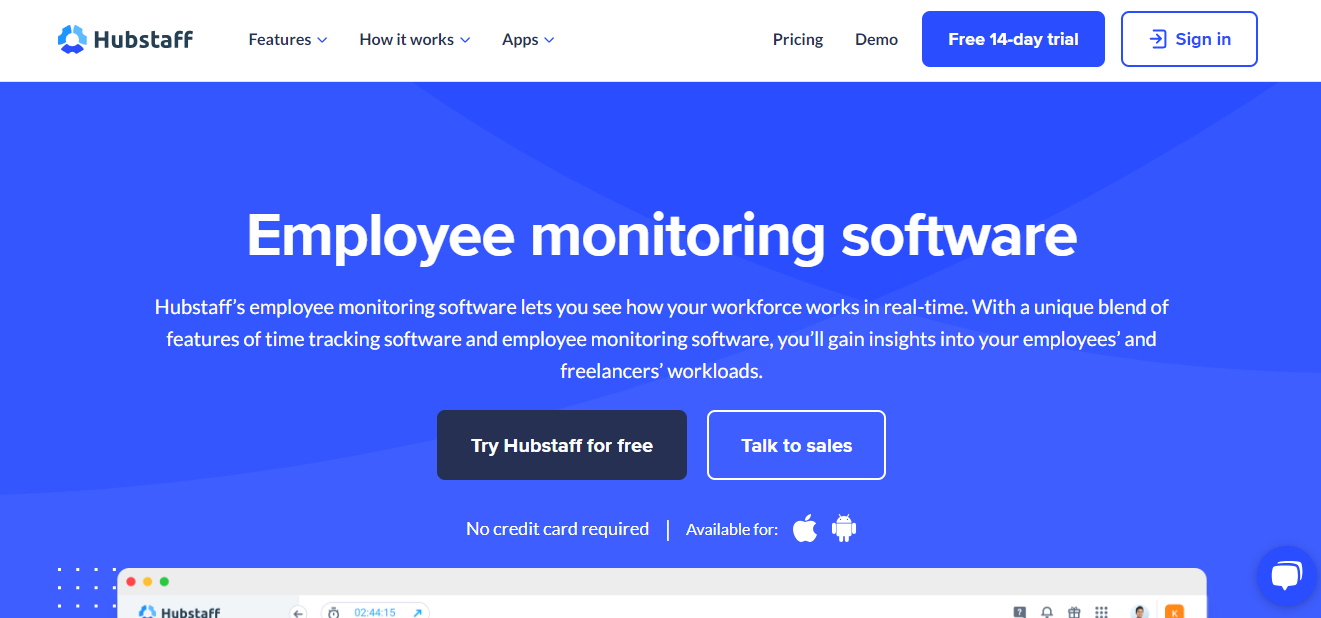 HubStaff offers a free employee monitoring package.
Its free plan contains a screenshot function, mouse and keyboard movement tracking, a time tracker, and timesheets.
If you go for its premium packages, you'll get additional monitoring features, like idle time detection, along with some HR functions to manage projects and payroll.
The best thing about HubStaff is the package personalization.
It has flexible packages for companies of all sizes. For instance, if your organization has a field staff, you can monitor both in-office and on-site employees through the HubStaff Desk Field product.
I recommend exploring its subscription plans.
Core Features
Time tracking.
App and website monitoring.
Screenshots.
Mouse and keyboard movement detection.
Idle time recording.
Working hours limit.
Timesheets.
Reporting.
Payroll.
Multi-device support.
Price
HubStaff charges around $7 to $10 for its desktop monitoring and $15 for its Desk Field package.
You can use the basic features for free.
Conclusion
Employee monitoring software products come with active and passive supervision options.
While you can implement both in your organization to improve employee productivity, you should pick apps that best suit your company culture and operations.
For instance, if your business typically deals in sensitive data and requires active monitoring, tools with file movement detection or stealth mode are ideal for you. But if you have a clan culture and a small team, the same features might prove unsuited for monitoring.
Look for functions your company can implement, and shortlist software products that meet your criteria. Good luck!